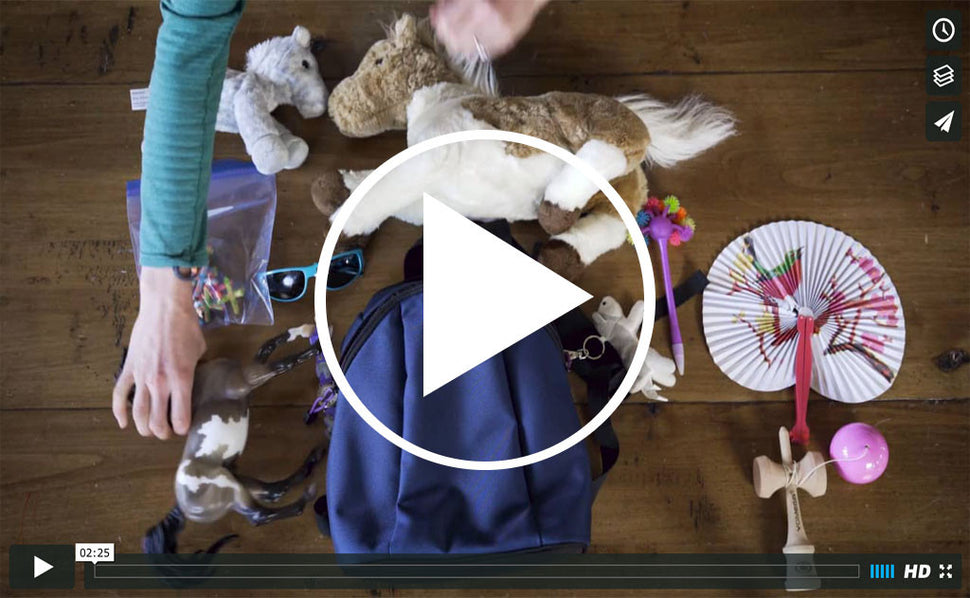 Description
Designed to be a kid's first backpack. Or at least the first pack they'll actually want to carry.
We've found that if you talk with kids, rather than down to them, you might learn a thing or two. Like that not all of them want teddy bears, princesses and super heroes on their backpacks — some kids want the same cool organization and features that the grown-ups get. When we designed The Sprout, we applied all the same consideration and thought we put into our adult backpacks, scaled down to kid size. For children 4 years to 8 years old, The Sprout just might be the #1 backpack out there for day hikes, museum/library/field trips, even an overnight at the grandparents.
The top zippered pocket on The Sprout is just deep enough for small stuff: a toy, a snack, a hat or gloves. In this top pocket is one O-ring — add a Mini Organizer Pouch to secure school ID, library card, bus pass, etc. Directly above this top zippered pocket is a grab handle — also useful for hanging The Sprout on a coat hook. The two vertical seams on the front exterior of The Sprout effectively act as pleats, and serve to keep the bag's streamlined shape no matter how much is stuffed into the main compartment.
The main compartment of The Sprout zips open over a wide arc, allowing easy access to the pockets and organization inside. Inside the main compartment are four further organizational pockets. One — against the back of the bag — has an elastic-banded top and is ideal for storing a folded jacket or sweater. The second organizational pocket is directly across and on the inside of the front of the bag; it's sized to fit a deck of cards (we like UNO!) or similar. The remaining two interior pockets are on the left and right sides of The Sprout and can fit snack bars, other small-ish items, or our Mini Organizer Pouches. Also in the main compartment are four O-rings to tether more Organizer Pouches, toys, and what-have-you.
The remainder of the main compartment is ready for larger items: a stuffed animal, a 3D Organizer Cube of Legos, a lunch box, a water bottle, a small book or two. The bottom of the bag is made of black 1050d ballistic nylon (no matter the main exterior color) to help hide dirt and scuffs; the bottom seam has piping, which helps The Sprout stand up while it's being packed.
The Sprout features simple and surprisingly comfy webbing backpack straps and a removable sternum strap. The original Sprout didn't have a sternum strap until our very first beta-tester (Sloane, age 4; read more about her experience testing The Sprout here) gave us some excellent feedback in that regard.
A word on backpacks, comfort, and packing: we believe that part of wearing a backpack is being responsible for how much heavy stuff you load in it and being aware of how comfortable (or not) it feels on your back. A new backpack offers a great opportunity to lead by example and share this advice with your kids: grab your backpack, have your kid grab their Sprout, and pack your bags, teaching them that heavier stuff goes on the bottom and lighter stuff on the top. Put the packs on, adjust the sternum straps, and ask: does it feel good? Too heavy? Lop-sided? Pokey?
The plastic zipper pulls on The Sprout are less noisy than their metal counterparts; you can make them even more friendly to kid-sized-hands by adding Cord Zipper Pulls. A pack of Cord Zipper Pulls w/ Plastic Ends is included with The Sprout for this very purpose; they're small parts, so make sure to either assemble them yourself (watch this handy video we made!) or supervise the process. Did you notice the super cool dragonfly knot shown in some of our photos? Check out this tutorial. And if you'd like to try the dragonfly knot, order some of our Cord Zipper Pull, Cord Only (5 Yards) or pick up some paracord at your local outdoor store.
100%
would recommend this product
Verified Buyer

Product Standouts

Thoughtful Design,

Comfortable,

High Quality Craftsmanship,

High Quality Finishings,

Good Storage Size

7 months ago

Product Standouts

Thoughtful Design,

Comfortable,

High Quality Craftsmanship,

High Quality Finishings,

Good Storage Size

The perfect kids backpack.

My 2 year old son loves putting things into other things. One toy into a box, that box onto a shelf. Then take the box down, the toy out, putting the toy into a new object. My wife and I thought a backpack would be appropriate, as it was time for me to replace my backpack as well.

As every parent will understand, I couldn't wait to give it to him for his birthday. I wish I could upload video, as he was initially disappointed that he couldn't have my backpack (Synik 30). So my wife came up behind him and gave him his own "matching" pack. The sequel of delight, smiles and hugs that followed are why we become parents. He takes it any and everywhere. It holds his toys, a change of cloths, baby wipes, pull ups, bandages, and a water bottle. The bag even when overstuffed (see first picture) keeps its shape and doesn't groan like cheap backpacks. We get compliments every time we go out on how well made and adorable the pack is.

For any perspective parents sizing. My son is 35 inches and 40 pounds.

Verified Buyer

Product Standouts

High Quality Craftsmanship,

Compact,

Versatile,

Thoughtful Design,

Comfortable

8 months ago

Product Standouts

High Quality Craftsmanship,

Compact,

Versatile,

Thoughtful Design,

Comfortable

Great pack for kids and small frames adults!

I used this great, light weight pack for several days at an amusement park and it was perfect. It has just enough pockets and organization without being overly fussy.

Verified Buyer

Product Standouts

Good Storage Size,

Unique

6 months ago

Product Standouts

Good Storage Size,

Unique

I am usually too late.

I had the intention of getting 2 Sprouts, but was only able to snag 1 Sprout for 1 of my kiddos when they did the recent re-release. I wish they had a Halcyon option in this release. Not that I would have caught it or anything, Just thinking out loud for all the Halcyon lovers out there. I was able to get the Steel/Solaris combo. We previously had the OG Black Halcyon for my older son which was moved a litte differently. Both bags are very awesome and very functional and loved. Kids carry EVERYTHING around all day in them, books, toys, ipads, rocks, sticks, stuffies, etc. Perfect bag for up to 9 y/oish slimmer kids.

Verified Buyer

Product Standouts

Sewn in USA,

Unique,

Versatile,

Compact,

High Quality Craftsmanship

8 months ago

Product Standouts

Sewn in USA,

Unique,

Versatile,

Compact,

High Quality Craftsmanship

Best Little Backpack Out There!

I have one of these in the older style in Black Halcyon that I've used for years as my daily carry and adventure bag with a smaller Side Effect in it as a transferable purse, and I was thrilled at the re-release! I'm an adult and use these myself as they're the perfect small size and they're super cute! I love the no-nonsense straps, too, although I don't need the sternum strap (yay for removable). I got one in Steel, one in Verde, and one in Navy because I couldn't choose and they'll rotate out. Excellent little pack for my Side Effect purse, small insulated water bottle, snacks, phone & accessories, maps, foldable sun hat, and other odds and ends. Cute, comfy, durable, and complimented all the time... Win!

Verified Buyer

Product Standouts

Comfortable,

High Quality Craftsmanship,

Sewn in USA,

Compact,

Versatile

7 months ago

Product Standouts

Comfortable,

High Quality Craftsmanship,

Sewn in USA,

Compact,

Versatile

Sprout for Small Adults!!

This backpack is exactly what I was hope for!! I bought one for my sister too. I'm 5'0" tall (that's how tall I was at age 12) so this pack is perfect for around town when I have more to carry than just wallet and phone. It's even good for trips; I took it as my personal item on a weeklong summer trip to the Midwest (hot temps). I really love the internal pockets and the top zip pocket. I wish it would be stocked again.
Reviews Loaded
Reviews Added
Sewn in Seattle
Our bags are designed and sewn right here in Seattle, Washington, U.S.A.
That allows us to be control freaks in the best way possible; we have direct control and oversight of the quality of our materials, our products, and the jobs and working environment that we help create. It also offers us a unique spontaneity: when we have an idea for a new product or accessory, we can design it, figure out how to build it, add it to our website and be ready to ship it out our front door all within just a few weeks. How cool is that?

Intrigued? You can find out more about the unusual way we do business on our Company Philosophy page.
THE BIHN Guarantee
Everything you buy from us here at TOM BIHN is satisfaction guaranteed. We've been in business since 1972 and we stand behind what we make.
If something goes wrong and it's our fault, we'll fix it for free. Repairs due to normal wear and tear or due to other things that are not our fault will be performed, when possible, at a reasonable charge right here in our Seattle factory where your bag was made. Defects in materials or workmanship are uncommon and almost always evident while the product is still new. Keep in mind that bags and packs are often subject to extreme wear in everyday use: do not expect them to last forever. Only true love lasts forever! You can expect a TOM BIHN product to give years and years of hard service.