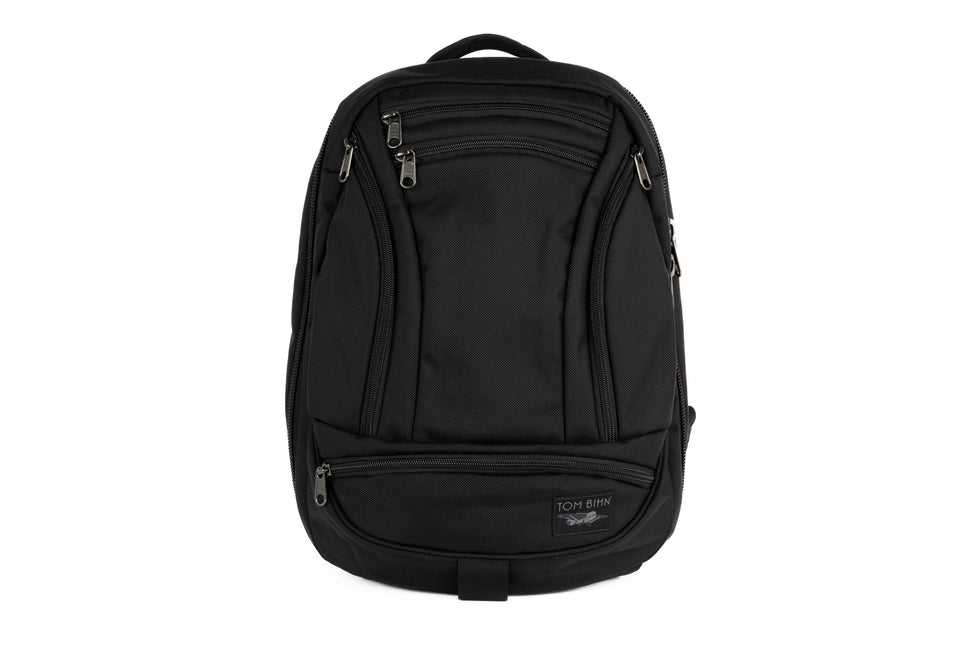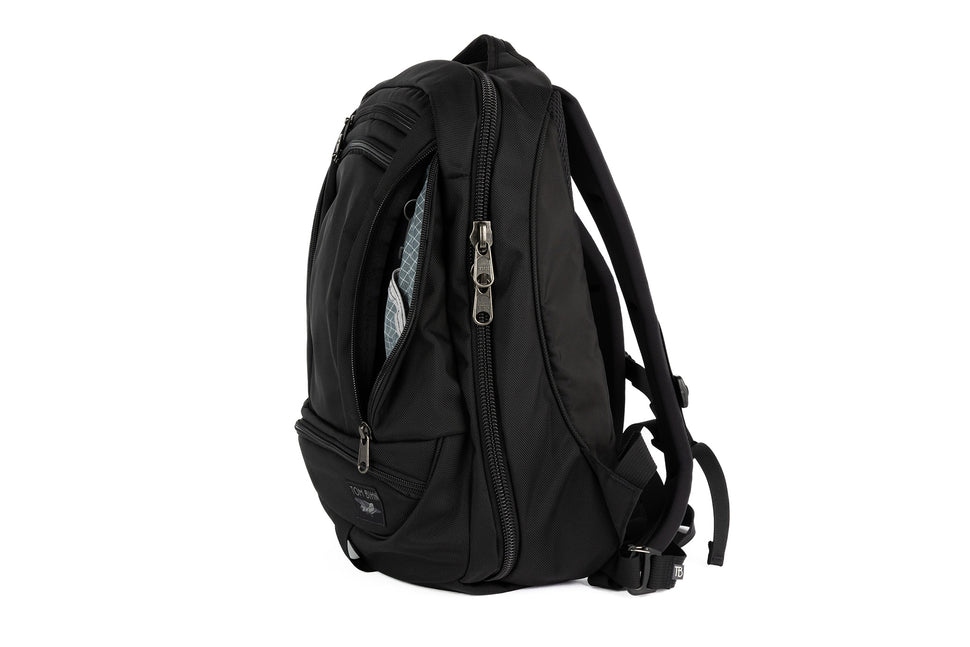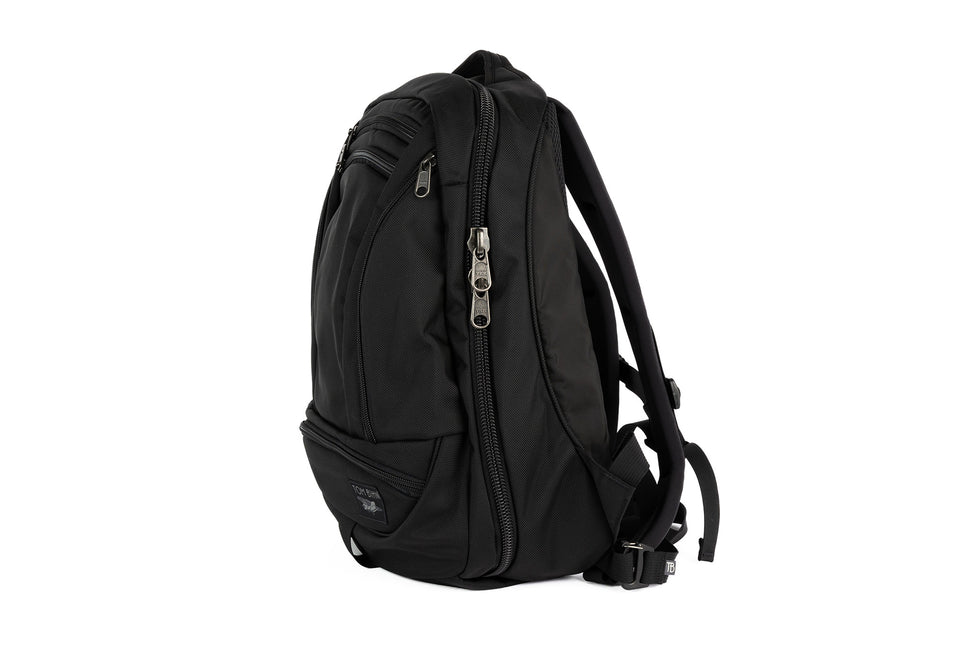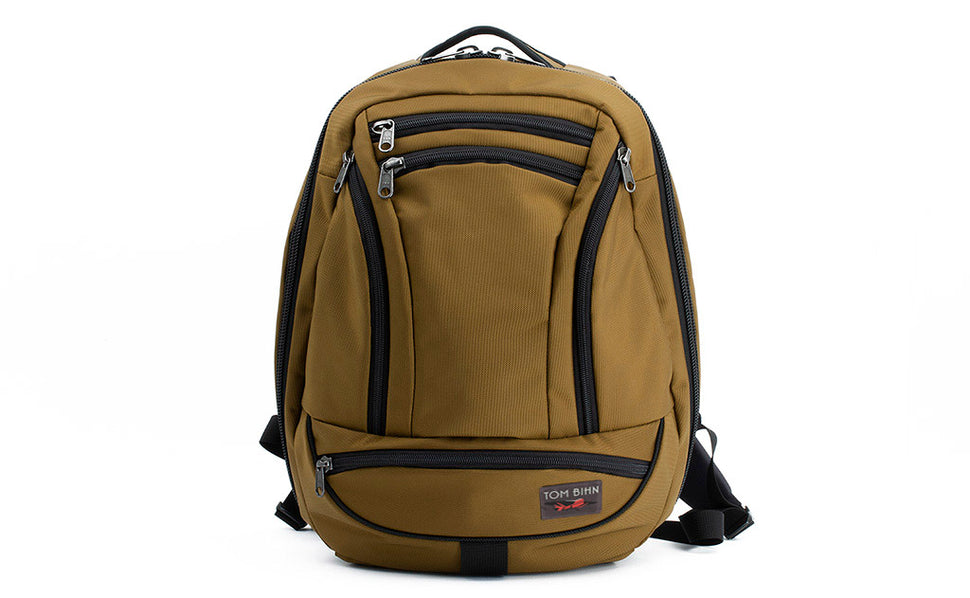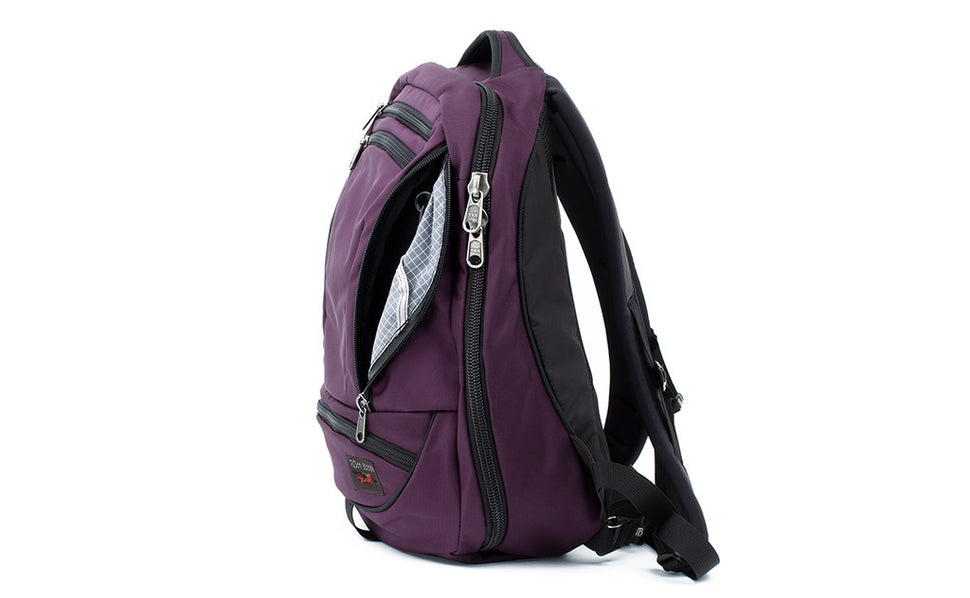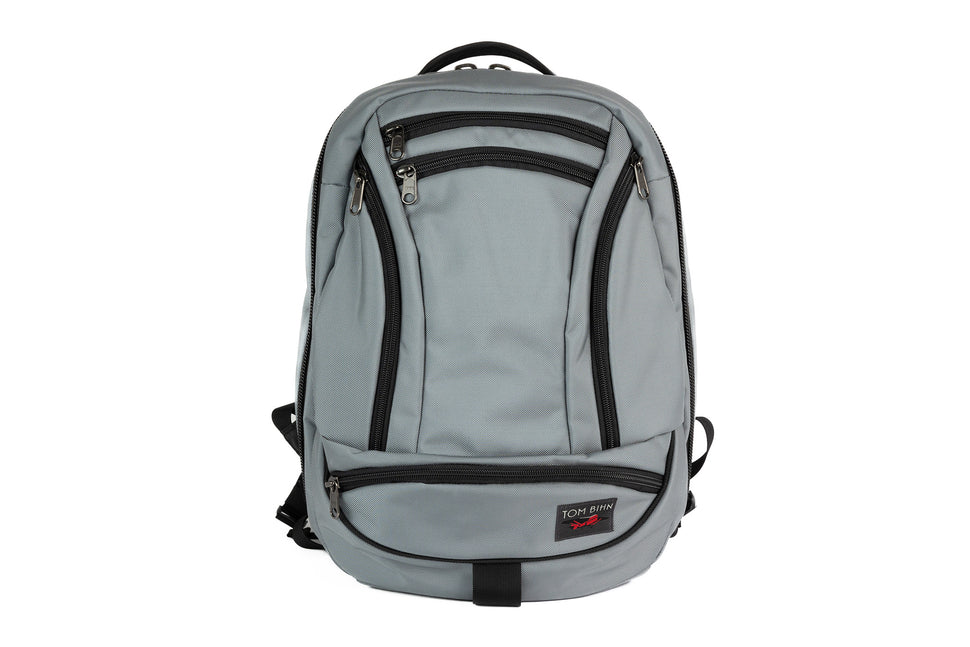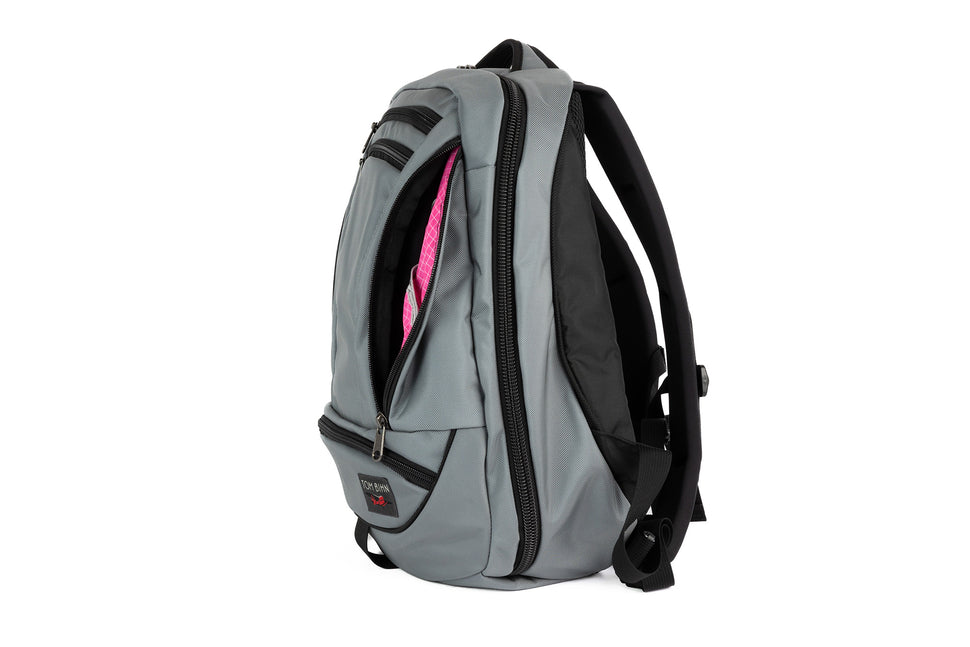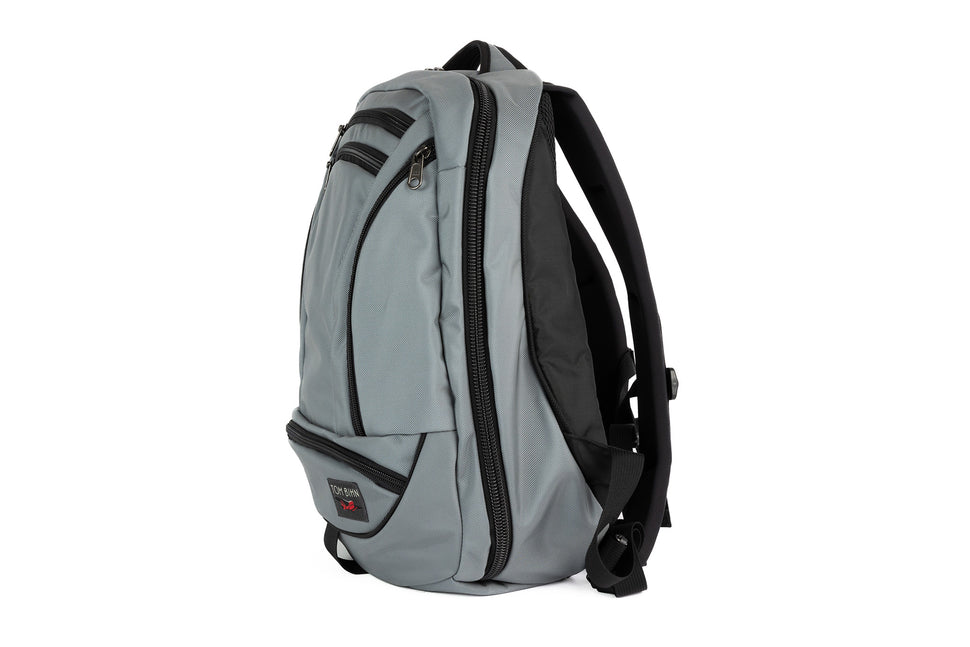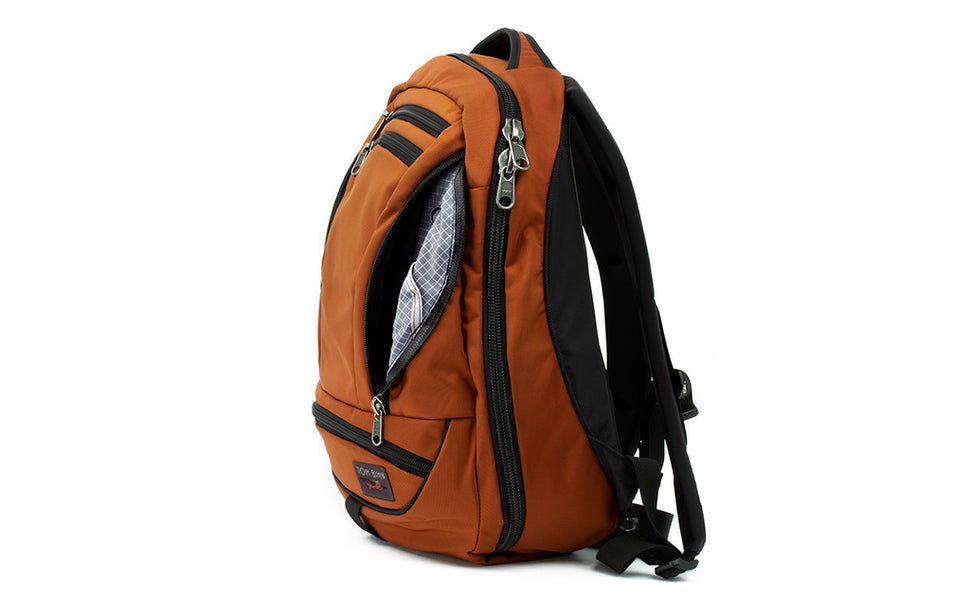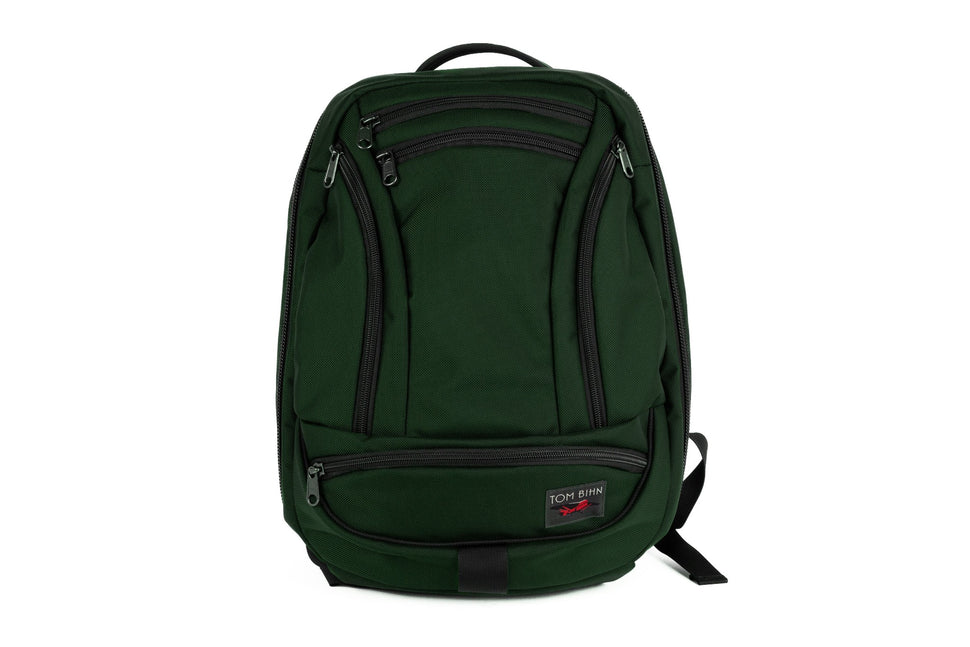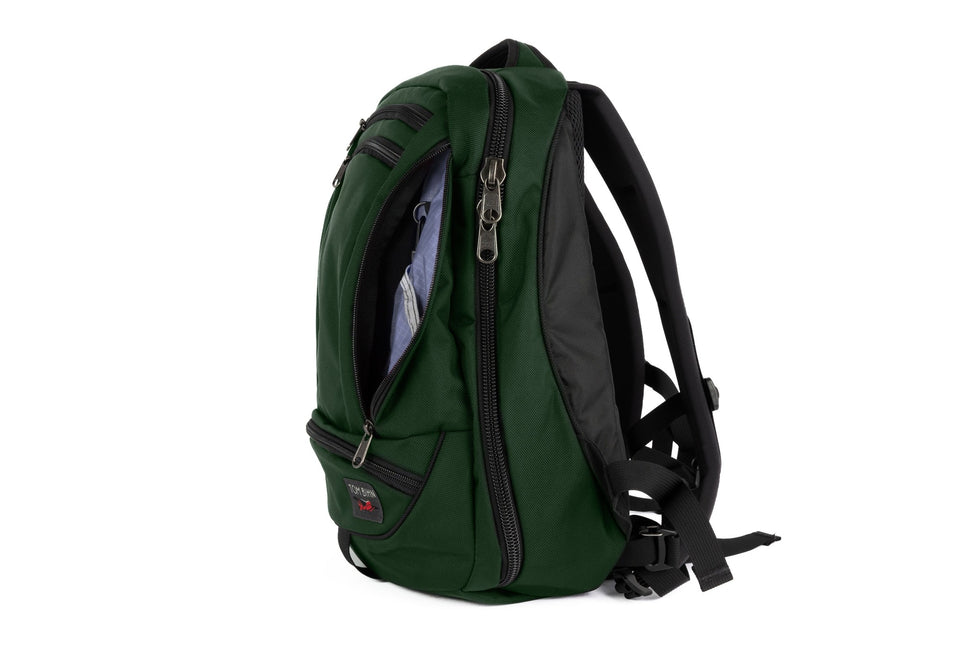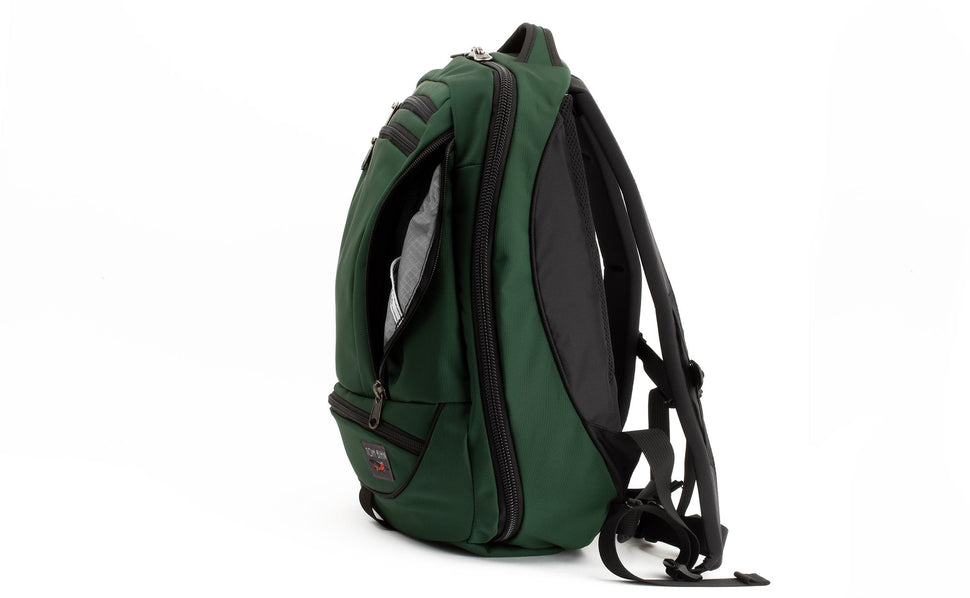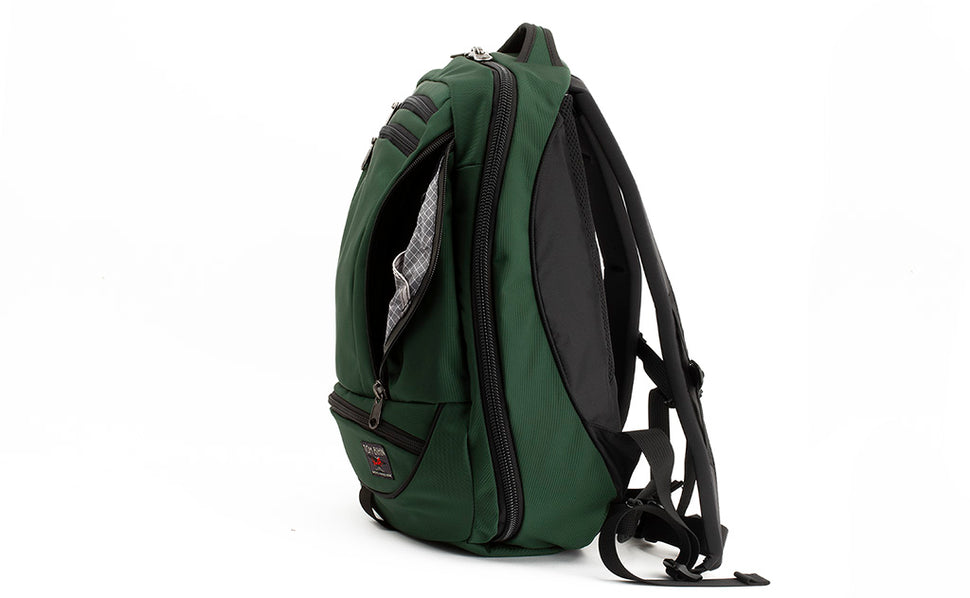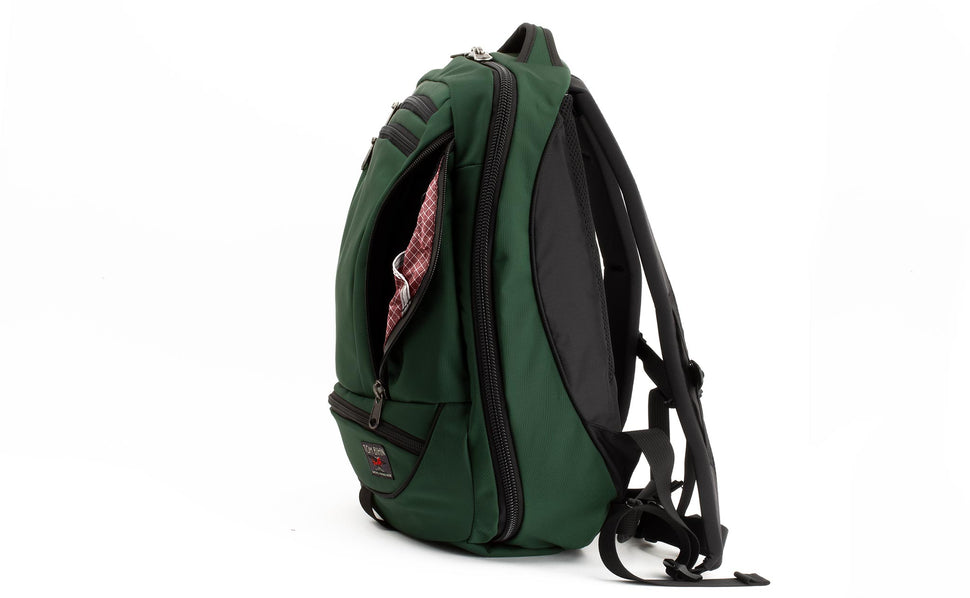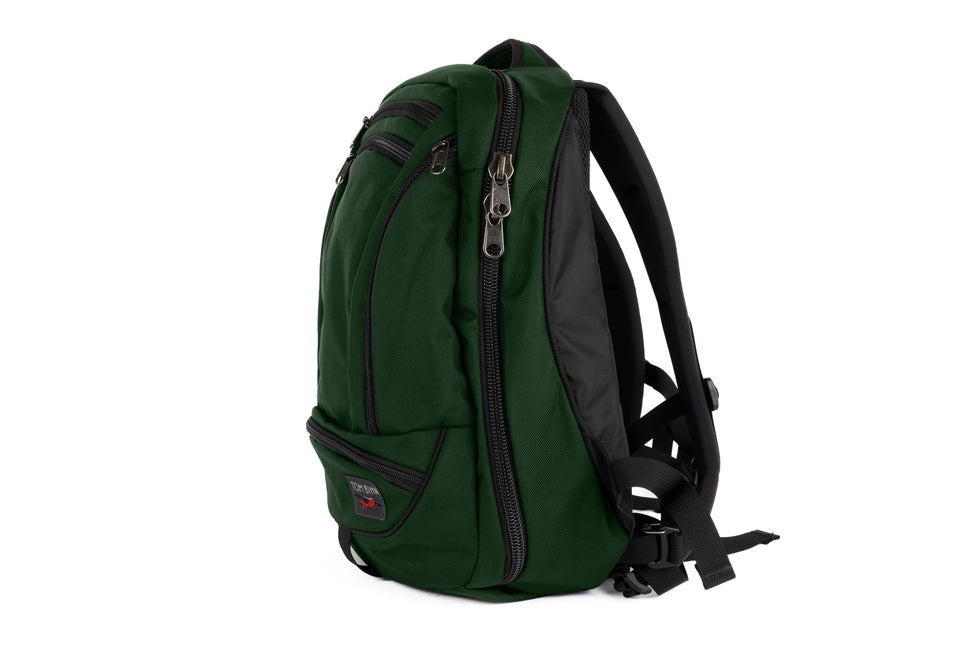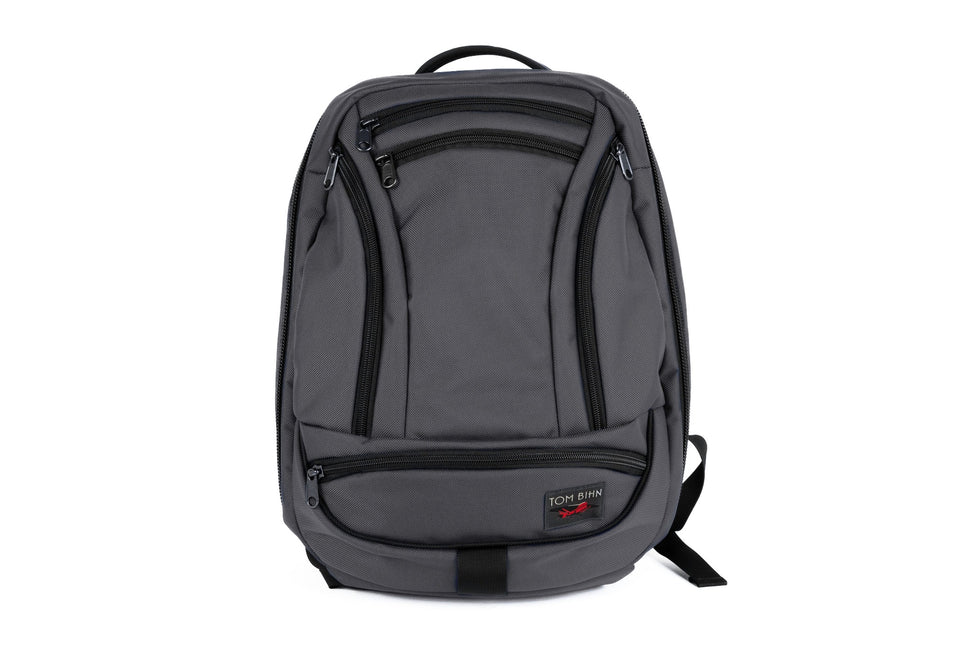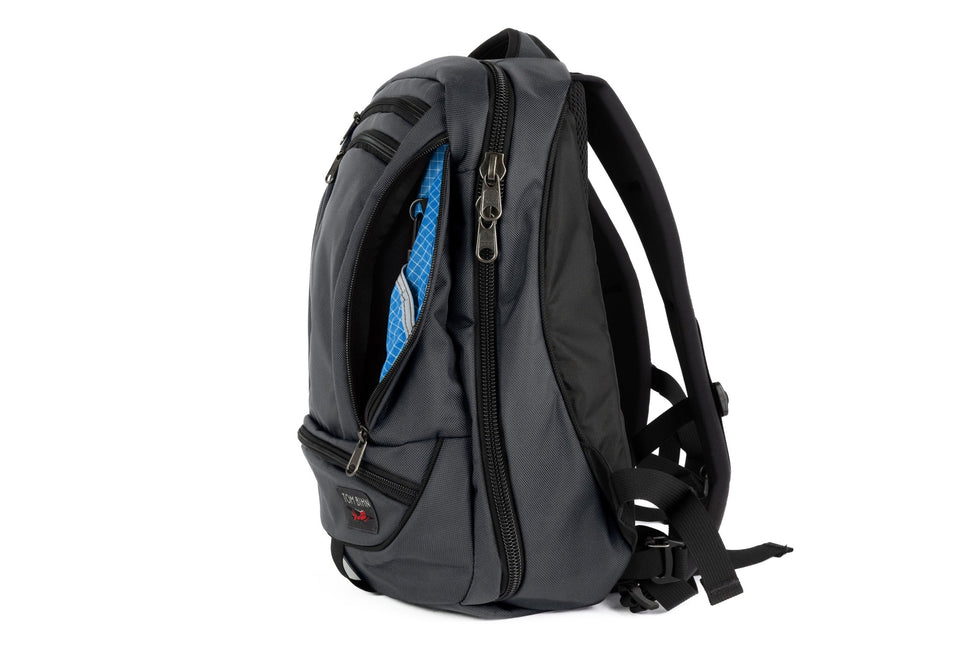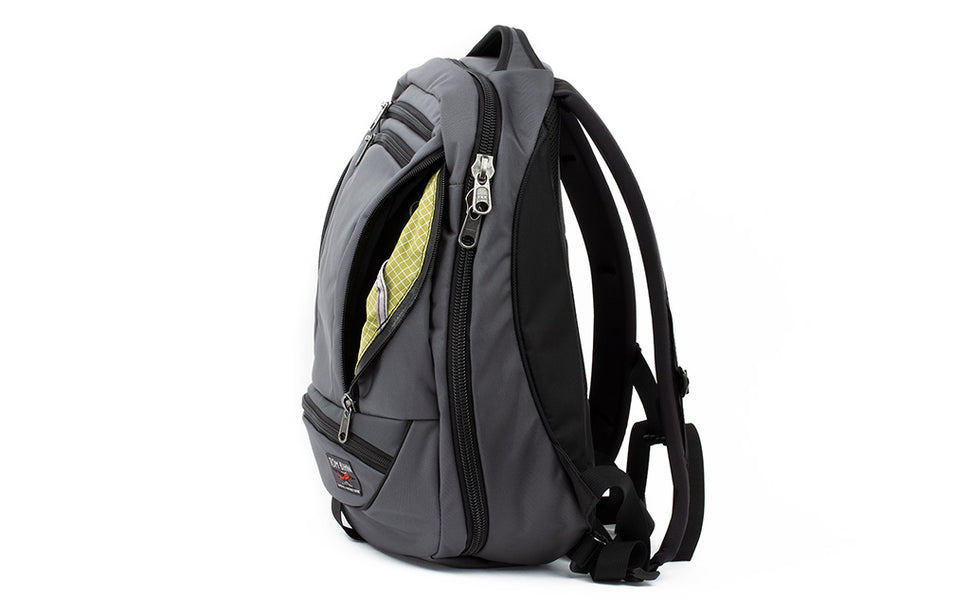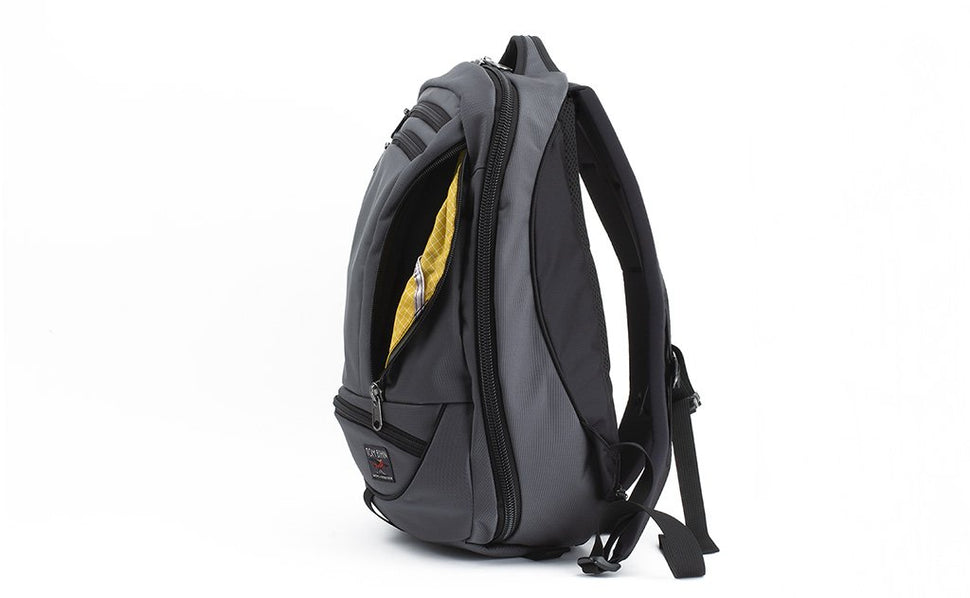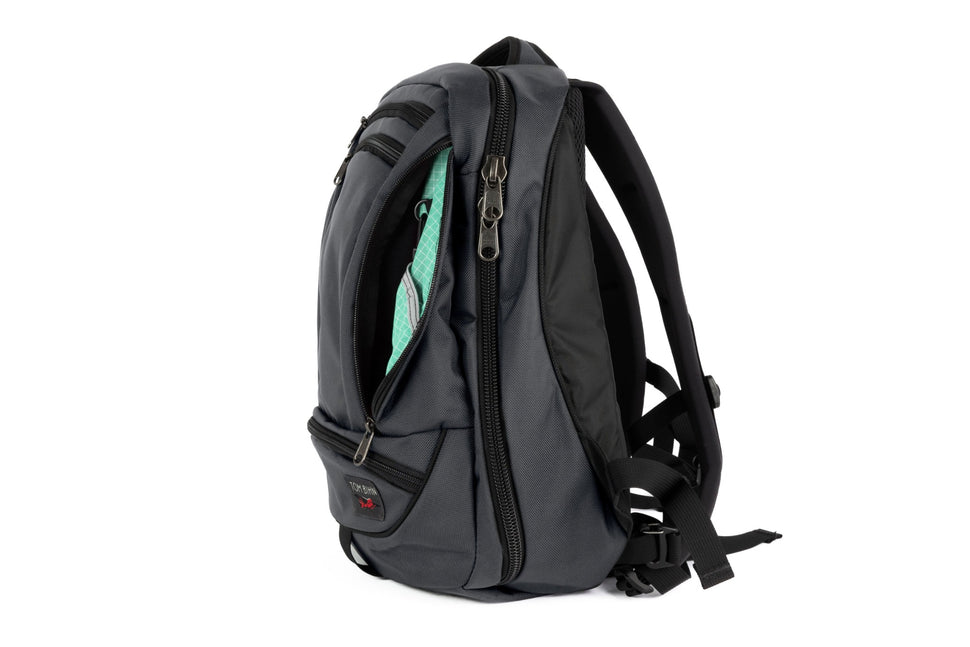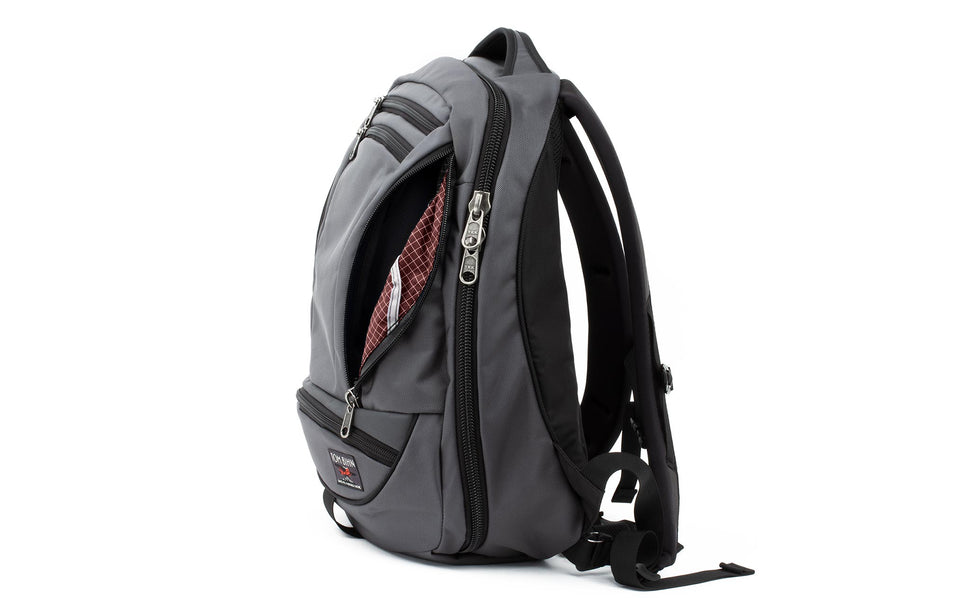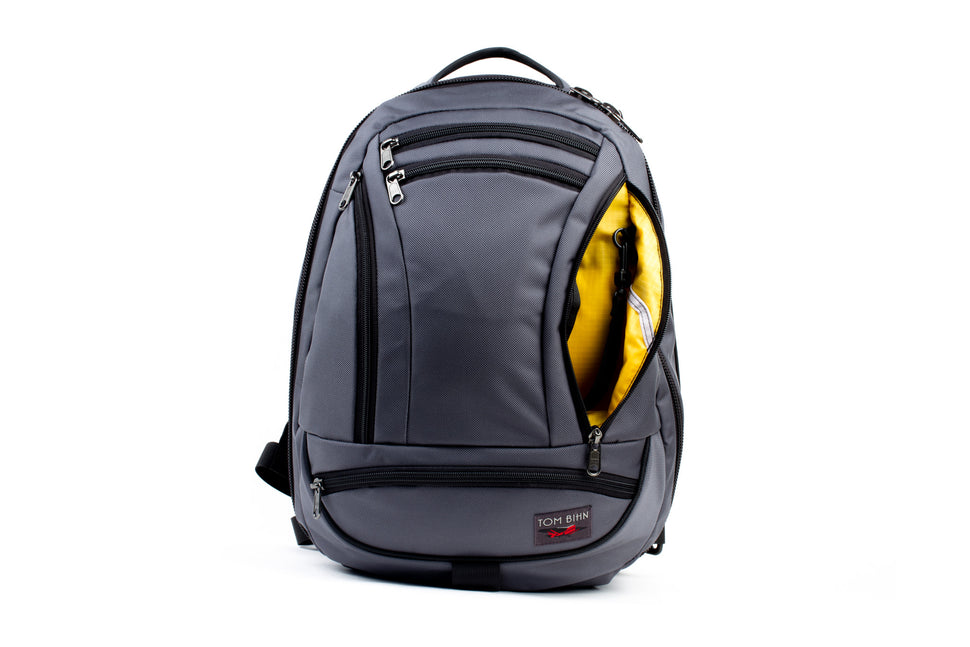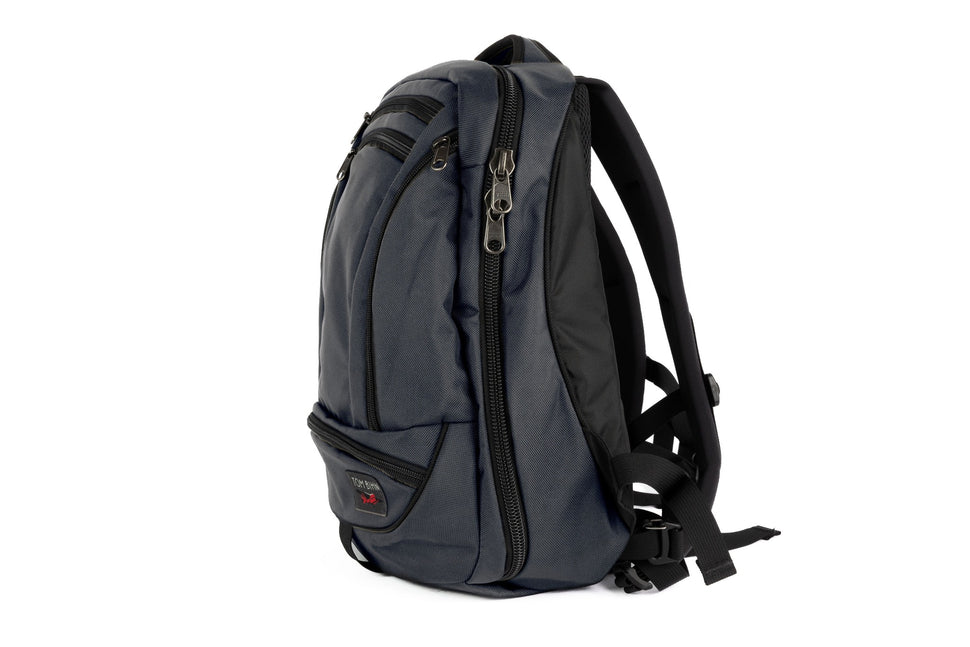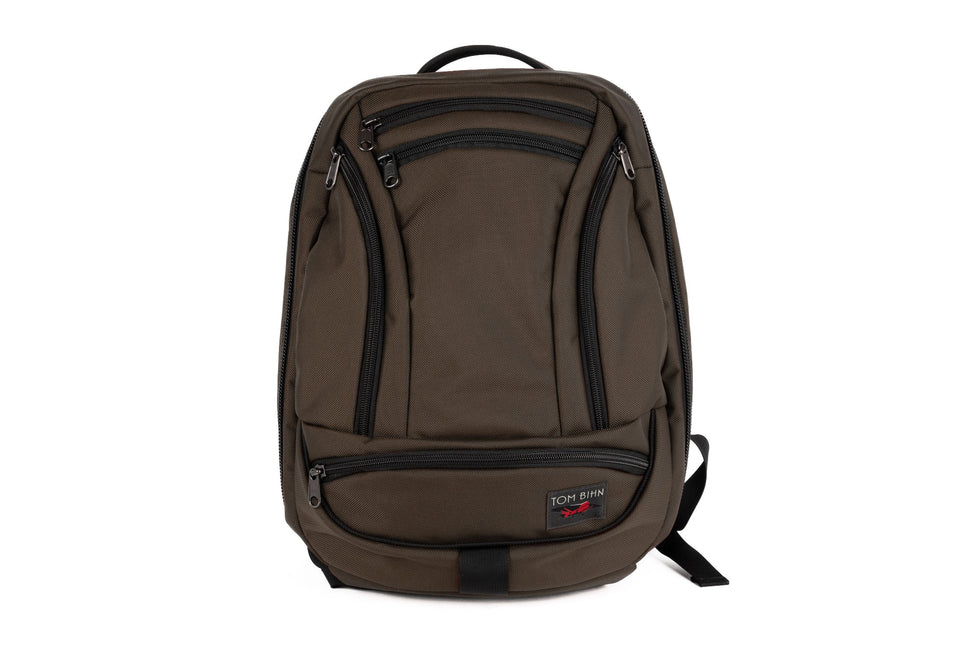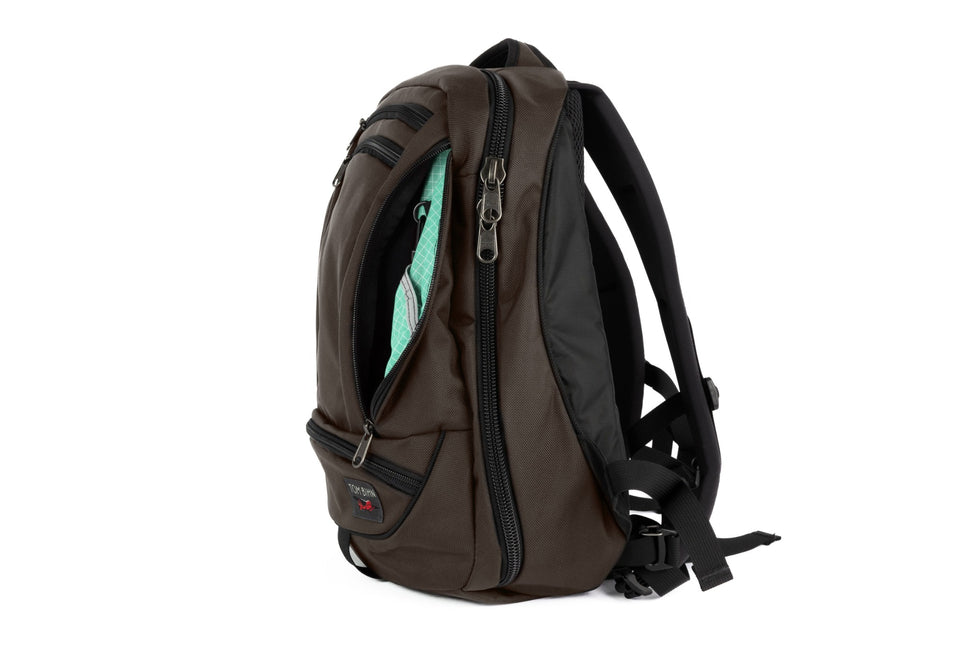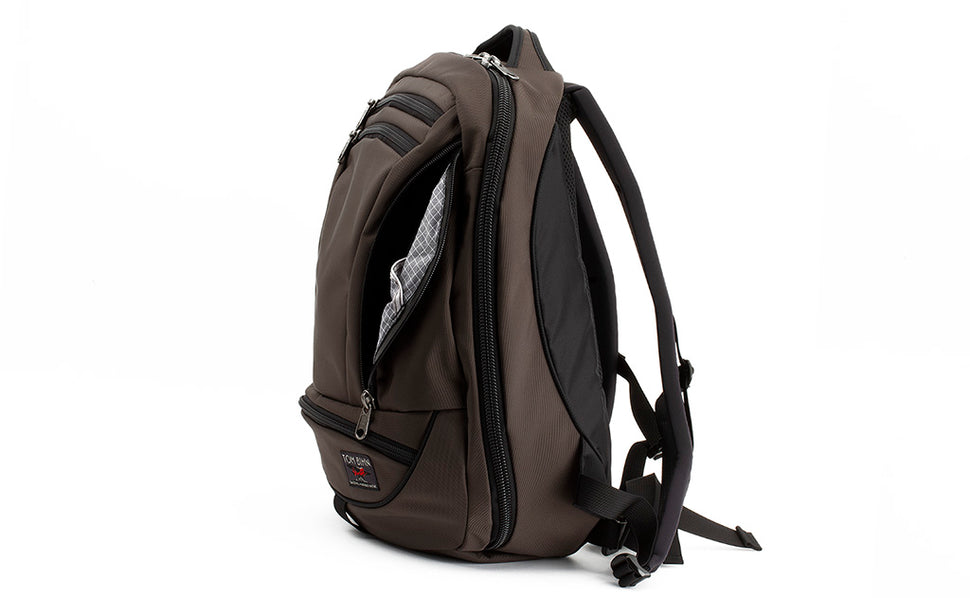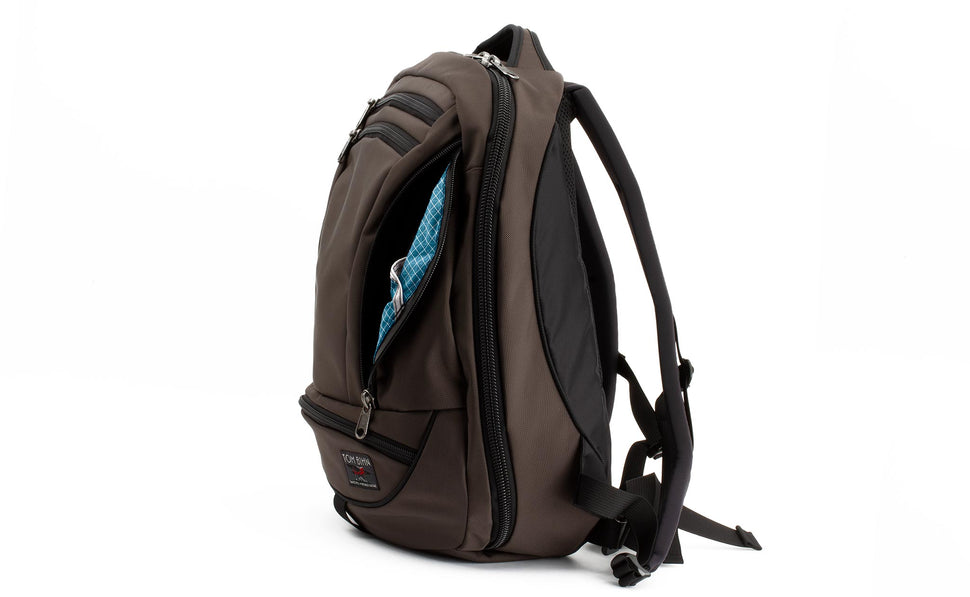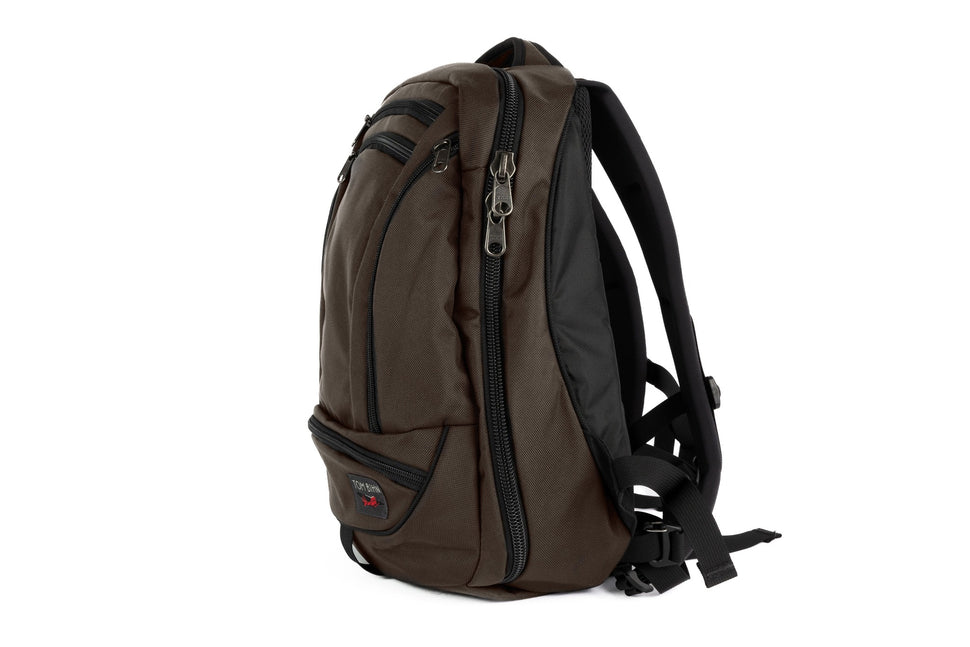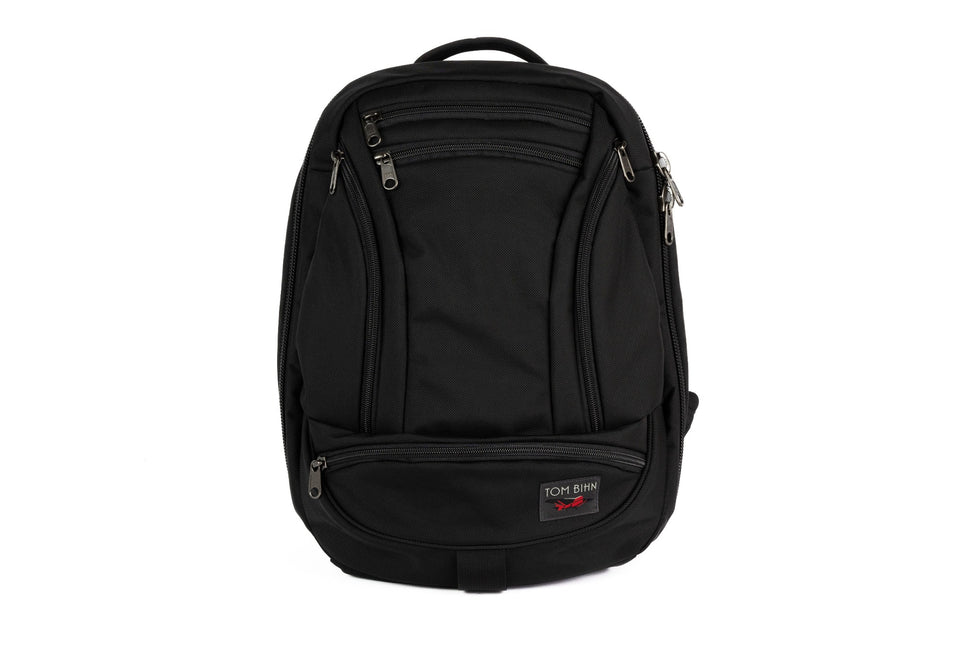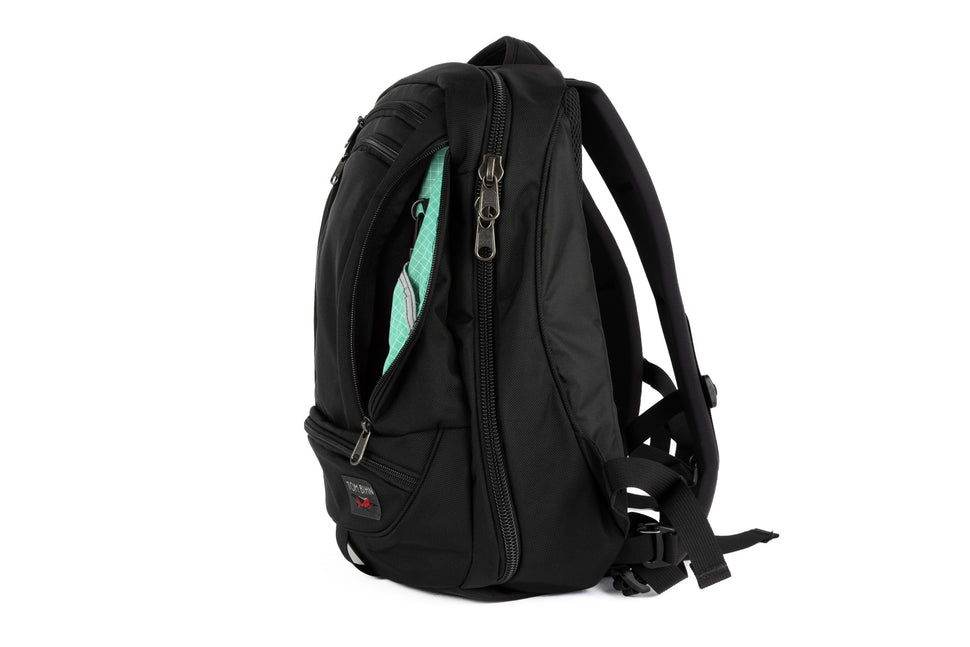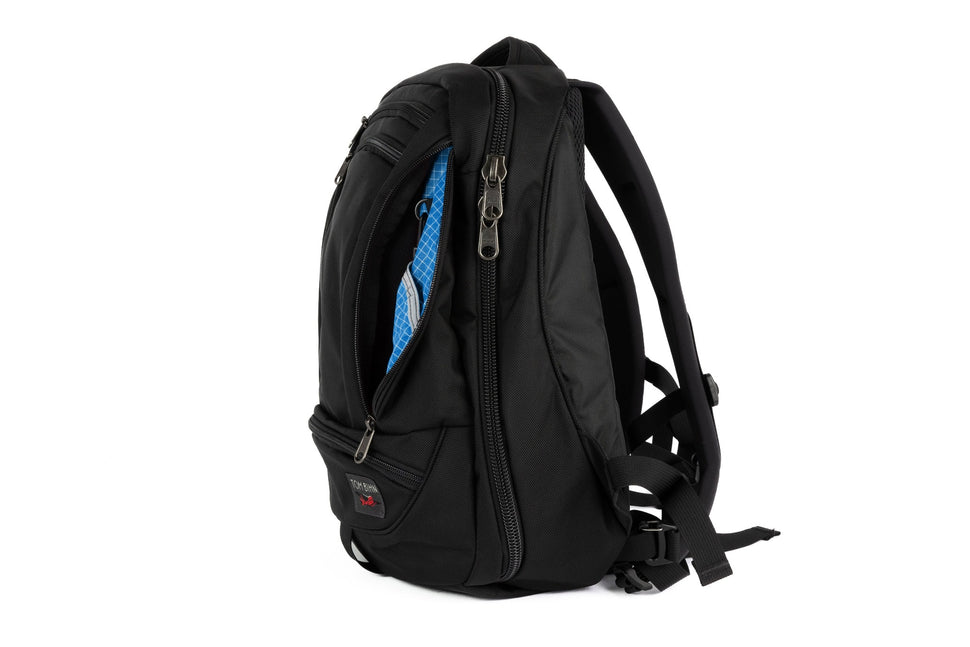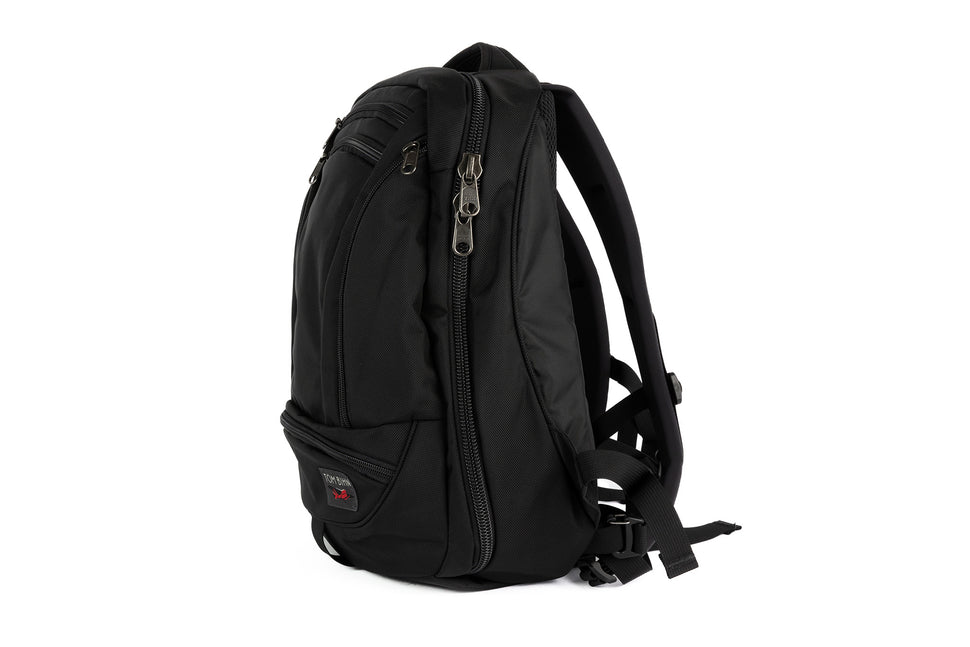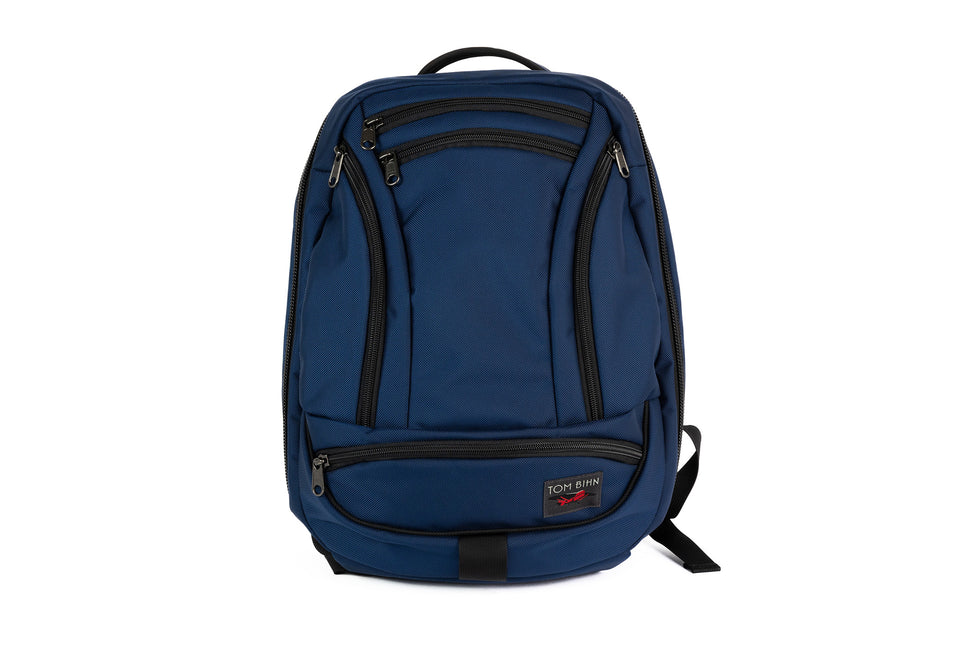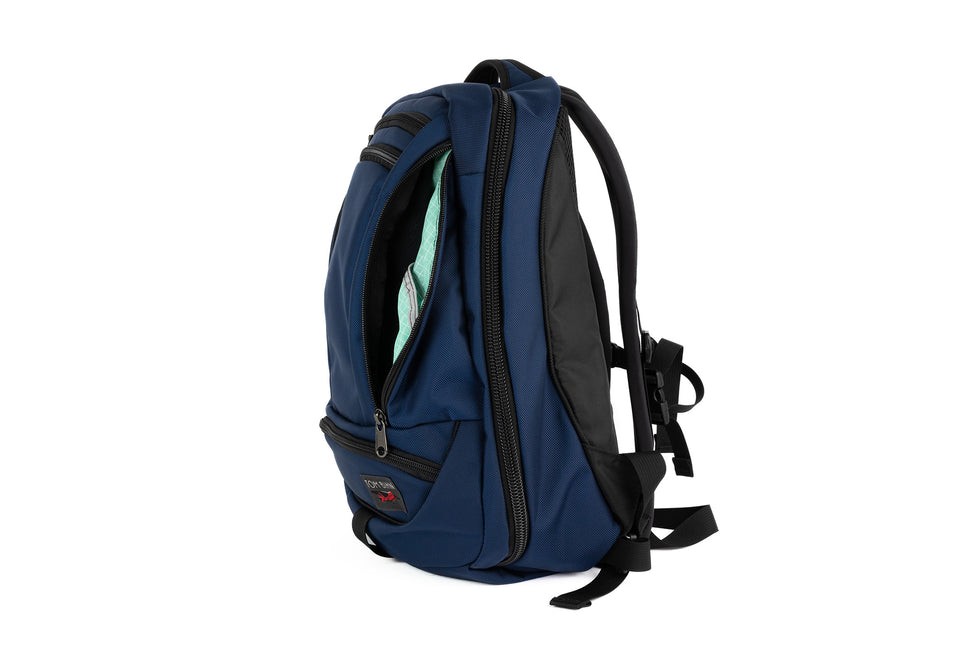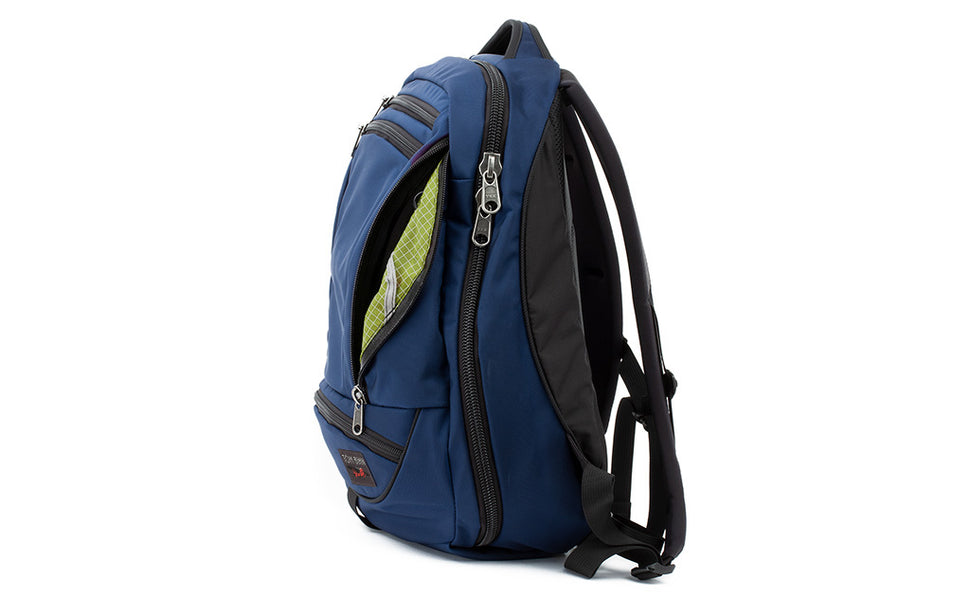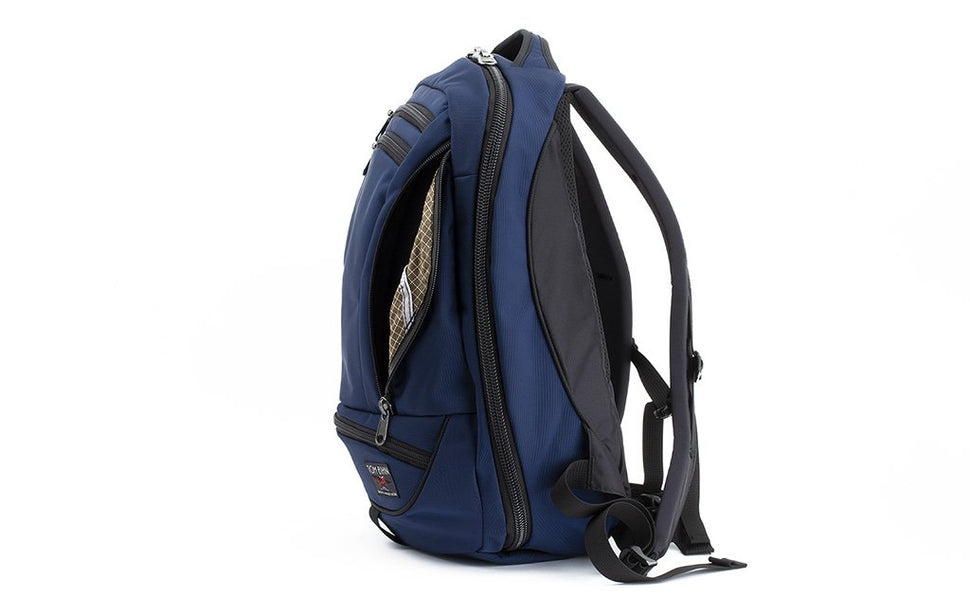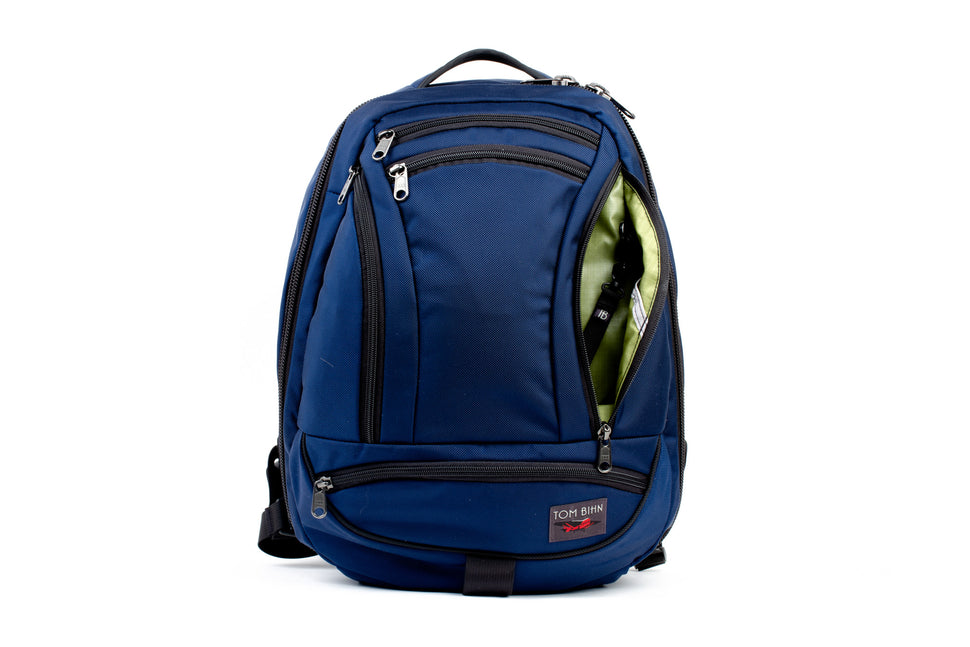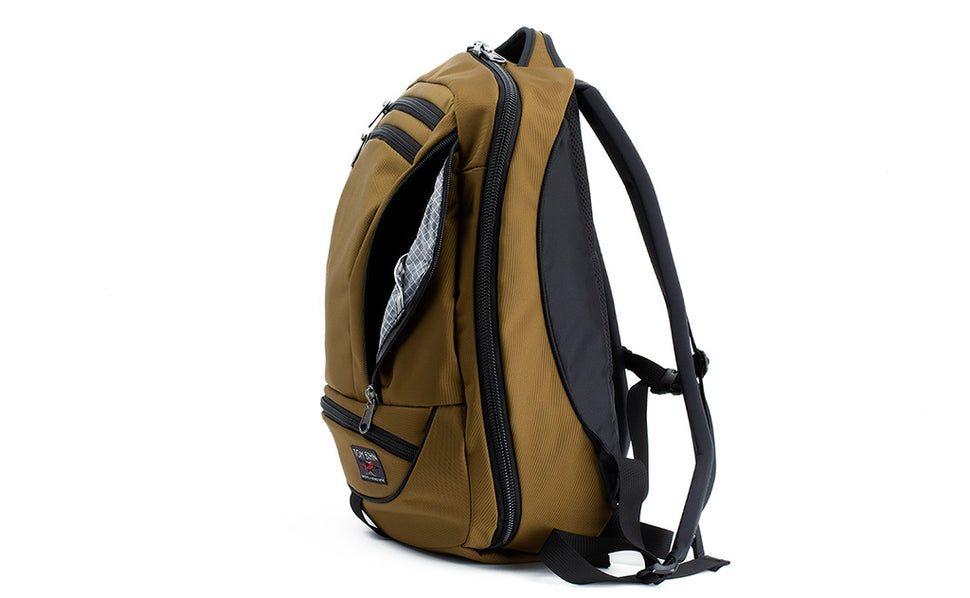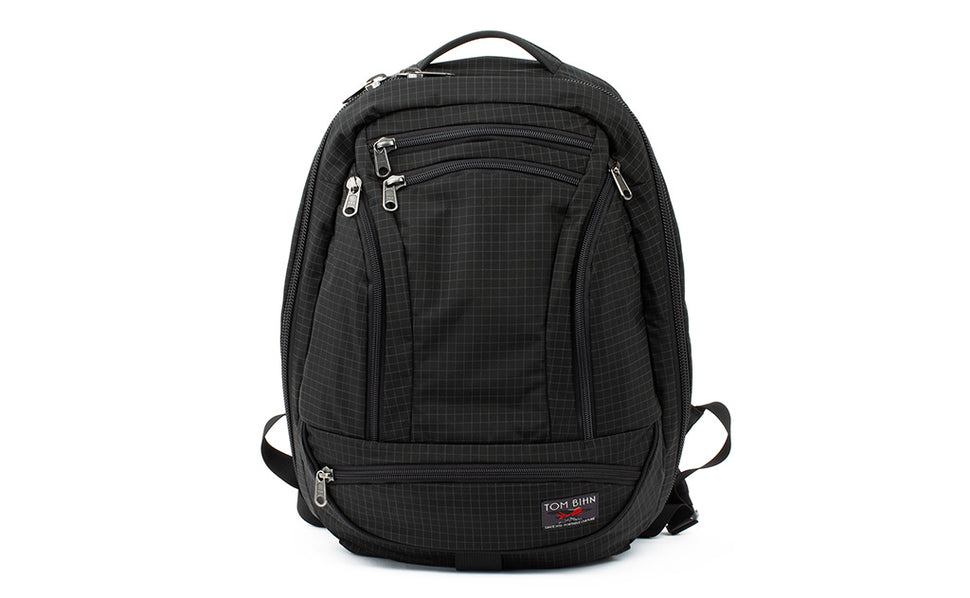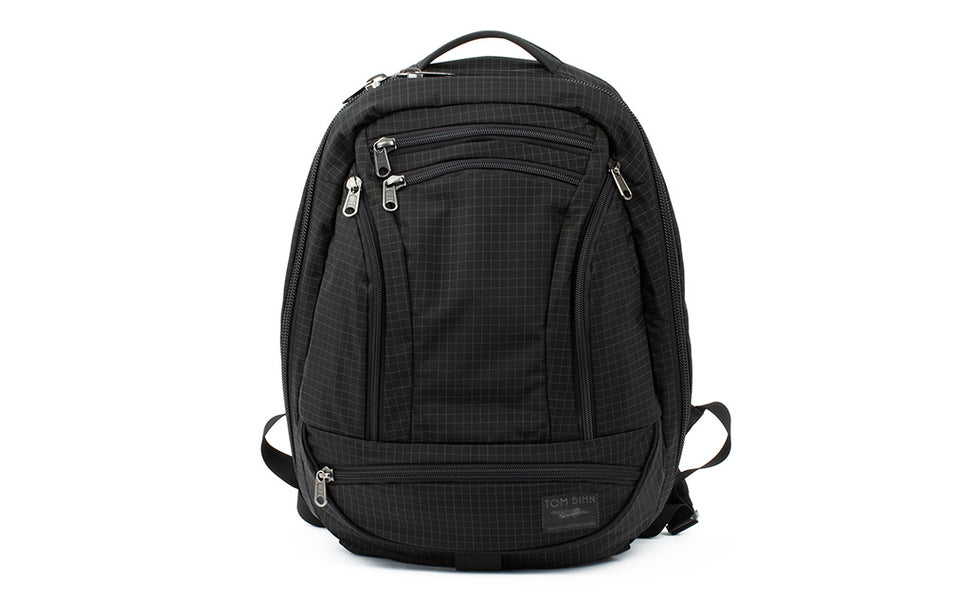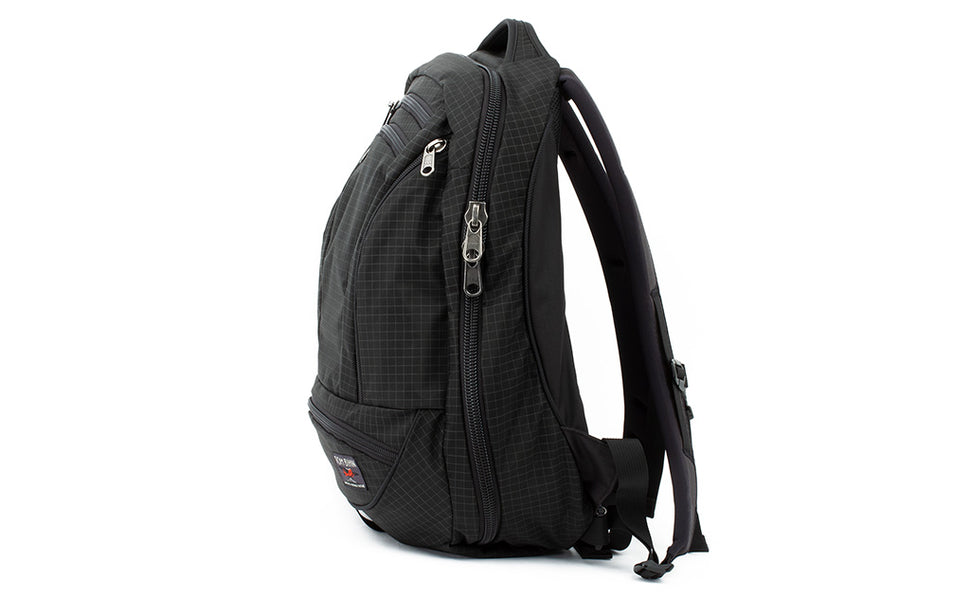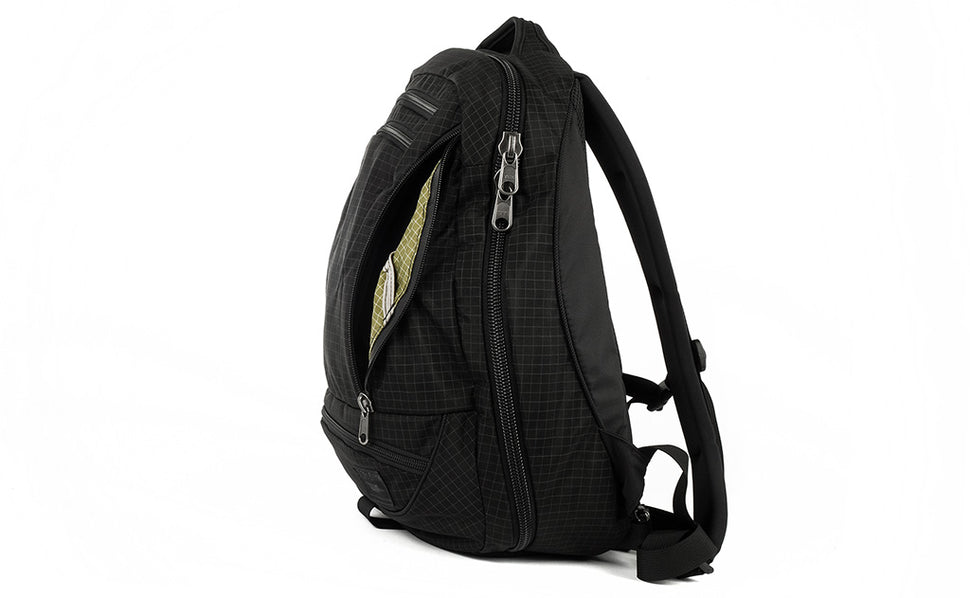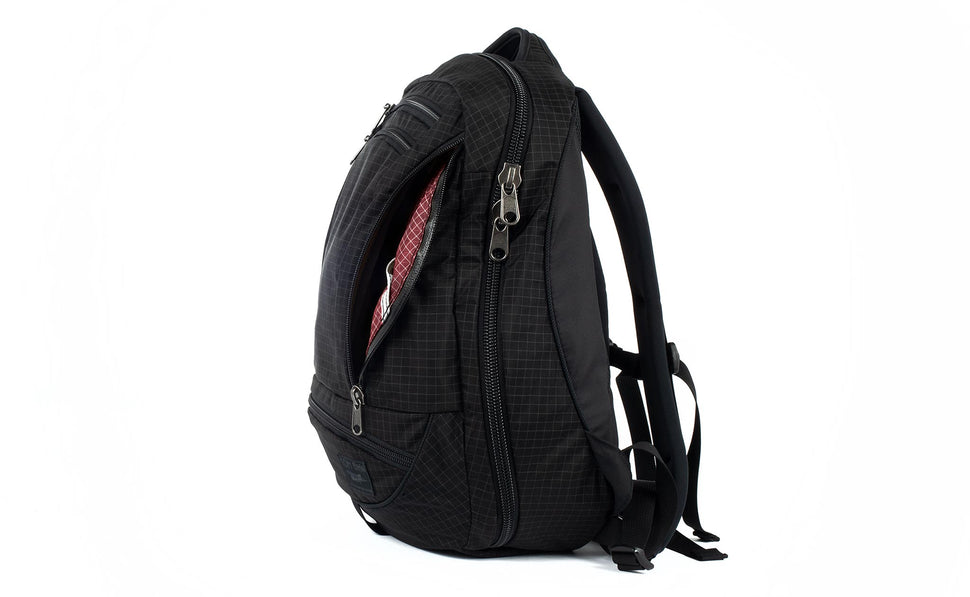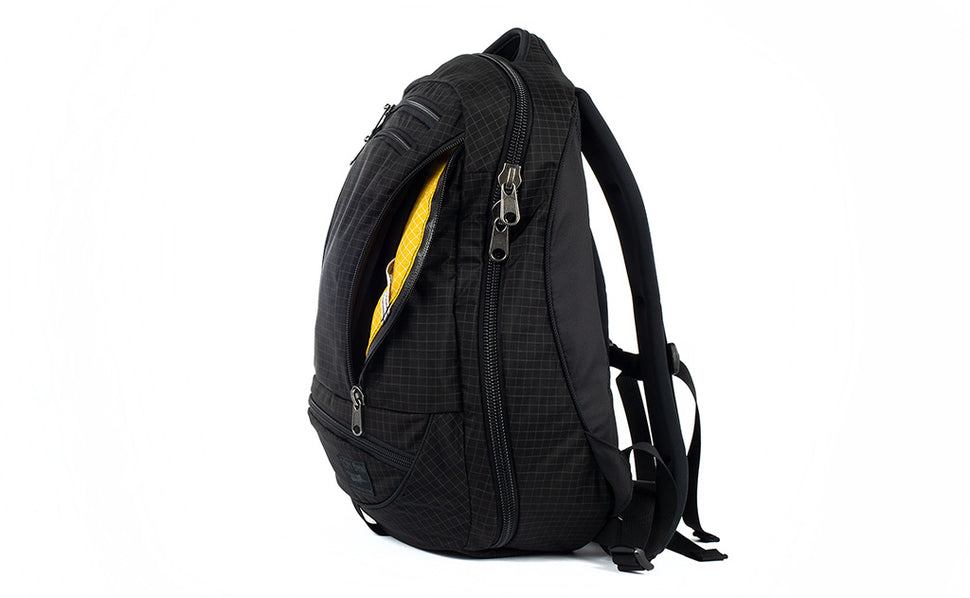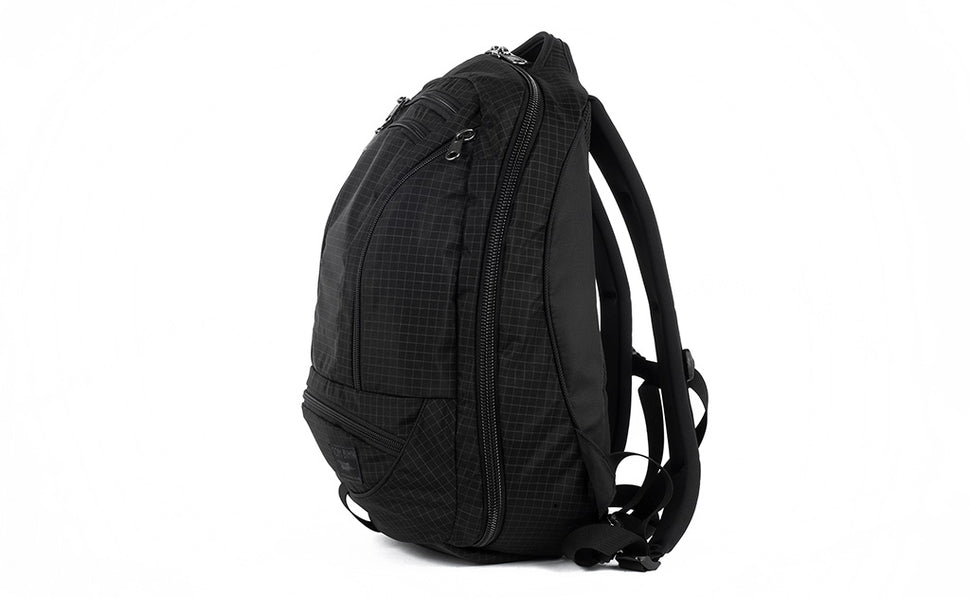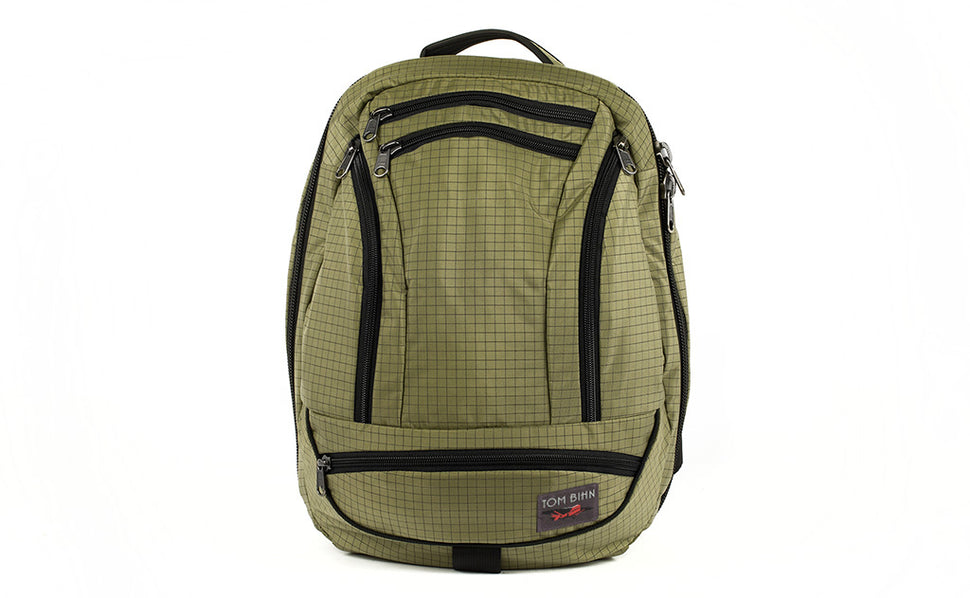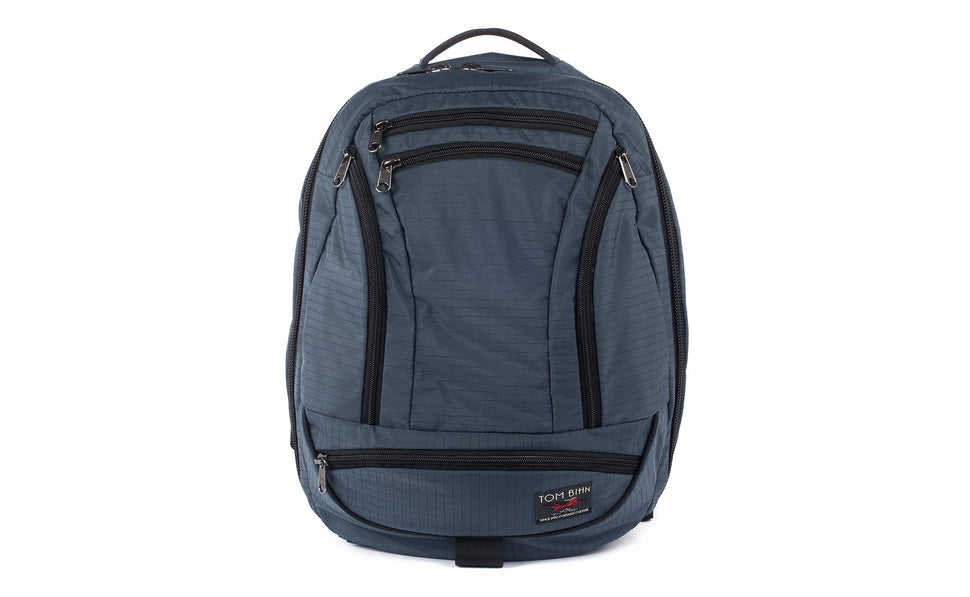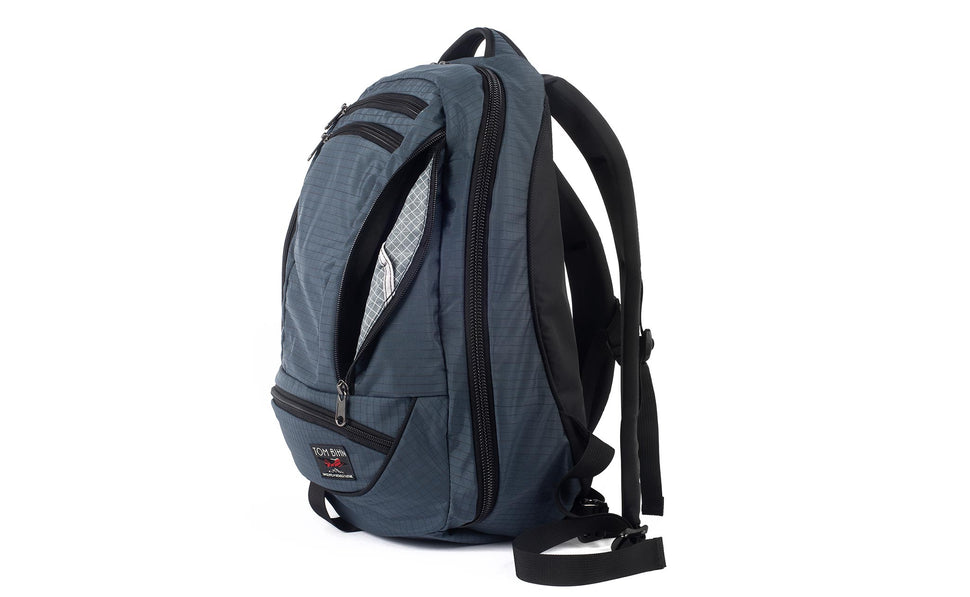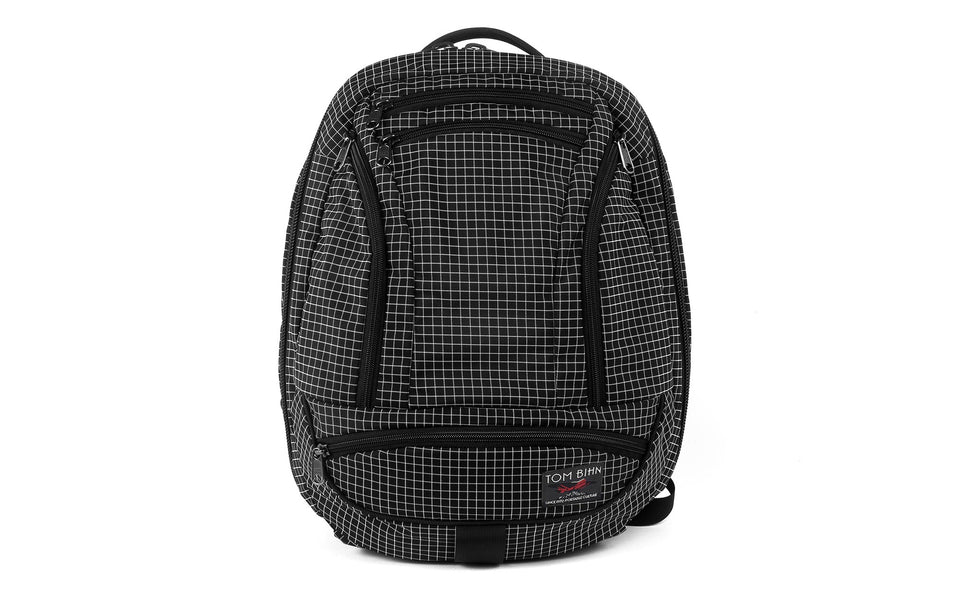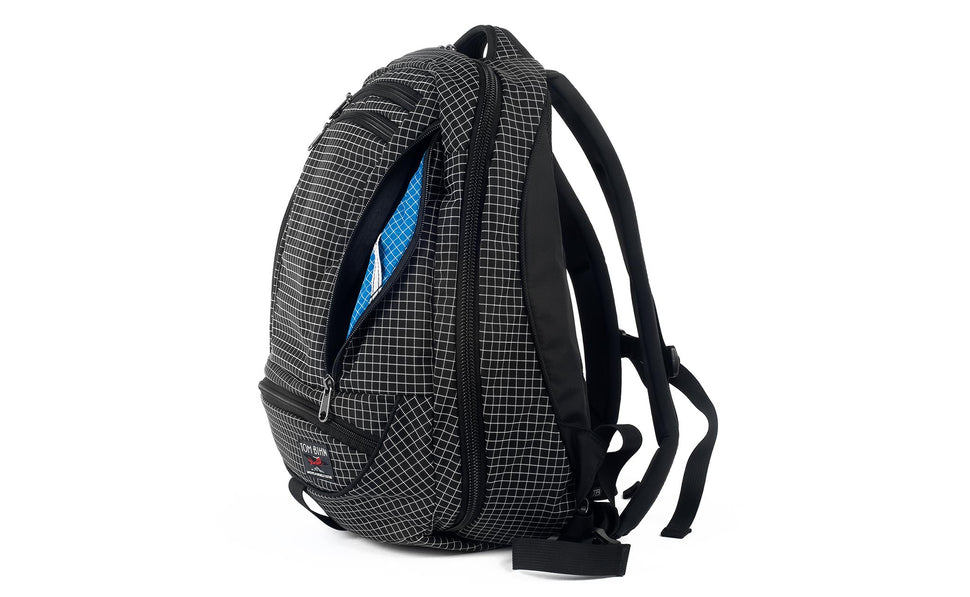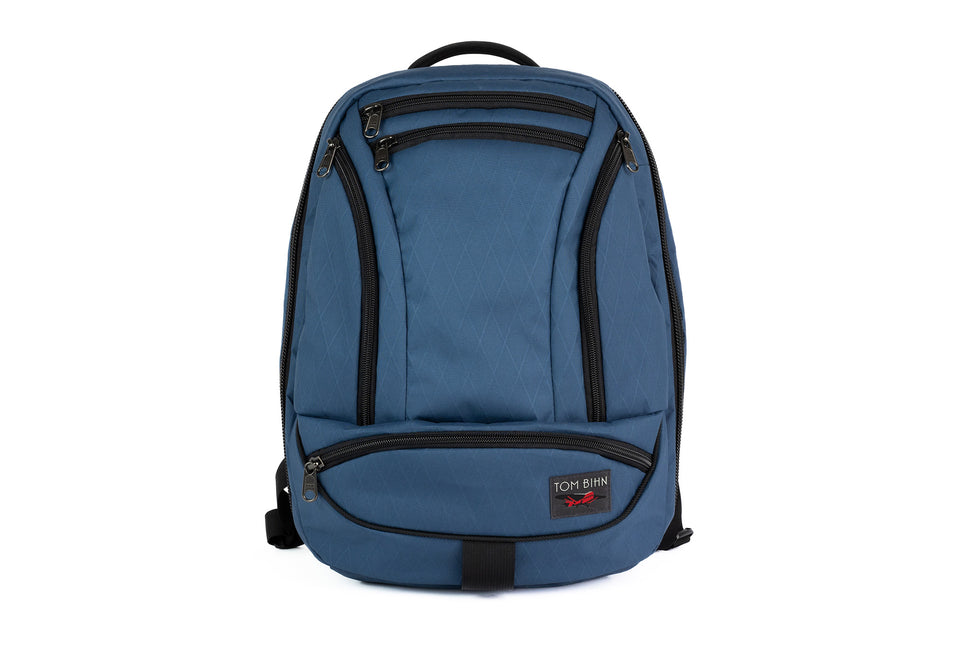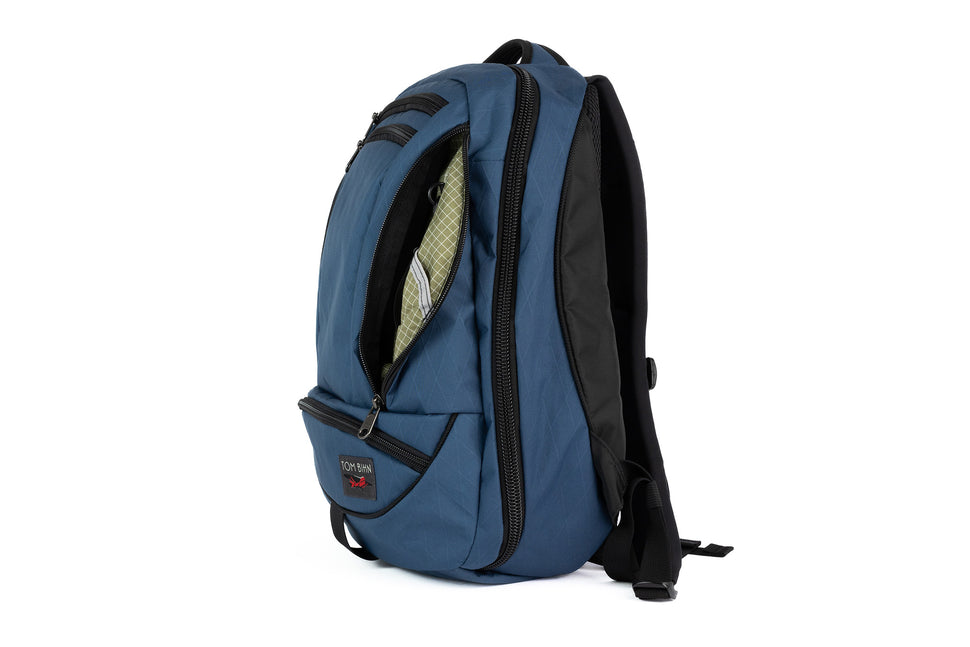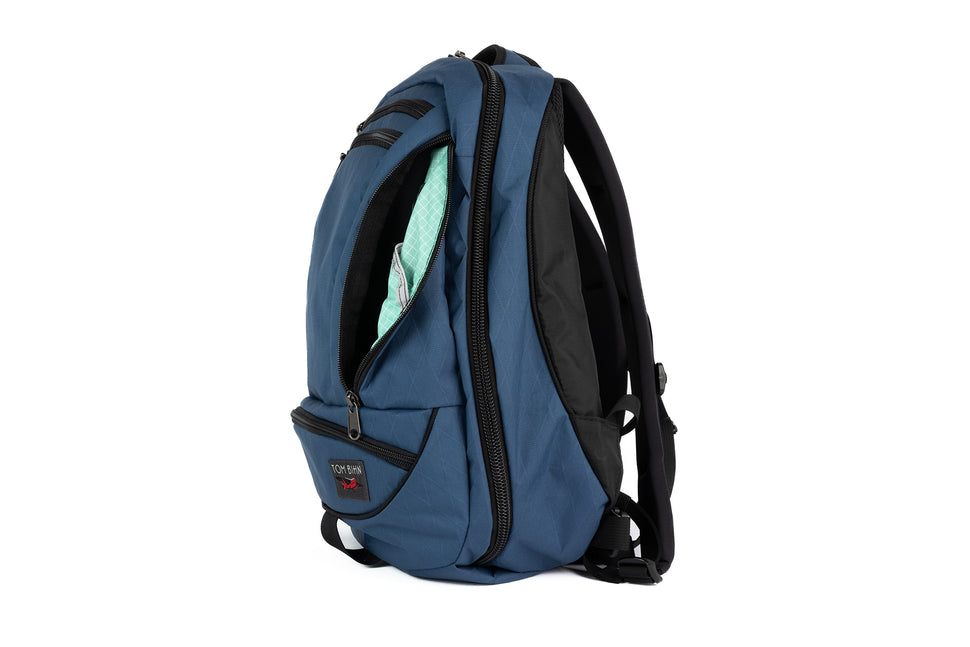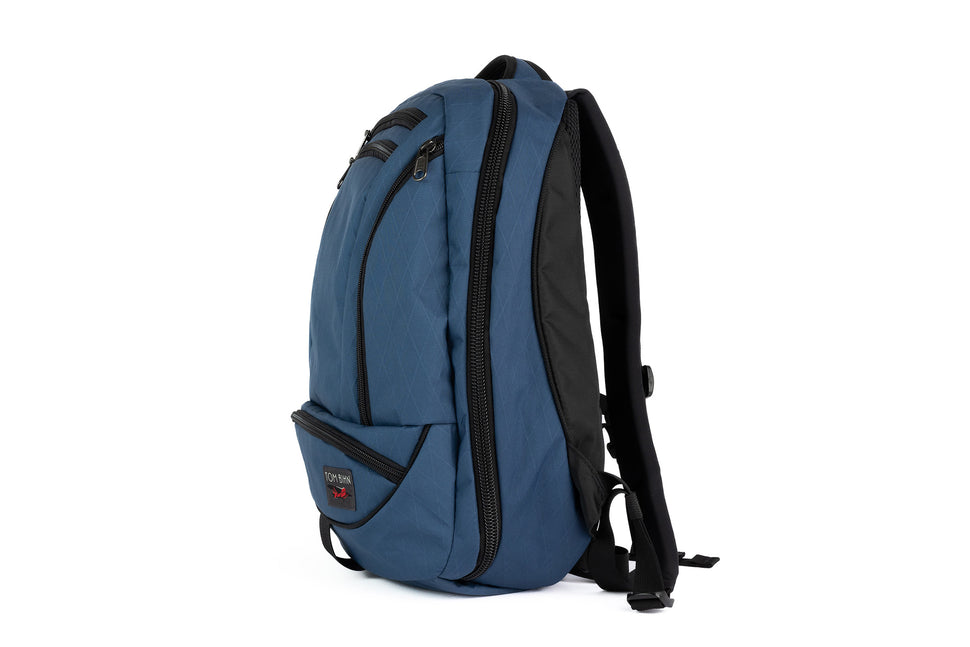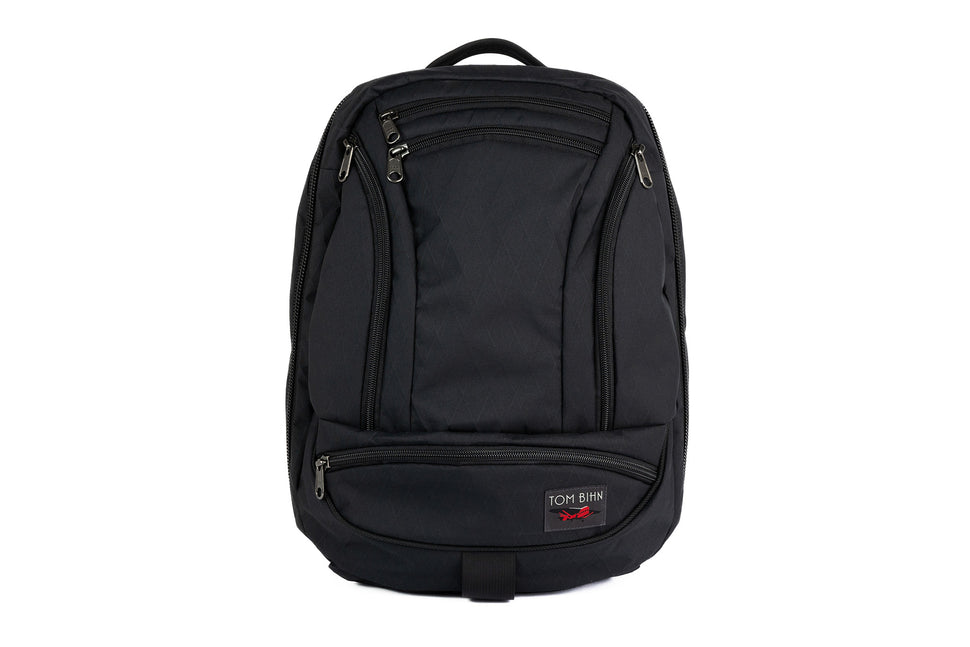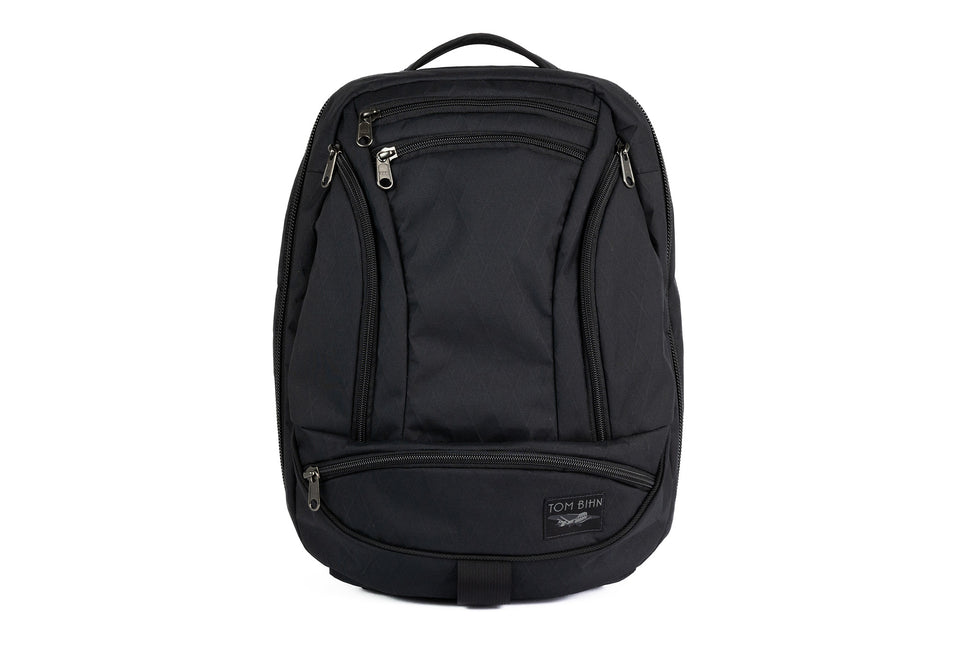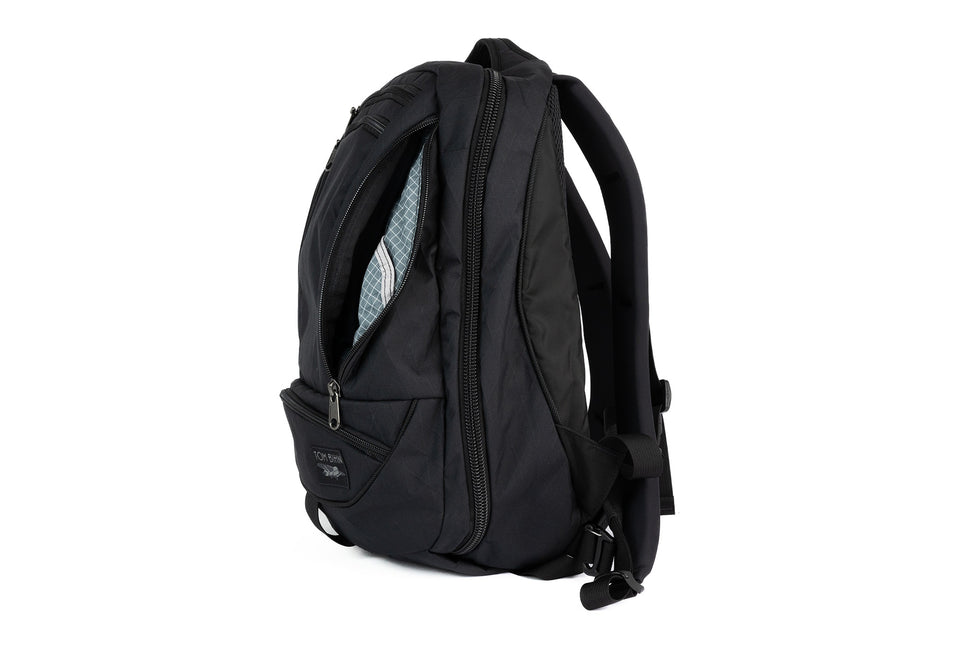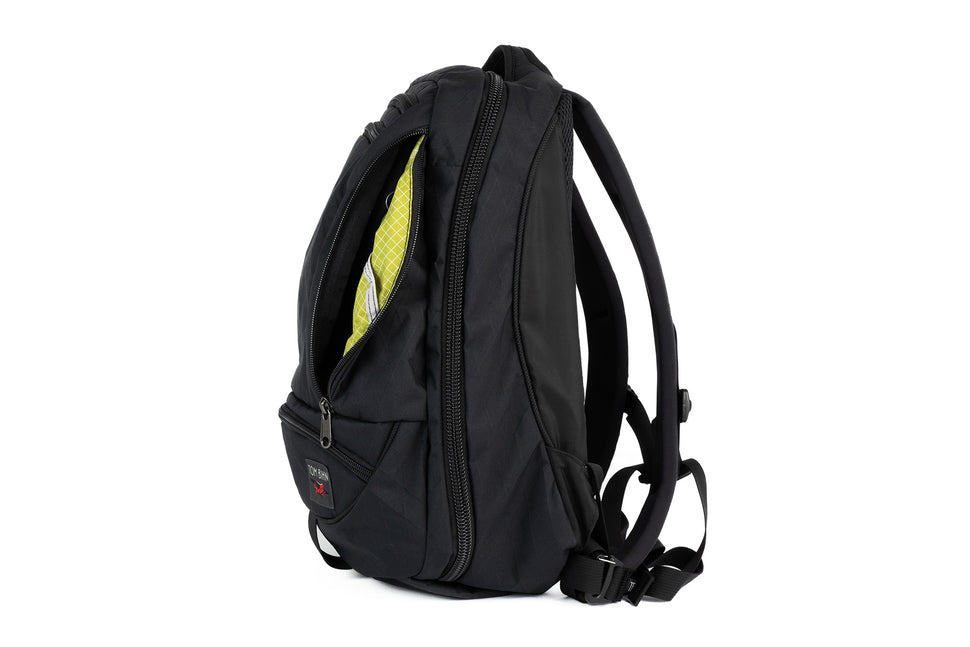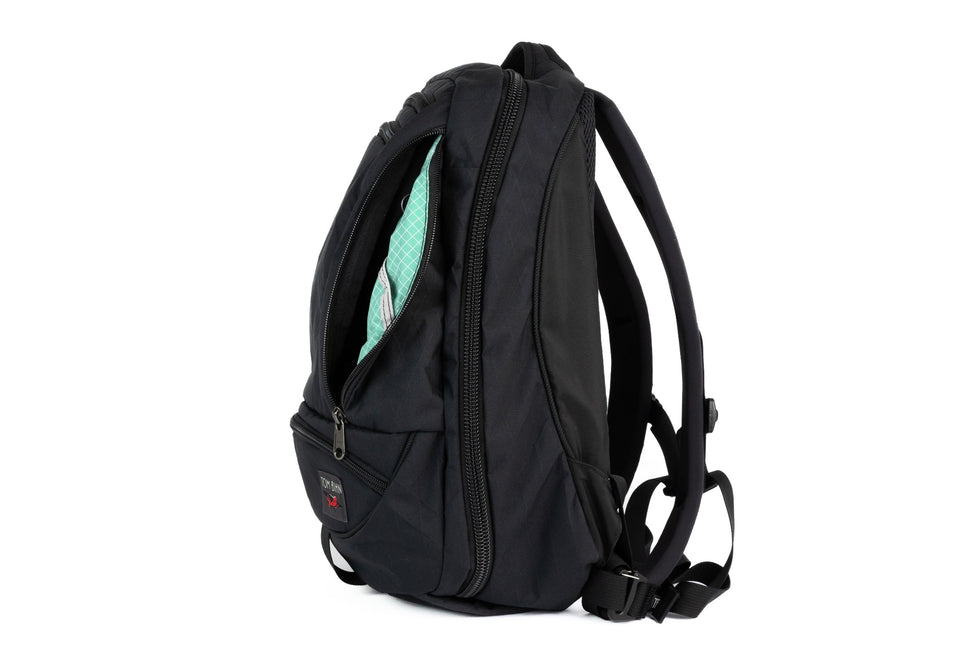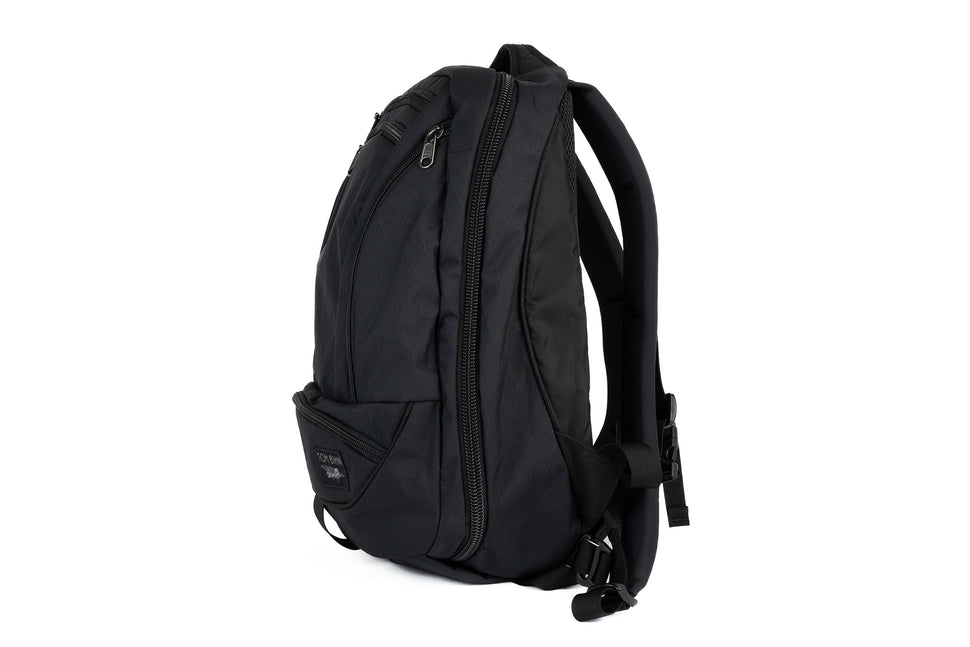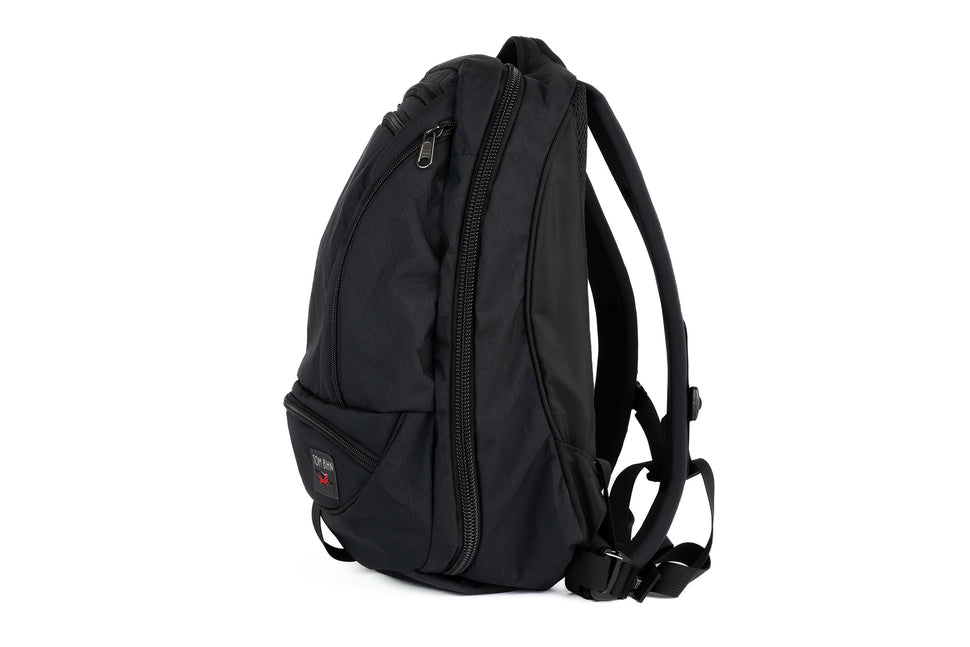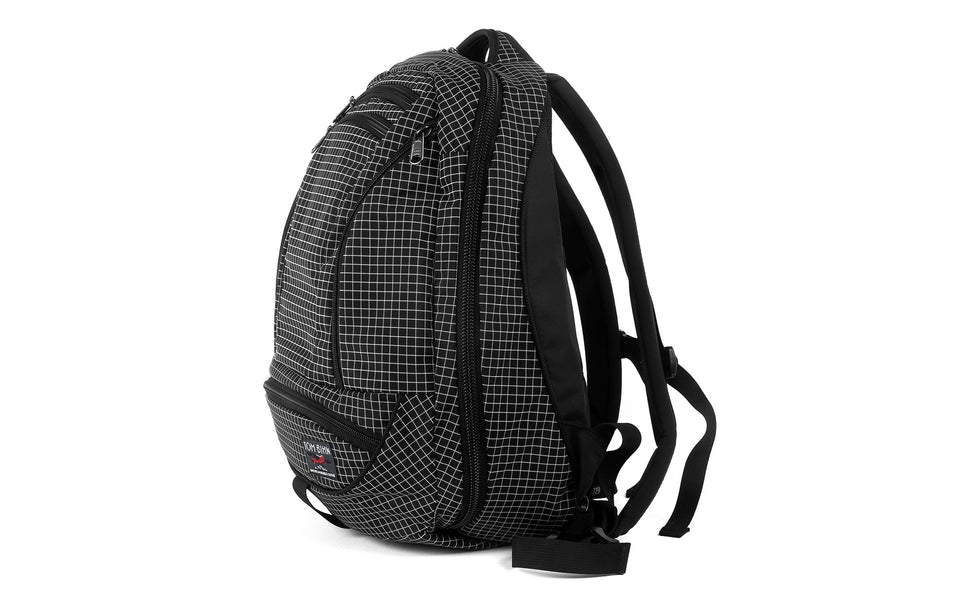 TLDR
The Synik 22 is the smaller version of our bestselling Synik 30, designed to do —and fit— it all. It has many of the well-thought out features of our original Synapse:
5 exterior front pockets with independent volume
Interior, banded open-top pocket
Comfortable, durable, edgeless shoulder straps
Removable sternum strap and waist strap
Webbing loop on exterior bottom of bag to hook items on the outside
Meets the personal item size requirement on most airlines
Generally fits folks between 5' and 5'10" comfortably
Plus, we added more features to the Synik:
Main compartment with full clamshell zipper opening
Two-point access suspended laptop compartment, fits up to 13" Macbook Pro
Fully integrated, yet removable, internal frame
Rolling luggage handle pass-through pocket
Padded grab handle and bottom
Full Description
Design Story
The original Synapse 19 debuted in 2009. Tom designed the Synapse to serve as a day-hiking backpack, but our customers saw the backpack's potential beyond hiking and began using it both for everyday carry and minimalist travel. Over the years, we started receiving requests to make a slightly larger version, and we did: the Synapse 25 debuted in 2013.
You've also asked us for other sizes and features over the years: maybe a 22-liter Synapse, or a 30-liter version, and what if we added more travel-specific features, like a full clamshell zipper opening? How about a dedicated laptop compartment? A luggage handle pass-through on the back panel? Done, done, and done: meet the Synik.
5 Front Exterior Organizational Pockets
The Synik 22 has an abundant amount of organization for your everyday essentials, big and small: the exterior of the bag has five pockets with independent volume. The pockets are designed and patterned in such a way that they don't steal space from each other and they look good (not too caved in, not too bulgy) whether full or empty.
The water bottle pocket is intentionally centered in the bag, allowing one of the heavier objects in your bag to be balanced in the middle, resulting in a more comfortable carrying experience while maintaining a clean, straight-forward exterior aesthetic. We've found that most standard 32 oz / 1 liter water bottles can comfortably fit in the water bottle pocket.
Below the opening for the water bottle pocket is another small zippered pocket that is just deep enough for keys, a wallet, glove liners, or a small camera.
The side pockets are generously sized for sunglasses (in a case or alone) or a first aid kit. The right side pocket has a small organizational pocket; the left pocket has one pen slot and two wider slots for tools or more pens.
The bottom pocket is a great spot for extra light clothing or snacks. If you care to add organization, we recommend storing a Size 1 Handy Little Thing here.
Each of the top four pockets has its own O-ring, and the bottom pocket has two O-rings. You can use them to attach our mini or small Ghost Whale Organizer Pouches or Mystery Organizer Pouches.
Interior Banded Open-Top Pocket
On the front interior side of the main compartment, there is a banded open-top pocket. It's spacious enough to fit a wide range of items, such as books, tablet, pair of sandals, or our Clear 3D Organizer Cube. Above this open-top pocket are two O-rings, where you can tether additional pouches, such as the Ghost Whale Organizer Pouches. Between the two O-rings is a set of Cache loops. It is the perfect spot to tether a Size 1 Handy Little Thing or a small device stored in a Cache. All these tethered items can be stored inside the open-top pocket too, if you want.
Edgeless EV50 1/2" Shoulder Strap
Conformity is overrated — except, perhaps, when it comes to shoulder straps. The edgelessness of this strap allows it to more softly conform to your shoulder; we find that this increases comfort. Yet the straps aren't too soft: the 1/2" thick foam means the strap is robust enough to carry a heavy load.
There's enough length on the shoulder straps to accommodate a wide range of body types. If you need to tighten the straps to the maximum amount, don't worry about having dangling ends — we've included sewn-in strap keepers to help keep those at bay.
Webbing Loop on Exterior Bottom
On the exterior bottom of the bag is a 1.5"/38 mm webbing loop. Originally, the Synapse was designed for hiking, so the intended use of the webbing loop was for hooking on a flashlight (highly recommended if you ride a bicycle or walk in the dark). If you're planning on using the Synik for travel, we've found the webbing loop serves as an extra grab handle, allowing you to easily pull the Synik from under the seat or the overhead compartment no matter which direction you stowed it on your flight.
Main Compartment with Full Clamshell Zipper Opening
The biggest change we made in designing the Synik is in the opening of the main compartment. The Synik can open fully clamshell — the zipper starts at the bottom edge of the bag, rather than the middle, so you can pack your bag like a suitcase.
Due to the clamshell style opening, there are also additional features added to the main compartment of the Synik. First, on the back interior side of the main compartment, we have included two sets of removable tie-down straps. You can strap down clothes or even a Packing Cube without worrying about the contents falling out while opening the clamshell all the way. Second, we added padding to the exterior bottom of the main compartment to protect the zipper sliders.
If you are using your Synik for daily use and don't need to fully unzip the clamshell each time, know that you can also just unzip the main compartment halfway and pack it like the Synapse or any front-loading backpack. The #10 YKK Aquaguard zippers that we use have enough resistance to keep the main compartment in place when it is opened just halfway. We've test-packed the Synik to its maximum to see i that would unintentionally force the clamshell open, and rest assured, it did not.
Two-Point Access Suspended Laptop Compartment
On the back interior side of the main compartment is also a built-in zippered laptop compartment. It is made with the same padded foam fabric as our Cache on the side facing the main compartment, and backed by the main lining fabric of the bag. The laptop compartment is suspended off the padded bottom of the bag, ensuring that your laptop is protected each time you place your backpack on the ground, whether gently or not.
There are two access points to the laptop compartment. You can access it from the inside of the main compartment. Or you can access it from the external zipper, located on the back left side (when facing the front of the backpack). We find the external zipper especially helpful when you want to directly pull out your laptop without having to rummage through the contents of the main compartment (say maybe in the security line at the airport). Unlike the metal zippers on the main compartment and five exterior pockets, the two zippers for the laptop compartment are made of plastic so that they don't damage your electronic device.
Above the interior zipper are two additional O-rings. More places to attach pouches.
The laptop compartment (size: 12.35" x 8.65" x 0.75" / 314mm x 220mm x 19mm) can fit devices as large as the 13" Macbook Pro. Please note: It's no biggie in practice, but for these bigger laptops, if you want to fit them through the external side zipper access, you will need to do a two-point turn (no need if using internal zipper access).
Fully Integrated Yet Removable Internal Frame
The Synik is designed to accommodate an optional internal frame. It is made of die-cut .055" thick High Density Polyethylene (HDPE), with a nylon webbing sleeve sewn down the center that encases a 8-1/4" / 210mm tall and 1/2" / 13mm wide 6061 aluminum half-stay.
We include it for you, but if you're not a fan of the extra rigidity, you can remove the internal frame (here's a video tutorial) by sliding it in and out of the back panel through an opening at the top of the panel. You won't see the frame itself unless you're adding it or removing it, and we've tested the bag enough to know that the frame also won't slip out.
The internal frame assists in ensuring a laptop stowed in the laptop compartment is suspended off the bottom of the bag, as well as adds a firm barrier between the laptop and (if you're using one) a rolling luggage handle that's inserted through the luggage pass-through slot.
On the internal frame is also an aluminum half-stay. It allows us to pre-bend the frame at a curve that will be comfortable to the vast majority of people.
Rolling Luggage Handle Pass-Through
We know many of you like to use our bags as personal items alongside roller luggage when traveling, so we added a pass-through pocket to the Synik, tucked between the back panel and the internal frame.
We recommend making sure that the internal frame is closest to the bag itself and the handle of your rolling luggage is on the outside of the frame. This ensures that there's a barrier between the laptop compartment and the luggage handle.
There are, of course, different sizes of rolling luggage with different handle lengths and widths. If you'd like to place your Synik 22 over the handle of your rolling luggage, that handle will need to be at least 400mm / 15.75" in length and at most 160 mm / 6.25" wide.
More Substantial Grab Handle
The depth on the shell of the Synik gave us the real estate needed to add a more substantial, padded grab handle (vs. the simpler webbing handle on the Synapse). The padding offers extra support, and the bowtie shape is more ergonomic.
P.S. does our bowtie handle look familiar? It's the beloved side grab handle from our Tri-Star.
What's Included
Included Removable Sternum Strap + Waist Strap
As with all of our major backpacks, we include the adjustable and removable sternum and waist straps: if you don't like or don't use your waist or sternum strap, remove them!
Note: we slightly lowered the waist strap attachment points on the Synik so that it better fits a wider range of heights and tall folks in particular.
8" Snaphook/Snaphook Key Strap
As with most of our bags, we've included a key strap. 8" long from tip-to-tip, a snaphook on either end. Good for attaching your keys to.
Cord Zipper Pulls
A set of pulls to extend, quiet, or replace your metal pulls.
What's Optional
Size 1 Handy Little Thing (HLT)
You can attach a Size 1 Handy Little Thing (HLT) to the pair of Cache loops above the open-top pocket, or you can store the HLT in the bottom front pocket of the Synik 22. It is the perfect clamshell organizer pouch for those looking for a lot of organization.
Packing Cube Shoulder Bag
The Packing Cube Shoulder Bag is the perfect 2-in-1 packing cube. It's big enough to store rolled up shirts. Once you reach your destination, attach a shoulder strap and use it as a crossbody.
Freudian Slip
Love organizing and want even more pockets? The Synapse 19/Synik 22 Freudian Slip adds an additional ten organizational pockets to your bag. One side of the Freudian Slip has two folder pockets that can fit folders/papers horizontally or vertically, as well as three open-top pockets for a small tablet in a Cache or a notebook. The other side has two mesh pockets for bulky items, two pen slots, and a business card slot.
Cache
The Synik 22 can accommodate a 13" Macbook or a wide range of smaller devices. If you plan on showing your laptop in the built-in compartment, we think there is enough padding to skip a Cache. If you plan on putting a second device directly in the main compartment, outside of the laptop compartment, or in the interior banded open-top pocket, we recommend adding a Cache.
Choosing an Exterior Fabric
You like choices and we like to give you choices! That's why the Synik 22 is typically available* in three different exterior fabrics. Our Materials Glossary explains each fabric in great detail, but here are some quick facts that may help you decide which to choose. And we're always here if you have questions: emailus@tombihn.com
X-Pac® RX-30
Weave:

3-Ply Polyester Laminate

Fibers:

300 denier 100% Recycled Polyester Face

Coating:

0.5mm Polyester Film

Made in:

USA
Choose this fabric if
You want a lighter weight fabric that has remarkable tear strength and good abrasion resistance.
You're looking for a fabric with a modern, "technical" appearance.
You want a fully recycled fabric with 0-Chain DWR coating
High Tenacity Ballistic Nylon
Weave:

2x2 "ballistic" weave

Fibers:

630 denier type 6,6 (high tenacity) filament nylon, twisted

Coating:

heavy urethane

Made in:

South Korea with Canadian yarn
Choose this fabric if
You want your bag to be soft and supple yet tough as nails.
You want a fabric that's stately enough to be at home at work, the mountains, or a nice hotel.
You don't want your bag to collect pet hair or abrade your clothing.
420d HT Nylon Classic Parapack
Weave:

1x1 plain weave

Fibers:

420 denier type 6,6 (high tenacity) filament nylon

Coating:

heavy urethane

Made in:

U.S.A with U.S.A yarns
Choose this fabric if
You want your bag's fabric to have a soft, smooth hand yet be quite durable and have an interesting backstory.
You want a fabric that's stately enough to be at home at work, the mountains, or a nice hotel.
You don't want your bag to collect pet hair or abrade your clothing.
*There may be times when one of the exterior fabrics mentioned here isn't available. Even with our best efforts, the demand for our bags occasionally outpaces our production capabilities: at times, some products, color combinations, or fabrics might be temporarily unavailable or "In Production." See the In Production color combinations as a guide to what our factory crew is making and what will be available next.
97%
would recommend this product
Verified Buyer

Product Standouts

Thoughtful Design,

Comfortable,

High Quality Craftsmanship,

Durable,

Good Storage Size

1 year ago

Product Standouts

Thoughtful Design,

Comfortable,

High Quality Craftsmanship,

Durable,

Good Storage Size

Everything I wanted & more

I truly love this backpack. It's a little ridiculous how much I love it, if I'm being honest. Prior to purchasing the Synik 22, I've carried the Synapse 19 (a little too small for my daily needs), the Synapse 25 (a little too big for my 5'3" petite-ish frame. Gifted to my dad who is now a Tom Bihn one-bag minimalist travel convert), the Paragon (not enough structure & organization for my EDC- plus my teen son "borrowed" it months ago & it's happy with its new owner) and the Daylight Backpack (a fave for stuffing into my Aeronaut 30 when traveling & using as a light day trip bag). While all these other bags have many splendid uses, none fit the bill as my EDC like the Synik 22. I easily fit my laptop, lunch bag, light packable rain jacket (for unpredictable PDX weather), wallet, keys, hairbrush, airpods, hand sani, pens, and 2 cubelets with miscellaneous essential oils, and other small useful things. The larger center pocket is perfect for a 21oz hydroflask. I'm a healthcare worker and have put many miles on this bag. The black 525 ballistic fabric has held up impressively well to daily use in the 6 months I've owned it. The clamshell opening is convenient & I've never had an issue or concern that the main compartment of the bag will accidentally open on its own. The zippers are very strong. The backpack straps are ultra-comfortable as well. I'm so grateful to have found my goldilocks EDC in the Synik 22. Additionally, while I continue to aspire to become a one-bag travel…

Verified Buyer

Product Standouts

High Quality Craftsmanship,

Unique,

Durable,

Thoughtful Design,

High Quality Finishings

1 year ago

Product Standouts

High Quality Craftsmanship,

Unique,

Durable,

Thoughtful Design,

High Quality Finishings

Nearly Perfect

I did a deep dive on reddit.com/r/onebag, and finally decided to purchase the Synik 22 as an everyday carry bag. Like many of you, I researched all the unique futures and benefits of this amazing bag.

Things that I love:

1. Centralized water bottle pocket. A much more elegant solution than the standard 2 pockets on almost every other backpack. I can fit a large 32oz Hydroflask in this pocket with ease, and from the outside you can't even tell that its there.

2. Night Walk is an amazing color. RIP. I haven't had the chance to try a Ballistic Nylon bag, but I really like Halcyon as a material. You can tell that attention and care went into the design and construction of this bag, and the result is a durable piece of equipment that I think will last for decades with the right care.

3. Versatility. With the full clamshell zipper I could see myself also using this bag as a travel bag for short trips. The zippers on the clamshell are also "sticky" enough to where you can open it like a traditional non-clamshell backpack if you would like.

Suggestions for improvement:

1. Deeper front pocket. The central horizontal zip pocket just superficial to the water bottle pocket could be a little bit deeper. I wanted to throw my iPhone into it, but I was surprised to see that its only 3 or 4 inches deep.

2. A more elegant and integrated strap keeper. The straps were extremely long when tightened, which was easily fixable with the Tom Bihn strap keepers. This solution is okay - the…

Verified Buyer

Product Standouts

Thoughtful Design,

Comfortable,

Durable,

Sewn in USA,

High Quality Craftsmanship

1 year ago

Product Standouts

Thoughtful Design,

Comfortable,

Durable,

Sewn in USA,

High Quality Craftsmanship

Perfect size, design, and workmanship

I graduated from a Synapse 19 which I've used for over 6 years to a Synik 22 due to a larger laptop (from a Thinkpad X220 to a T14). The Synik is more comfortable with improved padded shoulder straps and offers better protection with a padded bottom when compared to my old Synapse. One downside is that it is slightly heavier and the main compartment zippers are harder to zip and unzip but hopefully they will break in with more use. Overall, very happy with my purchase.

Verified Buyer

Product Standouts

High Quality Craftsmanship,

Durable,

Unique,

Thoughtful Design,

Versatile

4 months ago

Product Standouts

High Quality Craftsmanship,

Durable,

Unique,

Thoughtful Design,

Versatile

My one travel bag for 6 mo around Europe

I've been living out of Synik 22 for 6 months now, and still going. I'm going to nitpick here because the bag has been a solid choice overall, but I think there's definitely room for small but functionally significant improvements. The bag has been on 3 international flights visiting the US, 2 Ryan Air flights in Europe, 3 weeks in Italy riding trains between 5 cities/towns, 2 weeks in Budapest on Subway and buses, throughout Portugal on many buses and trains. The bag easily meets the sizing requirements in all scenarios mentioned. The bag still looks new with a damp cloth wipe down. Quality, second to none. I have the Black 400 Halcyon/Solar interior. For reference, I'm 5'10" , and as far as carry comfort goes, it's good not great. I'm a long trail backpacker and have owned many backpacks so I have quite a bit to compare the Synik against. When fully loaded, the shoulder straps are a little narrow and don't distribute the weight as well as they could. The cushion and thickness is superb, but I think a 1/4 -1/2"" wider would make a big difference. Also, the bag rides lower on my back than I'd like, it's something about the design, Even with the straps cinched as snug as reasonably comfortable, it sits low. I don't know if it could be remedied by sewing the attachment point a little lower at the top of the pack. I own an Aeronaut 30 and it rides perfectly positioned on my back, just for comparison note. Also, a really nice feature would be a quick release bucket at the…

TB

TOM BIHN

4 months ago

Hi John! Thanks for the thorough review, lots of great feedback for us to think through for future designs!

Verified Buyer

Product Standouts

Thoughtful Design,

High Quality Craftsmanship,

Versatile

1 year ago

Product Standouts

Thoughtful Design,

High Quality Craftsmanship,

Versatile

Solid, lives up to the hype, but minor annoyances.

This is my first Tom Binh bag, and a relatively steep carry purchase in my world. All the positive hype was justified. The craftsmanship, thoughtfulness, and materials are all exquisite. I got the Night Walk Halcyon, which is (as many say) nicer in person than the pictures show.

I can't say much more than what's already been said (at length) by others. This bag and the 3D pockets, all with their own volume internally - gobbles up gear, and has a surprising capacity. Accessibility to your items, and the "findability" of things makes this bag a pleasure to use.

One thing I realized after buying the bag is that it gets even better with additional pouches and accessories. I'm not really/usually a fan of pouches/pockets/organizers in pockets, but with the O-rings and deep volume of the front/side zips, unless you want to rummage around the bottom of the (deep) pocket, it can be irksome to find the thing you want/need/are seeking even though you know "exactly" where it is. This is also irritating when the bag is more fully stuffed (which mine rarely is, as i use it as an EDC bag). Finally, from other user-feedback, I expected the chin pocket to be larger than it actually is. After viewing a bajillion comparison videos on YouTube, etc., It seems that the larger Synik/Synapse bags have a much, much larger usable chin volume than the smaller versions. It's not even that the pocket volume itself is unusably small, it's just that the zip opening prohibits some small-medium organizers…
Reviews Loaded
Reviews Added
Sewn in Seattle
Our bags are designed and sewn right here in Seattle, Washington, U.S.A.
That allows us to be control freaks in the best way possible; we have direct control and oversight of the quality of our materials, our products, and the jobs and working environment that we help create. It also offers us a unique spontaneity: when we have an idea for a new product or accessory, we can design it, figure out how to build it, add it to our website and be ready to ship it out our front door all within just a few weeks. How cool is that?

Intrigued? You can find out more about the unusual way we do business on our Company Philosophy page.
THE BIHN Guarantee
Everything you buy from us here at TOM BIHN is satisfaction guaranteed. We've been in business since 1972 and we stand behind what we make.
If something goes wrong and it's our fault, we'll fix it for free. Repairs due to normal wear and tear or due to other things that are not our fault will be performed, when possible, at a reasonable charge right here in our Seattle factory where your bag was made. Defects in materials or workmanship are uncommon and almost always evident while the product is still new. Keep in mind that bags and packs are often subject to extreme wear in everyday use: do not expect them to last forever. Only true love lasts forever! You can expect a TOM BIHN product to give years and years of hard service.