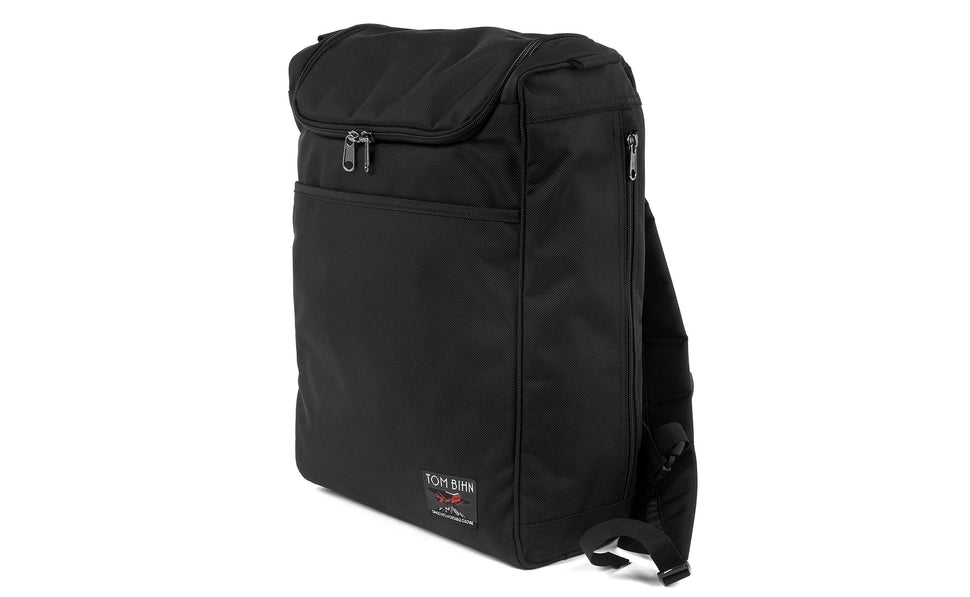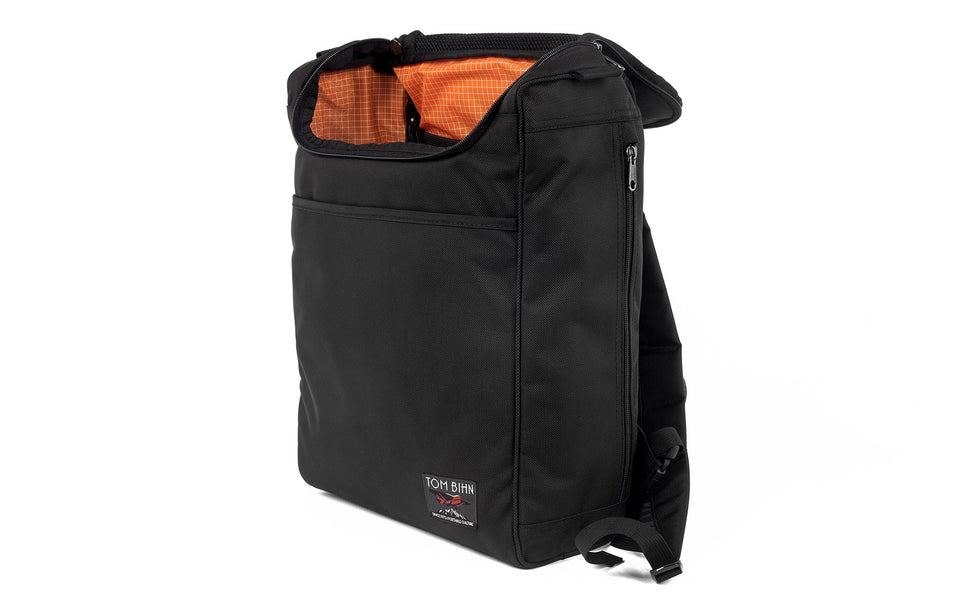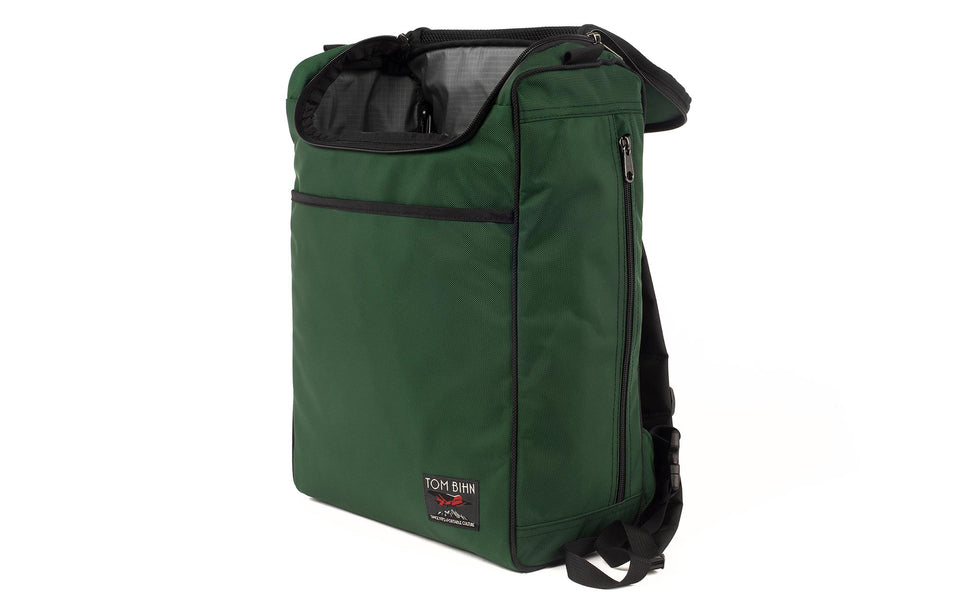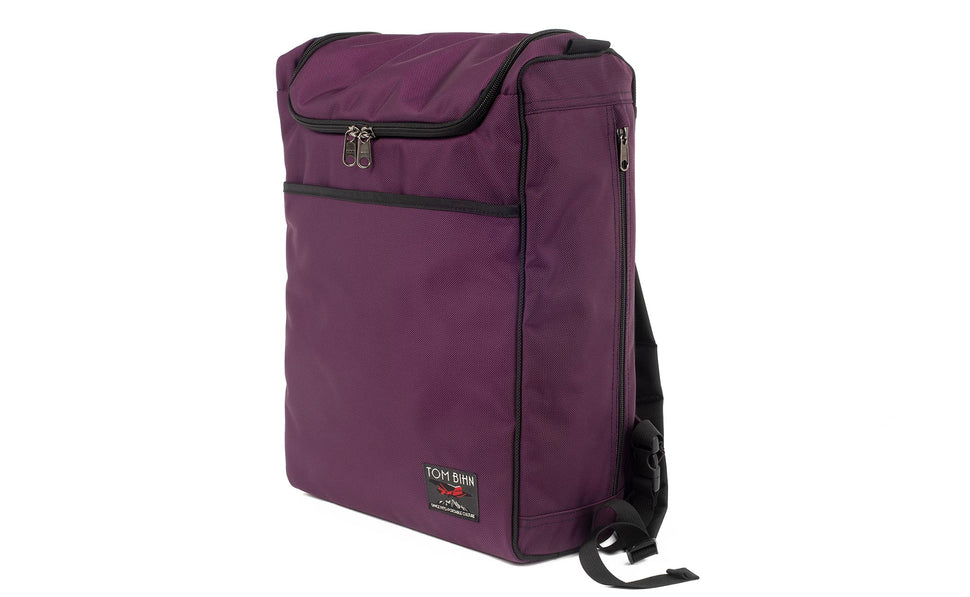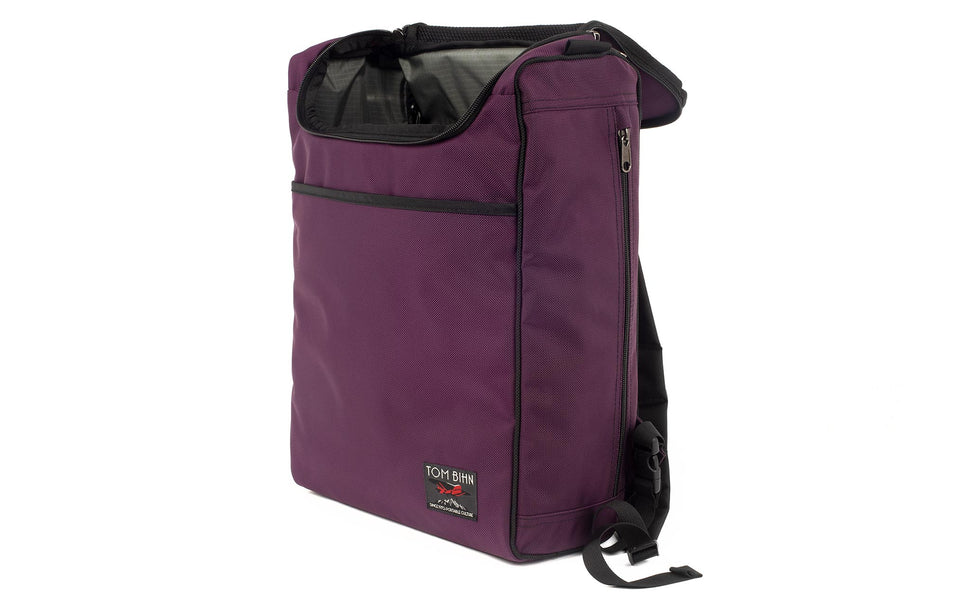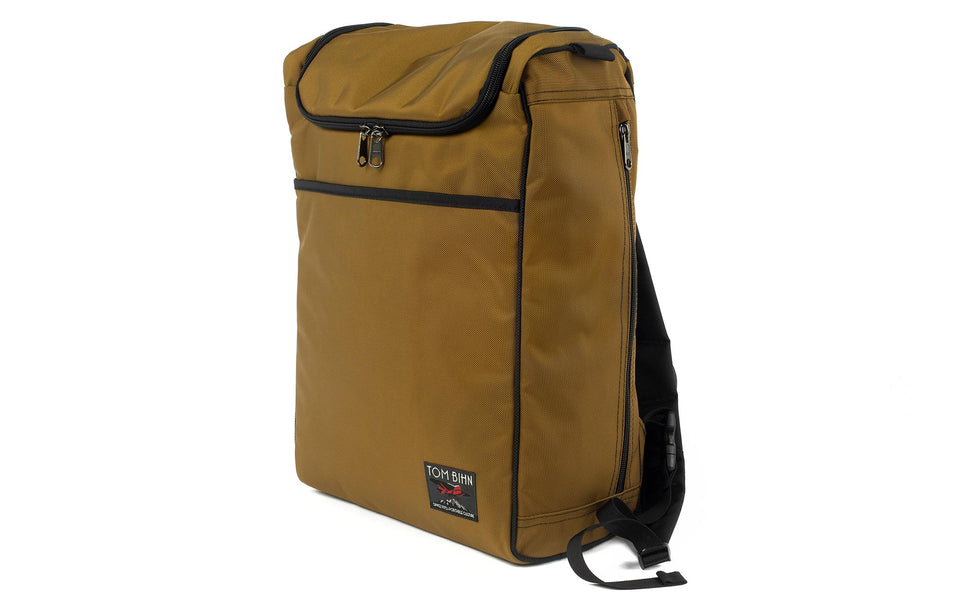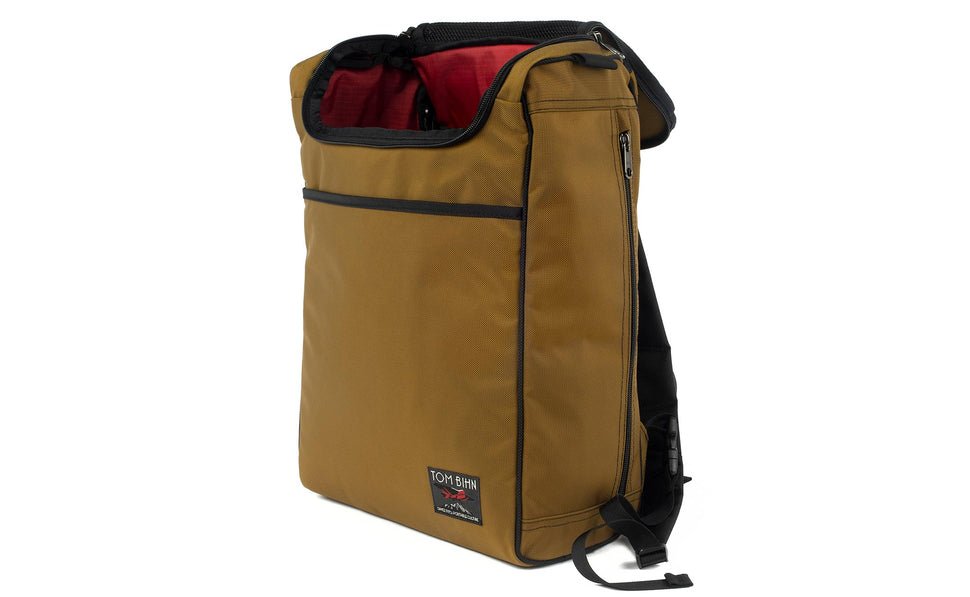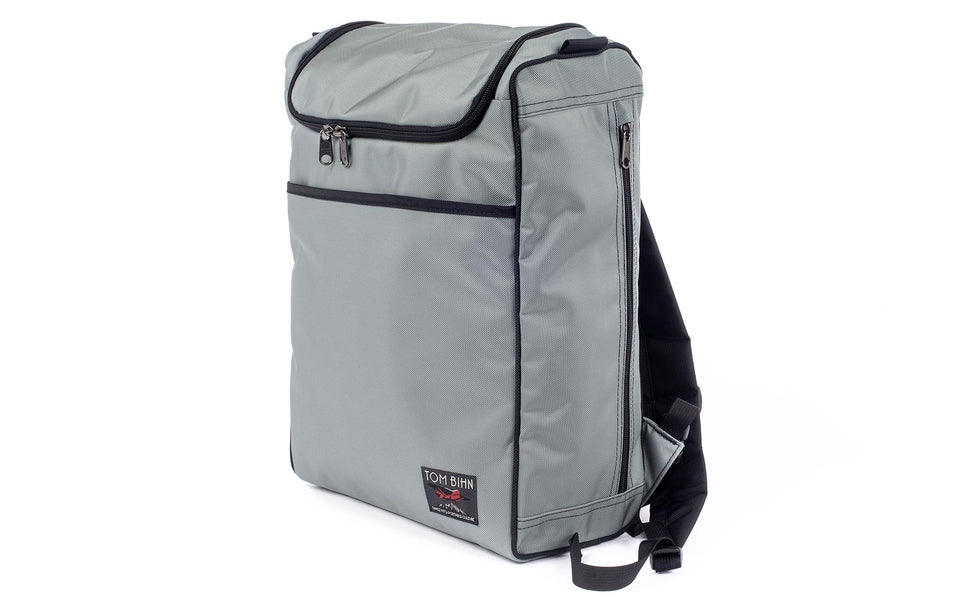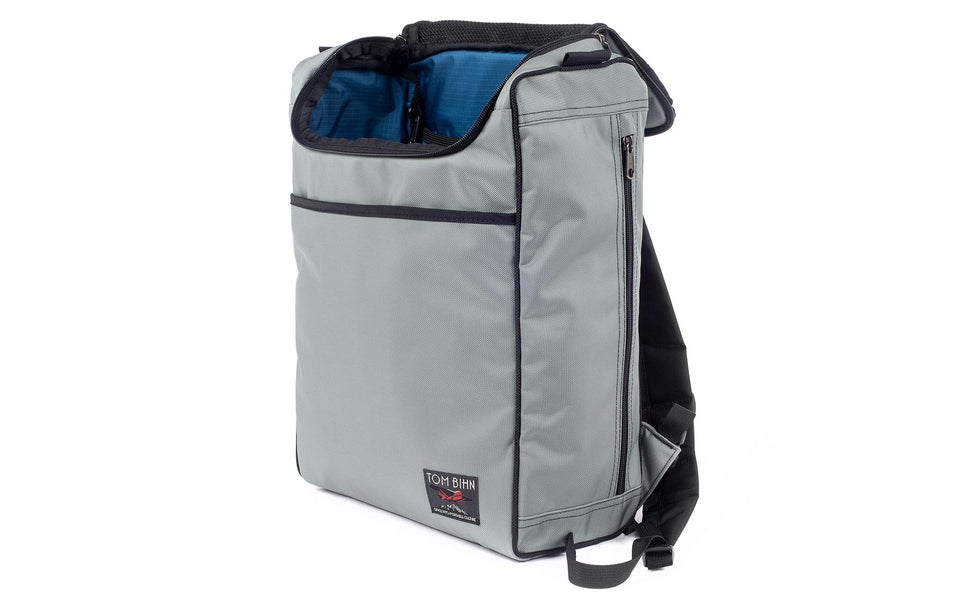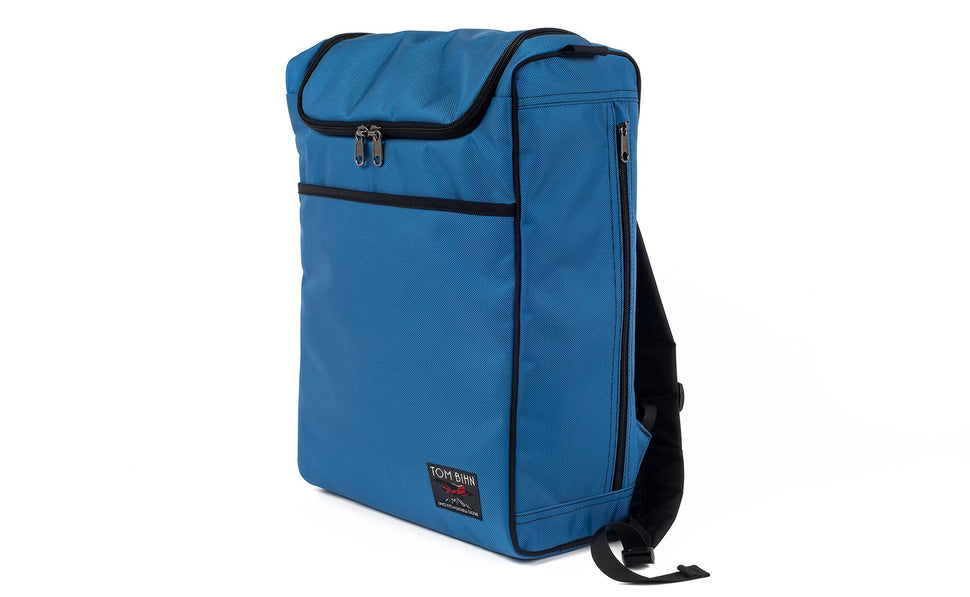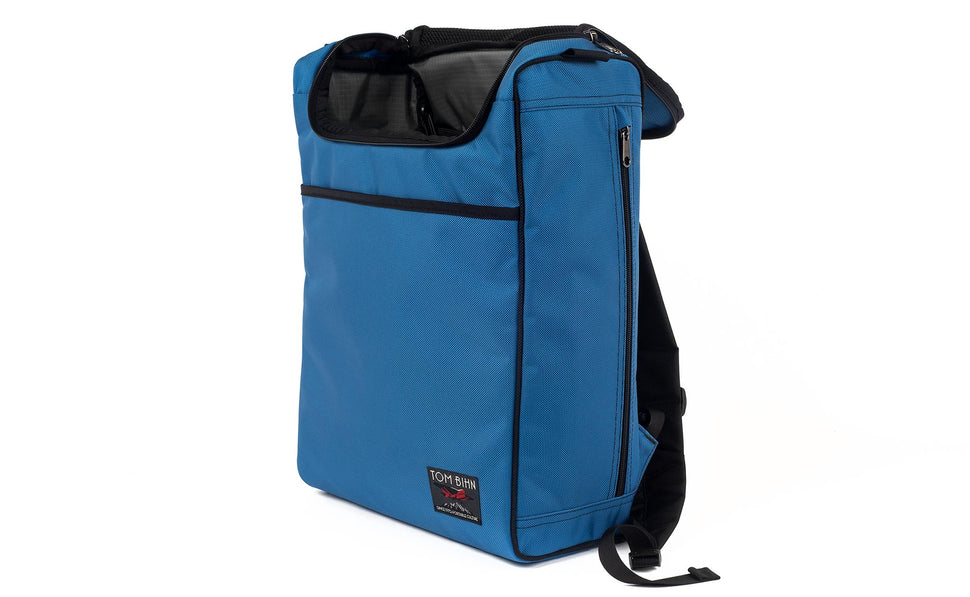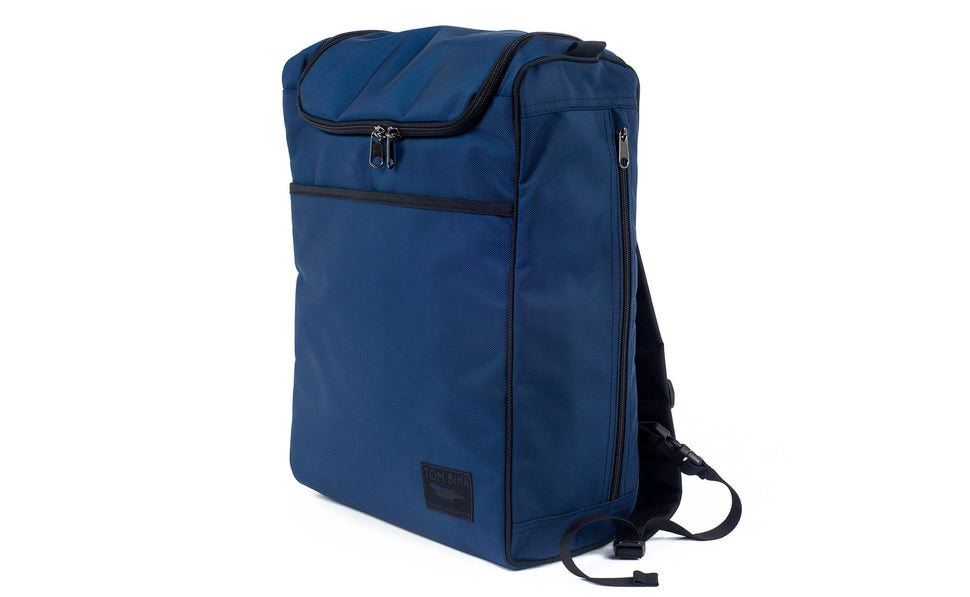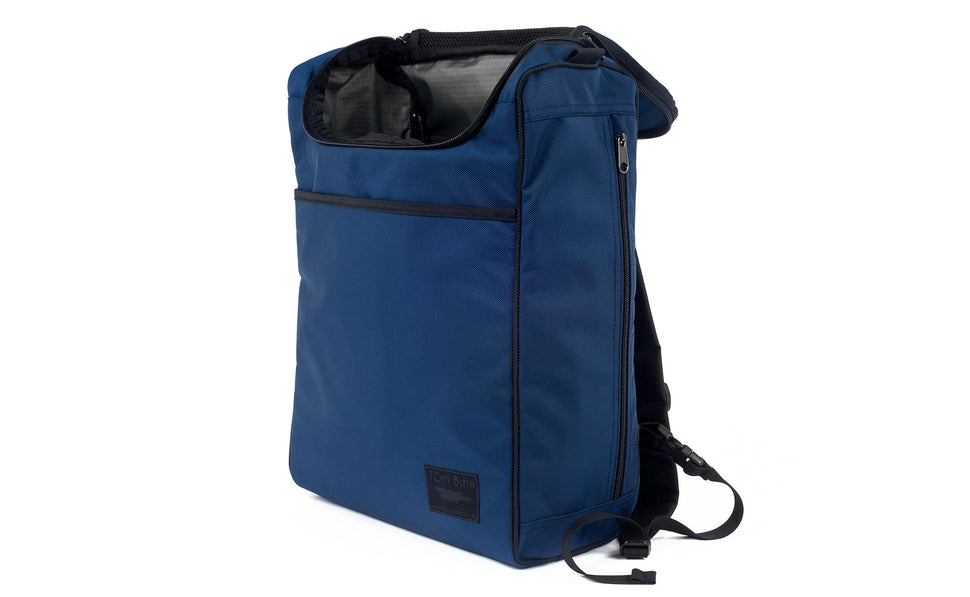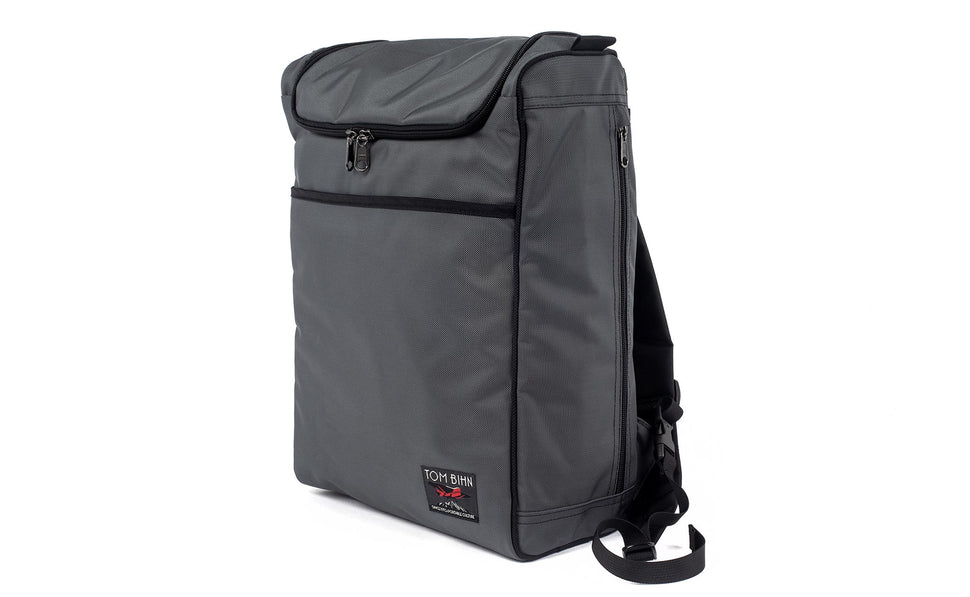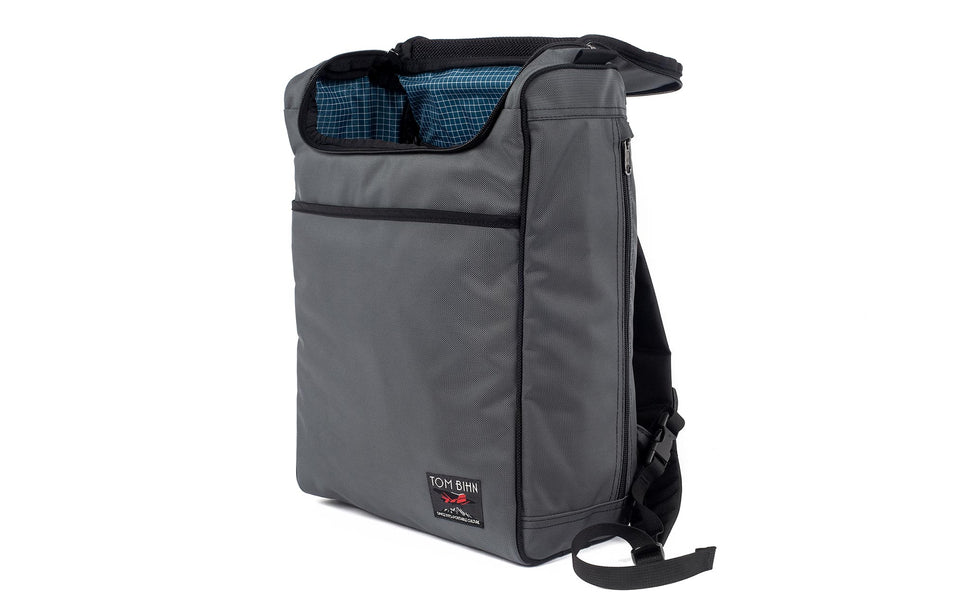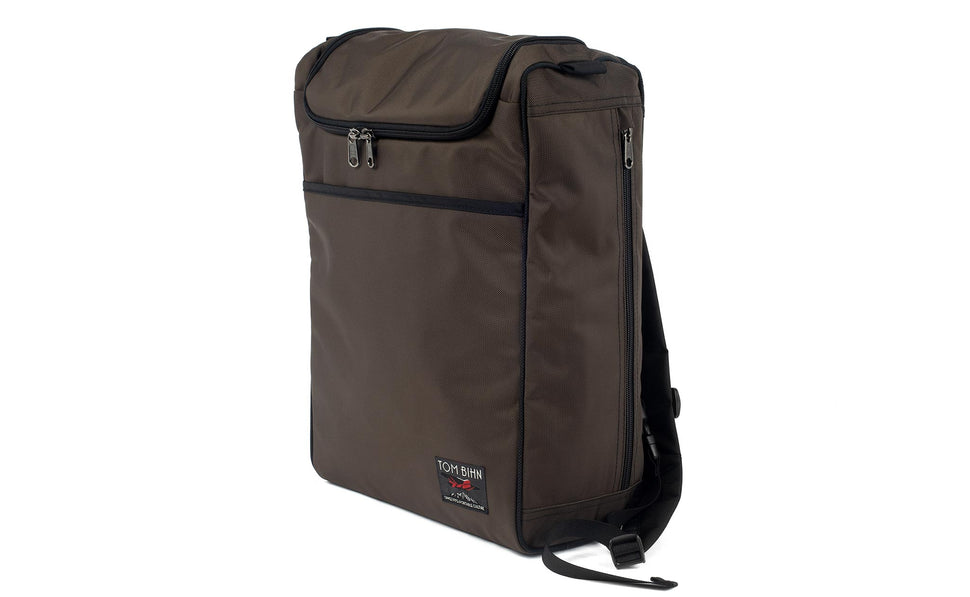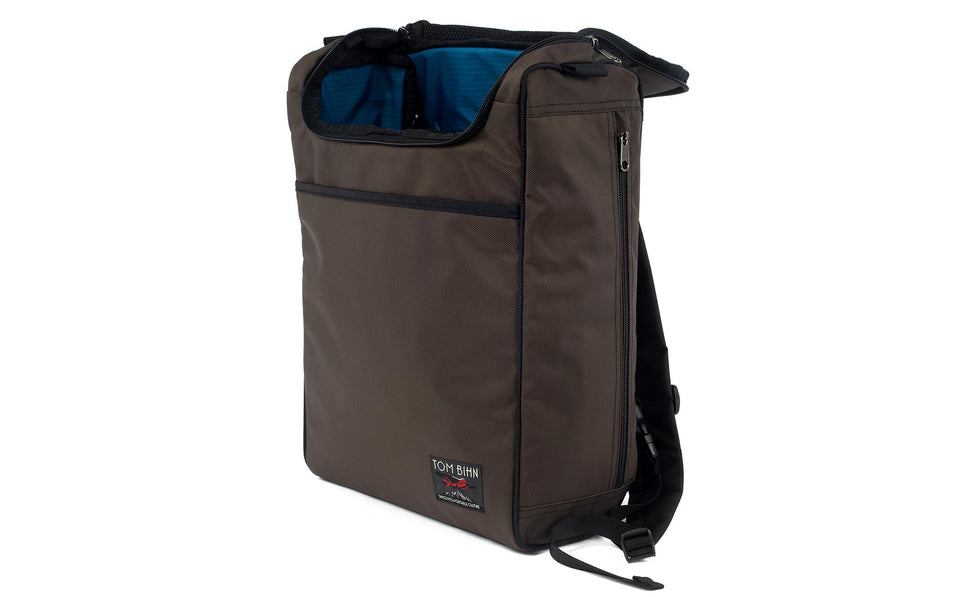 TLDR
Meet the convertible backpack that you'll soon be singing the praises of. The Cambiata is a 21-liter pack with a whole lotta open keys space!
Full Description
The inspiration to make a tote backpack actually came from our Forum! Members had a list of requests for features that they wanted to see in a new TOM BIHN design — something that looks sleek on the outside but has all the usual TOM BIHN organizational features that they love, is convertible from one form to another, and ideally can stand up on its own. We took the feedback to heart and ran with it!
We've pre-answered as many questions as we could think of over in the Cambiata FAQ.
Multiple Carry Styles
Built-in backpack straps that can be folded and tucked away for a measure; the coda of this piece is the included, fully-detachable shoulder strap for use as a tote.
Exterior Pockets
Five external pockets of varying sizes and shapes for all your needs, from your vast array of tuning forks (or y'know, a water bottle, phone, or anything in between), and a couple of big pockets large enough to hold your portfolio of sheet music or The Red Book. Everything you need in easy reach just a zip away, with plenty of o-rings tucked in like so many grace notes.
Interior Pockets
A medley of pockets outfit the interior of the Cambiata, the interior flap pocket directly on the inside of the opening is a generously sized mesh pocket perfect for your collection of custom mouthpieces.
A large elasticized pocket on the back panel for holding your tailcoat (rainshell?) close to your back and keep the majority of the pocket open, and a couple of smaller elasticized pocket for keeping a couple things inside but handy; an o-ring adorns the top of each of these smaller pockets begging for straps to be attached like the flag on a quaver.
Dedicated Laptop Compartment
A large laptop compartment ornaments the top of the Cambiata between the shoulder straps and main pocket, allowing a laptop of up to 14.5" x 10" in size.
What's Included
We include the following accessories to give you a good amount of options for your new bag right out of the gate.
One Full-Removable Shoulder Strap
A shoulder strap made from 1.5" wide webbing, with a minimum length of 26" and maximum length of 52" shoulder strap for shoulder carry. It's fully detachable with leave-no-trace gatekeeper hardware.
One 8-inch Black Webbing Snaphook/Snaphook Key Strap
A Key Strap is a strip of webbing with plastic snaphooks on the end. The 8" Key Strap in Black that's included in most of our larger bags is, for many, the gateway to a world of organization via Key Straps and Organizer Pouches. All the members of the Key Strap family are intended to make locating things in your bag easier and more instinctive. Pulling out a small item or pouch tethered to a strap is easier than rooting around aimlessly in the depths of your pack; you can also rest assured that anything hooked to a strap is much less likely to fall out or otherwise be left behind. You can find more Key Strap colors and varieties on the Key Strap page.

One Cord Zipper Pulls w/ Plastic Ends (8-Pack)
Some folks prefer metal zipper pulls. Others prefer cord pulls. So, what to do about that? We think the best solution (in most cases) is to offer metal pulls and include a starter pack of Cord Pulls with most bags. The most popular solution is to weave the Cord Pulls through the metal pulls, effectively silencing them without having to remove them. A video demonstrating various Cord Pull options and more colors/varieties of Cord Pulls can be found on the Cord Zipper Pulls page.
An adjustable and removable sternum and waist straps with leave-no-trace hardware: if you don't like or don't use your sternum strap, remove it and leave (almost) nothing behind.
94%
would recommend this product
Verified Buyer

Product Standouts

Thoughtful Design,

Comfortable,

Durable

12 months ago

Product Standouts

Thoughtful Design,

Comfortable,

Durable

Makes an AMAZING diaper bag!

I've been a long-time customer of Tom Bihn and use their bags on a daily basis. When this new design for the Cambiata came out I was super excited to purchase it. Now that the bag is here I am floored by how practical all the organizational pockets are. I'm currently using the bag as a diaper bag for my toddler and infant.

I'm mainly using in backpack style and the straps are super comfortable and the bag doesn't feel heavy at all, even when packed for an all day outing. I particularly like that the bag will stand on its own when set down and not fall over, making it easy to access the inside pockets. The "water bottle" side pocket perfectly fits 2 9oz bottles w/ formula making them easy to grab. I keep our changing pad in the back straps pocket for easy grabbing. The inside stretch pocket easily holds bags of crackers, chips, coloring books + crayons! I use a large snake charmer w/ diapers, wipes, etc., and there's plenty of room for extra clothes/toys/etc.

The functionality and design of this bag will also last beyond the diaper years and into the just need extra clothes and iPad years. I could even see using this for commuting with a laptop and everything I'd need for a day at the office. I also have a Synapse 25 and for its listed capacity to be only a bit larger the Cambiata is FAR less bulky! This bag is sleek and I highly recommend.

Verified Buyer

Product Standouts

Thoughtful Design,

Comfortable,

High Quality Craftsmanship,

Versatile,

Good Storage Size

12 months ago

Product Standouts

Thoughtful Design,

Comfortable,

High Quality Craftsmanship,

Versatile,

Good Storage Size

Great unique bag EXACTLY fits my 15in laptop

This bag is on the larger size for an every day bag. Big enough to hold laptop, lunch, water bottle, jacket, and anything else you might need, but isn't oversized (important for short folks like me). I love the boxy shape and how the top is a flap, not a slit, giving you more visibility and access. I've seen some debate as to the definition of a tote bag, but whatever you want to call this in it's side carry configuration, I like it. Definitely more shoulder than hand held though, which is my preference anyway. Backpack straps are comfortable for the bag size, though if you load this down with nothing but soda cans, you might be pushing their limits on comfort. That water bottle pocket is big, like I can fit a 25oz Stanly thermos in there (if I remove the cup/outer lid.) love the O rings, lid pocket, and laptop compartment (with a false bottom). The laptop compartment exactly fits my 15in HP envy convertible. As in, if it was 1/4in bigger any direction it wouldn't fit, so if you have a 15in machine, maybe check it's specs against the HP envy's. The only thing I won't use on this bag is the lower inside side pocket, very difficult to access when there is anything in the bag. Attached are photos of the bag with a packing cube shoulder bag in it, and the thermos.

Verified Buyer

Product Standouts

Thoughtful Design,

Comfortable,

Good Storage Size,

Unique,

Versatile

1 year ago

Product Standouts

Thoughtful Design,

Comfortable,

Good Storage Size,

Unique,

Versatile

WORTH IT

I preordered this bag on a whim. I'm new to TB stuff and this bag intrigued me. I LOVE IT so far. It's so versatile, the fact that it converts from a backpack to a tote bag is one of my favorite aspects of the Cambiata. There's so much room in this bag for whatever I need, plus the pockets are fantastic. I also love that I can *actually* put a water bottle in that designated pocket and not worry about it falling out. That was a revelation, a game changer because now I can safely put my water bottle in my bag it's always a frustration with other bags I've used.

I also like the amount of o-rings so I can attach my various pouches. Honestly this bag is worth every penny I cannot wait to use it for years to come. A perfect EDC as well as a weekender.

Verified Buyer

Product Standouts

Thoughtful Design,

High Quality Craftsmanship,

Unique,

Versatile,

Compact

10 months ago

Product Standouts

Thoughtful Design,

High Quality Craftsmanship,

Unique,

Versatile,

Compact

Beautifully made but other bags are better to use

When the Cambiata was first unveiled, I instinctively knew it was not the right EDC bag for me, but I could not resist it – in black with orange zest interior, it looks fabulous.

It is beautifully made – the stitching on mine is perfect, and if compared to bags from other companies, I would be giving my Cambiata the full 5 stars. But I am comparing it to another great TB bag – my Synik 22 – and against such fearsome competition, I can only award my Cambiata 3 stars.

What I love about my Cambiata: I've already mentioned the quality of construction and the colour combination; I was also really attracted to the simple rectangle shape – it has an understated smart style and you can take it pretty much anywhere. I love that it does not scream 'backpack'. Although I don't use the Cambiata as a Tote bag, it is still very clever how the backpack straps can be tucked out of the way and out of sight.

What does not work for me: I like to be super organised, and I am looking for (preferably separate) quick access pockets for 1. Keys; 2. Smartphone; 3. Wallet; 4. Tissues & Wet Wipes; 5. Notebook & Pen. The biggest flaw with the Cambiata is that the two external side pockets are 2D instead of 3D and almost not fit for purpose. I struggle to fit 2 x Nik Minimalist Wallets in the smaller side pocket; and my iPhone only just fits into the larger side pocket. These pockets are not a joy to use. The second issue is the top opening to the main compartment, with a zip that has to go round…

Verified Buyer

Product Standouts

High Quality Craftsmanship,

High Quality Finishings,

Good Storage Size,

Unique

11 months ago

Product Standouts

High Quality Craftsmanship,

High Quality Finishings,

Good Storage Size,

Unique

Great niche bag

We've had the Cambiata for about a week and a half, and I love it. I bought it for my wife, but I really want my own. I've seen many folks in the Facebook forum knocking the design, which honestly discouraged me while I was awaiting its arrival. Now that I've worn it and seen it worn, I think it looks like a courier bag. We've mostly used it as a backpack, but the shoulder strap is an excellent alternative to a normal backpack that would have to be one-shouldered. It wears well in all its ways.

It's highly structured, which makes it great for setting down and filling up without it tipping. When I set it in a chair, it doesn't lean back such that it causes the chair to tip, and it never leans forward falling out of the chair. Same when I've got it freestanding on the floor or a table.

We've used it to carry MANY different kinds of things around on our bikes - groceries, plants, random packages from the post office, bike helmets, and of course laptop/notebook/jackts/normal work stuff. When my daughter had a fragile "craft" she made at school, the Cambiata held its own shape, thus carrying the craft gently without crushing it.

I'm 6'2", so I do wish there was a version that was slightly larger, but in all I've really enjoyed using it as has my wife. Five stars.
Reviews Loaded
Reviews Added
Sewn in Seattle
Our bags are designed and sewn right here in Seattle, Washington, U.S.A.
That allows us to be control freaks in the best way possible; we have direct control and oversight of the quality of our materials, our products, and the jobs and working environment that we help create. It also offers us a unique spontaneity: when we have an idea for a new product or accessory, we can design it, figure out how to build it, add it to our website and be ready to ship it out our front door all within just a few weeks. How cool is that?

Intrigued? You can find out more about the unusual way we do business on our Company Philosophy page.
THE BIHN Guarantee
Everything you buy from us here at TOM BIHN is satisfaction guaranteed. We've been in business since 1972 and we stand behind what we make.
If something goes wrong and it's our fault, we'll fix it for free. Repairs due to normal wear and tear or due to other things that are not our fault will be performed, when possible, at a reasonable charge right here in our Seattle factory where your bag was made. Defects in materials or workmanship are uncommon and almost always evident while the product is still new. Keep in mind that bags and packs are often subject to extreme wear in everyday use: do not expect them to last forever. Only true love lasts forever! You can expect a TOM BIHN product to give years and years of hard service.