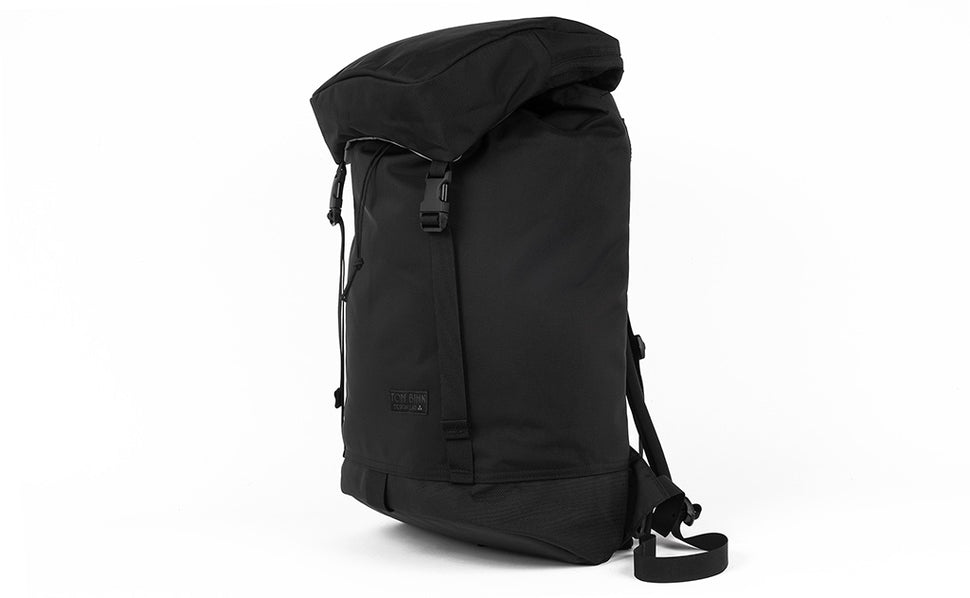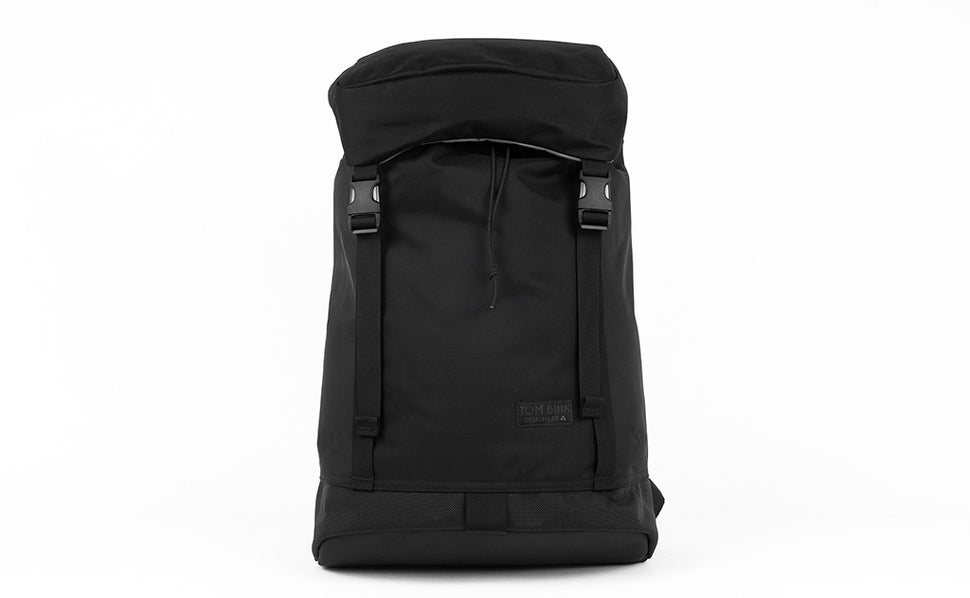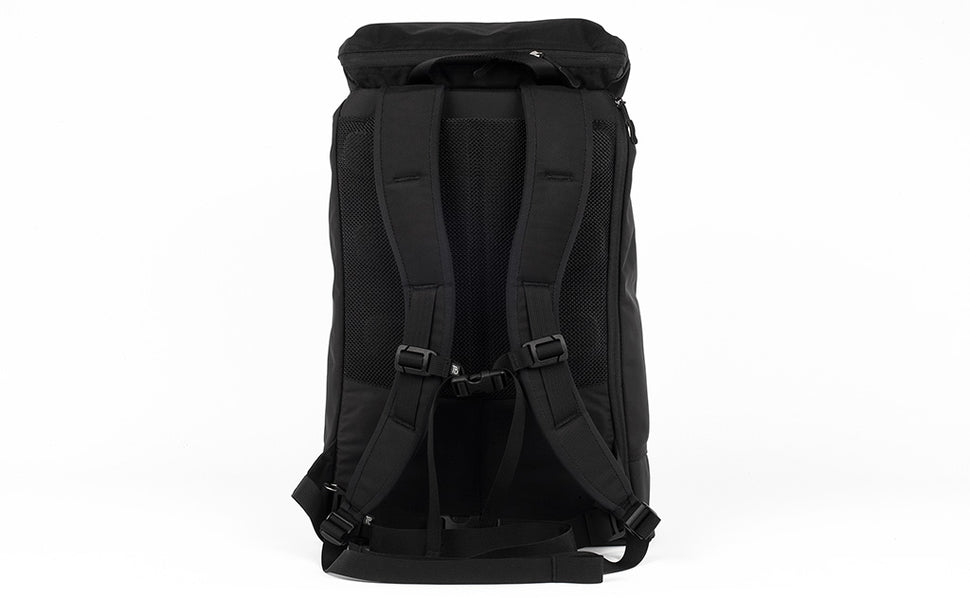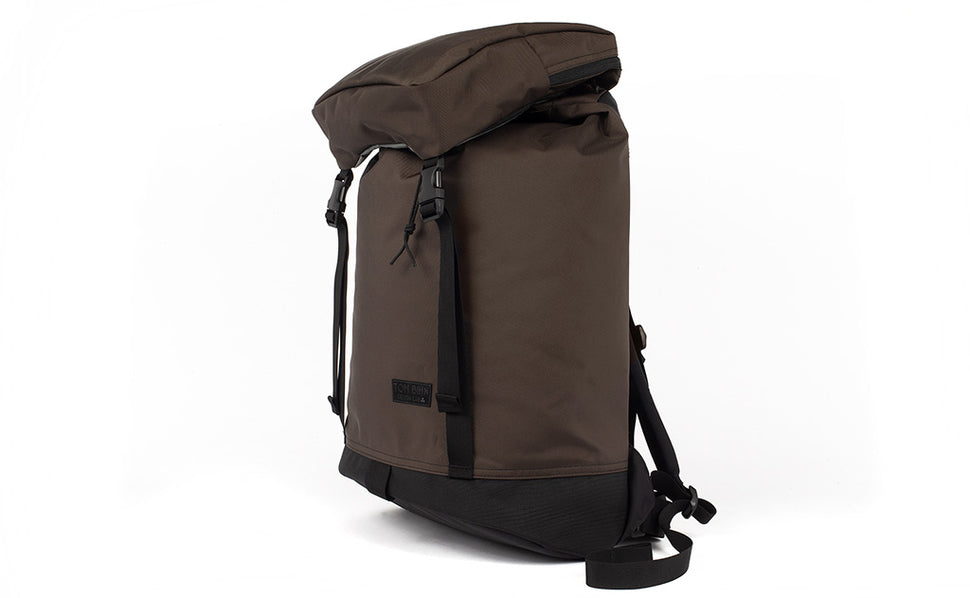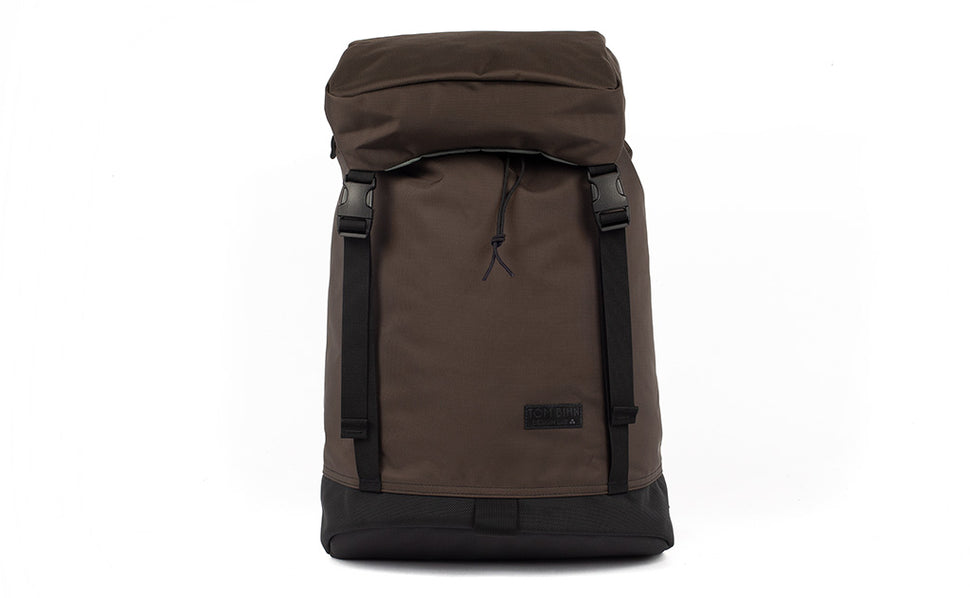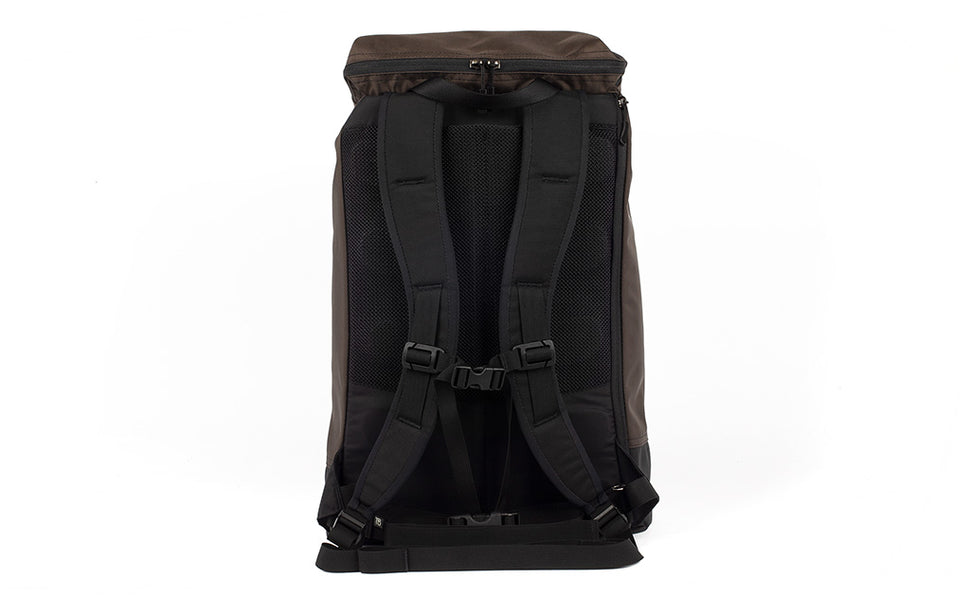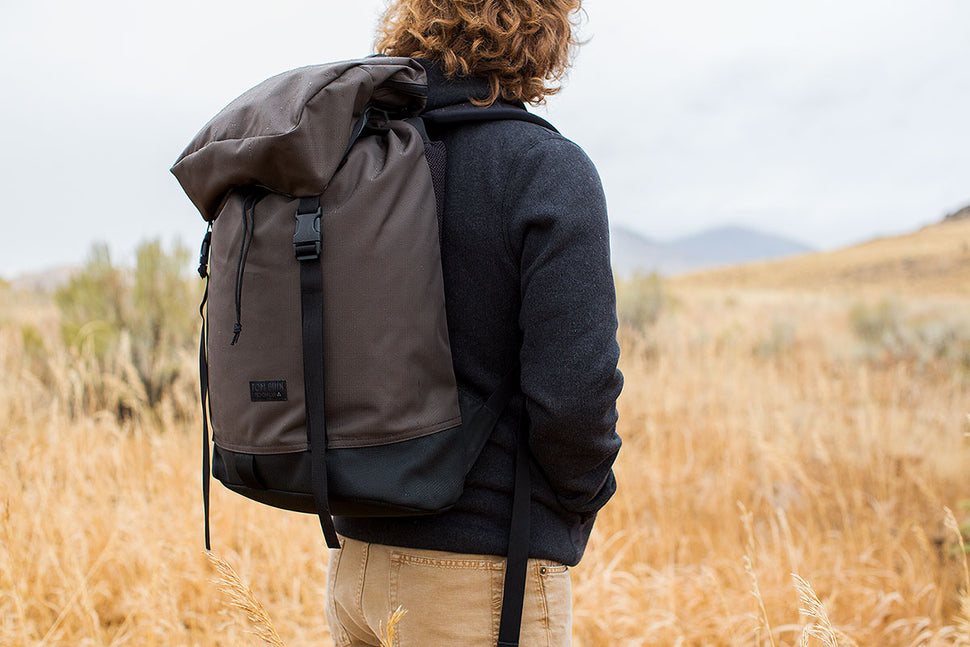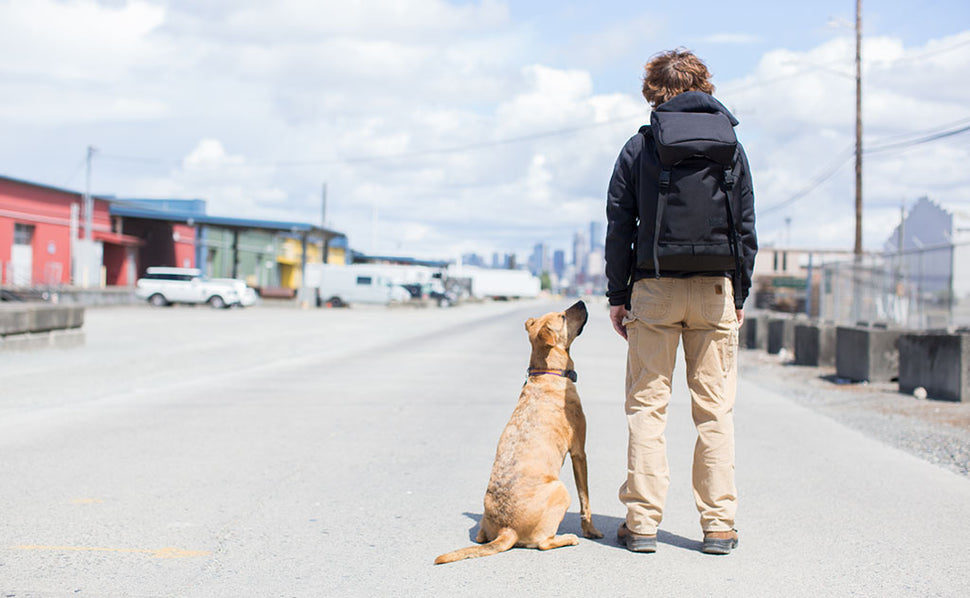 TLDR
The Shadow Guide 33 is a top-loader backpack, inspired by the retired Guide's Pack, that's available in two sizes — 23 liters and 33 liters (you're here now). The simple yet spacious design allows the bag to be suitable for hikes, travel, and everyday use.
Upper flap pocket with 3 compartments for quick-access itmes
Bucket-style main compartment that cinches close with a drawstring
Built-in exterior side-access laptop compartment that fits up to 17" laptops (see laptop fit guide)
Comfortable, durable, edgeless straps
Slanted bottom to shift the weight of the backpack towards your back
Breathable, comfortable skeleton panel
Removable internal frame with nylon webbing sleeve and aluminum stay
Pass-through pocket that can slide over rolling luggage handles up to 9" wide
Full Description
Walk through the features of the Shadow Guide 33.
Upper Flap Pocket
The Shadow Guide has an upper flap pocket that includes 1 top-access zippered compartment for your keys, wallet, snacks, and other small items and 2 side-access zippered compartments on the bottom for your phone, passport, and more. Having this top loader allows you to have the stuff you need quick access to on-hand. There are also four total interior O-rings that are great for attaching our Clear Organizer Pouch, Double Organizer Pouch, Ghost Whale Organizer Pouch, or Key Straps.
Bucket-Style Main Compartment
The main compartment of the Shadow Guide cinches close with a drawstring and features a 210d ballistic nylon lining on the bottom interior. Its simple design makes it perfect for storing large items like clothes and bulky items for travel, grocery for after-work-shopping, or for those who prefer to just throw everything into a bag (carefully) rather than deal with pockets. Since this bag is more minimal and simple, there isn't any interior organization, but you can attach organizational pouches to the 2 O-rings inside this compartment. Travel Stuff Sacks, Handy Little Thing, and Side Effect will also make great accessories for this pack.
Built-In Exterior Side-Access Laptop Compartment
The laptop compartment itself is made with 2 layers of 1/8" 2 lb closed-cell (CXL2) foam. Because the back panel shape is rectangular, the zipper access on the sides can fit a wide range of laptop sizes. The Shadow Guide 33 easily fits up to 17" laptops.
Breathable Skeleton Panel
Instead of a solid rectangular piece of foam, we cut the back panel in a spine-like shape and use soft mesh so that it feels lighter, more breathable, and more comfortable against your clothing or even bare skin. It's a tried and true design that is just as durable as the solid rectangular piece of foam.
Removable Internal Frame With Nylon Webbing Sleeve And Aluminum Stay
The internal frame is made of die-cut .055" thick High Density Polyethlyene (HDPE) with a nylon webbing sleeve sewn down the center that encases a 8-1/4"/210 mm tall and 1/2"/13 mm wide 6061 aluminum stay. The stay is removable and bent to a general spinal curve that is suitable for most people, but you can rebend and/or adjust the curvature (see instructions here).
Slanted Bottom
When we made a Shadow Guide version with a flat bottom, the bag pulled away from our backs and was uncomfortable to wear. The slanted bottom didn't have these problems. To allow the bag to stand upright when needed, such as for packing, just lean it against the wall or your legs.
Edgeless Straps
Conformity is overrated — except, perhaps, when it comes to shoulder straps. The edgelessness of this new strap allows it to more softly conform to your shoulder — we (and most people who have worn these straps) find that this increases comfort. Yet the straps aren't too soft: the 1/2" thick EVAZOTE® OEKO-TEX® certified foam means the strap is robust enough to carry a heavy load.
Rolling Luggage Handle Pass-Through
Some of us use rolling luggage: maybe because we need to pack more gear or just because we find it more comfortable. Good thing the Shadow Guide's back panel has a pass-through that allows you to slide it over the handle of rolling luggage.
There are, of course, different sizes of rolling luggage with different handle lengths and widths. That said, the Shadow Guide 33 will fit handles up to 9" wide from end to end (which we think should cover most rolling luggage handles).
Durable Materials + Expert Construction
No bag lasts forever, but choosing the best and most durable materials and taking care not to abuse it (no washing machine or dryer!) can help a quality bag serve most people well (with maybe a repair or two) for up to 10-20 years.
This bag requires significant skill to sew and construct; it's not just any sewing factory who can pull this off and do it well; it's ours, and it's because of the talent of our crew. They're the reason why our designs can be made in an ongoing practical fashion.
95%
would recommend this product
Verified Reviewer

Product Standouts

Good Storage Size,

Easily Adjustable,

Durable,

Comfortable

6 months ago

Product Standouts

Good Storage Size,

Easily Adjustable,

Durable,

Comfortable

2 yr review -- the quintessential adventure pack and gym bag

Let me tell you that this pack is absolutely the best pack that Tom Bihn sells for the adventurer and one bag traveler. It's not too heavy. It packs great. Fits a lot but looks sleek as an EDC. I've owned this bag for 2 years now and it's so far my favorite.

I have taken ice climbing, rock climbing, hiking, to the beach, through airports, and it is absolutely the most comfortable bag for everything I need. I've owned the Synapse 25L and Brain Bag. They all serve a purpose but the Guide Pack is about adventure. It's the bag I take when I need to load with gear and go. It's my most used Tom Bihn bag and I love it's simplicity. It's essentially a giant sack. Fill it.

I'm 5'9" and I recommend getting the 33L version. I tried both and this one looks much better for both EDC and One bag Travel.

Tips:

1) I have modified the bag and removed the plastic buckles and added Fidlocks. It makes the bag so much easier to clip and unclip.

2) make sure you pack the top portion lighter than the inside of the bag otherwise it gets really top heavy.

Feedback for Tom Bihn: it would be nice to have this bag in a brighter colors as you pack out this bag it gets hard to see the bottom contents. If they did make it in a brighter color I'd buy it again no question...that's how much I love this thing.

Carries great, holds anything you want to pack

The main compartment is a big sack, allowing for tons of flexibility in what and how I pack. I test packed it out for a long trip and again with a tent and camping gear. The straps and back panel feel really comfortable when loaded up with weight. The pack itself is pretty light, but it carries a heavy load really well. I could also see using this a lot on bike trips at home. The bag can fit a basketball and change of clothes, and I think it would be a great grocery hauler too.

The top compartment has plenty of space for quick access items. It easily fits a 1L water bottle and jacket, or a fully packed PCSB with room to spare. The laptop compartment seems plenty big. My computer isn't very bulky but it's easy to access, and I don't feel the laptop on my back when the bag is packed out.

Materials and construction feel well made, like any other Tom Bihn bag. Water resistance seems good enough for daily use, the zipper are coated and the top loading design should help keep water out.

Overall I'm really happy with the bag. It's light but carries a heavy load well. The open design is really flexible for carrying different loads, and while all Tom Bihn products seem really well made, this one in particular has very few zippers and seams that could possibly fail. I can't wait to start using this on trips and adventures!

Verified Reviewer

Product Standouts

Comfortable,

High Quality Finishings,

Unique,

Versatile

2 years ago

Product Standouts

Comfortable,

High Quality Finishings,

Unique,

Versatile

A very good travel bag

I have used the Shadow 33 for several trips now, and am very pleased with how good of a travel bag it is. Since my packing style is mostly packing cubes and pouches, it works very well with the open bucket shape of the backpack. Also, this bag just feels like it can hold more than the 33 liter spec. And unlike some other bags, it also underpacks very well.

Verified Buyer

Product Standouts

Comfortable,

High Quality Craftsmanship,

Durable,

Good Storage Size,

Thoughtful Design

1 year ago

Product Standouts

Comfortable,

High Quality Craftsmanship,

Durable,

Good Storage Size,

Thoughtful Design

New Daily

Probably would have been good with the smaller version, but happy to have the extra space if needed. Cavernous main storage compartment. Comfortable straps. And—of course—superior craftsmanship and materials that make it feel substantial in construction. My new daily bag.

Great all purpose pack

The Shadow Bag is a fun bag especially for someone who looses there belongings inside all those little compartments(Me) in other backpacks that TB makes. It arrived yesterday and I could not wait to use it. I was meeting some friends downtown and I put my stuff in there and headed off. The pack fit great, and there is plenty of room, a hip strap and chest strap, in case you are carry a full pack full of heavy materials. I noticed that the hip straps are removable which is awesome for those days I won't need the extra bulk. I can't wait until Saturday to take it to the farmer's market. The bottom is supported, with plenty of room for all my purchases. I love the top pocket, pack cover. There is space for a book or planner, my phone keys and wallet. Especially awesome to not have to dig around for those. Great new functionality. comfort, fit and color. Thanks Tom Bihn!
Reviews Loaded
Reviews Added
Sewn in Seattle
Our bags are designed and sewn right here in Seattle, Washington, U.S.A.
That allows us to be control freaks in the best way possible; we have direct control and oversight of the quality of our materials, our products, and the jobs and working environment that we help create. It also offers us a unique spontaneity: when we have an idea for a new product or accessory, we can design it, figure out how to build it, add it to our website and be ready to ship it out our front door all within just a few weeks. How cool is that?

Intrigued? You can find out more about the unusual way we do business on our Company Philosophy page.
THE BIHN Guarantee
Everything you buy from us here at TOM BIHN is satisfaction guaranteed. We've been in business since 1972 and we stand behind what we make.
If something goes wrong and it's our fault, we'll fix it for free. Repairs due to normal wear and tear or due to other things that are not our fault will be performed, when possible, at a reasonable charge right here in our Seattle factory where your bag was made. Defects in materials or workmanship are uncommon and almost always evident while the product is still new. Keep in mind that bags and packs are often subject to extreme wear in everyday use: do not expect them to last forever. Only true love lasts forever! You can expect a TOM BIHN product to give years and years of hard service.