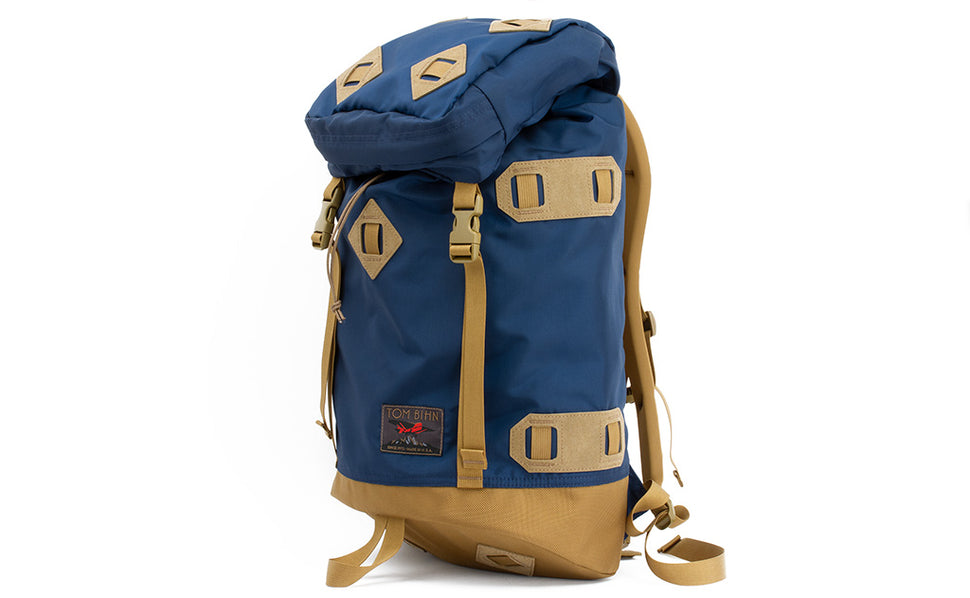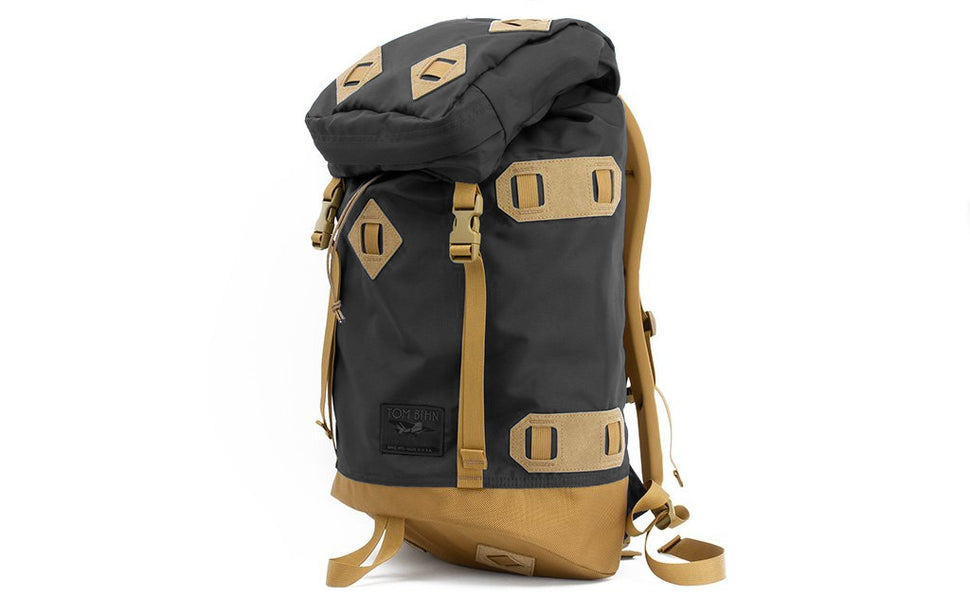 Description
Our top-loading internal frame outdoor pack.
A couple of years ago, I set out to revisit some of the designs from the extensive experience of my youth: I wanted to see what features and materials were still useful, and which were better off left in the past. Now that I've come back up for air, we can finally share with you the initial results.
09/17/2019 Update:
The Guide's Pack now features our new Edgeless EV50 1/2" Shoulder Strap. This shoulder strap design first debuted on the Synik 22 and Synik 30 backpacks; the straps are so comfortable they almost stole the show. We decided to update The Guide's Pack with the new Edgeless shoulder straps for selfish reasons; it's our pack of choice for day hikes and we wanted the new straps for ourselves!
Functionally modern, yet aesthetically grounded in our 40+ years of outdoor-equipment design, The Guide's Pack is a daypack for hiking and mountaineering; it will likely be as at home on city streets as on alpine trails.
It's a top-loading backpack that closes with a drawstring and top flap pocket. The drawstring runs through eight #00 spur grommets (made specially for us in the U.K.) and cinches tight with a cord lock. The top flap pocket fastens down with two 1" side-release buckles and nylon webbing straps; it's actually three pockets in one: the main pocket has two stealthy mesh pockets on its underside.
One mesh pocket is sized for an iPhone, the other fits even larger GPS units, though of course you get to put whatever you want in there; the larger mesh pocket has an O-ring so you can tether your keys, multitool, or an Organizer Pouch. If you're sitting somewhere and have the bag on your lap, you can covertly slip a hand under the lid, with the bag still buckled up tight, and zip open one of those mesh pockets to retrieve your phone or what-have-you. The main compartment of the top pocket is pretty much open space ready for you to move in: generously sized, it can accommodate a hungry-hiker-sized lunch or foul-weather gear — I put a large first aid kit, warm gloves, extra knit cap, and my StenLight in there, and there's still extra room. It closes with a #8 YKK coil zipper with a rain flap; to learn more about the orientation of the zipper of the top pocket, read our blog post Design Beyond "Fortuitous Contrivings.
Inside, there are two O-rings so you can rein in small stuff that might otherwise escape — important if you're out in bad weather. In the dark. And you're tired. And hungry. And cold. But I digress . . .
The main compartment, as I said above, closes with a drawstring and cord lock: a foolproof closure, unlikely to ever fail. Inside this rather large main compartment goes extra clothing, more food, camera equipment. As you load it up, remember to keep the center of gravity low for off-trail scrambling and high for groomed trails, though for such a small pack you may not notice much of a difference. Two more O-rings to attach more stuff are there if you need them, but easy to ignore if you don't. If you'd like to carry a laptop in The Guide's Pack, we'd recommend first putting it in a Cache or Vertical Brain Cell, as there's no built-in compartment for a laptop in the pack.
Look down inside the main compartment and you'll see The Guide's Pack's internal frame — the backbone of the bag. The internal frame consists of a unique, die-cut frame sheet of .055" high density polyethylene (HDPE) and a single stay of 1" / 25 mm wide 6061 aluminum. The stay is held in place by a strip of 2" wide nylon webbing sewn down the center of the frame sheet; you can remove the stay if for some reason you want a frame sheet but no frame. You can also remove the entire affair: six flat "pockets" on the inside back of The Guide's Pack are designed to retain the six lobes (or fins) of the frame sheet. These lobes are engineered to relieve the torsional stresses of the pack flexing as you walk; they also facilitate the design that allows the frame sheet to be easily removed from the pack. The aluminum stay comes to you pre-bent to approximate a generic spinal curve. If you find The Guide's Pack comfortable out of the gate, you're good. But if you need to adjust that curve, it's easy to do — and you needn't remove the stay or frame sheet from the pack to do it. Keep in mind that the idea is that the frame follows your spine: if, in trying to adjust the internal frame, you end up with some whacky pretzel-looking thing, you perhaps need a chiropractor more than you need a backpack. We'll be releasing a short DYI video on how to adjust the curve soon. (Read more about internal frames here.)
The Guide's Pack carries comfortably on our new Edgeless EV50 1/2" Shoulder Strap. Conformity is overrated — except, perhaps, when it comes to shoulder straps. The edgelessness of this new strap allows it to more softly conform to your shoulder; we find that this increases comfort. Yet the straps aren't too soft: the 1/2" thick foam means the strap is robust enough to carry a heavy load. Read more on our shoulder strap philosophy here.
A sternum strap helps stabilize the load and allows you to adjust the placement and angle where the shoulder straps contact your shoulders — it's removable, which is handy if you find yourself not using it. A simple 1" wide waist belt also stabilizes the load and can actually take some weight off your shoulders — it, too, is removable. The back panel is Dri-Lex® Aero-Spacer® mesh, padded with .25" / 6 mm closed-cell foam; the foam extends around into the ballistic bottom of the bag. There's a simple 1" webbing haul loop at the top by the shoulder straps so you can hoist the thing up onto your shoulders when you're ready to go, or hang it by the door when you return; a smaller 5/8" webbing haul loop under the flap helps when you're standing in the kitchen filling The Guide's Pack with snacks, or at the trailhead making last-minute gear decisions.
The main body of The Guide's Pack is made of 420d HT Parapack fabric. We go into the 420d nylon used to make The Guide's Pack in depth over here, but in case you were late to class: 420 denier, high tenacity, type 6.6 nylon was originally developed for the military for use in parachute backpacks — the thing on the guy's back that holds the parachute. Paratroopers needed a fabric that was smooth, light, and strong. Long story short, as sometimes happens in business, cheaper (and not nearly as nice) fabrics became the industry standard. As I was developing the design of what was to become The Guide's Pack, I rediscovered 420d HT nylon and realized what a forgotten gem of a fabric it was. The bottom of The Guide's Pack is 1050 denier HT ballistic fabric: like our 420d HT Parapack, it's super tough and doesn't collect pet hair or snow. Read here about why we use ballistic nylon rather than leather on the bottom.
The exterior of The Guide's Pack has multiple accessory strap holders, made from synthetic felt and nylon webbing. There's one diamond accessory strap holder on the center front and a corresponding ice-axe loop below, so you're set for high-country, early-season mountaineering. If you go that route, or think you're gonna secure something else similar to the front, say, a camera tripod, make sure to add an optional Ice Axe Lash Strap. Four more diamond accessory strap holders on the top of the flap pocket invite you to strap on a very light sleeping bag or pad; two on the bottom extend the capacity even further: consider ordering a set or two of Lash Straps. Double accessory strap holders on the sides can act as lash points for more stuff, or you can attach Side Pockets. ↓
SIDE POCKETS
The Guide's Pack accepts two optional Side Pockets. Either of these Side Pockets can handle most one-liter water bottles; a down vest and/or light rain shell will find a home there as well. A flap-covered #8 YKK zipper runs up the side and over the top for access; all Side Pockets feature a zippered (#5 YKK coil) pocket hidden on the underside (the side that's against the surface of the main pack when the pocket is in situ), for quick and furtive access to keys/wallet/phone. We recommend using two Side Pockets, one on each side, if you're going to use them at all, otherwise you and the pack may list a bit to either starboard or port — we don't want you walking in circles out there.
Also available is an amped-up version of the Side Pocket called the Lead's Pocket. It's the same size as the Left and Right Pockets, but it features extra, internal organization needed by the leader of any group: heavy webbing to clip multitools, flashlights, and knives; two zippered mesh pockets ideal for a space blanket or first aid supplies; three O-rings to tether car keys or pouches for even further organization; elastic loops for pens/pencils; and behind it all, a long, flat zipper pocket sized to accommodate a map or field guide. Unlike the Left and Right Side Pockets, the Lead's Pocket zips all the way around so you can open it like a clamshell, making it perhaps the ultimate "Admin Pocket."
All three styles of Side Pockets have a couple of clever hacks we should tell you about. Remove the Annex Clips from the back of any one of the pockets, remove the 1" waist belt from The Guide's Pack, attach the waist strap (using the Gatekeepers) to opposing webbing loops on the back of the Side Pocket, and voilà, you've got a waist pack. Additionally, you can remove the Annex Clips and slide a Side Pocket onto the lower extremes of the straps that secure the top flap down, adding a pocket to the lower front of the pack, though we're not sure if this is a good idea or not. You could also use the Annex Clips to attach two Side Pockets together: please let us know if you discover any utility to this trick.
The Side Pockets, Ice Axe Strap, and Lash Straps are available for order with The Guide's Pack on this page or à la carte on The Guide's Pack Accessories Page.
The Guide's Pack, as well as all the Side Pockets, comes with pre-cut lengths of cord so you can tie your own zipper pulls. You get enough cord to equip all zipper sliders with cord pulls; we give you both coyote-brown cords and red cords. The coyote cords match the other trim on The Guide's Pack; the red cords are easier to spot — mix them or match them, it's up to you.
– Tom
If you want to read even more about the design of The Guide's Pack . . .
92%
would recommend this product
My favorite bag so far

I've had quite a number of Tom Bihn bags over the last 3 years. The Guide's Pack is my favorite bag so far, and I don't think I'll ever let it go. It's the first bag I look for when I need to head out. I've used it for short urban day hikes, and day trips with my family, and it's worked great for me. I'm looking forward to using it for longer day hikes in the wild.

I haven't had an issue with the top pocket's downward-facing zipper, and I understand the trade-off between accessibility and weatherproofing.

Things I love:

- Classic mountaineering pack design

- Lovely Parapack material with that unique sheen: please bring back Parapack!

- Narrower and taller (at least, compared to the Syniks), makes it more comfortable to carry (at least for me, I suspect it has to do with my torso length)

- Minimal zippers and organization, I don't have to rack my brains to figure out where I should place my stuff, just throw it all into the two main pockets!

Minor gripes:

- The interior of the main pocket could have been lined with a brighter (shinier?) material to make it easier to spot stuff

- I really, really wish that you guys would make the Left, Right, and Leads Pockets in Navy Parapack again! It seems that there is a lot of demand for them, so please bring them back! :)

Suggestions:

- Perhaps a padded hip belt with pockets on it? Or modular, attachable pockets?

- Modular, attachable, open-top side water bottle pockets?

Please keep this bag (and its accessories) in production!! :)

Awesome Day Pack

Everything about the TB Guides Pack is phenomenal. Materials, workmanship, and quality are all top-notch. I've been thoroughly happy with it so far. And, it being made in the USA is super awesome, too.

Awesome bag to do it all

I have owned this bag for several years. Loved the materials and the side pockets. My 2Nd Tom Bihn bag after I have sold my synapse 25. The small things like using different materials for the clips so they connect smoother, that's what kept me going back to Tom Bihn. My only complaint is the padded waist belt didn't cinch down enough for me. I've got a skinny 28-29 inch waist and I just couldn't tighten the belt enough. It's since been sold since I need more of a load bearing pack these days and want to free up weight off my back and shoulders. Should they ever redesign this pack I wouldn't hesitate to buy it again!

review of Guide Pack

I have had my Guide pack for 3 years and it works for me superbly. I have a mature males body but the SO of a neighbor kid who is a lissome young lady put it on and carried it for quite a while and pronounced it perfect. like the other commenter I too had a microbitch about the zipper at the bottom of the lid and got the same answer as the other reviewer did. i have learned to live with it and if I want to get into that pocket I take off the pack and lay it flat. . It occurs to me that as in many things a compromise might be the best answer assuming that for much of the time when in use the flap will be at least marginally angled downward ,why not try putting the zipper laterally in the middle? or on one side with it placed so that there is a baggy bottom below the bottom of the zipper. If the vertical zippers are not objectionable on the side pockets why would this not work on the lid? Do I get the green suspenders for that suggestion? Seriously I have a number of Tom Binh products and they all work as they should. The large HLT is an ideal carrier for a Leica M camera and it clips neatly inside the Guide pack at the top . making the camera not immediately available but pretty darn close. the guide pack holds a goodly amount of gear for a day hike or an airplane ride to far away places and it fits nicely into the overhead bin or under the seat. Good Job Tom Binh! John A. Scott

Tom Bihn Guides Pack: Best day hiking and travel bag I've had...

After an exhaustive search over many months, years actually, I happened to find Tom Bihn's web site. I knew there was something there that would work. After hemming and hawing on it for awhile I figured I had nothing to lose but to try it. I've been an avid hiker since my Scouting days as a teen so I knew what I wanted. Something simple, good fit, not too many outer straps to contend with, and well made. It was love at first hike! And that was a few years ago. This spring-summer-fall of Covid-19 we have day hiked almost every foot of the Pacific Crest Trail from the California border to the rim of Crater Lake. Each one with my trusty Guide's Pack, with attached pockets. This pack has also become a favorite travel bag and has been to the Tiger Leaping Gorge in Yunnan, China, the St. Francis Way trail in Italy, and many other adventures. Its fit is more like how the packs I remember from my younger days were. Comfortable, roomy, adaptable to any load, and just the right size. Not over-packed, it has never been a problem for carry-on either. Works perfectly for my modular approach to packing, including packing cubes, hiking poles, water, survival gear, food, clothes, etc. Though I would not recommend it for a multi day backpack (not enough room for tent, sleeping bag, stove, fuel) for long all day hikes 8-10+ miles, and adventure travel trips it is simply incomparable. My kids will have to duke it out for who gets it when I'm gone!
Reviews Loaded
Reviews Added
Sewn in Seattle
Our bags are designed and sewn right here in Seattle, Washington, U.S.A.
That allows us to be control freaks in the best way possible; we have direct control and oversight of the quality of our materials, our products, and the jobs and working environment that we help create. It also offers us a unique spontaneity: when we have an idea for a new product or accessory, we can design it, figure out how to build it, add it to our website and be ready to ship it out our front door all within just a few weeks. How cool is that?

Intrigued? You can find out more about the unusual way we do business on our Company Philosophy page.
THE BIHN Guarantee
Everything you buy from us here at TOM BIHN is satisfaction guaranteed. We've been in business since 1972 and we stand behind what we make.
If something goes wrong and it's our fault, we'll fix it for free. Repairs due to normal wear and tear or due to other things that are not our fault will be performed, when possible, at a reasonable charge right here in our Seattle factory where your bag was made. Defects in materials or workmanship are uncommon and almost always evident while the product is still new. Keep in mind that bags and packs are often subject to extreme wear in everyday use: do not expect them to last forever. Only true love lasts forever! You can expect a TOM BIHN product to give years and years of hard service.