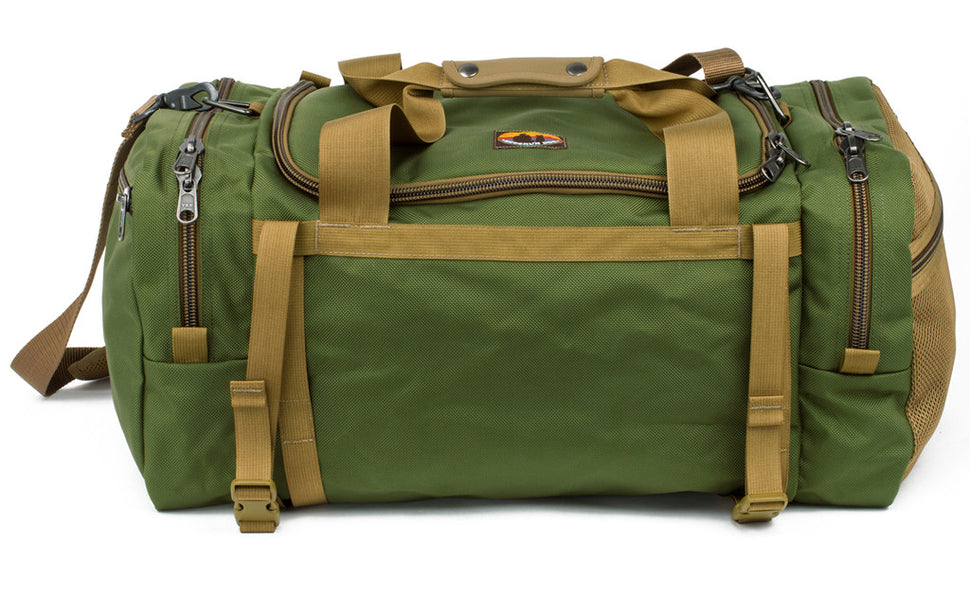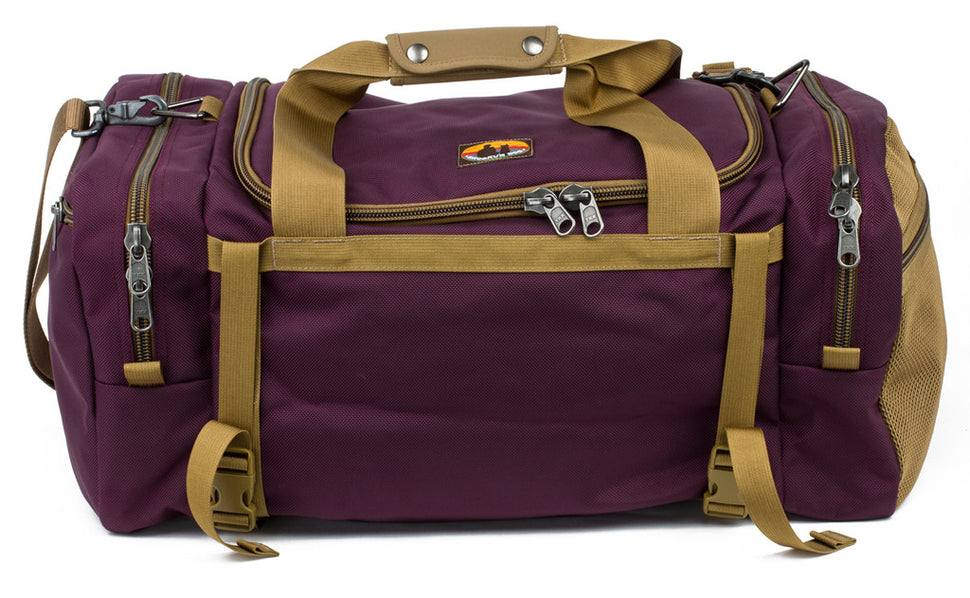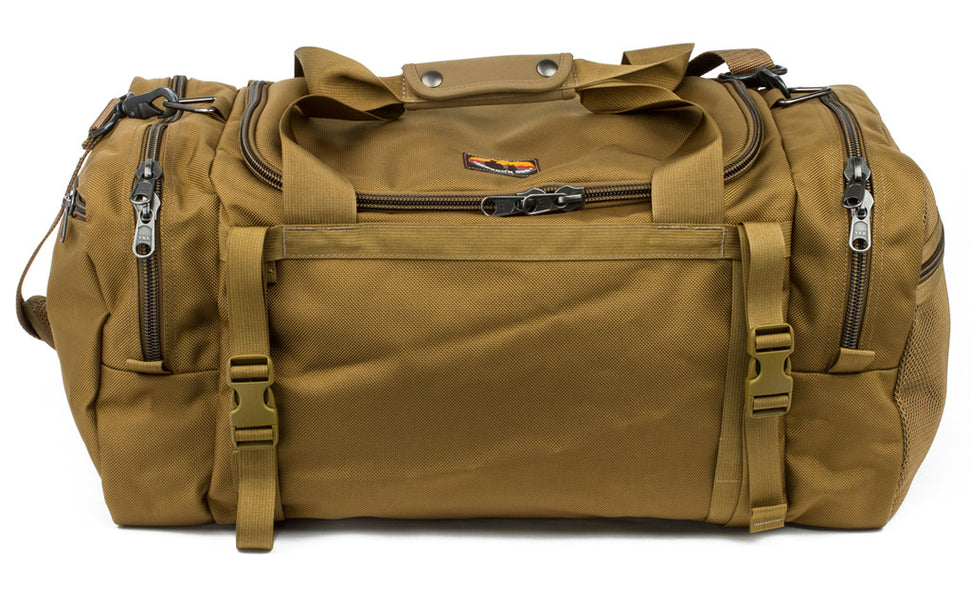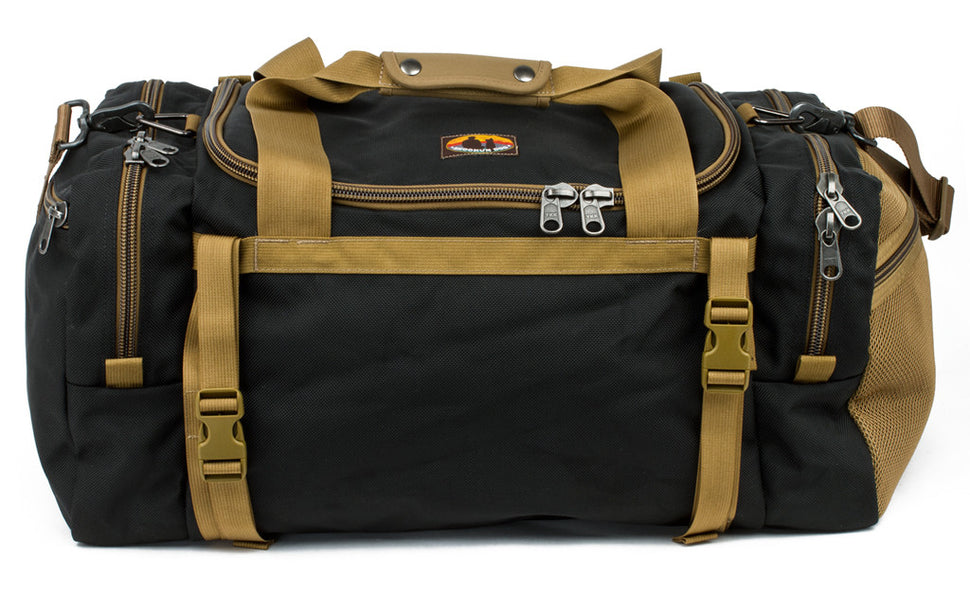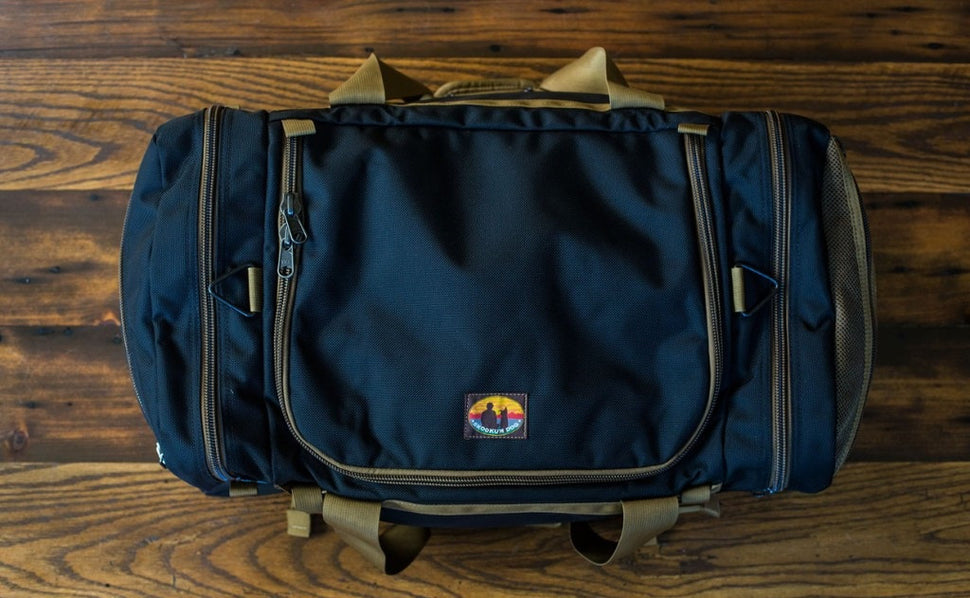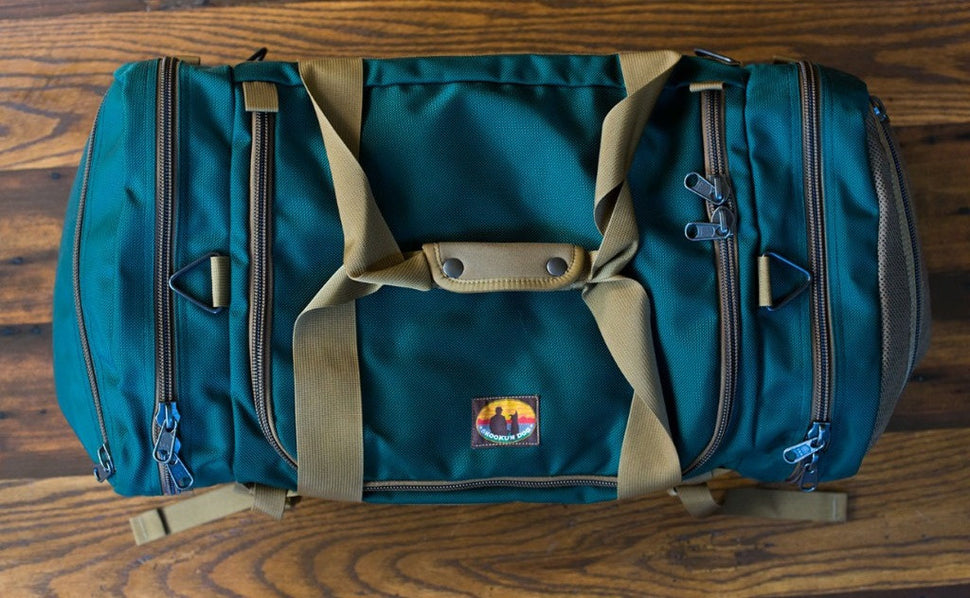 Description
A good and strong duffel designed to pack your dog's stuff: extra leash, food, water bowl, Camp Mat and more.
We started with our favorite classic duffel design, added some smart features, removed some stupid ones, and then put it all together with the best materials and stitching you can get. This is the duffel to take on road trips (for your stuff and your dog's stuff) or throw in the back of the truck filled with WCS (Worst Case Scenario) gear. And, sure, you can fly with it or take it to the gym.
Webbing loops on the bottom and side for looping through our Lash Straps. Use them to secure a rolled-up Camp Mat or blanket to the duffel.
Expandable mesh end pocket for wet or smelly stuff; hatch opening main compartment lets you pack with ease; interior pouch pockets for further organization.
In sizes Medium and Large.
Three compartments and seven organizational pockets.
Included with each Road Duffel: a padded shoulder strap, Key Strap, and one set (2) of Lash Straps.
100%
would recommend this product
Verified Reviewer

Product Standouts

High Quality Craftsmanship,

Durable,

Versatile

4 hours ago

Product Standouts

High Quality Craftsmanship,

Durable,

Versatile

A Long-Lasting, Stylish & Affordable Duffel Bag That Stands the Test of Time

About four or five years or ago, I came across this exceptional Duffel bag while shopping for the Synapse bag, and it instantly caught my eye with its sleek design and affordable price. Little did I know, this purchase would turn out to be one of the best decisions I've ever made. Imported all the way to Hamburg, Germany, this Duffel has accompanied me on countless adventures ever since.

The Duffel's enduring charm lies in its simplicity and timeless style. I got one with a solid only one color that remains vibrant and beautiful after years of use. The logo adds a touch of sophistication without being too flashy, making it an accessory I'm proud to carry around.

Although I initially had concerns about the fabric's durability, I'm happy to report that it has proven itself to be incredibly resilient. Even after four years of heavy use, the material still looks as good as new, showcasing its impressive longevity. Despite its robustness, the Duffel remains lightweight and easy to clean.

In summary, this Duffel bag has become an invaluable asset in my life, seamlessly fitting into various situations, from gym sessions to weekend trips. I initially set out to buy the Synapse bag, but this affordable, stylish, and durable Duffel has far exceeded my expectations. If you're in search of a versatile and long-lasting bag, don't hesitate to give this one a try! Thanks everyone at Tom Bihn!
Reviews Loaded
Reviews Added
Sewn in Seattle
Our bags are designed and sewn right here in Seattle, Washington, U.S.A.
That allows us to be control freaks in the best way possible; we have direct control and oversight of the quality of our materials, our products, and the jobs and working environment that we help create. It also offers us a unique spontaneity: when we have an idea for a new product or accessory, we can design it, figure out how to build it, add it to our website and be ready to ship it out our front door all within just a few weeks. How cool is that?

Intrigued? You can find out more about the unusual way we do business on our Company Philosophy page.
THE BIHN Guarantee
Everything you buy from us here at TOM BIHN is satisfaction guaranteed. We've been in business since 1972 and we stand behind what we make.
If something goes wrong and it's our fault, we'll fix it for free. Repairs due to normal wear and tear or due to other things that are not our fault will be performed, when possible, at a reasonable charge right here in our Seattle factory where your bag was made. Defects in materials or workmanship are uncommon and almost always evident while the product is still new. Keep in mind that bags and packs are often subject to extreme wear in everyday use: do not expect them to last forever. Only true love lasts forever! You can expect a TOM BIHN product to give years and years of hard service.