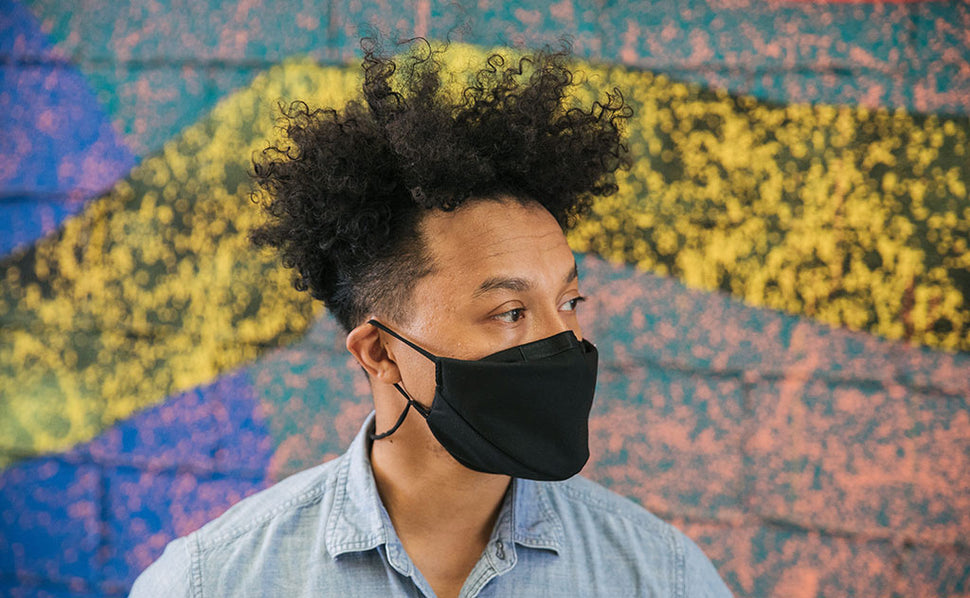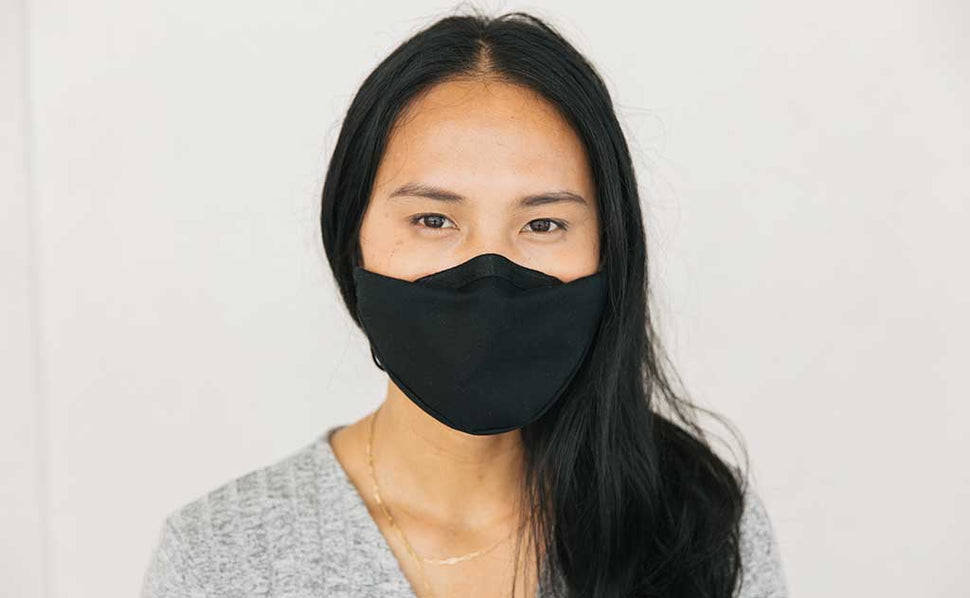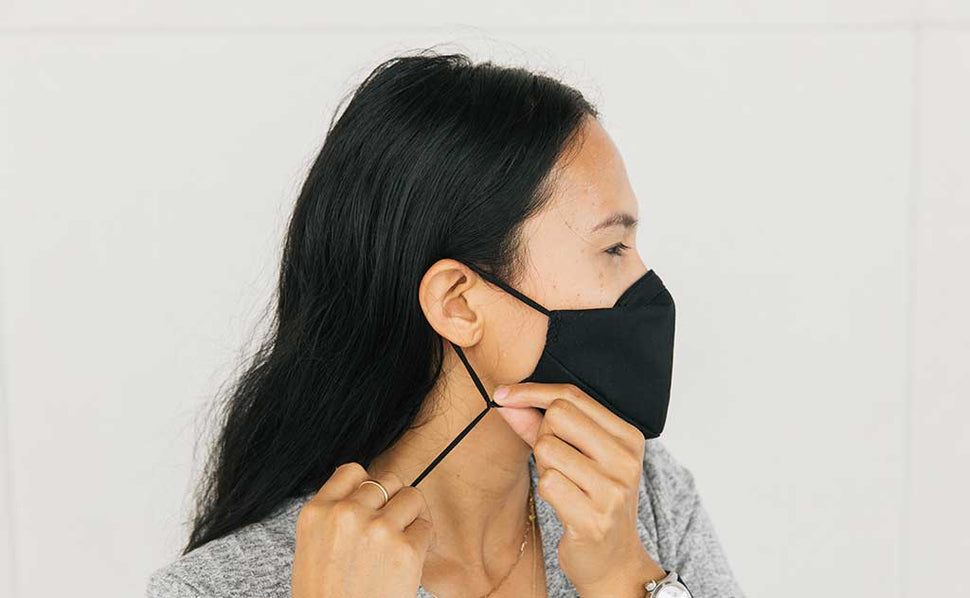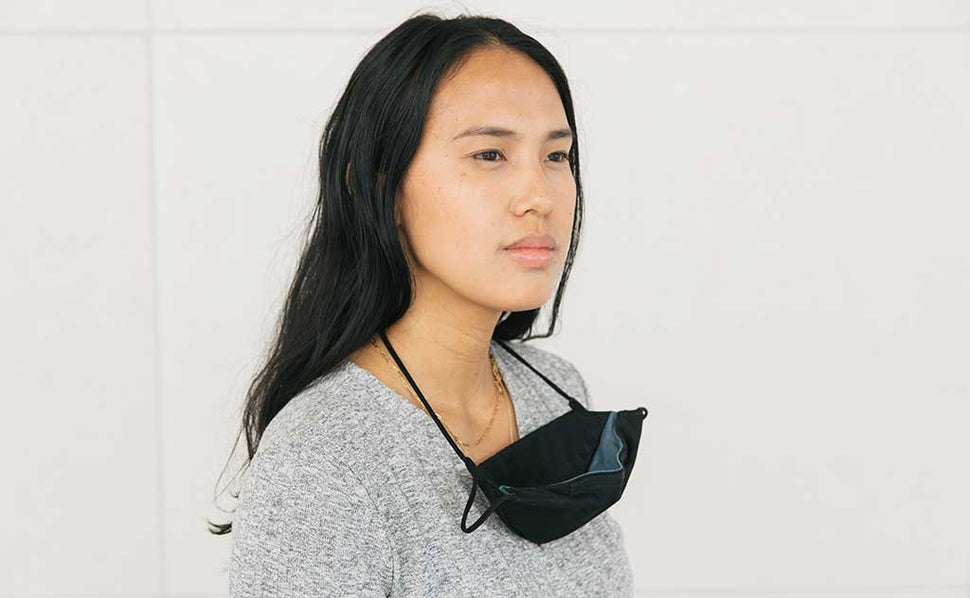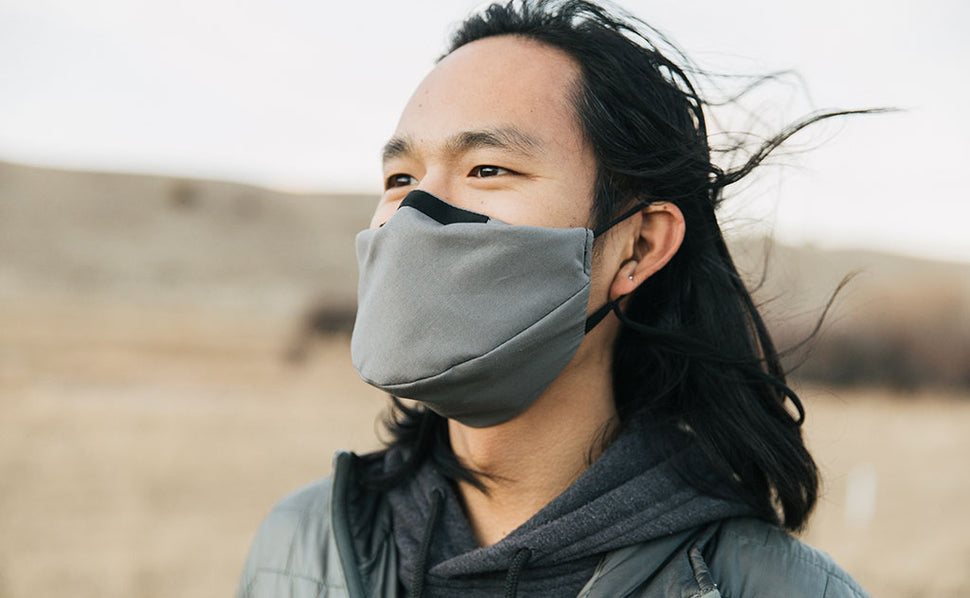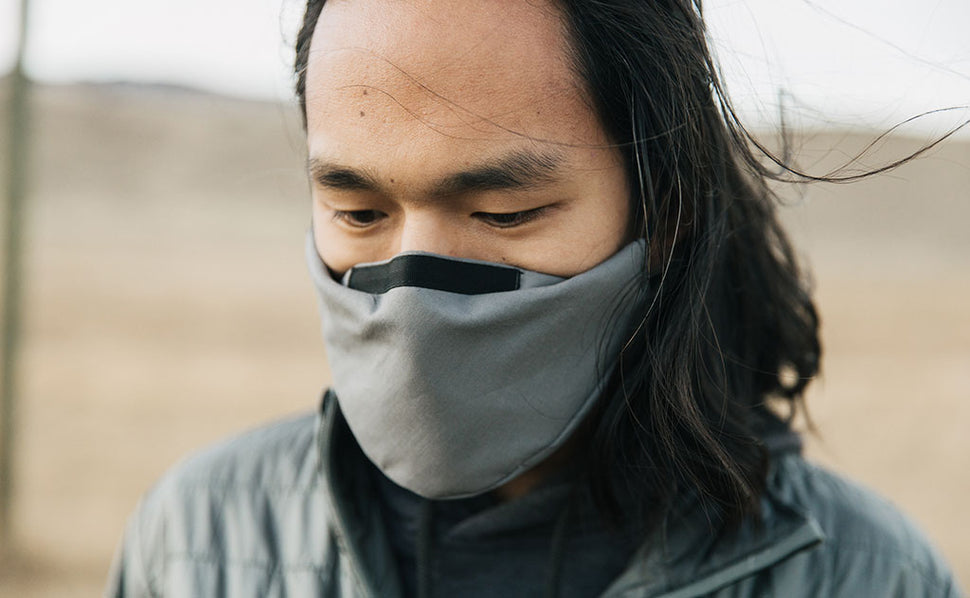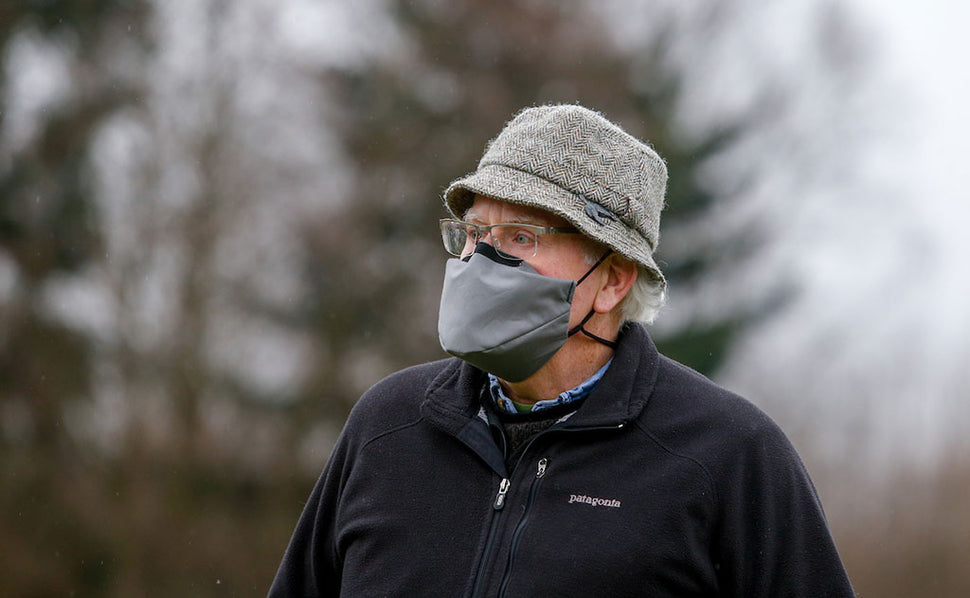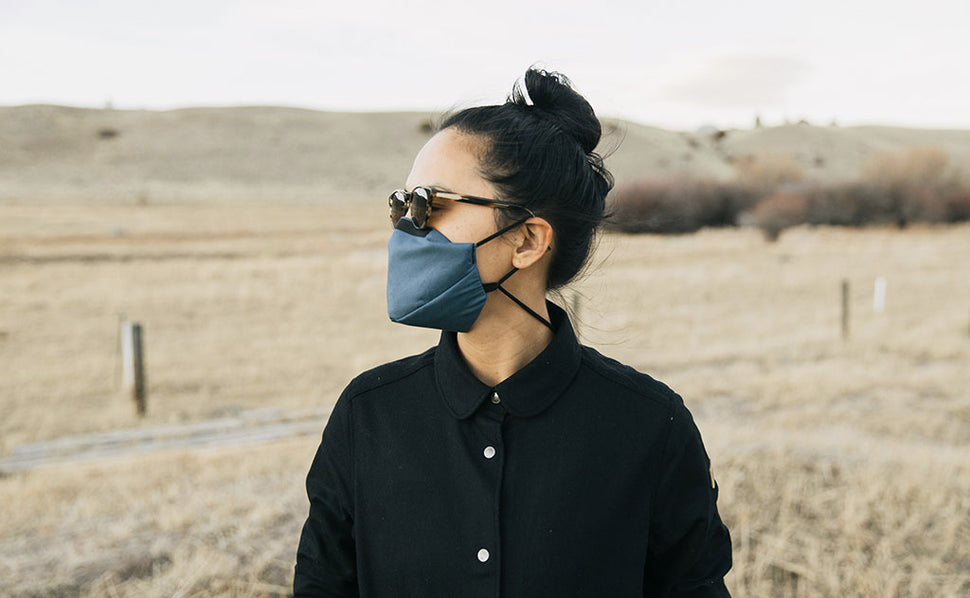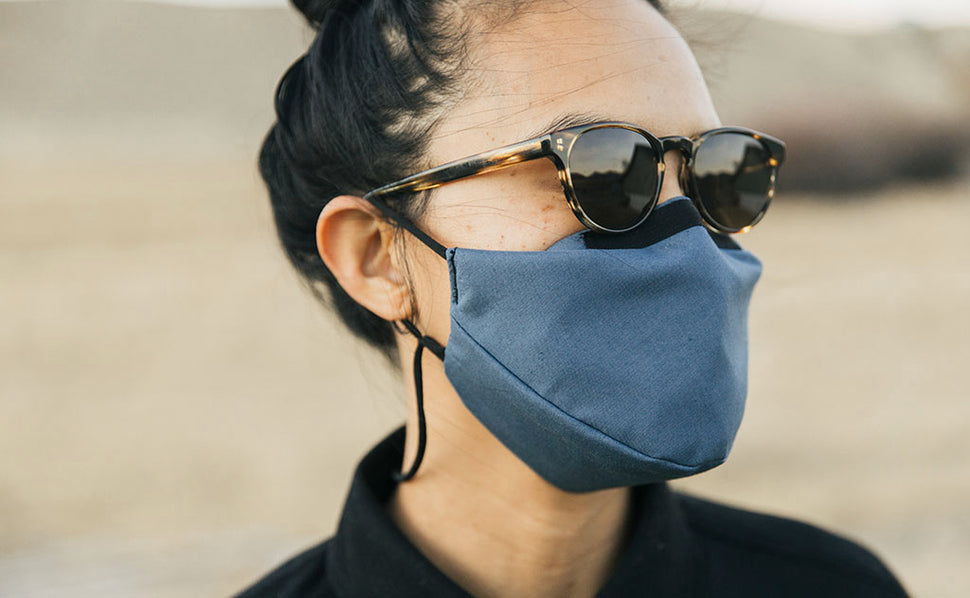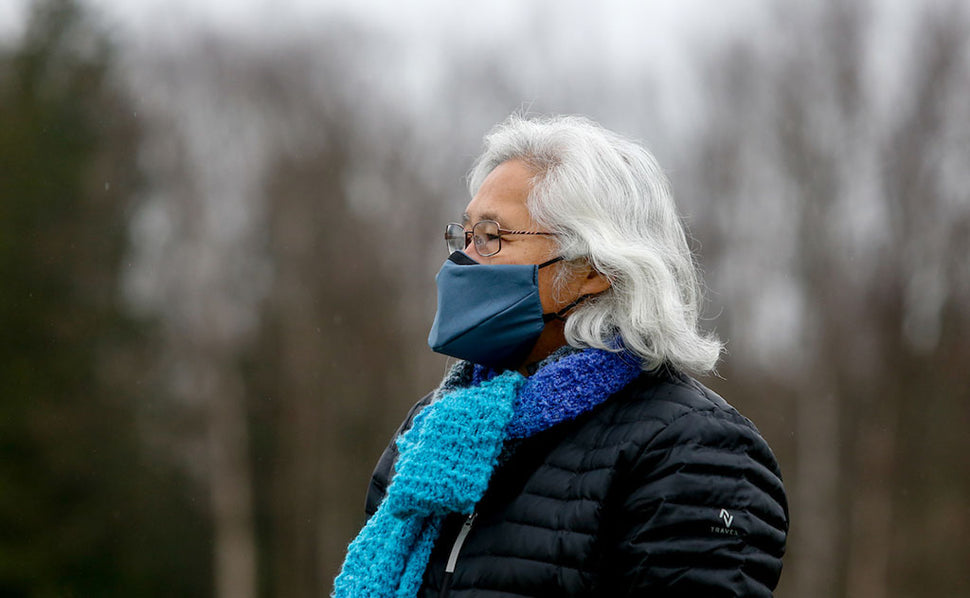 Description
DESCRIPTION
Our new multi-layer non-medical V6 Mask is designed to have as many interior filtration layers as practicable, while remaining cool, breathable, comfortable, and convenient to wear. In spite of its multiple layers, most folks who've tested this mask find it to be our most breathable, comfortable mask design yet.
Why did we choose sewn-in filter layers instead of a user-inserted filter? Because the interior filter layers can be machine washed and machine dried, there's no need for a separate, removable filter. And, because the filter layers are sewn-in, they cover nearly all of the surface area of the mask and cannot slip out of position. There's no need to handle separate filters – simply machine wash and dry the entire mask. Plus, speaking for ourselves here: having to purchase, replace, and keep track of new filters is one thing we'd rather not add to our already long to-do list.
When new, the V6 Mask may feel slightly stiffer or even larger than our other masks — simply machine wash/machine dry your mask a few times to help it conform to your unique face shape.

Like all of our face masks, the V6 Mask features soft, comfortable adjustable ear loops, a customizable conforming nose bridge, and a lanyard for convenient wear.

The six layers are comprised of the following non-medical-grade materials:
Outermost layer of 100% GOTS Certified Organic Cotton Broadcloth
Interior layer of Spunbond Polypropylene
Interior layer of Spunbond Polypropylene
Interior layer of Spunbond Polypropylene
Interior layer of Spunbond Polypropylene
Outer face-side layer of 100% GOTS Certified Organic Cotton Broadcloth

The design of the V6 Mask is similar to our V4 Mask — and with the structure provided by the additional layers, some folks will find that the V6 Mask creates more space between the mask and the face. That added space can be especially helpful if you're wearing the mask while talking or singing. It also makes it a good choice for those with beards. And it's also worth noting that if you initially find the V6 to be a little stiff, it will soften with repeated washings.

We recommend following the CDC washing instructions — machine wash and machine dry.

Spunbond Polypropylene

The mask guidance issued by the Canadian government and the World Health Organization both suggest middle layer(s) of a non-woven material such as polypropylene. Note that no mask provides 100% filtration.

100% GOTS Certified Organic Cotton Broadcloth

Our 100% GOTS Certified Organic Cotton Broadcloth fabric is a high-quality, beautiful, and natural cotton woven and dyed especially for us by our OEKO-TEX Certified fabric mill in South Korea. It's comfortable and soft next to the skin. Organic isn't just better for us humans — it's also better for the environment.
INSTRUCTIONS FOR USE, SIZING, SHIPPING OPTIONS & MORE
Comfortable, stretchy adjustable ear loops and neck lanyard
Our innovative ear loop and neck lanyard material is comfortable, conforming, and stretchy — but it's not the scratchy elastic that's typically found on masks. Even when worn around the ears, we (and others) find our material to be quite comfortable for longterm wear. And in our V2, V3 and V4 Masks, the ear loops are adjustable to increase comfort even more.
As we mentioned, the ear loops and neck lanyard are both adjustable; you can shorten or lengthen them. To adjust, gently tug up on the ear strap (lengthens ear strap, shortens neck strap) or down on the neck strap (shortens ear strap, lengthens neck strap) at the point where they are knotted together.
We find the neck lanyard to be a convenient feature when we go out for walks. If no other people are around, we can let the mask hang around our neck and against the sternum; if we see another person coming our way, it's easy to very quickly grasp the ear loops (w/out touching the fabric of the mask) and put the mask on.
Choosing the right size of mask
When tightly and properly secured via the adjustable strap, our V6 Reusable Cloth Face Mask will provide a good, secure fit and reduce gaps.
To determine which size you need, take a flat ruler and place it next to your nose. Measure from the bridge of your nose to the point of your chin.
Choose Small/Medium if you measure LESS than 4.5" / 115mm
Choose Medium/Large if you measure MORE than 4.5" / 115mm
And if you measure exactly 4.5": we'd recommend choosing the Medium/Large size.
Customizable nose bridge
We've added a fabric slot over the nose bridge; your mask will arrive with a metal nose piece inserted into the slot that can be bent to conform your mask over your nose.
Part of the reason the open nose bridge slot is so great is that you can effectively customize the firmness of the conforming metal piece to be what works best for you: replace the metal nose piece with a twist tie or vice versa, or choose a different wire altogether.
Additionally, we determined that the first component on a mask most likely to fail after repeated machine washing and drying is the bendable, metal nose piece; by making that piece removable and replaceable on our masks, we've increased the longevity of the mask and have allowed you to replace that part if/when it does fail at little to no cost (most of us have extra twist-ties at home… you know, the things produce comes bundled in or bakery bags are tied with.)
We recommend removing the metal conforming nose piece prior to washing your mask. That will help the metal piece last as long as possible.
Returns and Guarantee
Just like our bags, our masks are satisfaction guaranteed. If you're happy with your mask, if you'd like help troubleshooting fit, or if your mask isn't working for you, emailus@tombihn.com and we'd be glad to help.
For the health and safety of our crew, we can't accept returns, repairs or exchanges for/of these masks. Any issue with materials or workmanship on these masks will be evident immediately; beyond your immediate inspection of the mask upon its arrival, the mask is not covered under our Lifetime Guarantee.
We recommend following the CDC Instructions for washing face masks and we recommend washing your face masks in a reusable mesh laundry bag; this will prevent the ear loops from getting caught on other stuff in the washer and dryer and will help protect your mask.
Made in U.S.A. (and what that means)
Some of you will ask why our masks (or our bags, for that matter!) are more expensive. Our business model is unusual: we are designer, manufacturer, and direct retailer and our entire company shares the same 16,000 square feet in Seattle, the city with the highest minimum wage in the United States. We're also a Certified B Corporation. The contract manufacturers we work with are also in Seattle. In short, our labor and overhead costs are likely significantly higher than that of a business who manufactures their products overseas.
Warnings and Instructions For Use
We recommend that you read our Warnings & Instructions For Use. If you need more copies of the Warnings and Instructions For Use to distribute with masks that you are providing to others, please download this PDF and print additional copies on your home printer.
These guidelines are based on this FDA document; the guidelines may be subject to change. Please refer to the FDA website for the most up-to-date information.
Enclosed Face Masks are NOT Intended to Provide Liquid Barrier Protection
This mask is not a surgical device or a respirator and should not be used as a substitute for either of these devices.
Not for use in any surgical setting or where significant exposure to liquid, bodily or other hazardous fluids, may be expected.
Not for use in a clinical setting where the infection risk level through inhalation exposure is high.
Not for use in the presence of high intensity heat source or flammable gas.
An outermost layer of 100% Organic Cotton Broadcloth; four middle layers of Spunbond Polypropylene; and an innermost / face layer of 100% Organic Cotton Broadcloth. Note: These masks are not made of medical grade material
For adult use only. Wash these masks according to CDC washing guidelines prior to first wear. Wash routinely depending on the frequency of use. Do not microwave. Do not put in the oven.
Use of this mask is intended to be an addition to and not in substitution of all other measures recommended for the prevention of communicable diseases.
If irritation occurs, discontinue use.
If unsure, consult your personal physician before wearing.
When washed and dried, secure the clean mask to your face to cover both your nose and mouth.
WARNING: Gaps between the mask and your face, or a loose fitting mask, will reduce the effectiveness of the mask. Once secured, refrain from touching the mask and your face in order to adjust its fit. Any hand contact with your face, or the mask itself once donned, can increase your risk of contracting or communicating an infectious disease.
89%
would recommend this product
Verified Buyer

Product Standouts

Thoughtful Design,

Comfortable,

High Quality Craftsmanship,

Durable,

Easily Adjustable

1 year ago

Product Standouts

Thoughtful Design,

Comfortable,

High Quality Craftsmanship,

Durable,

Easily Adjustable

Best mask available

I love the superior production quality and the lanyard that enables quick & easy deployment. Easy adjustments and the fitting is perfectly suited for people wit a small to moderate beard. Well worth the wait of overseas delivery. Highly recommended!

Verified Buyer

Product Standouts

Thoughtful Design,

Comfortable,

High Quality Craftsmanship,

Made in USA,

Easily Adjustable

1 year ago

Product Standouts

Thoughtful Design,

Comfortable,

High Quality Craftsmanship,

Made in USA,

Easily Adjustable

Only mask I wear!

In 2020 I tried a handful of different masks until I came across the Tom Bihn masks. I tried almost all of them but I was excited to try the V6 when they announced it. This is the only mask I wear now. It's comfortable enough to wear for hours at a time, and it's also the only one I have found that doesn't fog up my glasses.

Verified Buyer

Product Standouts

Comfortable,

High Quality Craftsmanship,

Easily Adjustable

1 year ago

Product Standouts

Comfortable,

High Quality Craftsmanship,

Easily Adjustable

Best mask ever for glasses wearers

Masks causing my glasses to fog up has been the bane of my existence in the post pandemic world. And even as mandates relax I'm still wearing a mask due to family members with health issues. So the glasses fog issue remains. My glasses (which are oversized lenses to boot) haven't fogged up once with this mask. It's comfy to wear and can hang on my desk when I get to my car.

Verified Buyer

Product Standouts

Thoughtful Design,

Comfortable,

High Quality Craftsmanship,

Made in USA,

High Quality Finishings

1 year ago

Product Standouts

Thoughtful Design,

Comfortable,

High Quality Craftsmanship,

Made in USA,

High Quality Finishings

V6 Face Mask

First of all, I have now (almost) owned every version of Tom Bihn's face masks, and I have to say that with each generation comes innovation and expected improvement. I do not leave my home without a Tom Bihn mask around my neck, and I really cannot think of any more improvements (other than the neck strap sometimes needing stretching to comfortably wear). Overall, as far as masks are concerned, the V6 mask is the perfect mask. I guess another potential improvement might be changing the wire nose piece with a softer/more malleable material, but now I am just being picky! Ha! Great job Tom Bihn on these masks! This mask has been a game changer for me, since the clever design of face to neck use makes it very convenient and sanitary to use. I really never leave my home without one... The amount of masks that I have purchased tells the story... I even give them out to folks whenever I receive any comments or interest. Great product! Oh, by the way, these masks do run large, so I bought the medium to fit what I consider a large (i.e. 7.5 inch circumference head). Good fit! Thank you Tom Bihn! Keep the improvements coming! Take care.

Sadly, doesn't conform to my face

I've had every version of the Tom Bihn masks (except for the V5: was it ever for sale?), and each one was an improvement for me over the last, until the V6. The V4, my current main mask, is *very* comfortable, like a cashmere sweater, and its soft fabric conforms very well to my face, forming a good seal, so I'm confident that nearly all the air I breathe in and out is going through the fabric. The one downside to such good sealing is that when I ride my bike with the mask on, I have to suck pretty hard to get enough air.

So when the description of the V6 said it's "our most breathable...mask design yet", I immediately placed an order, expecting that breathing when cycling with the V6 would be easier. And it's a lot easier--but because the sides do not conform to my face, leaving gaps for unfiltered air to get in. I've washed the mask three times, hoping that it will get softer and more flexible, but there are still gaps.

The other, pretty minor, downside is that to me, the mask smells funny. I'm assuming I'm smelling the polypropylene layers, and if they're doing a better job of protecting me and others, the smell is a small price to pay, but it is noticeable.

Tom and company, if you make any further refinements, can you use a softer fabric for the outer layers, or prewash the fabric to make it softer? That might do the trick. Thanks for your efforts to make great masks!
Reviews Loaded
Reviews Added
Sewn in Seattle
Our bags are designed and sewn right here in Seattle, Washington, U.S.A.
That allows us to be control freaks in the best way possible; we have direct control and oversight of the quality of our materials, our products, and the jobs and working environment that we help create. It also offers us a unique spontaneity: when we have an idea for a new product or accessory, we can design it, figure out how to build it, add it to our website and be ready to ship it out our front door all within just a few weeks. How cool is that?

Intrigued? You can find out more about the unusual way we do business on our Company Philosophy page.
THE BIHN Guarantee
Everything you buy from us here at TOM BIHN is satisfaction guaranteed. We've been in business since 1972 and we stand behind what we make.
If something goes wrong and it's our fault, we'll fix it for free. Repairs due to normal wear and tear or due to other things that are not our fault will be performed, when possible, at a reasonable charge right here in our Seattle factory where your bag was made. Defects in materials or workmanship are uncommon and almost always evident while the product is still new. Keep in mind that bags and packs are often subject to extreme wear in everyday use: do not expect them to last forever. Only true love lasts forever! You can expect a TOM BIHN product to give years and years of hard service.