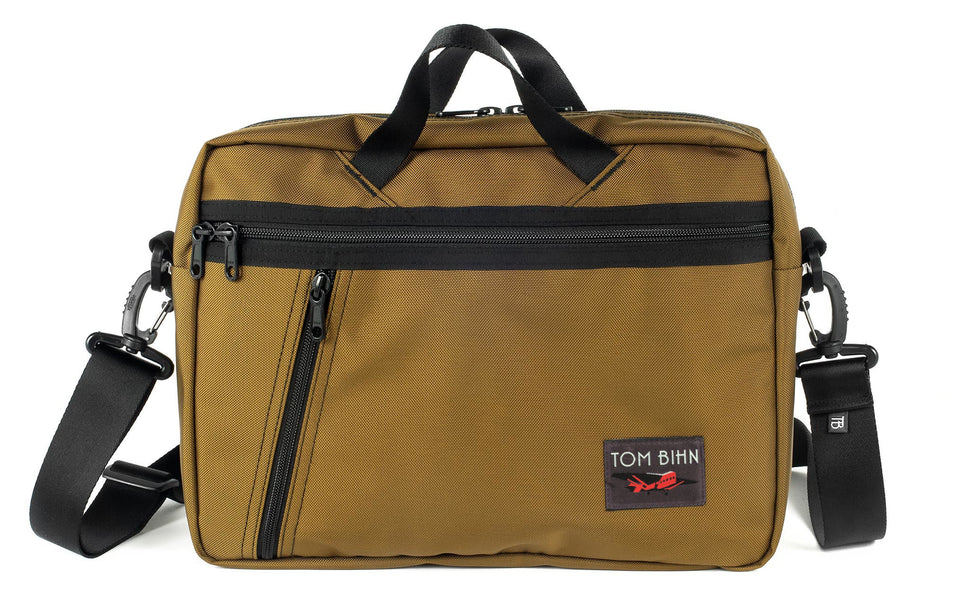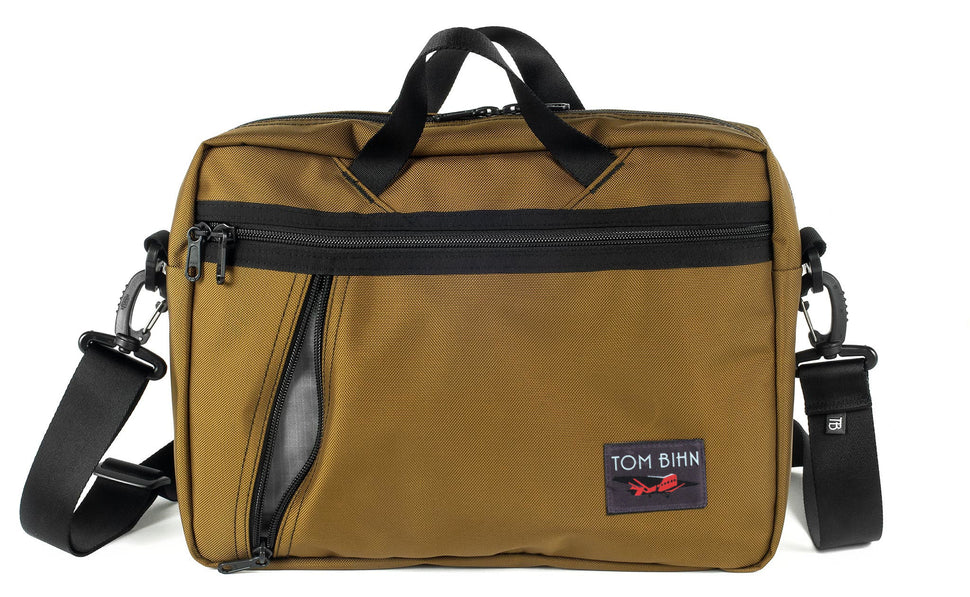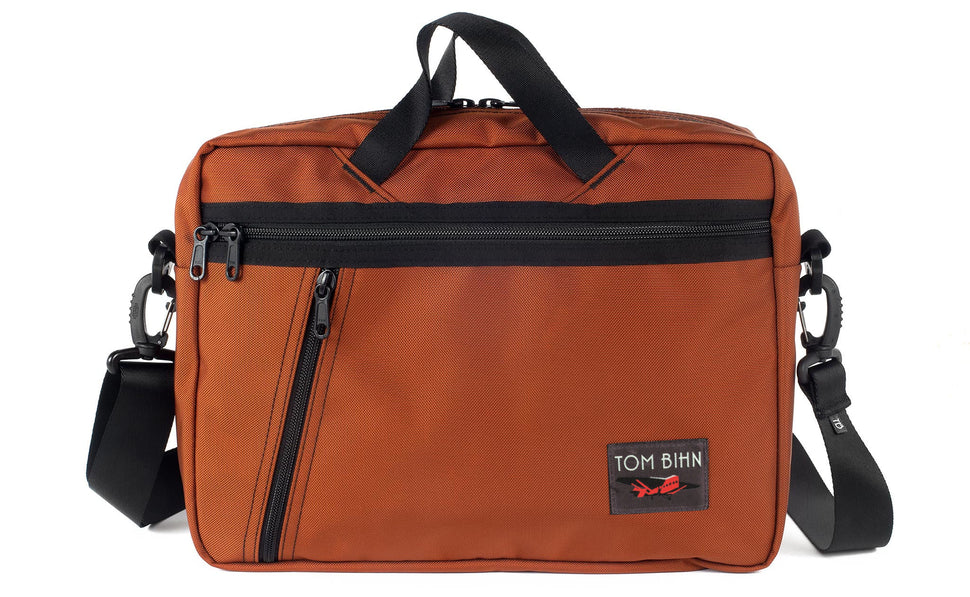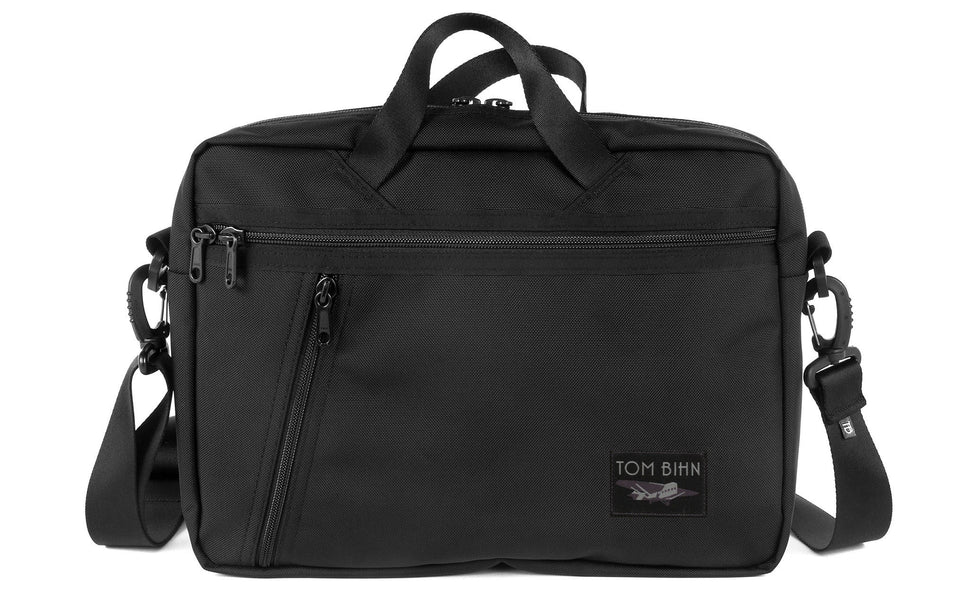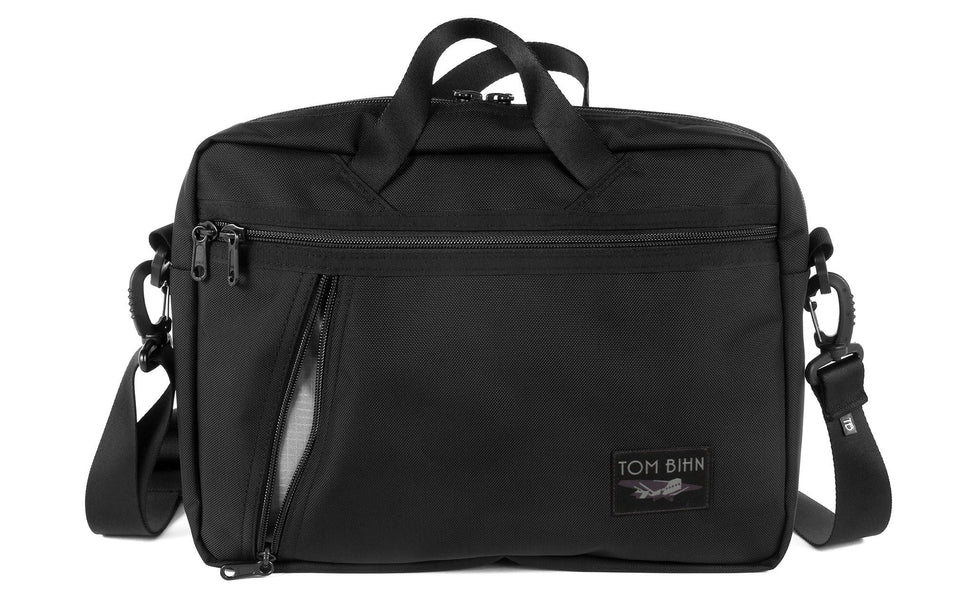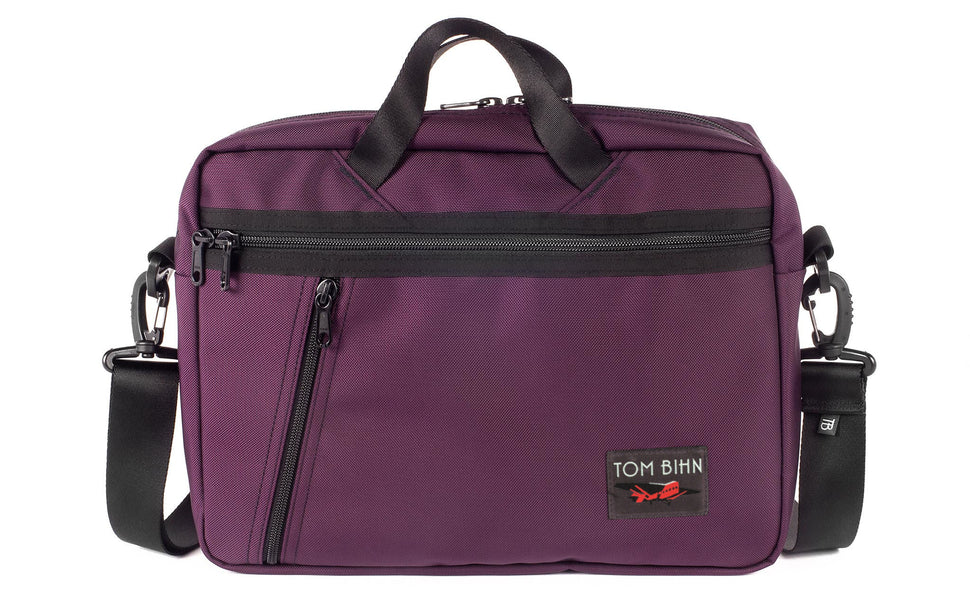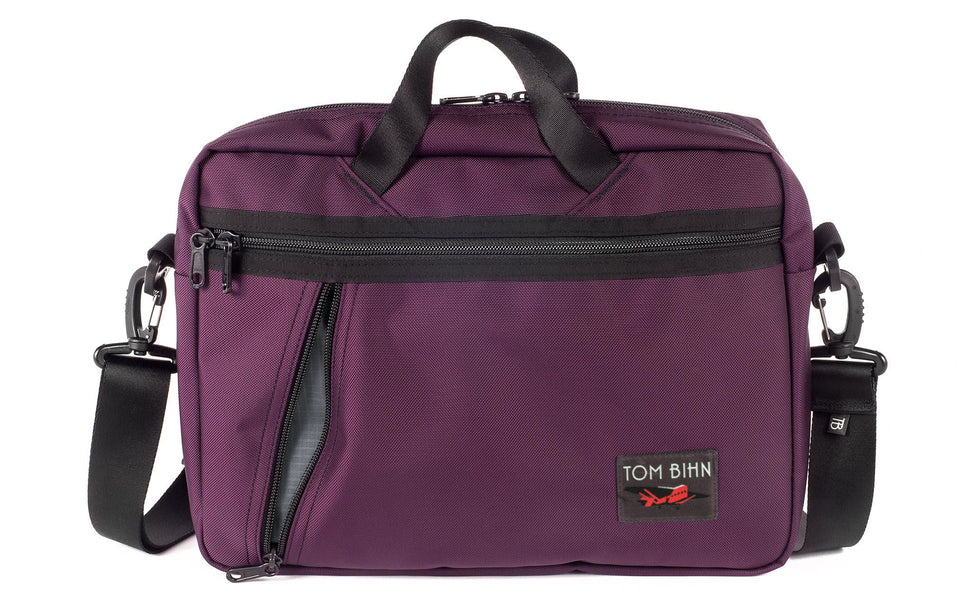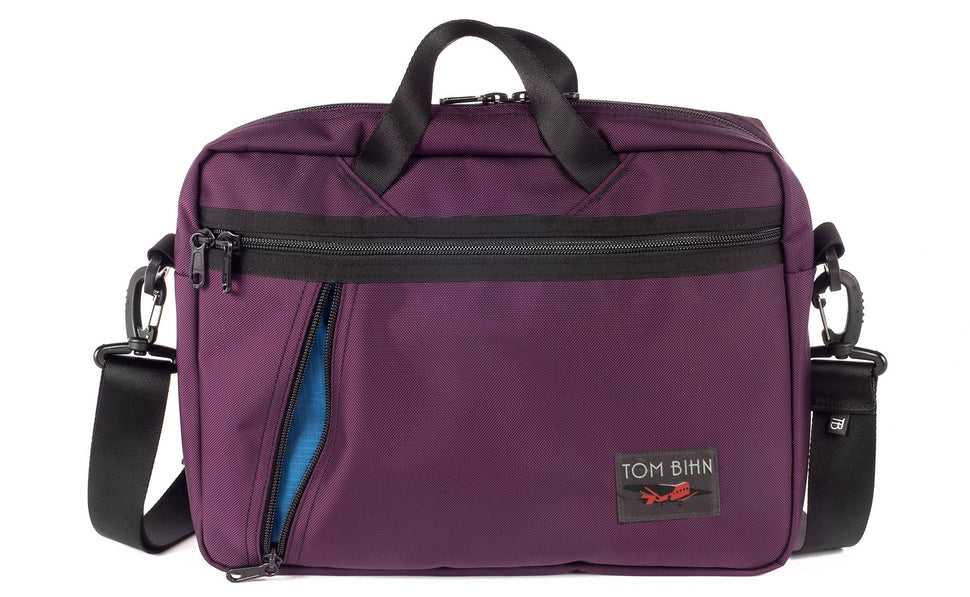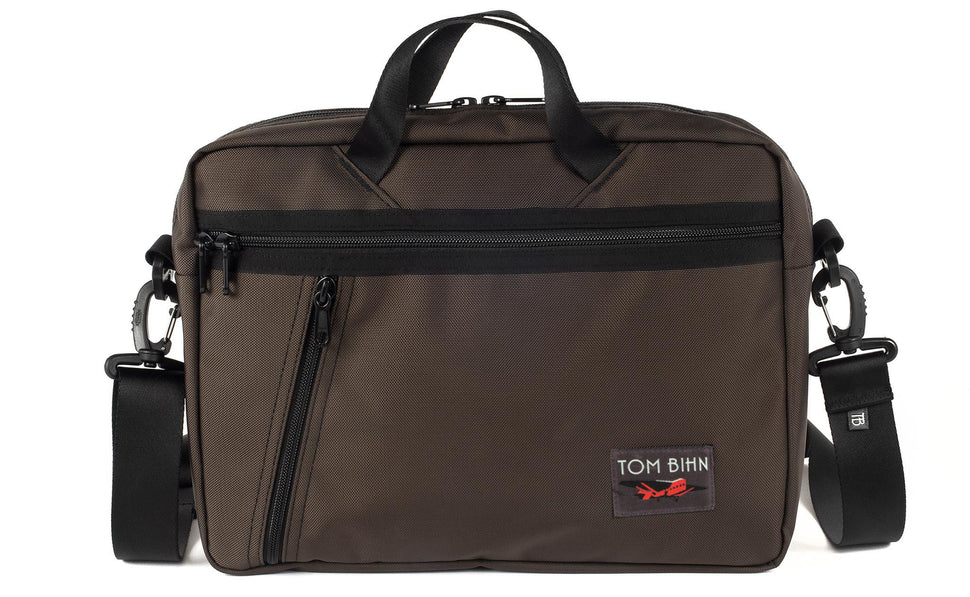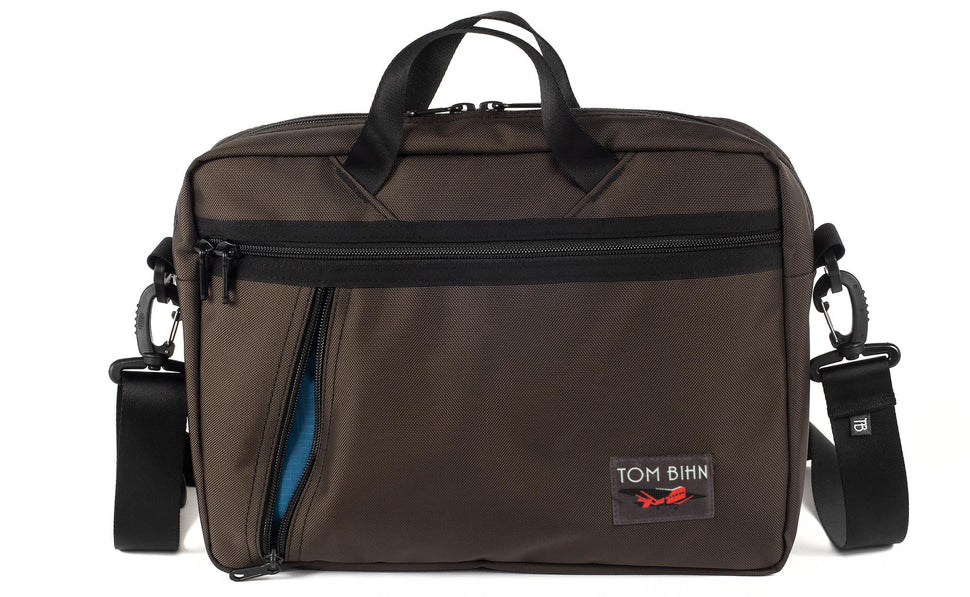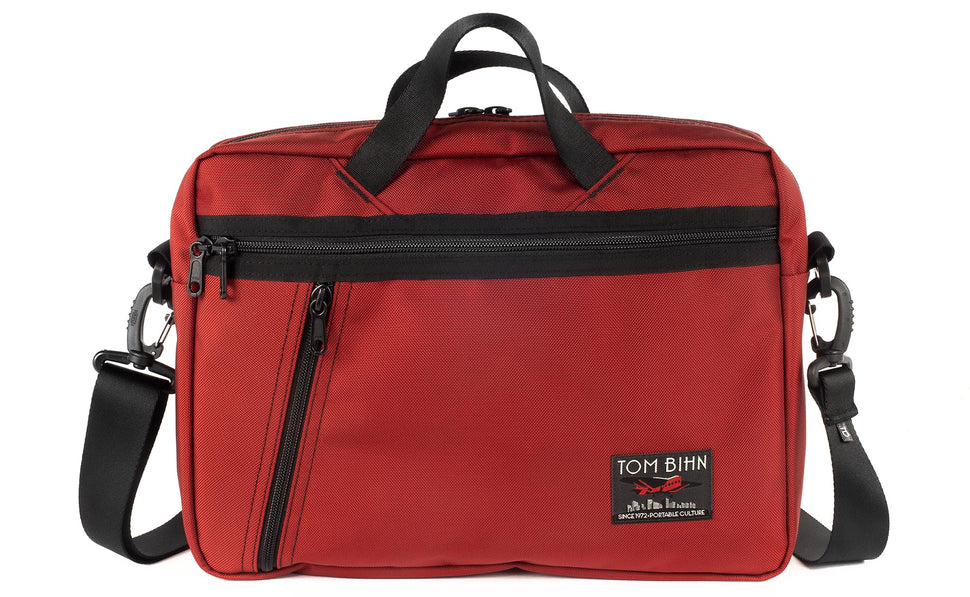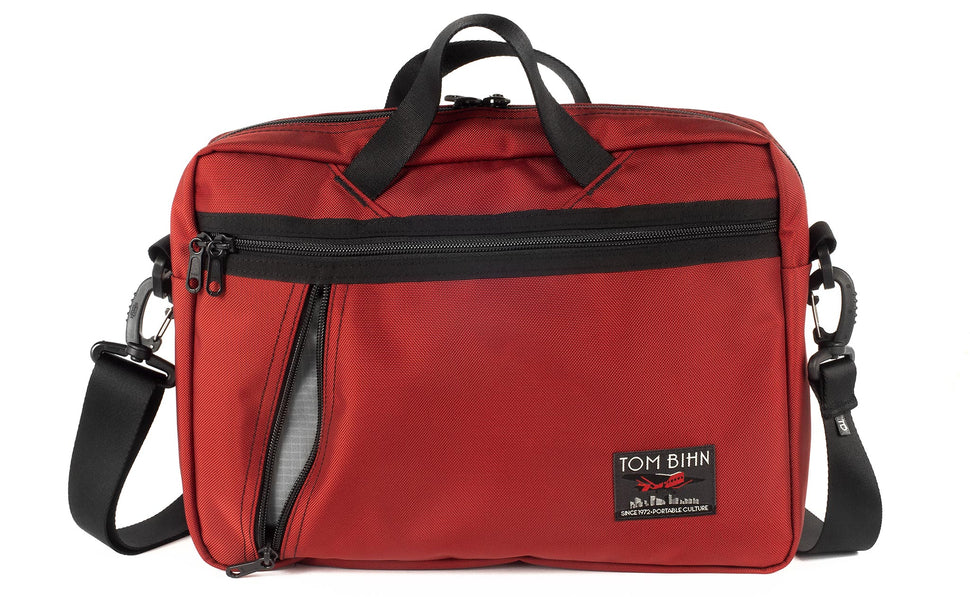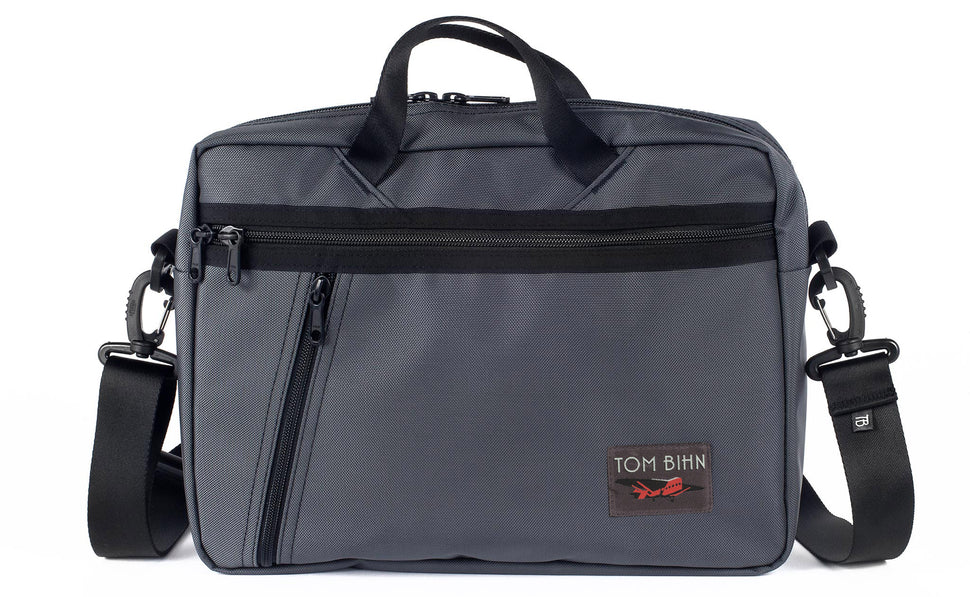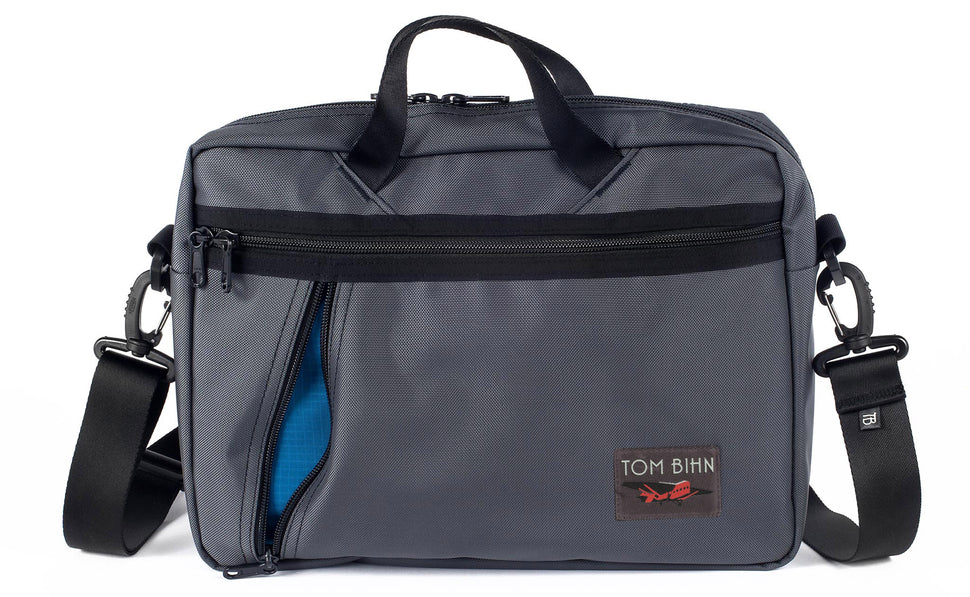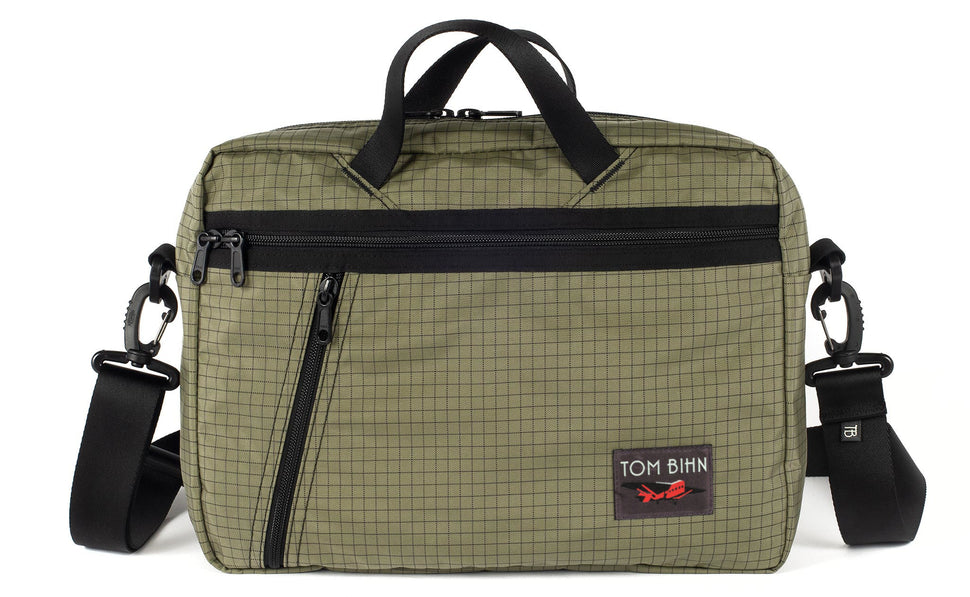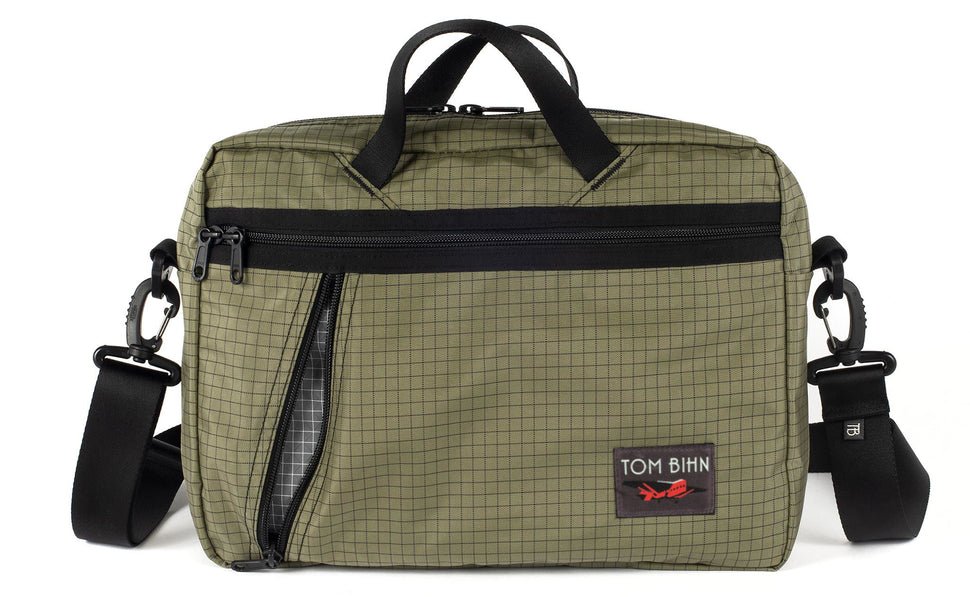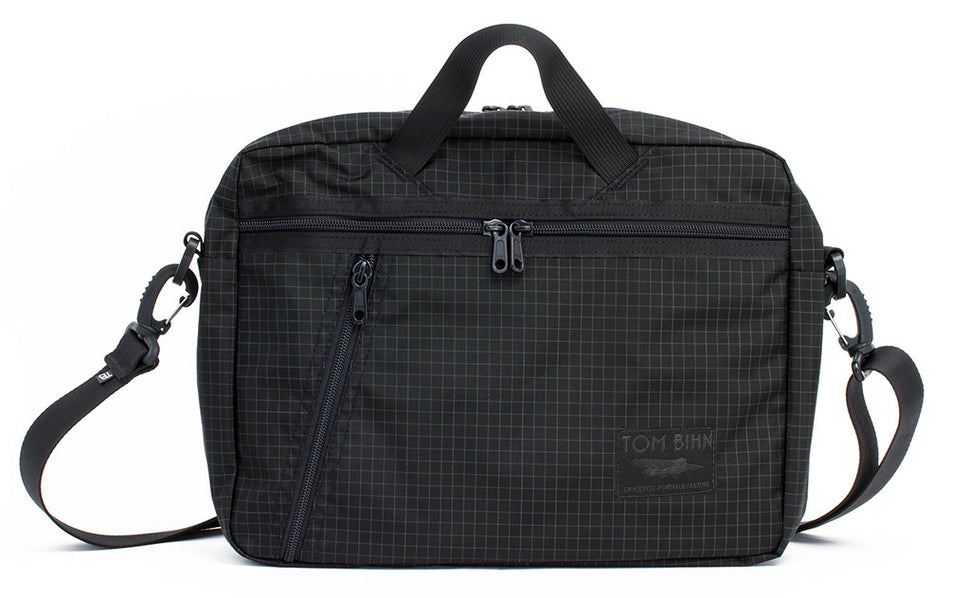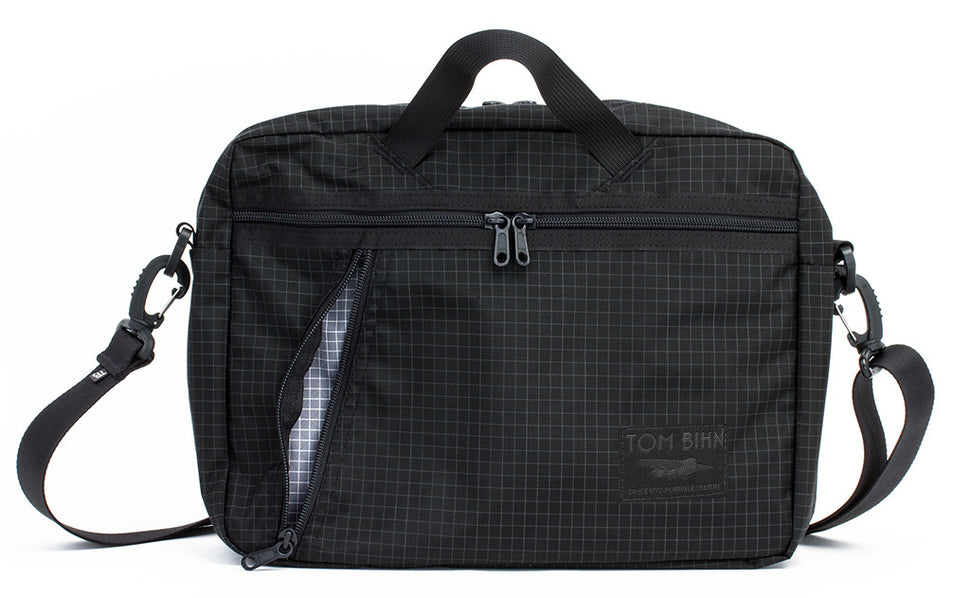 Description
From the less-is-more school: a minimalist briefcase.

The Daylight Briefcase, in the same "less-is-more" tradition as our Daylight Backpack, is our answer to those who desire a classic, ultralight, and utilitarian briefcase. To wit, it has everything you need and nothing you don't: lightweight but strong and supple webbing handles, a flat-packing and easily-rolled design that lends well to being stowed in larger bags, loops to attach our modular Cache laptop sleeve should you need it, and of course loads of o-rings to snap in all the bits and bobs stored in your organizational pouches.

The features at a glance:
Four pockets, the two face pockets, one back pocket, and the main compartment
Large enough to fit most 13" laptops, with the optional and removable Cache
Easily packed and stowed when not in use
Full Description
Let's get into the nitty-gritty:
Carry Styles
Sturdy, minimalist webbing handles meet at the top of this bag, making it easy to hand carry. In addition, d-ring attachment points make it easy to sling over your shoulder with the included Simple Shoulder Strap.
Front Pockets
A slanted pocket sized to fit a small (~7") tablet or a large phone, deep enough to accomodate a Cache if wanted. Above that, a larger zippered pocket that spans the width of the bag, divided down the middle, and big enough to hold a paperback, kindle, power supply, or a pen pouch. Two o-rings live in each of the front pockets.
Back Pocket
This pocket is well sized for files, a magazine, or even a rain shell or light jacket.
Main Pocket
Inside is an open-top pocket with an elastic top, great for holding bulkier items without the pocket bellowing out. Loops for our Cache laptop sleeve are just inside this pocket, accomodating up to a 13A Cache. 4 o-rings are speckled throughout.
Choosing an Exterior Fabric
You like choices and we like to give you choices! That's why the Daylight Briefcase is typically available* in two different exterior fabrics. Our Materials Glossary explains each fabric in great detail, but here are some quick facts that may help you decide which to choose. And we're always here if you have questions: emailus@tombihn.com
400d Halcyon
Weave

plain weave with 1/4" / 6mm ripstop

Fibers

400 denier type 6 filament nylon (base fabric); 420 denier ultra-high-molecular-weight polyethylene ripstop grid

Coatings

light urethane

Made In

Japan
Choose this fabric if
You want a lighter weight alternative to traditional nylon fabrics that has remarkable tear strength and good abrasion resistance.
You're looking for a fabric with a modern, "technical" appearance.
You have pets: 400d Halcyon doesn't collect pet hair, reducing your monthly lint roller costs.
525d High Tenacity Ballistic Nylon
Weave

2x2 "ballistic" weave

Fibers

525 denier type 6,6 (high tenacity) filament nylon, twisted

Coatings

heavy urethane

Made In

South Korea with Canadian Yarn
Choose this fabric if
You want your bag to be soft and supple yet tough as nails.
You want a fabric that's stately enough to be at home at work, the mountains, or a nice hotel.
You don't want your bag to collect pet hair or abrade your clothing.
*There may be times when one of the exterior fabrics mentioned here isn't available. Even with our best efforts, the demand for our bags occasionally outpaces our production capabilities: at times, some products, color combinations, or fabrics might be temporarily unavailable or "In Production." See the In Production color combinations as a guide to what our factory crew is making and what will be available next.
97%
would recommend this product
Verified Buyer

Product Standouts

Thoughtful Design,

Comfortable,

High Quality Craftsmanship,

Sewn in USA,

High Quality Finishings

12 months ago

Product Standouts

Thoughtful Design,

Comfortable,

High Quality Craftsmanship,

Sewn in USA,

High Quality Finishings

Fits a 2021 Macbook Pro 14" Perfectly

Paired with a Cache - 13C (2021 14" Macbook Pro), exactly what I was looking for. The Cache slides easily in and out with the provided strap hardware.

Long horizontal front zippered pocket is big enough for the power supply with the Apply 3-prong 3-foot Power Adapter Extension.

The top zippered vertical pocket is split into two equal sized pockets internally and does a nice job organizing small odds and ends.

Great bag!

Verified Buyer

Product Standouts

Thoughtful Design,

Durable,

High Quality Finishings,

Great Gift,

Sewn in USA

6 months ago

Product Standouts

Thoughtful Design,

Durable,

High Quality Finishings,

Great Gift,

Sewn in USA

Magic for a carry-on bad

I took this on a plane and with organizers, it held everything I needed including the Amazon Fire in the front pocket. I love it and am so glad I bought it! I will use it everywhere.

Verified Buyer

Product Standouts

Thoughtful Design,

Compact

5 months ago

Product Standouts

Thoughtful Design,

Compact

Good lightweight bag for airline "personal item" and EDC use

I was looking for something that would easily fit under an airline seat, fit a slightly larger tablet/laptop than a Co-Pilot, and be slimmer and smaller than a Pilot. The Daylight Briefcase fit my requirements nicely. It's well-made and well-priced, and still has plenty of pockets to help organize things.

Versatile of Purpose

I overlooked this bag in TB's catalog for a long time, but I'm so glad I finally tried it out. It's the most versatile bag I've ever had. It works great as titled, as a briefcase. But it's also excellent as an all-around, casual daily carry bag. I've also occasionally put a camera insert in the main compartment to make a great discreet camera bag...in fact, unlike most dedicated camera bags, this one continues to excel as a daily bag even while carrying a camera. Finally, it's a marvelous travel bag: it can be squished in a larger bag, or used at your seat on the plane, and as a small secure carry at your destination. One of my favorite parts of this bag are the light but always available handles. Paired with the Synik 30 or the Aeronauts, this bag is a great cross-body companion.

It's nearly perfect as is...if I were to have one wish, it's that it had a couple more organization pockets for pens and a thing or two, maybe on the back wall of the main compartment, or inside the back pocket. But not big deal, just a nice-to-have. Either way this will continue to be my go-to bag for just about everything.

Verified Reviewer

Product Standouts

Thoughtful Design,

High Quality Finishings,

Durable,

High Quality Craftsmanship,

Versatile

5 months ago

Product Standouts

Thoughtful Design,

High Quality Finishings,

Durable,

High Quality Craftsmanship,

Versatile

Perfect Bag

This is a simple little bag that's well-designed, has pockets for everything you need, and holds up really well. I bought my bag in 2017, it's traveled all over the country and internationally with me, to classes and jobs and cafes, even on camping trips, and it doesn't show any signs of wear. Really! Not even the corners.

I just bought a new, bigger laptop that doesn't fit in the original sleeve and that's the first real "issue" I've had. (Still fits the bag, so a new cache has been ordered.) To be honest, this briefcase is one of those things I own that I don't even think about because it just works perfectly. Highly recommended.
Reviews Loaded
Reviews Added
Sewn in Seattle
Our bags are designed and sewn right here in Seattle, Washington, U.S.A.
That allows us to be control freaks in the best way possible; we have direct control and oversight of the quality of our materials, our products, and the jobs and working environment that we help create. It also offers us a unique spontaneity: when we have an idea for a new product or accessory, we can design it, figure out how to build it, add it to our website and be ready to ship it out our front door all within just a few weeks. How cool is that?

Intrigued? You can find out more about the unusual way we do business on our Company Philosophy page.
THE BIHN Guarantee
Everything you buy from us here at TOM BIHN is satisfaction guaranteed. We've been in business since 1972 and we stand behind what we make.
If something goes wrong and it's our fault, we'll fix it for free. Repairs due to normal wear and tear or due to other things that are not our fault will be performed, when possible, at a reasonable charge right here in our Seattle factory where your bag was made. Defects in materials or workmanship are uncommon and almost always evident while the product is still new. Keep in mind that bags and packs are often subject to extreme wear in everyday use: do not expect them to last forever. Only true love lasts forever! You can expect a TOM BIHN product to give years and years of hard service.