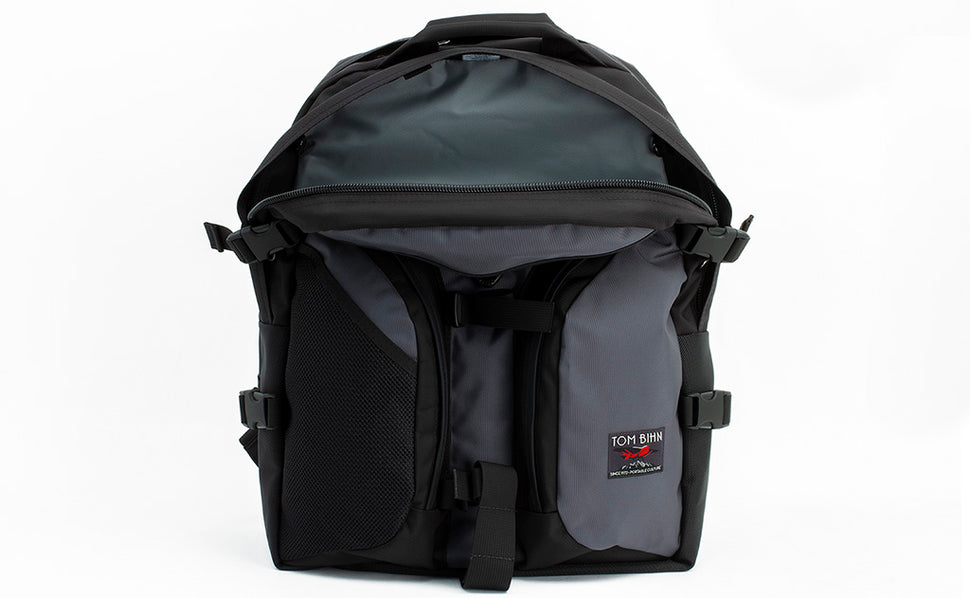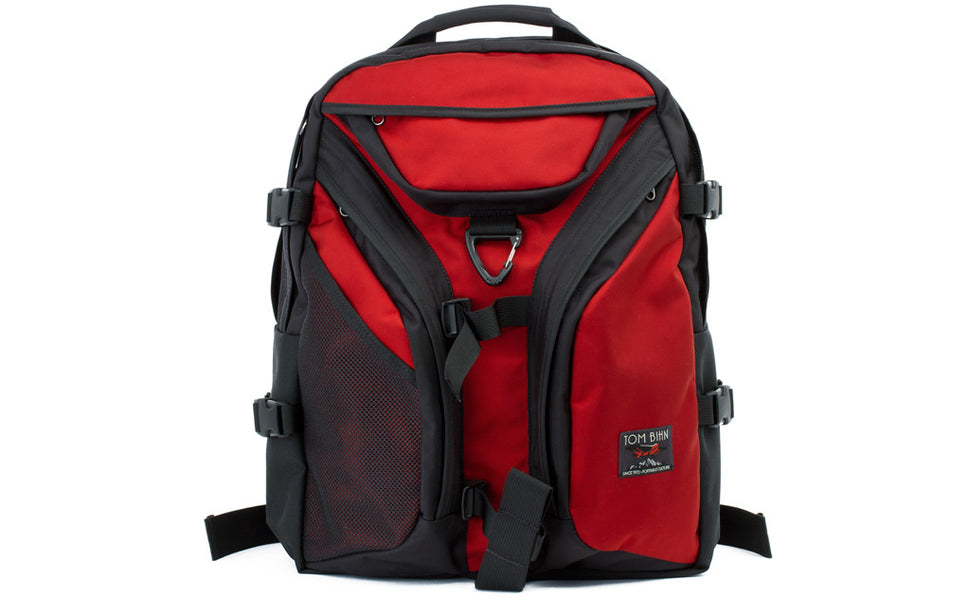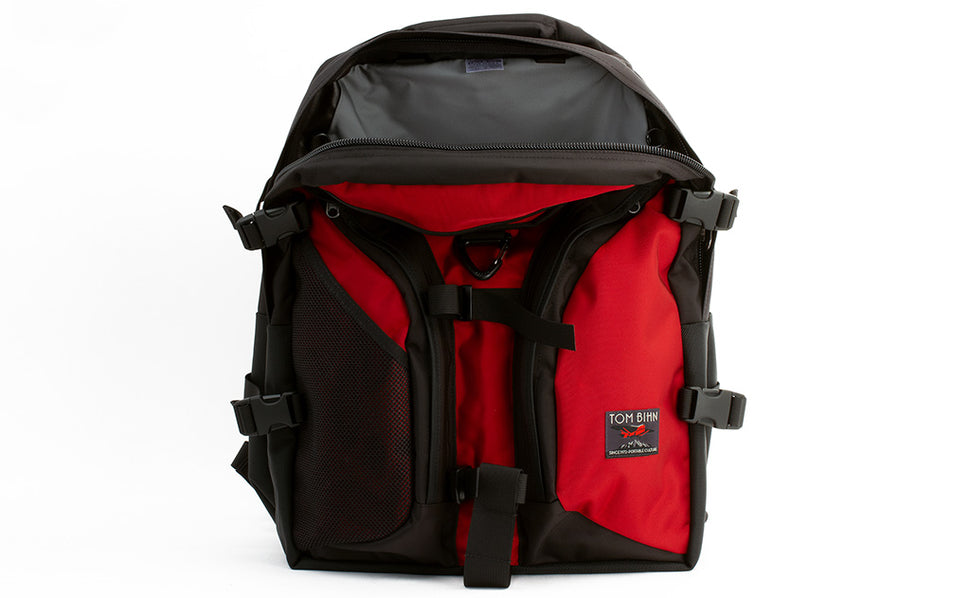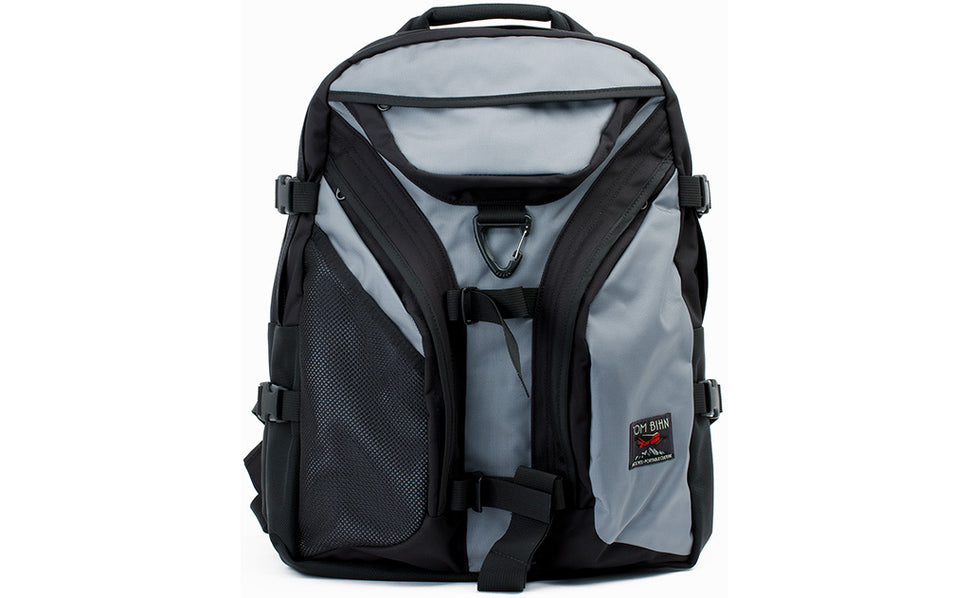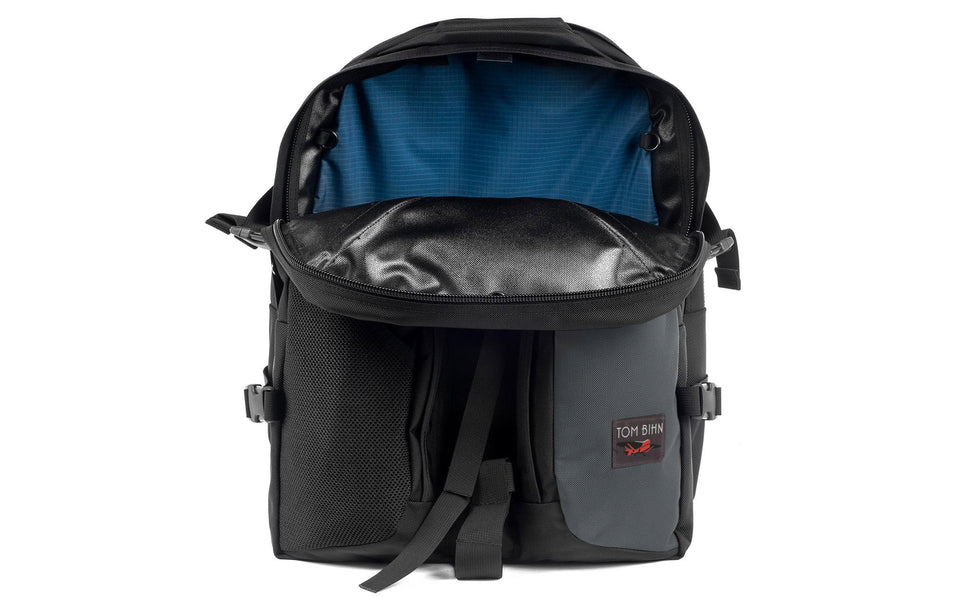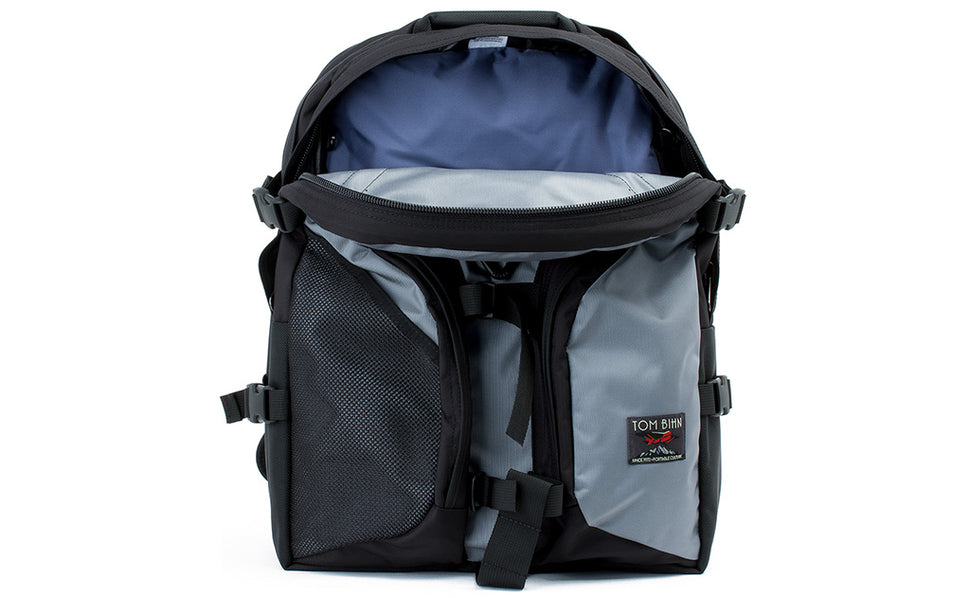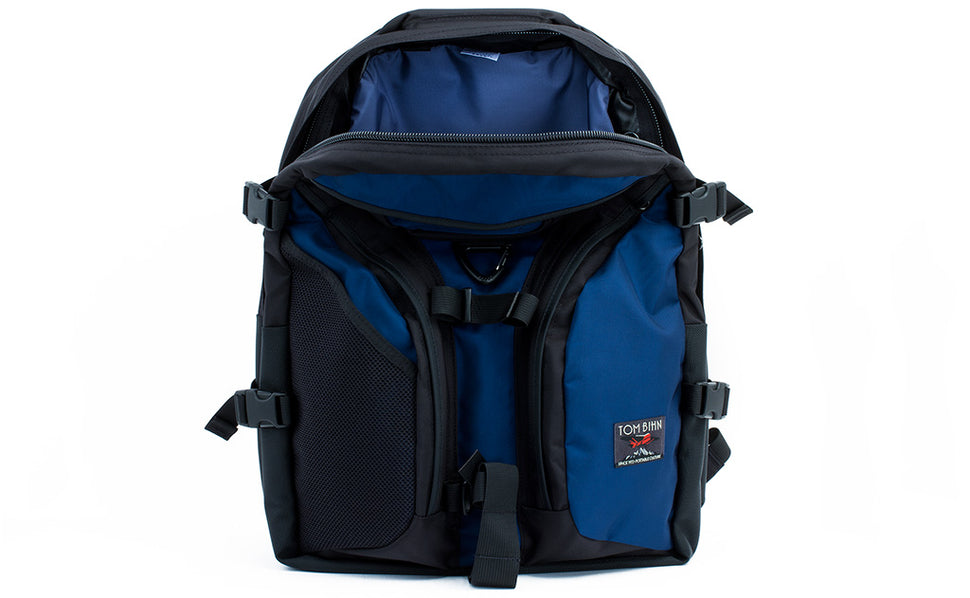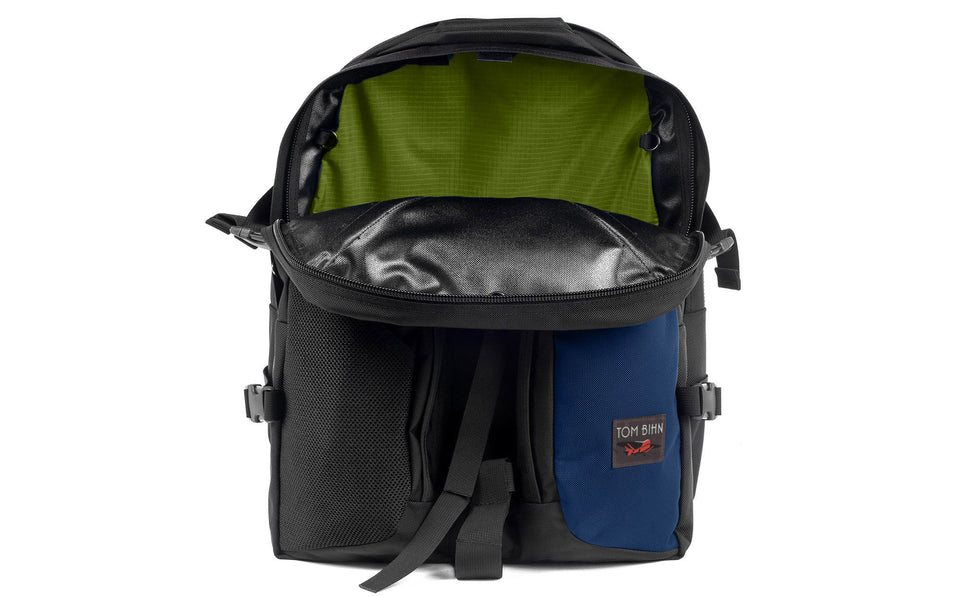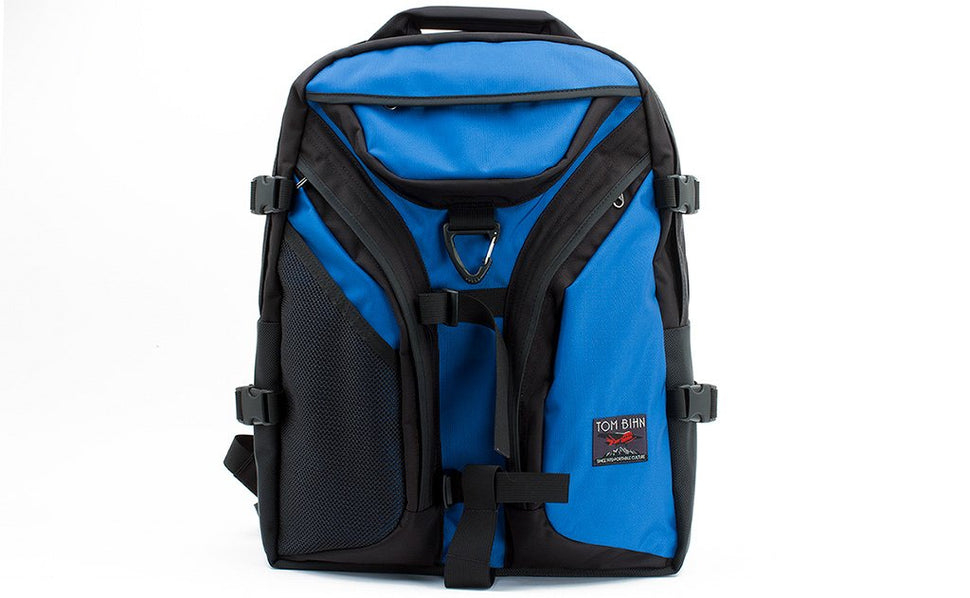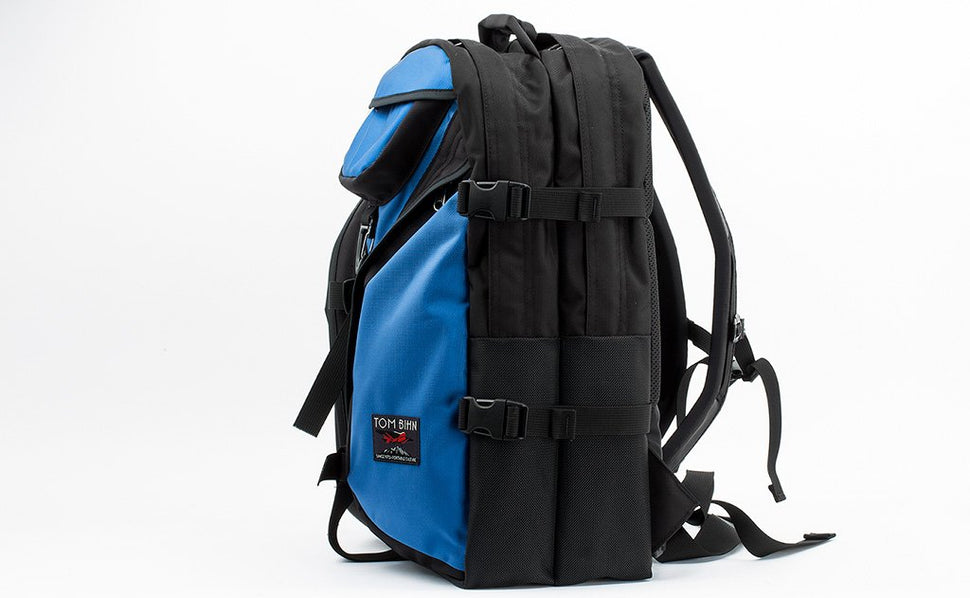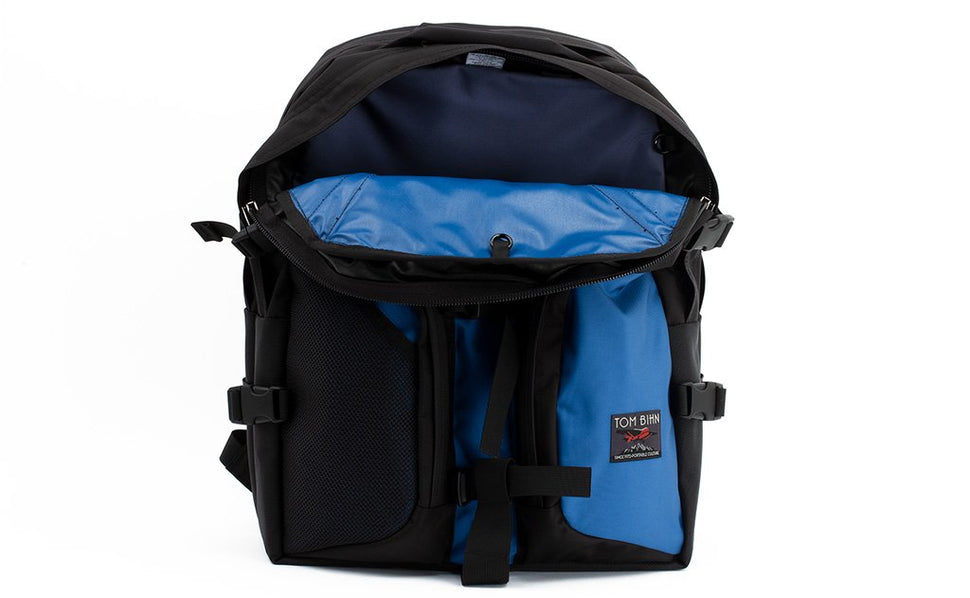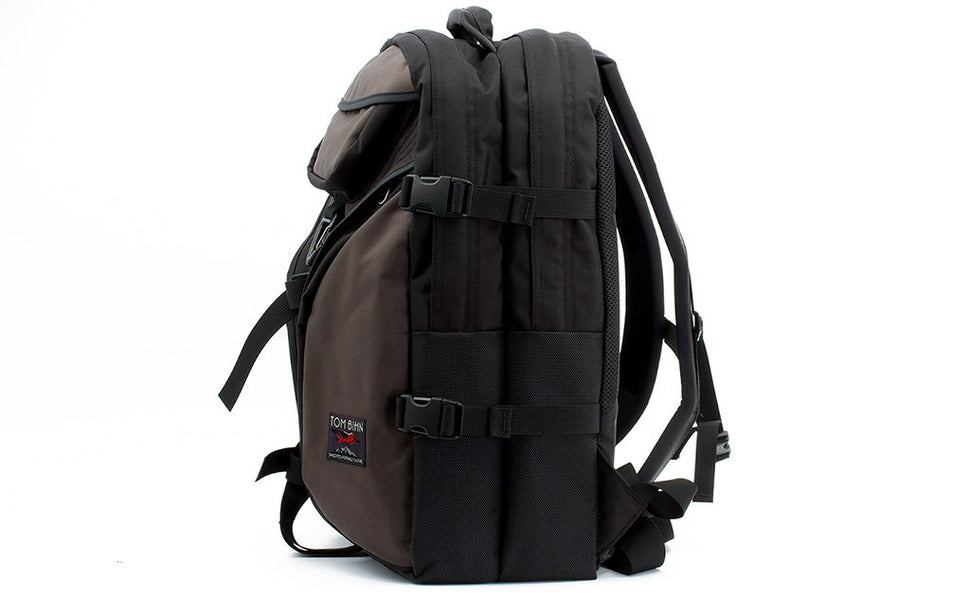 TLDR
If you need a large backpack for everyday carry, the Brain Bag is the one for you. You'll be blown away by not only its size, but also its utility, versatility, and longevity.
Full Description
The Brain Bag debuted in 1996 and its design has stood the test of time. The ultimate on-your-back student or business organizer, the Brain Bag is our Slant-6 of backpacks: it will surprise you with its utility, versatility, and longevity. Long after lesser bags have frayed their seams, blown their zippers, and popped their straps, the Brain Bag will continue to be your faithful companion.
Two Main Compartments
In both of the main compartments (on the back panel of each) are two unobtrusive webbing loops (that we call "rail loops") to which you can secure the optional Cache. Many of us will appreciate this functionality on a daily basis: the rail system can be a convenient and quick way to remove one's laptop from the bag.
Three External Pockets
On the front of the Brain Bag are four external pockets. The small top pocket is perfect for a wallet and cell phone and has an inside snaphooks for keys. The two vertical pockets are large enough for water bottles or even a small thermos; inside both of these pockets are pen/pencil organizers. The left pocket has an outside flat mesh pocket for brochures, plane tickets, or even a small U-lock bike lock. Between the pockets are two lash straps for an umbrella or a raincoat, and above these straps is a heavy-duty snaphook so you can attach a water bottle, coffee mug, or what-have-you.
Side Compression Straps
Side compression straps compress the Brain Bag when it is not full and stabilize the load; you can also tuck a raincoat, hoodie, or yoga mat under these straps.
Breathable Back Panel
The back is made of Spacer mesh and is padded with 3/8", high quality, closed-cell foam. This combination of mesh and smooth nylon is designed to provide maximum breathability while still being gentle on your clothing.
Edgeless Shoulder Straps
Conformity is overrated — except, perhaps, when it comes to shoulder straps. The edgelessness of the Brain Bag shoulder straps allows them to more softly conform to your shoulder — we find that this increases comfort. Yet the straps aren't too soft: the 1/2" thick EVAZOTE® OEKO-TEX® certified foam means the strap is robust enough to carry a heavy load.
What's Included?
1x 8-inch Black Webbing Snaphook/Snaphook Key Strap
A Key Strap is a strip of webbing with plastic snaphooks on the end. The 8" Key Strap in Black that's included in most of our larger bags is, for many, the gateway to a world of organization via Key Straps and Organizer Pouches. All the members of the Key Strap family are intended to make locating things in your bag easier and more instinctive. Pulling out a small item or pouch tethered to a strap is easier than rooting around aimlessly in the depths of your pack; you can also rest assured that anything hooked to a strap is much less likely to fall out or otherwise be left behind. You can find more Key Strap colors and varieties on the Key Strap page.

1x Black Cord Zipper Pulls w/ Plastic Ends (8 Pack)
Some folks prefer metal zipper pulls. Others prefer cord pulls. So, what to do about that? We think the best solution (in most cases) is to offer metal pulls and include a starter pack of Cord Pulls with most bags. The most popular solution is to weave the Cord Pulls through the metal pulls, effectively silencing them without having to remove them. A video demonstrating various Cord Pull options and more colors/varieties of Cord Pulls can be found on the Cord Zipper Pulls page.
An adjustable and removable sternum strap with leave-no-trace hardware: if you don't like or don't use your sternum strap, remove it and leave (almost) nothing behind.
A simple webbing waist strap that can offer extra stability when running to catch a bus, plane, or train. It can also add a small measure of support for a heavy load (for a truly supportive hip belt experience, please see the optional 1.5" Padded Hip Belt.) Also features leave-no-trace hardware.
What's Optional?
The 1.5" Padded Hip Belt allows you to carry some of the weight of a loaded pack on your hips rather than just your shoulders.
Want to carry one (or two!) laptops? Get the Cache sized for your device and use the loops at the top of each main compartment to attach your Cache when you need it and remove it when you don't.
97%
would recommend this product
Verified Buyer

Product Standouts

Thoughtful Design,

High Quality Craftsmanship,

Sewn in USA,

Good Storage Size,

Comfortable

11 months ago

Product Standouts

Thoughtful Design,

High Quality Craftsmanship,

Sewn in USA,

Good Storage Size,

Comfortable

The Brain Bag is a No-Brainer!

Even though I had known about Tom Bihn for a while, I had mainly focussed on the Aeronaut 30 & 45 and then discovered the Synic 30. However, I really needed to replace a backpack with closer to 40 Liter capacity. I already own a 46 Liter (maximum carry-on, duffel-style size) bag, so I didn't need another one. I guess I really developed "tunnel-vision" because I didn't notice the Brain Bag until I was very close to my departure date. I'm sure glad I found it though! With a Basic Economy ticket from Raleigh, NC to San Francisco and back, I figured I'd be among the last to board and would have difficulty finding a spot for a roll-aboard bag. It might need to ride under the seat in front of me. One-bag travel looked like the way to go on this trip. Well, while those fears were not realized, the Brain Bag was ready to deliver. With its 36 Liter capacity, I carried clothes for 3 days+, a compact umbrella, N/C over-ear headphones, a fluffy neck pillow, & snacks (including a pair of 1/2 lb. bags of beef jerky, ha ha) all inside the Brain Bag. Total weight, including the Brain Bag, was about 22 lbs. With the 2 separate main compartments (a feature that I have searched for for a long time, BTW), I was able to organize my things very well, making accessibility a breeze. Actually, I used a 12 Liter Fanny Pack to organize my iPad, Tom Bihn Small Snake Charmer, 25000maH battery, snacks, sunglasses, hand sanitizer, etc. into one unit. I simply slipped the 12 Liter pack in and…

Best backpack *ever*

I bought this bag on the recommendation of a friend during a trip to the US. I've been using this bag for the past 16 years, and it still looks like new. The zippers all work fine, there are no rips or tears, and with the exception of a single buckle that I broke while closing it in a car door (that I have since replaced), this backpack functions like the day that I bought it. I cannot recommend this backpack enough. I would be more than happy to purchase another one of these bags, but I highly doubt that this one will wear out before I retire (easily another 16 years). This bag is awesome to travel to conferences with, as you can use the backpack for all your stuff, but still pull out the smaller laptop bag for meetings and the like. I consider this bag "buy it for life".

Verified Reviewer

Product Standouts

High Quality Craftsmanship,

High Quality Finishings,

Sewn in USA,

Durable,

Easily Adjustable

5 months ago

Product Standouts

High Quality Craftsmanship,

High Quality Finishings,

Sewn in USA,

Durable,

Easily Adjustable

So I got my brain bag back in 2011 and....

So, I got my brain bag back in 2011, used it for 4 years straight as as traveling consultant carrying 2 laptops at a time as well as plenty of other items over 2 to 4;air segments a week (200 to 400 segments a years) in the air and now in 2023 it's basically like new. While I don't travel like I used to, it is now the perfect backpack to rock when I'm riding my Harley. I've spent 200+ on groceries and managed to sling was many as 9 double and triple plastic bagged items to the outside using clevis hooks and the squeezing straps as mount points. Literally, any other backpack would have disintegrated long ago.

This thing is literally awesome.

Photos attached show my typical load when I was a traveling consultant. The pic on the Harley is the same bag but in 2020. I'went to Home Depot and on the way home, I had secured that US flag to my back with the backpack holding it between it and my back. Worked great for driving 50 mph up Columbia Blvd in Philly to get home.

Verified Buyer

Product Standouts

High Quality Craftsmanship,

Made in USA,

Good Storage Size,

High Quality Finishings,

Durable

1 year ago

Product Standouts

High Quality Craftsmanship,

Made in USA,

Good Storage Size,

High Quality Finishings,

Durable

Ultimate Kit for High School!

All five of our children have Brain Bags! The Brain Bags have carried some of them through Middle School, High School, and, now, College. Don't think their is better backpack for school. Ample room for binders, laptops, chargers, art supplies, water bottle, snacks, more chargers - everything but the kitchen sink (but that might squeeze in as well).

Personally, I have been carrying an Empire Builder for at least 15 years. Everything we have from Tom Bihn is of the highest quality.

Verified Reviewer

Product Standouts

Thoughtful Design,

High Quality Craftsmanship,

Made in USA,

Durable,

Unique

1 year ago

Product Standouts

Thoughtful Design,

High Quality Craftsmanship,

Made in USA,

Durable,

Unique

Best computer backpack ever

I don't even remember exactly when I bought my Brain Bag, but gotta be more than 10 years ago. I take it nearly everywhere, 50% of the time with two computers, 30% of the time with two computers plus an iPad. And power adapter, and trackball, and cables, and... Usually it is *very* heavy, making its lack of failure quite impressive. Have dropped it more than occasionally on account of the taking it nearly everywhere; zero damage to contents. I keep expecting to need to replace it, but so far only one thing failed, after years of heavy use: One sternum strap broke. Easily, quickly, and cheaply replaced.
Reviews Loaded
Reviews Added
Sewn in Seattle
Our bags are designed and sewn right here in Seattle, Washington, U.S.A.
That allows us to be control freaks in the best way possible; we have direct control and oversight of the quality of our materials, our products, and the jobs and working environment that we help create. It also offers us a unique spontaneity: when we have an idea for a new product or accessory, we can design it, figure out how to build it, add it to our website and be ready to ship it out our front door all within just a few weeks. How cool is that?

Intrigued? You can find out more about the unusual way we do business on our Company Philosophy page.
THE BIHN Guarantee
Everything you buy from us here at TOM BIHN is satisfaction guaranteed. We've been in business since 1972 and we stand behind what we make.
If something goes wrong and it's our fault, we'll fix it for free. Repairs due to normal wear and tear or due to other things that are not our fault will be performed, when possible, at a reasonable charge right here in our Seattle factory where your bag was made. Defects in materials or workmanship are uncommon and almost always evident while the product is still new. Keep in mind that bags and packs are often subject to extreme wear in everyday use: do not expect them to last forever. Only true love lasts forever! You can expect a TOM BIHN product to give years and years of hard service.