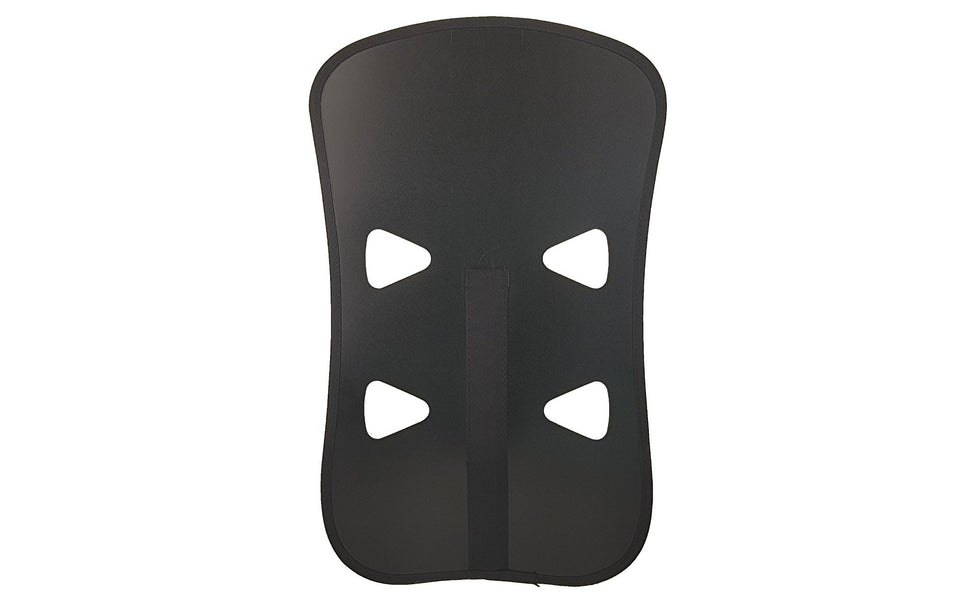 Description
We present for your use two new accessories for the Aeronaut 30 and Aeronaut 45 convertible travel bags. First, we designed optional, removable Internal Frames that specifically fit (and retrofit) into the Aeronaut 30 and Aeronaut 45. There's also a optional, removable Padded Hip Belt, which you can use together or separately with the Internal Frame (the 1" Padded Hip Belt is available for purchase separately over here).
Both the Internal Frame and Padded Hip Belt are designed to add comfort and structure to the experience of carrying a more heavily-packed Aeronaut in backpack mode while waiting in long lines (well, let's hope not) at the airport or choosing to make a long trek across town to one's hotel on foot.
The Internal Frames are made of die-cut 0.055" / 1.4mm thick High Density Polyethylene (HDPE), with a nylon webbing sleeve sewn down the center that encases a 1" / 25mm wide 6061 full-length aluminum stay (Aeronaut 45) or 0.5" / 12.5mm wide 6061 half-length aluminum stay (Aeronaut 30). We've pre-bent the stay to a generic spinal curve; if you'd like, you can re-bend and/or adjust the curvature to best fit your own back (see here for video instructions demonstrating how to do this with the Guide's Pack frames; the same method applies to the Aeronaut frames).
To achieve the full benefit of using the Aeronaut 30 or 45 Internal Frame to shift some of the weight of the pack onto your hips, you may want to pair it with the Aeronaut Padded Hip Belt.
If you just want a frame sheet, the stay is removable, though it's worth noting that a frame sheet sans aluminum stay does just about nada when it comes to shifting the weight of the pack onto one's hips. (Read more about that here in our Our Guide to Internal Frames.)
Both sizes of frame feature four pie-slice cut-outs that save a bit of weight, but more importantly allow the frame to flex/twist with you as walk. Unlike the "lobe-in-pocket" retention system of the Guide's Pack and the Hero's Journey, the Aeronaut Internal Frame is held in position inside the bag by its hourglass shape: the frame over-centers (sort of "pops") into place. Though the internal frame is in no way free-floating inside your bag, we wanted to make sure that the cut edge of the HDPE won't ever be able to abrade the interior fabric panels of your Aeronaut, so we bind the edges with 400d nylon fabric . . . just to be sure.
Installing the Aeronaut 30 and 45 Internal Frames is pretty straight-forward; step-by-step instructions can be found on our blog.
Please note: Aeronaut 45s made before 2014 have a slightly shorter back compartment, which means you'll need to use the Aeronaut 30 Internal Frame. If the main compartment dividers of your Aeronaut 45 are secured with snaps as opposed to zippers, you have an Aeronaut 45 made before 2014.
In doubt as to which vintage of Aeronaut you have? emailus@tombihn.com or give us a call at 1-800-729-9607 or +1-206-652-4123.
Benefits of an Internal Frame
On bags with a webbing or padded hip belt, the vertical stability facilitated by an internal frame with an aluminum stay can help to lift some of the pack's weight onto one's hips.
It creates a hard back panel that prevents less-than-carefully packed objects like a thermos or DSLR from poking one in the back.
It can prevent an overstuffed bag from barreling out against one's back.
To some folks, a rigid frame against their back (with padding between the frame and their pack) just feels right.
Why You Might not Want to Use a Frame
A frame adds weight to a bag. Our Aeronaut 45 Internal Frame weighs 9.9 ounces / 280 grams and our Aeronaut 30 Internal Frame weighs 8.6 ounces / 245 grams. In many cases, you can forego the frame and achieve similar benefits with careful and thoughtful packing: carry less stuff, carry lighter stuff, and arrange it all carefully so it doesn't poke into your back.
Soft luggage has myriad advantages over rigid luggage, and an internal frame converts the Aeronaut into a bag that's somewhere in-between soft and rigid luggage. The rigidity offered by the internal frame could become a liability when you're squeezing your pack into the baggage sizer, in the overhead compartment or under the seat in front of you. That's a reason it's nice to be able to remove the internal frame when you want to.
Some folks simply prefer the feeling of a frameless or soft-back pack.
For more on our philosophy and experience regarding internal frames, please see our Guide to Internal Frames.
More reading:
Aeronaut Frequently Asked Questions
How to Install the Aeronaut Internal Frame + Padded Hip Belt
Our Guide to Internal Frames
History of Padded Hip Belts
100%
would recommend this product
Verified Buyer

Product Standouts

Comfortable,

Thoughtful Design,

Sewn in USA,

Versatile

3 months ago

Product Standouts

Comfortable,

Thoughtful Design,

Sewn in USA,

Versatile

Kudos

Awesome addition for comfort and support!

Verified Buyer

Product Standouts

Thoughtful Design,

High Quality Craftsmanship,

Durable

4 months ago

Product Standouts

Thoughtful Design,

High Quality Craftsmanship,

Durable

Gamechanger for my A45

I loved my Aeronaut 45 before, and appreciated its softsided-ness, but adding the internal frame instantly gave my bag a spine, giving it a sturdiness that somehow made my A45 feel even more substantial and more predictable when hanging from a strap off my shoulder.

Verified Buyer

Product Standouts

Sewn in USA,

High Quality Craftsmanship

10 months ago

Product Standouts

Sewn in USA,

High Quality Craftsmanship

An improvement

Gives the 45l bag the extra structure it needs with loads approaching 30 lbs or more

Verified Buyer

Product Standouts

Durable,

Easily Adjustable

2 months ago

Product Standouts

Durable,

Easily Adjustable

Aeronaut 45

This frame really useful to keep the shape of the Aeronaut when fully loaded and half loaded. Very light weight you barely feel it.

Verified Buyer

Product Standouts

Durable,

Comfortable,

Sewn in USA,

Unique,

Thoughtful Design

1 month ago

Product Standouts

Durable,

Comfortable,

Sewn in USA,

Unique,

Thoughtful Design

GAME CHANGER

So grateful/glad I finally bought/used this one. Drastically improves the form and function of my A45.
Reviews Loaded
Reviews Added
Sewn in Seattle
Our bags are designed and sewn right here in Seattle, Washington, U.S.A.
That allows us to be control freaks in the best way possible; we have direct control and oversight of the quality of our materials, our products, and the jobs and working environment that we help create. It also offers us a unique spontaneity: when we have an idea for a new product or accessory, we can design it, figure out how to build it, add it to our website and be ready to ship it out our front door all within just a few weeks. How cool is that?

Intrigued? You can find out more about the unusual way we do business on our Company Philosophy page.
THE BIHN Guarantee
Everything you buy from us here at TOM BIHN is satisfaction guaranteed. We've been in business since 1972 and we stand behind what we make.
If something goes wrong and it's our fault, we'll fix it for free. Repairs due to normal wear and tear or due to other things that are not our fault will be performed, when possible, at a reasonable charge right here in our Seattle factory where your bag was made. Defects in materials or workmanship are uncommon and almost always evident while the product is still new. Keep in mind that bags and packs are often subject to extreme wear in everyday use: do not expect them to last forever. Only true love lasts forever! You can expect a TOM BIHN product to give years and years of hard service.