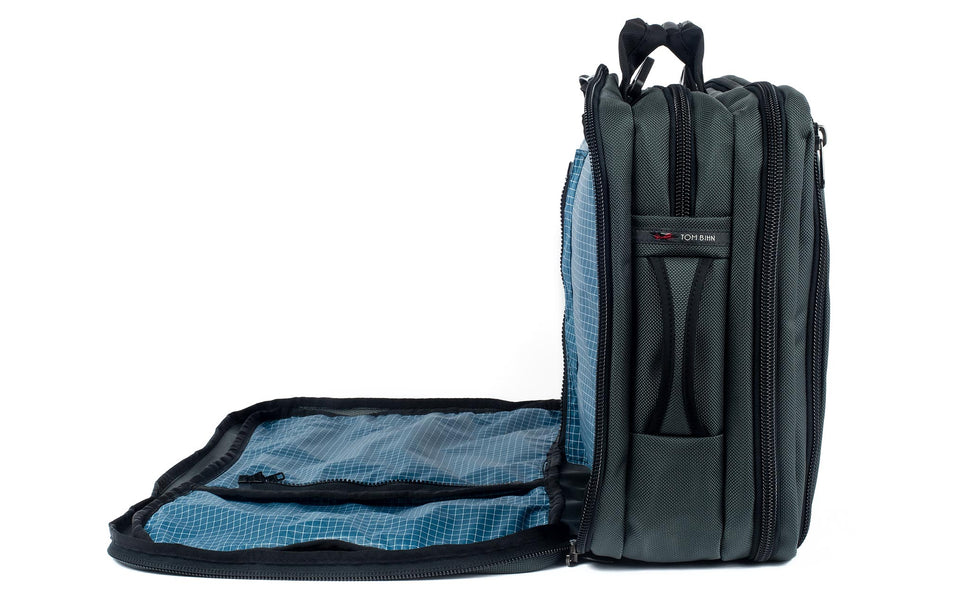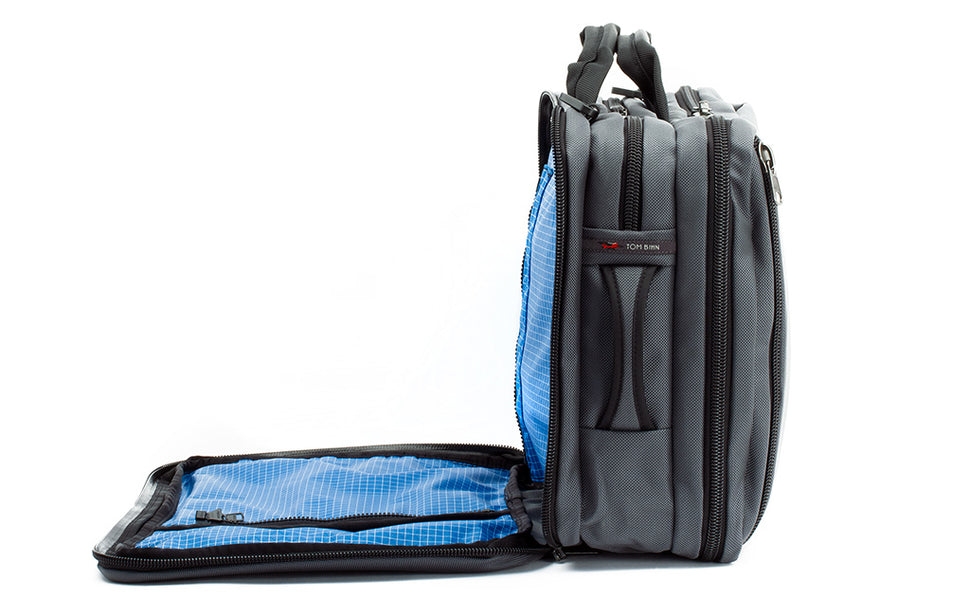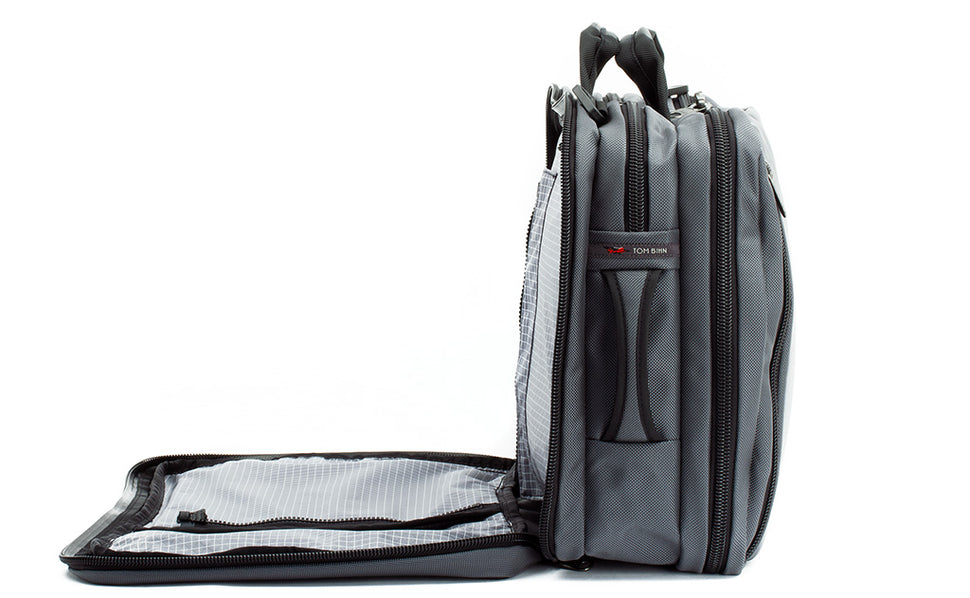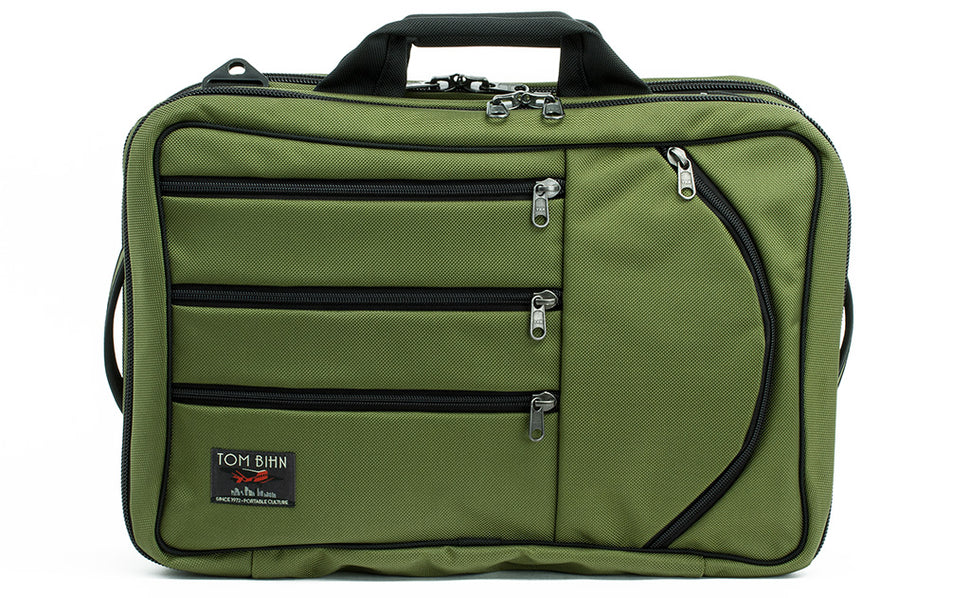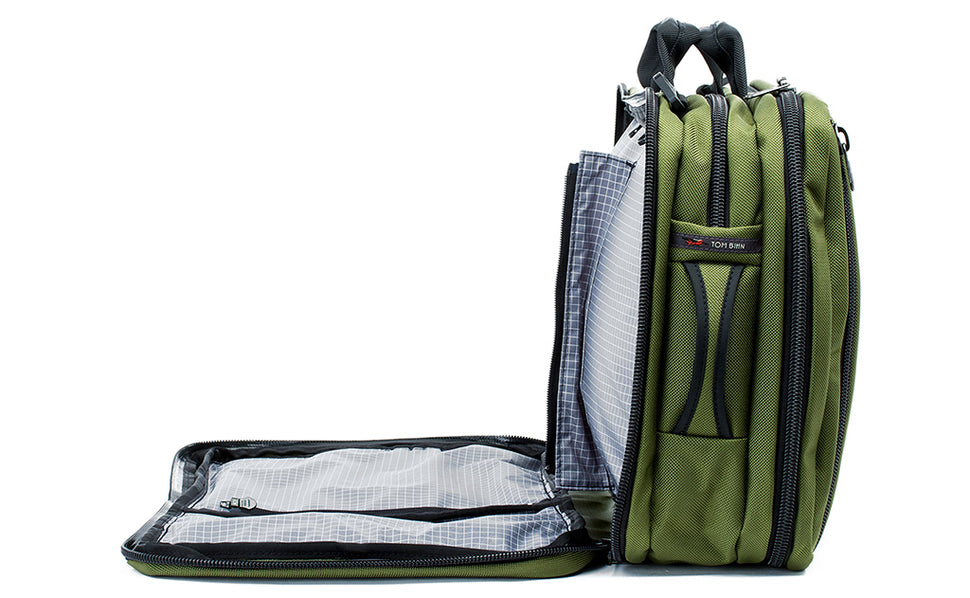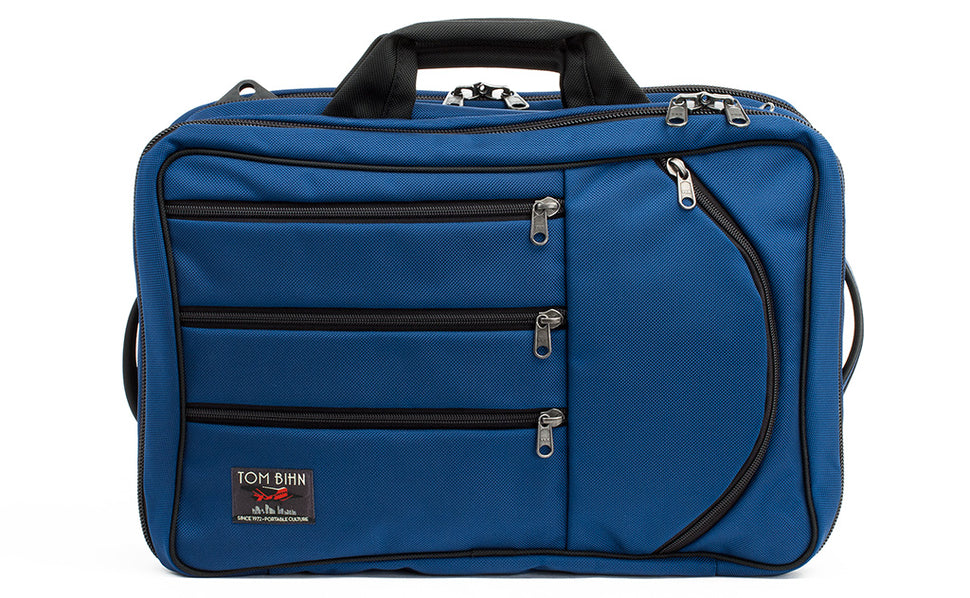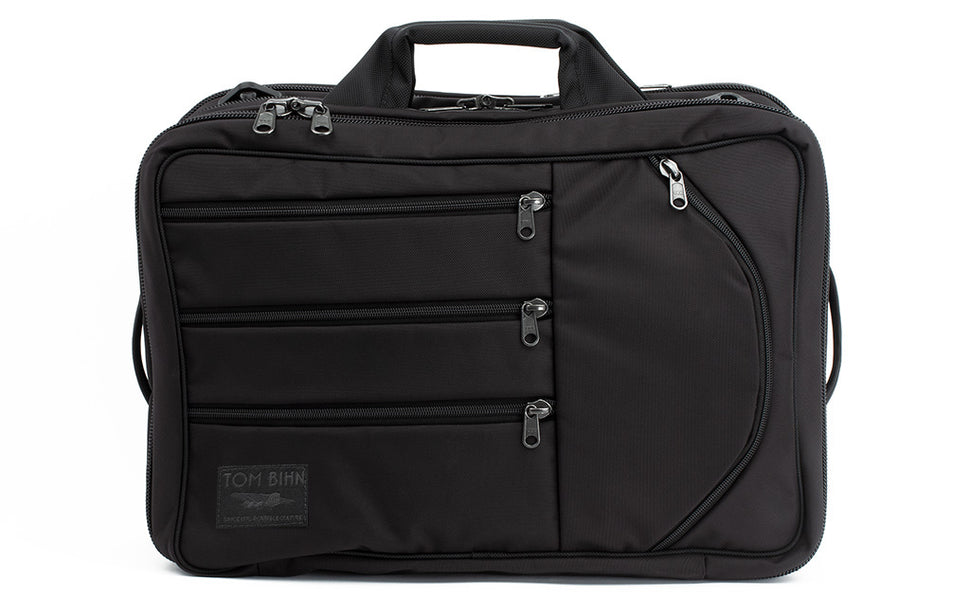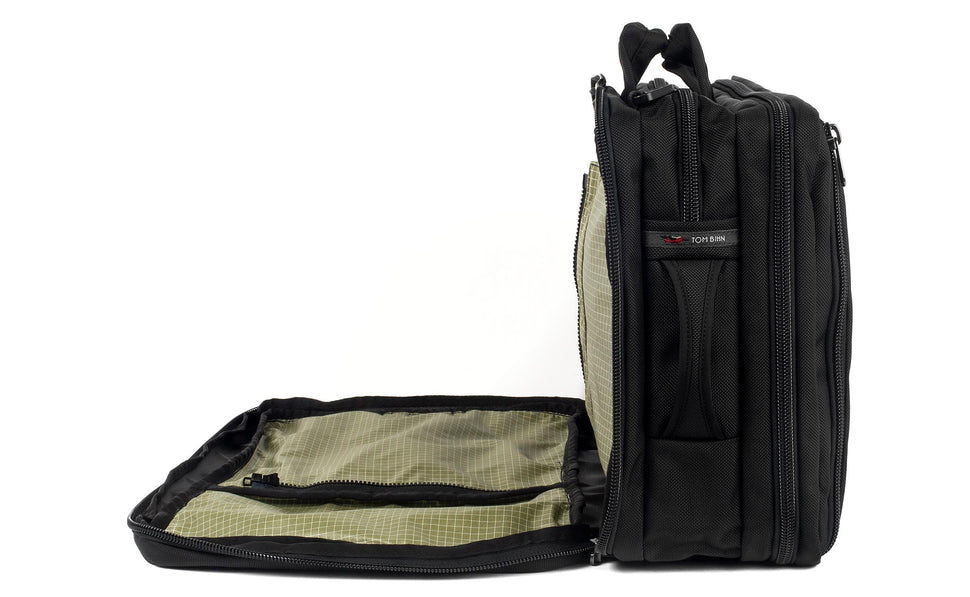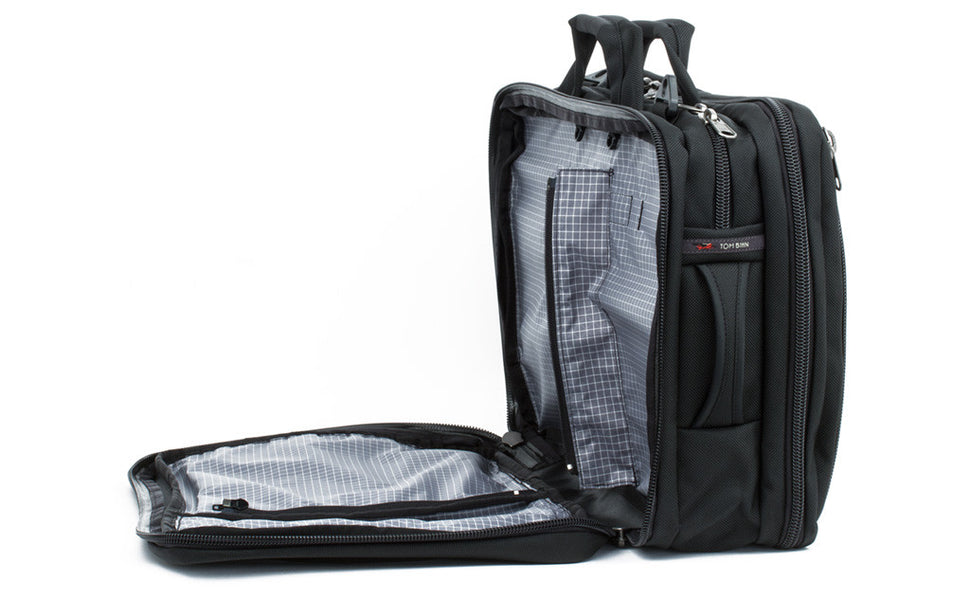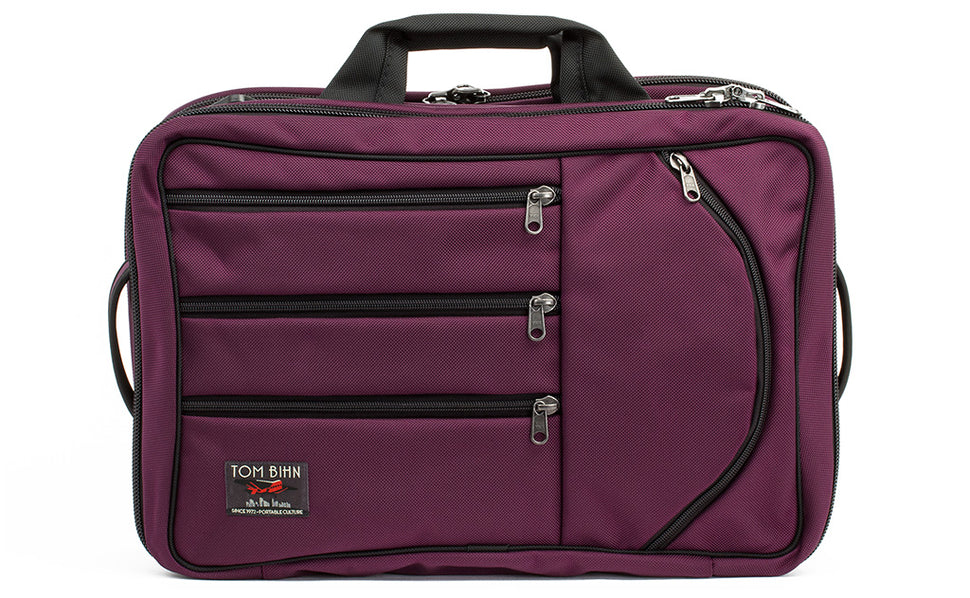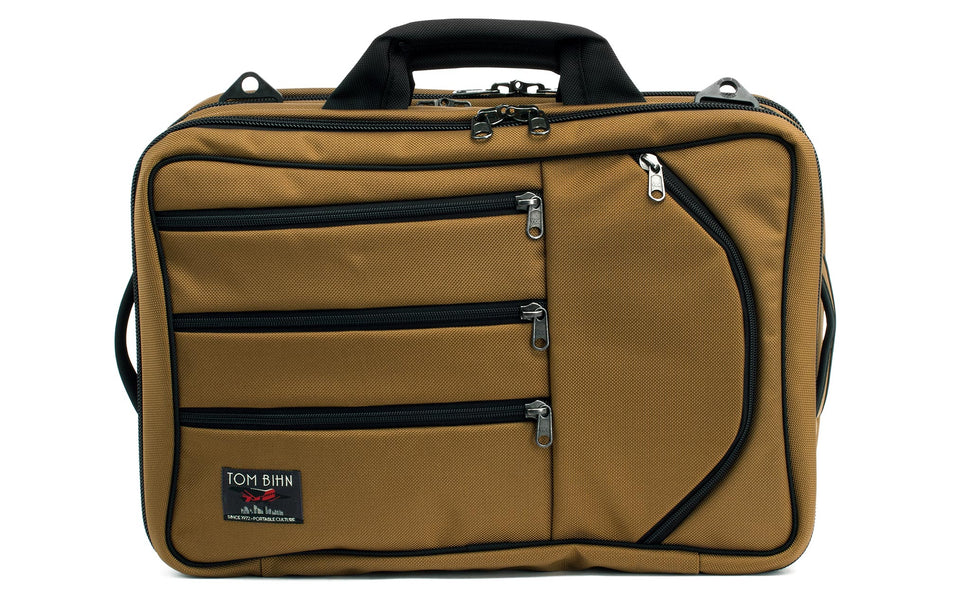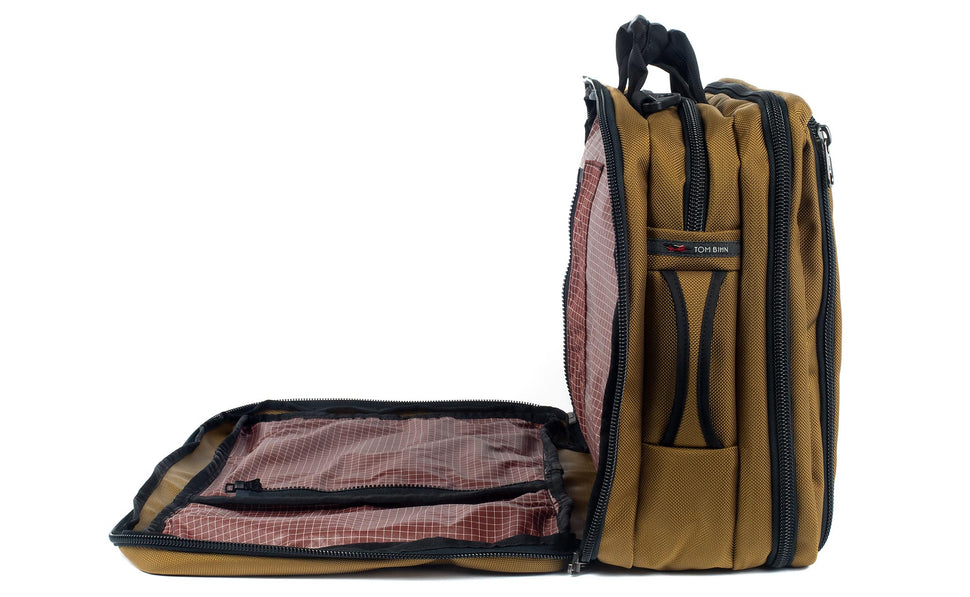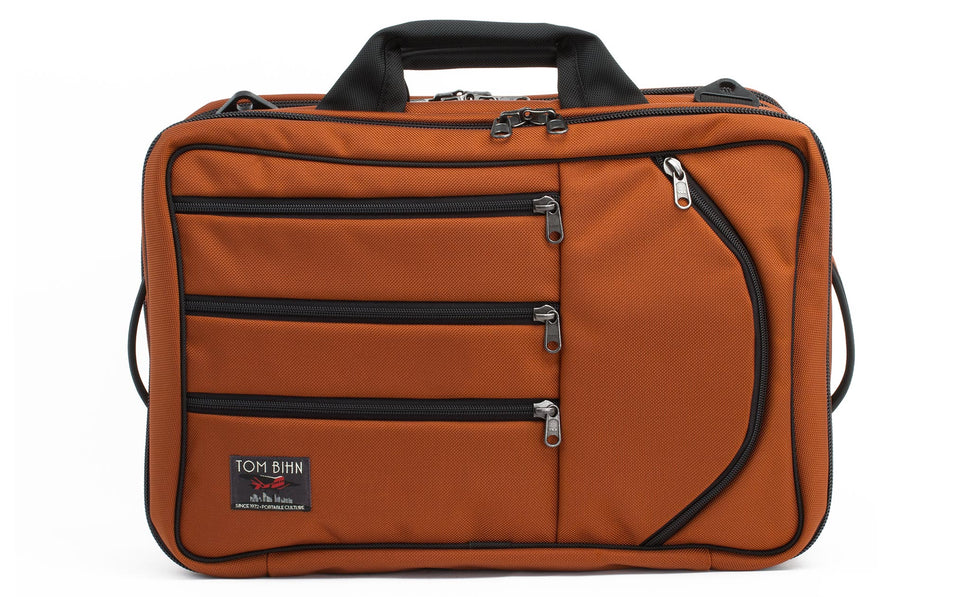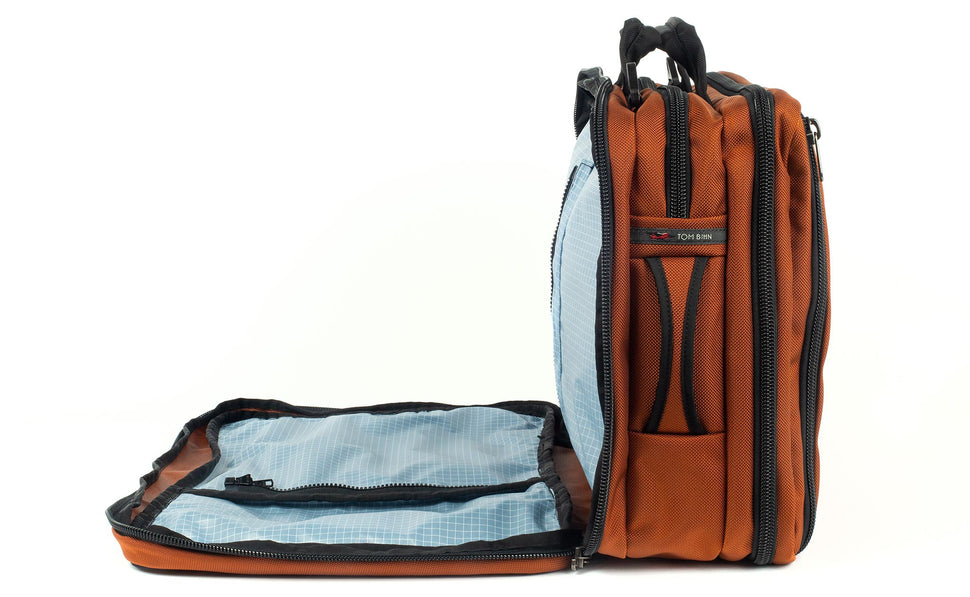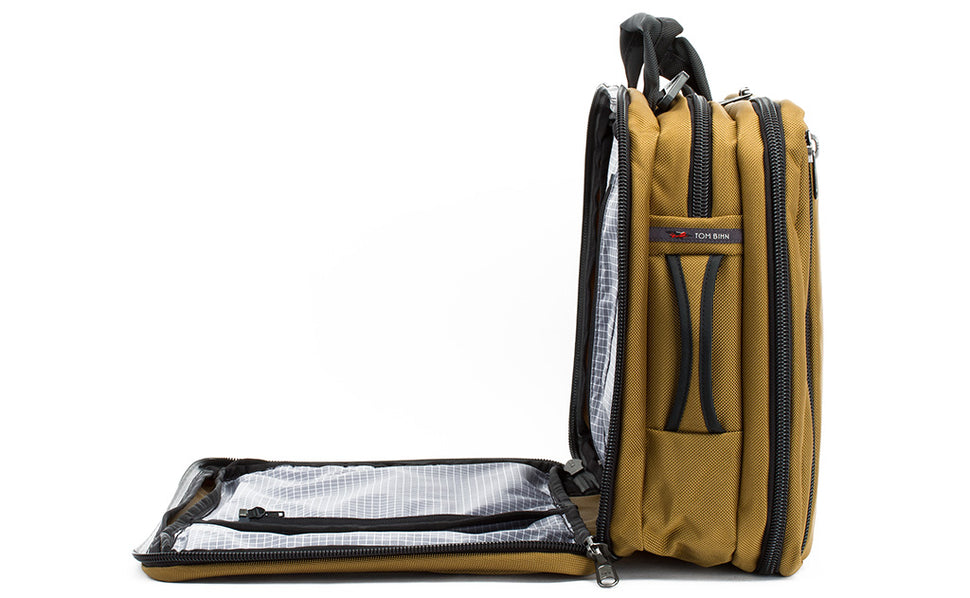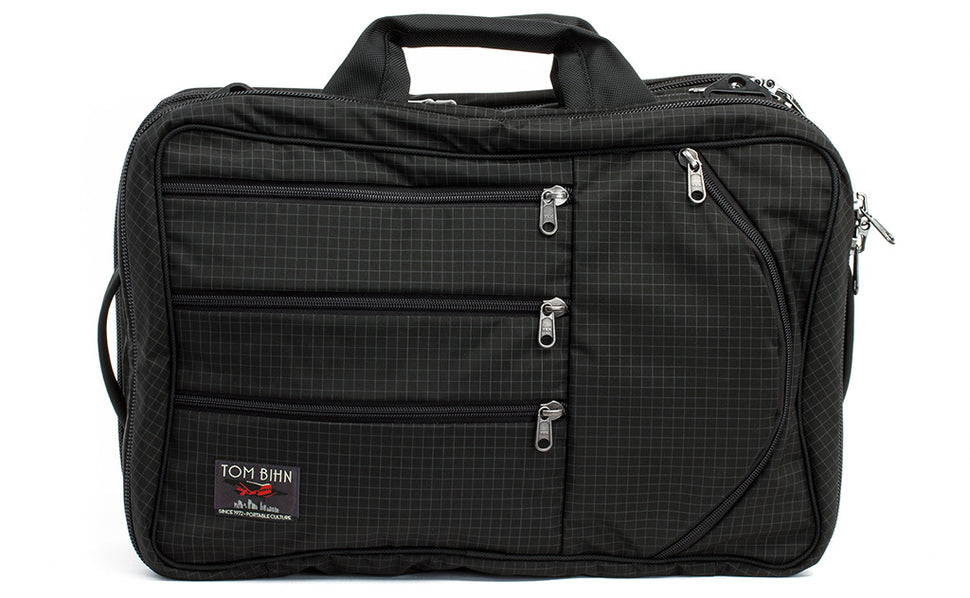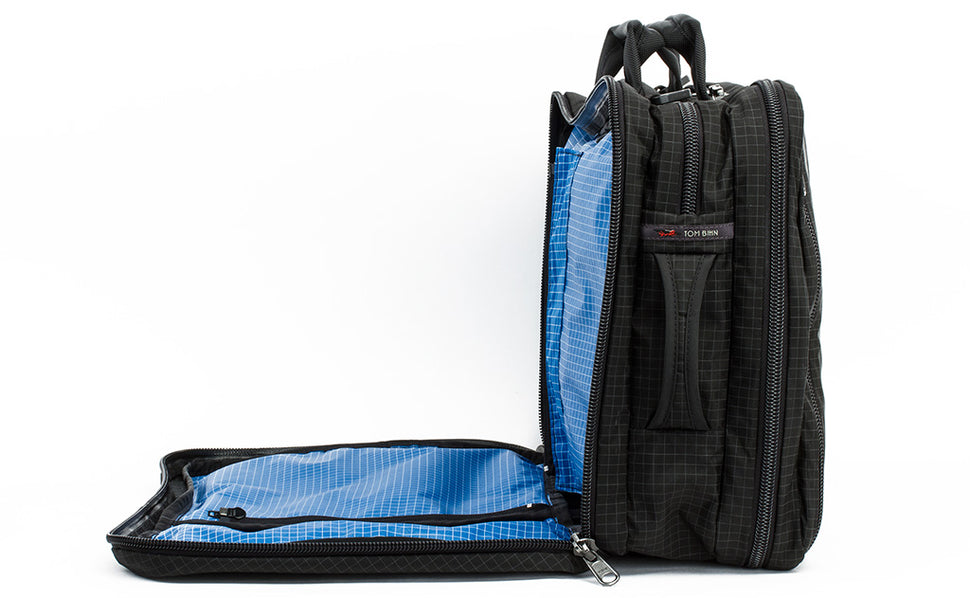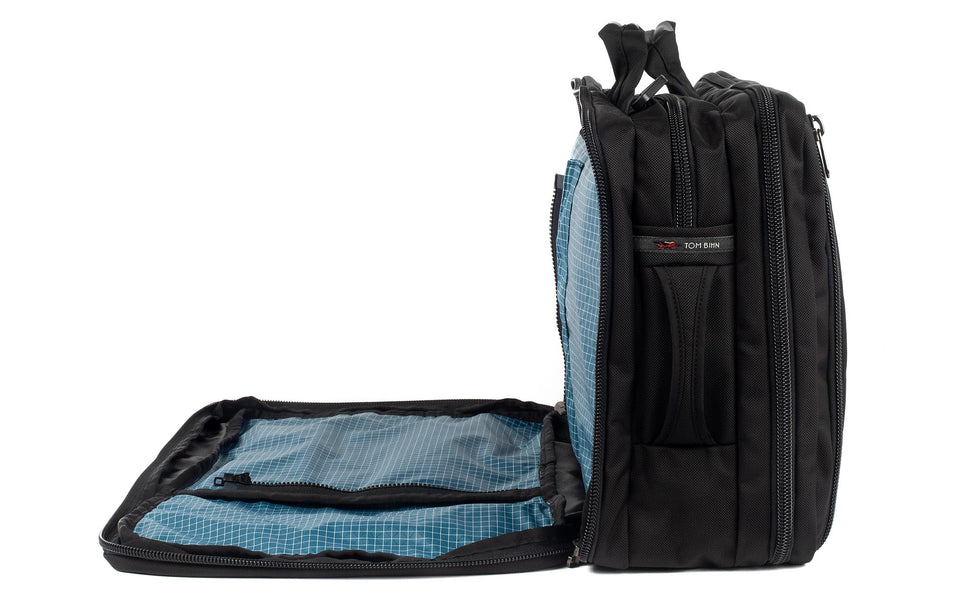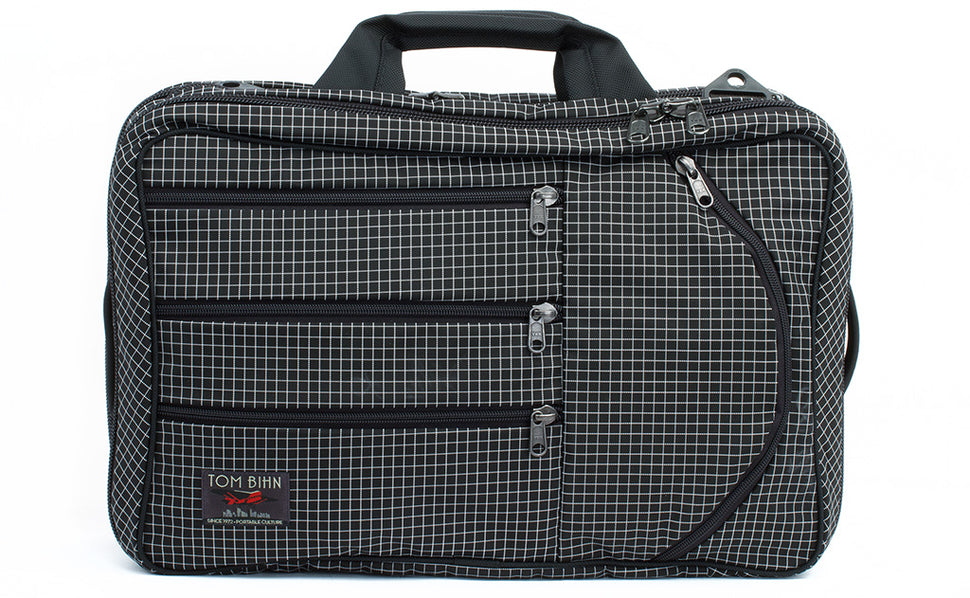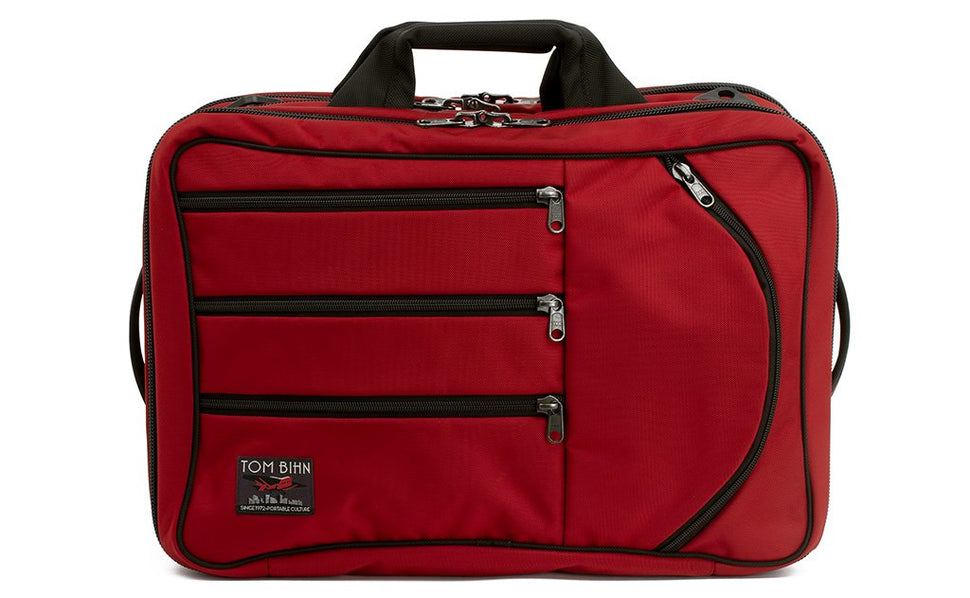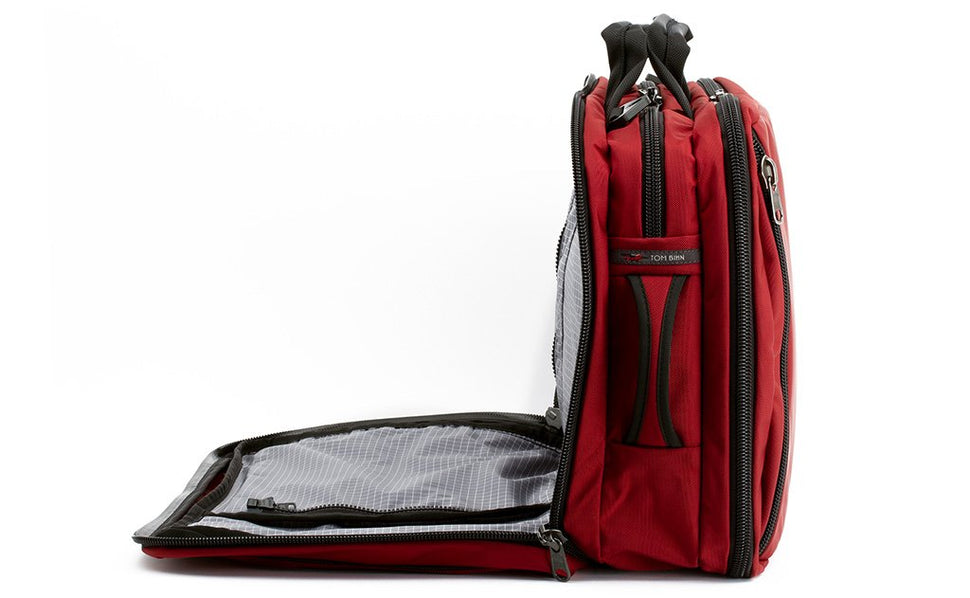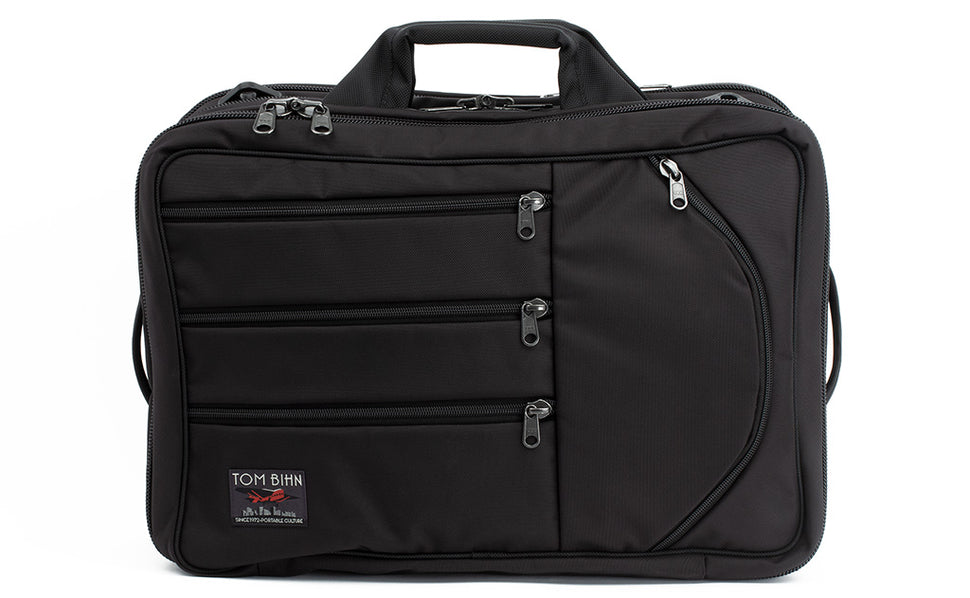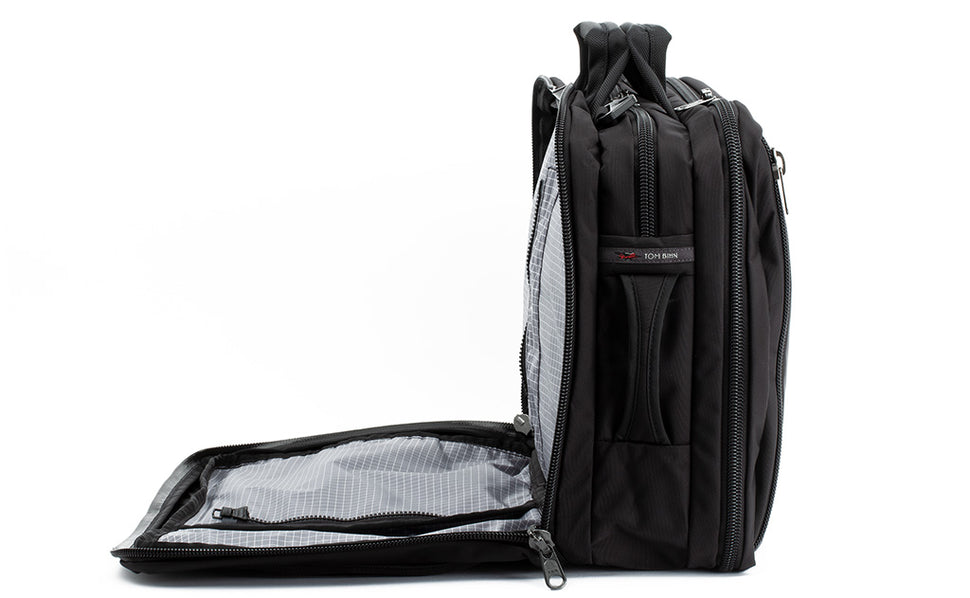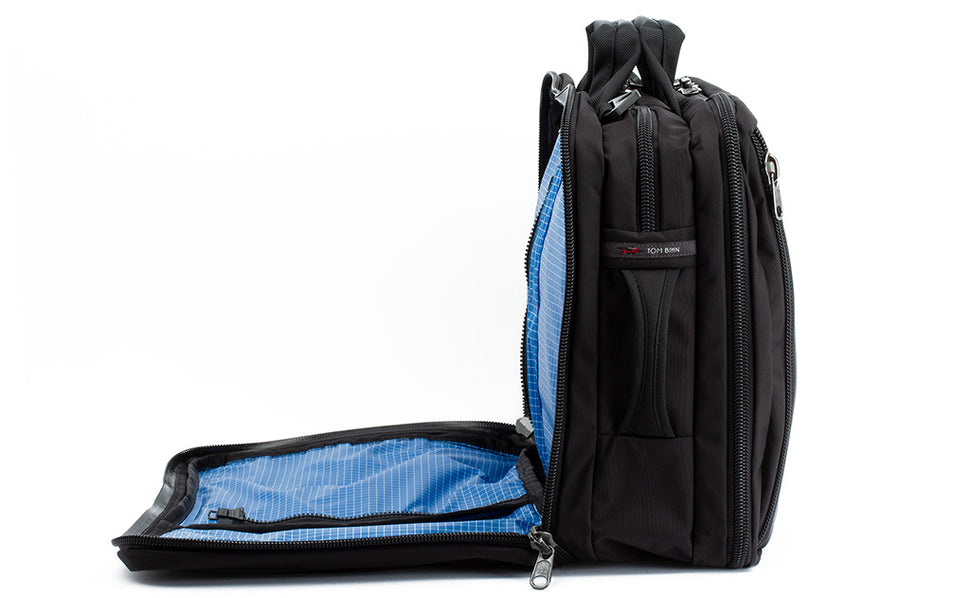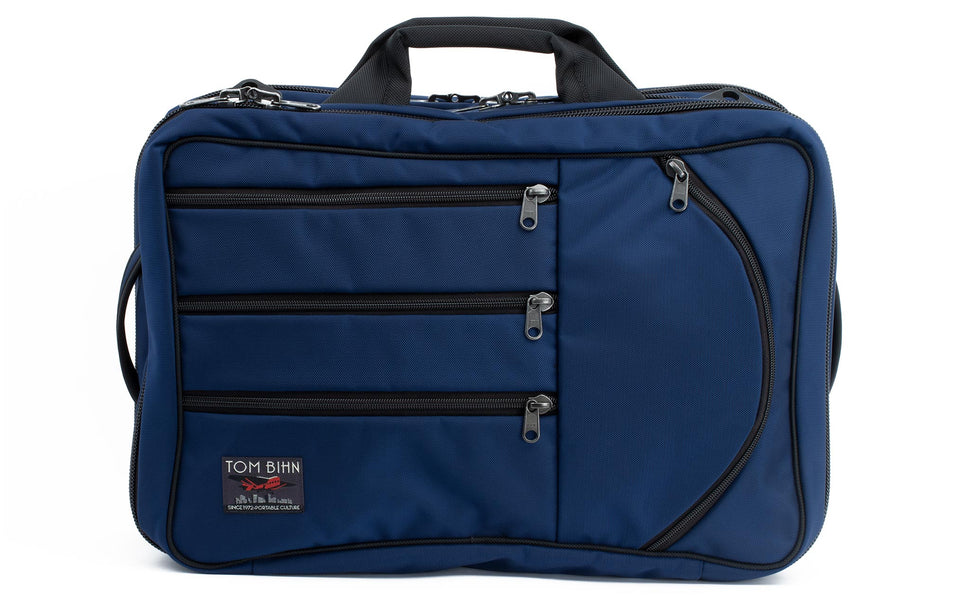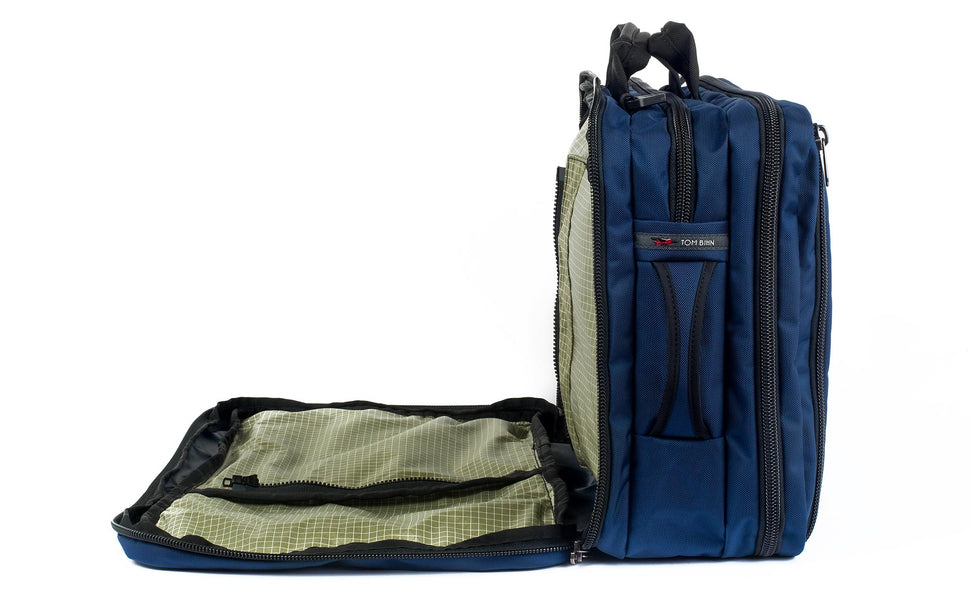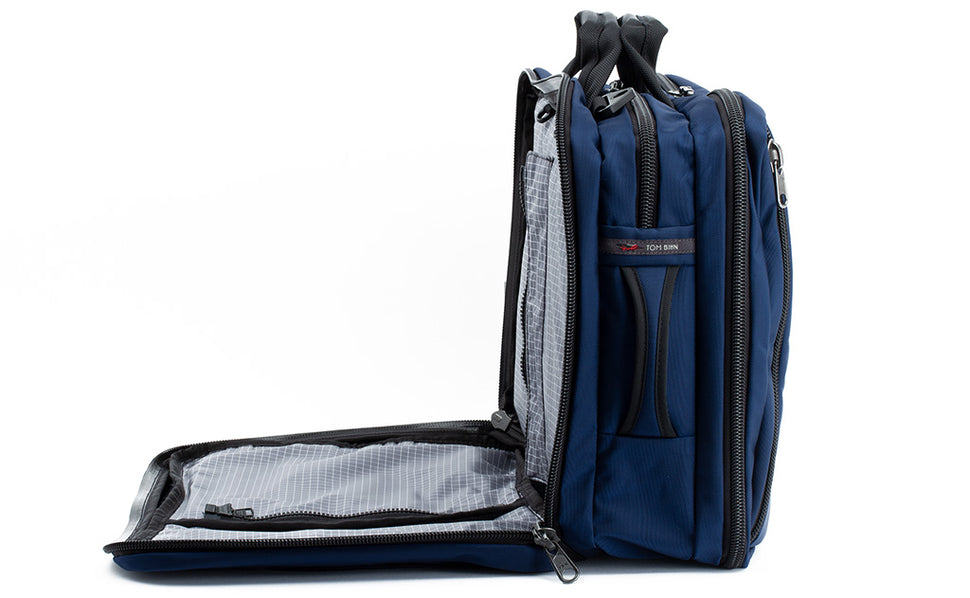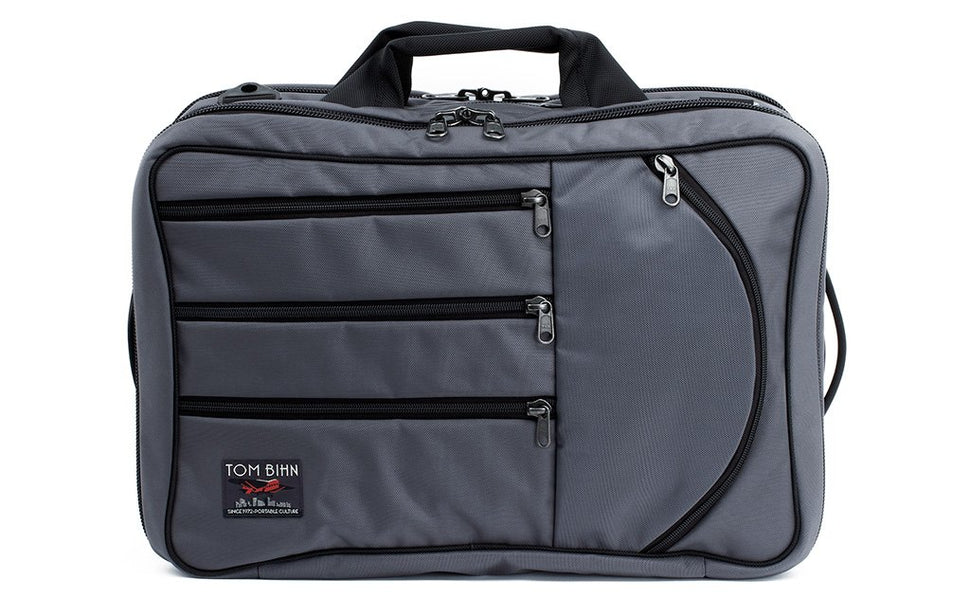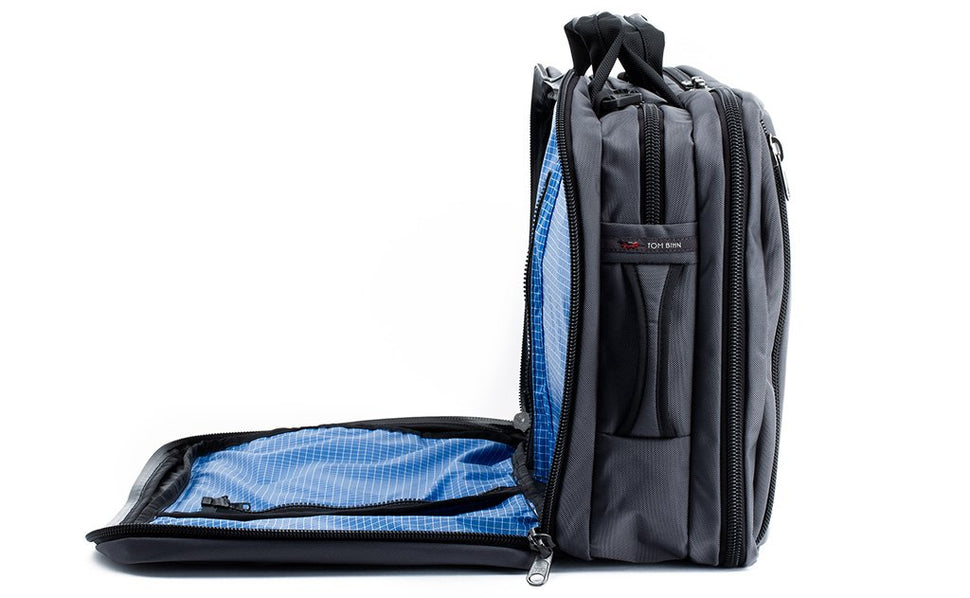 TLDR
The Tri-Star is a 33L, 3-compartment, 3-way carry travel bag designed with the super organized, minimalist business traveler in mind. It's feature-heavy, but we will give you the short spiel:
3 compartments: front and back open completely flat and the middle can fit most sizes of our Cache laptop sleeve
Exterior front panel has 4 quick-access pockets: 1 curved right zippered pocket and 3 overlapping horizontal zippered pockets
3 ways to carry: briefcase, backpack, or shoulder bag (add Absolute Shoulder Strap)
So many O-rings (9 in total!) for extra organizing pouches, if needed
Carry-on friendly on most airlines (including ones with restrictive requirements)
Full Description
Carry-on friendly, 3 ways to carry, 3 compartments, tie-down straps, room for a laptop; this could be your one bag.
At 33L, it's the perfect size midsize carry-on for use in Europe and Australia, where airlines' carry-on sizing requirements are stricter than in the United States. This bag is also suitable for those who don't need a carry-on as large as the Techonaut 45 or the Aeronaut 45.
The Tri-Star is replete with useful features — it may just be a business or pleasure traveler's dream bag.
Front Compartment With Zip-Out Divider
The front compartment can be further divided left and right with a zip-out divider. Depending on what you pack and how you like to organize, you may find this divider quite useful. Once divided, one side is larger than the other: the larger side can accommodate a three-ring binder; the smaller side can fit a pair of shoes (inside a Packing Cube or not). There are also 2 O-rings in this compartment.
Center Compartment For Your Laptop
With room for most sizes of our Cache laptop sleeve, the center compartment of the Tri-Star provides a secure and protected place for your laptop. Simply attach the Cache onto the two unobtrusive webbing loops and you're good to go. If you want to store a notebook, pens, and/or a small tablet, the Freudian Slip is a great organizational addition to the Tri-Star. There are also 2 O-rings in this compartment.
Back Compartment With 2 Compression/Tie-Down Straps
The back compartment is full of open space and is ready to accept one Large Tri-Star Packing Cube, a Small and a Medium Tri-Star Packing Cube, or your clothes just on their own. It also features two compression/tie-down straps to help you keep clothing in place and wrinkle-free. They're an alternative to the Packing Cubes. The compression/tie-down straps are removable (via Gatekeepers) so if you don't want or need to use them, you can leave them behind.
Curved Right Zippered Pocket
When you unzip the curved right zippered pocket partially, it's a useful pocket for a boarding pass. Unzip it entirely, it's an expandable water bottle pocket. The bellows that make the pocket expandable can be snapped up so your water bottle doesn't fall out, or unsnapped to allow greater access to the pocket.
Three Horizontal Zippered Pockets
On the left are three horizontal zippered pockets. Each has an O-ring inside, which makes it perfect for attaching a Key Strap or organizational pouches like the Clear Organizer Pouch, Double Organizer Pouch, or Ghost Whale Organizer Pouch.
The top zippered pocket spans the full height of the bag and fits a hardback book or Kindle. The middle pocket goes about halfway and fits your sunglasses or a laptop power supply. The last one is the shallowest of the three. It's able to store your wallet, keys, passport, and other small items.
Carry As A Backpack
Want to carry the Tri-Star like a backpack? Untuck the hideaway straps from the back compartment and snap on the bottom of the straps. They're padded and contoured and feature a removable sternum strap and an optional removable waist strap. Both the sternum and waist straps are simple webbing straps designed to help distribute weight and stabilize the bag to your body.
Carry As A Shoulder Bag
The attachment points for an optional shoulder strap are offset on the Tri-Star to provide the best balance and comfort, should you carry the bag with a shoulder strap. We recommend using the Absolute Shoulder Strap with the Tri-Star if comfort is your primary concern. You also have the option of using any shoulder strap you already have that attaches to D-rings.
Carry As A Briefcase
The two PORON® foam padded handles are positioned for maximum comfort, stability, and balance — they are designed not just to meet at the top dead center of the bag.
Durable Materials + Expert Construction
Tom spent approximately 1,500 hours designing and refining the Tri-Star. First released in 2009, this bag is a tried-and-true classic in our collection.
No bag lasts forever, but choosing the best and most durable materials and taking care not to abuse it (no washing machine or dryer!) can help a quality bag serve most people well (with maybe a repair or two) for up to 10-20 years.
This bag requires significant skill to sew and construct; it's not just any sewing factory who can pull this off and do it well, it's ours, and it's because of the talent of our crew. They're the reason why our designs can be made in an ongoing practical fashion.
94%
would recommend this product
Voice of experience: It's an outstanding bag that will last for decades.

I'm twice as old as people in TB's marketing photo. I like the Tri-Star more than any bag I've had. 5 years of frequent use and my Steel Tri-Star looks new. It's stylish but low-key, functional, and durable. I use it for month-long (or longer) trips for work and/or fun with lots of moving/packing/unpacking. I can easily see living out of this thing for a year.

High notes:

--underpacking makes it look smaller. Sometimes I use it as checked baggage if I'm lazy, but as a carry-on I've never had to gate-check it.

--love the end handles. Sling it into an airplane bin in 3 seconds, waste no space, and retrieve just as fast at the end. FAs appreciate that, and so do I. Why waste my life trying to handle luggage?

--the slide-out laptop sleeve and the internal rings to strap a clear 3-1-1 bag are brilliant. Airport security is easy, and the agents think those things are cool.

--concealed backpack strap connectors on the corners are elegantly subtle.

It looks serious but not ostentatious and the steel gray hides dirt. It holds its shape and isn't floppy.

The zippers are excellent. I hated the noisy metal pulls and replaced them with paracord. TB's plastic ends for the paracord are high quality plastic, look good, stay together, and are easy to disassemble.

Verified Buyer

Product Standouts

Thoughtful Design,

High Quality Craftsmanship,

Durable,

Compact,

Versatile

11 months ago

Product Standouts

Thoughtful Design,

High Quality Craftsmanship,

Durable,

Compact,

Versatile

Form and Function - an awesome work travel bag

I've been travelling on and off for work for 10 years now with a Tristar. It really nails the perfect work bag with function for clothes and work gear. I've travelled for up to a week in the bag although it can be heavy if you overload it (my problem, not the bag's).

I like the boxy nature of it as it stands up by itself, never falling over. And each pocket serves a purpose well. I've tried many others over the year, but this is the one I keep coming back to. Nothing is perfect, but this bag is a close to it for your travelling worker as it will ever get.

Verified Buyer

Product Standouts

Comfortable,

High Quality Craftsmanship,

Good Storage Size,

High Quality Finishings,

Thoughtful Design

10 months ago

Product Standouts

Comfortable,

High Quality Craftsmanship,

Good Storage Size,

High Quality Finishings,

Thoughtful Design

Finally Did It!

Let me get this out of the way first…I'm a HUGE Tom Bihn fan. I have a little bit of of an obsession, but we will save that for another day. Now for the Tri-Star…This bag is just amazing. I ordered it for a 3 day trip to Naples, FL and it was the perfect companion to my Tom Bihn Brain Bag. It fit all of my clothes, toiletries and my laptop (in a Tom Bihn Cache😀). I also have the Absolute Shoulder Strap which was awesome as I had to hustle through the Atlanta airport. I had wanted a Tri-Star for a very long time and finally pulled the trigger. Like all Tom Bihn products, the quality and craftsmanship is top notch. Great bag for a 3-4 day get away.

100s of trips and still like new

One of the best things I've ever purchased. Not just best bags. I fly tons of small regional planes (CRJ700) and it always fits in the overhead. In a pinch, it will fit under the seat on a small plane, but your legroom will be lacking. I usually just put it in the overheads. On larger planes you won't have any problems. I take this for 2-3 day trips every couple of weeks. You can also hide the backpack straps and hand carrry if that matters to you. It fits everything I need including my portable CPAP. It still looks like new. Simply amazing.

Verified Buyer

Product Standouts

Thoughtful Design,

High Quality Craftsmanship,

Sewn in USA,

Versatile,

Durable

10 months ago

Product Standouts

Thoughtful Design,

High Quality Craftsmanship,

Sewn in USA,

Versatile,

Durable

The perfect travel bag

I've been looking for the perfect travel bag for my professional needs for years now. I had many requirements and this is the only one that I have found that checks all the boxes. I needed a side opening bag with several compartments, but it had to be convertible to a backpack with straps that tuck away. That is the Tri-star to a T! The zippers are rugged and durable, it has just the right number of pockets. Add a Freudian slip and a cache, and it's the most organized bag out there as well. I've been waiting a long time to get this, but the wait was so worth it. My new favorite travel bag!
Reviews Loaded
Reviews Added
Sewn in Seattle
Our bags are designed and sewn right here in Seattle, Washington, U.S.A.
That allows us to be control freaks in the best way possible; we have direct control and oversight of the quality of our materials, our products, and the jobs and working environment that we help create. It also offers us a unique spontaneity: when we have an idea for a new product or accessory, we can design it, figure out how to build it, add it to our website and be ready to ship it out our front door all within just a few weeks. How cool is that?

Intrigued? You can find out more about the unusual way we do business on our Company Philosophy page.
THE BIHN Guarantee
Everything you buy from us here at TOM BIHN is satisfaction guaranteed. We've been in business since 1972 and we stand behind what we make.
If something goes wrong and it's our fault, we'll fix it for free. Repairs due to normal wear and tear or due to other things that are not our fault will be performed, when possible, at a reasonable charge right here in our Seattle factory where your bag was made. Defects in materials or workmanship are uncommon and almost always evident while the product is still new. Keep in mind that bags and packs are often subject to extreme wear in everyday use: do not expect them to last forever. Only true love lasts forever! You can expect a TOM BIHN product to give years and years of hard service.