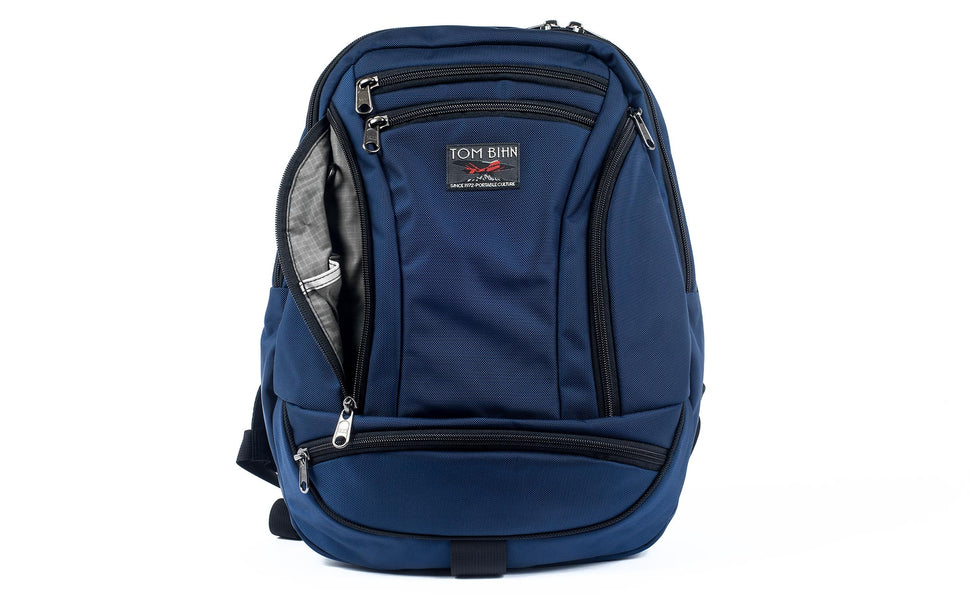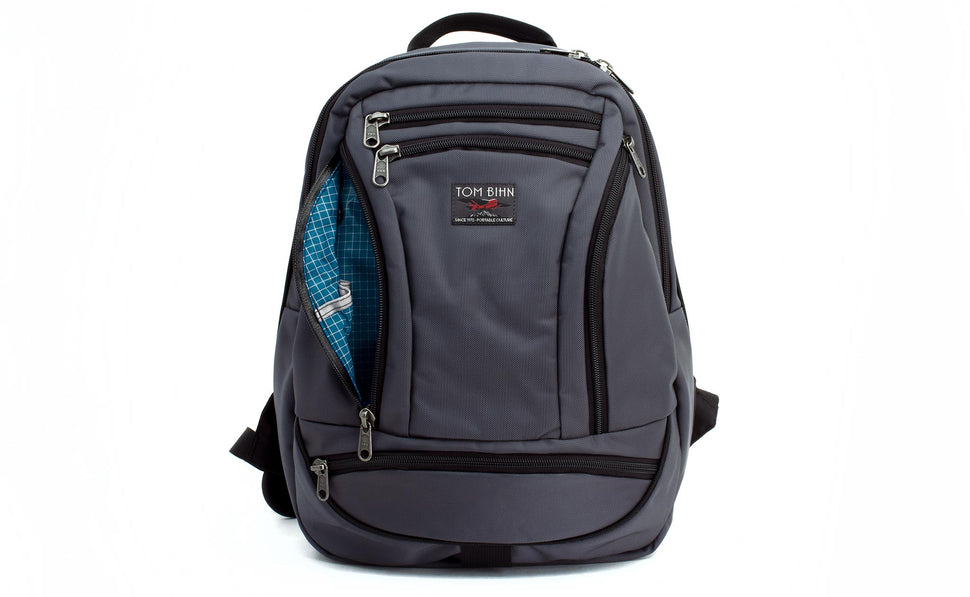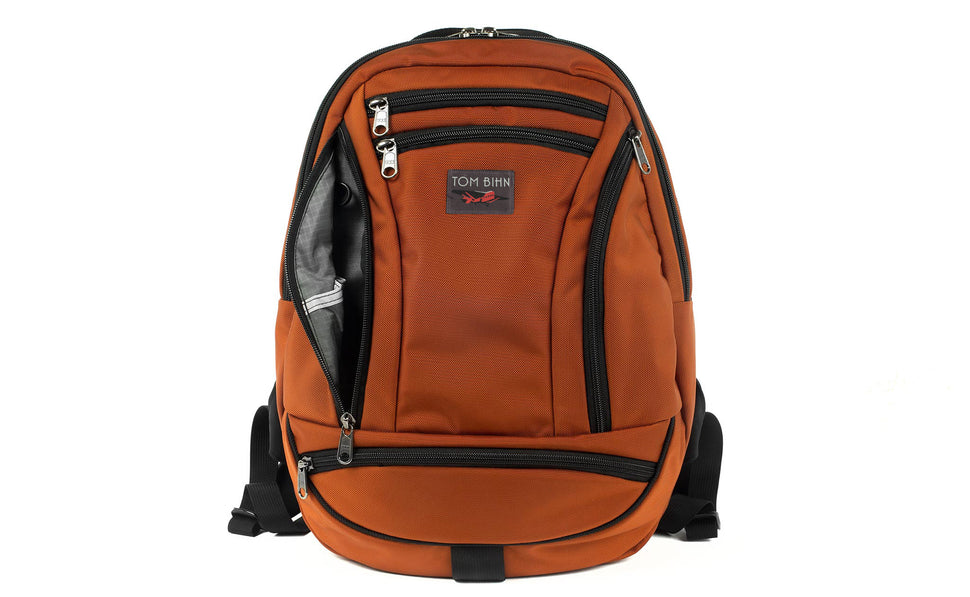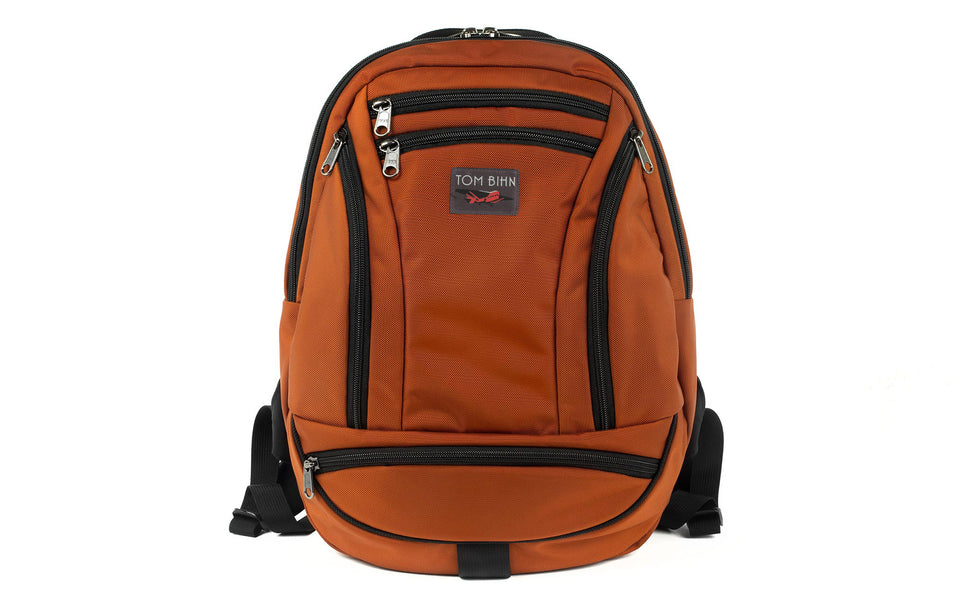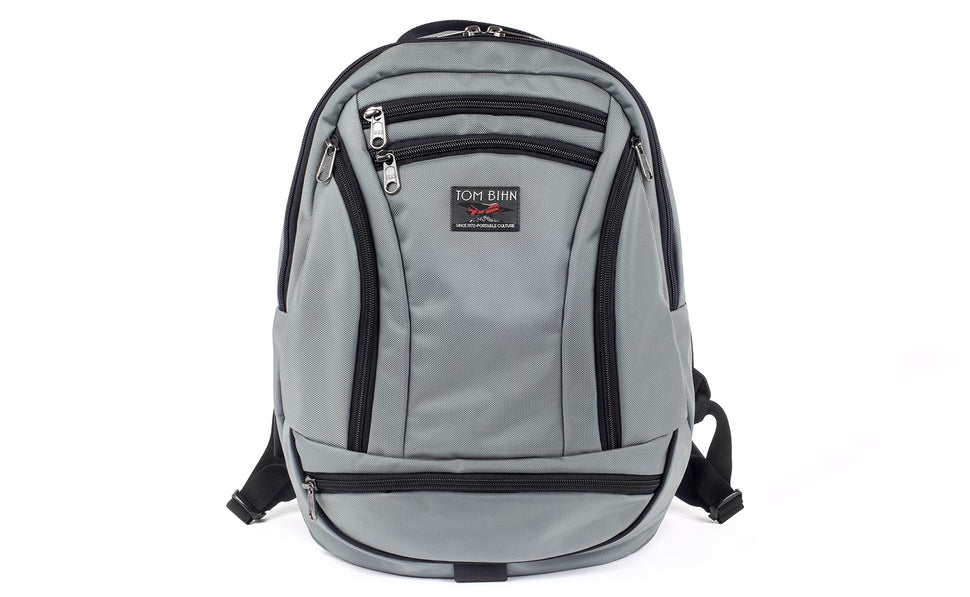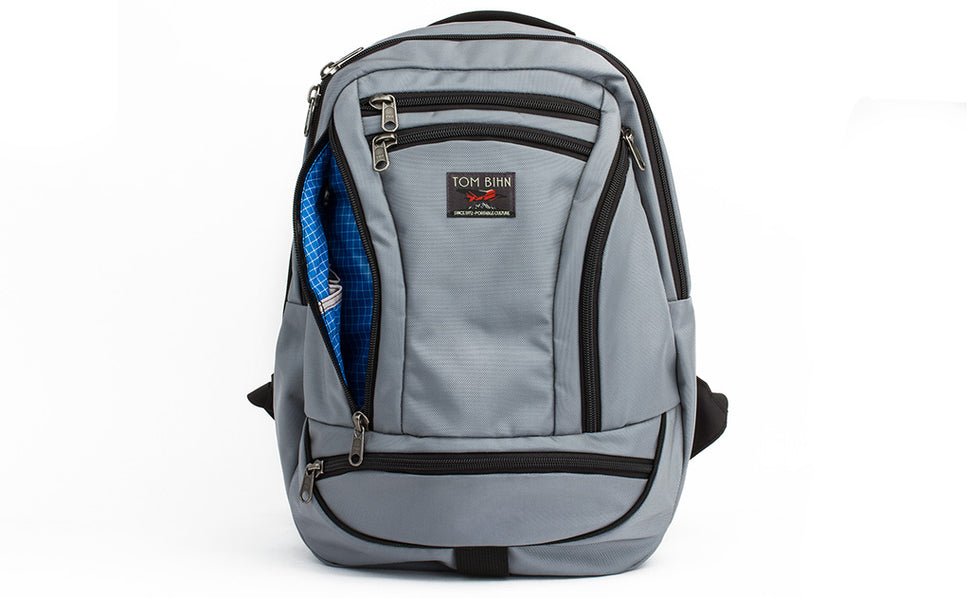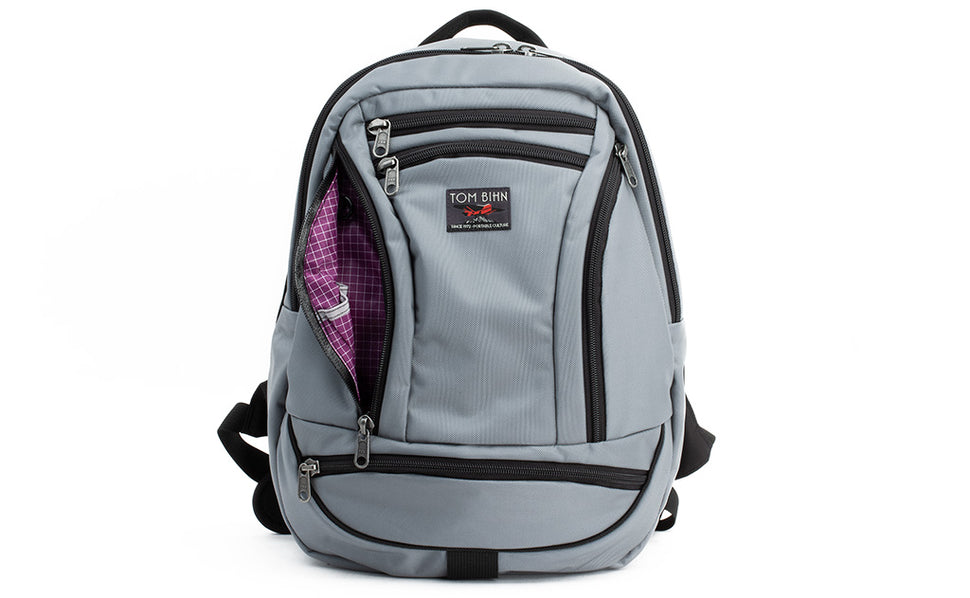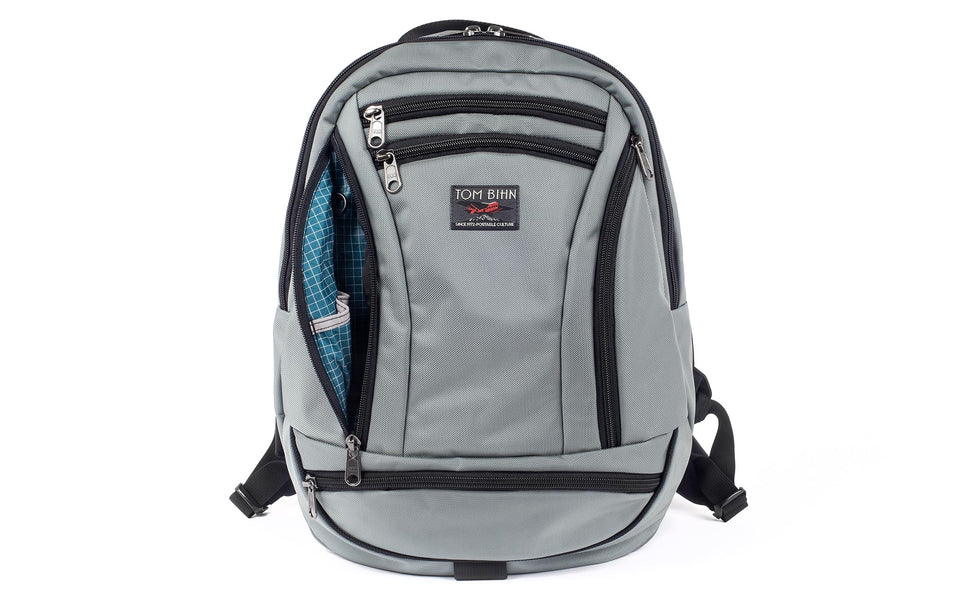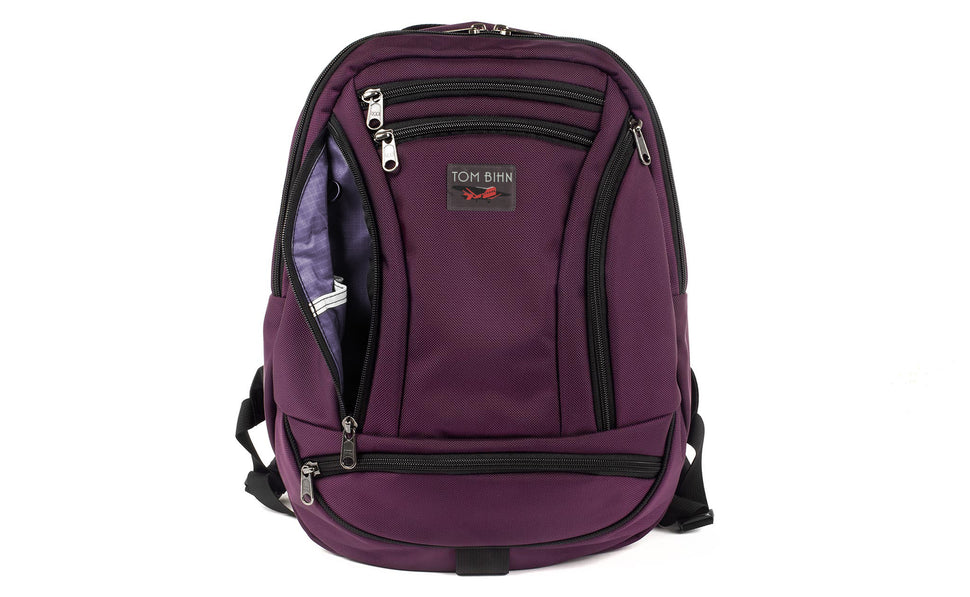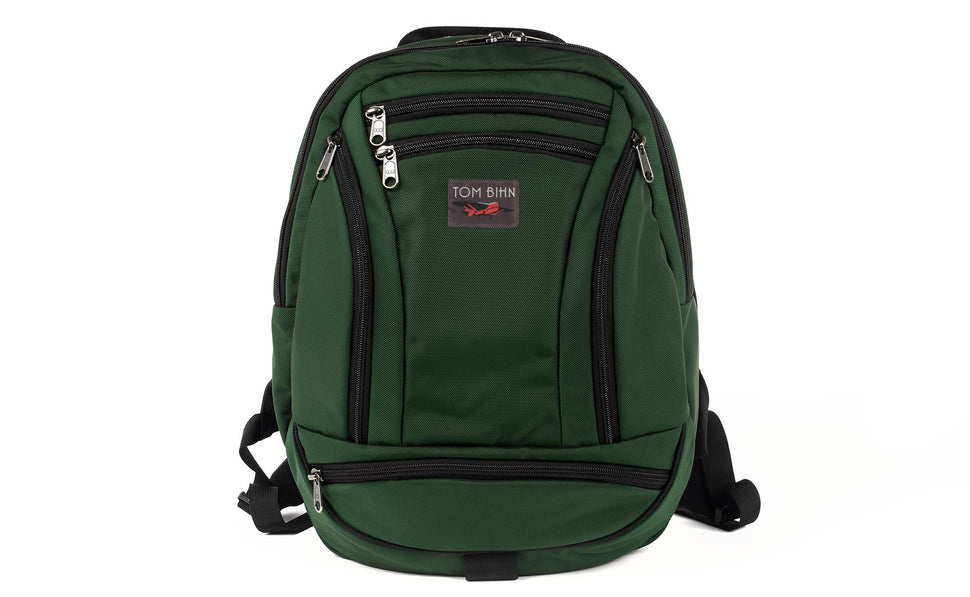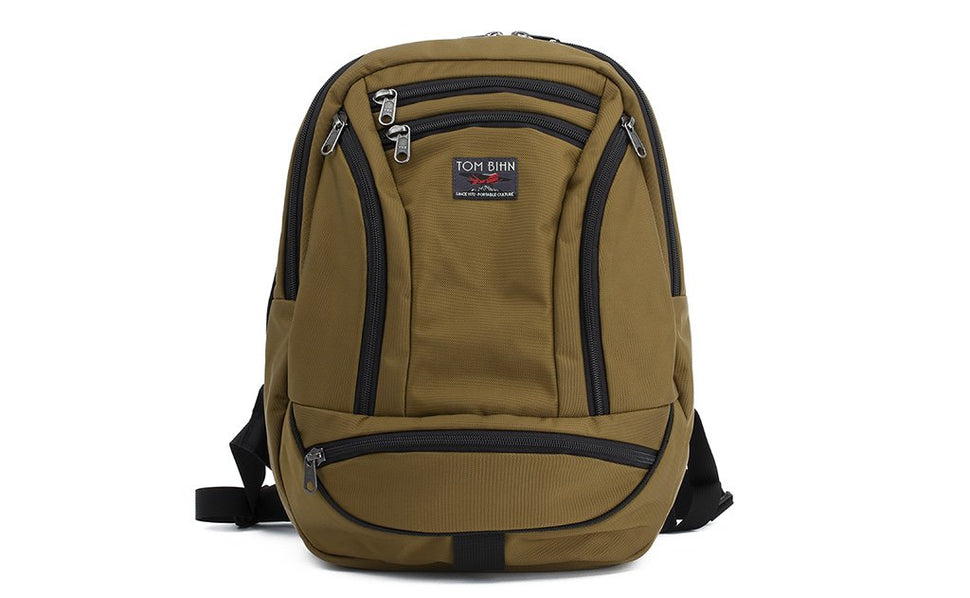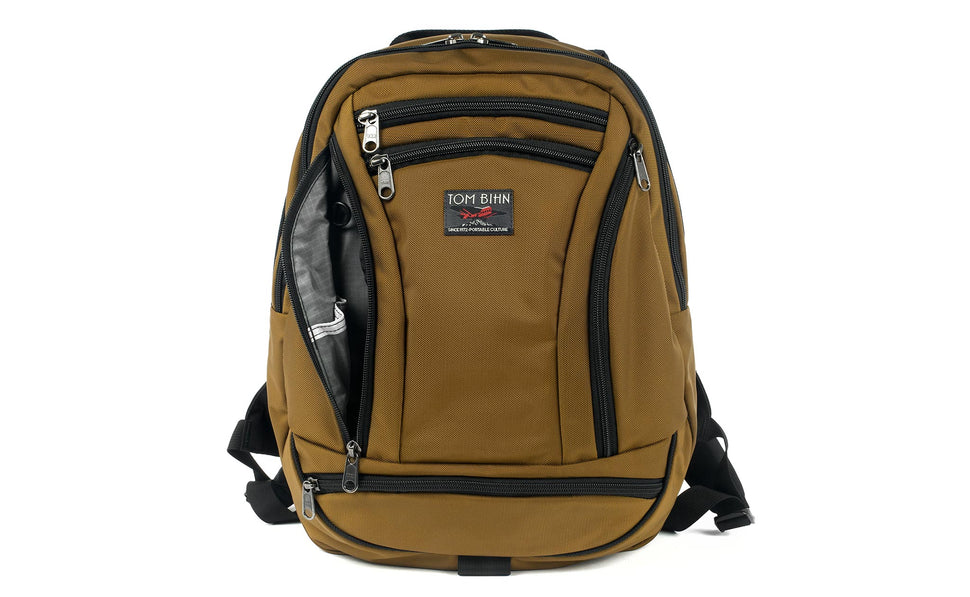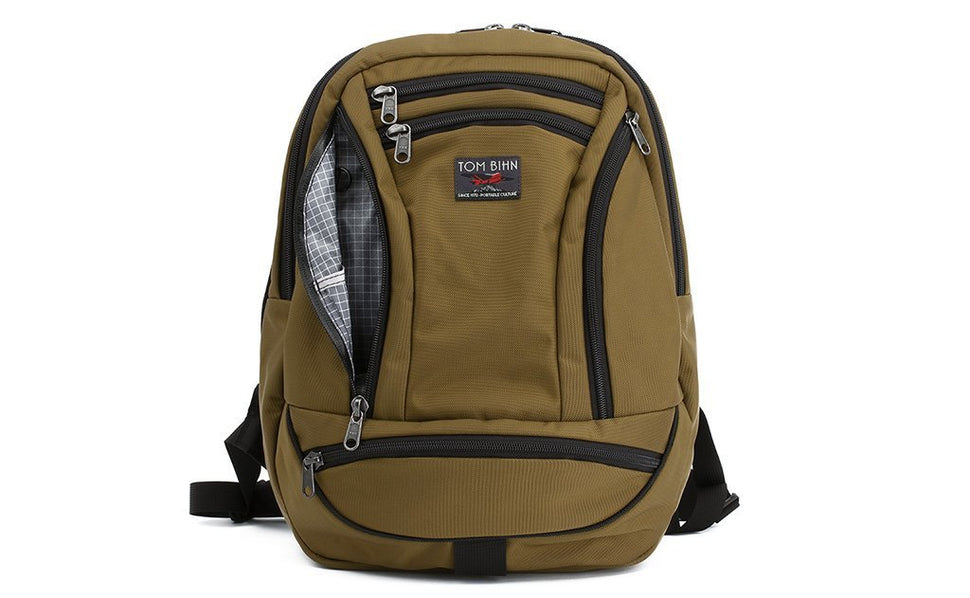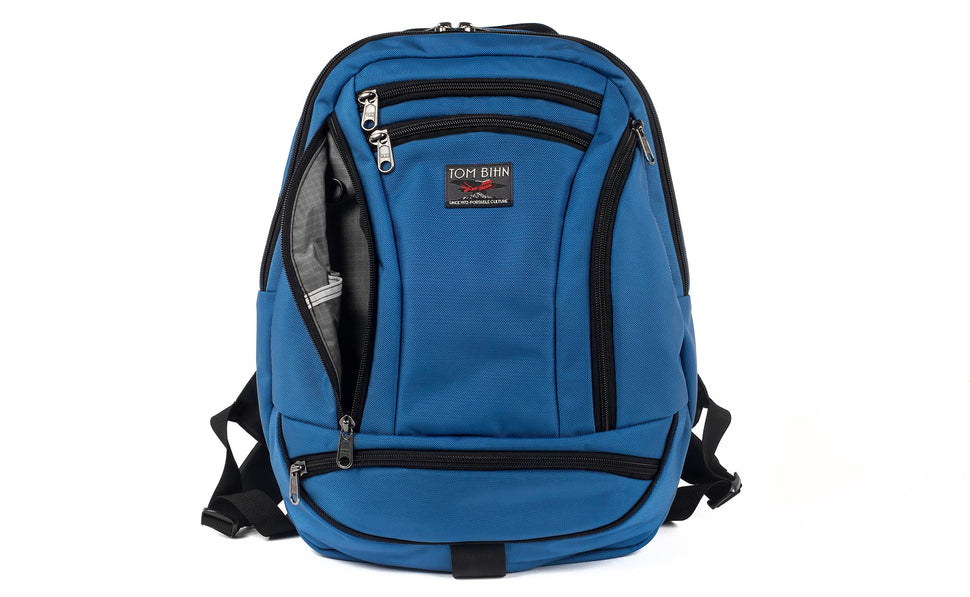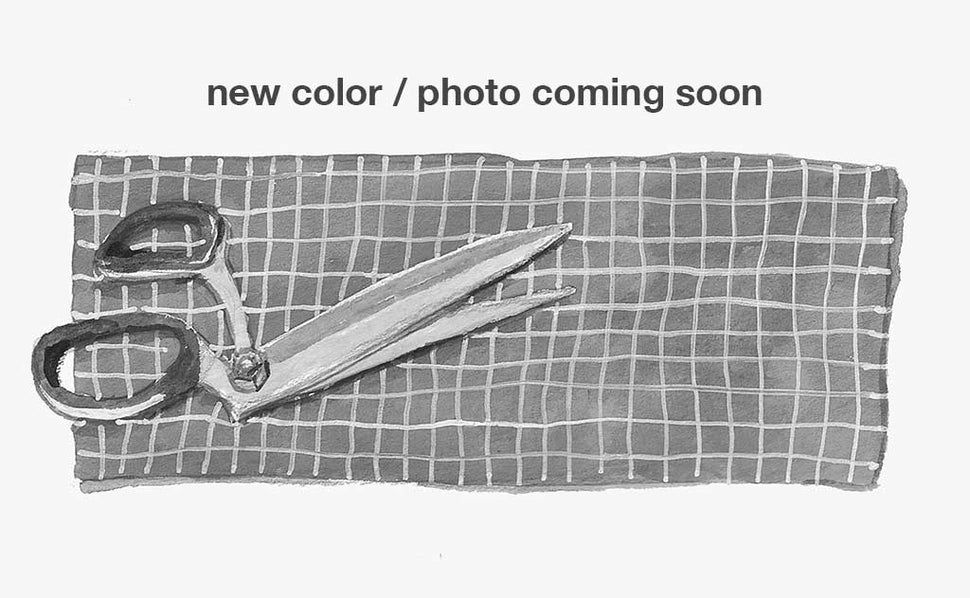 TLDR
The Synapse 19 is the supreme backpack for everyday carry, ultralight travel, or a day hike. You'll be able to carry more than you would imagine, but it's perfect for those who just don't need to carry as much stuff.
Comfortable, durable, edgeless straps
Water bottle pocket with O-ring
Front pocket with O-ring for keys, a wallet, or a small camera
Left pocket with pen/pencil slot and 2 wide slots
Right pocket with small organizational pocket
Bottom front pocket for extra clothing or snacks
1.5"/38 mm webbing loop on exterior bottom of bag to hook on a small flashlight
Flexible main compartment for laptop/tablet (check fit guide) with 4 unobtrusive webbing loops on the inside for attaching optional Cache (no integrated laptop sleeve) or Size 1 Handy Little Thing
2 O-rings inside the main compartment for additional organizational pouches, if needed
Meets the personal item requirement on most airlines
If you love the design of the Synapse 19, but want a bigger version, check out the Synapse 25.
Full Description
The graceful, curvilinear exterior of the Synapse 19 may at first look like something akin to sculpture, but in truth it is simply the judicious realization of ultimate utility. No mesh pockets clutter the exterior of this bag, nor extraneous straps festoon it; in it, you'll be able to carry more than you would imagine, and no one will be the wiser.
The Synapse 19 will generally fit folks between 5' and 6' comfortably. As with all things general, there are exceptions and outliers but for most folks, this is a good gauge.
Five Front Exterior Organizational Pockets
All five pockets are zipped shut with #8 YKK® Racquet-Coil water-repellent zippers:
The top center pocket is deep enough to fit a 1L water bottle or hydration bladder. Removing the water bottle is super easy since the pocket doesn't continue to the bottom of the bag. By having a heavier object in the middle, the carrying experience is more comfortable since everything becomes balanced.
Below the opening for the bottle pocket is another small zippered pocket, also with one O-ring; it's just deep enough for keys, a wallet, glove liners, or a small camera.
The side pockets are generously sized for sunglasses (in a case or alone), a first aid kit, or even a light Windbreaker-type jacket or down vest compressed in a stuff sack (like our Travel Stuff Sack). The right side pocket has a small organizational pocket; the left pocket has one pen/pencil slot and two wider slots for multitools/knives or just more pens. Both side zippered pockets feature one O-ring — one comes with an 8"/200 mm Key Strap.
The bottom front pocket of the Synapse 19 is a great spot for extra clothing or snacks and will easily accommodate a thin wool/fleece sweater, light down jacket and/or Windbreaker-type jacket. If you care to add organization, it's more than big enough for a 3D Organizer Cube or Side Effect. And because we care about your safety, we've added a 1.5"/38 mm webbing loop on the exterior bottom of this pocket that's ready to accept a flashlight — highly recommended if you ride a bicycle or walk in the dark.
Main Compartment
The main compartment is designed to fit large, flat items like notebooks or laptops — it closes with a #10 YKK® Racquet-Coil zipper. It has two O-rings for you to attach Organizer Pouches or Key Straps or tether other items. Four unobtrusive webbing loops can also secure the Cache. The remaining space in the main compartment opens wide.
Interior Banded Open-Top Pocket
Breathable Back Panel
The back panel of the Synapse 19 is padded with 1/4", high quality, closed cell-foam with an exterior of Spacer mesh and 210 denier nylon. This combination of mesh and smooth nylon is designed to provide maximum breathability while still being gentle on your clothing.
Included Removable Sternum Strap + Waist Strap
As with all of our major backpacks, we include adjustable and removable sternum and waist straps: if you don't like or don't use your waist or sternum strap, remove them and leave (almost) nothing behind. There's also an optional 1" Padded Hip Belt.
Edgeless Straps
Conformity is overrated — except, perhaps, when it comes to shoulder straps. The edgelessness of this new strap allows it to more softly conform to your shoulder — we (and most people who have worn these straps) find that this increases comfort. Yet the straps aren't too soft: the 1/2" thick EVAZOTE® OEKO-TEX® certified foam means the strap is robust enough to carry a heavy load.
Durable Materials + Expert Construction
No bag lasts forever, but choosing the best and most durable materials and taking care not to abuse it (no washing machine or dryer!) can help a quality bag serve most people well (with maybe a repair or two) for up to 10-20 years.
For the interior lining of the Synapse 19, we offer variations in 200d Halcyon or 210d Cerylon, both ultra-lightweight and ultra-tough. They have been abrasion tested by both our fabric suppliers and our in-house lab. Conclusion? 200d Halcyon and 210d Cerylon are perhaps a bit overkill for a lining fabric, and you expect nothing less from us.
This bag requires significant skill to sew and construct; it's not just any sewing factory who can pull this off and do it well, it's ours, and it's because of the talent of our crew. They're the reason why our designs can be made in an ongoing practical fashion.
100%
would recommend this product
Verified Reviewer

Product Standouts

Thoughtful Design,

Comfortable,

High Quality Craftsmanship,

Durable,

Sewn in USA

1 year ago

Product Standouts

Thoughtful Design,

Comfortable,

High Quality Craftsmanship,

Durable,

Sewn in USA

Only backpack I ever need

Just wanted to stop by and say how much I still love this bag 5 years later. This is my go to bag for any and all occasions and has held up flawlessly. I've taken it on short and longer trips as my only bag, as a daily carry for my work laptop, on any hikes I've been on etc. I tried quite a few different backpacks last year to try something new for aesthetics, but nothing compares for comfort, quality, durability and most of all functionality. If something ever happens to my current one I will either have it fixed by TB or get another of the same style. The pockets are so well thought out and a place for everything. Love that it's water resistant as well and never shows dirt (other than the straps a little since they're black, but just clean off with water/rag) Attached some pics from adventures with Synapse 19 over the years :) - Also, gotta love that TB products are made in USA, that is a huge plus for me.

TB

TOM BIHN

1 year ago

Thank you so much for taking the time to stop by and leave such a kind review! And for the lovely pictures :)

Your search is over - A disabled user's perspective.

After going through about 8 different bags over the years, I finally found one that works. I've had the Halcyon Synapse 19 right at two years now, and it still looks nearly brand new and it's gone everywhere with me since. As noted in the title, I'm disabled and use crutches to get around. My hands are full all the time, so carrying things has never been a strong suit of mine. Coupled with the ever-shrinking pockets in jeans and the increasing amount of stuff one needs to have at hand daily, everyone needs a bag these days. The more gimpy among us included.

I wear mine backwards and even fully loaded (for me, 15-20lbs) this bag stays perfectly balanced. I've not once felt unsteady with it even at its heaviest.

It holds everything I need for a typical outing and the pockets are easily accessible with one hand. I'm not sure what magic they worked into the materials, but this bag does - not - age. I'm not outright abusive toward this bag, but I don't baby it either. It gets thrown around; tossed in the bed of the truck; friends' kids drag it here and there and there's not so much as a loose thread on the outside. The only noticeable sign of wear is on the mesh back where the zippers of my coat have chewed at it a bit.

The price has increased some since I bought mine, but if I had to buy this again tomorrow - my rainbow of organizer pouches, zipper pulls and frame included, I'd not think twice about it.

You can stop debating now. It'll be the best bag you've ever owned.

Verified Buyer

Product Standouts

Thoughtful Design,

Comfortable,

High Quality Craftsmanship,

Made in USA,

High Quality Finishings

1 year ago

Product Standouts

Thoughtful Design,

Comfortable,

High Quality Craftsmanship,

Made in USA,

High Quality Finishings

This bag will change your life

I had too much stuff to carry using a back and neck with old injuries. I loved how my packing cube and tech pouch fit in the Synik 30 and Synapse 25. I would use a padded hip belt, and halfway to my destination, I would need to lay down because my back and neck just couldn't take it. And my bag wasn't even that heavy. My body was dictating what bag I could carry, so I tuned into yet another YouTube review of a TB bag. This time, the S19. I had tried it before, and could never fit my packing cube and tech pouch in, along with everything else. This time though, the reviewer mentioned a James Clear travel list. I Googled it, and while I didn't need everything on the list or even the exact items mentioned, I began buying smaller items. My puffy that I was carrying outside of my bag because it wouldn't fit inside even the 30 liter, was changed out for a Janji thermal running jacket that packed to a tiny size. I exchanged my sun hat that would get ruined if folded or even when shipped to me after purchase, for a sun hat with built in creases (Sunday Afternoons Latitude), so it could fold and fit in between the freudian slip and the internal frame. I tried the Ultra Adventure hat, but didn't like the cape. I got rid of my bulky big box store zipper pouch, and purchased two TB clear zipper pouches, which fit perfectly on the back side of the freudian slip, secured by two (one on each pouch) 16" TB key straps. I got rid of my bulky electric toothbrush, after watching a…

Verified Buyer

Product Standouts

Thoughtful Design,

Comfortable,

High Quality Craftsmanship,

Sewn in USA,

Unique

9 months ago

Product Standouts

Thoughtful Design,

Comfortable,

High Quality Craftsmanship,

Sewn in USA,

Unique

Even better than the original!

I've had a classic Synapse 19 since Summer of 2017 and it had the original straps, handle, zippers etc. While I love that bag to death and it holds a special place in my heart forever, I am thrilled with the small updates that have been made! I got a new black Synapse 19 in ballistic with the blue island interior. The zippers feel SOOO much smoother and easier to open/close than my older bag. And the new straps are very soft, which is nice when wearing a tank top. Couldn't reccomend this bag enough :) Will be keeping my old one for hikes now to keep the black clean for work/travel.

Verified Buyer

Product Standouts

High Quality Craftsmanship,

Durable,

Comfortable

10 months ago

Product Standouts

High Quality Craftsmanship,

Durable,

Comfortable

Love this backpack!!!

Love the size, love the color, love the quality, love how it fits!!! I'll need to buy a smaller water bottle but it's worth it!
Reviews Loaded
Reviews Added
Sewn in Seattle
Our bags are designed and sewn right here in Seattle, Washington, U.S.A.
That allows us to be control freaks in the best way possible; we have direct control and oversight of the quality of our materials, our products, and the jobs and working environment that we help create. It also offers us a unique spontaneity: when we have an idea for a new product or accessory, we can design it, figure out how to build it, add it to our website and be ready to ship it out our front door all within just a few weeks. How cool is that?

Intrigued? You can find out more about the unusual way we do business on our Company Philosophy page.
THE BIHN Guarantee
Everything you buy from us here at TOM BIHN is satisfaction guaranteed. We've been in business since 1972 and we stand behind what we make.
If something goes wrong and it's our fault, we'll fix it for free. Repairs due to normal wear and tear or due to other things that are not our fault will be performed, when possible, at a reasonable charge right here in our Seattle factory where your bag was made. Defects in materials or workmanship are uncommon and almost always evident while the product is still new. Keep in mind that bags and packs are often subject to extreme wear in everyday use: do not expect them to last forever. Only true love lasts forever! You can expect a TOM BIHN product to give years and years of hard service.