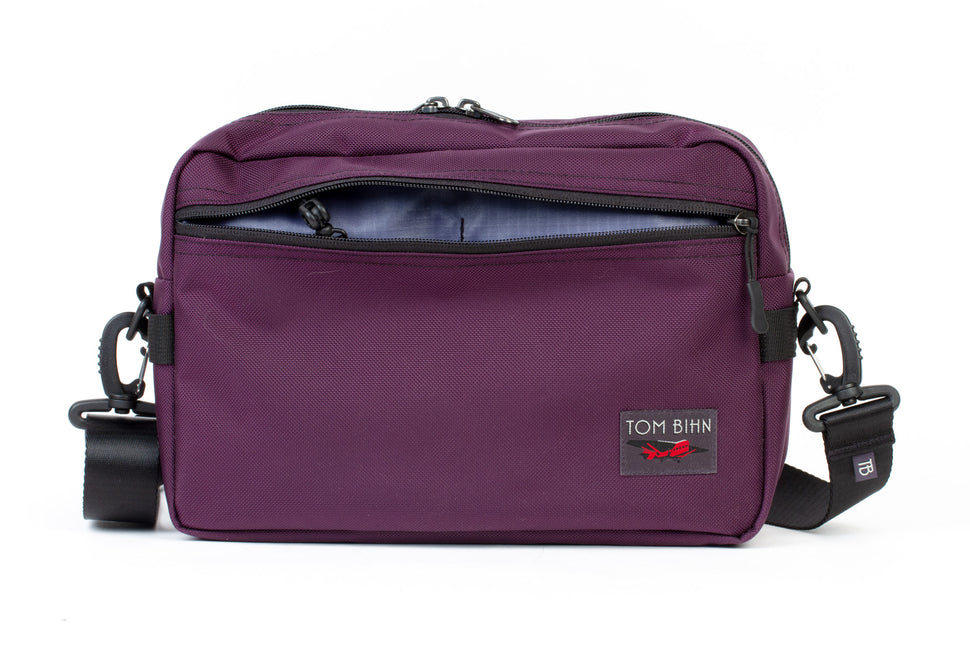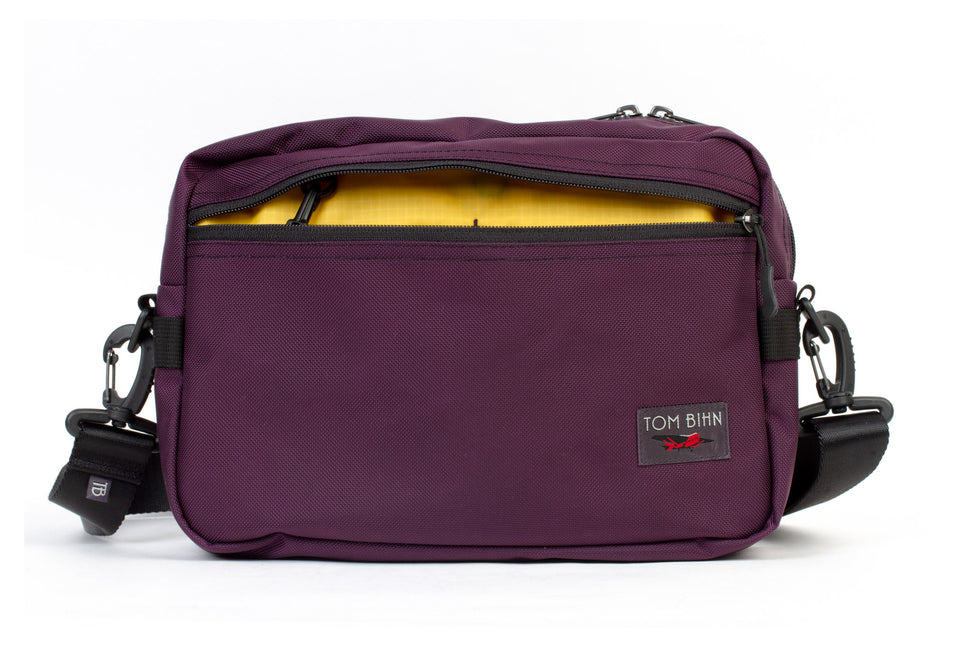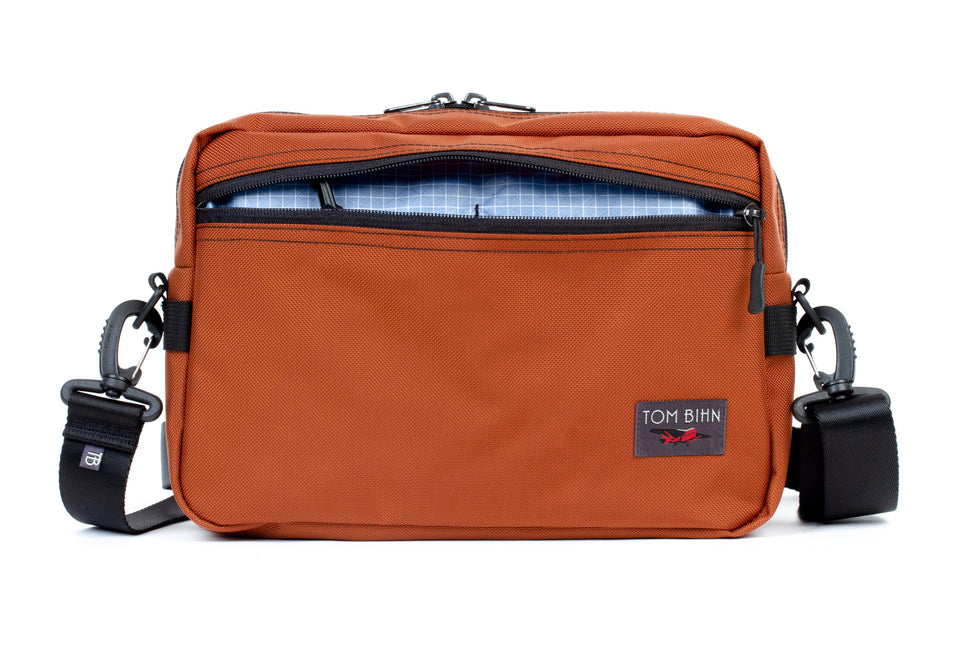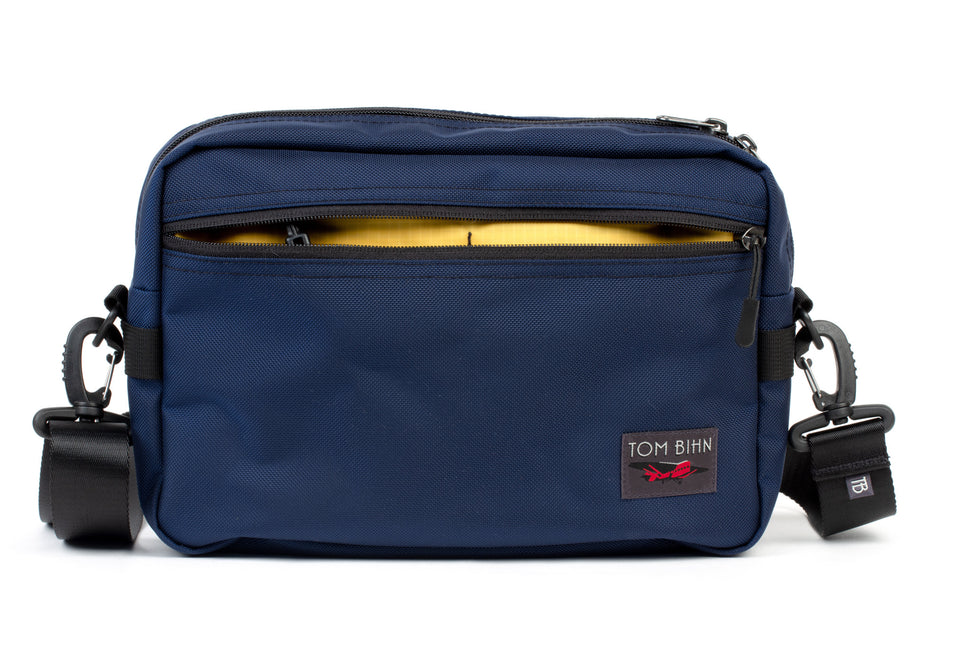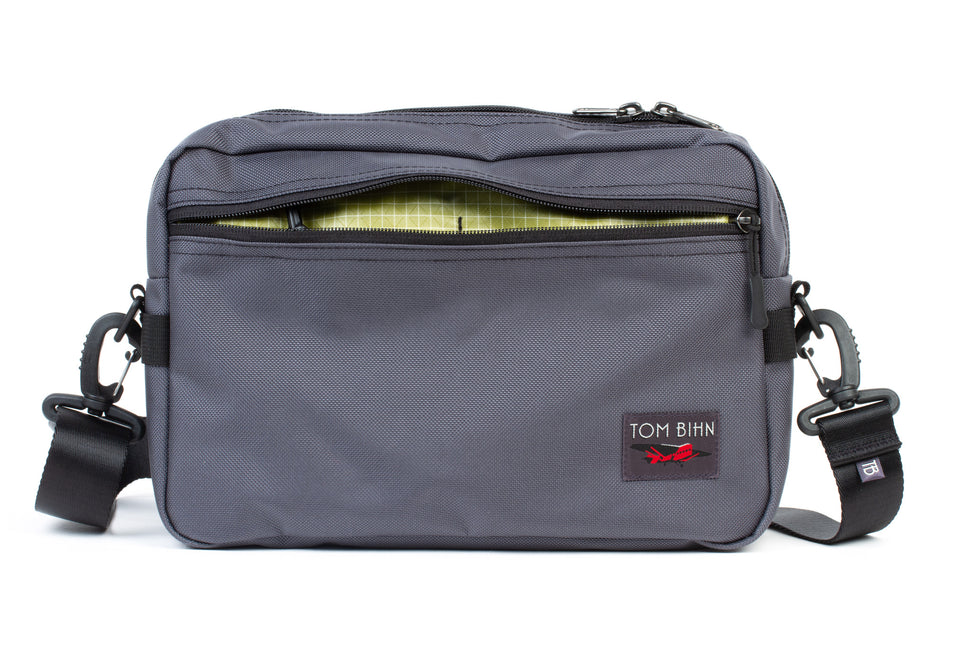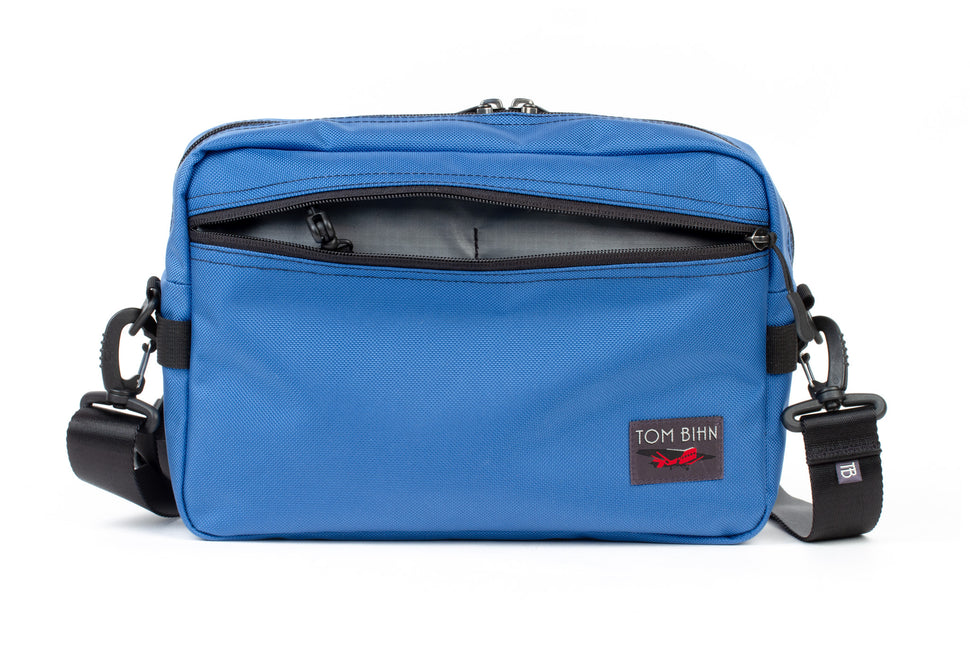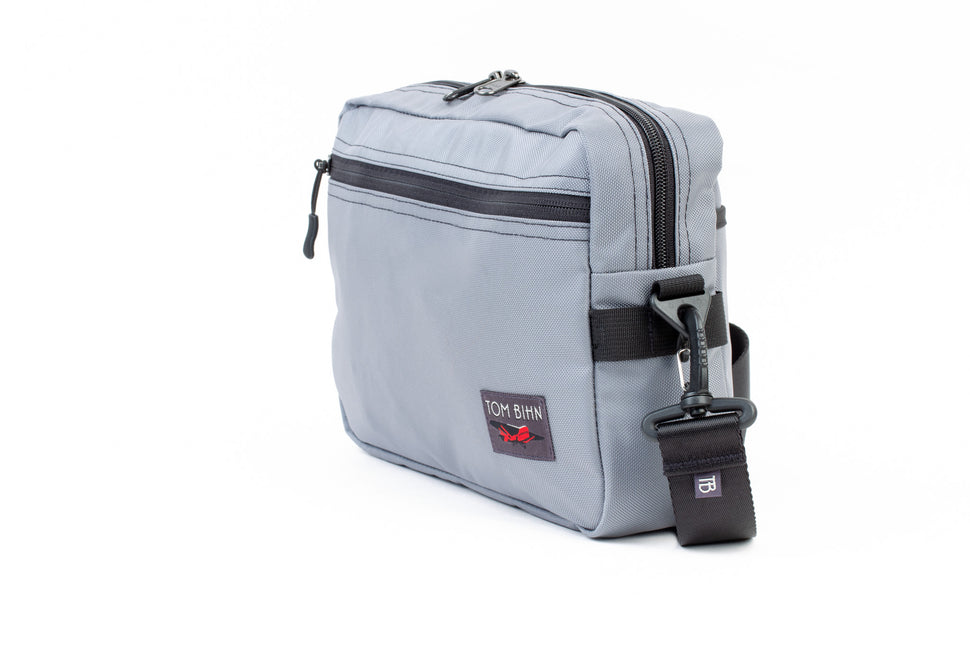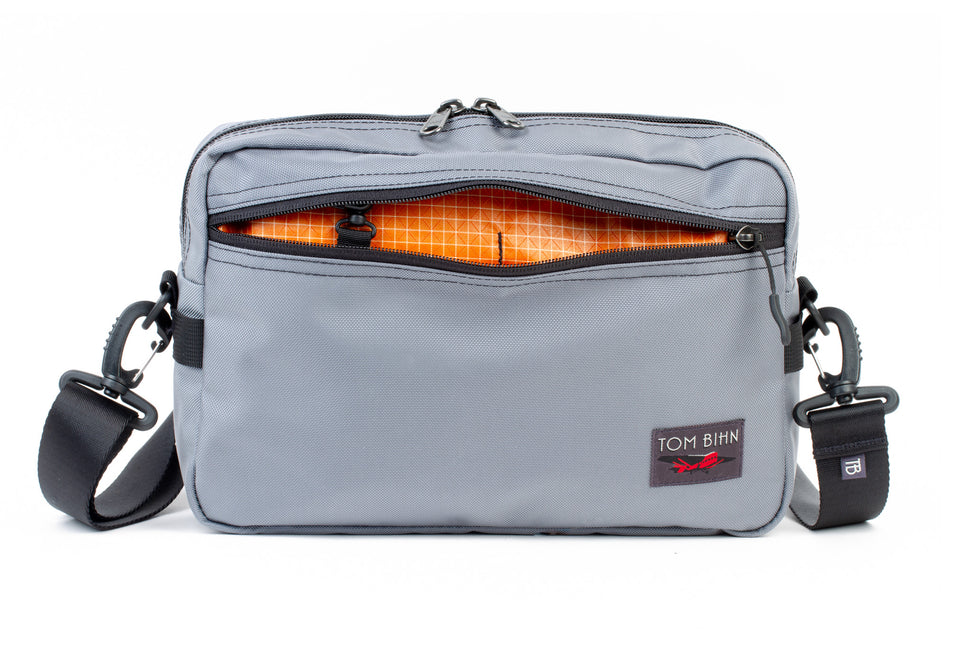 TLDR
Introducing the Side Hustle - the newest addition to our family of versatile shoulder bags. The Side Hustle is the best of both worlds, a combination of our popular Side Kick and Packing Cube Shoulder Bag, offering added structure and organization without sacrificing on compactness. So when you're looking for a daily bag that can hold a little bit more, reach for the Side Hustle.
The facts in a few:
Two exterior pockets, front and back, one zippered and one open-top
The main pocket holds a surprising amount of organization, boasting (count 'em) 7 pockets of varying sizes for your phones, pens, power chargers, charge cables, and even an 11" tablet.
O-rings galore, 4 in the main pocket and one in the front zippered pocket, for when you need to supplement that organization
Full Description
Want a little more info? No problem, pull up a chair and let's go through the deets:
Carry Styles
The main carry style of the Side Hustle is our 1.5" shoulder strap that comes with every Side Hustle. If you're more of a sling type, we've got you covered: the Side Hustle has attachment points for our Gatekeeper Hip Belt that work well to convert it into a lightweight sling bag.
The Exterior Pockets
The front pocket of the Side Hustle is zippered with a low-profile pull, contoured to be easy to grab but small enough to get out of the way. As mentioned above, this pocket has an o-ring inside so you can lash what you need into that pocket and let it hang out when you need even quicker access.
The back pocket is an open-topped pocket, for when you just need to quickly put something away and deal with it later.
The Main Pocket
The main pocket has a dizzying array of options.
The big pocket is perfect for an 11" iPad.
The 3 mid-sized pockets can fit a portable charger, a couple glasses cases, and things like that.
The smaller pocket can fit a phone, a charging brick, or something of a similar size to that.
The 2 pen pockets are good for, you guessed it, pens. Or a stylus if you're spicy.
The main space is big enough to handle even the bigger hardback novels, so when the next Neal Stephenson novel comes out, we've got you covered even in dead-tree form.
What's Included
1.5" Shoulder Strap
This one is a little different than most of our other shoulder straps, but not by much. No pad or grip, just a plain shoulder strap the width of our Standard shoulder strap.
8" Snaphook/Snaphook Key Strap
As with most of our bags, we've included a key strap. 8" long from tip-to-tip, a snaphook on either end. Good for attaching your keys to.
Cord Zipper Pulls
A set of pulls to extend, quiet, or replace your metal pulls.
What's Optional
Gatekeeper Hip Belt
If you want to wear this as a sling, this is the thing. Attaches to either the front or back of the Side Hustle much like our Side Effect and Side Kick. You could also use it for a hip belt, but it will be pretty tall and wide to wear as a hip pack.
100%
would recommend this product
Flipping the bag around.

I know I can flip the bag to the other side to put the label next to my body, but that also puts the zipper next to my clothing, and that causes abrasion. Plus, I don't want the open pocket on the outside. Anyway, I will be buying this bag in a couple of hours.

Side Hustle

I'm really looking forward to this bag, because I use my Sidekicks every day, but sometimes I need something bigger, but with all the same pockets. However, I really wish the Tom Bihn label was NOT on the front of the bag. I don't mind labels on luggage, but I really don't want visible labels on my everyday bag. Any chance you'll move the label to the side before production?

TB

TOM BIHN

1 month ago

Hi there! Thank you so much for taking the time to leave us a review! We're thrilled to hear that you're excited about the Side Hustle and its many pockets. We completely understand where you're coming from with the label concern. We know that not everyone wants visible labels on their everyday bag. To clarify, our production for the debut batch has already been completed. In the meantime, we wanted you to know that you have the flexibility to position the bag in whichever way makes you the most comfortable. Both sides of the bag can be front-facing, giving you the option to hide the label if you prefer. We hope this helps! Thank you again for your support. As always feel free to emailus@tombihn.com if you have any further feedback.

Verified Buyer

Product Standouts

Thoughtful Design,

High Quality Finishings,

High Quality Craftsmanship,

Comfortable,

Sewn in USA

4 weeks ago

Product Standouts

Thoughtful Design,

High Quality Finishings,

High Quality Craftsmanship,

Comfortable,

Sewn in USA

Love it!

It arrived!!!! I just got my Side Hustle. I think I love it more than my Side Kick. I love the structure of the 400 Ballistic. The bag keeps its shape. And the pockets are perfect. I still want the label off the front though. Put it on the side, like on the Side Kick.

Verified Buyer

Product Standouts

Thoughtful Design,

High Quality Craftsmanship,

Compact,

Good Storage Size,

Versatile

2 weeks ago

Product Standouts

Thoughtful Design,

High Quality Craftsmanship,

Compact,

Good Storage Size,

Versatile

The zip-top bag that I've wanted Tom Bihn to make for an eternity.

The first bag I bought new from TB many years ago was a medium Cafe Bag. I still own that bag today. it's a wonderful bag but the flap closure isn't ideal for me for travel due to the reduced security the loose flap closure offers. Fast forward to today. The Side Hustle might just be the best TB bag I've ever owned. It's compact, tidy and has great organization mostly in one compartment. It just arrived this week but I plan to use the heck out of it for EDC and travel. Good stuff.

Verified Buyer

Product Standouts

Thoughtful Design,

Comfortable,

High Quality Craftsmanship,

Sewn in USA,

Durable

3 weeks ago

Product Standouts

Thoughtful Design,

Comfortable,

High Quality Craftsmanship,

Sewn in USA,

Durable

Perfection!

I have been asking for this exact bag for quite awhile! It arrived today and it did not disappoint! There isn't anything I would change. I'm now signed up to be notified when one becomes available in Mars Red! Thank you for listening to my suggestions!
Reviews Loaded
Reviews Added
Sewn in Seattle
Our bags are designed and sewn right here in Seattle, Washington, U.S.A.
That allows us to be control freaks in the best way possible; we have direct control and oversight of the quality of our materials, our products, and the jobs and working environment that we help create. It also offers us a unique spontaneity: when we have an idea for a new product or accessory, we can design it, figure out how to build it, add it to our website and be ready to ship it out our front door all within just a few weeks. How cool is that?

Intrigued? You can find out more about the unusual way we do business on our Company Philosophy page.
THE BIHN Guarantee
Everything you buy from us here at TOM BIHN is satisfaction guaranteed. We've been in business since 1972 and we stand behind what we make.
If something goes wrong and it's our fault, we'll fix it for free. Repairs due to normal wear and tear or due to other things that are not our fault will be performed, when possible, at a reasonable charge right here in our Seattle factory where your bag was made. Defects in materials or workmanship are uncommon and almost always evident while the product is still new. Keep in mind that bags and packs are often subject to extreme wear in everyday use: do not expect them to last forever. Only true love lasts forever! You can expect a TOM BIHN product to give years and years of hard service.