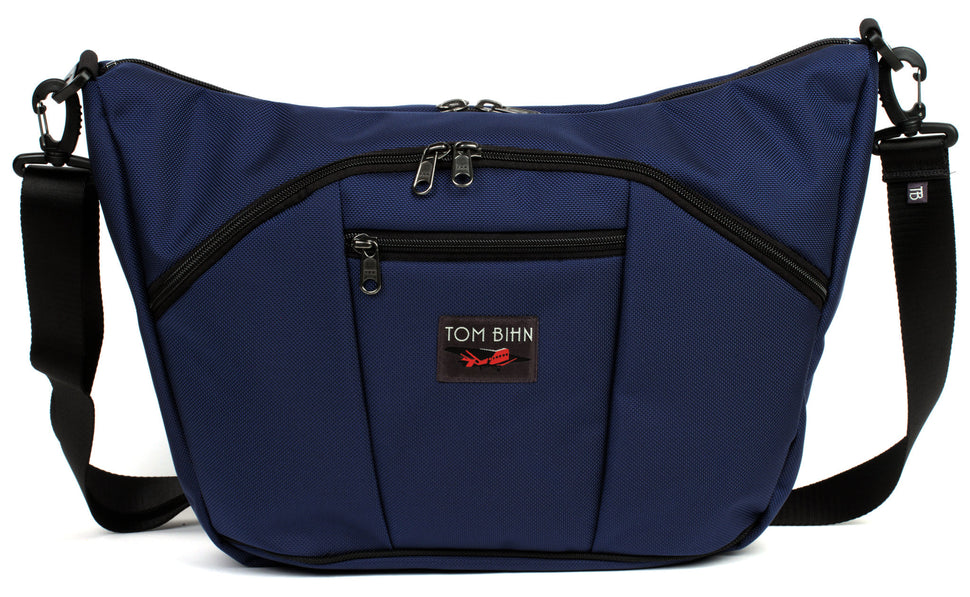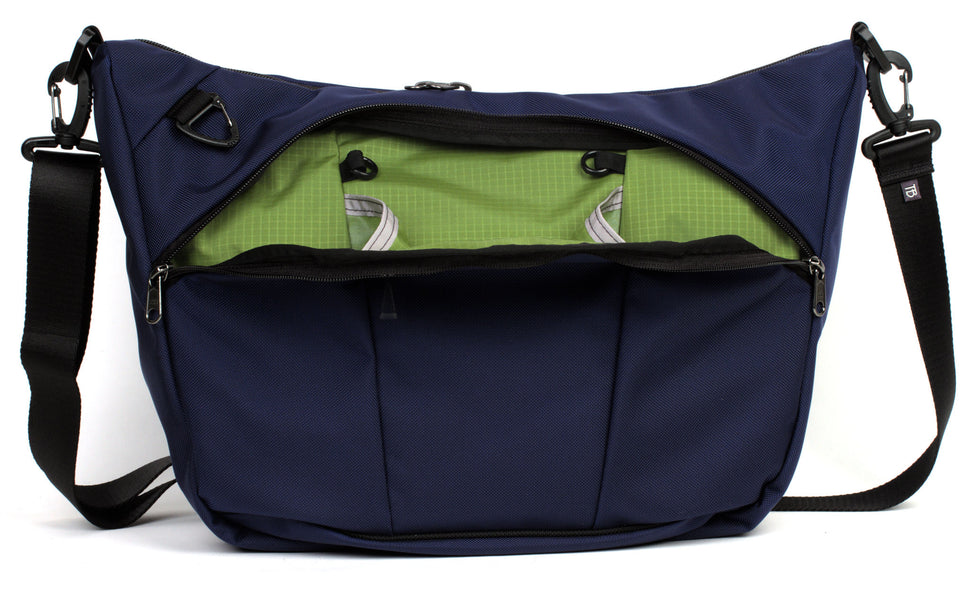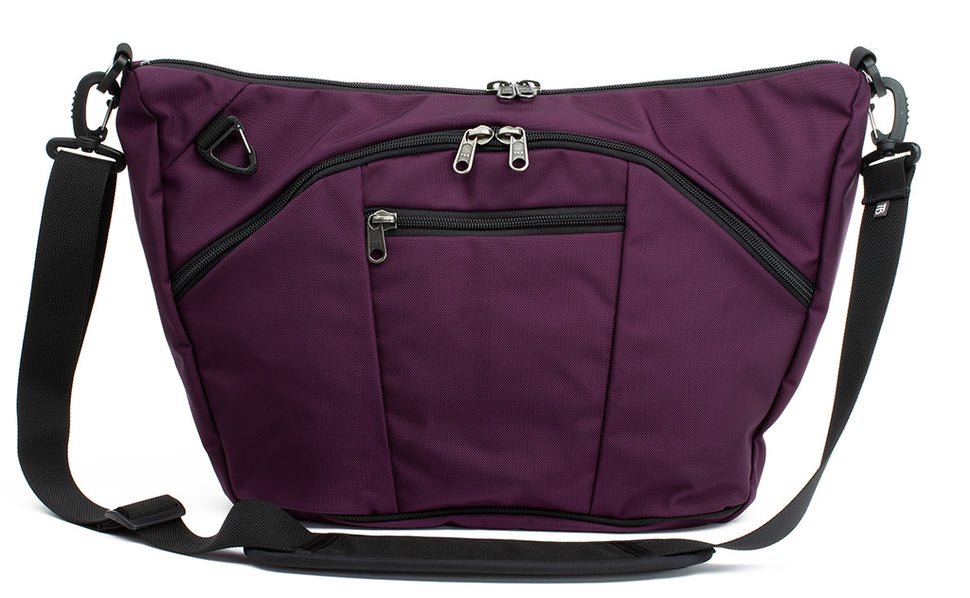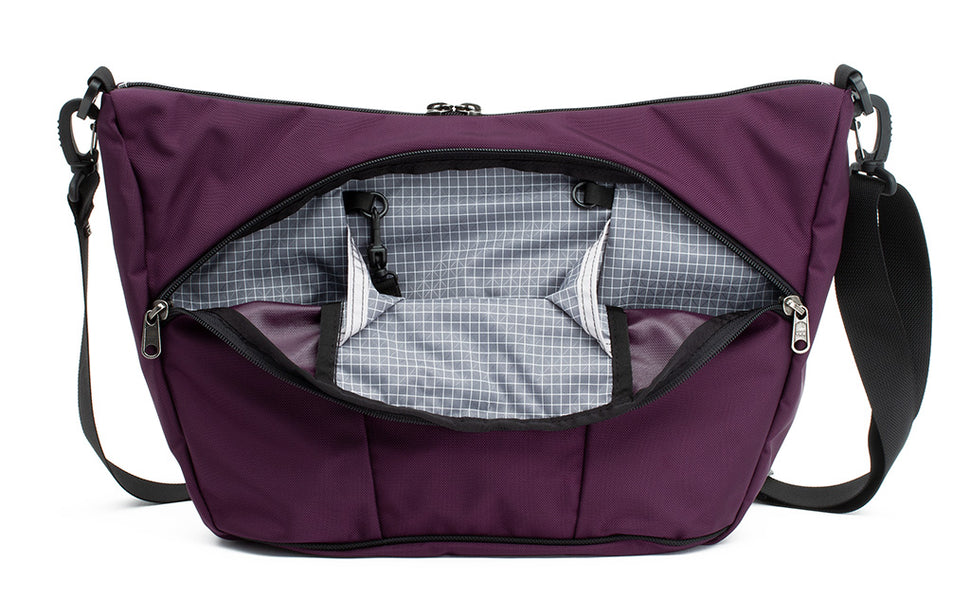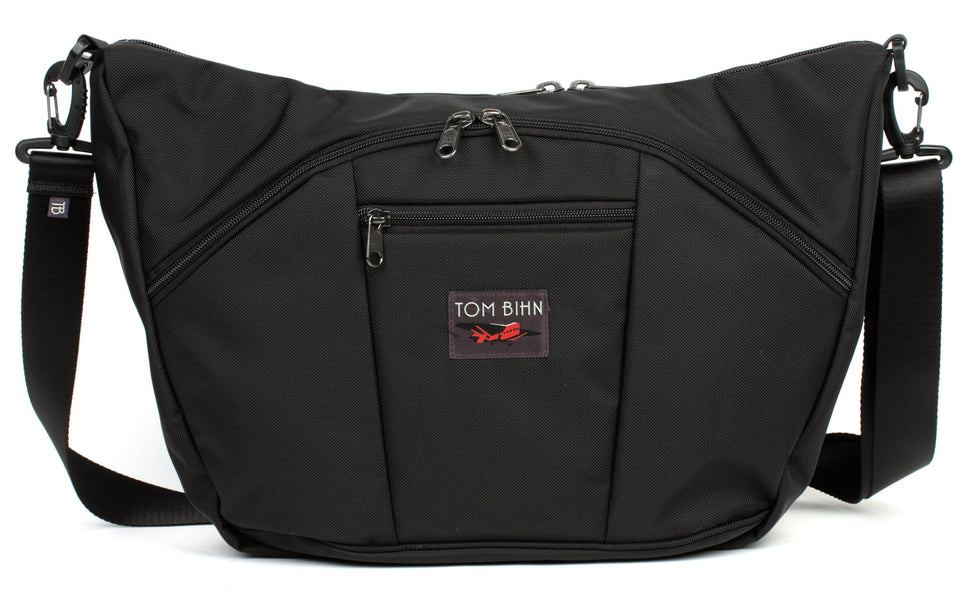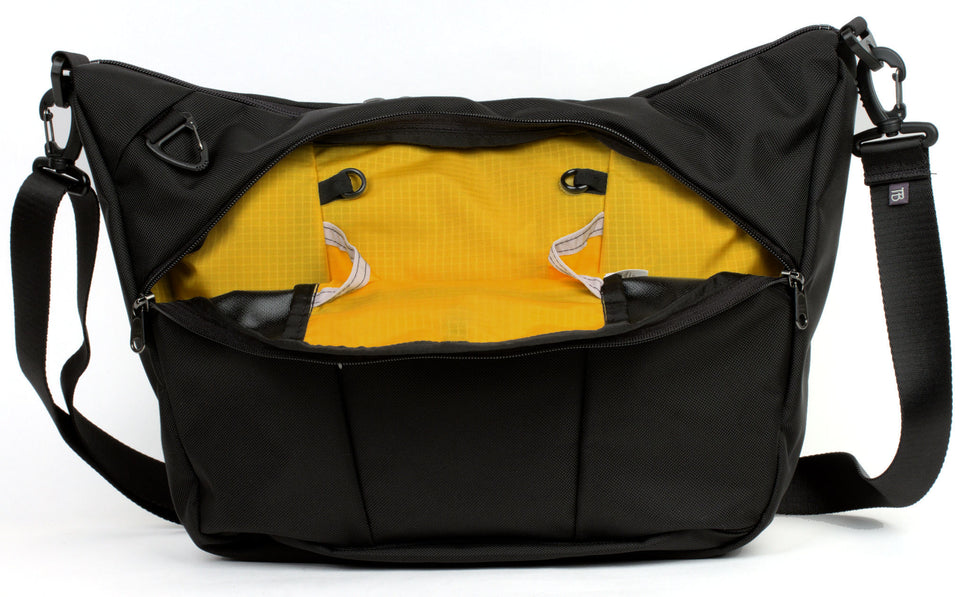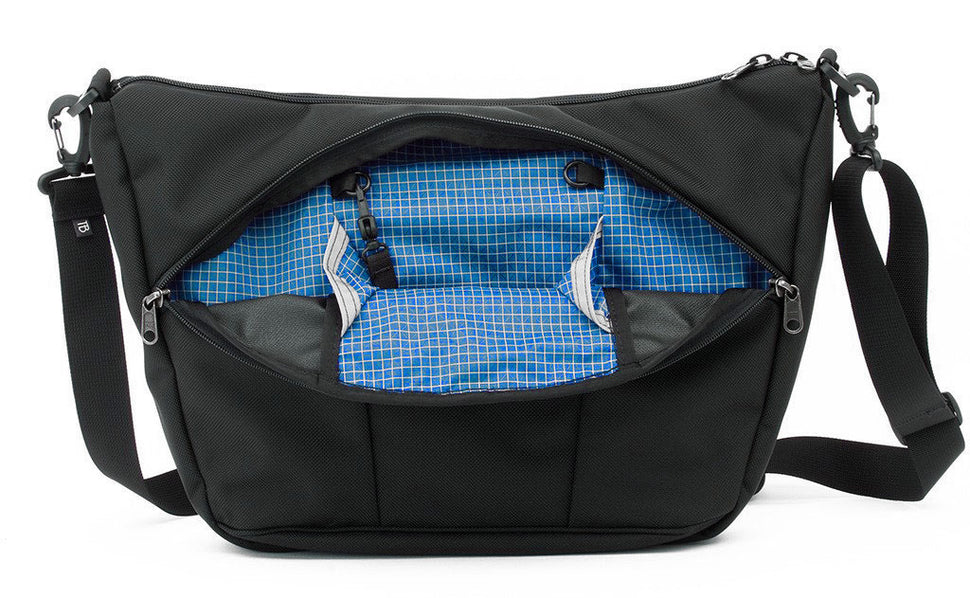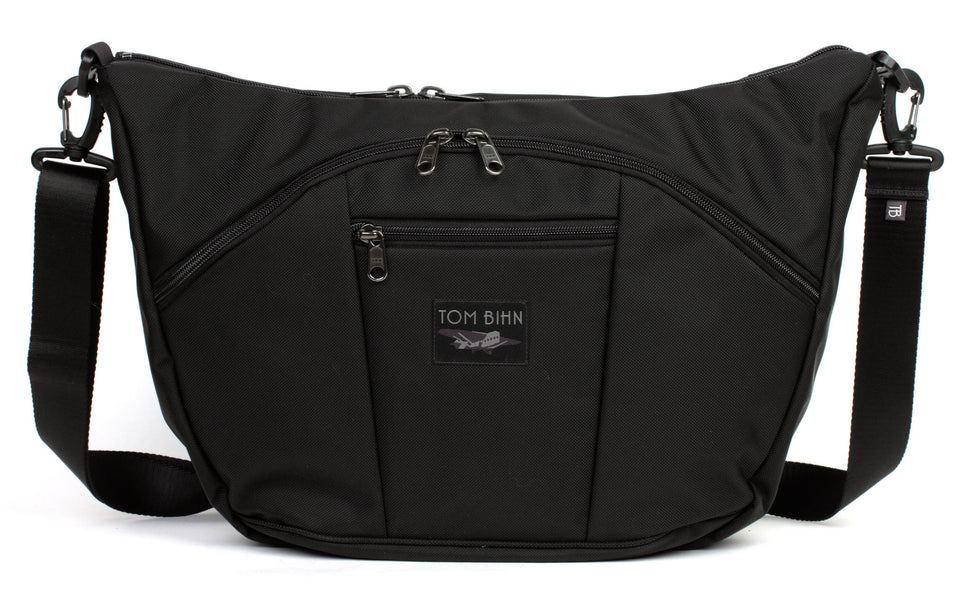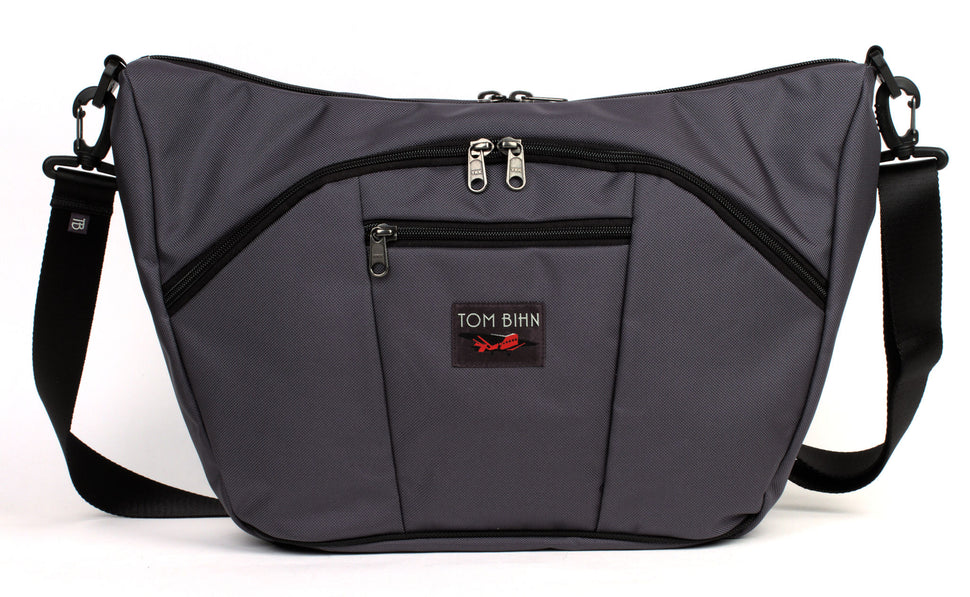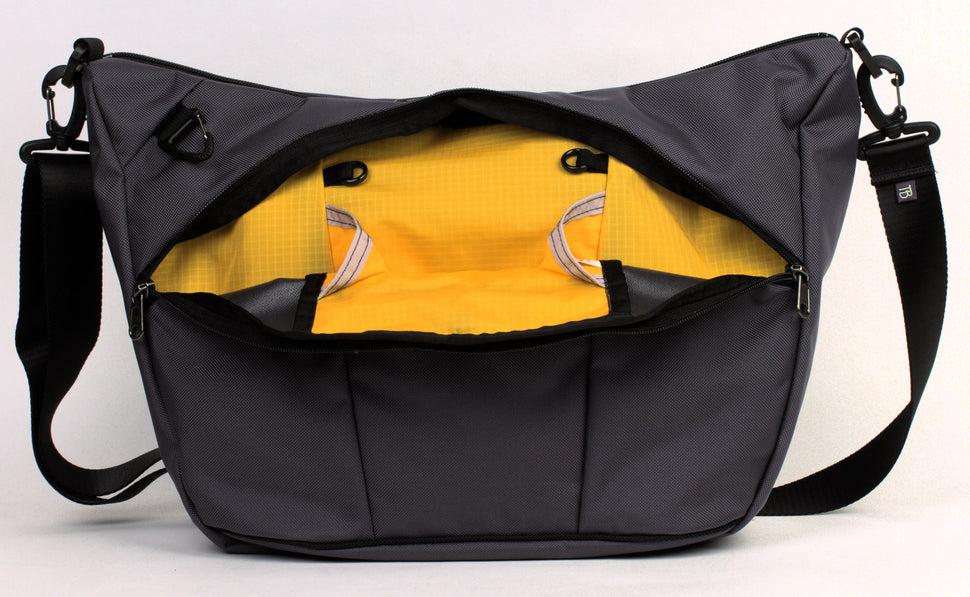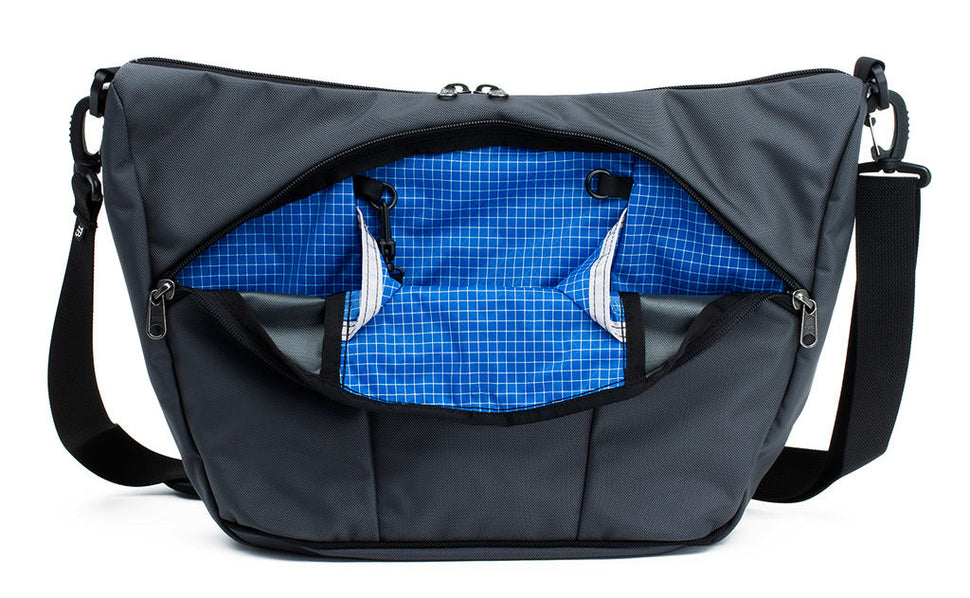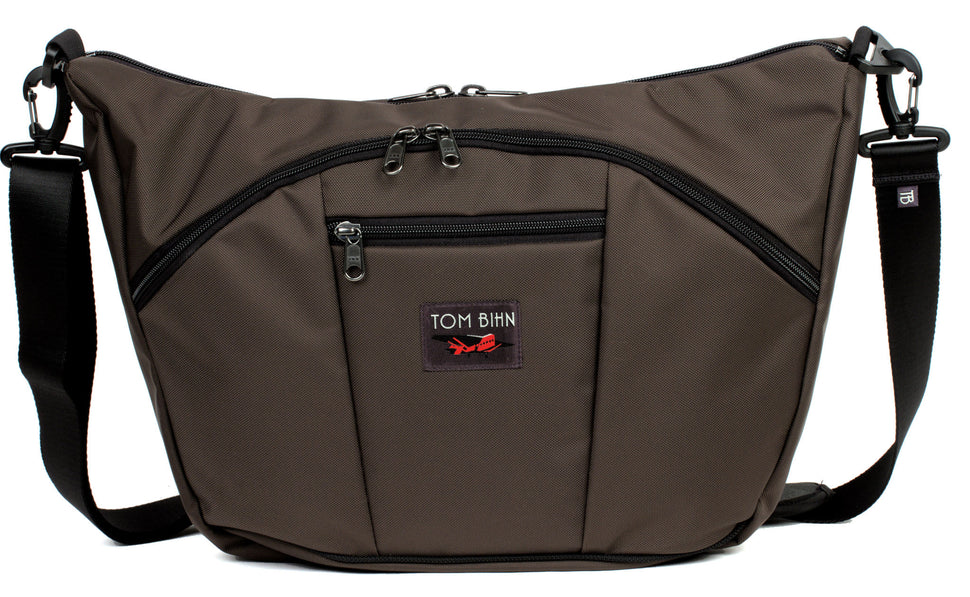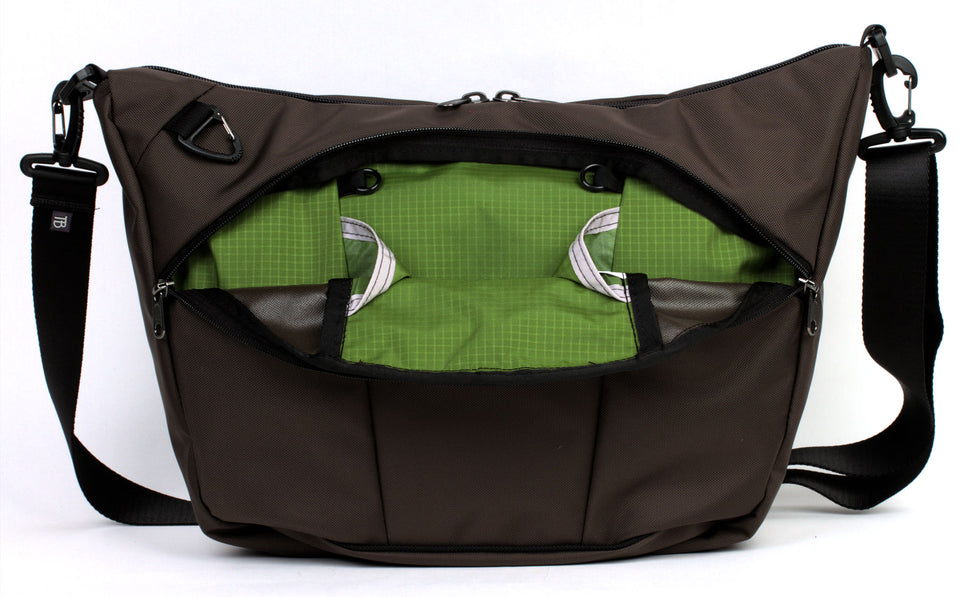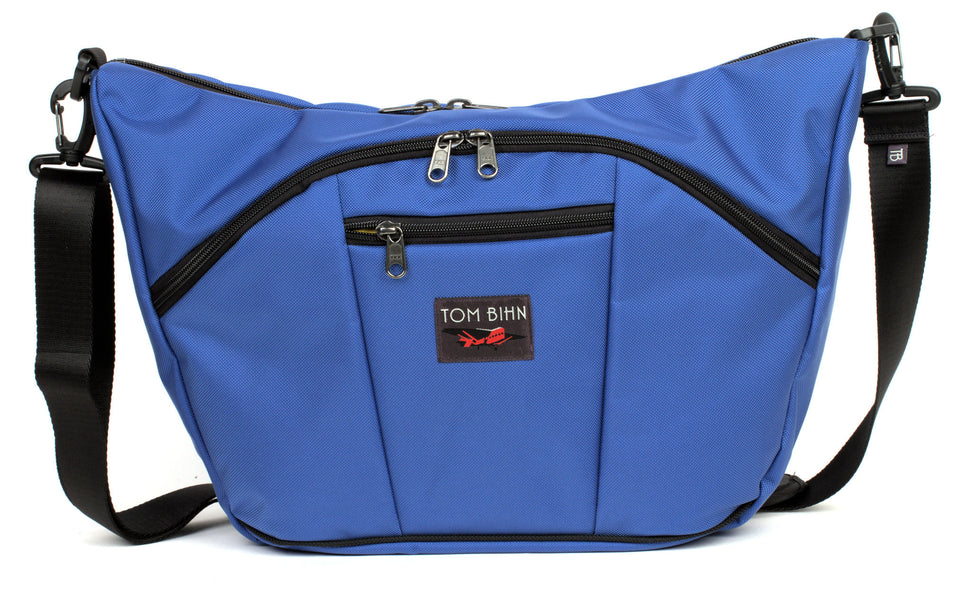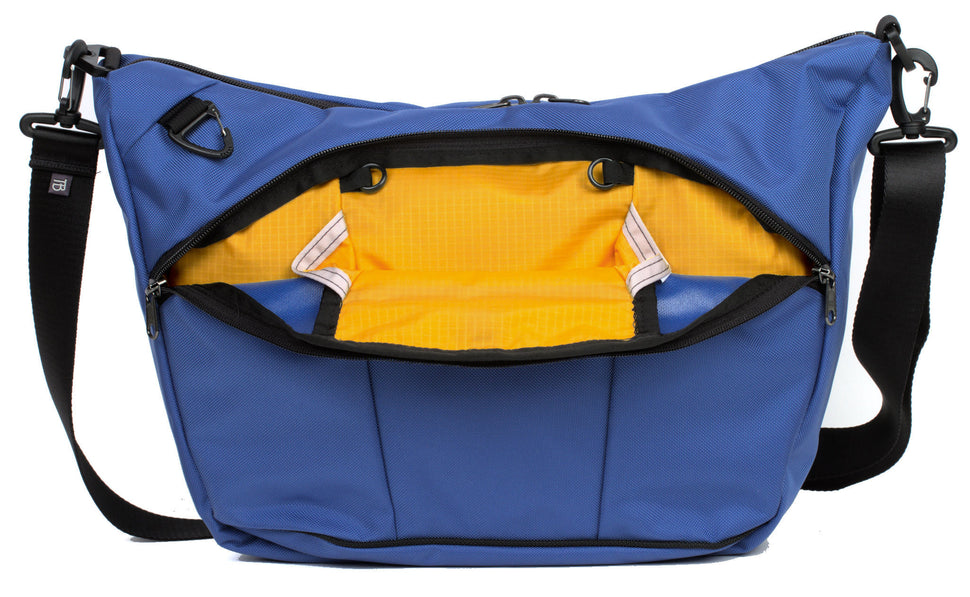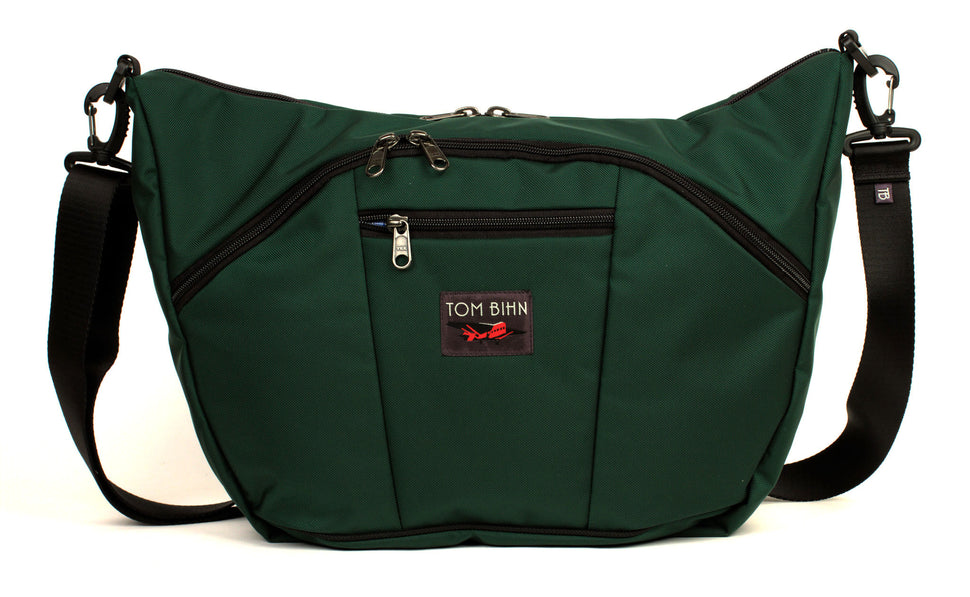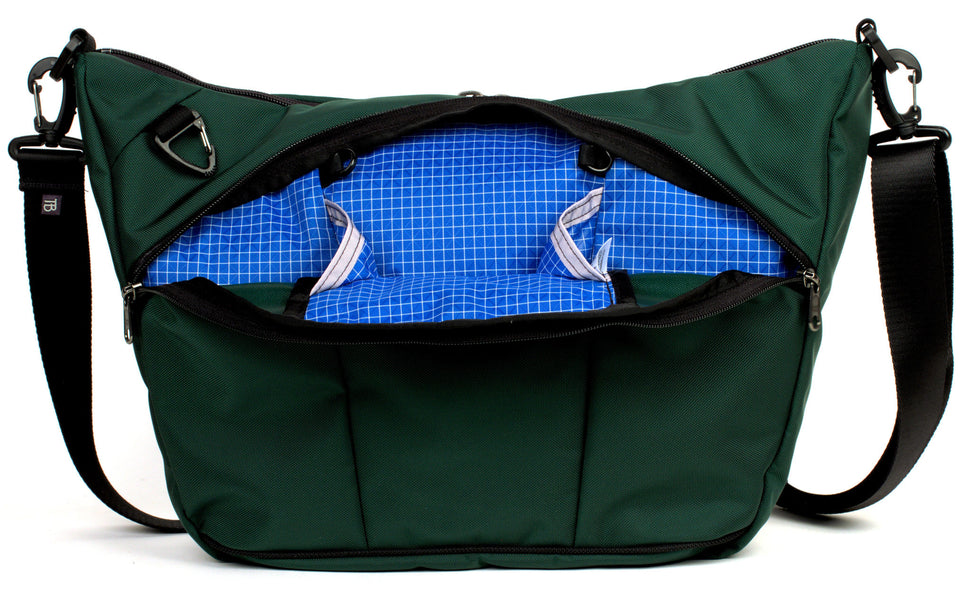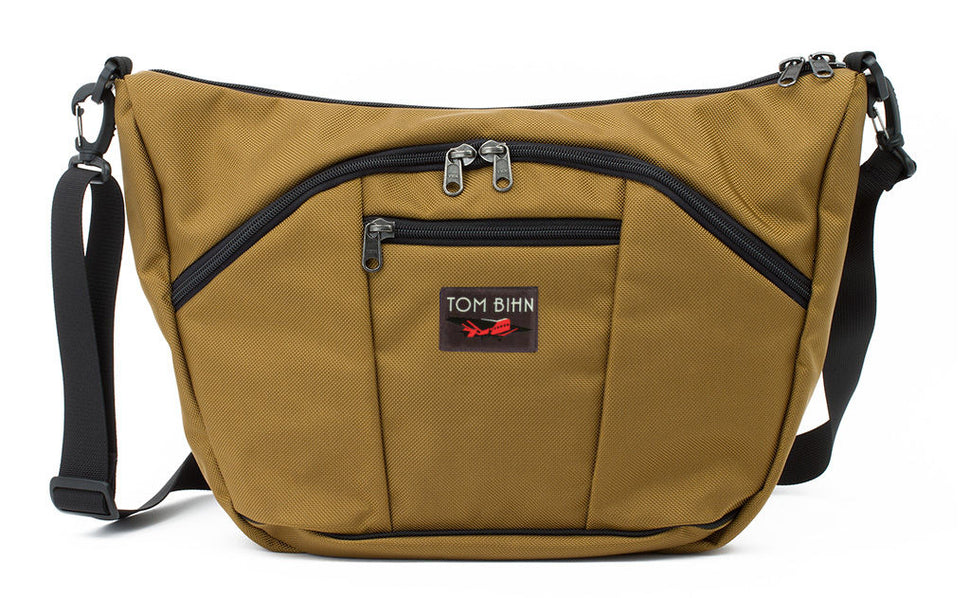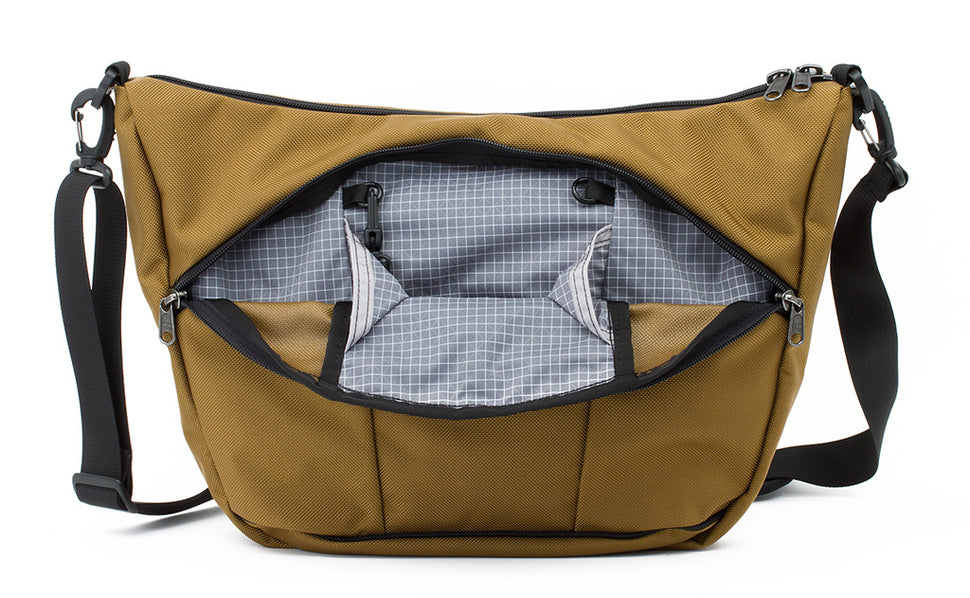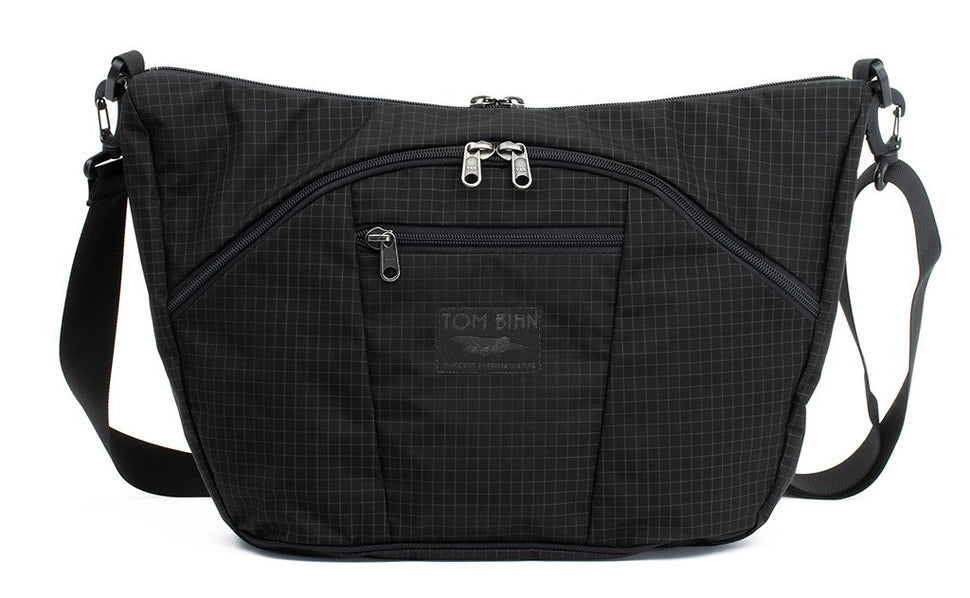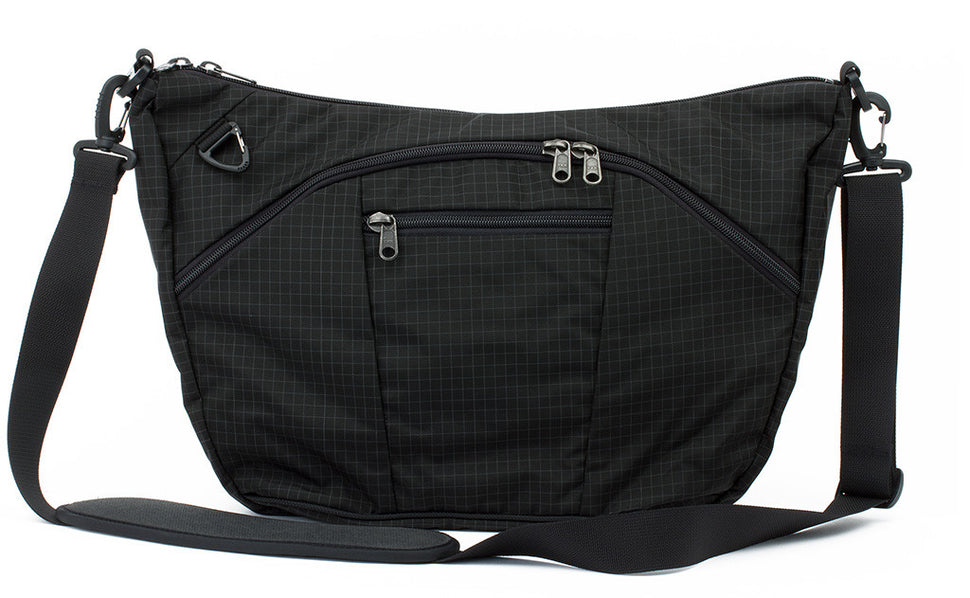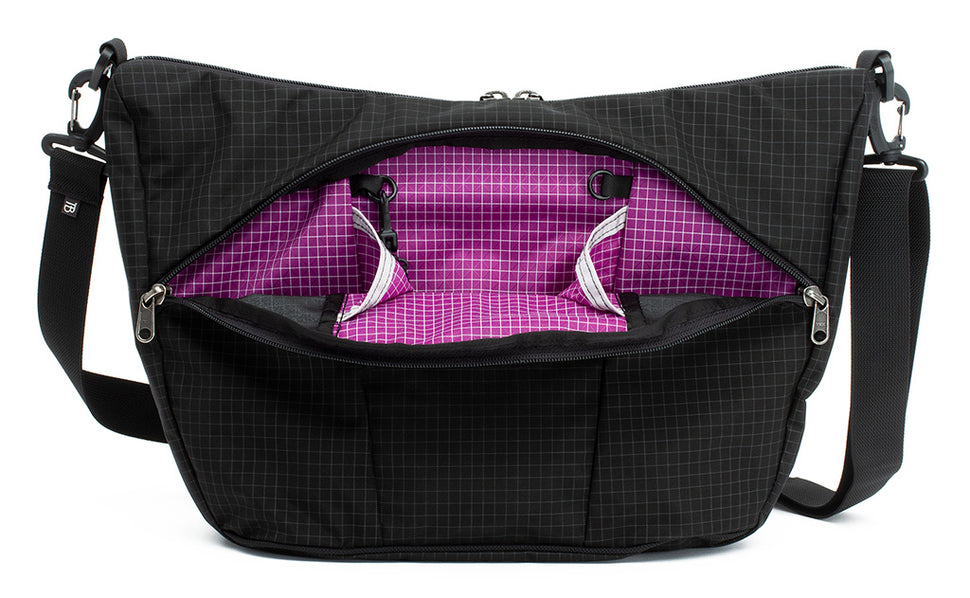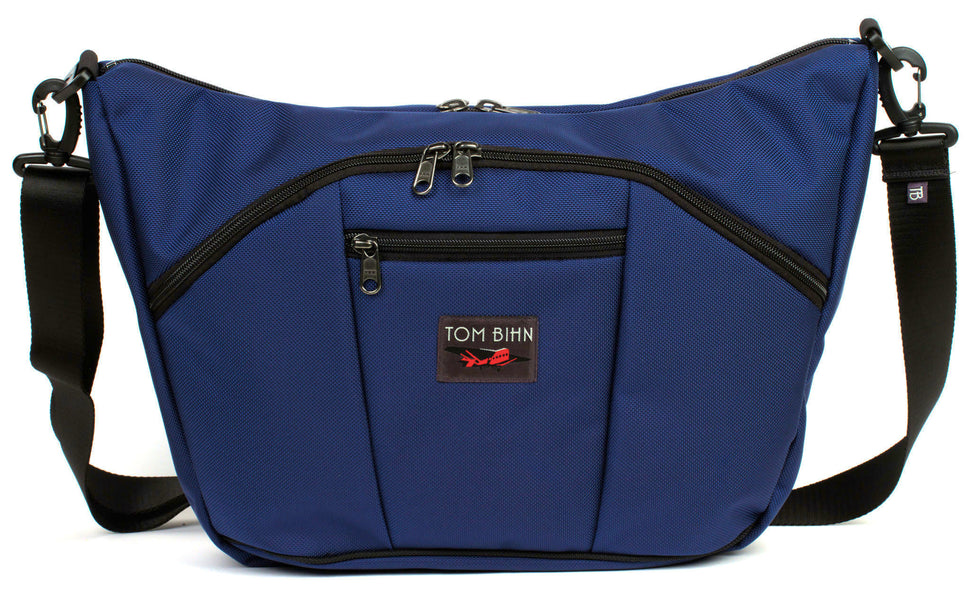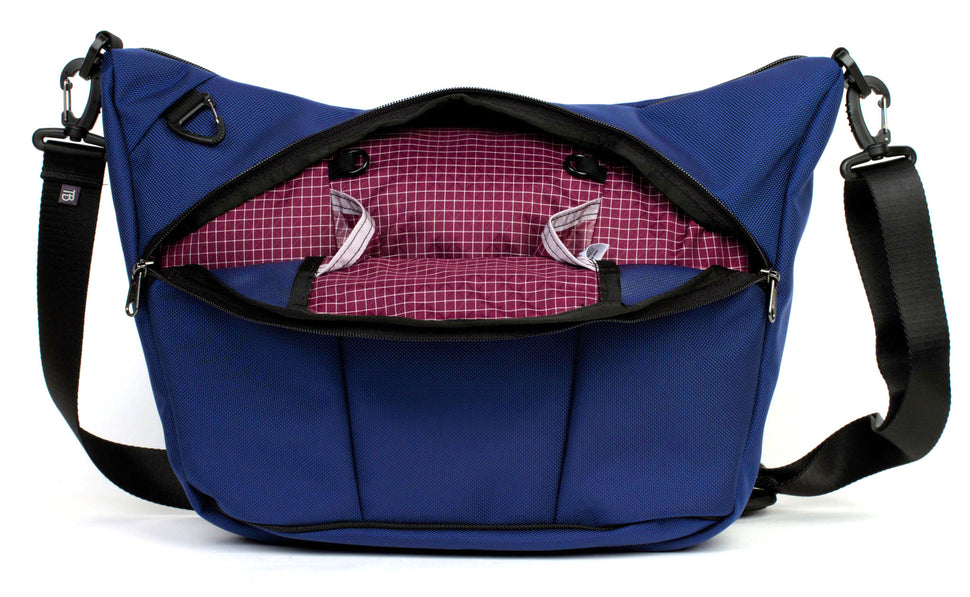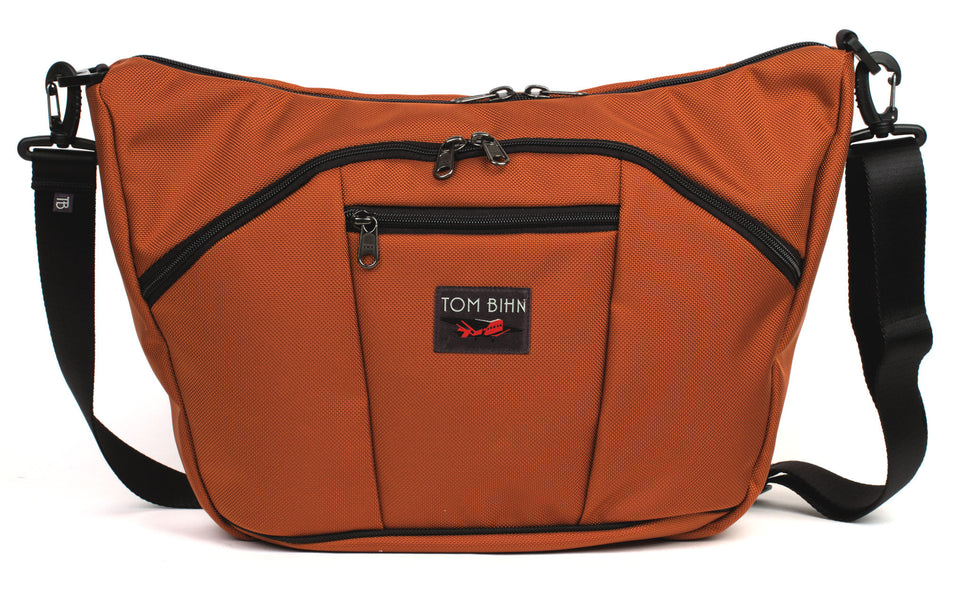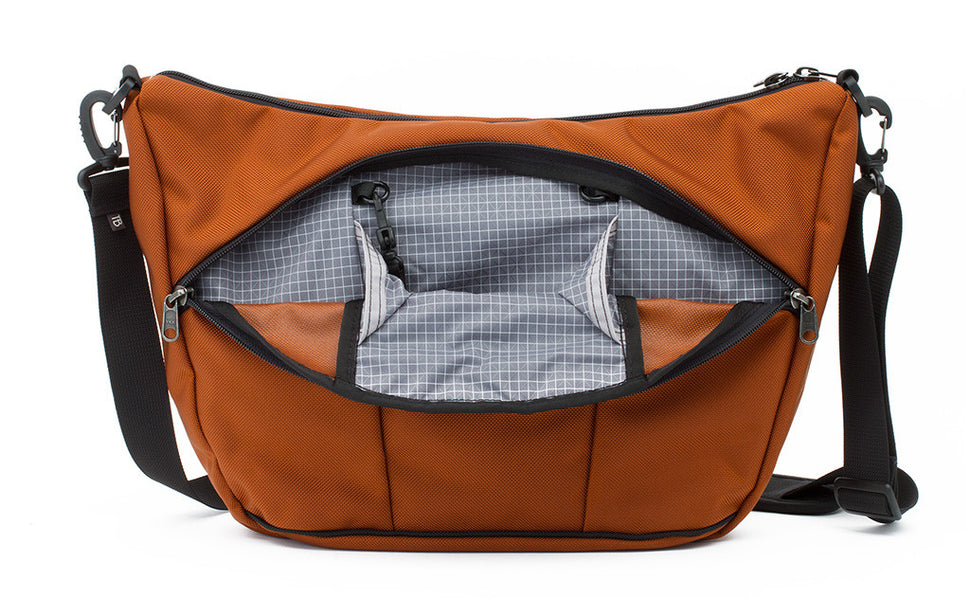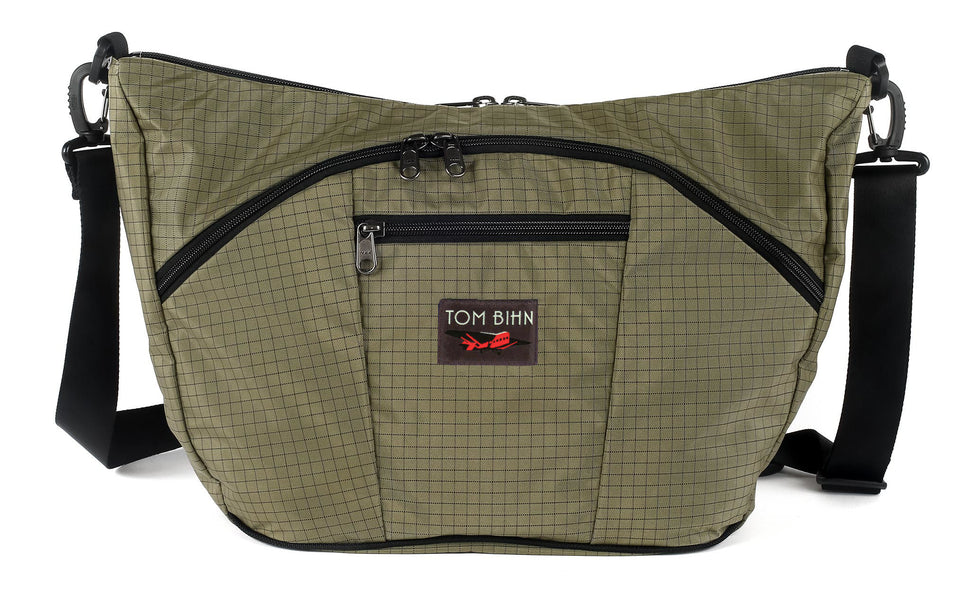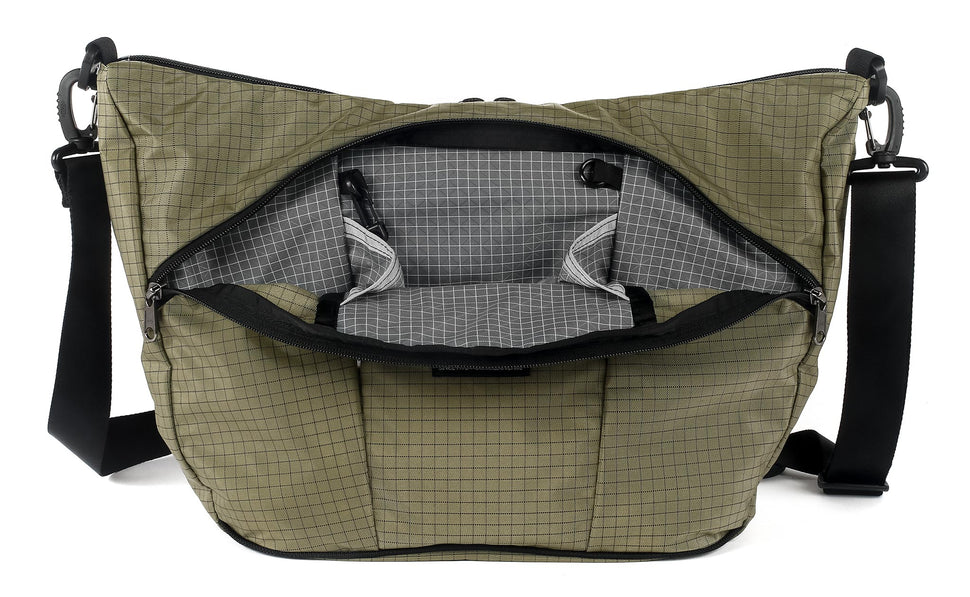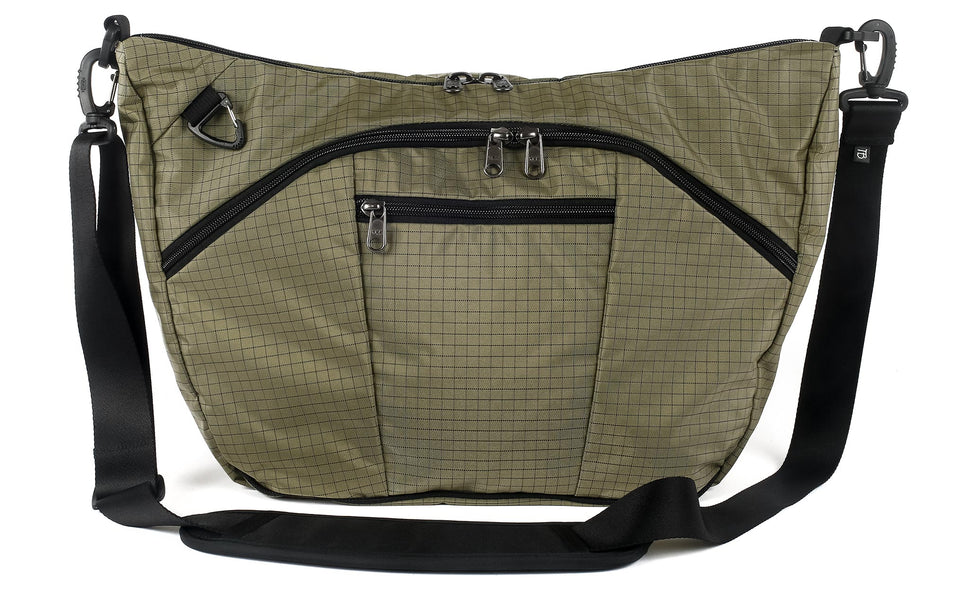 Description
Our design mission was this: a brilliantly useful diaper bag that could be used even beyond the diaper stage.
The Parental Unit is the result of Tom's resolve to build a "diaper bag" that does more than just assist parents with changing diapers: it'll help organize and mobilize any parent or parents that participate in the modern world with their young kids. Unless you're just letting them go feral out on the back 40, you're likely to appreciate how the P.U. can make trips to the store, to the in-laws, daycare and even the museum less stressful and perhaps just as much fun as they should be. Plus you won't look like a dork with some huge encumbrance slung over your shoulder, whacking nice people in the face as you navigate the narrow aisles of public transit or cozy restaurants. We particularly eschewed goofy printed fabrics: if you want a bag that screams "I'm a parent!", you'll have to look elsewhere. The Parental Unit was designed to be as svelte as possible, and equally stylish for all genders: long after the kids are out of diapers and on their way to college, the P.U. might still be your favorite go-to bag for everyday carry.
The P.U. is a shoulder bag, intended to be carried over one shoulder or with the strap cross-body, like a bike messenger bag. It comes with the Standard Shoulder Strap, but you can upgrade to the Absolute Shoulder Strap.
In terms of organization, the Parental Unit has it in spades. It is symmetrical front-to-back: both faces have gently curved zippers that open to generous, but not excessive, organizer compartments. Both of these are further divided into three vertical sub-compartments; the dividers themselves are more generous at their tops so that the wearer can easily see down into the sub-compartments. The center of the three is sized to fit most diapers, wipe dispensers (travel or home size both fit) and/or a changing pad; the spaces on either side are good for baby bottles, water bottles, or snacks. Most parents tend to divide the utilization of the bag by putting food and drink on one face and diaper changing accoutrements on the other. Both front and back have smallish zippered pockets that are nonetheless more than adequate for big phones or even phablets, a wallet, keys, etc.
And while we're on the topic of organization: inside The Parental Unit are 10 O-rings — small, round, plastic rings to which you can secure Key Straps, Organizer Pouches, and other accessories for custom organization. We've included one 8" Key Strap in Black.
The center compartment opens with a top zipper with two zipper sliders. We assume you'll leave that unzipped most of the time for fast access to a toy or a spit-up cloth, but you can zip it shut in bad weather or if you need to stow it during travel. Two billowy open-top pouches are sewn front and back inside this main compartment—you can choose to leave them empty and just take advantage of the large space, or you can use them to further organize changes of clothes and more diapers, or stash food, wipes, rags, etc. The outer surfaces of these pouches have zippers that allow you to join them together, dividing that one big space into four smaller separate ones (we know that's hard to picture—see the images above). You might find that our Travel Stuff Sacks keep changes of clothes better organized, but of course zip-lock type bags are fine too.
Two simple 1" / 25mm webbing handles can be found inside the zipper of the main compartment. These two handles give you an easy way to grab and move or carry the Parental Unit while its main compartment is zipped open. This is mostly to use while loading the Parental Unit: say, moving it from the kitchen to the nursery, for example. Because the handles are sewn inside, they politely disappear when you zip the bag shut.
Outside, near the top on the back, is a 1" / 25mm flat triangular snaphook: if you require fast access to your keys you'll appreciate this, but Junior would probably prefer you put a small teddy bear or binky there instead.
We make the Parental Unit in three shell fabrics: 1050d ballistic, 400d Halcyon, and our lighter weight ballistic nylon; and two lining fabrics: 200d Halcyon, and 210d Cerylon. All exterior zippers are #8 YKK Racquet Coil, and there is one #5 YKK Vislon Molded Tooth zipper on the inside.
Choosing an Exterior Fabric
You like choices and we like to give you choices! That's why the Parental Unit is typically available* in three different exterior fabrics. Our Materials Glossary explains each fabric in great detail, but here are some quick facts that may help you decide which to choose. And we're always here if you have questions: emailus@tombihn.com
1050d High Tenacity Ballistic Nylon
Weave:

2x2 "ballistic" weave

Fibers:

1050 denier type 6,6 (high tenacity) filament nylon

Coating:

medium urethane

Made in:

U.S.A.
Choose this fabric if
You want a super-tough fabric – originally designed for use in bullet-proof vests.
The weight of your bag isn't a huge concern (though it's worth noting that 1050d Ballistic is still lighter than cotton canvas or leather).
You want a smooth surface that won't collect pet hair or sweater fuzz, slides easily into and out of the overhead bin, and fits in whether you're traveling for work or leisure.
High Tenacity Ballistic Nylon
Weave:

2x2 "ballistic" weave

Fibers:

Type 6,6 (high tenacity) filament nylon, twisted

Coating:

heavy urethane

Made in:

South Korea with Canadian Yarn
Choose this fabric if
You want your bag to be soft and supple yet tough as nails.
You want a fabric that's stately enough to be at home at work, the mountains, or a nice hotel.
You don't want your bag to collect pet hair or abrade your clothing.
400d Halcyon
Weave:

plain weave with 1/4" / 6mm ripstop

Fibers:

400 denier type 6 filament nylon (base fabric); 420 denier ultra-high-molecular-weight polyethylene ripstop grid

Coating:

light urethane

Made in:

Japan
Choose this fabric if
You want a lighter weight alternative to traditional nylon fabrics that has remarkable tear strength and good abrasion resistance.
You're looking for a fabric with a modern, "technical" appearance.
You have pets: 400d Halcyon doesn't collect pet hair, reducing your monthly lint roller costs.
*There may be times when one of the exterior fabrics mentioned here isn't available. Even with our best efforts, the demand for our bags occasionally outpaces our production capabilities: at times, some products, color combinations, or fabrics might be temporarily unavailable or "In Production." See the In Production color combinations as a guide to what our factory crew is making and what will be available next.
100%
would recommend this product
Hope this comes back into production cycle

This bag has now become my every day carry. All the pockets help you organize the things you use a lot into easily accessible sections, and relegate rarely-used-but-needed items out of the way. Since I have items categorized and sorted away into the pockets, it leaves the main compartment clear and empty, ready to have things stuffed into it for toting. I use an Absolute Strap with it—since for me it has a "front" and a "back"—and it is comfortable even when I load the bag up (I do wish I could shorten the strap up a little bit more since the shape of corners of the bag adds some length). I especially like the outside clip on the back of the bag—the perfect place to clip your keys so you don't lose them at the bottom of the bag. My bag is Taiga halcyon with the dark crossthreads, which I find is a great neutral. I have gotten lots of compliments on this bag when I'm out and about!

Verified Buyer

Product Standouts

Thoughtful Design,

High Quality Craftsmanship,

Made in USA,

Versatile,

Durable

1 year ago

Product Standouts

Thoughtful Design,

High Quality Craftsmanship,

Made in USA,

Versatile,

Durable

Parental Unit Rocks (from a non-parent)

The Parental Unit is fantastic. I have the black halcyon exterior with ultraviolet interior, and the pop of color is so much fun. As with all Tom Bihn bags, it is well made and thoughtfully designed. I am not a parent, but this bag works for so many uses and can fit so much stuff, I would recommend it to anyone. I especially appreciate the multi-pocketed organization. It is even more comfortable to carry with the absolute strap, which is worth the upgrade. Thanks to TB for another great bag!

Verified Buyer

Product Standouts

Comfortable,

High Quality Craftsmanship,

Good Storage Size

1 year ago

Product Standouts

Comfortable,

High Quality Craftsmanship,

Good Storage Size

Worth the wait?

I had to wait over a year after my son's birth for the Parental Unit because Tom Bihn had stopped making it. (They didn't straight up say that either and I had an unpleasant email with customer service where they were quite rude when I expressed my disappointment in their borderline deceptive communications about it.) The bag is very nice and consistent with the quality I expect from Tom Bihn. Lots of small compartments to fit tiny baby things. It seems kind of small but actually fits a lot. The only thing I might change is to include a full-length pocket in the larger compartment -- there isn't a great place to put my changing pad where it doesn't fall over all the time when I remove other things.

Verified Buyer

Product Standouts

Thoughtful Design,

Comfortable,

High Quality Craftsmanship,

Versatile,

Sewn in USA

11 months ago

Product Standouts

Thoughtful Design,

Comfortable,

High Quality Craftsmanship,

Versatile,

Sewn in USA

Perfect Personal Item!

The Parental Unit is an awesome bag for travel and everyday. It works really well as a personal item on a plane. Holds my 13" MacBook Pro, as well as all other items you may need on a flight. Well don Tom Bihn!

Verified Buyer

Product Standouts

Thoughtful Design,

Versatile,

Durable

4 weeks ago

Product Standouts

Thoughtful Design,

Versatile,

Durable

Diaper bag does it all!

Bag works great for us! Love the organization options available. We were not big into compartmentalization before this but the organization has helped a lot with finding things in a pinch. We have the 1050 material and it is stiff enough to allow the bag to stand on its own.
Reviews Loaded
Reviews Added
Sewn in Seattle
Our bags are designed and sewn right here in Seattle, Washington, U.S.A.
That allows us to be control freaks in the best way possible; we have direct control and oversight of the quality of our materials, our products, and the jobs and working environment that we help create. It also offers us a unique spontaneity: when we have an idea for a new product or accessory, we can design it, figure out how to build it, add it to our website and be ready to ship it out our front door all within just a few weeks. How cool is that?

Intrigued? You can find out more about the unusual way we do business on our Company Philosophy page.
THE BIHN Guarantee
Everything you buy from us here at TOM BIHN is satisfaction guaranteed. We've been in business since 1972 and we stand behind what we make.
If something goes wrong and it's our fault, we'll fix it for free. Repairs due to normal wear and tear or due to other things that are not our fault will be performed, when possible, at a reasonable charge right here in our Seattle factory where your bag was made. Defects in materials or workmanship are uncommon and almost always evident while the product is still new. Keep in mind that bags and packs are often subject to extreme wear in everyday use: do not expect them to last forever. Only true love lasts forever! You can expect a TOM BIHN product to give years and years of hard service.