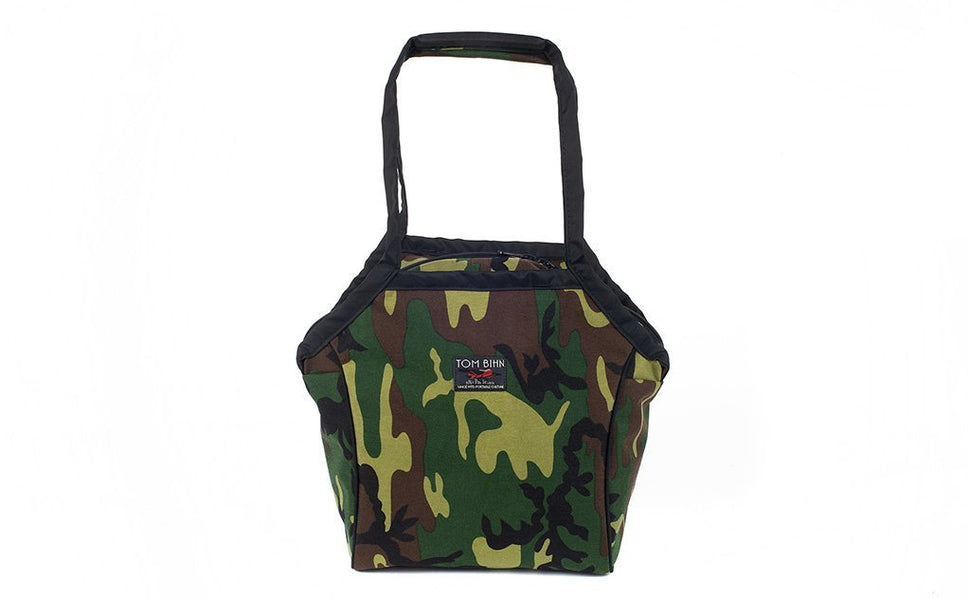 TLDR
Similar to the Original Small Shop Bag, the zip-top version is differentiated by a (you guessed it) zipper at the top. Other than that, the design is similar — super light, super durable, super comfortable while keeping your stuff securely zipped at the top. Perfect for storing bottles of drinks of your choice, cartons of milk, canned food, and other heavy stuff.
Large zip-top main compartment with 2 smaller pockets inside
Piping on the seams to maintain the bag's structure
Handles with PORON® foam padding for extra comfort
You can also check out our Large Zip-Top Shop Bag.
Full Description
Large Zip-Top Main Compartment
The main compartment of the Original Small Zip-Top Shop Bag can fit a lot! It's perfect for your farmer's market haul, to-go lunch, books, or folded up clothing.
The inside of the Original Small Zip-Top Shop Bag has two deep, open-top pockets you can use for items like wine or water bottles. There are also 2 O-rings in the interior of the bag. On one of the O-rings is a Key Strap and the other is unoccupied so that you can clip on a pouch, if you want.
Piping on the Seams
We've piped the seams with the same stiff plastic material used on hat brims. This piping gives the Zip-Top Shop Bag enough structure to stand up while you're filling it.
PORON® Foam-Padded Handles
In addition to its good looks and organization, you'll notice that the Original Small Zip-Top Shop Bag's PORON®-padded handles make it comfortable to carry, even when it's quite heavy. Designed to be an ideal length that will allow most people to carry the bag in their hand or wear it over their shoulder, these handles successfully prevent that awful hand-slicing or shoulder-tugging experience of lugging traditional non-padded fabric handles. The PORON® will never break down or wear thin, no matter how many trips you make to the store.
What's Included
8" Snaphook/Snaphook Key Strap
As with most of our bags, we've included a key strap. 8" long from tip-to-tip, a snaphook on either end. Good for attaching your keys to.
What's Optional
The Original Small Zip-Top Shop Bag is the perfect bag for adding your own modular organization or clipping accessories into the O-rings, if you want. We recommend taking a look at our collection of organizational bags.
100%
would recommend this product
Verified Buyer

Product Standouts

Thoughtful Design,

Comfortable,

High Quality Craftsmanship,

Versatile,

Made in USA

1 year ago

Product Standouts

Thoughtful Design,

Comfortable,

High Quality Craftsmanship,

Versatile,

Made in USA

The Joy of Using This Tote Bag is Unmatched

The Zip-Top Shop Bag is utilitarian genius. Like you, I've tried a dozen shop totes that either cost me a couple bucks or were handed out free at some event/magazine subscription, and while I advocate using a "bring your own bag" for shopping of any kind, the bag itself has to be good to be usable. And most tote bags are complete garbage. The Zip-Top Shop Bag is not -- In fact, it is the best tote bag ever made.

The biggest issue most generic tote bags face is the handle. This critical feature of the bag is often the most overlooked design. Oftentimes you're loading things into this bag, and then commuting with it a short distance back to your car, or a longer distance on a bus or bike, and it's imperative that the handle should be comfortable at all times. It shouldn't dig into your palms, and it shouldn't feel flimsy. It should work like a dream. And the Tom Bihn Zip-Top Shop Bag works like a dream.

I can't advocate enough for using this bag. Buy one. Buy two. Buy three! They will last. And those handles will become your favorite thing about them.

Verified Buyer

Product Standouts

High Quality Craftsmanship

11 months ago

Product Standouts

High Quality Craftsmanship

True Love!

This is my second small zip tote and I use both all the time. The quality is top notch and I get compliments on this bag all the time. I have traveled all over the world with my bags. They hold everything, fit under an airline seat, and last forever. This really is the perfect bag for all occasions.

Geoff

I have two large zip top shopping totes which are tremendous for daily shopping and for travel. This is my first small zip top shopping tote, and it's great. Extremely light, stands up when empty, handles just long enough to throw over your shoulder and it stays in place there against your arm, and nothing in the bag world beats the poron handles. Great size for daily needs and quick grocery shopping - couple quarts of milk or juice or wine, plus baseball cap and windbreaker, plus iPad and phone and various doo-dads, plus notebooks, and more. Zip top is a tremendous improvement over the original that had no zip. Does not swing wildly in the breeze as I found the large version to do. Get some zip-pulls, they make the bag even more convenient. If you don't pack anything heavy in it (e.g. liquids) you won't even know you're carrying it. Great fabric too, tough and not too crinkly. Between the large and small zip totes, I haven't used a plastic shopping bag in years, and these seem like they will last pretty much forever.

Verified Buyer

Product Standouts

Comfortable,

Versatile,

High Quality Craftsmanship,

Durable

1 year ago

Product Standouts

Comfortable,

Versatile,

High Quality Craftsmanship,

Durable

Beyond a shop bag!

The Small Zip Top Shop Bag turned out to be a fantastic travel bag for me. I ended up changing my packing configuration at the last minute and decided to carry my small café bag and I wanted a tote bag that I could take on the plane. I grabbed the Small Zip Top Shop Bag - what a fantastic bag for a small carry on bag on the plane. It slid upright under the seat in front of me - no need to lay it flat- it held water bottles in the inside pockets, my iPad in a padded sleeve along the longer end, and various other things I needed at hand on the flight. I had a three hour layover in Atlanta and according to my Fitbit I walked 2 miles . The Small Zip Top Shop Bag was packed full but carrying it in my hand did not bother me, and once in a while I slung it over my shoulder when I wanted both hands free. At my destination, it then became a shop bag, able to carry a good amount of purchased items.

Verified Buyer

Product Standouts

Thoughtful Design,

Comfortable,

High Quality Finishings,

Good Storage Size,

Versatile

1 year ago

Product Standouts

Thoughtful Design,

Comfortable,

High Quality Finishings,

Good Storage Size,

Versatile

Love this!

I have been using this as an EDC for work, since the LCB turned out to be slightly too small for all my work stuff, and it's working out great. Initially I wasn't excited about using a tote, as I thought it would put too much pressure on my shoulder due to the weight. These straps are great, though. They don't dig into my shoulder and they stay put so I don't have to constantly keep pulling them up. The two pockets on either side work great for my water bottle and/or coffee thermos. I have used this as an actual tote for a farmers market, also, and it fit more than I thought it would. I always seem to go to the farmers market thinking I'm going to get way less than I end up walking out with and this bag had me covered. I do wish it had more O-rings, but since this isn't meant to be an EDC, I can understand having fewer. At the moment, I am biding my time until my Synapse 19 arrives and I can dedicate this shop bag to actual shop bag duties. Oh, can't' forget about the zip-top - great quality and I prefer a zip-top over just letting it all hang out.
Reviews Loaded
Reviews Added
Sewn in Seattle
Our bags are designed and sewn right here in Seattle, Washington, U.S.A.
That allows us to be control freaks in the best way possible; we have direct control and oversight of the quality of our materials, our products, and the jobs and working environment that we help create. It also offers us a unique spontaneity: when we have an idea for a new product or accessory, we can design it, figure out how to build it, add it to our website and be ready to ship it out our front door all within just a few weeks. How cool is that?

Intrigued? You can find out more about the unusual way we do business on our Company Philosophy page.
THE BIHN Guarantee
Everything you buy from us here at TOM BIHN is satisfaction guaranteed. We've been in business since 1972 and we stand behind what we make.
If something goes wrong and it's our fault, we'll fix it for free. Repairs due to normal wear and tear or due to other things that are not our fault will be performed, when possible, at a reasonable charge right here in our Seattle factory where your bag was made. Defects in materials or workmanship are uncommon and almost always evident while the product is still new. Keep in mind that bags and packs are often subject to extreme wear in everyday use: do not expect them to last forever. Only true love lasts forever! You can expect a TOM BIHN product to give years and years of hard service.