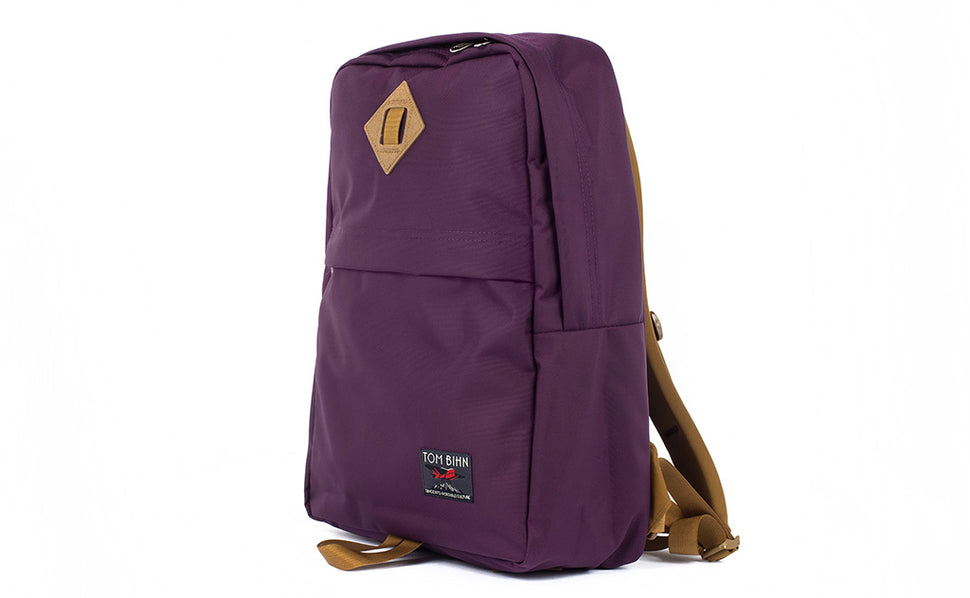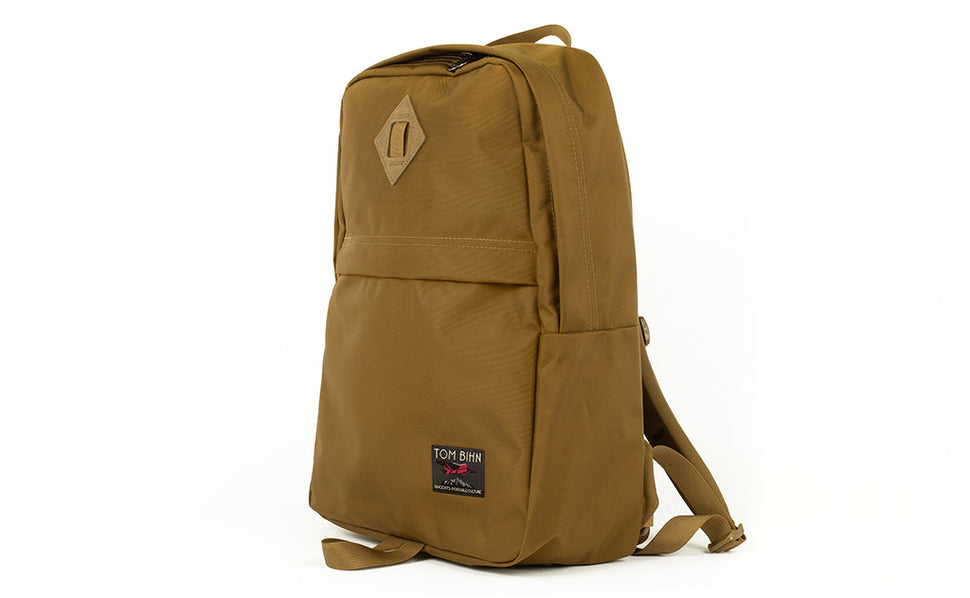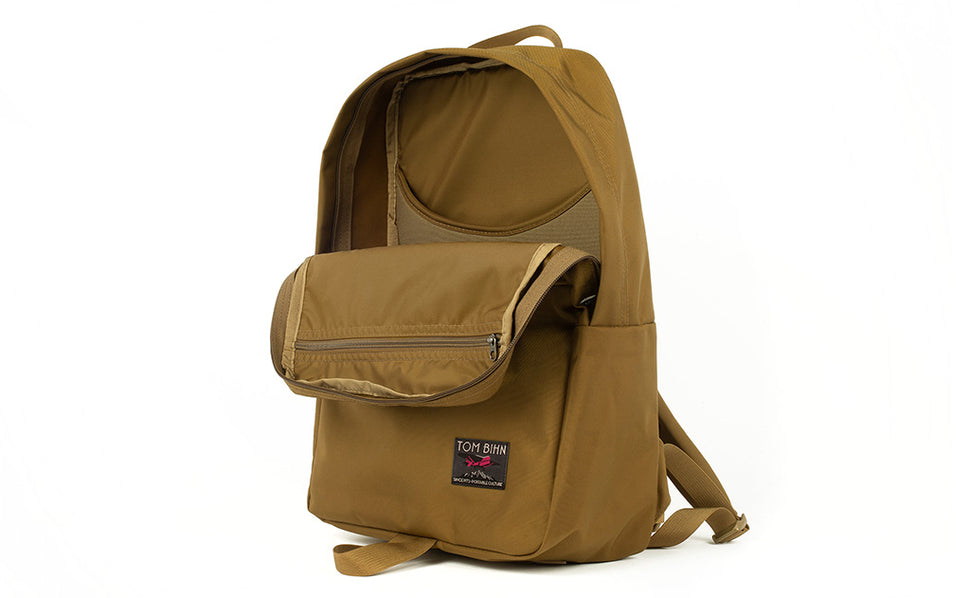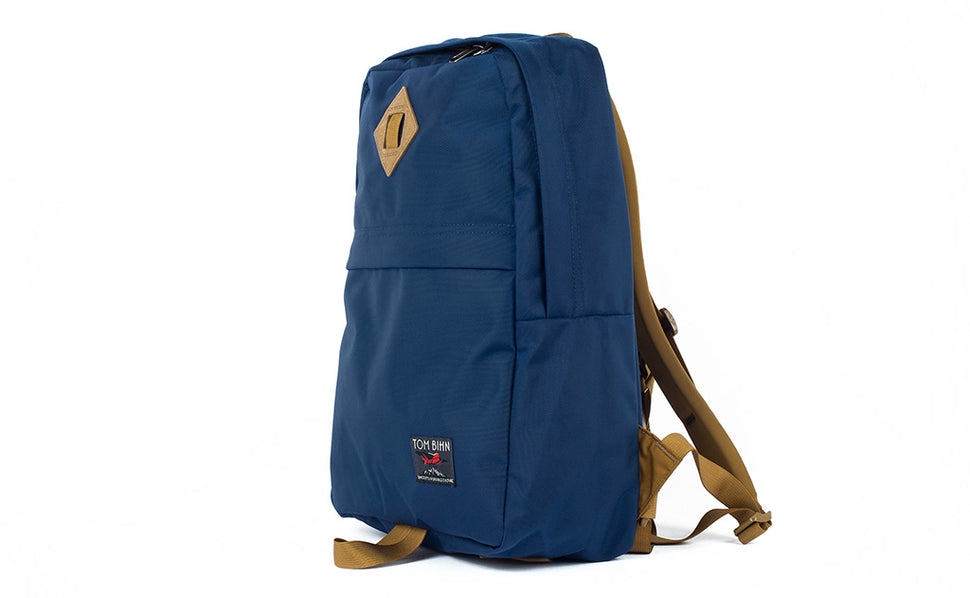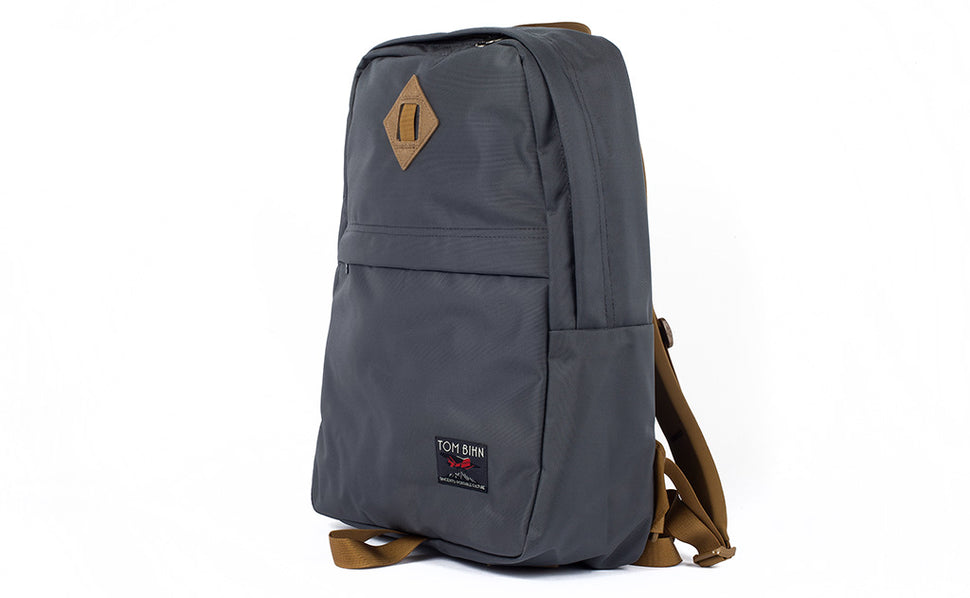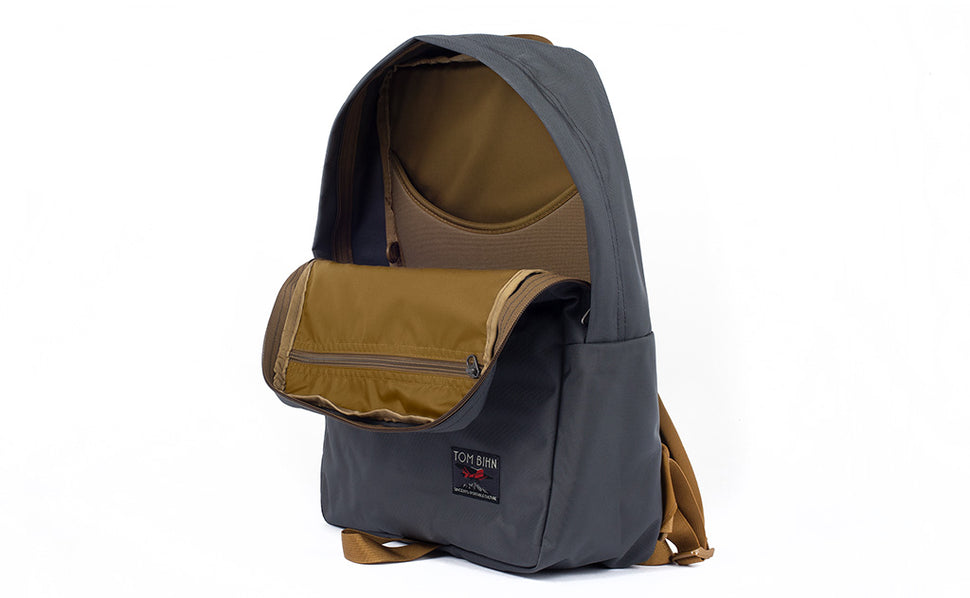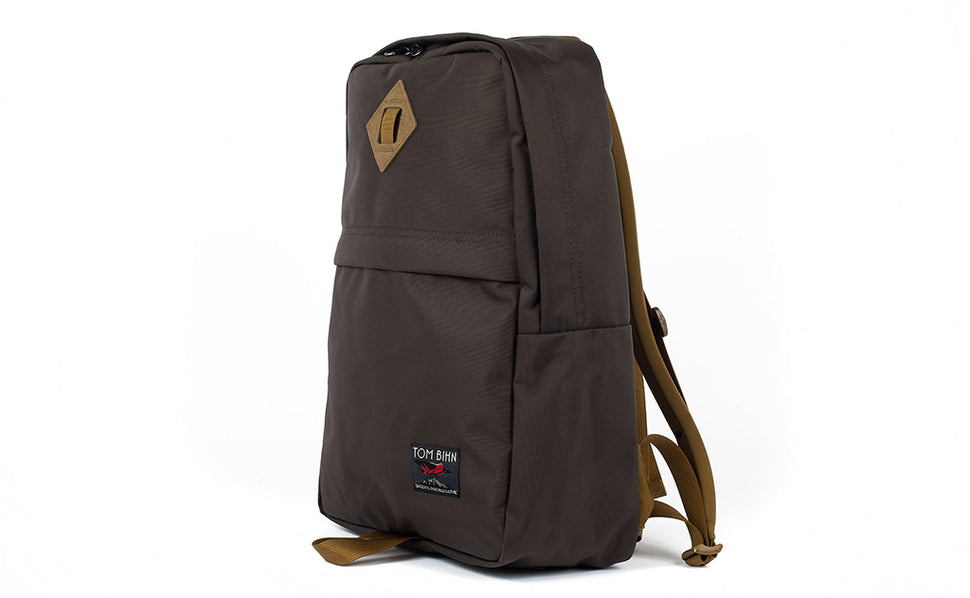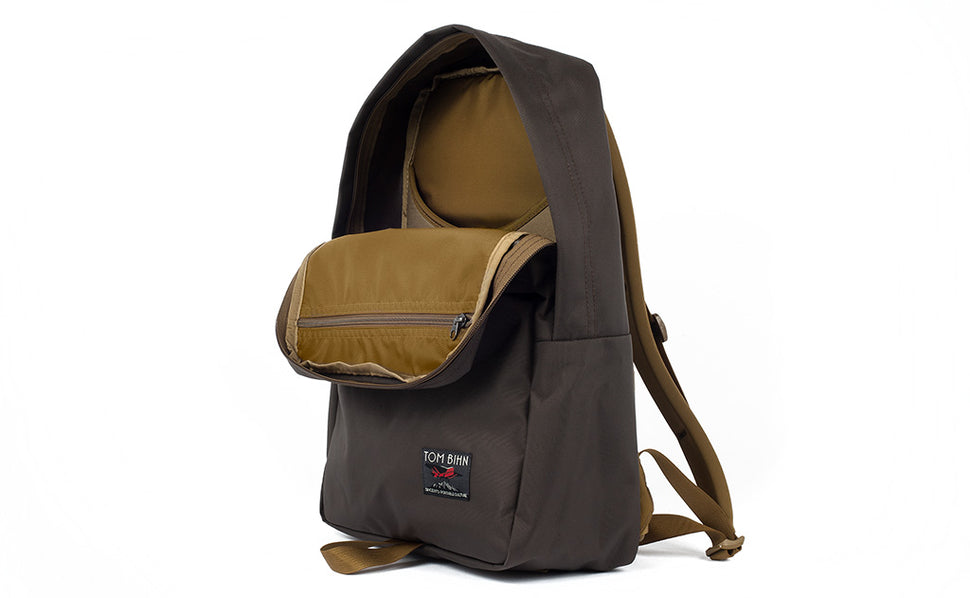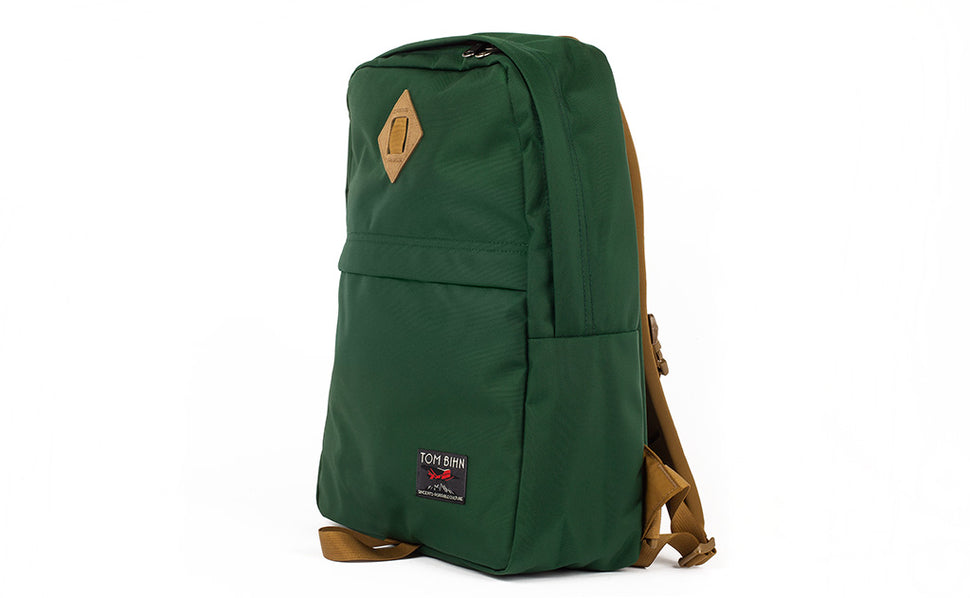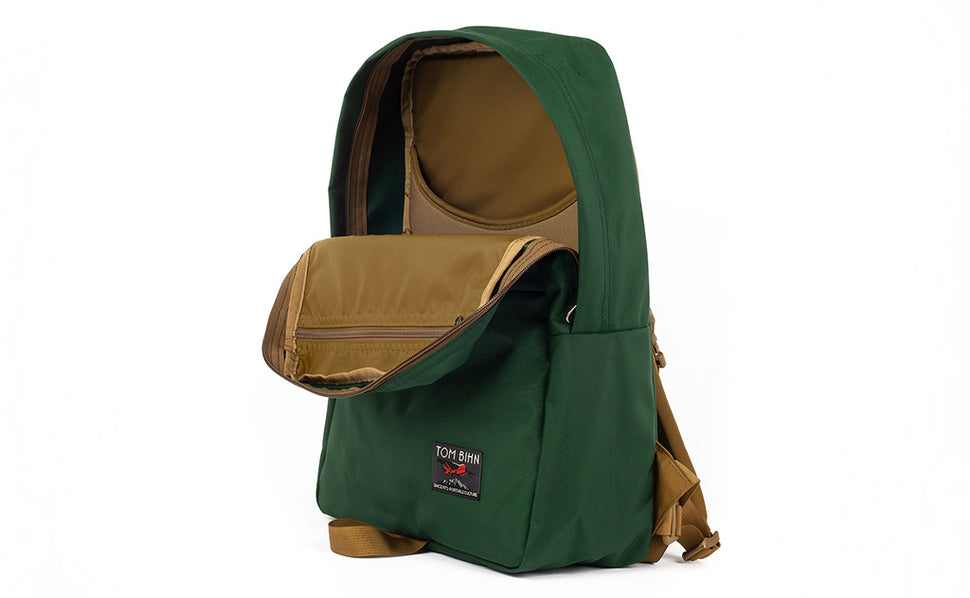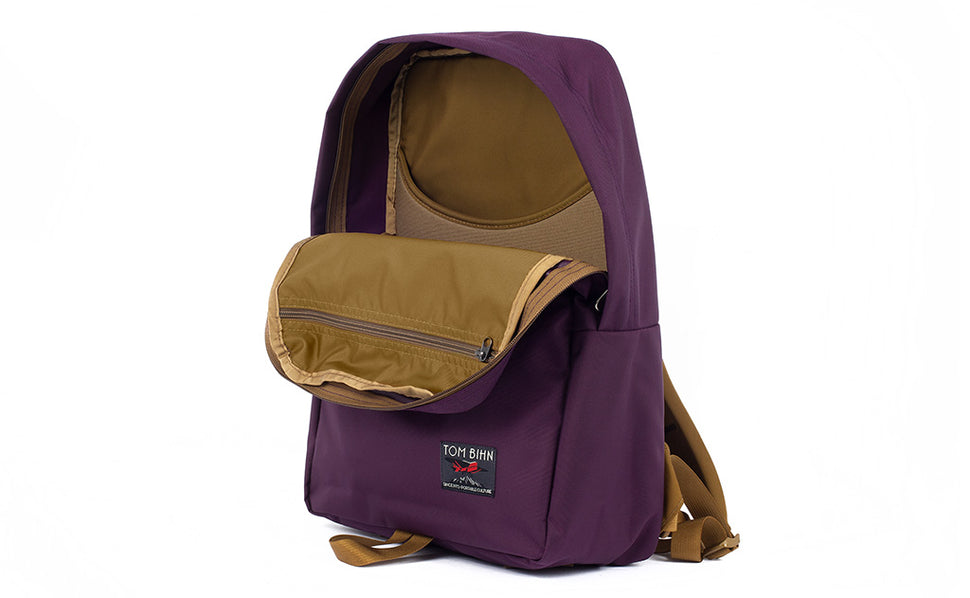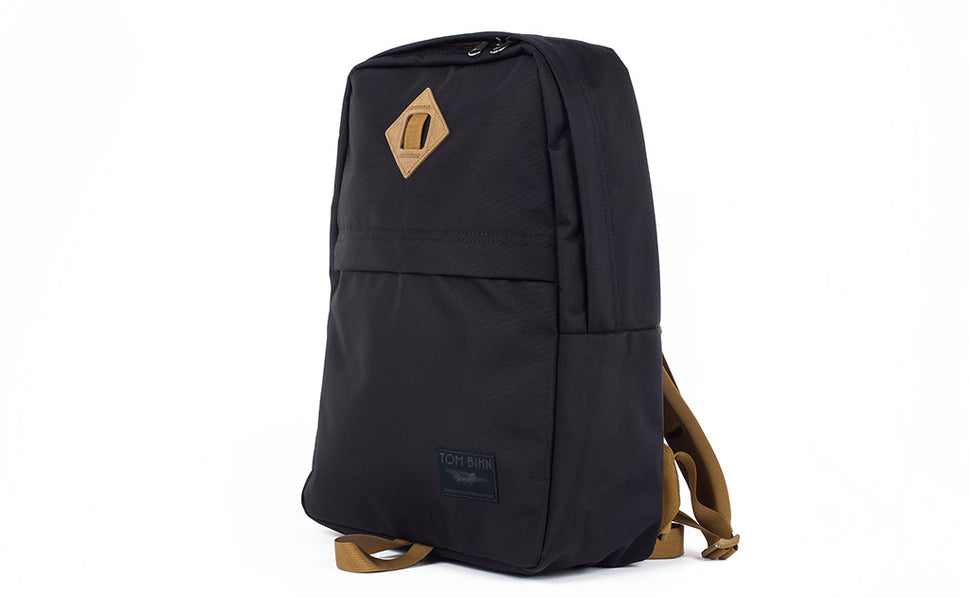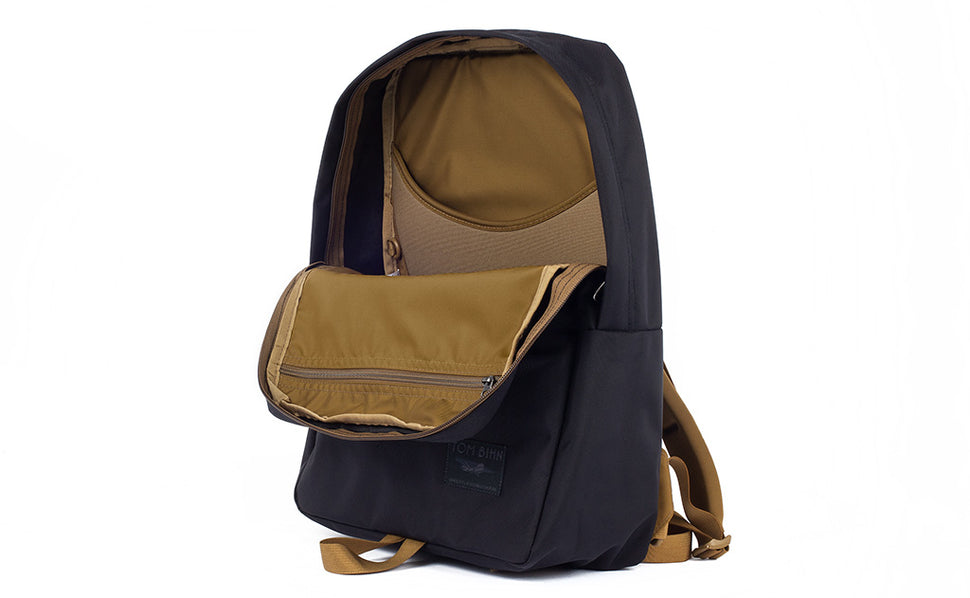 Description
We're offering two versions of the Paragon. You're on the Guide's Edition Paragon page; click here to head over to the Design Lab Paragon.
The Paragon is an updated version of a pack design I made myself back in the 70's. Named the Simplex (one main compartment, like the Paragon) or Duplex (two main compartments) these basic packs are likely the ones etched into our consciousness when we think of the word "daypack". Classic rectilinear shape with radius corners; diagonal zippered front pocket (more on that below); flapped zippers; and, well, not a whole lot else going on, which is what some folks love about this design.
Above: one of the Duplex backpacks made by Tom in the 1970's.
I can't help but make some updates to even my own classic designs — after all, I originally made the Simplex and Duplex something like 45 years ago. Here's what I updated for the design of the Paragon:
Diagonal Zipper Pocket >> Horizontal Zipper Pocket
Yes, I know, the diagonal zippered pocket is part of the classic look and many of my packs from the 70's, 80's, and 90's featured that. Let's face the facts: it's 2021 and we're carrying various electronic devices. I found that sliding my tablet into the diagonal zippered opening didn't really work. It's just easier to get all kinds of stuff in and out of a horizontal zipper front pocket — and, after all, isn't that what a pocket is for?
Padded Back Panel
Padded back panels were not the norm back then, but we've all come to expect them now – partly because we now tend to carry laptops or tablets. Which of course leads to.....
Laptop/Device Compartment
If you'd like some padding for your tablet or you carry a laptop, you can stow one or the other in the minimalist built-in laptop compartment of the Paragon. It's a straight-forward pouch of the same foam laminate that we use to make our Caches, and is accessed inside the main compartment. Fits the 16" MacBook Pro and Dell XPS 17" and, of course, any devices smaller than those two. (And to be able to fit those bigger laptops, I did have to make the Paragon more square and less oval than the original Simplex and Duplex packs.) Now don't get all mad if you don't carry a laptop: that compartment also provides additional padding for your back.
Edgeless Shoulder Straps
Conformity is overrated — except, perhaps, when it comes to shoulder straps. The edgelessness of this strap allows it to more softly conform to your shoulder; we find that this increases comfort. Yet the straps aren't too soft: the 1/2" thick EVAZOTE® OEKO-TEX® certified foam means the strap is robust enough to carry a heavy load.
Here's what's different in the Guide's Edition Paragon:
The Guide's Edition Paragon is trimmed and lined in Coyote brown; brown blends in more readily with natural surroundings and doesn't show dirt as much. When it does get a bit dusty or dirty, it looks like it's supposed to.
One diamond accessory strap holder on the top front and a corresponding ice-axe loop below, allowing you to carry an ice axe for high-country, early-season mountaineering or a tripod for urban photography. If you go that route, or think you're gonna secure something else similar to the front make sure to pick up an optional Ice Axe Lash Strap.
Two diamond accessory strap holders on the bottom of the bag. If you opt for the optional Lash Straps (sold in pairs), you can secure foldable hiking poles, an ultralight folding chair, icy gaiters or a wet raincoat to the bottom of the pack.
And that's not all: the Paragon has one interior zippered pocket and includes a simple (and removable) sternum strap and waist belt.
I unearthed this pack design around the beginning of the pandemic — we had talked about debuting a new design that would be something fun we could share with all of you sooner rather than later. (That sooner months and months later turned into this later: we became surprisingly busy at the factory sewing masks and ended up not having the time to debut the Paragon.)
I wanted it to be something that'd be pretty easy to cut and sew — in early 2020, things were changing quickly, and one of our crazy brainstormed ideas was that Darcy would learn to cut fabric, Nik would sew bags at the factory, and I would sew bags at home in my garage workshop. We're nowhere near as skilled as the production crew, so, yeah: simple would be better. Bonus points if it wouldn't take me all that long to design. Pulling a design from the archives — one I'd patterned, cut, and sewed when I was something like 14 — made sense. (There's a couple of other simple designs from the 70's/80's/90's that we'll be reissuing this year: stay tuned…) Of course, we've abandoned this quixotic idea of the three of us pretending to be a factory, but out of that pipe dream we did get the Paragon. :)
Folks who love our Daylight Backpack but wanted some laptop protection, a padded back, and replete-with-comfort shoulder straps will appreciate this pack. Folks who like the organization of a pack like the Synik or the mega-capacity of a pack like the Brain Bag may want to stick with those. Those who like simplicity, classic design — they'll find much to appreciate here (precisely because there's less.) Those who want to see innovation — well, this is a pack about where we came from, not where we're headed.
— Tom
100%
would recommend this product
Verified Buyer

Product Standouts

Thoughtful Design,

High Quality Craftsmanship,

Made in USA,

Good Storage Size,

Durable

8 months ago

Product Standouts

Thoughtful Design,

High Quality Craftsmanship,

Made in USA,

Good Storage Size,

Durable

Amazing pick to just pick up and go !

Such a great pack for those weekend hikes or short getaways ! Using a few key straps and a pouch (like the Handy Little Thing) it becomes a true companion for carrying gear, water for the dogs, extra layers (adding or removing) and often something for the trail after hitting those old school mom & pop coffee shop gems you find along your adventures !

Verified Buyer

Product Standouts

Comfortable,

High Quality Craftsmanship,

Made in USA,

Thoughtful Design

8 months ago

Product Standouts

Comfortable,

High Quality Craftsmanship,

Made in USA,

Thoughtful Design

Tim Bihn killed it

If your looking for a simple top quality back pack, this one is sweet.

Verified Buyer

Product Standouts

Easily Adjustable,

Made in USA,

Comfortable,

Thoughtful Design,

Versatile

7 months ago

Product Standouts

Easily Adjustable,

Made in USA,

Comfortable,

Thoughtful Design,

Versatile

1st time customer

I really like my new pack so far. I do miss a place for a water bottle on the side. However it is really streamlined and not cumbersome at all. The material appears strong and resilient.

Verified Buyer

Product Standouts

Comfortable,

High Quality Craftsmanship,

Great Gift

8 months ago

Product Standouts

Comfortable,

High Quality Craftsmanship,

Great Gift

Review -- Guide's Edition Paragon

This is a great backpack for short trips and hikes. It is just roomy enough to carry what you need for a day and very comfortable to wear. The diamond accessory straps on the bottom of the bag are quite handy to carry an extra jacket or sweater. I recommend getting the 1 inch padded hip belt as an accessory. Even though it is not made for this backpack, it works well (at least for me).
Reviews Loaded
Reviews Added
Sewn in Seattle
Our bags are designed and sewn right here in Seattle, Washington, U.S.A.
That allows us to be control freaks in the best way possible; we have direct control and oversight of the quality of our materials, our products, and the jobs and working environment that we help create. It also offers us a unique spontaneity: when we have an idea for a new product or accessory, we can design it, figure out how to build it, add it to our website and be ready to ship it out our front door all within just a few weeks. How cool is that?

Intrigued? You can find out more about the unusual way we do business on our Company Philosophy page.
THE BIHN Guarantee
Everything you buy from us here at TOM BIHN is satisfaction guaranteed. We've been in business since 1972 and we stand behind what we make.
If something goes wrong and it's our fault, we'll fix it for free. Repairs due to normal wear and tear or due to other things that are not our fault will be performed, when possible, at a reasonable charge right here in our Seattle factory where your bag was made. Defects in materials or workmanship are uncommon and almost always evident while the product is still new. Keep in mind that bags and packs are often subject to extreme wear in everyday use: do not expect them to last forever. Only true love lasts forever! You can expect a TOM BIHN product to give years and years of hard service.