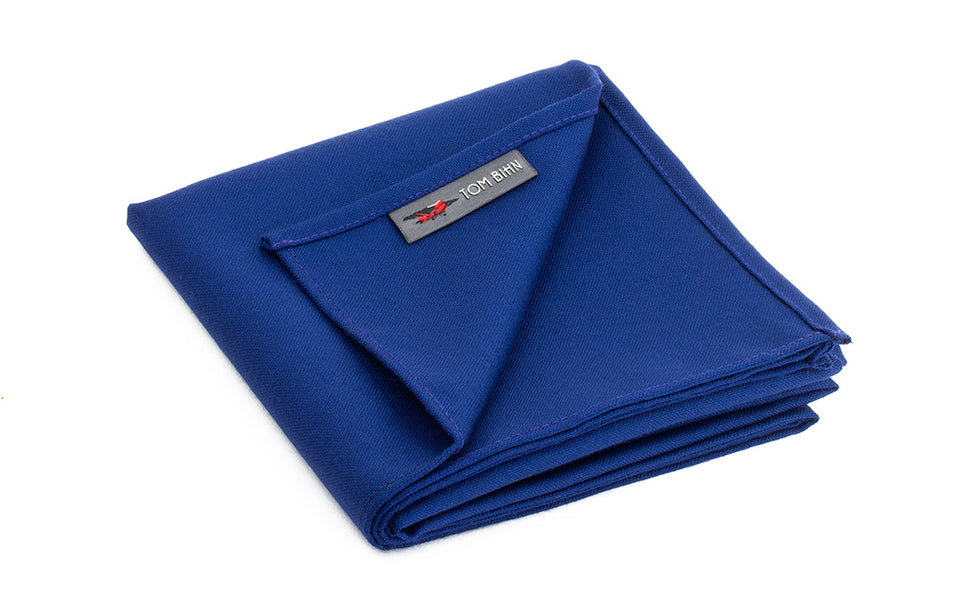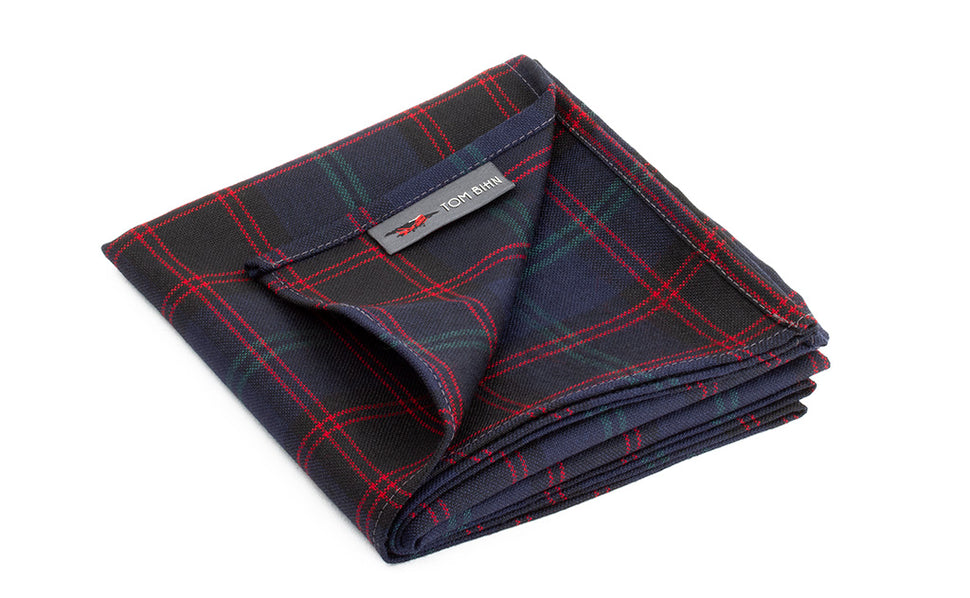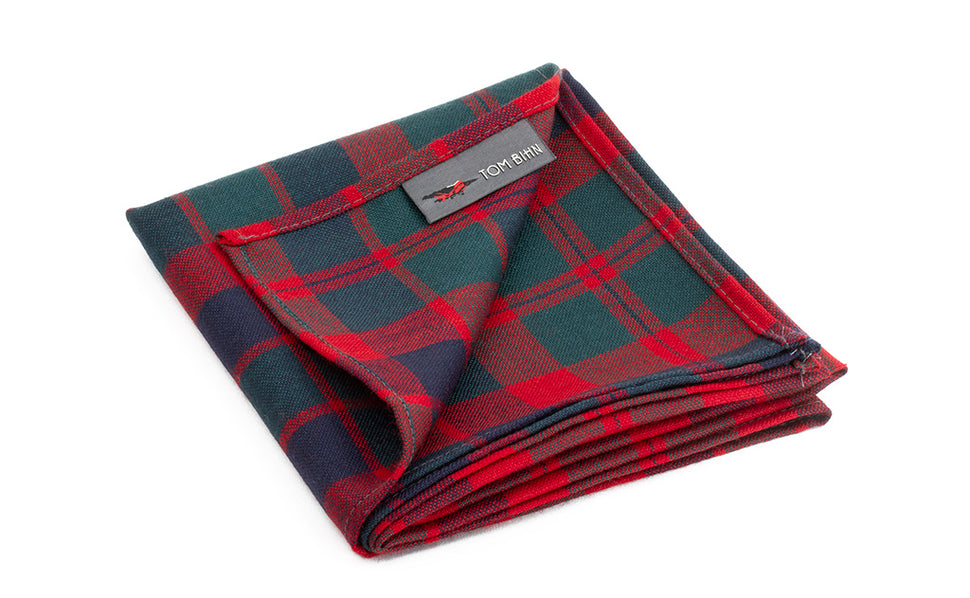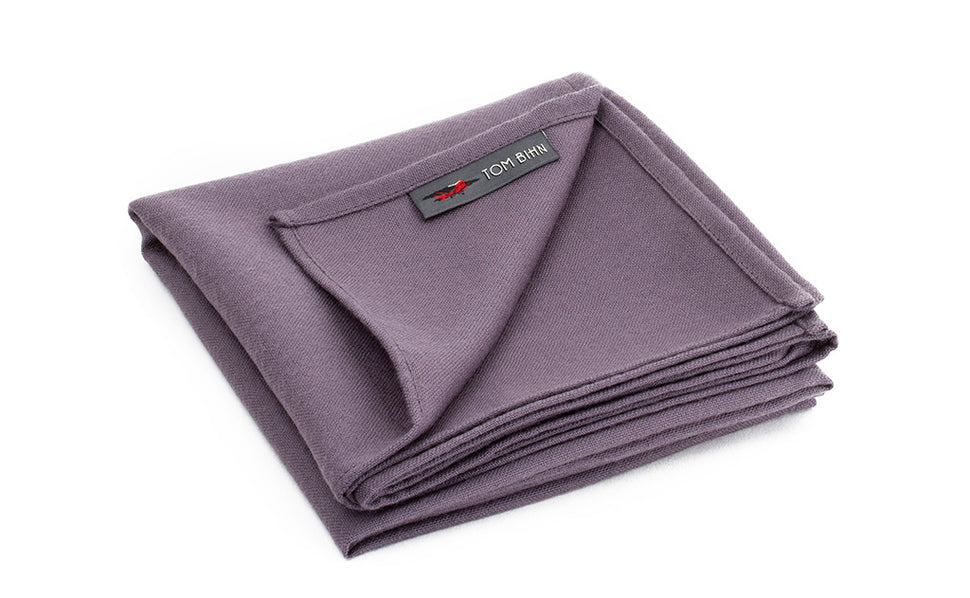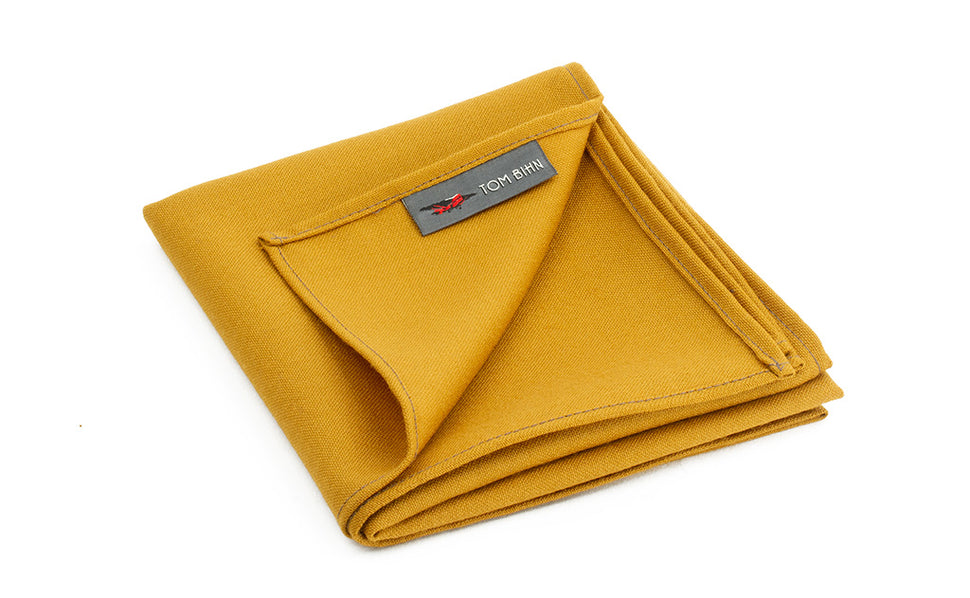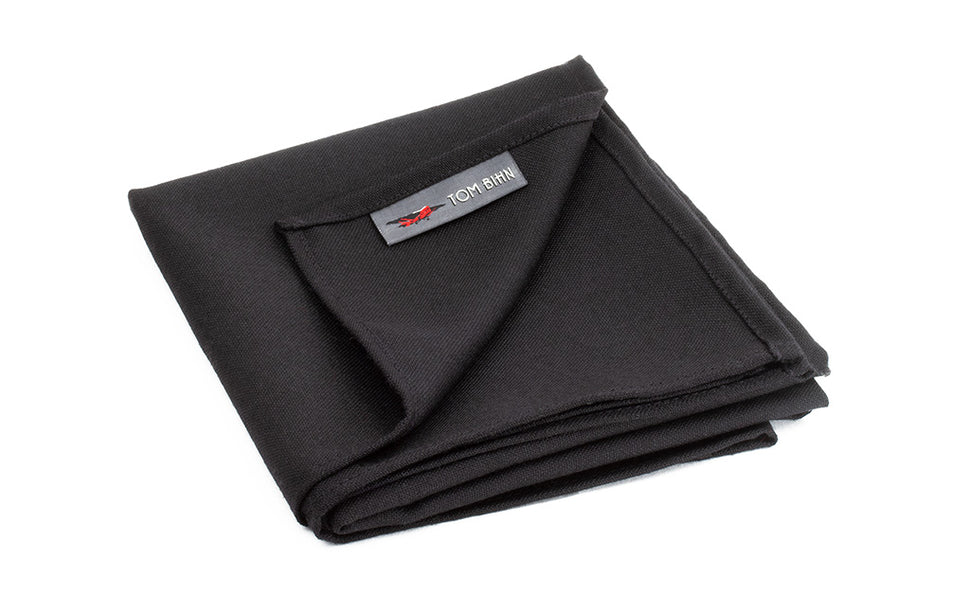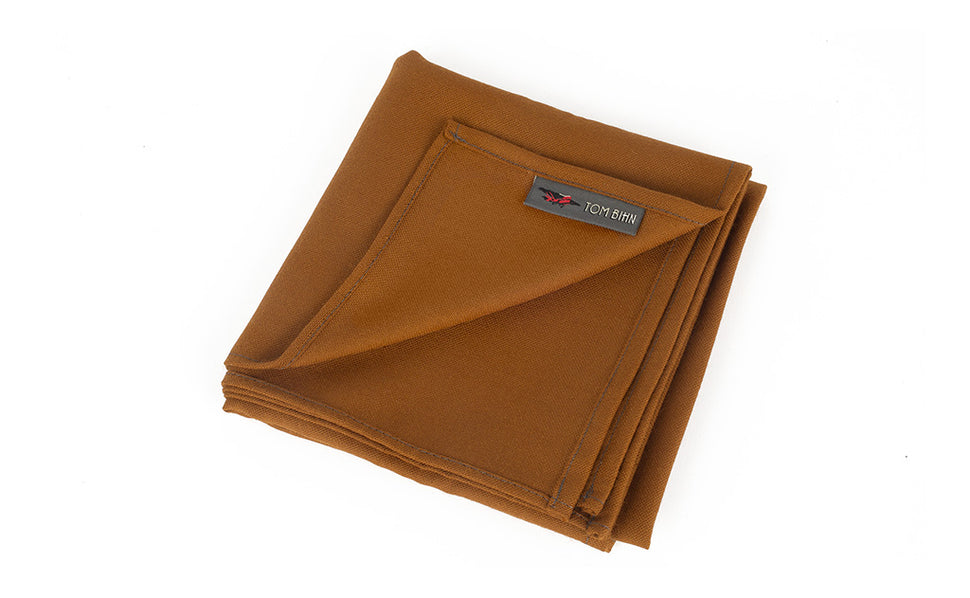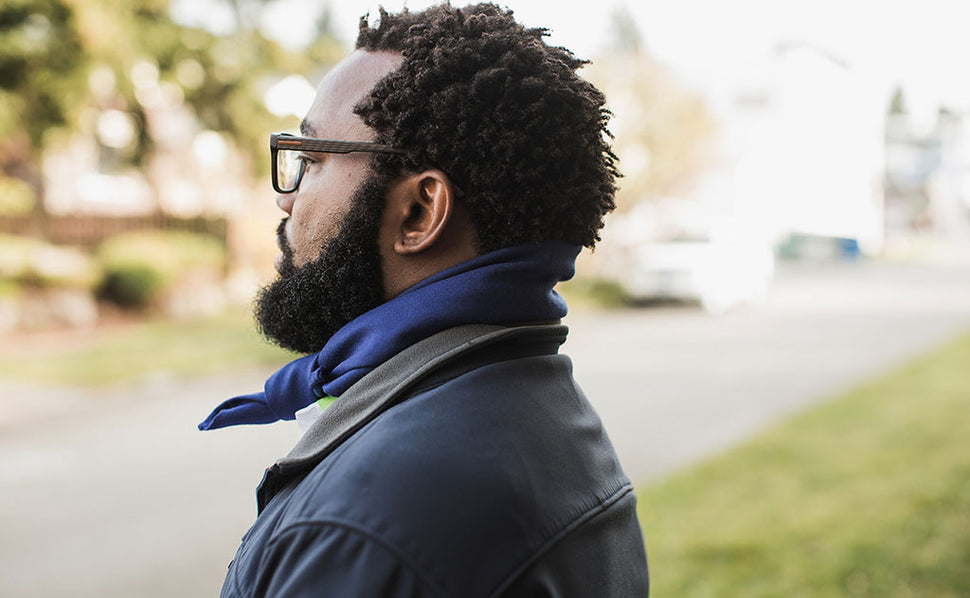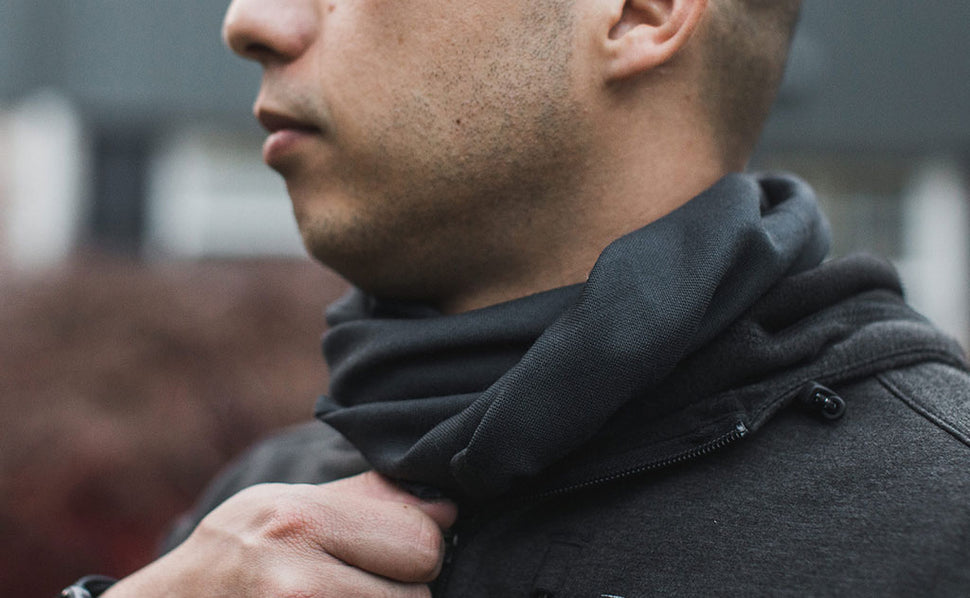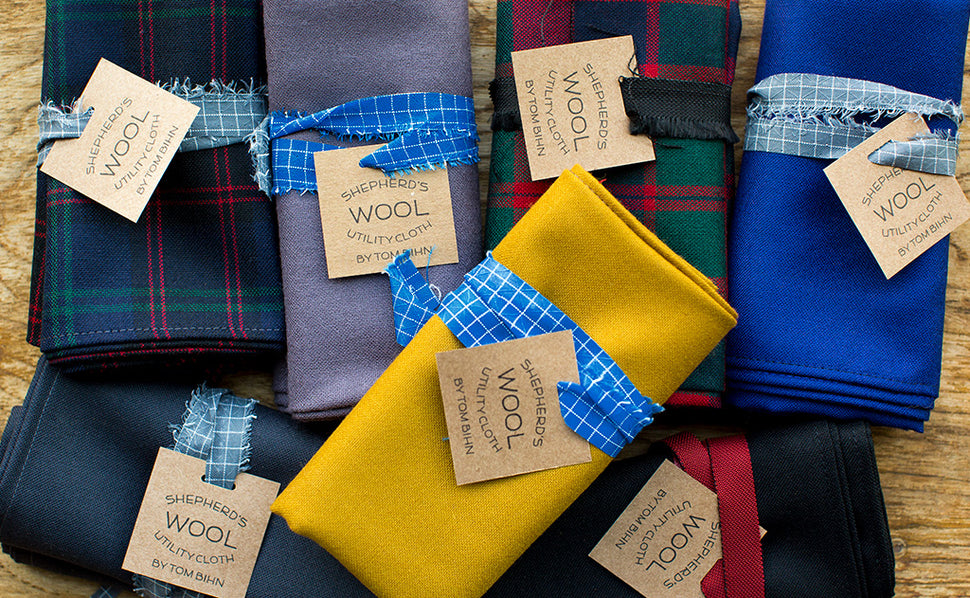 Description
Over the past couple of years, Tom has taken to ofttimes wearing a simple cotton bandana tied around his neck while hiking, traveling, or pretty much any time he felt like it. While hiking, the bandana provided protection from sun, wind, and cold; when traveling, it could serve as a make-do tablecloth, a way to dry hands, or to protect a small delicate souvenir. And for those pretty much any times, it could be used to wrap around a glass jar used as a coffee mug or as a headband to prevent sweat from dripping into the eyes.
That was all well and good, but not quite good enough for Tom. He imagined that having such an item made of wool rather than cotton might expand its utility even further, adding seasons/temperatures/situations in which it might prove useful. He made samples of various sizes and fabric weights, testing them all thoroughly, finally arriving on an optimal 27" / 70cm square of lightweight wool.
With us so far?
Next up was finding a source for the wool fabric, which you'd think would be easy but proved a greater challenge than expected. After many dead ends, quite serendipitously Tom stumbled upon a mill in Scotland that not only wove their own fabric, but also manufactured items somewhat akin to his prototype. Yes, you heard that right, Scotland. And yes that means tartans.
The wool, sourced in New Zealand and Australia, is lightweight and by most folks opinion pretty darn soft and itchless (your mileage may vary). The Shepherd's Wool Utility Cloth is, as a travel accessory, superbly useful: it's an ad hoc table cloth, a (very) minimalist blanket on a drafty airplane, a wrap to protect an impromptu purchase of a bottle of wine, a flag to wave at parting friends (or maybe partying friends). Properly tied around one's neck, it can be as warm as a bulky scarf, yet it takes up almost no space whatsoever when folded in your bag or backpack.
The Shepherd's Wool Utility Cloth hand washes easily and dries quickly; wash it in the hotel sink with a tiny bit of soap, hang it, and it'll be dry before you know it. Please don't machine wash -- and never machine dry -- your Shepherd's Wool Utility Cloth. Dry cleaning is fine too.
We're offering the Shepherd's Wool Utility Cloth in the following colors:
Neela Blue
A brilliant blue; may remind one of the deepest blue in a peacock feather.
Half-Light Purple
A dusky purple/grey.
Saffron Gold
A full, vibrant yellow-gold.
Matter Grey
A stately grey.
True Black
That you-can't-go-wrong shade of deep black.
Glasglow tartan
A red/black/green plaid; more red than the other two colors.
Home Modern tartan
A navy/red/green plaid; more navy than the other two colors.
Tom claims that if you drape one over your face while napping on the airplane, you're almost certain to dream of shortbread and whiskey.
96%
would recommend this product
4/5

A fine piece of cloth. The weave is very consistent, the colors are beautiful, and the stitching serviceable. The cloth feels smooth and reassuringly robust in the hand for its light weight.

The piece is not without downsides. It is probably not "itchless" to "most folks". Not even close. It is noticeably scratchy in the hand, let alone on the neck. One expects a little roughness at the 23.5 micron grade but this is especially pokey. Who knows if it is the style of weave, the processing afterwards, or a wide variance in wool width.

Buyers should also expect a fair amount of dye in the water the first wash but that's not really a downside unless you're wearing it in the rain straight away.

Am I happy with the purchase? Yes and no. It is undoubtedly a nice piece of merino wool. Well sized and well constructed for its purpose. Machine washability on a future iteration would be a boon. As is, I'd be happy to use it until it wears thin and then use it some more. Not around my neck though.

Verified Buyer

Product Standouts

High Quality Craftsmanship,

Unique

7 months ago

Product Standouts

High Quality Craftsmanship,

Unique

Beautiful and functional

I love the half-light purple color and quality of the material.

Verified Buyer

Product Standouts

Unique,

High Quality Craftsmanship,

Thoughtful Design,

Versatile

1 year ago

Product Standouts

Unique,

High Quality Craftsmanship,

Thoughtful Design,

Versatile

Shepherd's Wool Utility Cloth

A bandana made from wool is unique and the Glasgow tartan pattern is beautiful. I bought this as a gift for my husband who wears it as a warm neck gaiter. His only wish is that it was a few inches larger.

Verified Buyer

Product Standouts

Compact,

Sewn in USA,

Unique,

Versatile

1 year ago

Product Standouts

Compact,

Sewn in USA,

Unique,

Versatile

Hm.

I bought this thinking that I would find a lot use for it... Perhaps I will still in the future, but so far, not so much. It's too big for a bandana/napkin. It's simply a nice piece of cloth. I could see the table cloth aspect being helpful if you eat a meal in odd places frequently.

I LOVE wool, so I'm not giving up on this yet. I did bring it camping and found it to be a nice "pillow" case cover... hoping for more of these uses to show up.

useful travel accessory

I was a Scout in my childhood, and a neckerchief was a standard part of our uniform. It was a useful piece of kit, often employed in first aid drills as an arm sling or ankle bandage. And of course I've always carried a cotton bandana while camping. Given that background, the idea of a quick-drying wool pocket cloth struck me as a brilliant innovation. If it was up to me, I would have made it a bigger--it is way too small for an an arm sling, and with my 18" neck, it just barely serves as a scarf. And I assume that the "mini -blanket" descriptor was just a bit of Binhian whimsy. But that said, I can foresee many uses for this woolen pocket square, and once travel resumes, the "Shepherd's Wool Utility Cloth" will be going with me.
Reviews Loaded
Reviews Added
Sewn in Seattle
Our bags are designed and sewn right here in Seattle, Washington, U.S.A.
That allows us to be control freaks in the best way possible; we have direct control and oversight of the quality of our materials, our products, and the jobs and working environment that we help create. It also offers us a unique spontaneity: when we have an idea for a new product or accessory, we can design it, figure out how to build it, add it to our website and be ready to ship it out our front door all within just a few weeks. How cool is that?

Intrigued? You can find out more about the unusual way we do business on our Company Philosophy page.
THE BIHN Guarantee
Everything you buy from us here at TOM BIHN is satisfaction guaranteed. We've been in business since 1972 and we stand behind what we make.
If something goes wrong and it's our fault, we'll fix it for free. Repairs due to normal wear and tear or due to other things that are not our fault will be performed, when possible, at a reasonable charge right here in our Seattle factory where your bag was made. Defects in materials or workmanship are uncommon and almost always evident while the product is still new. Keep in mind that bags and packs are often subject to extreme wear in everyday use: do not expect them to last forever. Only true love lasts forever! You can expect a TOM BIHN product to give years and years of hard service.