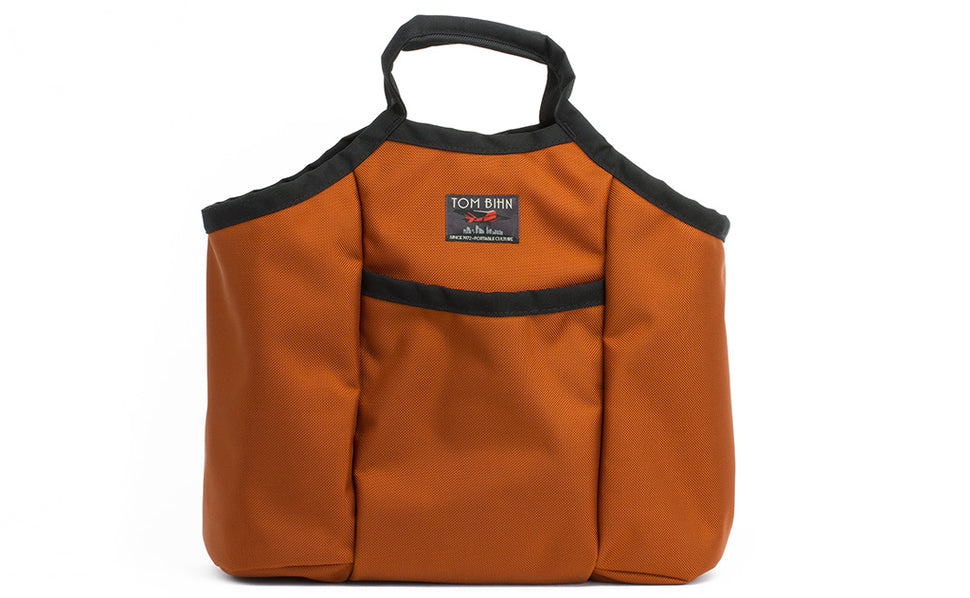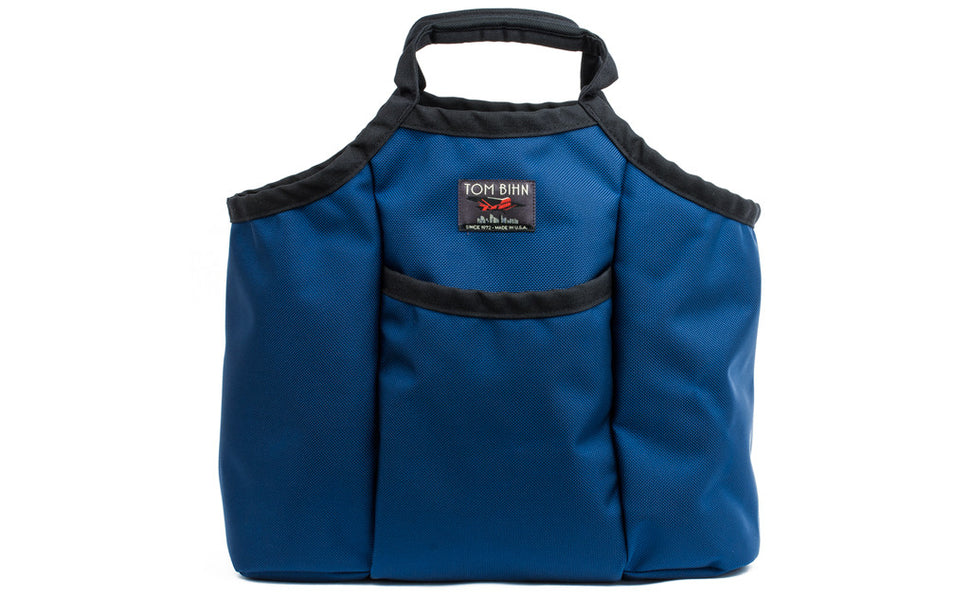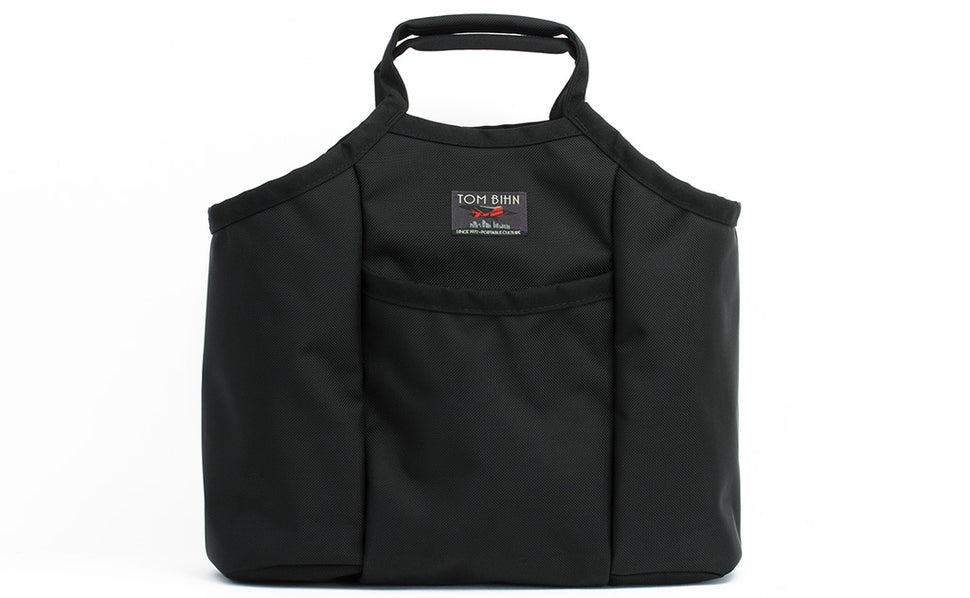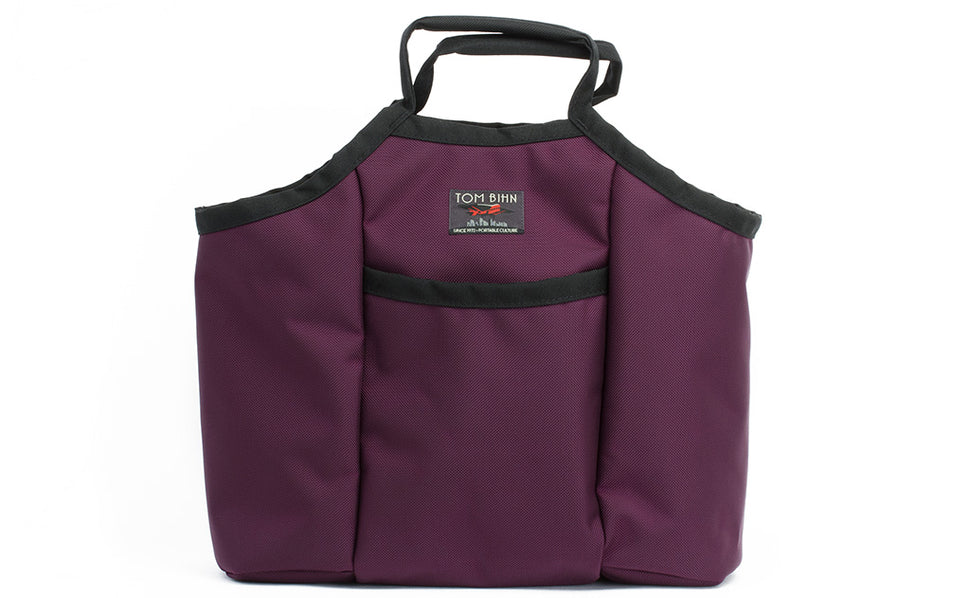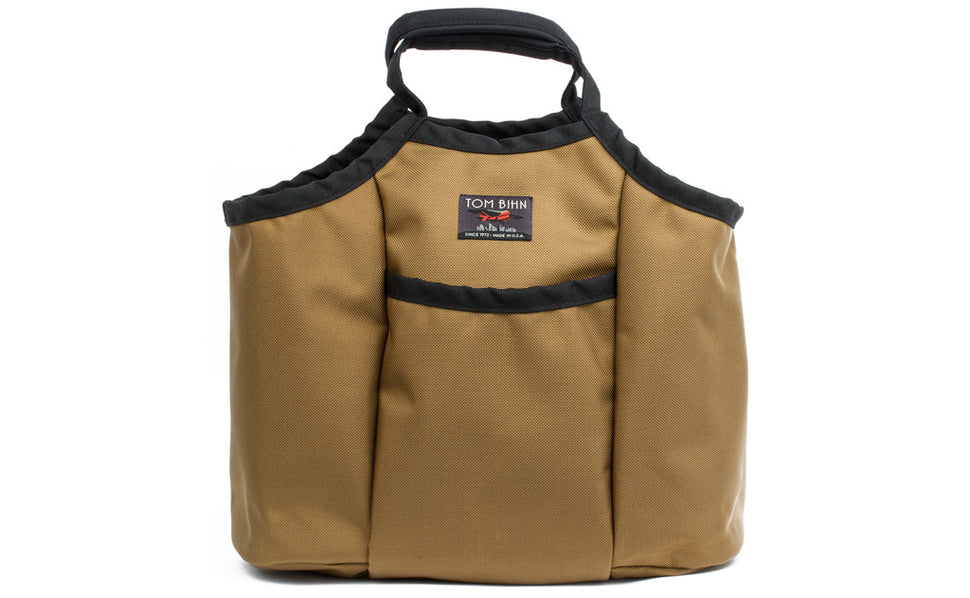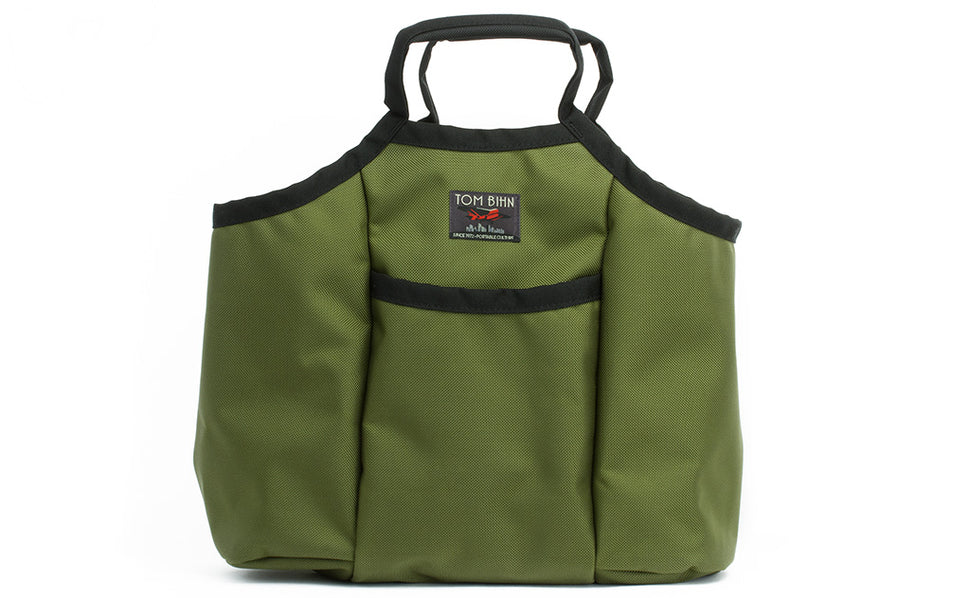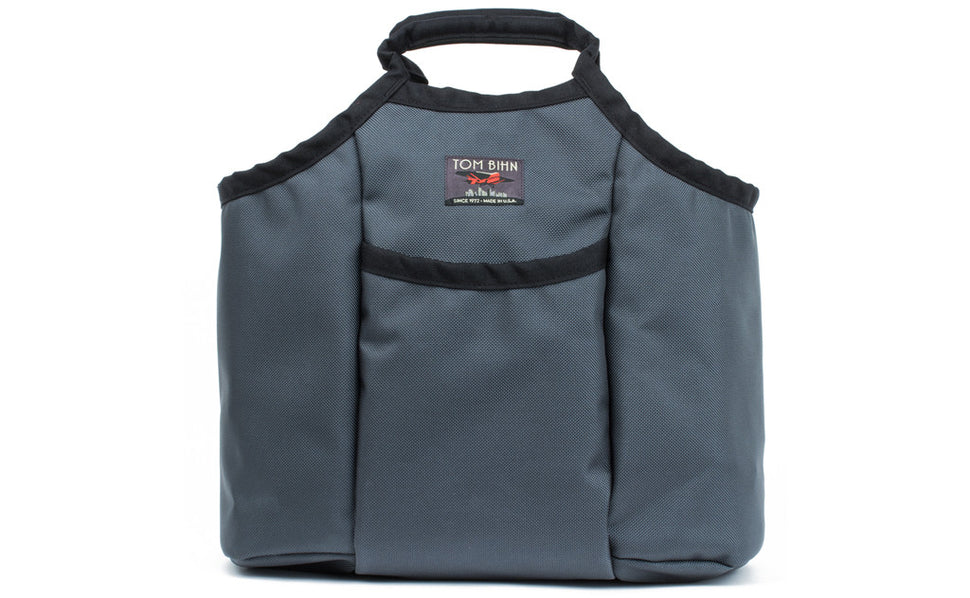 Description
A divided and compartmentalized reusable shopping bag for the grocery store and local markets.
In a world choking itself on disposable plastic shopping bags, nearly disposable giveaway bags, and cotton canvas copies of old-school paper sacks, the Moveable Feast grocery bag stands alone. It is not only ridiculously strong and durable, it's as organized as a personal assistant, and (we like to think) as stylish as a mid-life crisis sports car.
Though only 10% more voluminous than the standard paper grocery bag, you won't hesitate to really load it up: hefty US-made 1050 ballistic nylon won't fail you, and our trademark Poron© padded handles make the load as cushy as possible. So far, all this is what you might expect from a TOM BIHN grocery bag.
But the Moveable Feast goes above and beyond when it comes time to bag your groceries at the checkout, or as you wander through the farmer's market. Outside, a front and a back pocket are good for your shopping lists or recipes, and will certainly keep chocolate bars safe and/or handy. But that's only the beginning: inside, the Moveable Feast is divided and compartmentalized to make loading intuitive, and to keep your groceries upright: no longer must you accept a pile of food drifting higgledy-piggledy within the confines of a simple bag.
The main space of the Moveable Feast is divided into three large compartments: a center compartment and two end compartments. The center compartment is good for boxes of cereal and other dry goods, and also contains two vertical stretch mesh sleeves that keep your wine bottle or baguette upright and safe—they collapse nicely and out of the way if you're not using them. Both end compartments are the same size and can easily accommodate a half-gallon of milk and more. Against one of the main dividers is a specially designed, tapered scabbard: slide a bouquet of flowers into this pocket and you needn't worry about them falling over on the way home. The lower reaches of the other end compartment handle canned goods, frozen juice or other miscellany—after you've loaded that up, fold down the handy basket-shelf and safely cache tomatoes, avocados and other delicate items high and safe. (Tom calls this the "anti-guacamole" shelf: make guacamole on your schedule, not when your grocery bag has started the process for you.) The basket shelf folds out of the way when loading/unloading the space below it, or if you're not going to use it this trip, magnets keep it folded up. If all this wasn't enough, the main compartment dividers are spaced perfectly to allow the dimples on the bottom of an egg carton—likely the last item to be loaded—to rest nicely atop your other groceries.
All the specialized compartments feature graphic labels to jumpstart the bagging process: they're nice reminders for the user of the Moveable Feast, and provide visual cues for the bagger at checkout. Of course, the labels are just suggestions: you'll figure out what works best as you make the Moveable Feast your own.
The Moveable Feast is built with an exterior of US-made 1050 Ballsitic nylon, and is lined with 420 HT Parapack; both fabrics rinse out easily in your service or kitchen sink when the inevitable spill occurs. Three O-ring tether points for an organizer pouch or two, plus a key strap; padded Poron® foam handles, finished seams, and the usual TOM BIHN overkill, no-holds-barred sewing. Blah blah blah, you get the idea. Now get the bag.
The Moveable Feast is probably not for everyone: it is intended for folks who buy groceries relatively often, and not in huge quantities. It is ideally suited for folks cooking for one, two, or perhaps three people. You could use two of them, but more likely you'd use one Moveable Feast and one other bag (like our Shop Bag!), if you need extra room. If you shop for a big family or only buy groceries once or twice a month, this bag may not be the right one for you. The Moveable Feast is more hatchback to the supermarket than minivan to supermarket. There, we said it.
Sewn in Seattle
Our bags are designed and sewn right here in Seattle, Washington, U.S.A.
That allows us to be control freaks in the best way possible; we have direct control and oversight of the quality of our materials, our products, and the jobs and working environment that we help create. It also offers us a unique spontaneity: when we have an idea for a new product or accessory, we can design it, figure out how to build it, add it to our website and be ready to ship it out our front door all within just a few weeks. How cool is that?

Intrigued? You can find out more about the unusual way we do business on our Company Philosophy page.
THE BIHN Guarantee
Everything you buy from us here at TOM BIHN is satisfaction guaranteed. We've been in business since 1972 and we stand behind what we make.
If something goes wrong and it's our fault, we'll fix it for free. Repairs due to normal wear and tear or due to other things that are not our fault will be performed, when possible, at a reasonable charge right here in our Seattle factory where your bag was made. Defects in materials or workmanship are uncommon and almost always evident while the product is still new. Keep in mind that bags and packs are often subject to extreme wear in everyday use: do not expect them to last forever. Only true love lasts forever! You can expect a TOM BIHN product to give years and years of hard service.