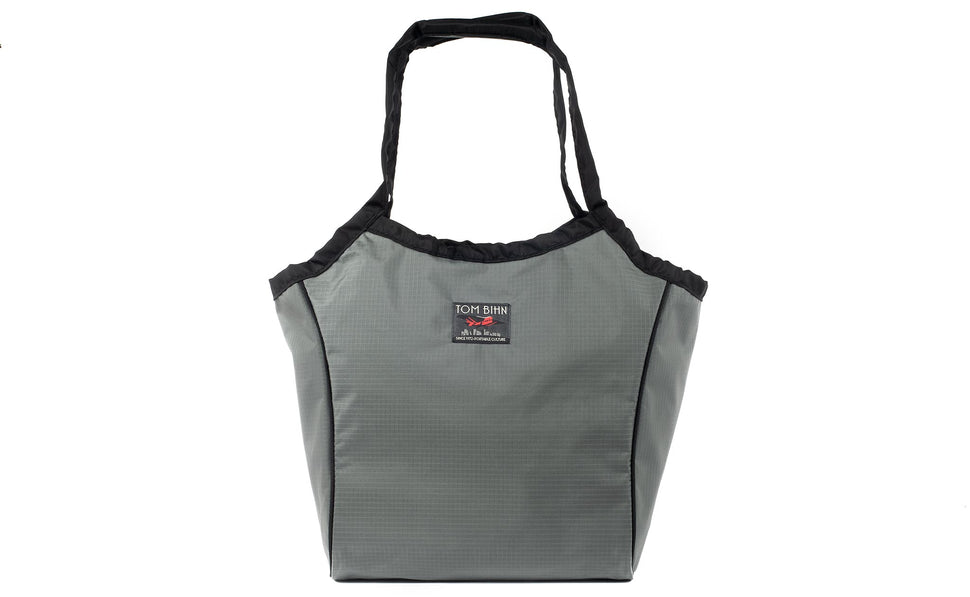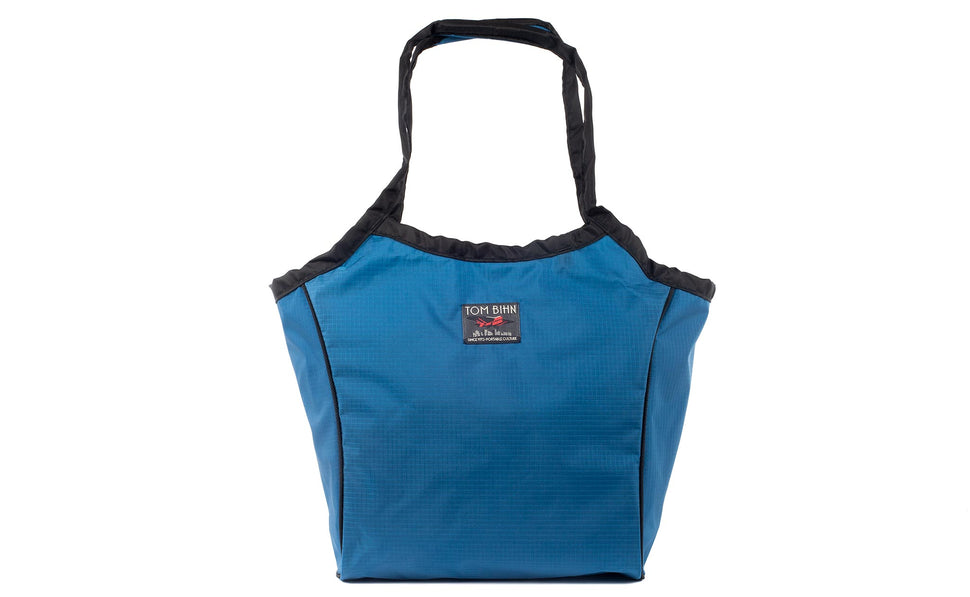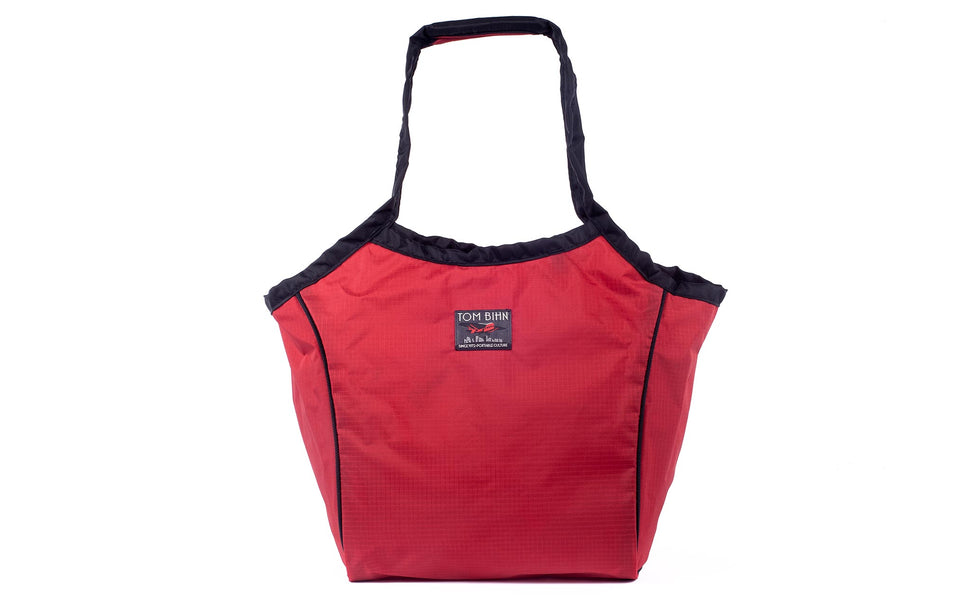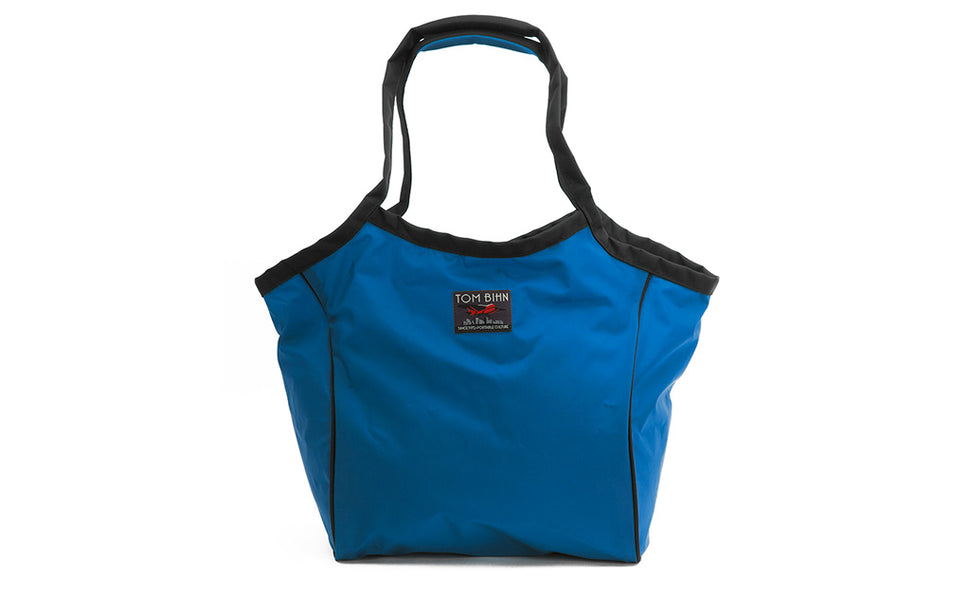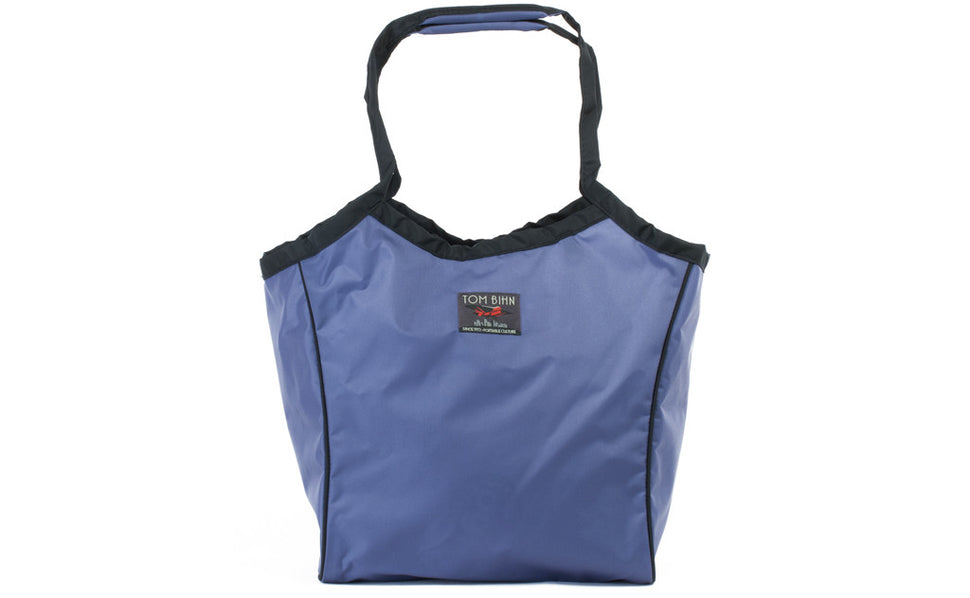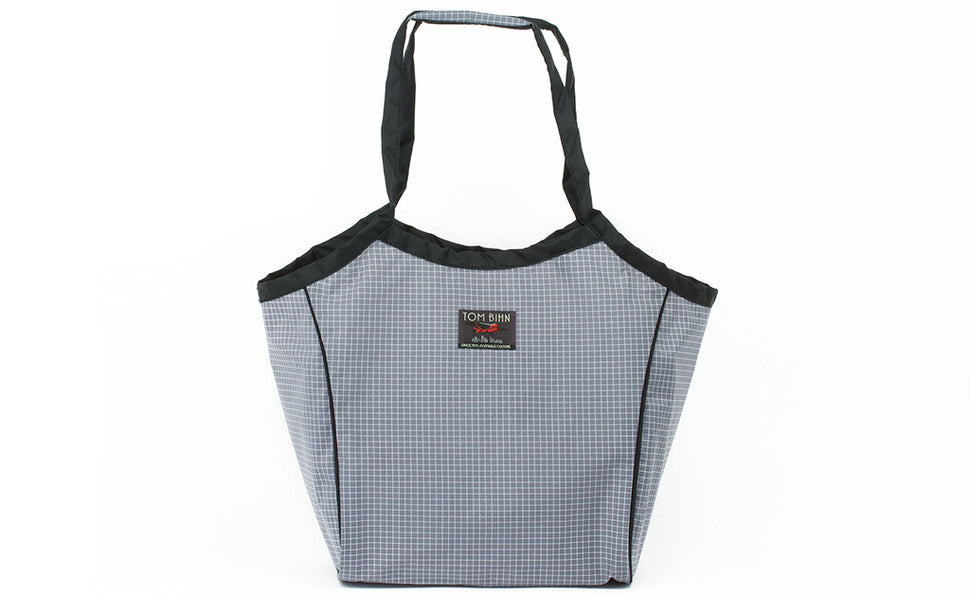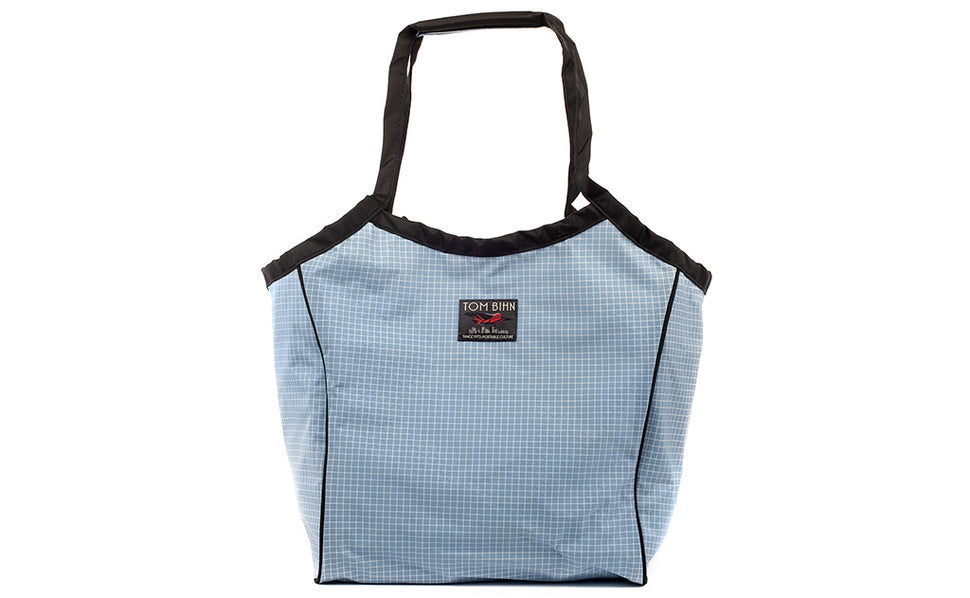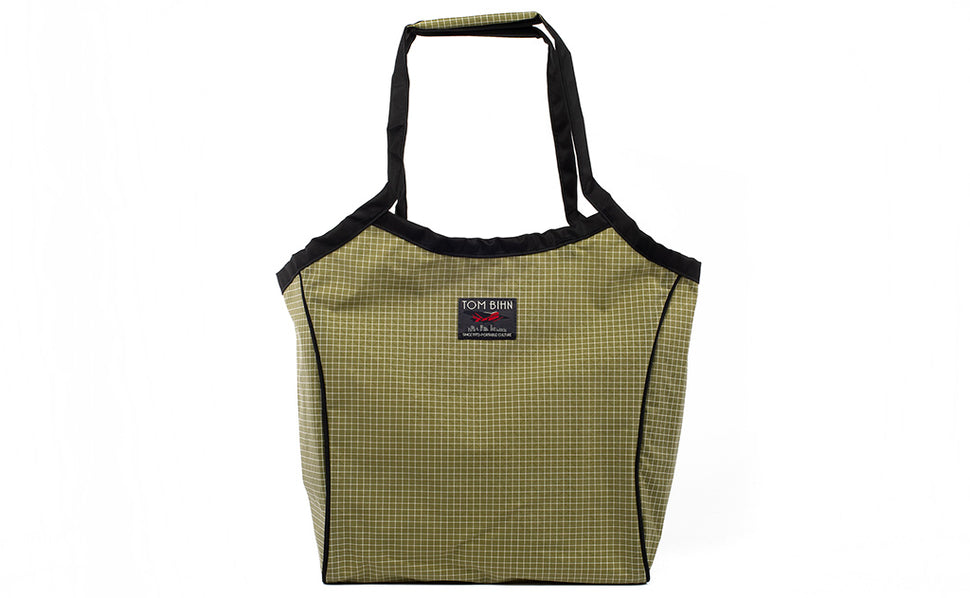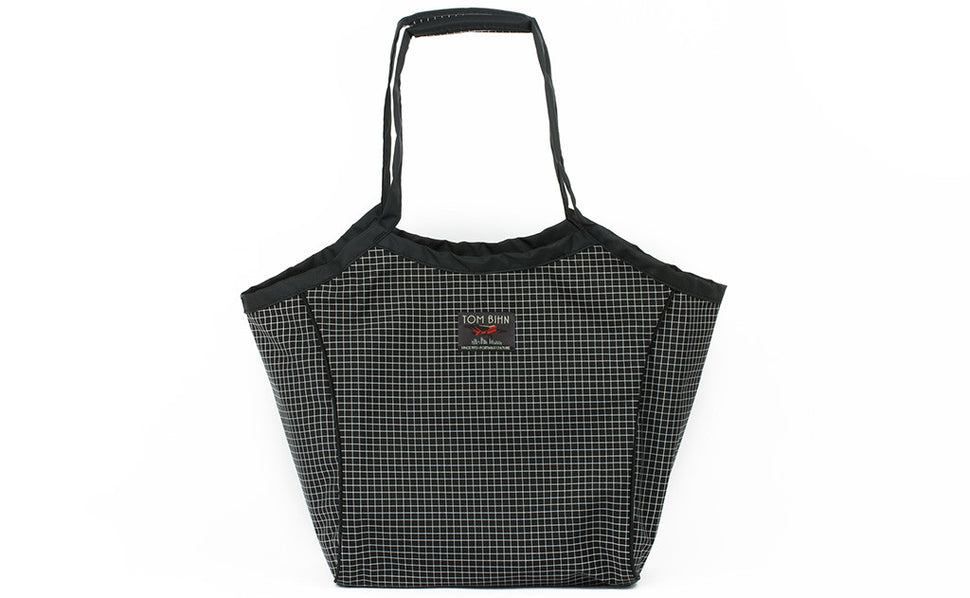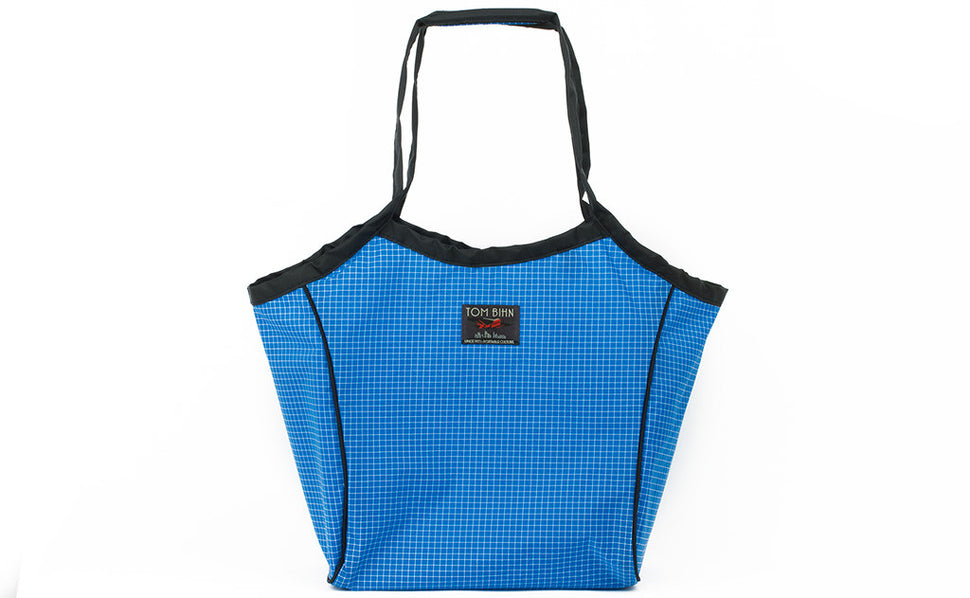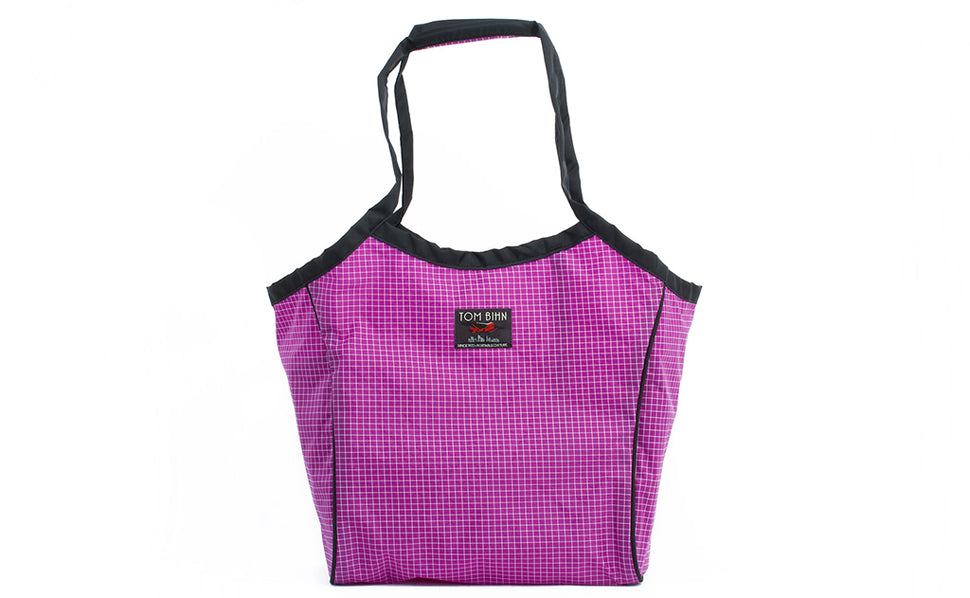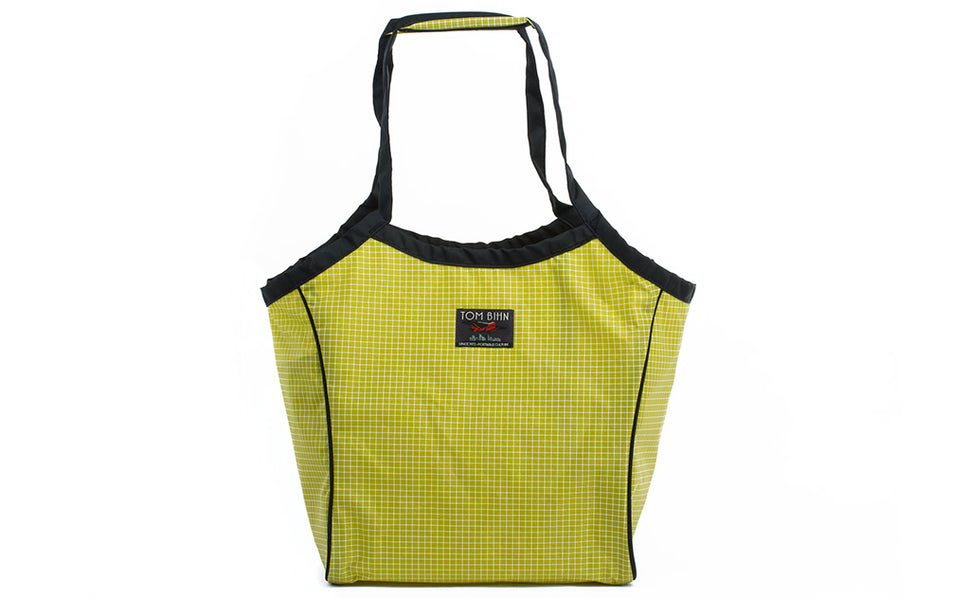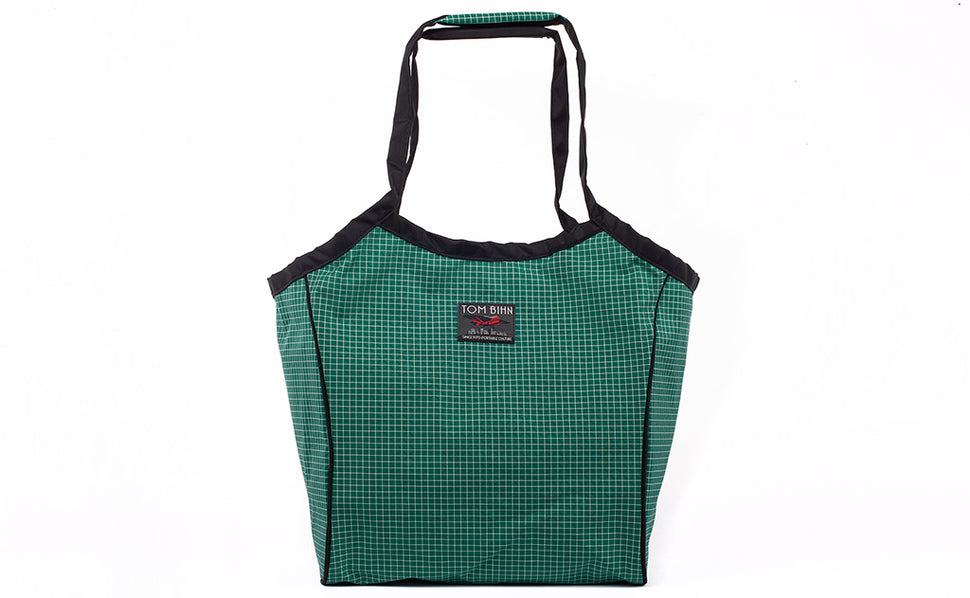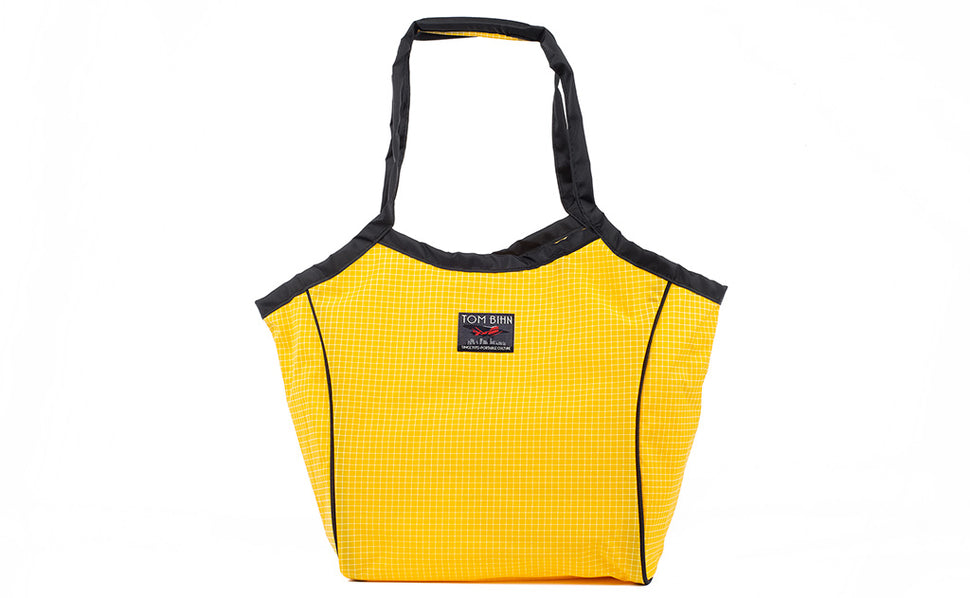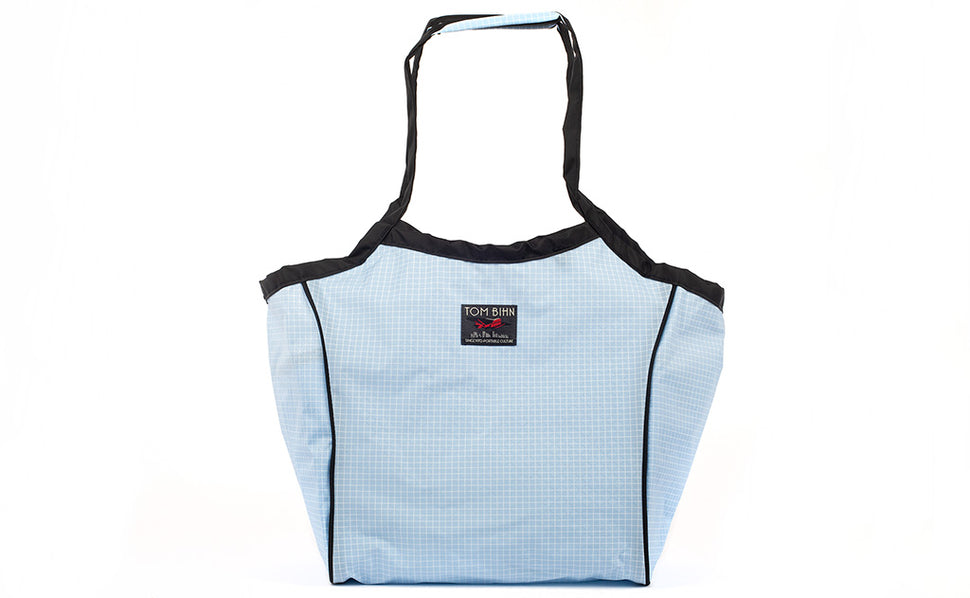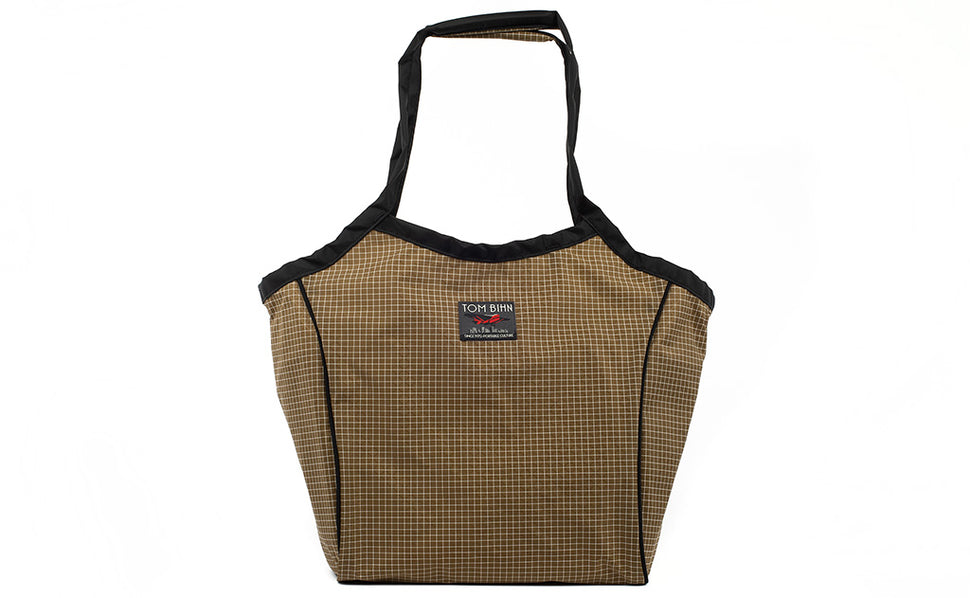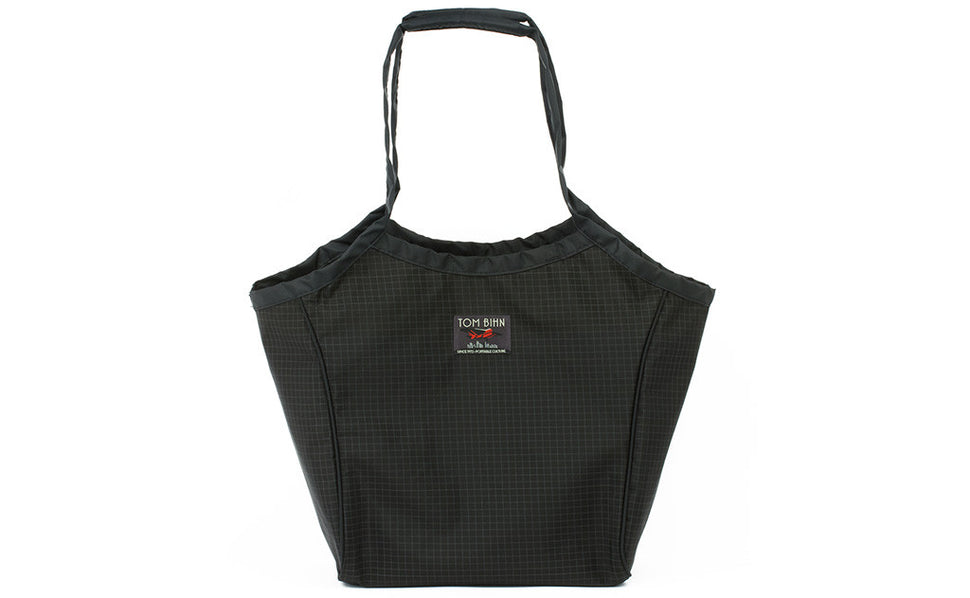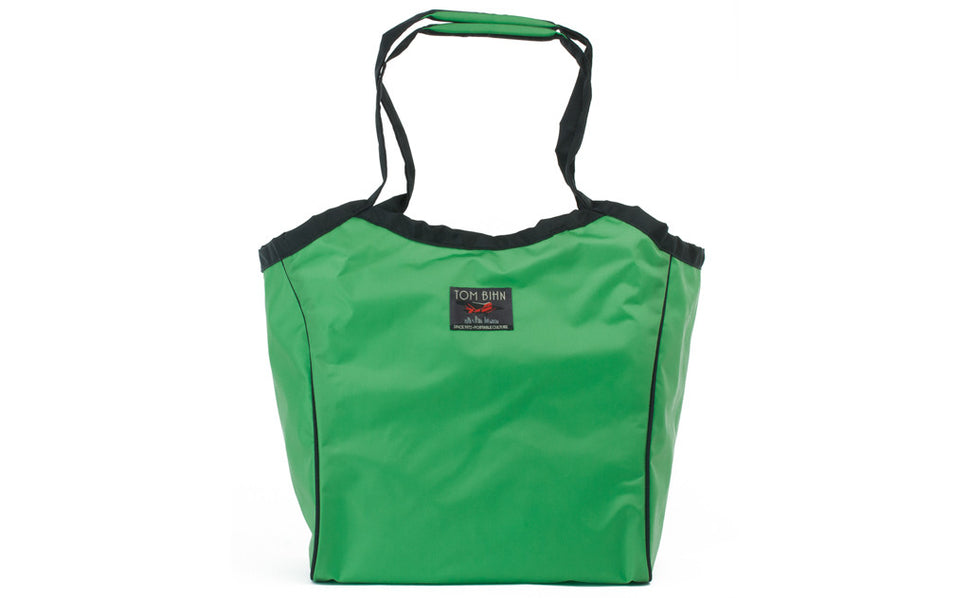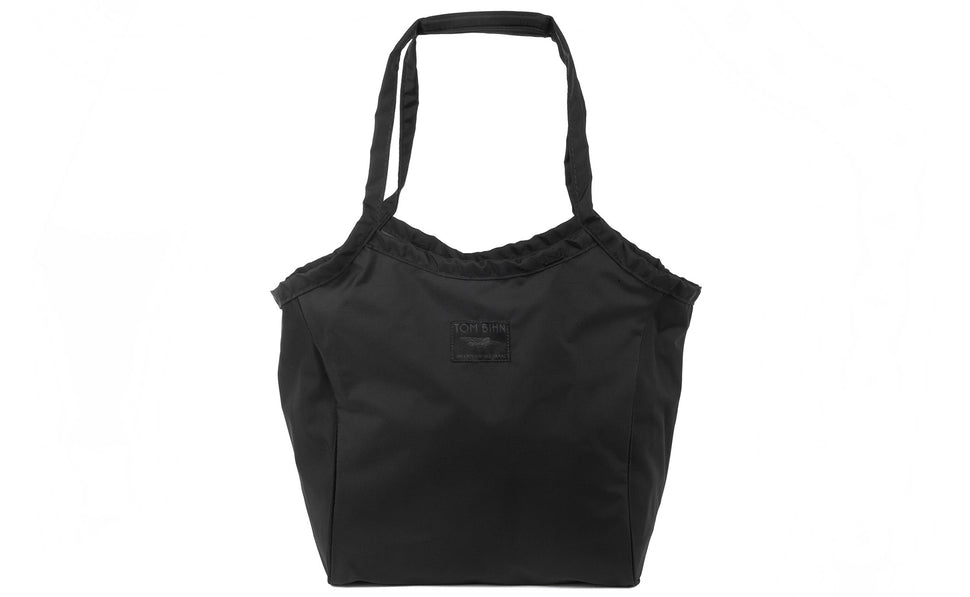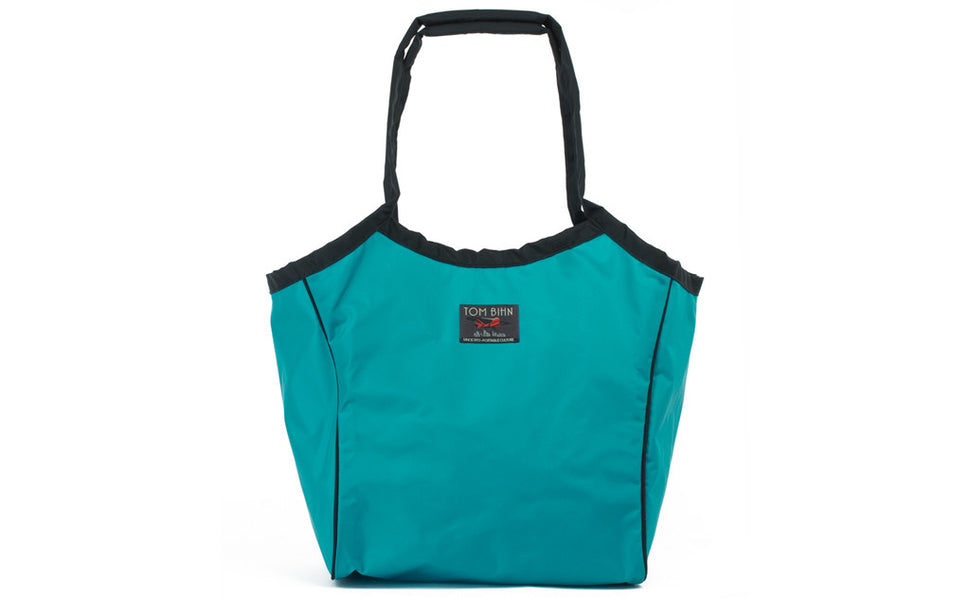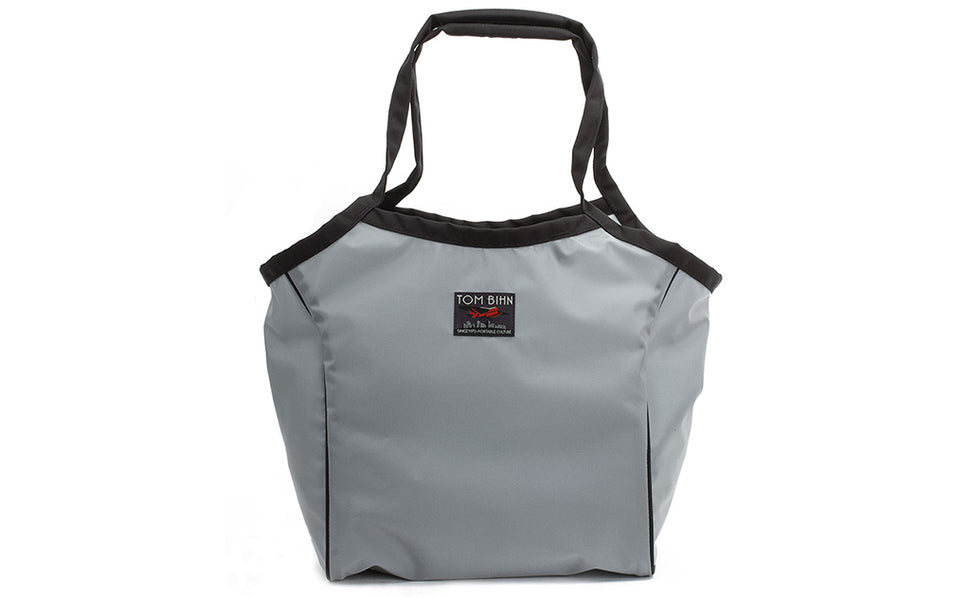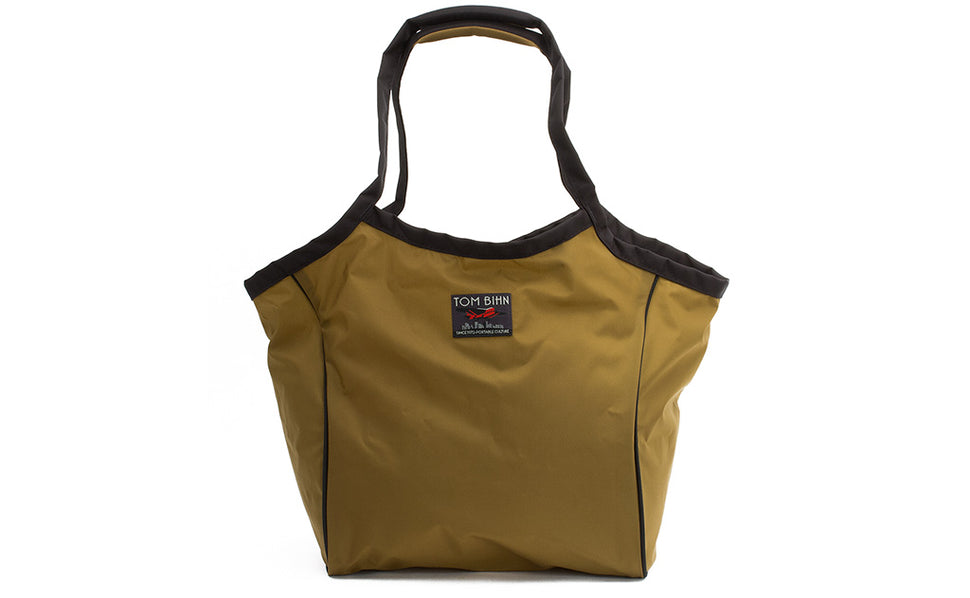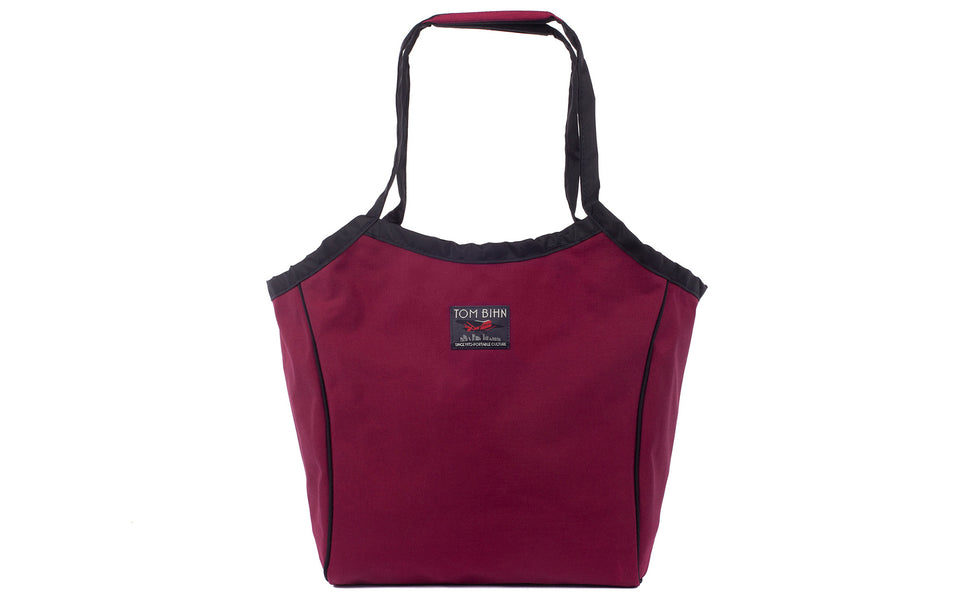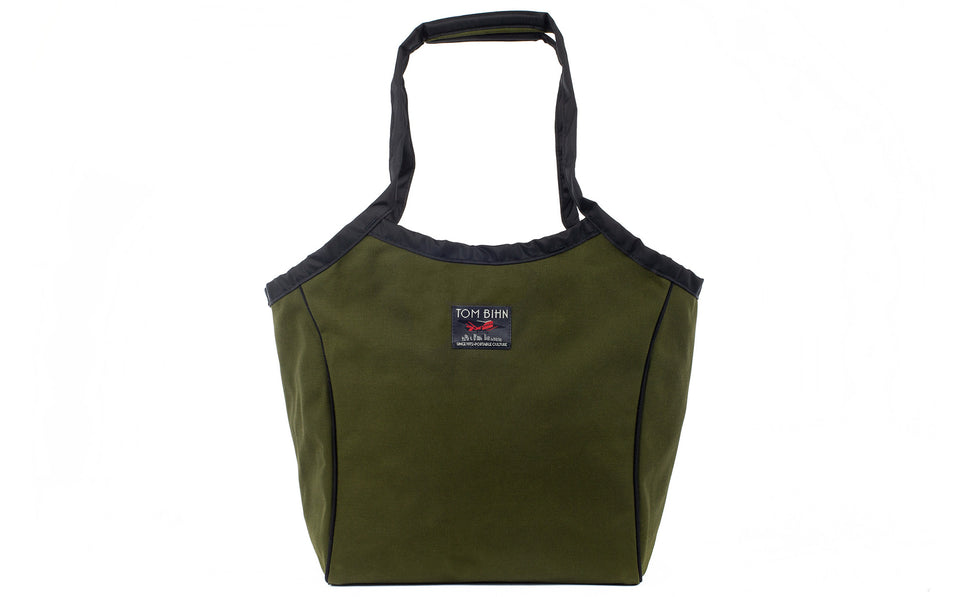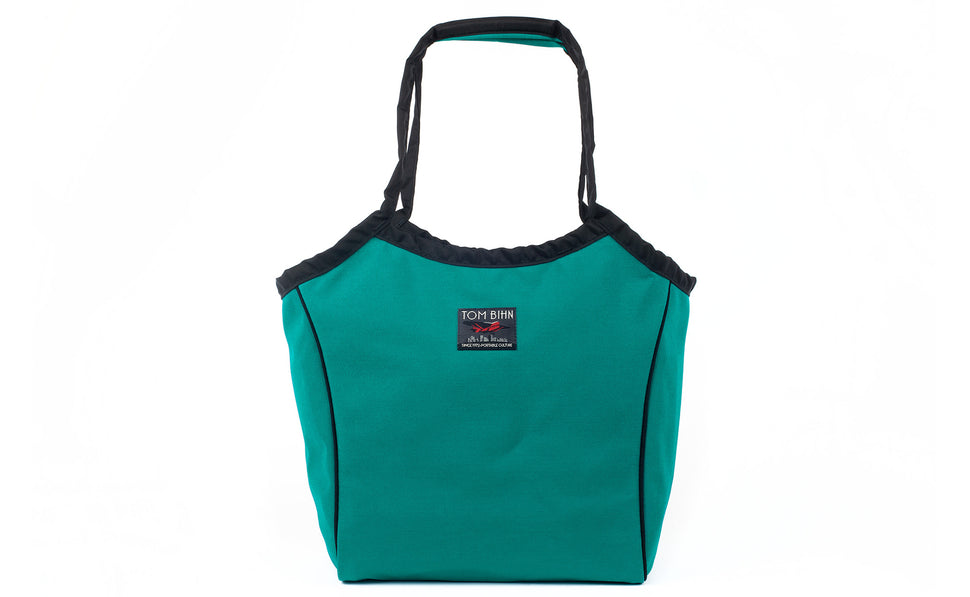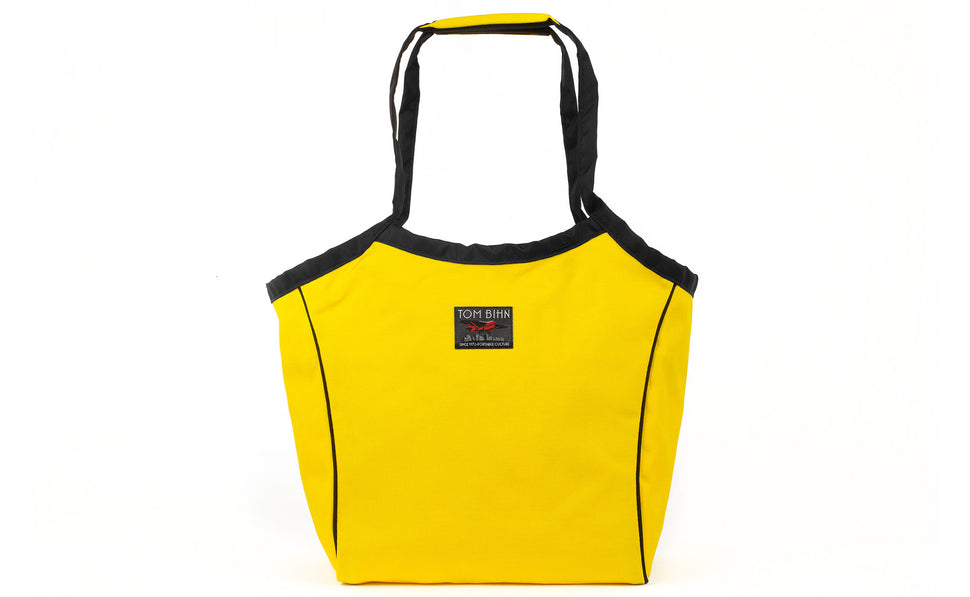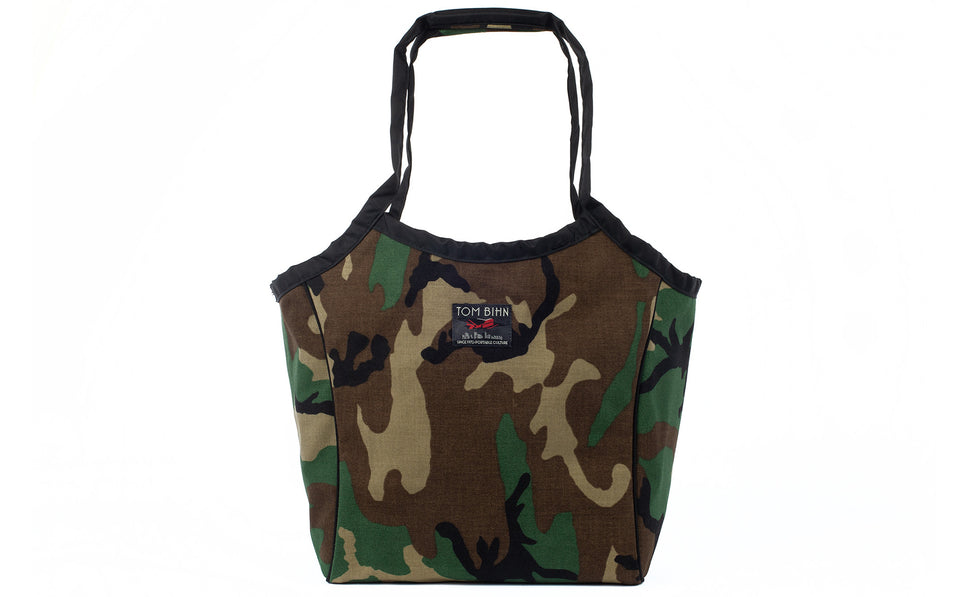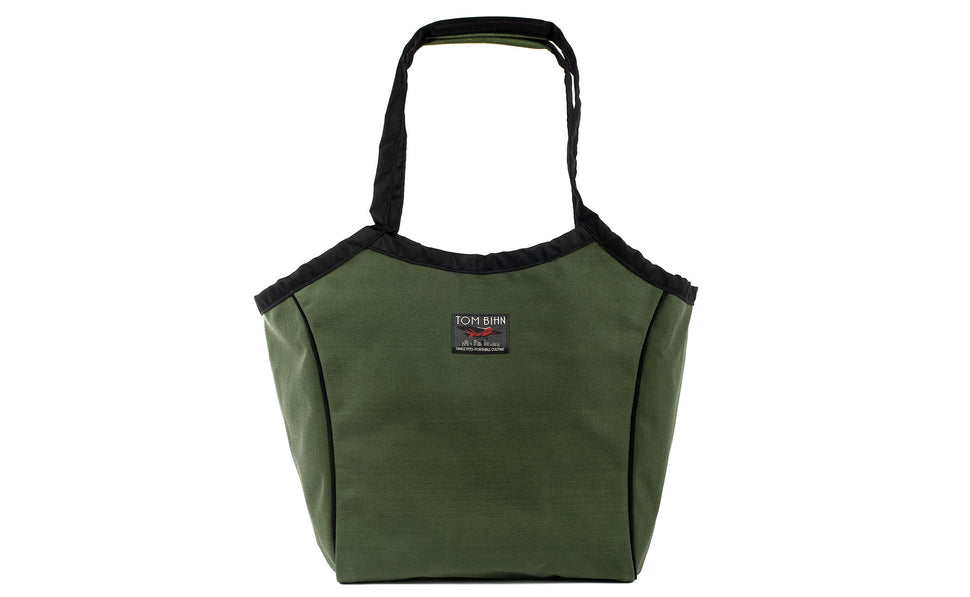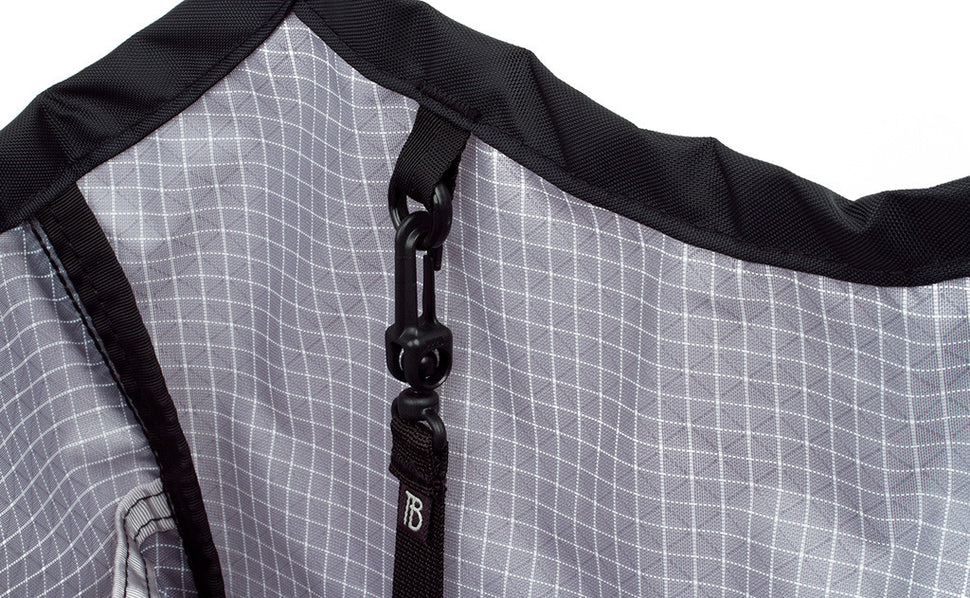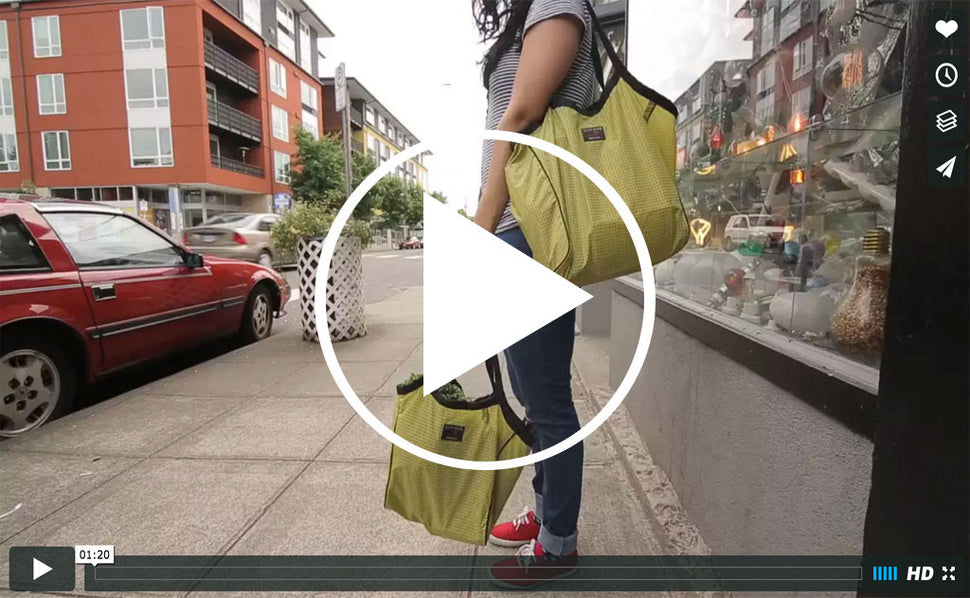 Description
Super light but doesn't sacrifice comfort: the padded handles, dare we say, rock.
"Can you please, please, please make a reusable grocery bag? Yes, I already have ones that I've been given for free or bought for cheap at the store. The trouble is that the thin straps dig into my hands and shoulders and the bags themselves wear out pretty quickly. I want a Tom Bihn grocery bag." – K.M.
How could we refuse?
We present to you the Original Large Shop Bag. What you'll notice first is that the Shop Bag has comfortable, PORON® padded handles that will never break down or lose their padding — no matter how many trips you take to the store. These padded handles prevent that awful hand-slicing experience of the traditional non-padded fabric handles, and they're extra comfortable on your shoulder. The handles have been designed to be an ideal length that will allow most folks to wear the bag over their shoulder or carry it in their hand. The handle length of the Original Large Shop Bag is 26" / 660 mm.
The Shop Bag had to be made sturdy enough to hold beer, wine, canned goods, and other heavy items, but the bag itself needed to be light — something you'd want to carry with you everywhere just in case you were stopping by the store. The Large Shop Bag is tough, but it's also extremely light in weight. We've piped the seams with a stiff plastic material (the material used on hat brims; we cover it with 400 denier pack cloth), which gives the Shop Bag enough body to stand up while you are filling it. The structure the piping gives the Shop Bag also keeps the bag looking smart.
The Original Large Shop Bag can fit two dozen-egg cartons side-by-side in the bottom of the bag, and it's close to the size of the traditional paper grocery store bag with handles. The inside of the Shop Bag has two deep, open-top pockets designed for items like wine or water bottles. The pockets are contoured and pleated so they have volume enough for even a 24 fl oz mineral water bottle, and also so that, if you want to carry the Shop Bag inside your larger bag and conserve space, you can fold the Shop Bag itself into one of these open-top pockets, reducing the overall size of the Large Shop Bag to 8" x 9".
Here's an example of what a fully loaded Shop Bag in size Large can fit: a large head of lettuce, bunch of kale, a pound of yams, two medium apples, four canned goods, two boxes of pasta, bag of chips, 12 oz coffee bag, large loaf of bread, four (yes, four) Toblerone candy bars, 25 fl oz mineral water, 24 fl oz beer, and two pints of ice cream.
The Shop Bag is easy to clean — dirt is discouraged from adhering to it and water will roll right off. You probably won't need to wash it that often, but if you do, put it in the kitchen sink with a little bit of mild dish soap. Rinse it out, shake off the excess water, and hang it up (or on a doorknob) to dry.
For extra organization, one can add a Stuff Sack to separate hot or cold foods (like deli soup or ice cream) or toiletries (like soap) from the other items in the Shop Bag. You'd use the Stuff Sack instead of the small plastic sack they would normally give you in the grocery store — saving yet another plastic bag.
Clear Organizer Pouches and the Clear Organizer Wallet are additional optional accessories. Clip the Clear Organizer Wallet to one of the two O-rings inside the bag and use it to store your grocery store "club cards" (that way you'll never forget them). The various sizes of Clear Organizer Pouches are a smart way to store shopping lists, recipes, coupons, or other small items.
98%
would recommend this product
Best shopping bag ever - and much more

When I discovered TB a few ago, I didn't really understand the fuss around these shopping bags, and I found them expensive for what it was (in Europe you get them for very cheap at any shops, and they last forever). However, I did buy one, one day and....I understood!

Apart from the fact that the shopping bag looks gorgeous (if like me you love Halcyon - in any color) , it has for me 2 main qualities:

- it has the right size, not too big and not too small for groceries. You can truly fit a lot in there, especially because you can open it so widely, BUT it also does not get too heavy, something which happens all the time with my regular shopping bags from my local supermarket (there are big, you fill them up, and they weight a ton),

- the second huge advantage is that thanks to the padded handle the shopping bag is super comfy to carry.

As a consequence, I use it for many other things: at the gym or swimming pool (in our ancient world), bring my stuff in the shower when camping, etc etc...Even as a big hand bag sometime.

I have bought 4 so far (offered one to my mum), and wish I could buy another one in solaris or any other new halcyon color. A month ago for the first batch displayed, they went out of stock in no time :( So please please, continue producing them :)

Verified Buyer

Product Standouts

High Quality Craftsmanship

8 months ago

Product Standouts

High Quality Craftsmanship

Fantastic bag....but not in cerylon

I'm an absolute FANATIC of the original shopping bag, I had already 3 of them in Halcyon. I bought 2 additional ones in Cerylon thinking it would be kind of the same.... but it is not. The material is very different in the way it feels (less smooth?). As I live in Europe there was no way I could send them back, so if you are a big fan of halcyon like me, you may want to check if cerylon is for you or not.

Verified Buyer

Product Standouts

High Quality Craftsmanship,

Made in USA,

Durable,

Great Gift

1 year ago

Product Standouts

High Quality Craftsmanship,

Made in USA,

Durable,

Great Gift

Versatile, lightweight bag

This bag has so many uses! Shopping, of course, but around the house I have used it to gather things together or carry from one place to another. I keep it handy because it has so many uses. Although it is lightweight, it is very strong!

Great Everything Tote

I love my large shop bag and use it constantly. It's a nice large size without being too large. I can load it up with groceries and still lift it! The padded handles are especially nice when carrying those heavy loads. It's also nice having the two side pockets inside — to tuck items (greeting cards, b-day candles, fruit, etc) you don't want to get lost or crushed in a full main compartment. I chose the halcyon fabric which seems plenty strong and also allows it to fold nearly flat. I'm very happy with my large shop bag purchase!

Verified Buyer

Product Standouts

Sewn in USA,

Versatile,

Great Gift,

Comfortable,

High Quality Craftsmanship

4 months ago

Product Standouts

Sewn in USA,

Versatile,

Great Gift,

Comfortable,

High Quality Craftsmanship

Cerylon fabric is not nearly as good

I read that the Cerylon fabric is next of kin to Halcyon - cousin twice removed would be more accurate. It's not even close to Halcyon. Unlike the switch from Dyneema to Halcyon, this is very noticeable. Cerylon looks and feels cheap. I love Tom Bihn bags for the quality, workmanship, and made in USA. I hold out hope that these great qualities will remain under the new ownership. Will hold out for Halcyon before ordering shop bags again. Please bring back Halcyon as an option for all the shop bags!

TB

TOM BIHN

4 months ago

Thanks so much for sharing this feedback- it's always helpful to hear this kind of thing. I'm sorry that the Cerylon isn't what you were hoping- I'll send you a separate email in follow up. -Mike
Reviews Loaded
Reviews Added
Sewn in Seattle
Our bags are designed and sewn right here in Seattle, Washington, U.S.A.
That allows us to be control freaks in the best way possible; we have direct control and oversight of the quality of our materials, our products, and the jobs and working environment that we help create. It also offers us a unique spontaneity: when we have an idea for a new product or accessory, we can design it, figure out how to build it, add it to our website and be ready to ship it out our front door all within just a few weeks. How cool is that?

Intrigued? You can find out more about the unusual way we do business on our Company Philosophy page.
THE BIHN Guarantee
Everything you buy from us here at TOM BIHN is satisfaction guaranteed. We've been in business since 1972 and we stand behind what we make.
If something goes wrong and it's our fault, we'll fix it for free. Repairs due to normal wear and tear or due to other things that are not our fault will be performed, when possible, at a reasonable charge right here in our Seattle factory where your bag was made. Defects in materials or workmanship are uncommon and almost always evident while the product is still new. Keep in mind that bags and packs are often subject to extreme wear in everyday use: do not expect them to last forever. Only true love lasts forever! You can expect a TOM BIHN product to give years and years of hard service.