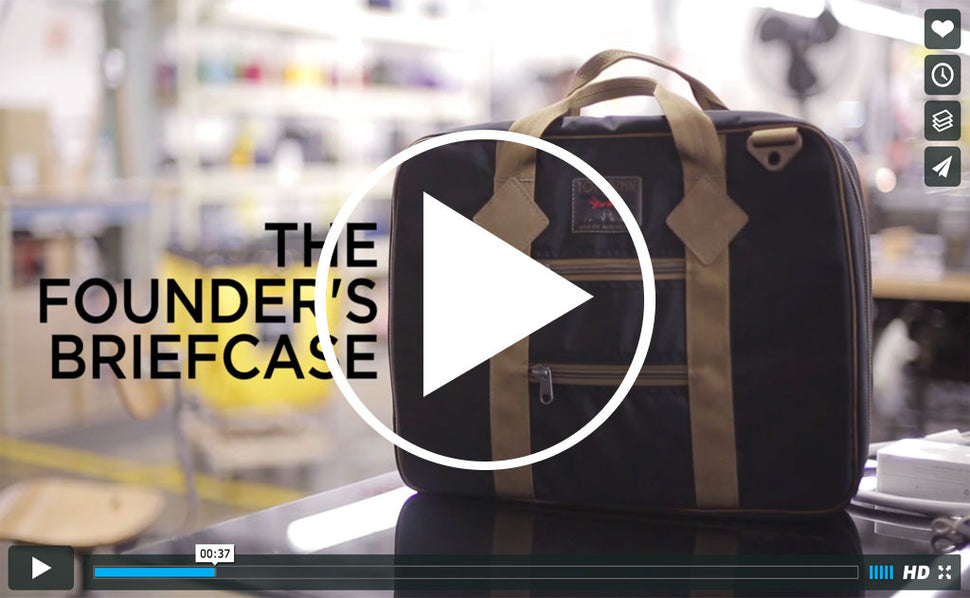 Description
Clam-shell style briefcase (checkpoint friendly to boot).
Like The Guide's Pack, the Founder's Briefcase is the result of some deep meditations on both the past and the future of outdoor gear. Its myriad useful features will satisfy the most technically driven user, and its classic style comes as a welcome relief to the legions of ubiquitous black ballistic bags.
The Founder's Briefcase is a conservatively sized, one-compartment clamshell-style briefcase. One exterior side has two zippered pockets for easy access to small stuff like phone/wallet/keys, and the other side has naught: there's a TOM BIHN label on both sides, so there really isn't a front and back, but rather two fronts. Two shoulder-strap-attachment points are off-centered on either side of the briefcase, ensuring that the load is balanced should you choose to carry it with its included shoulder strap. The handles aren't of the über-cushy style needed perhaps on larger briefcases, but we've found them more than comfortable for everyday use. Constructed of three-ply nylon webbing, they naturally stand up on their own and meet, always at the ready.
Unzip the Founder's Briefcase wide and lay it open: one side has a built-in checkpoint-friendly padded laptop compartment (zip open the Founder's Briefcase and lay it flat when you're at a TSA security checkpoint and need to send your bag through the X-ray machine; no need to remove your laptop). This compartment is sized to fit the 15" MacBook Pro Retina or anything smaller; the padding is the same as we use on our Cache, though coyote brown instead of black. This pouch also fits files and folders, so if you don't carry a laptop, you'll still find it useful.
The other surface is where the bulk of the organization lies. Front and center, you'll likely notice a strip of thick 1-1/2" / 38 mm webbing designed to accept accessories with belt clips: multitools, knives, flashlights, tape measures, pens. Behind this strip of webbing is a zippered pocket sized to fit an iPad mini (with or without Smart Case) or other tablet of the same or smaller size. The front of this pocket features a thin stiffener of impact-resistant plastic (HDPE), as well as a layer of closed-cell foam, so you needn't worry about your tablet getting whacked by your multitool. Two O-rings below the webbing strip provide tether points for your keys or what-have-you (one coyote-brown Key Strap is included); if you feel extra pockets are in order, add a Coyote Organizer Pouch or two and snap them here. On the left side of the webbing strip are three pen/pencil/ruler slots; on the right is an open-top pocket sized for a phone or small notepad. Below all this organization is a 3D mesh pouch divided into three separate compartments; a double-slider zipper allows you to access just one of the compartments or all of them. These compartments are ideal places for power supplies, cables, point-and-shoot cameras — that kind of stuff.
We've designed an optional Packing Wedge which attaches via two Annex Clips to the interior bottom of the Founder's Briefcase. It's sized to accommodate a folded shirt and a change of underwear: if your work takes you away overnight, you'll be ready. It's also a great way to segregate and contain paperwork, an unruly down jacket, a light raincoat, or your lunch. The Packing Wedge of course will provide an additional buffer between your multitools and your laptop, should you be concerned about that.
The Founder's Briefcase is made of our 420d HT nylon Classic Parapack, both inside and out. You'll find its smooth surface won't collect pet hair, nor will it abrade your clothes. Because they're exposed to the elements, we've used YKK Aquaguard® water-repellent zippers on exterior pockets and the main compartment. We've sewn them "right side up," which means they don't look waterproof because the coating is on the inside. We think the aesthetics are better, and the weatherproofness and durability are just as good as on the more commonly seen "upside-down" installation. The handles are reinforced with die-cut synthetic felt patches — their appearance is evocative of heavy leather, but they tend to not absorb water and require no maintenance. Other than that, you can expect the usual TOM BIHN treatment: multiple rows of stitching, finished seams, and lots of bar tacks.
Sewn in Seattle
Our bags are designed and sewn right here in Seattle, Washington, U.S.A.
That allows us to be control freaks in the best way possible; we have direct control and oversight of the quality of our materials, our products, and the jobs and working environment that we help create. It also offers us a unique spontaneity: when we have an idea for a new product or accessory, we can design it, figure out how to build it, add it to our website and be ready to ship it out our front door all within just a few weeks. How cool is that?

Intrigued? You can find out more about the unusual way we do business on our Company Philosophy page.
THE BIHN Guarantee
Everything you buy from us here at TOM BIHN is satisfaction guaranteed. We've been in business since 1972 and we stand behind what we make.
If something goes wrong and it's our fault, we'll fix it for free. Repairs due to normal wear and tear or due to other things that are not our fault will be performed, when possible, at a reasonable charge right here in our Seattle factory where your bag was made. Defects in materials or workmanship are uncommon and almost always evident while the product is still new. Keep in mind that bags and packs are often subject to extreme wear in everyday use: do not expect them to last forever. Only true love lasts forever! You can expect a TOM BIHN product to give years and years of hard service.