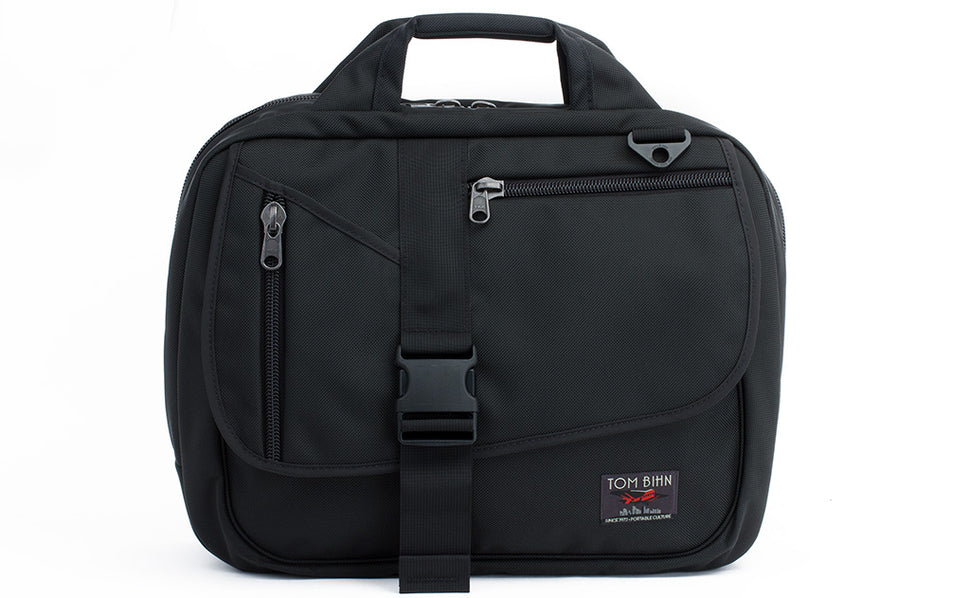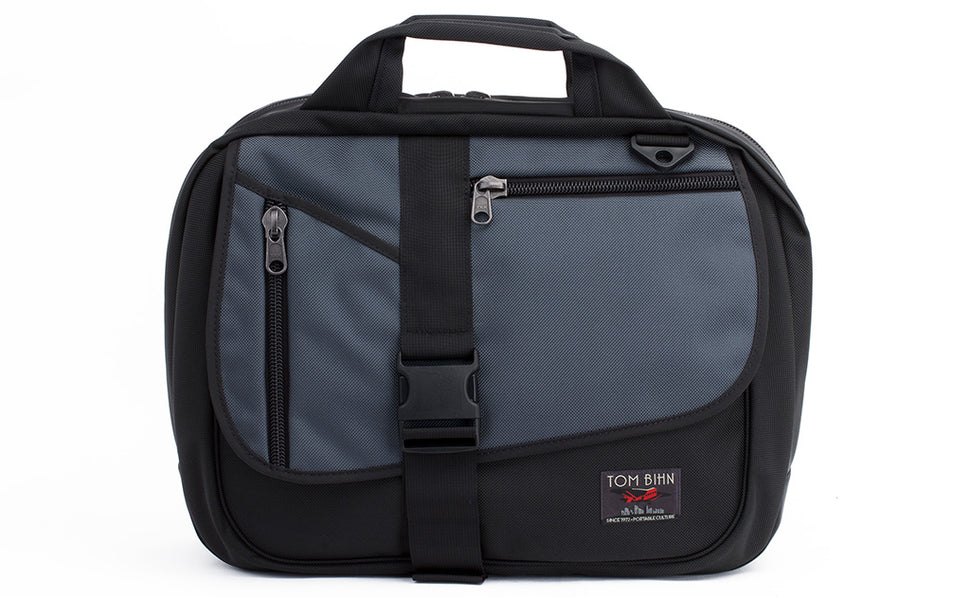 Description
Decades of design and build experience resulted in this briefcase. You'll hand it down to the next generation.
The Empire Builder is the result of three years of product development and 30 years of bag-building experience. It is uniquely styled, superbly functional, and built to endure years of abuse.
The asymmetrical front flap of the Empire Builder closes with a strong 2" side-release buckle and has three pockets: a horizontal zippered pocket to fit power supplies or small electronics; a vertical zippered pocket designed to store an iPhone for quick access; and a diagonal, open-top pocket for a plane ticket or any similarly sized items you might need quick access to.
Under the front flap, there is a large, zippered front pocket that extends almost the length of the bag, and behind that pocket, a large open-top pouch that has two organizational pockets for notebooks or small electronics, three pen pockets, and a business card pocket, plus an O-ring to which the included 8" Key Strap is attached. Key Straps are useful for keeping track of your keys (many folks leave their keys attached to the Key Strap) and can also be used to clip a pocket watch or Swiss Army knife to the bag. (Additional and extended-length Black and Color Key Straps can be purchased separately.)
The main compartment unzips low on the sides, exposing a "bellows" that allows access to the depths of the bag. The front, back, bottom, and sides of the Empire Builder are padded and stiffened by 1/4" (6 mm) closed-cell foam to protect its contents and maintain its sharp looks. Inside the main compartment are three hard plastic file dividers (included with the bag) that make organizing your papers a snap. They also help to keep those important papers from getting damaged by the other contents in the main compartment. The dividers stay put inside the bag but are easily removed if you don't want them. You can order Extra File Dividers for even greater organization.
Also in the main compartment are two unobtrusive webbing loops (that we call "rail loops") to which you can secure the optional Cache (available in sizes specifically for every Apple laptop and iPad; PC users, click here for our Laptop Bag Fit Guide). When you add the Cache, the Empire Builder becomes a "checkpoint-friendly" laptop briefcase. Here's how it works: on the back (or bottom, depending how you look at it) of the Cache are two parallel "rails" of 1" wide lightweight nylon webbing which extend from the top to the bottom. Included (and already attached for your convenience) when the Cache is ordered with the Empire Builder are two Gatekeeper Rail Clips: unclip the side that isn't clipped to the Cache, slip it through the webbing loops in the Empire Builder middle compartment, and flip it shut. Slip the Cache inside the Empire Builder, and pull it back out: you'll see that the Gatekeeper Rail Clips ride the rails of the Cache, allowing you to remove your laptop from the Empire Builder entirely while it is still encased in the protective Cache. Doing this at the airport security checkpoint means the X-ray machines (and TSA personnel) will have a clear, unobstructed view of your laptop — allowing you to keep your laptop in the Cache and the whole affair securely held together as one unit. (We think that's much better than having to remove your laptop and dump it in one of those buckets.) Many of us will appreciate this functionality on a daily basis as well: the rail system can be a convenient and quick way to remove one's laptop from the bag.
The back of the Empire Builder features an open-top pocket for magazines or newspapers. It also has a slot that allows you to stack the bag on top of rolling luggage — slip the handle of the rolling luggage through the slot on the Empire Builder. The slot zips shut at the bottom so it can be used as a pocket when you're not using it to fit the bag on rolling luggage.
Did we mention the handles yet? They are amazingly comfortable — constructed of U.S. made, 1050 denier, high tenacity ballistic nylon rolled around high quality, 1/2" thick PORON® foam; they lie naturally together at the top of the bag, so there's no fishing around for your grip. The Empire Builder can also be carried across-body or over the shoulder with the optional Absolute Shoulder Strap. The Absolute Shoulder Strap, which combines a soft, durable neoprene pad with comfortable stretch backing, has a unique internal control-stretch system that has given it a well-earned reputation as the best shoulder strap available. We say it makes bags feel 50% lighter, which might sound like a bunch of marketing nonsense, except it's actually true.
The Empire Builder is made of our custom, U.S. made, high tenacity 1050 denier ballistic nylon and is lined with U.S. made 420 denier High-Tenacity Classic Parapack nylon. It features #10 YKK Aquaguard® water-repellent zippers for the main compartment and exterior pockets. The front pocket under the flap has a #8 YKK coil zipper.
100%
would recommend this product
Best bag ever

This is the bag of all bags. Plenty of pockets and features; I have no doubt it took 3 years of R&D to perfect. It's an absolute workhorse for the mobile, professional knowledge worker. I am so sad that mine has finally worn out after over a decade of heavy use, and that this model is no longer available.

Best Bag I have ever owned.

I have had my Empire builder for at least 8 years. It is amazing. The shoulder strap is still comfortable, the compartment dividers are perfect and the vertical brain keeps my lap top in perfect shape! I can't offer more superlatives. Amazing construction, totally secure and comfortable. Time for another piece as a carry on.

Just buy it already

I'm a military officer and have used this bag everyday for 5 years. It routinely hauls multiple laptops, phones, a bundle of chargers, the occasional set of workout clothes, snacks - everything. It hasn't shown any wear and cleans up nicely (faulty food storage container) and without fail someone will ask about it atleast once every trip. At ~1800 cubes this is not going to sustain multiple days of tripwear (unless that's a pair of board shorts and sandals), but if you're working on the go than there really isn't anything that beats it.

Verified Reviewer

Product Standouts

Thoughtful Design,

High Quality Finishings,

Unique

6 months ago

Product Standouts

Thoughtful Design,

High Quality Finishings,

Unique

Amazing Briefcase

This bag is amazing and versatile. It's slim and lightweight when I'm not carrying much, but it can also hold a 17" laptop and a bundle of books. As a longtime professor, few bags have served me so well over the years. I'm sad to see that this design is no longer available!

Verified Reviewer

Product Standouts

Thoughtful Design,

Comfortable,

High Quality Craftsmanship,

Sewn in USA,

High Quality Finishings

4 minutes ago

Product Standouts

Thoughtful Design,

Comfortable,

High Quality Craftsmanship,

Sewn in USA,

High Quality Finishings

The best of the best!

Stopping back by to write a review of this amazing bag. I have had it for well over 15 years and it has traveled all over the world with me. Other than a small bit of the paint rubbing off on a couple of zipper pulls, you can't tell it from a new one, it's absolutely bulletproof and I LOVE it. My only complaint is that it is so well made, it won't wear out so I have the excuse to buy something new. If you are looking to build an empire and can have only one bag, this is it. 10/10
Reviews Loaded
Reviews Added
Sewn in Seattle
Our bags are designed and sewn right here in Seattle, Washington, U.S.A.
That allows us to be control freaks in the best way possible; we have direct control and oversight of the quality of our materials, our products, and the jobs and working environment that we help create. It also offers us a unique spontaneity: when we have an idea for a new product or accessory, we can design it, figure out how to build it, add it to our website and be ready to ship it out our front door all within just a few weeks. How cool is that?

Intrigued? You can find out more about the unusual way we do business on our Company Philosophy page.
THE BIHN Guarantee
Everything you buy from us here at TOM BIHN is satisfaction guaranteed. We've been in business since 1972 and we stand behind what we make.
If something goes wrong and it's our fault, we'll fix it for free. Repairs due to normal wear and tear or due to other things that are not our fault will be performed, when possible, at a reasonable charge right here in our Seattle factory where your bag was made. Defects in materials or workmanship are uncommon and almost always evident while the product is still new. Keep in mind that bags and packs are often subject to extreme wear in everyday use: do not expect them to last forever. Only true love lasts forever! You can expect a TOM BIHN product to give years and years of hard service.