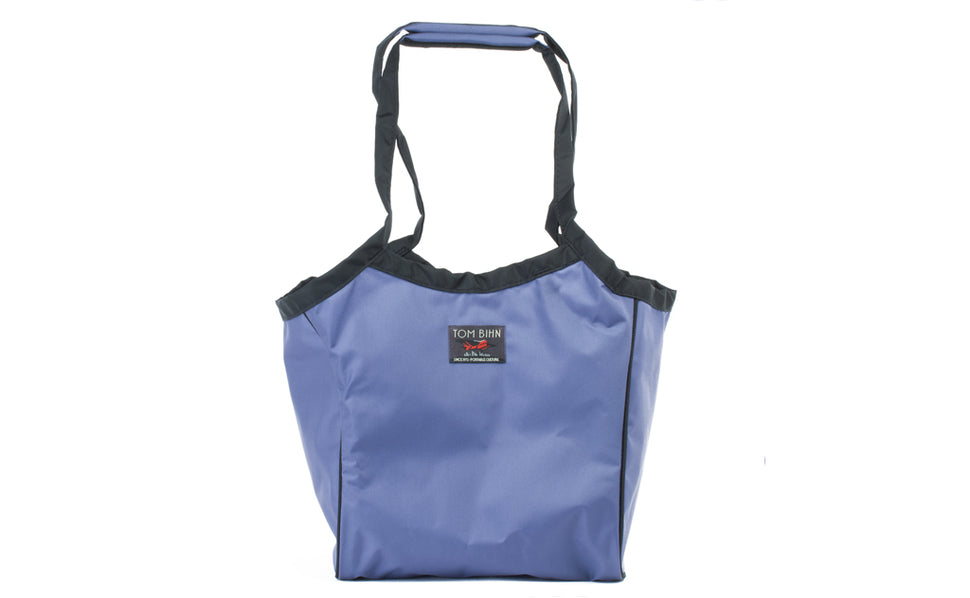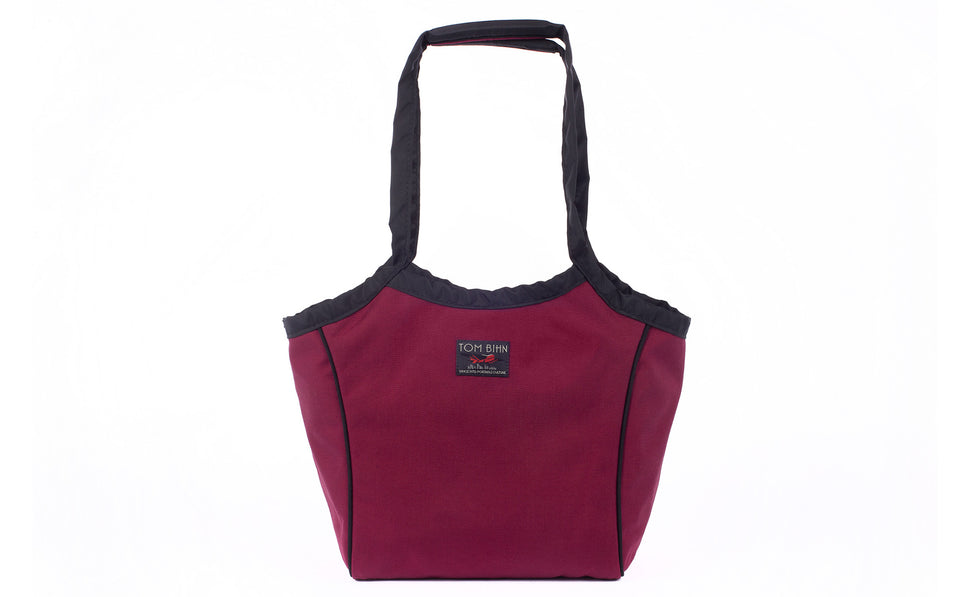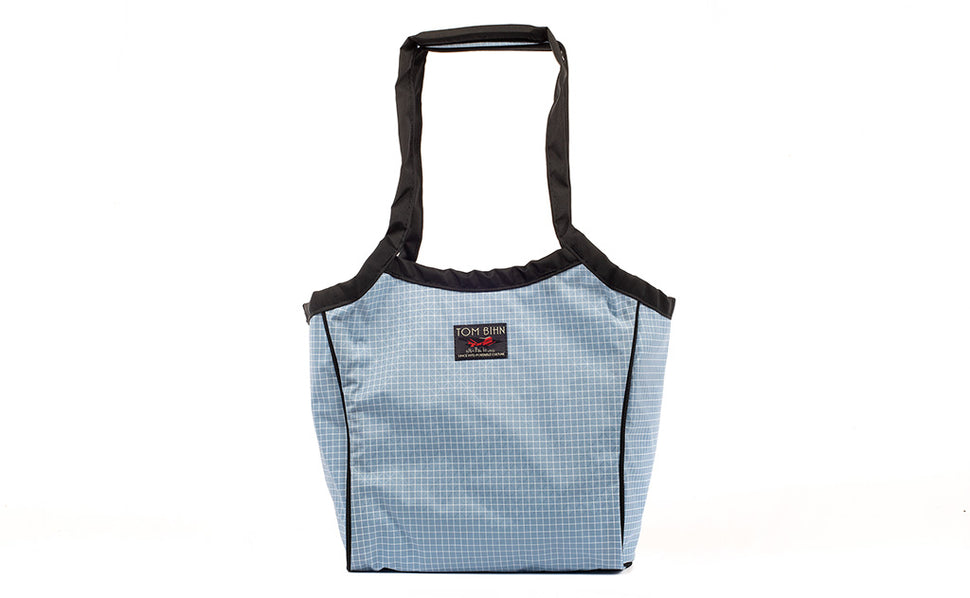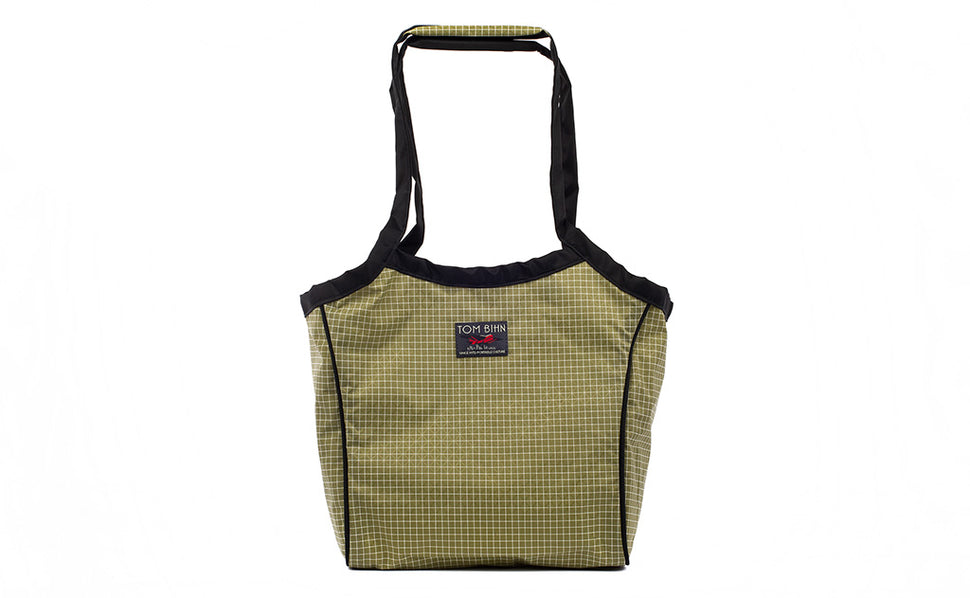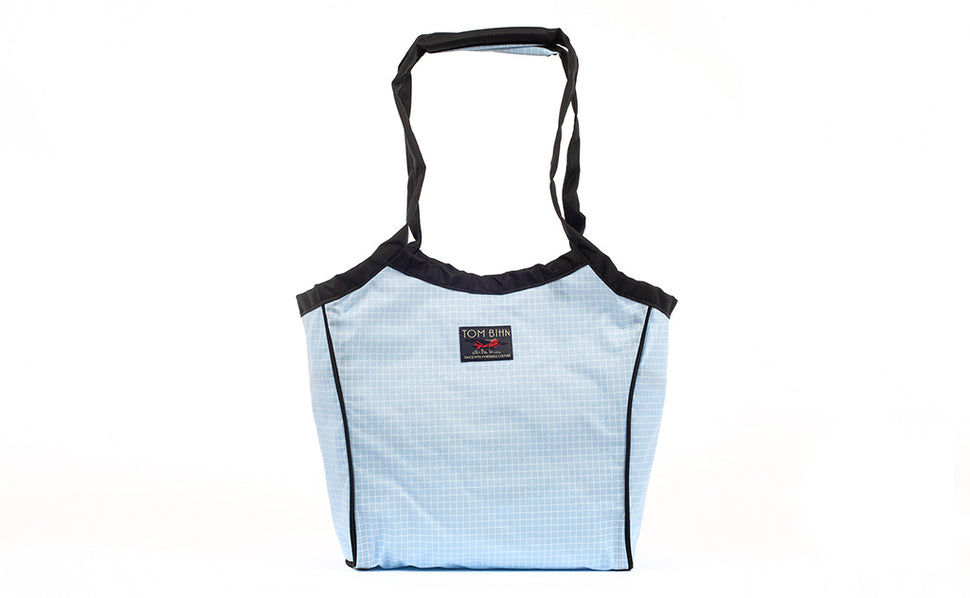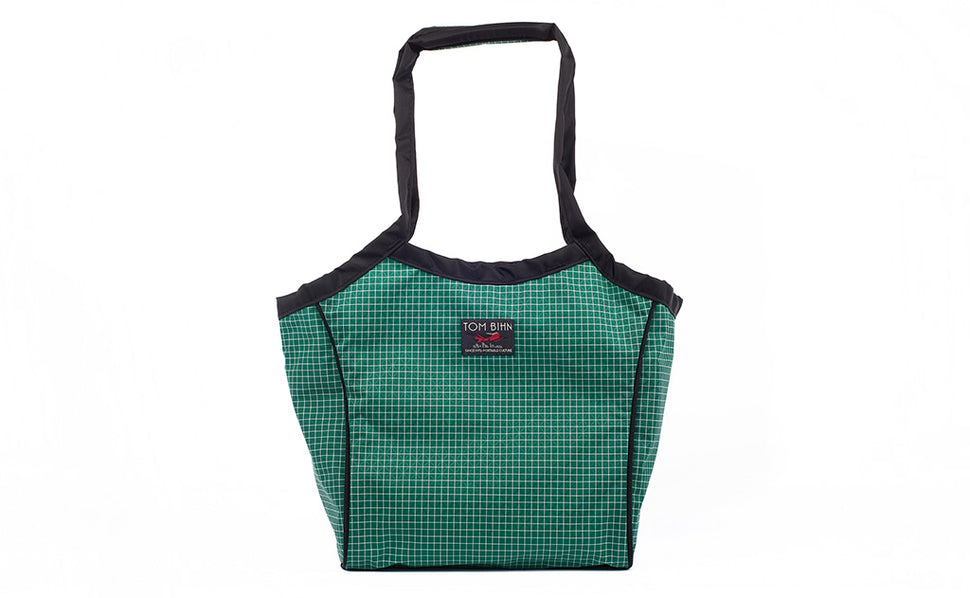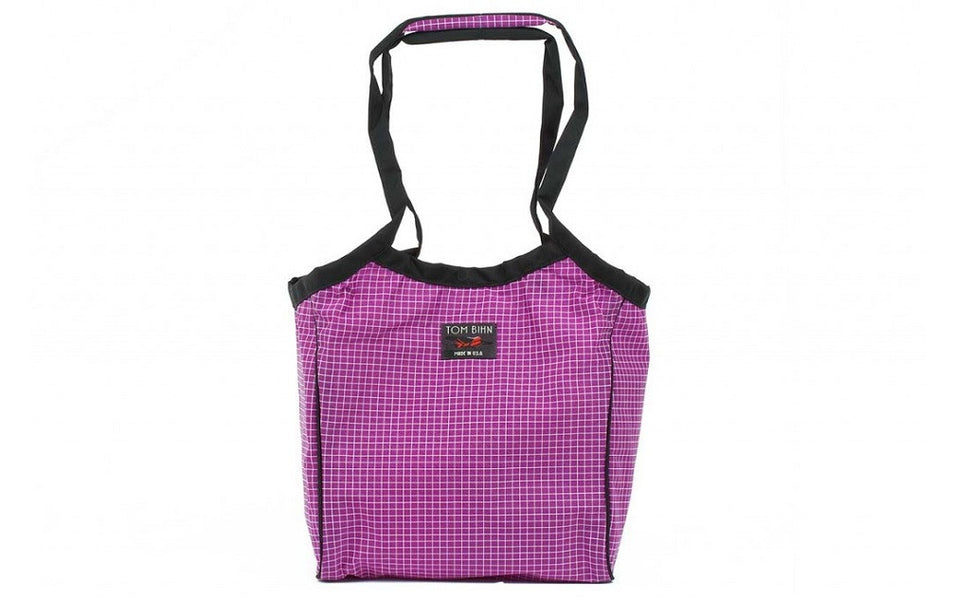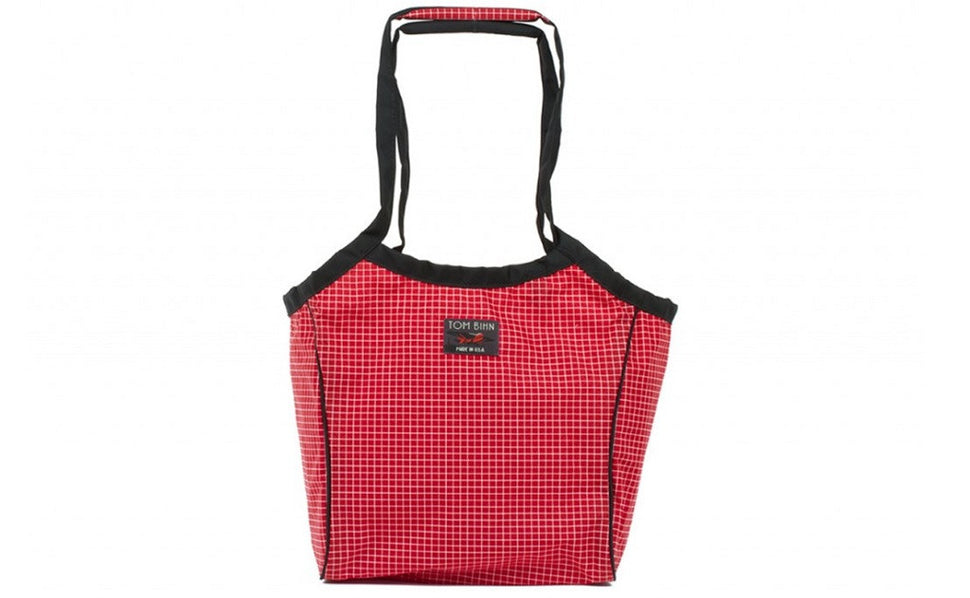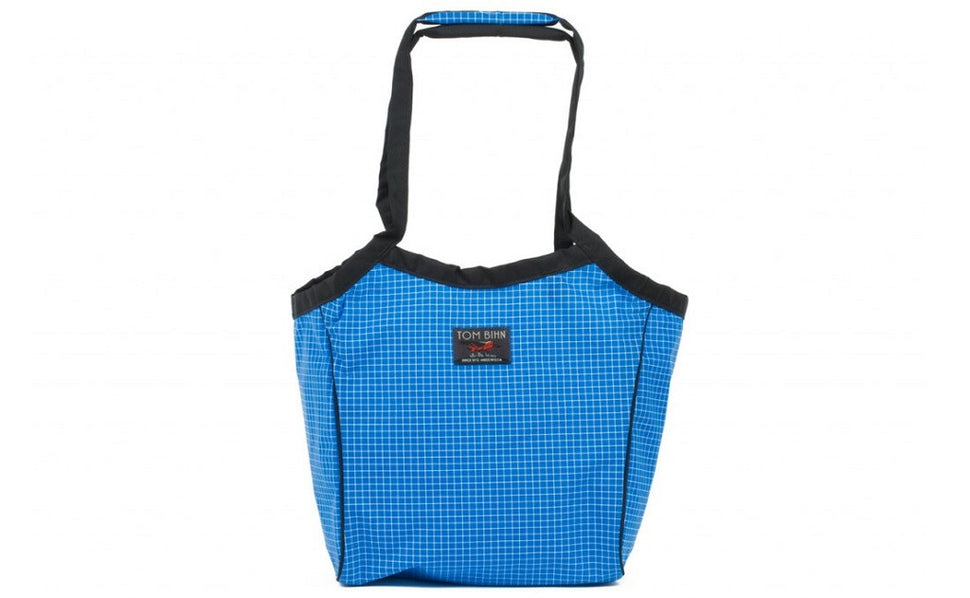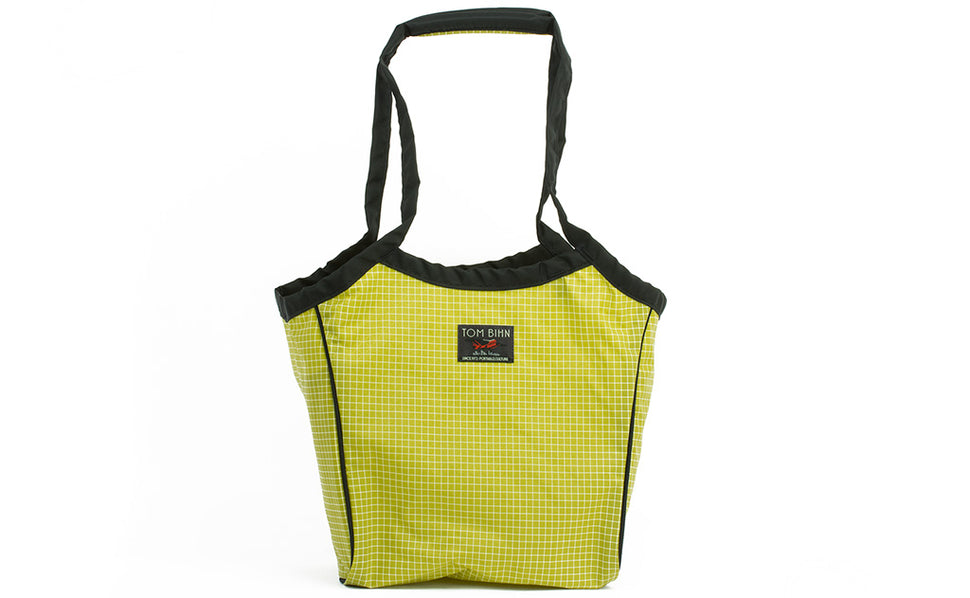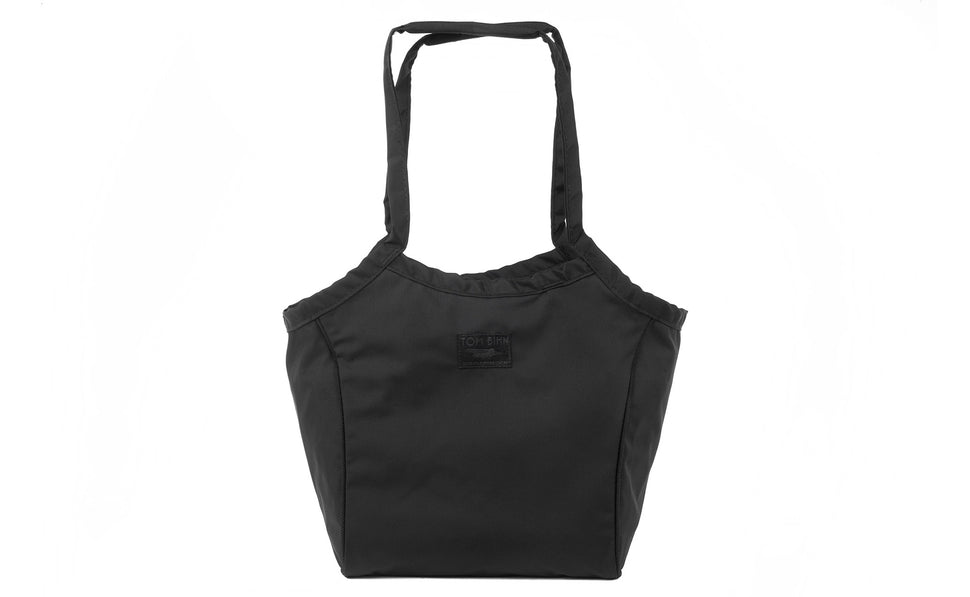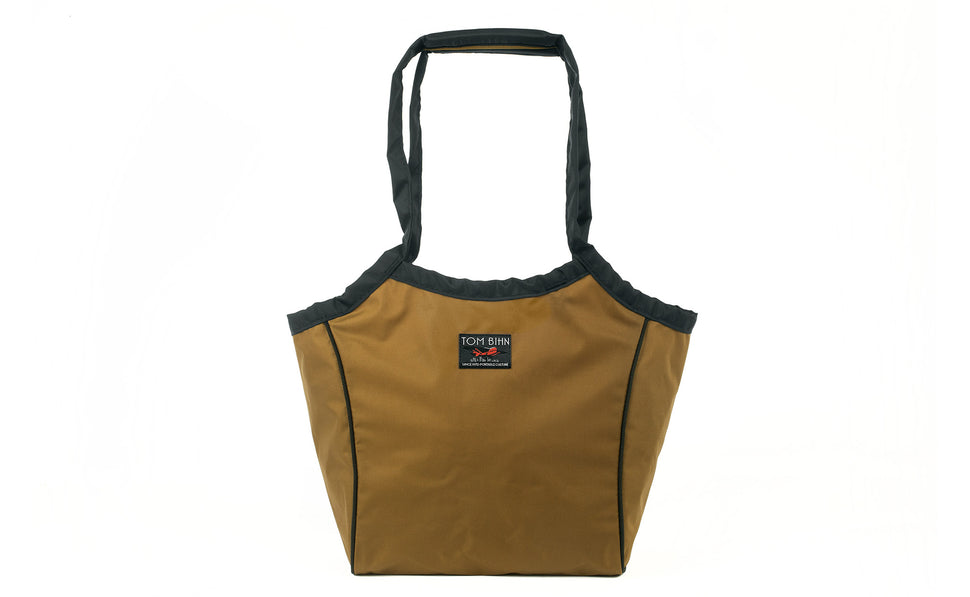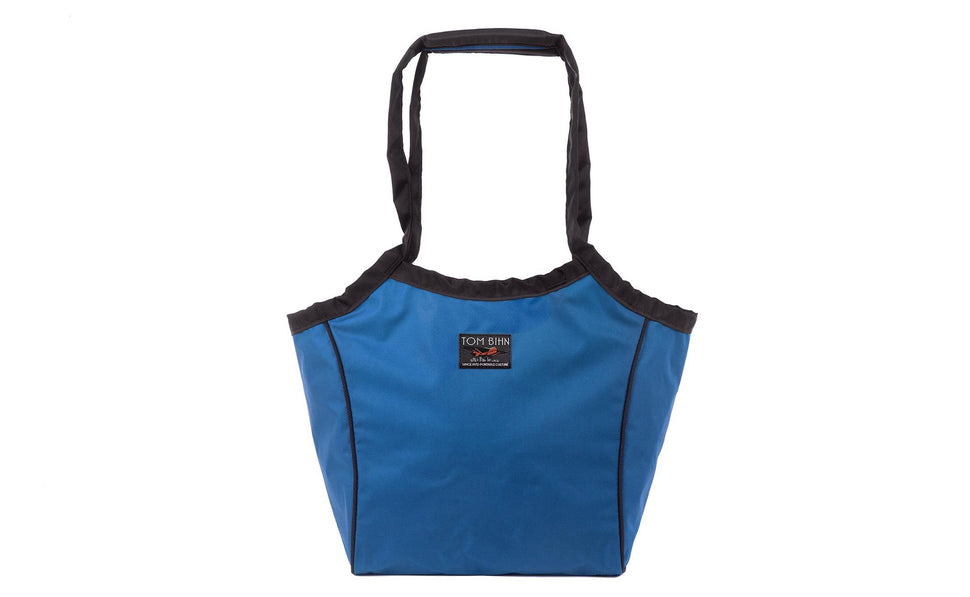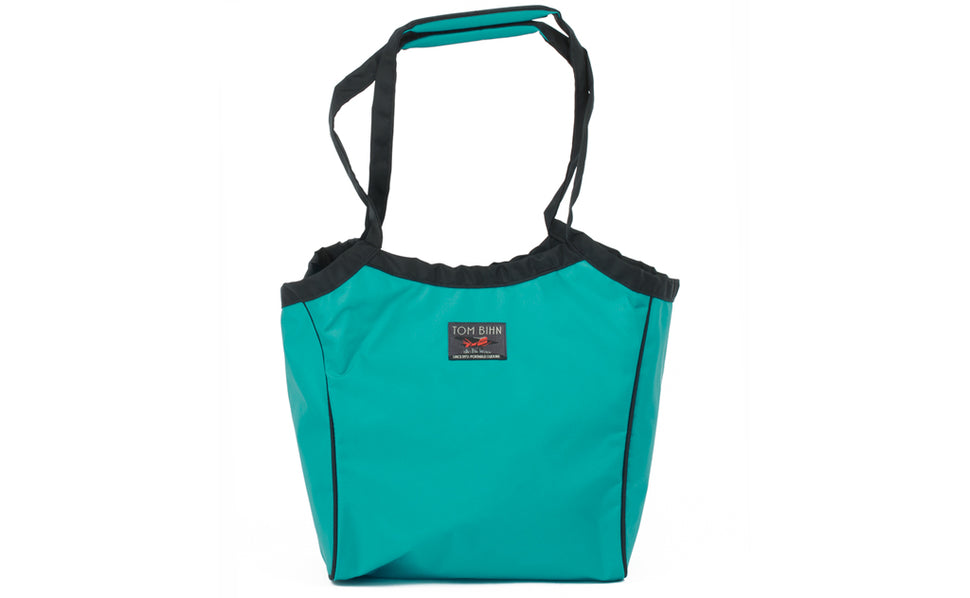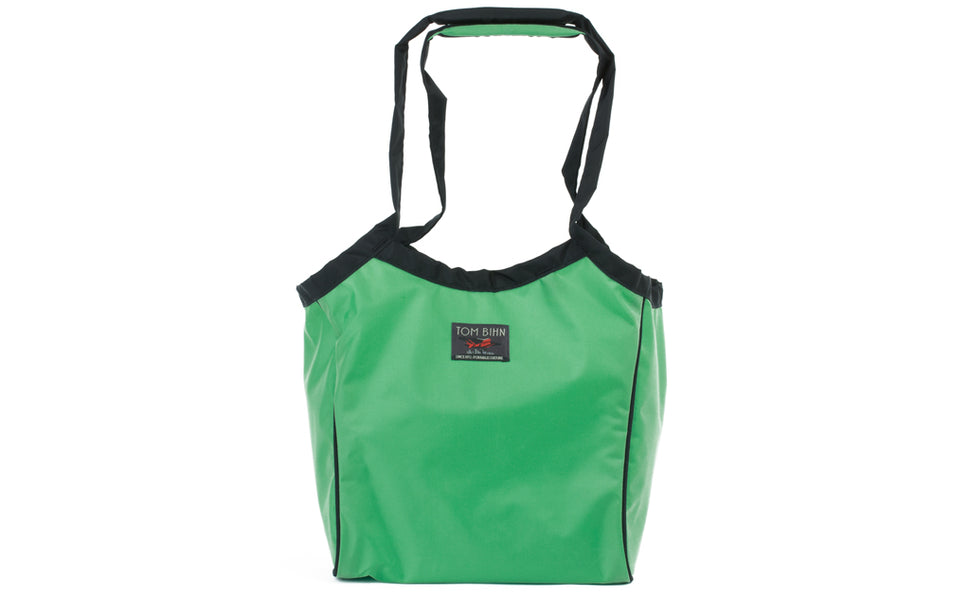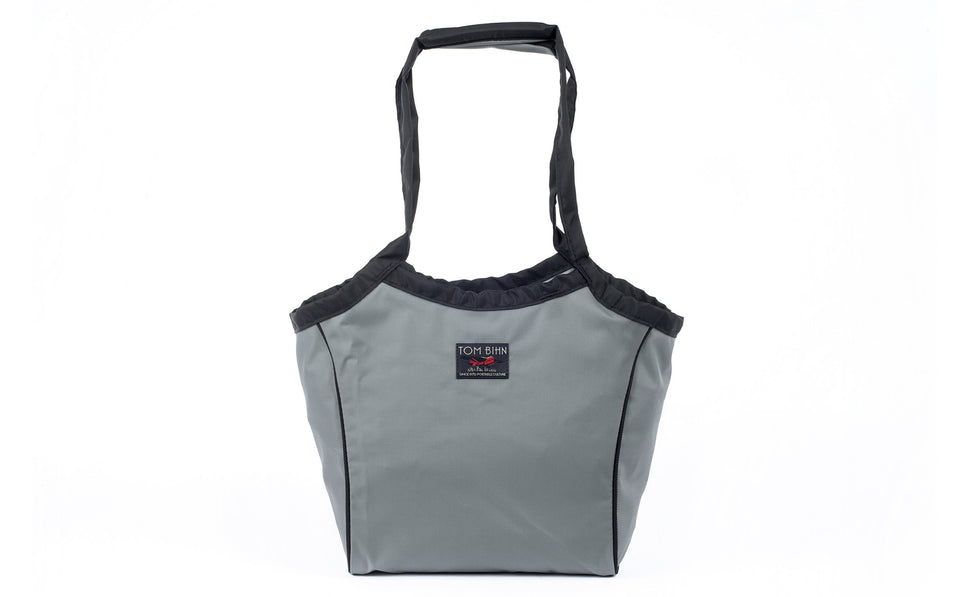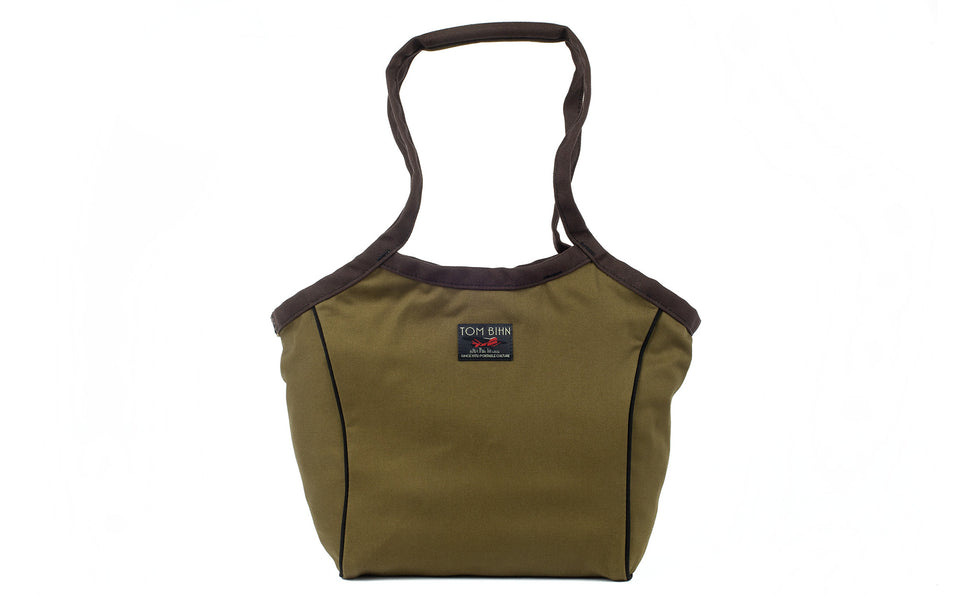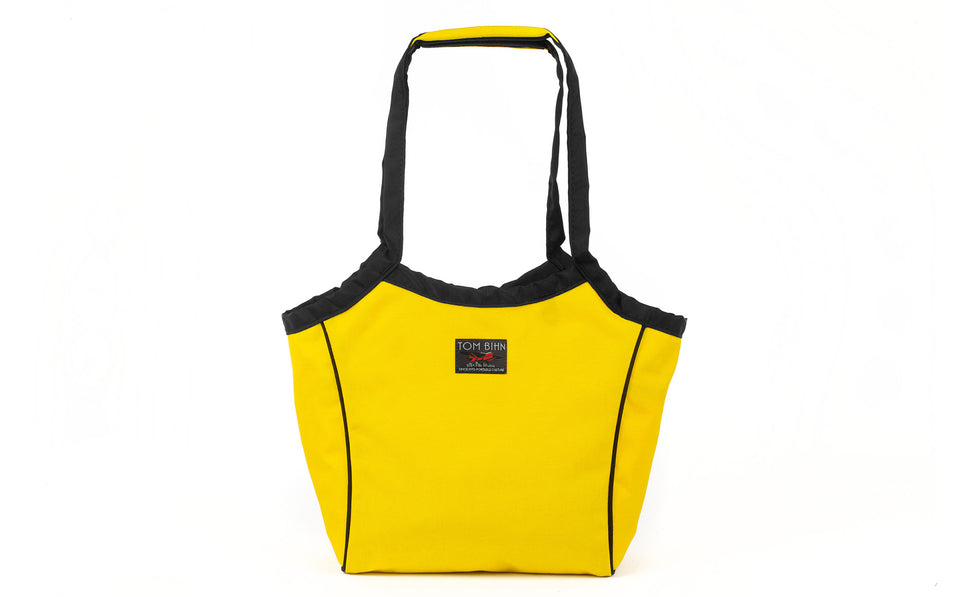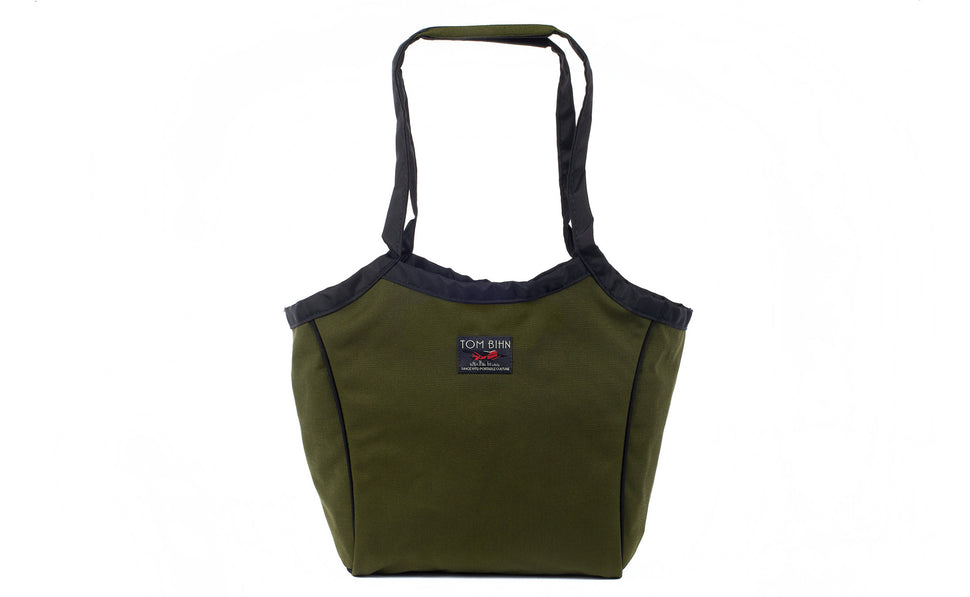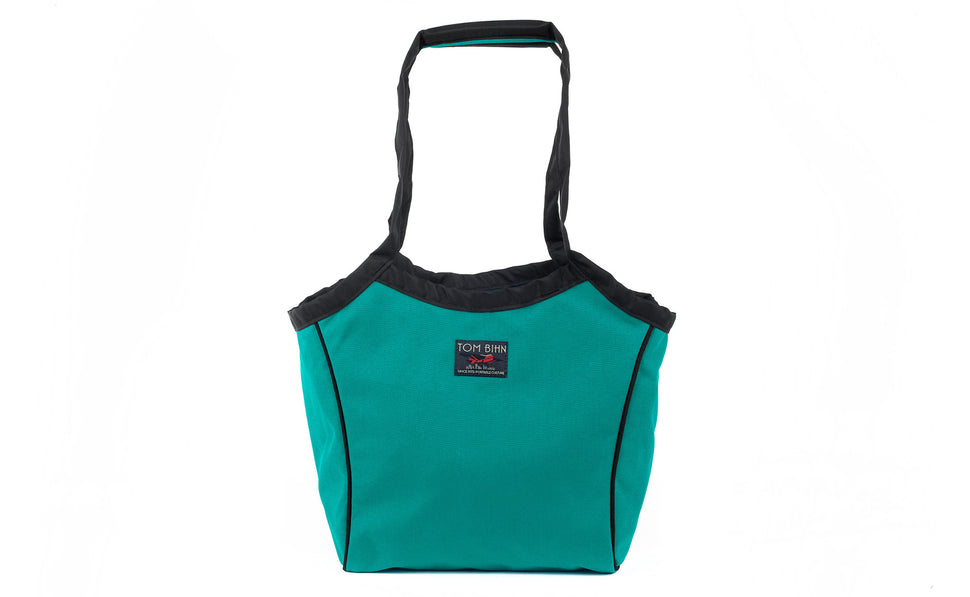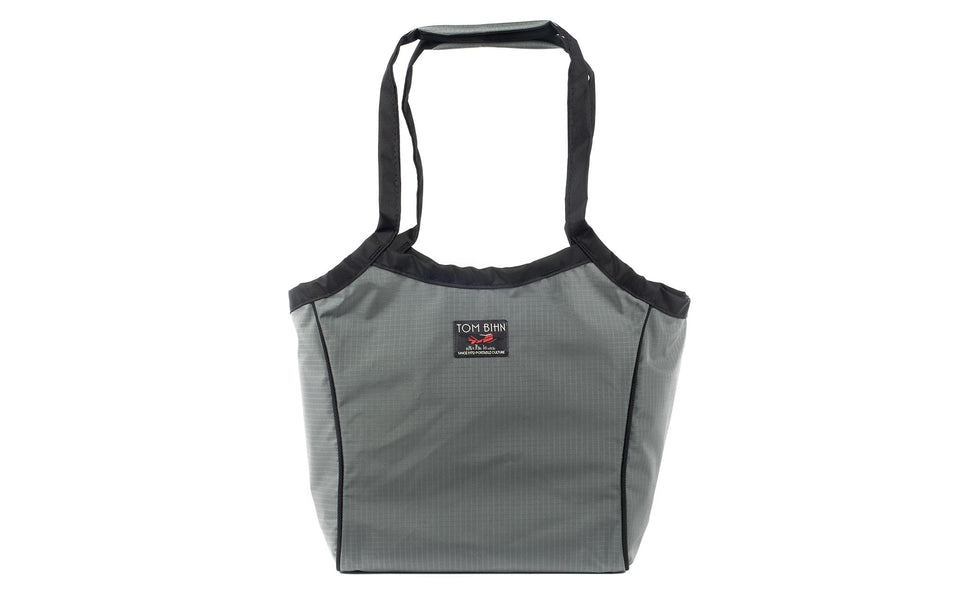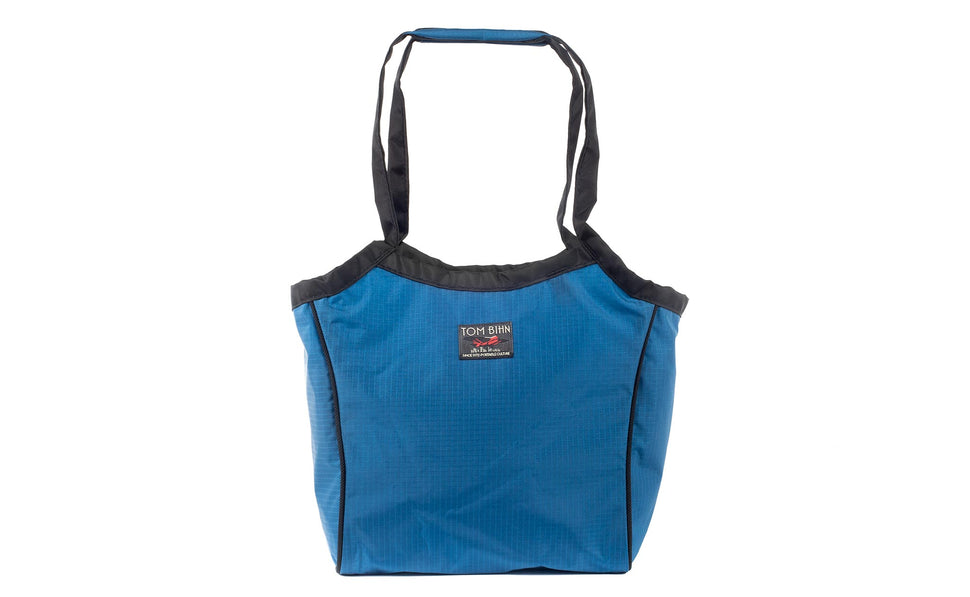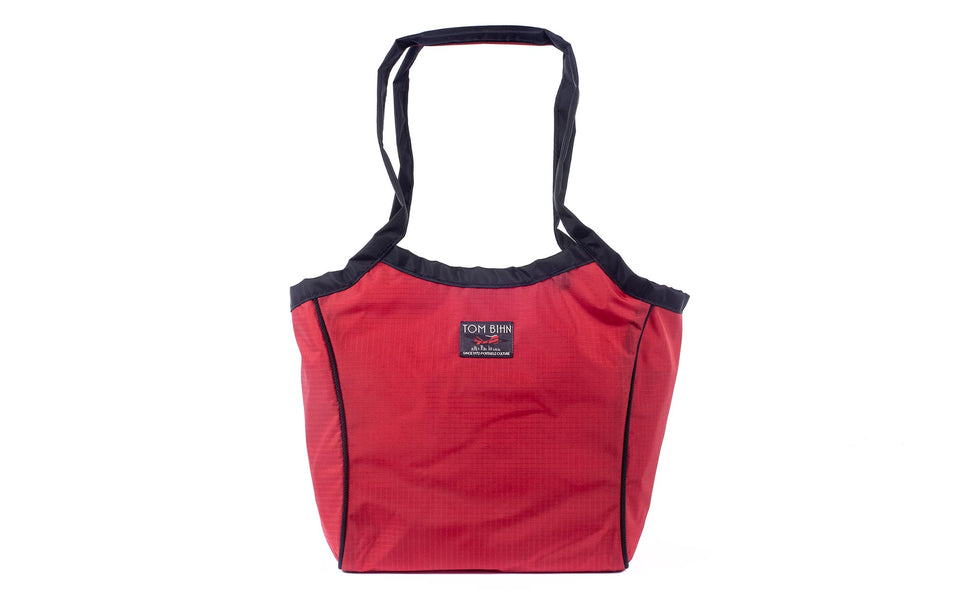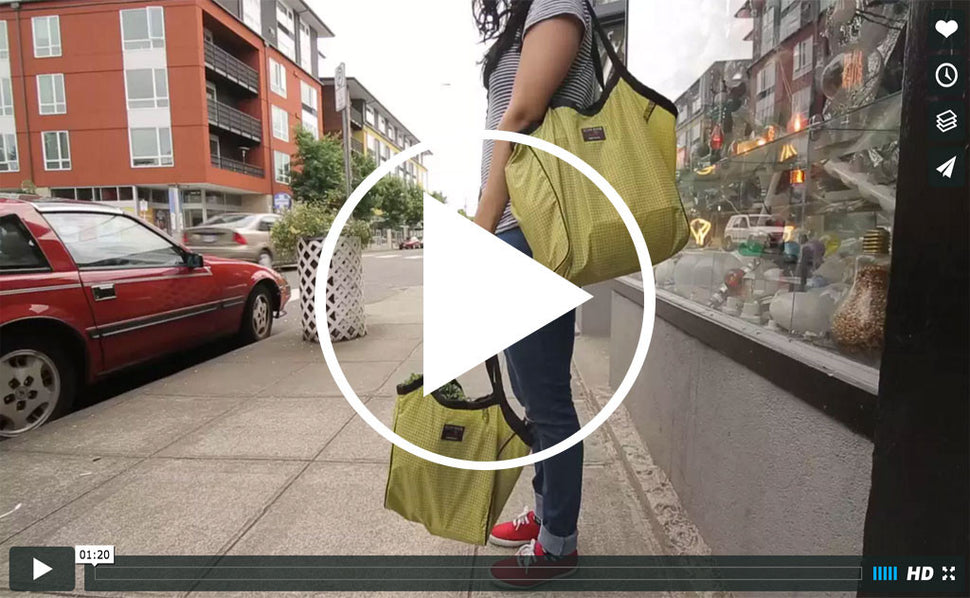 Description
Super light but doesn't sacrifice comfort: the padded handles, dare we say, rock.
The Original Small Shop Bag is super light, super durable, and super comfortable to carry. Constructed from light fabrics, it's easy to carry around with you just in case you need to do some shopping in the course of your day. At the same time, it's sturdy enough to handle carrying bottles of beer, cartons of milk, canned food, and other heavy stuff. We've piped the seams with the same stiff plastic material used on hat brims (we cover it with 400 denier pack cloth); this piping gives the Shop Bag enough structure to stand up while you're filling it and keeps the bag looking smart.
The inside of the Original Small Shop Bag has two deep, open-top pockets you can use for items like wine or water bottles. Additionally, you can fold the bag into one of the pockets if you want to save space when storing it or packing it into your larger bag.
In addition to its good looks and organization, you'll notice that the Original Small Shop Bag's PORON®-padded handles make it comfortable to carry, even when it's laden quite heavily. Designed to be an ideal length that will allow most folks to carry the bag in their hand or wear it over their shoulder, these handles successfully prevent that awful hand-slicing or shoulder-tugging experience of lugging traditional non-padded fabric handles. The PORON® will never break down or wear thin, no matter how many trips you make to the store.
The Original Small Shop Bag is easy to clean: its fabric repels dirt and water rolls right off. On the rare occasion you need to wash it, simply pop it it in the kitchen sink with a little bit of mild dish soap. Rinse it out, shake off the excess water, and hang dry.
100%
would recommend this product
The Handiest Small Tote Bag You'll Own

Want to make cashiers happy? Buy this bag. Several cashiers have told me that they love my Original Small Shop Bags. As the bag is designed to stand up on its own it's easy to load with groceries. And the interior pockets are perfectly sized to hold a bottle of wine. Plus with the durable 200 Halcyon fabric no more spilled groceries when the flimsy bags the grocery store gives you rip!

Not only is the Original Small Shop Bag the perfect grocery bag but it's also a handy tote bag for everyday use. Use it to carry snacks/toys/water bottles while you're running errands, veggies from the farmer's market, library books, picnic lunches, hobby supplies, etc. And if you tuck the bag into one of the interior pockets it's easy to toss it into one of your bigger Tom Bihn bags or a suitcase.

Useful for everything!

I use the small original Shop Bag for pretty much everything. I carry it folded in a larger bag (in the elasticized pocket inside my Synapse 19, for example) for overflow of items that accumulate during the day, to use during trips to the store, or to hold my kid's school papers/jacket/lunch box at preschool dropoff and pickup. Since the pandemic began, I have been using it daily to carry my devices, notebooks, and miscellaneous stuff around the house (as I frequently need to move around to accommodate all of us working and learning from home). It's currently holding: a travel mug in one of the side pockets, a 3DOC with small personal items in the other side pocket, a Chromebook (vertically, in a laptop sleeve), noise-cancelling headphones in their case, phone/office supplies/notebook in a small Freudian Slip, and a light sweater. The open top means that everything fits in easily and things can protrude out of the top and I can still carry it. The best thing about the Tom Bihn shop bags, as opposed to the many other reusable shopping bags or tote bags out there, is the handles. They actually fit over your shoulder and are comfortable to carry without slipping off.

One of my most used bags

I was surprised on how often I use this wonderful bag. It's large enough to carry a good amount, but not so large that when full, it's not too heavy to carry. I have used the bag for grocery and Target runs, but I find that I use it for work a lot. It carries my lunch or any extra items that I need to bring . The best part of this bag is that it folds down small enough to fit into the larger of the Q-Kits.. I can carry my lunch to work, then fold it up and put into my purse for the trip home. Since it's so packable, I find that I take it more places and use it more often.

Verified Buyer

Product Standouts

High Quality Craftsmanship,

Durable,

Compact,

Versatile,

Thoughtful Design

11 months ago

Product Standouts

High Quality Craftsmanship,

Durable,

Compact,

Versatile,

Thoughtful Design

Original Small Shop Bag

I'm really enjoying having a smaller bag since I don't always need my large bag, or I need both when I get carried away at the grocery. I'm not as fond of the Cerylon fabric, which feels like taffeta. I prefer the 210 ballistic of my large bag. Nevertheless, I'll keep using them both because I love both my bags.

Small Shop Bag makes a great EDC

I have both a black and purple original Small Shop bag (I like to switch it up) which I use exclusively as an EDC for work. It's handy for carrying my work laptop and charger along with my lunch, purse (Side Effect), a Cubelet used as a med kit and other bits and bobs. I clip my keys to a small strap fastened to one of the O rings. Work folders easily slip in there too. I've tried it as a travel bag - not very successfully because apparently travel bags need to be attached to my body, i.e., backpacks & crossbody bags, so I don't forget them. A few years ago, I left the purple Small Shop bag in an airport sitting area twice on the same trip!- luckily the people next to us saw I left it behind and brought it to me as we stood in the boarding line (yes, both times). It's also easy to clean, I use very diluted dish detergent to wipe it and rinse then hang to dry.
Reviews Loaded
Reviews Added
Sewn in Seattle
Our bags are designed and sewn right here in Seattle, Washington, U.S.A.
That allows us to be control freaks in the best way possible; we have direct control and oversight of the quality of our materials, our products, and the jobs and working environment that we help create. It also offers us a unique spontaneity: when we have an idea for a new product or accessory, we can design it, figure out how to build it, add it to our website and be ready to ship it out our front door all within just a few weeks. How cool is that?

Intrigued? You can find out more about the unusual way we do business on our Company Philosophy page.
THE BIHN Guarantee
Everything you buy from us here at TOM BIHN is satisfaction guaranteed. We've been in business since 1972 and we stand behind what we make.
If something goes wrong and it's our fault, we'll fix it for free. Repairs due to normal wear and tear or due to other things that are not our fault will be performed, when possible, at a reasonable charge right here in our Seattle factory where your bag was made. Defects in materials or workmanship are uncommon and almost always evident while the product is still new. Keep in mind that bags and packs are often subject to extreme wear in everyday use: do not expect them to last forever. Only true love lasts forever! You can expect a TOM BIHN product to give years and years of hard service.