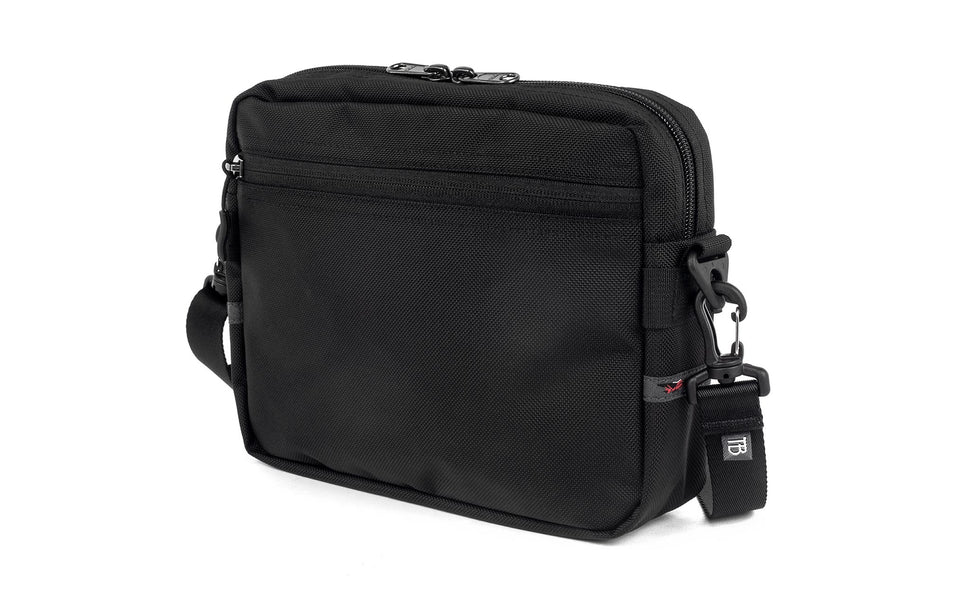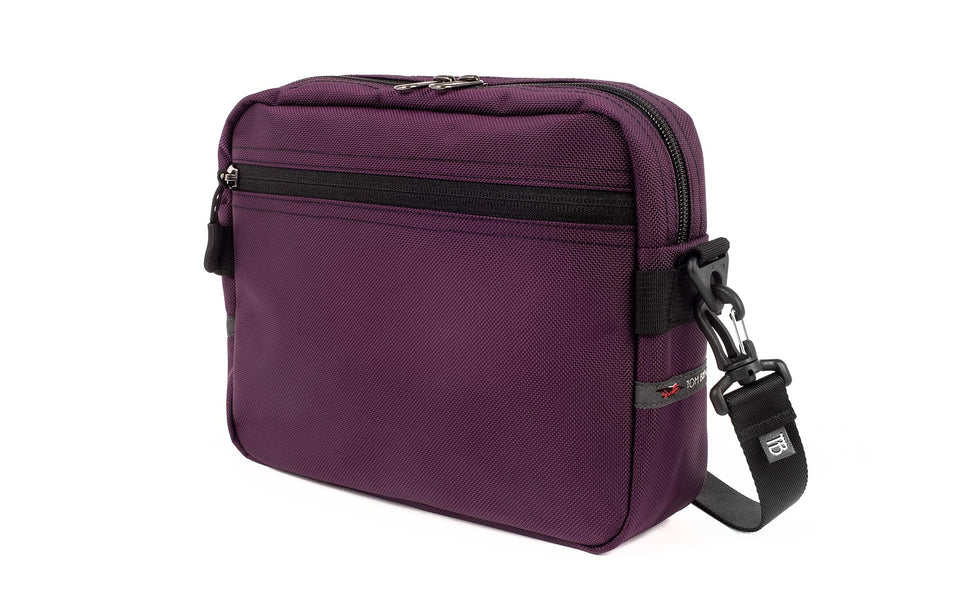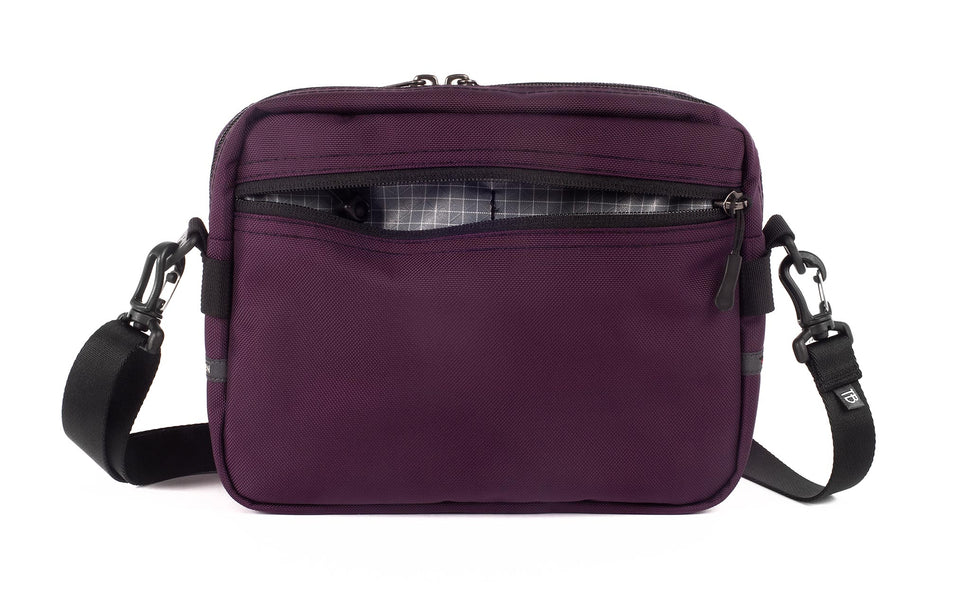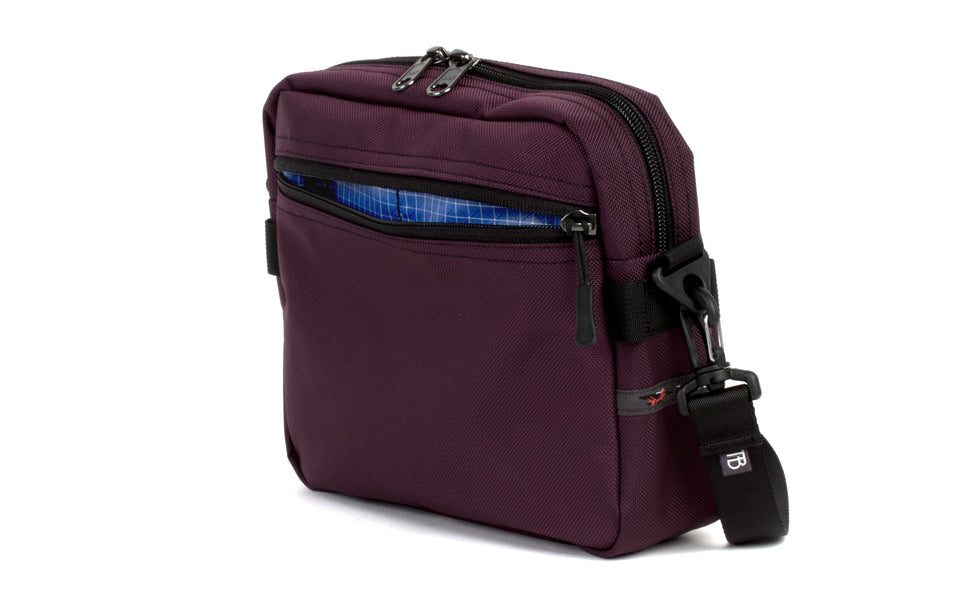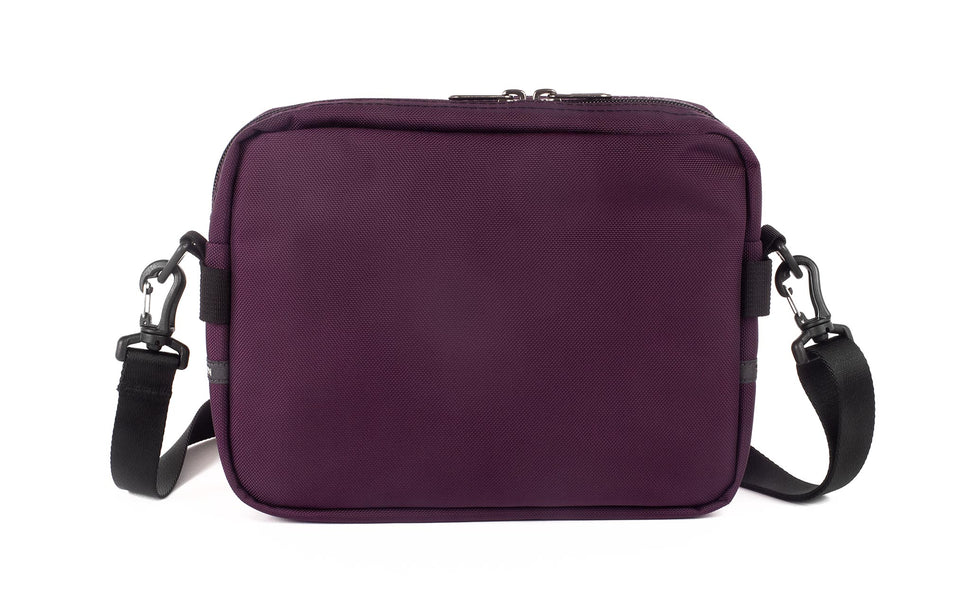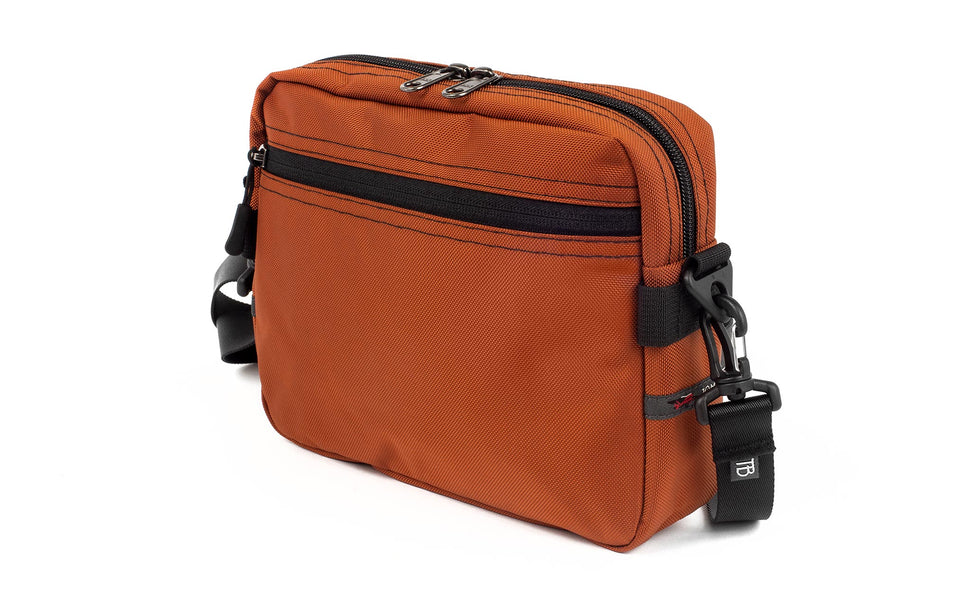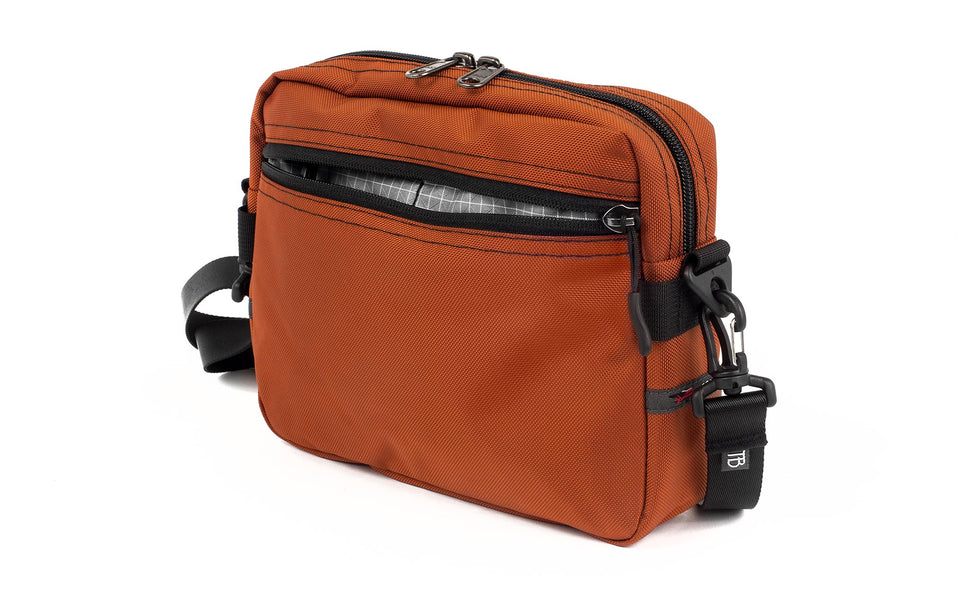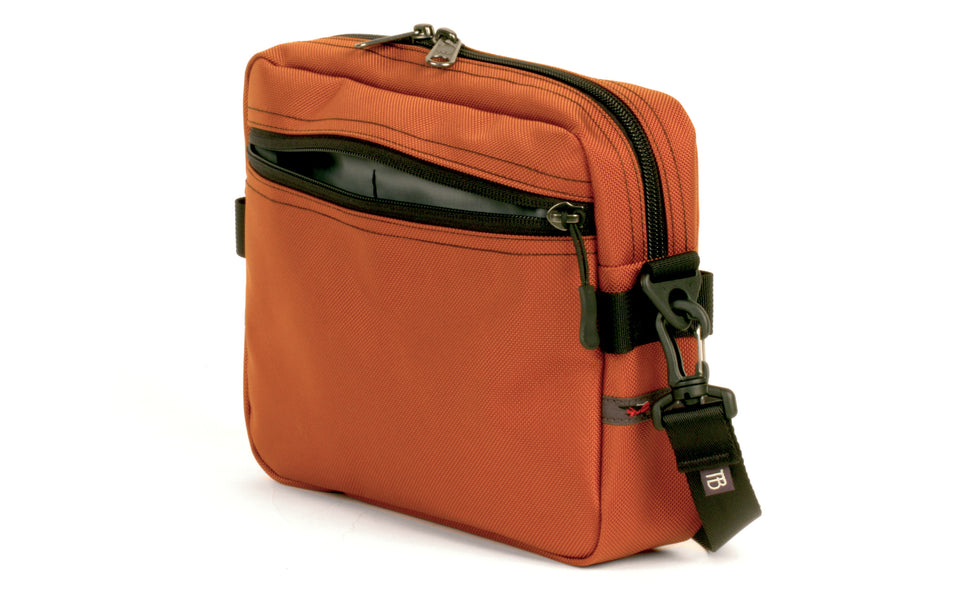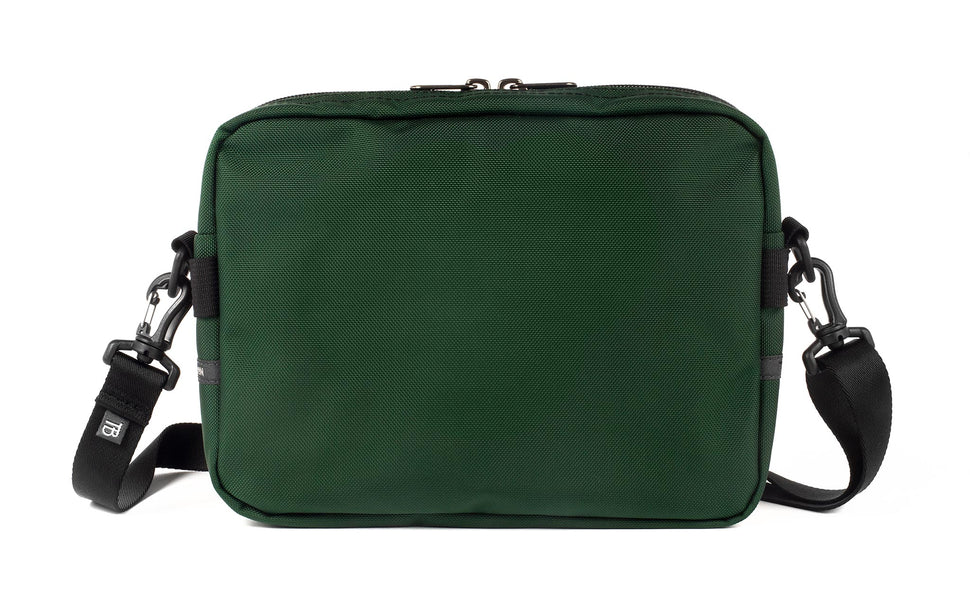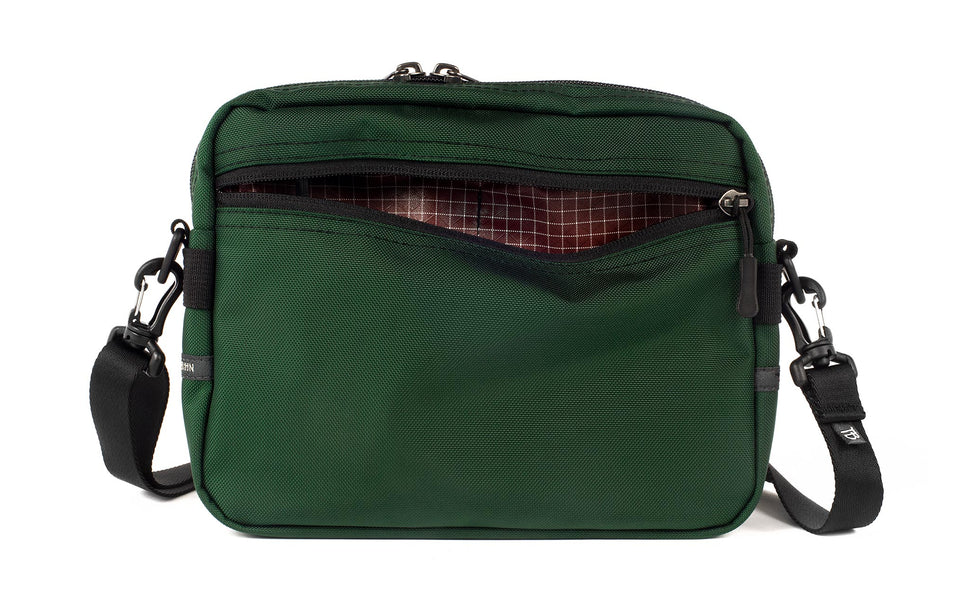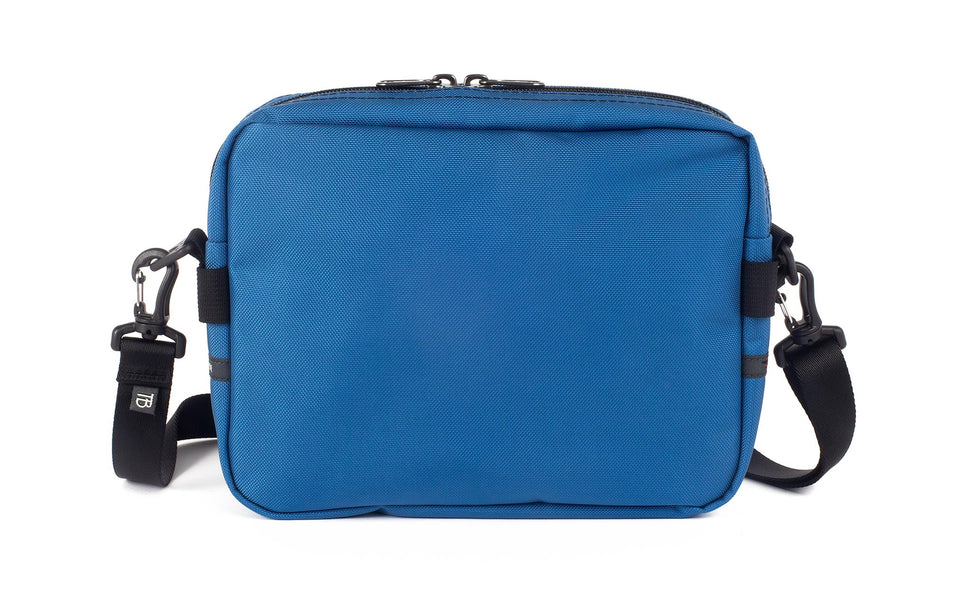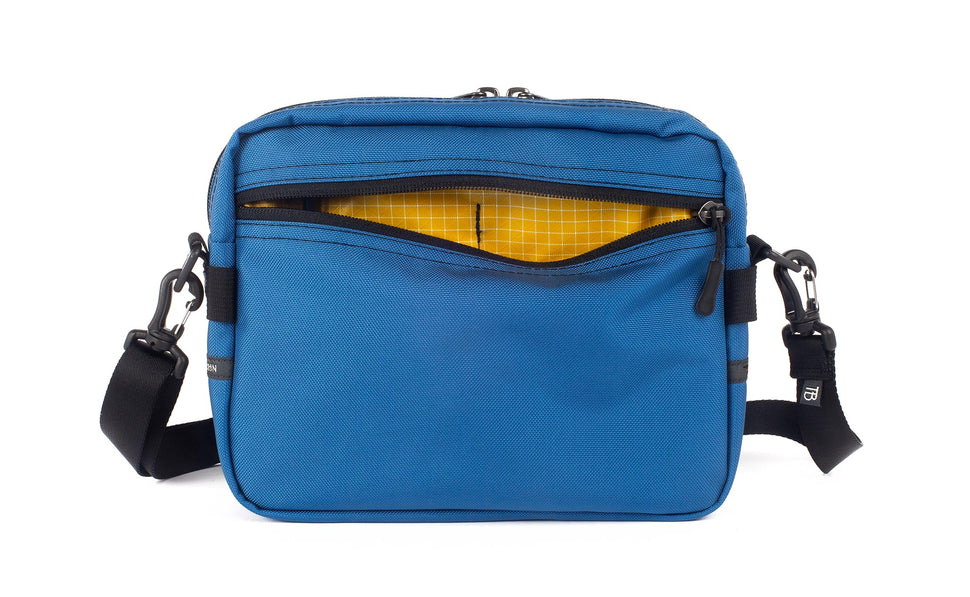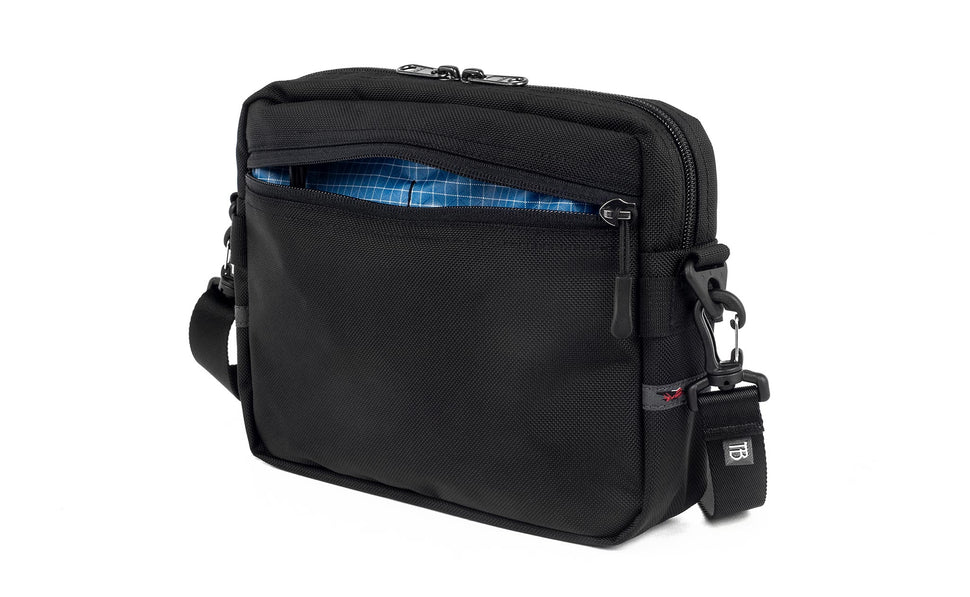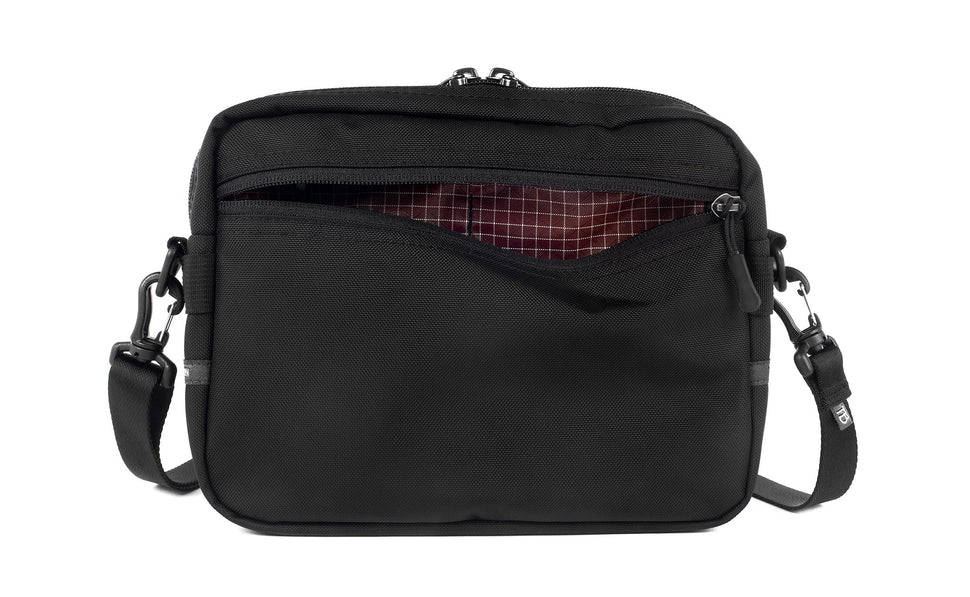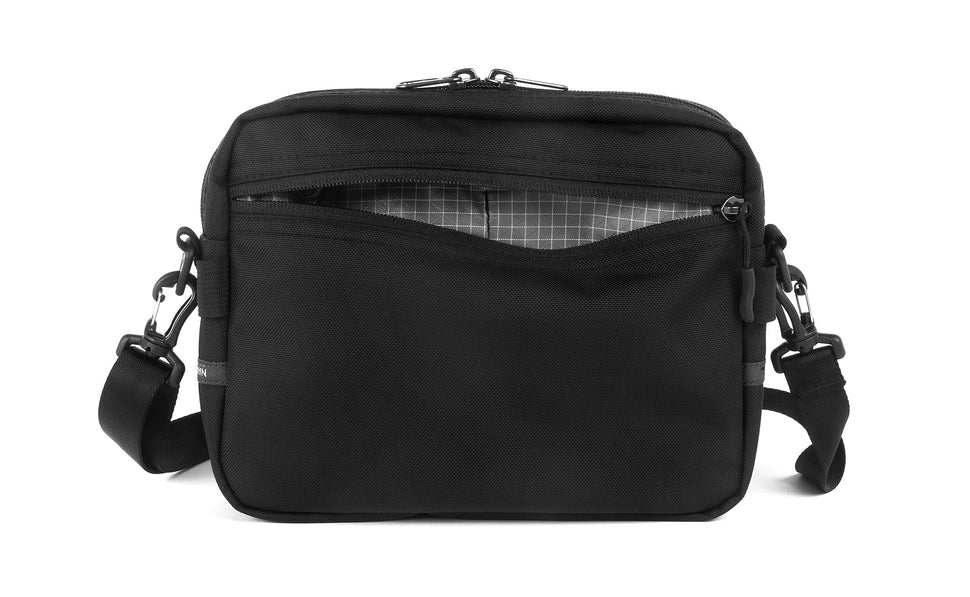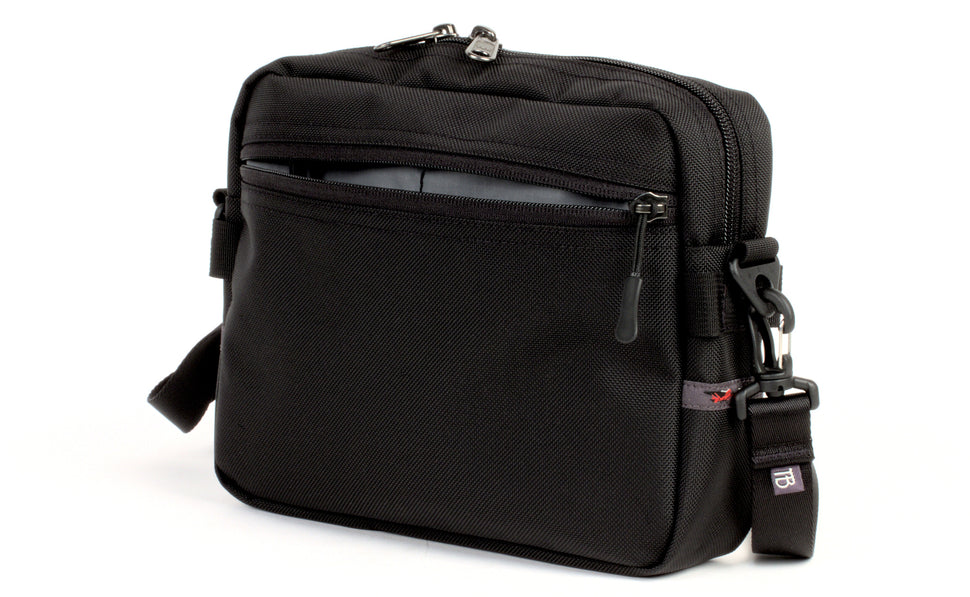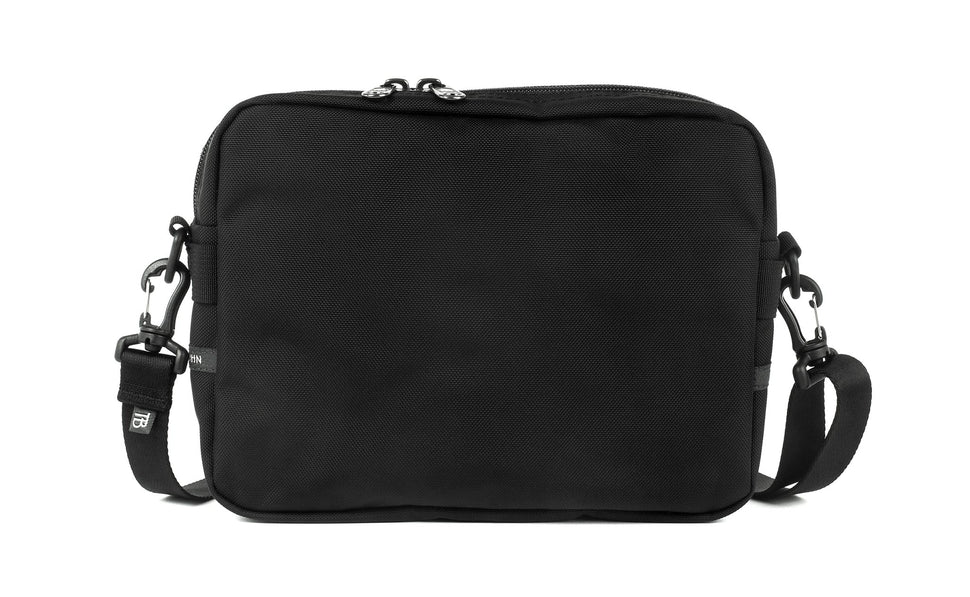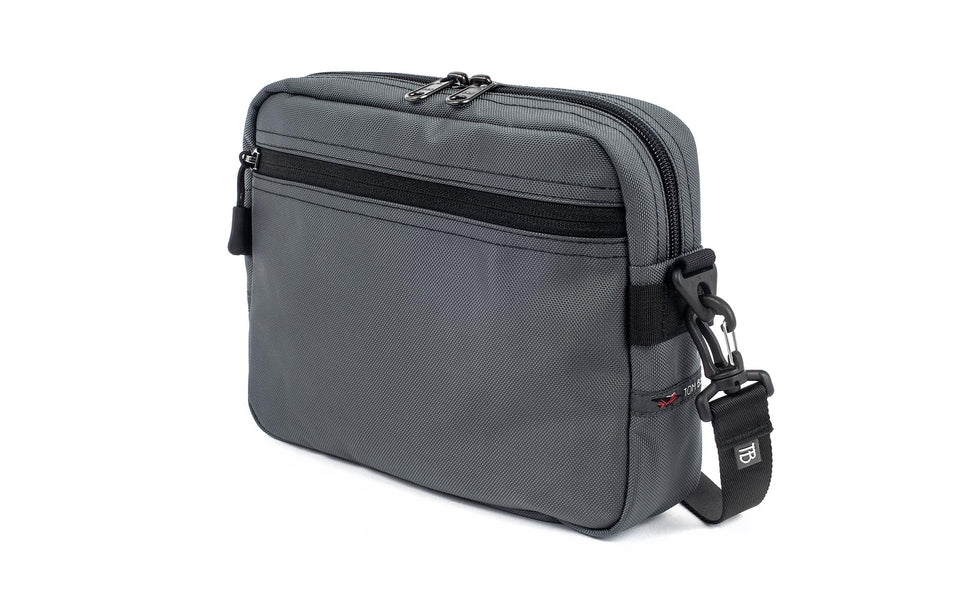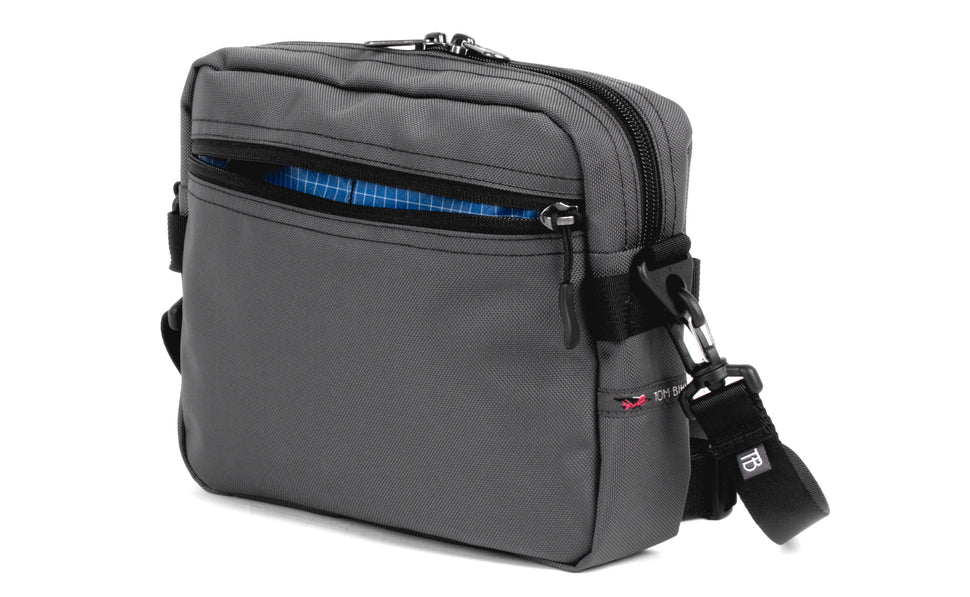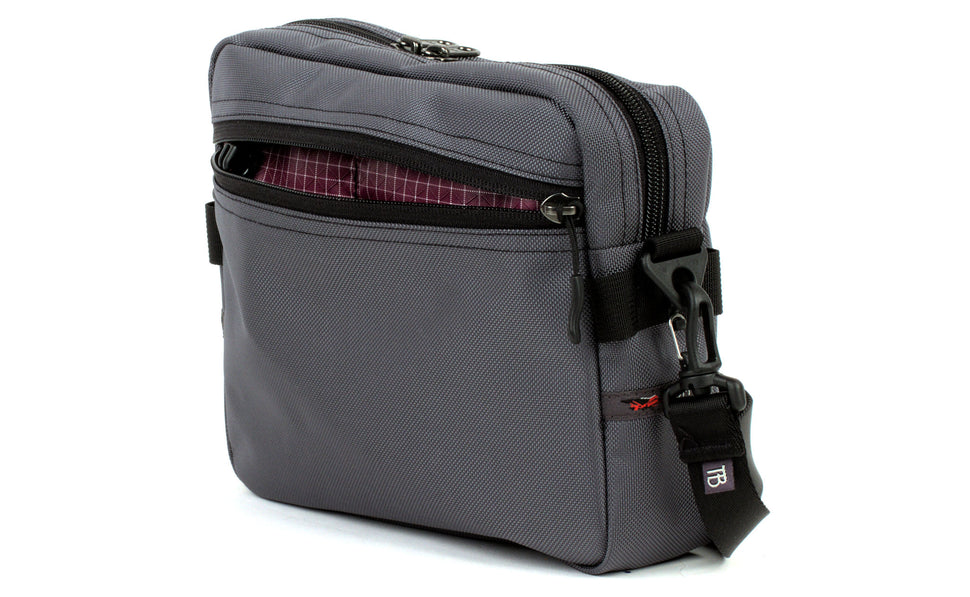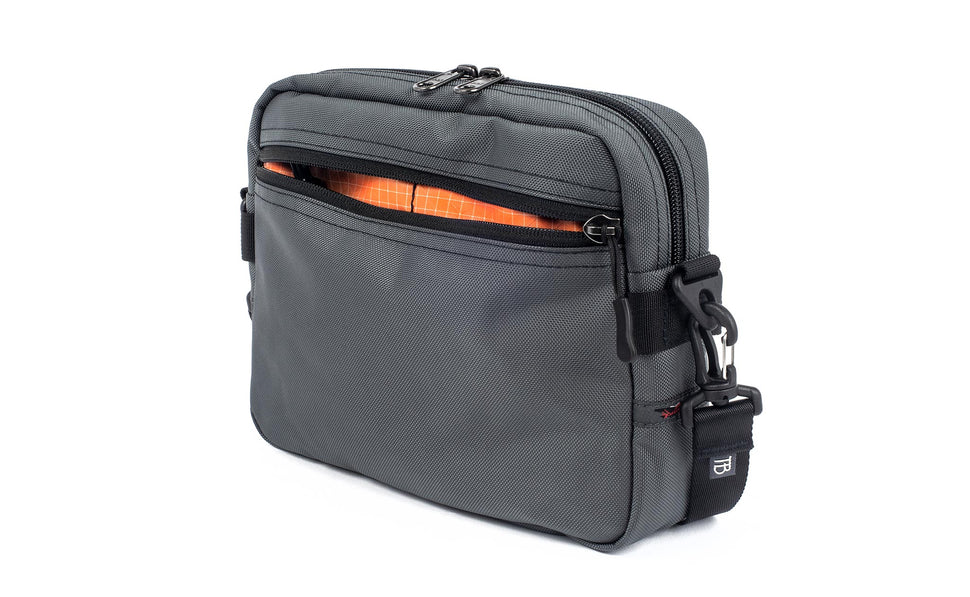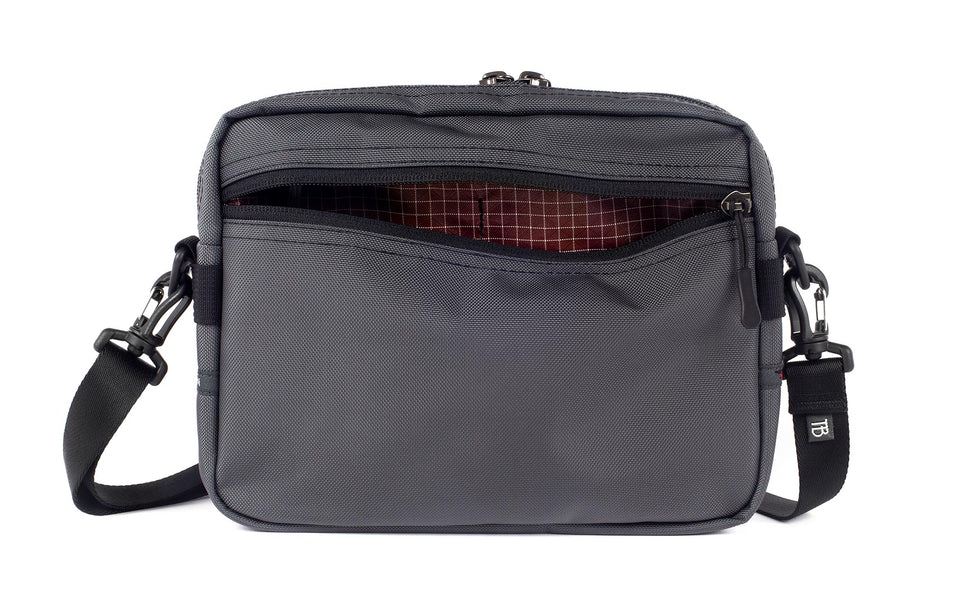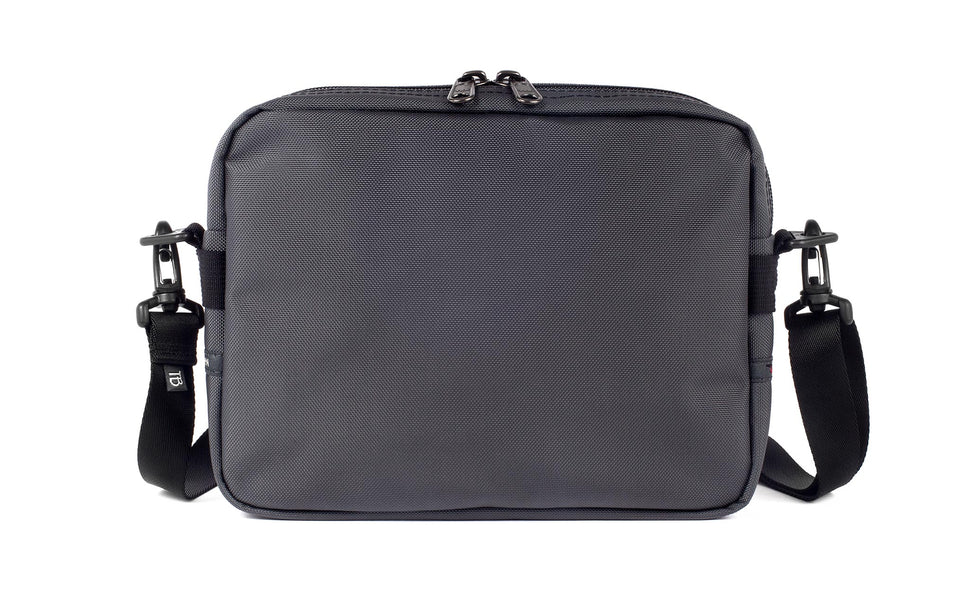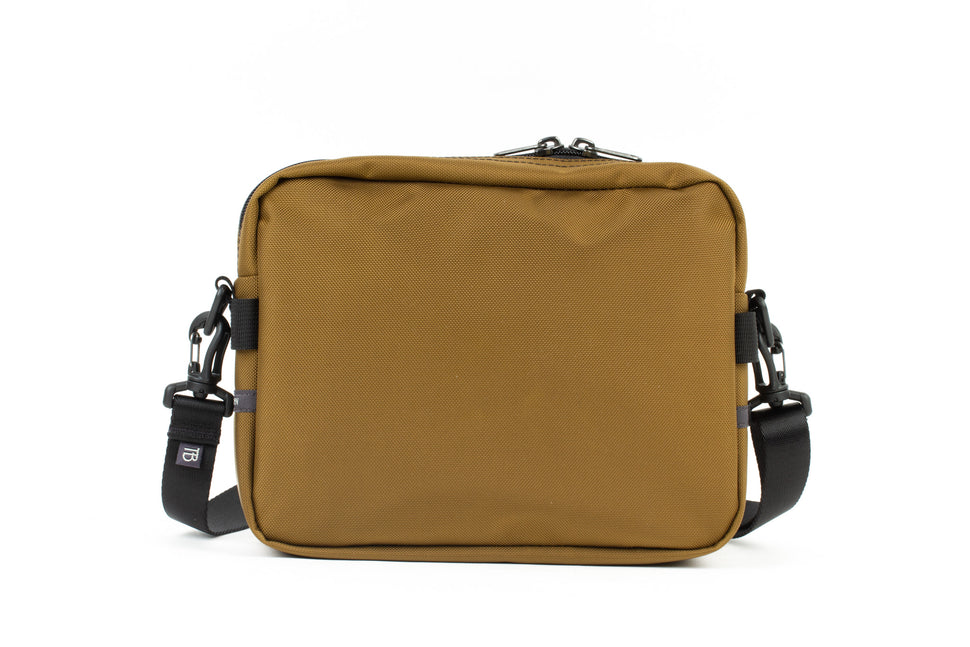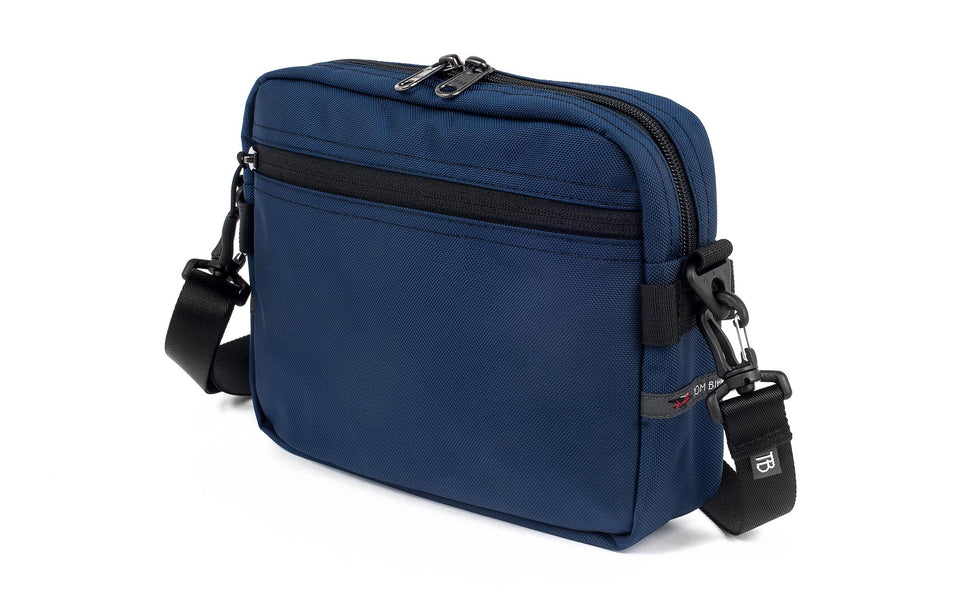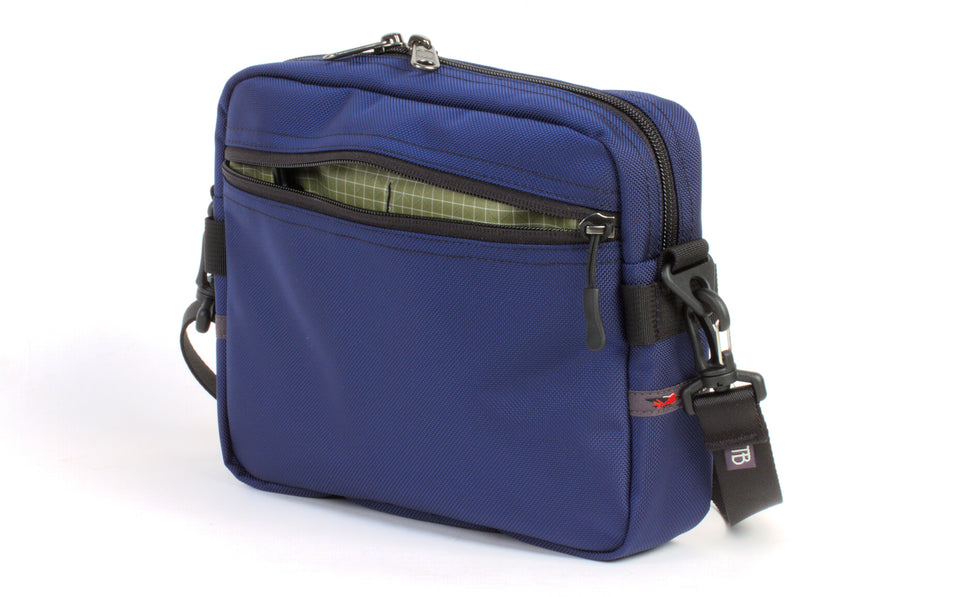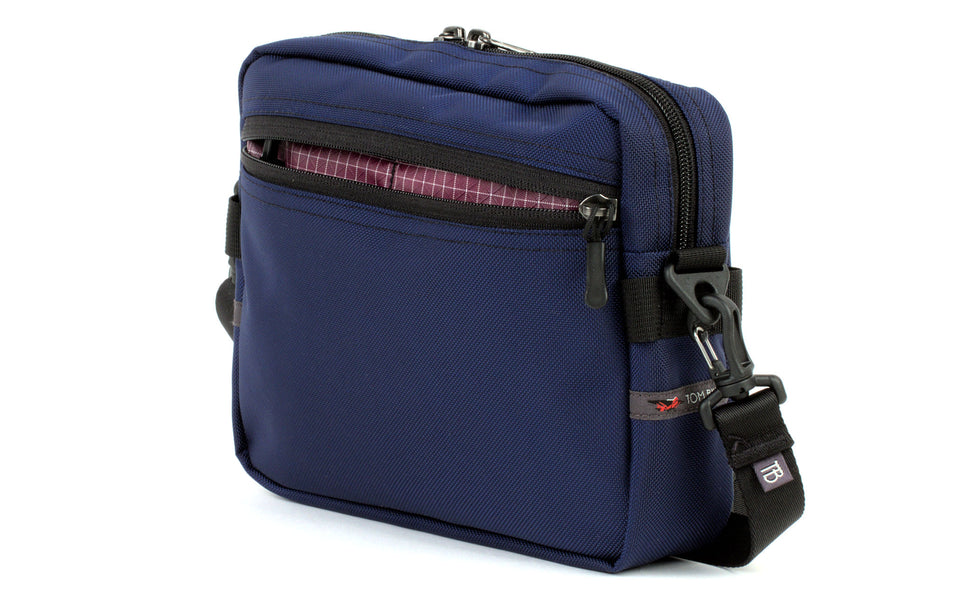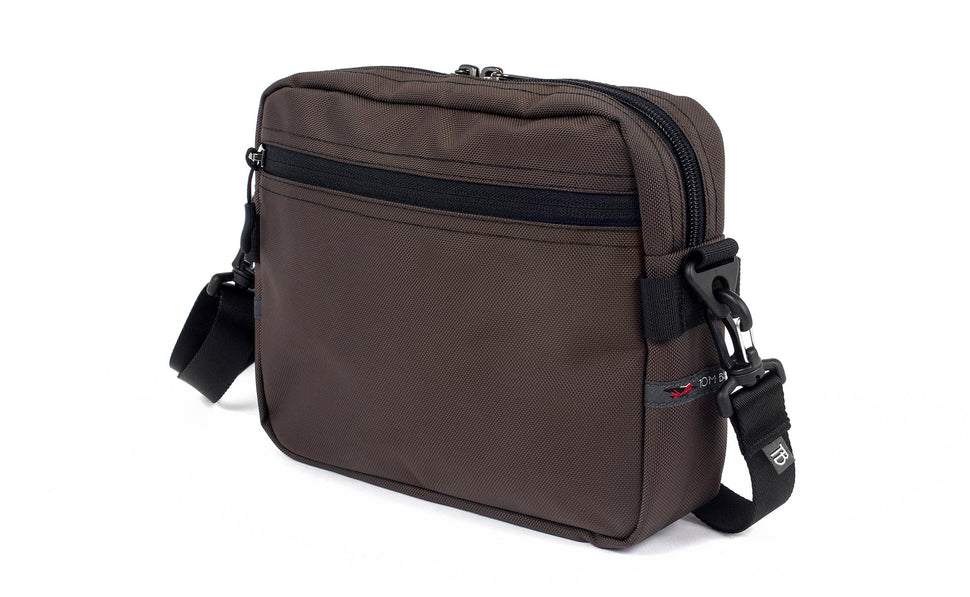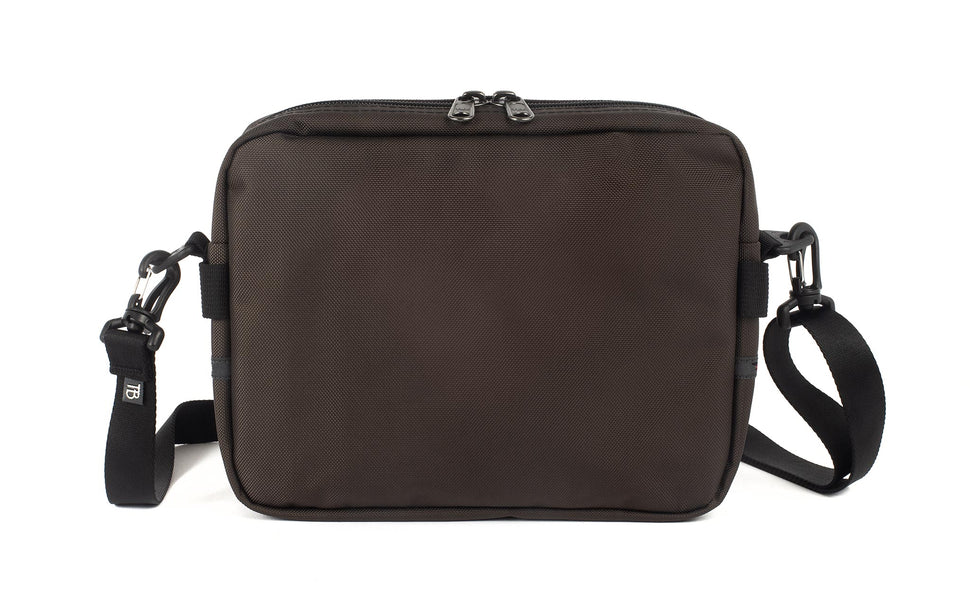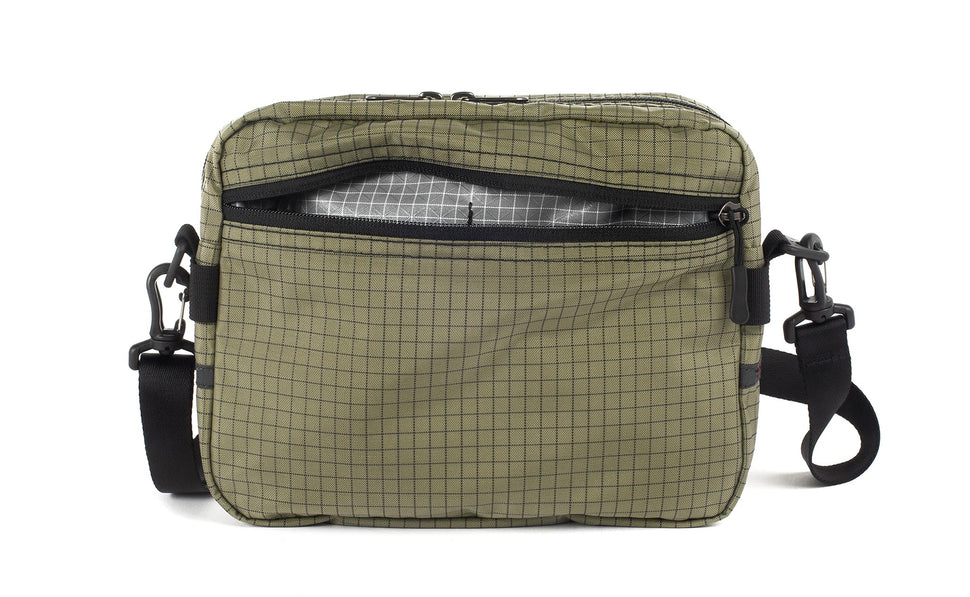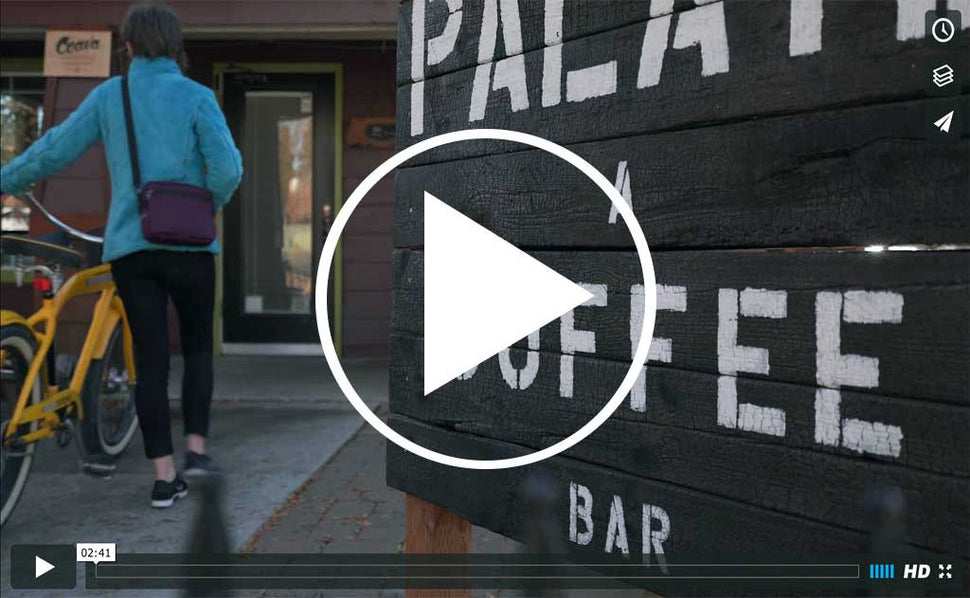 Description
An everyday cross-body shoulder bag that can also be used as a sling bag or waist pack.
The Side Kick is a larger version of our Side Effect, a bag that evolved directly from user feedback (mostly from folks on our Forums). Though twice the volume, the Side Kick is still of modest size, and is overall a highly useful little bag. We've added more internal pockets for further organization, and we've nudged the O-ring placement around a bit to better match the design of our Organizer Pouches.
The main compartment of the Side Kick can fit a small water bottle, a paperback book, or even an ultralight rain shell or down vest stuffed into itself or in a Stuff Sack; this main compartment zips shut with two zipper sliders, so you can choose where the sliders end up when the bag is closed.
Inside the main compartment, the beauty of the souped-up pocketry becomes apparent: on one interior side of the Side Kick (we'll call this the "front side"—it's the side with the exterior zippered pocket) are two large open-top pockets sized to fit even the largest phones, a wallet, notebook, or a sunglasses/eyeglass case. On the other—the "back side" if you will, the side with the plain exterior—it gets even better. One large open-top organizational pocket spans the width of the Side Kick and fits 7" - 8" tablets, including the iPad Mini in the Size iPad Mini Horizontal Cache. In front of that organizational pocket are four more pockets: two small-ish pockets (that fit Lara Bars, multi-tool, hand lotion or sunscreen) and two pen/pencil pockets. Four O-rings allow you to trick out your organization even further: attach Mini, Small or Medium Organizer Pouches and/or any of our Key Strap variants to keep essentials handy and tethered safely.
The exterior of the Side Kick has a zippered pocket that spans its full width and is designed to fit your passport, a notebook, a tablet, or anything relatively flat. Inside the zippered pocket is one O-ring to which is clipped an included 8" Key Strap in Black.
The other exterior side of the Side Kick is clean: a solid panel of fabric. Which side of the Side Kick is the "front" and which side is the "back" depends on how you wear it.
Ways to carry the Side Kick:
Shoulder/Cross-Body Bag
On either side of the Side Kick are horizontal webbing loops to which you can attach the adjustable 1" Shoulder Strap (included), made from nylon webbing and with plastic clips (but no pad). When you're not wearing the Side Kick, you can use the 1" Shoulder Strap to hang it on a coat hook or from a doorknob.

Waist Pack or Sling Bag
Also on the sides of the bag are unobtrusive webbing loops to which you can attach the optional 1" / 25mm Gatekeeper Waist Strap, using our now-ubiquitous Gatekeeper clips. Wear the Side Kick around your waist or hips, and you've got a sweet waist pack. Wear it cross-body with the bag on your back, and you've got a mini sling bag. Either way, it's great for cycling, hiking, or any situation where you need your hands completely free.
100%
would recommend this product
Verified Buyer

Product Standouts

Thoughtful Design,

Compact,

Durable,

Versatile,

High Quality Craftsmanship

8 months ago

Product Standouts

Thoughtful Design,

Compact,

Durable,

Versatile,

High Quality Craftsmanship

Perfect EDC size

This bag is perfect for my everyday carry. Small thick wallet, small set of keys, and iPhone XR fit along with my two pens, larger Moleskine, small first aid kit, and a Cubelet with basics (lip balm, mints, etc). The kicker is that I can pop a small 18oz water bottle sideways on top of the other items and still comfortably zip the Side Kick closed. I bought the bag planning to use it for days I didn't need a water bottle and was pleasantly surprised to see how well it fit. The color combo (Constellation ballistic/Solaris halcyon) is sunny and happy. Love this bag.

Verified Reviewer

Product Standouts

High Quality Craftsmanship,

Compact,

Good Storage Size,

Versatile,

Thoughtful Design

12 months ago

Product Standouts

High Quality Craftsmanship,

Compact,

Good Storage Size,

Versatile,

Thoughtful Design

Literally always at my side

I've had my Side Kick in Black Ballistic for a few years now, and it looks like it did the day I bought it. Perfect condition. It's my daily bag, and I travel with it. I carry it in all three intended configurations - shoulder/cross body bag as a purse, as a sling pack on my back, and as a waist pack. Adding the waist strap is definitely worth it. It's perfect for carrying on a bike as a sling pack or waist pack. I use it that way for quick errands on my bike and on overnight bike camping trips. If I'm carrying my backpack to work with my laptop, I throw my Side Kick into my bag as extra organization. I specifically got the Side Kick rather than the Side Effect because it fits my A5 notebook perfectly with a little wiggle room. It also fits a half-liter Nalgene water bottle.

Verified Buyer

Product Standouts

Thoughtful Design,

Compact,

Good Storage Size,

Versatile

9 months ago

Product Standouts

Thoughtful Design,

Compact,

Good Storage Size,

Versatile

I Wanted a Tech Organizer. I Wanted a Shoulder Bag. I Got Both

I travel a LOT and I like to travel light. I wanted a mid sized tech organizer but I also like to carry a shoulder bag while touring. The Sidekick is BOTH! Love the organization for a pretty comprehensive tech kit and it makes a great shoulder bag for my destination. Win win.

Verified Buyer

Product Standouts

Good Storage Size,

Versatile

9 months ago

Product Standouts

Good Storage Size,

Versatile

Perfect Size, amazing features

I spent about 2 months trying to figure out how to carry around my prescription sunglasses. I knew I should take the opportunity to expand my edc capacity beyond my pockets, but I also knew (from long experience) that a full-sized bag wasn't going to get carried. Enter the Side Kick! Full of pockets, which means I can find my stuff by touch, easy access zippers mean I can open and close the bag ONE-HANDED while walking. Goldielocks size means it carries all I need, but I'm happy to grab it any time I leave the house. In a word, HORRAY!

A solid everyday option and travel add-on

This is my COVID-19 "I have to head out and I don't know how long it will take" bag, and It is great for that. Why? My Side Kick (SK) fits a 7" tablet, ereader, sanitizing kit, an extra mask, battery pack, charger, cable, tablet stylus, wallet, phone, hand towel, wireless headphones, paper notebook, pen, pencil, eraser, flash light, sunglasses, sunscreen, keys, etc.

I picked up my SK to be a larger Side Effect (SE) on my international travels. I've successfully worn my SK fully loaded to help avoid airline carry-on weight restrictions in Europe, Asia, and the Middle East. As the SK can hold a lot, it paid for itself where 1KG delta makes a big difference.

It can be a shoulder or waist/hip bag or clipped-on addition to another bag or airplane/train seat back add-on. It's not quite as inconspicuous as the SE, but if you're looking for a larger version of the SE - this is it. I would like the SK to offer at least some water bottle management - not necessarily an in-bag option, but something where a bottle is attached with an optional strap to keep the bottle from slapping around while walking.
Reviews Loaded
Reviews Added
Sewn in Seattle
Our bags are designed and sewn right here in Seattle, Washington, U.S.A.
That allows us to be control freaks in the best way possible; we have direct control and oversight of the quality of our materials, our products, and the jobs and working environment that we help create. It also offers us a unique spontaneity: when we have an idea for a new product or accessory, we can design it, figure out how to build it, add it to our website and be ready to ship it out our front door all within just a few weeks. How cool is that?

Intrigued? You can find out more about the unusual way we do business on our Company Philosophy page.
THE BIHN Guarantee
Everything you buy from us here at TOM BIHN is satisfaction guaranteed. We've been in business since 1972 and we stand behind what we make.
If something goes wrong and it's our fault, we'll fix it for free. Repairs due to normal wear and tear or due to other things that are not our fault will be performed, when possible, at a reasonable charge right here in our Seattle factory where your bag was made. Defects in materials or workmanship are uncommon and almost always evident while the product is still new. Keep in mind that bags and packs are often subject to extreme wear in everyday use: do not expect them to last forever. Only true love lasts forever! You can expect a TOM BIHN product to give years and years of hard service.