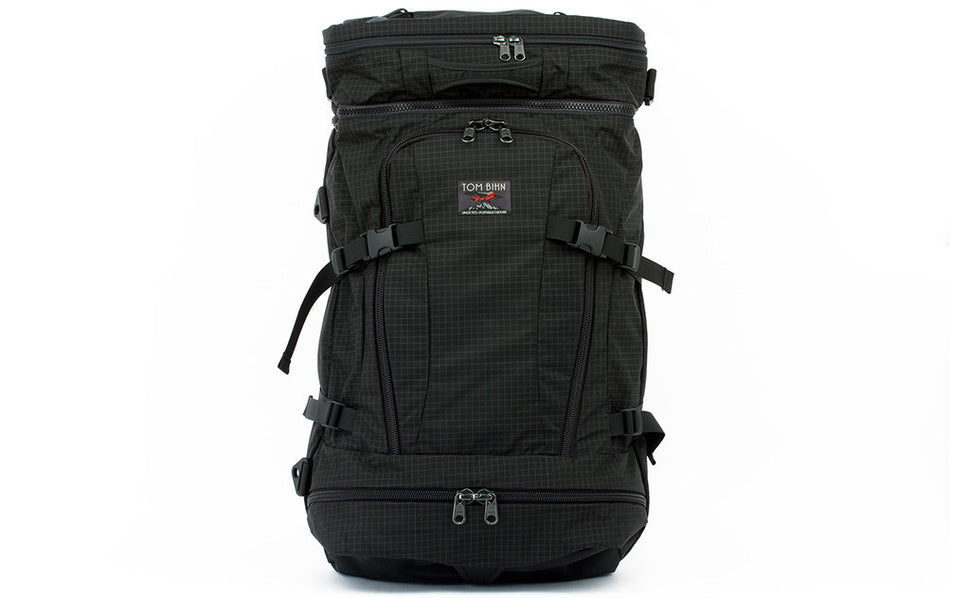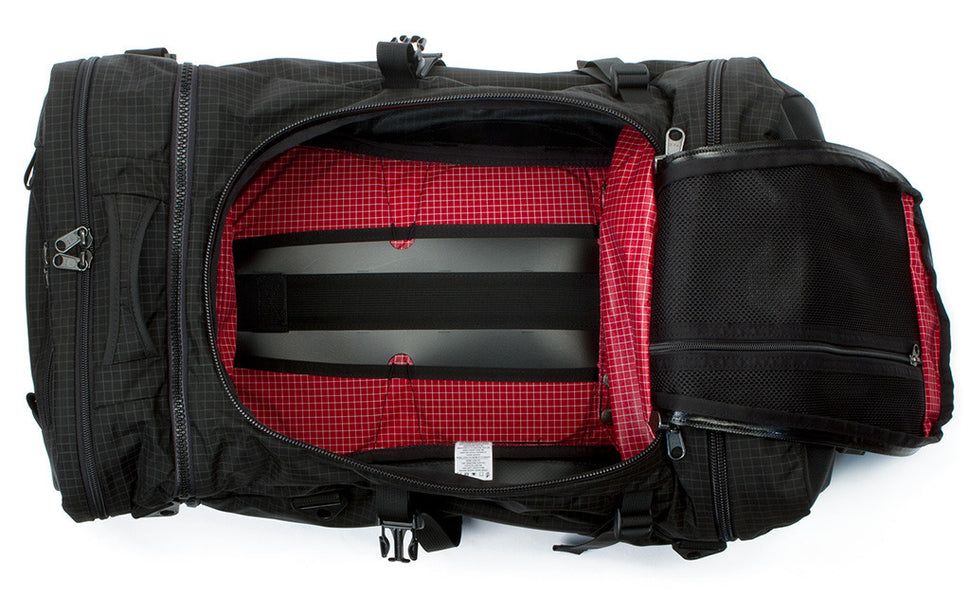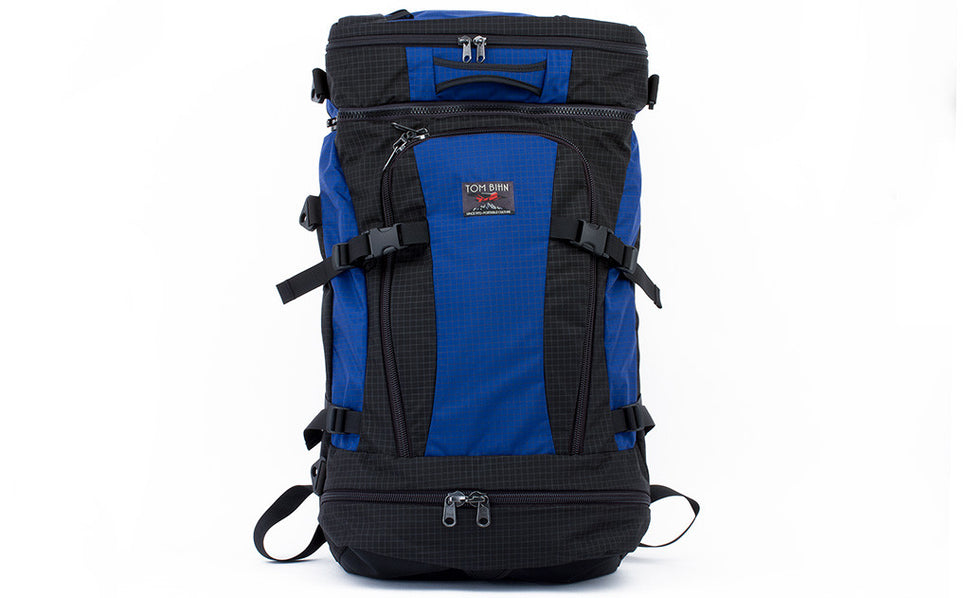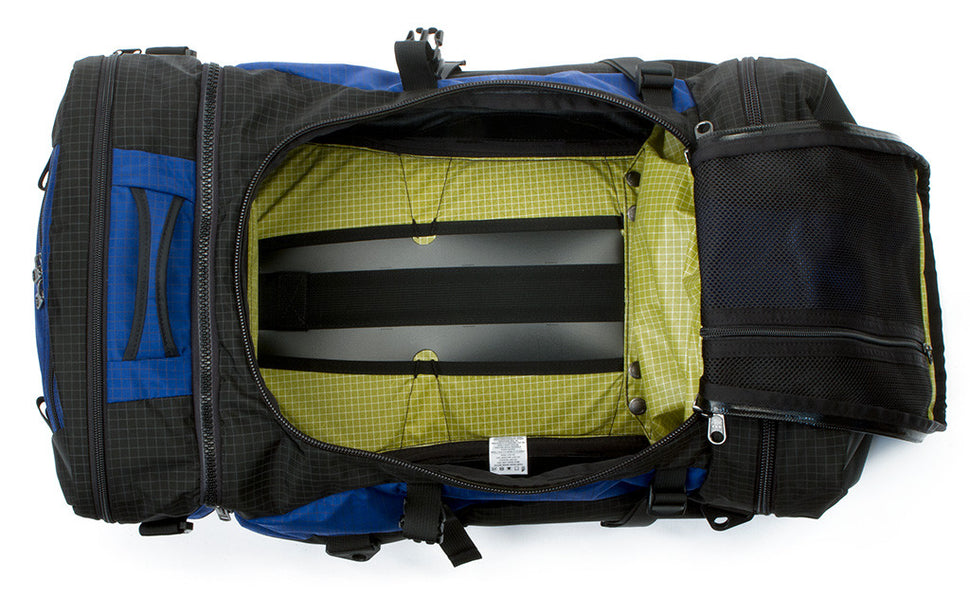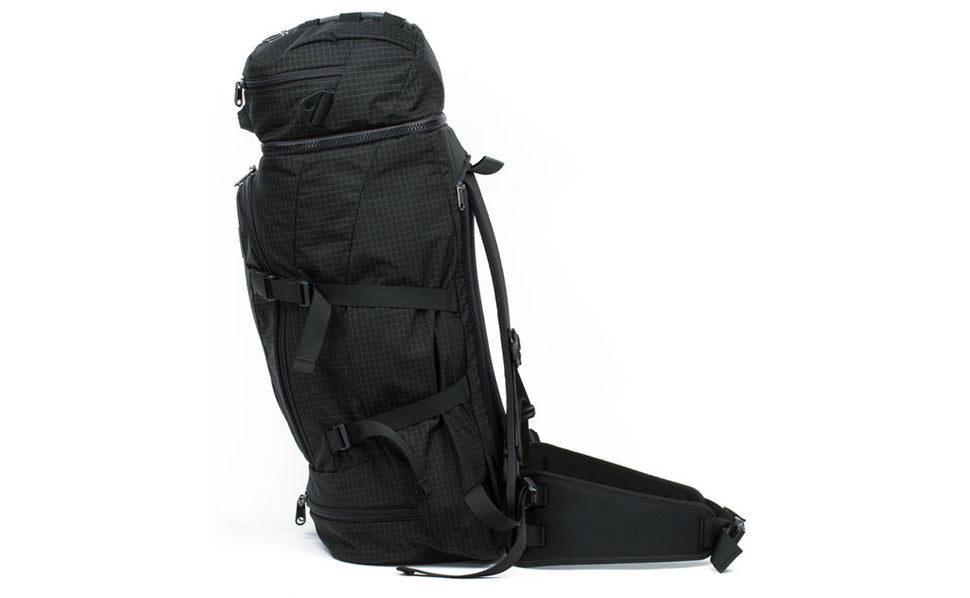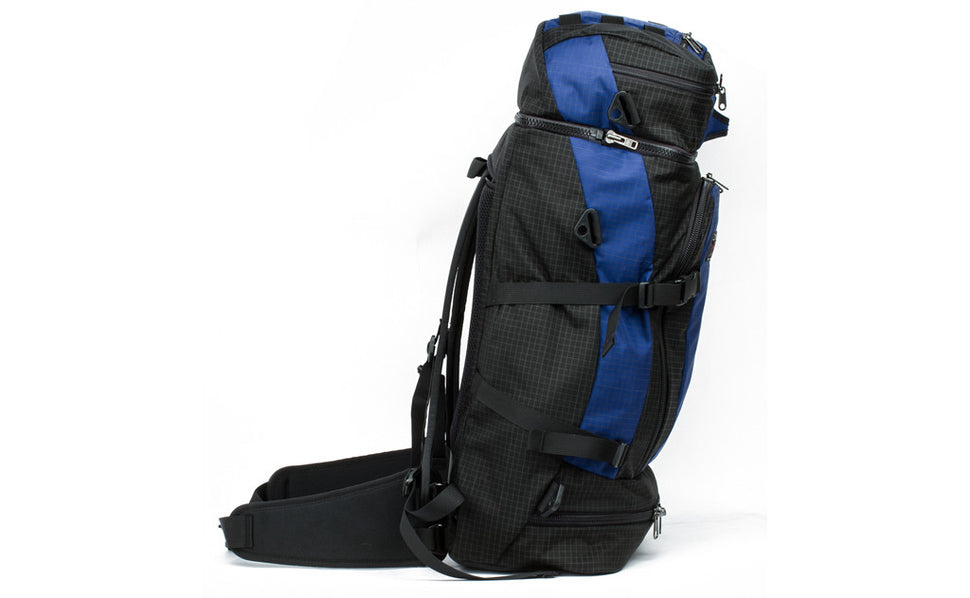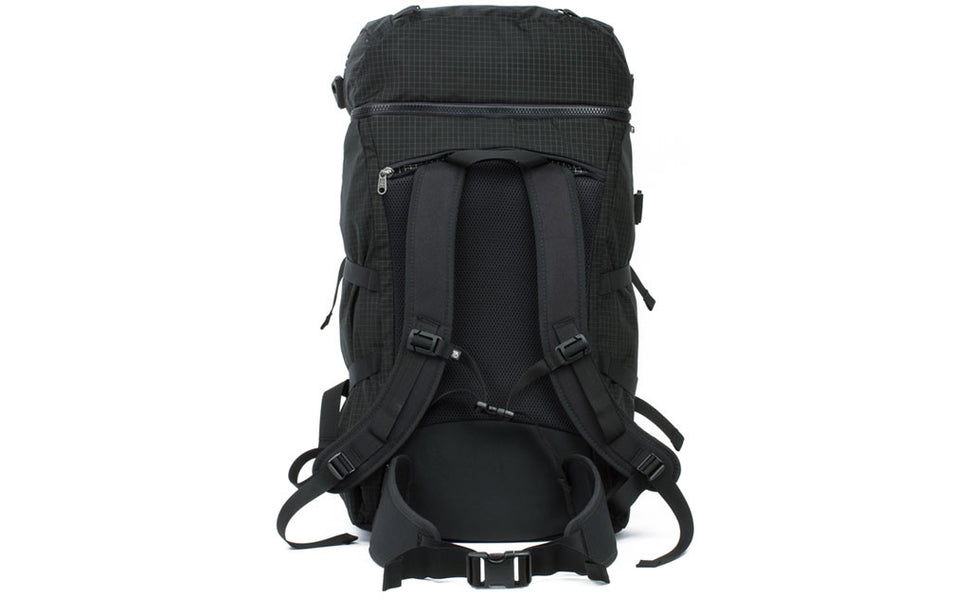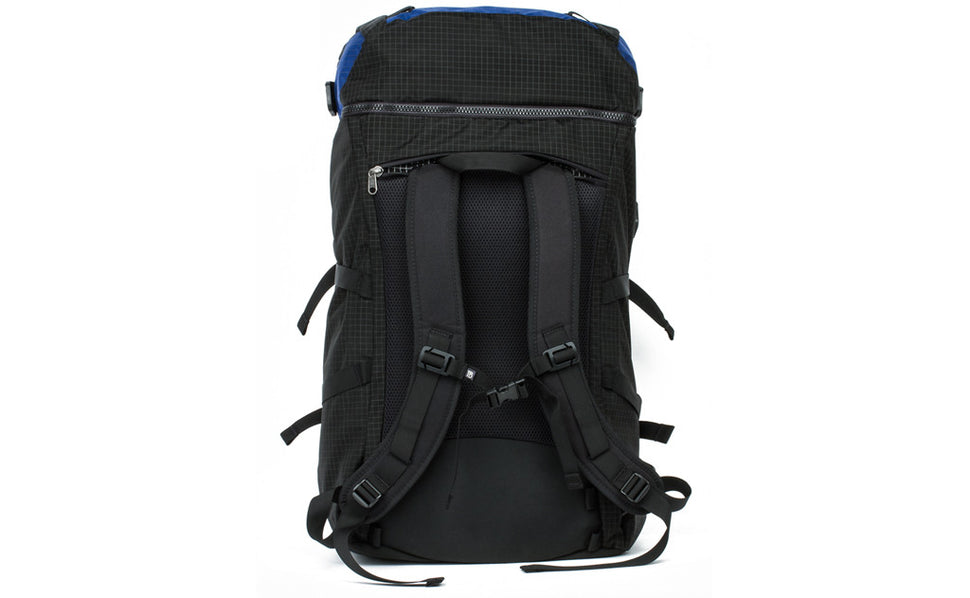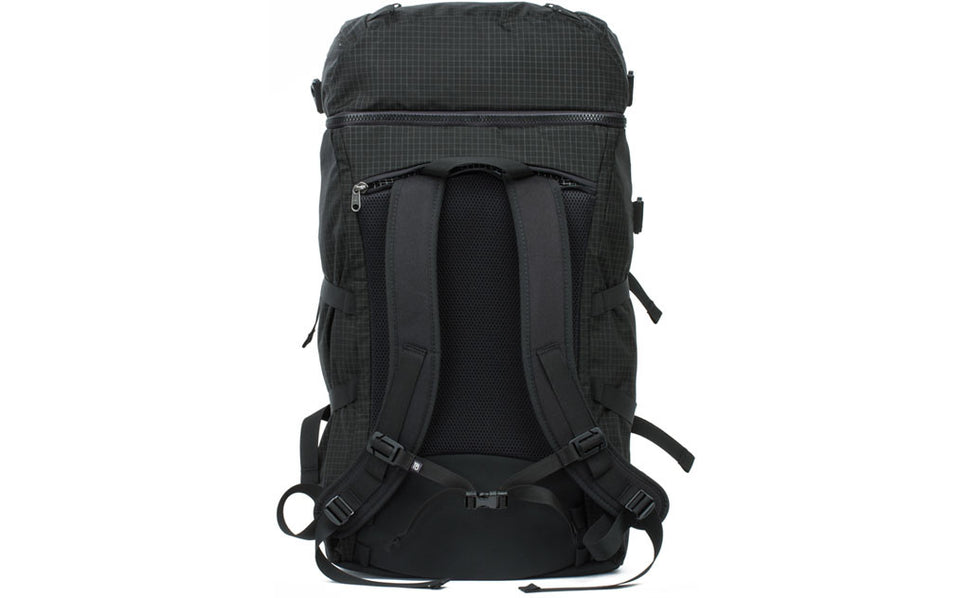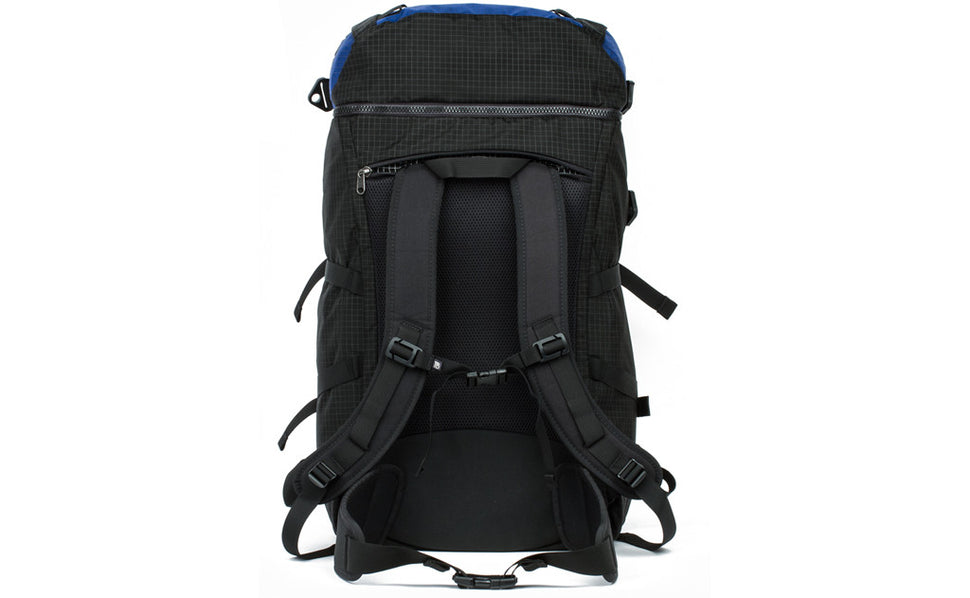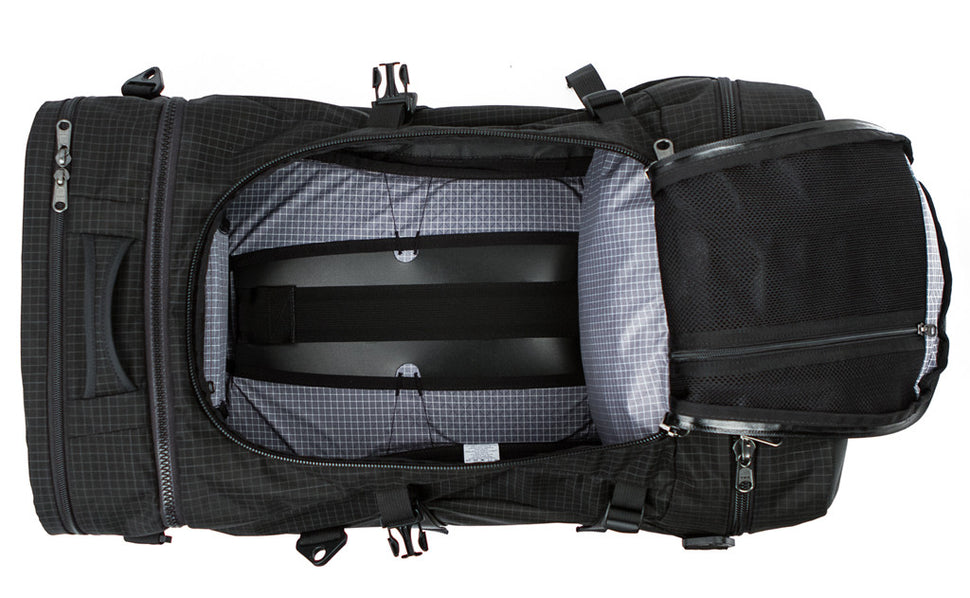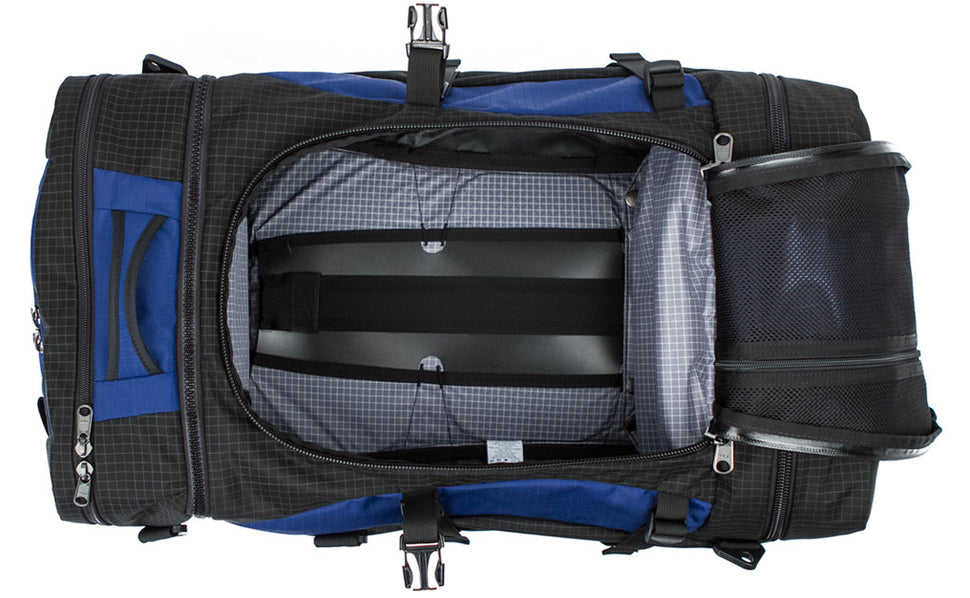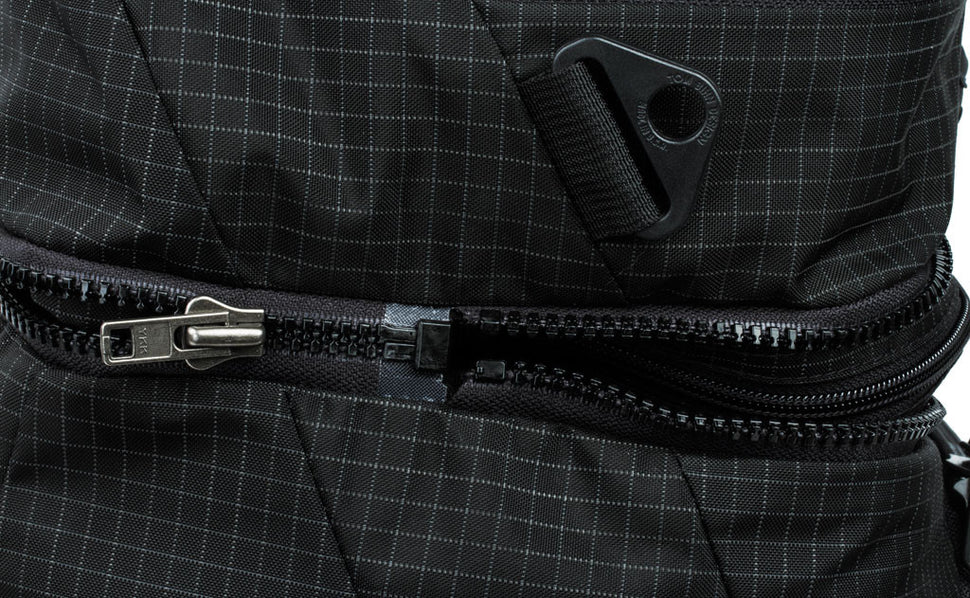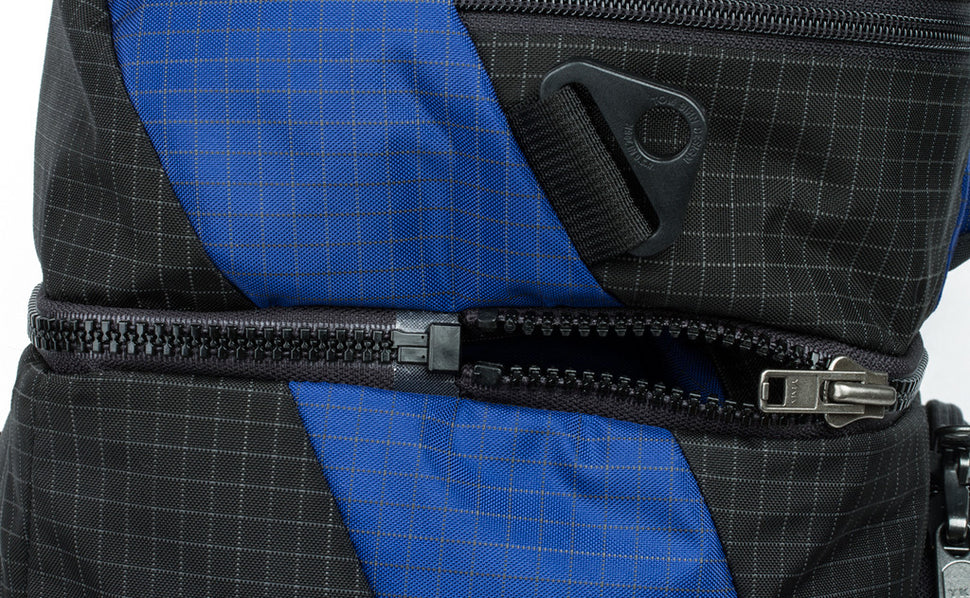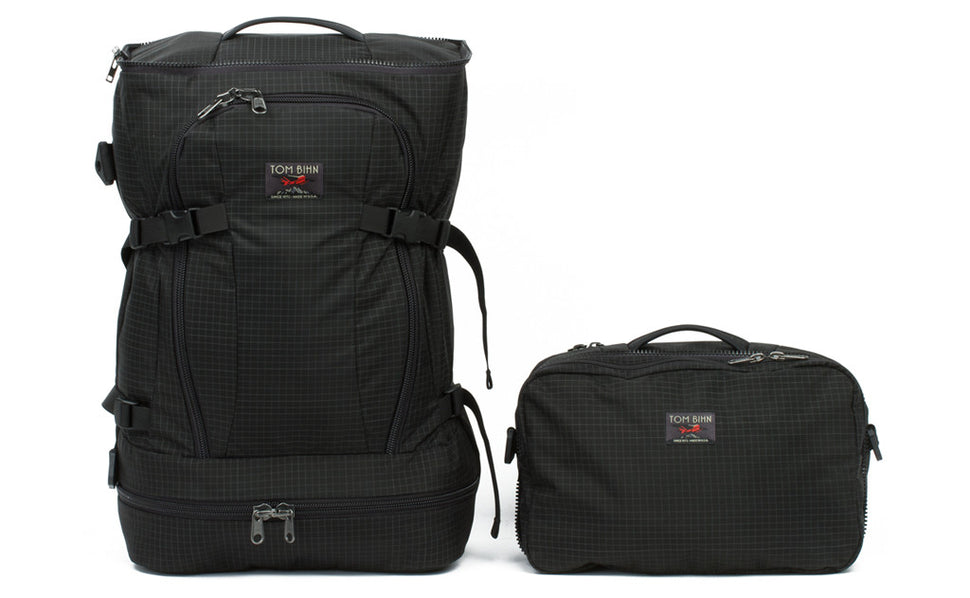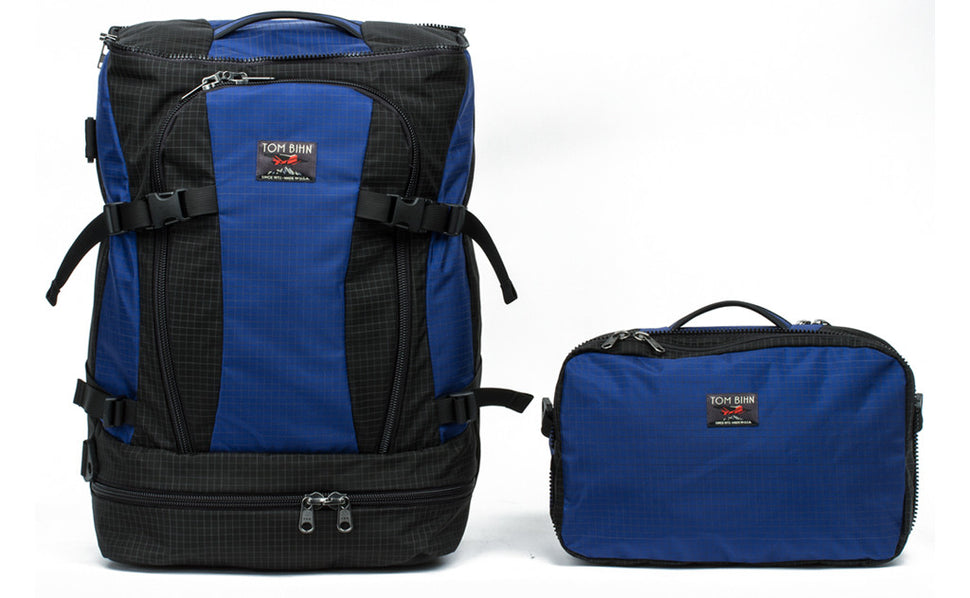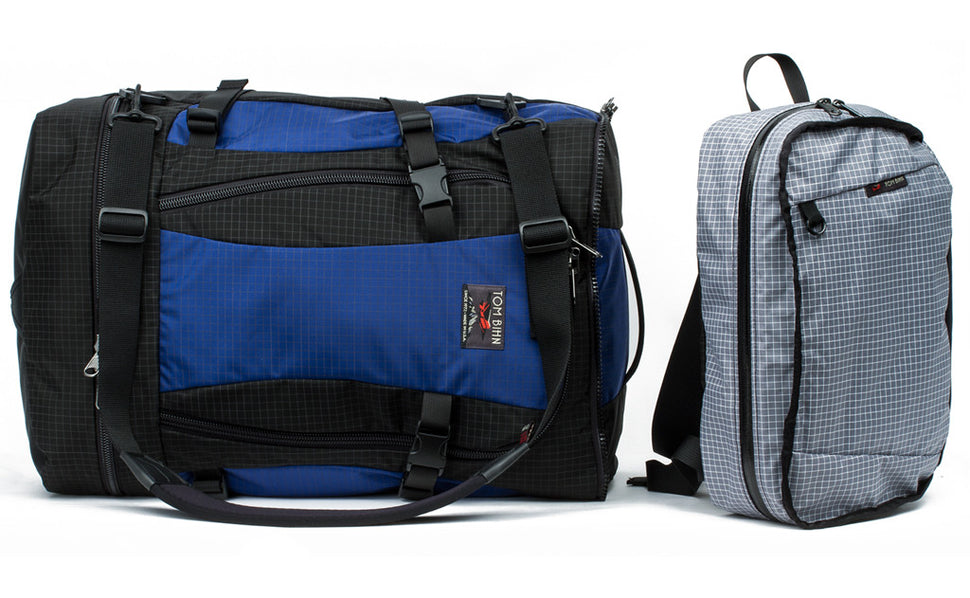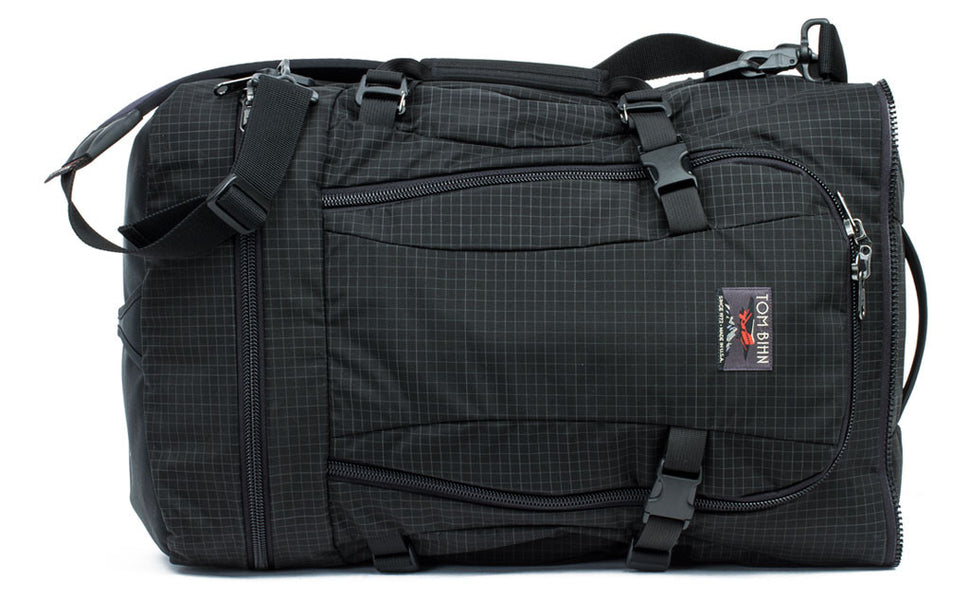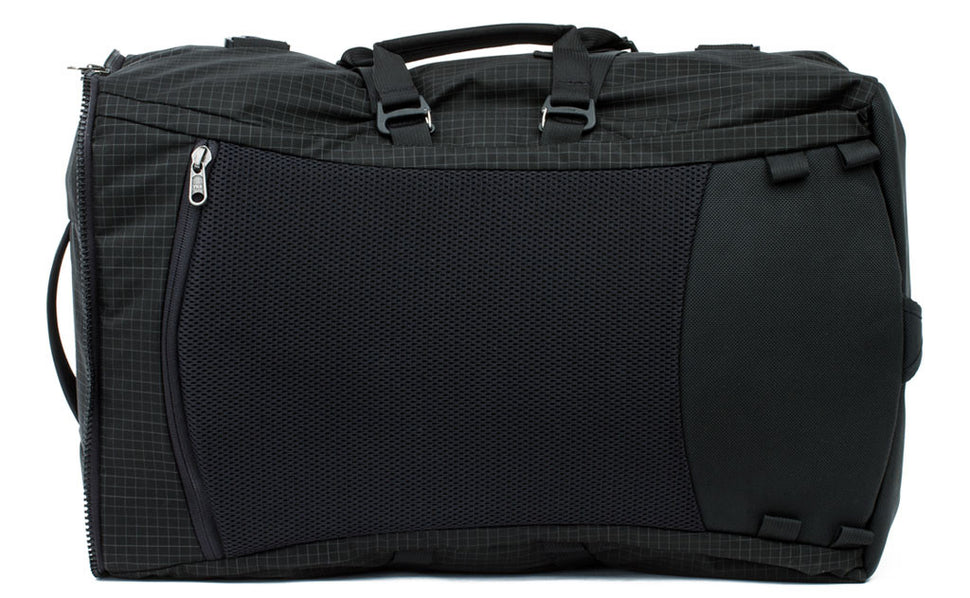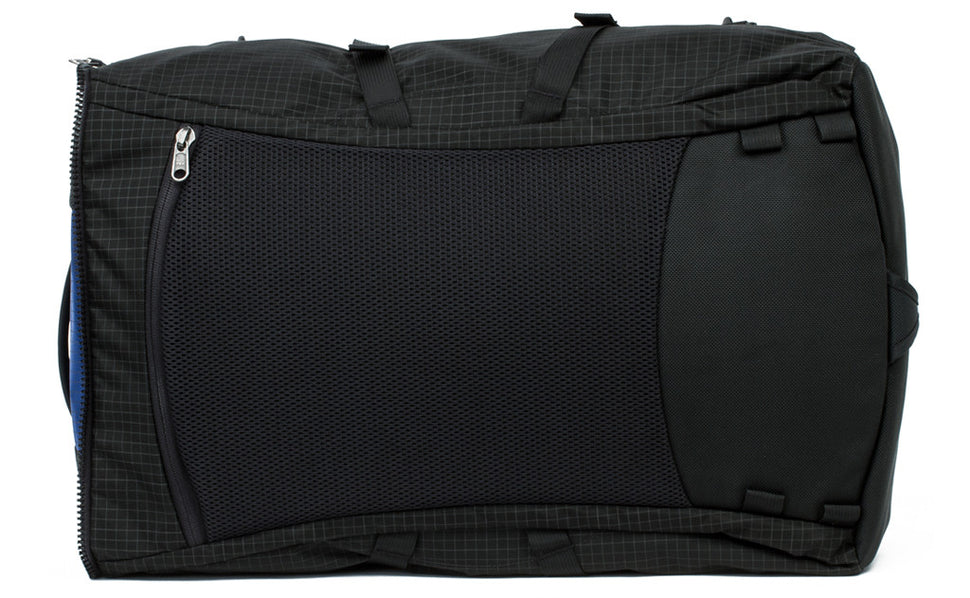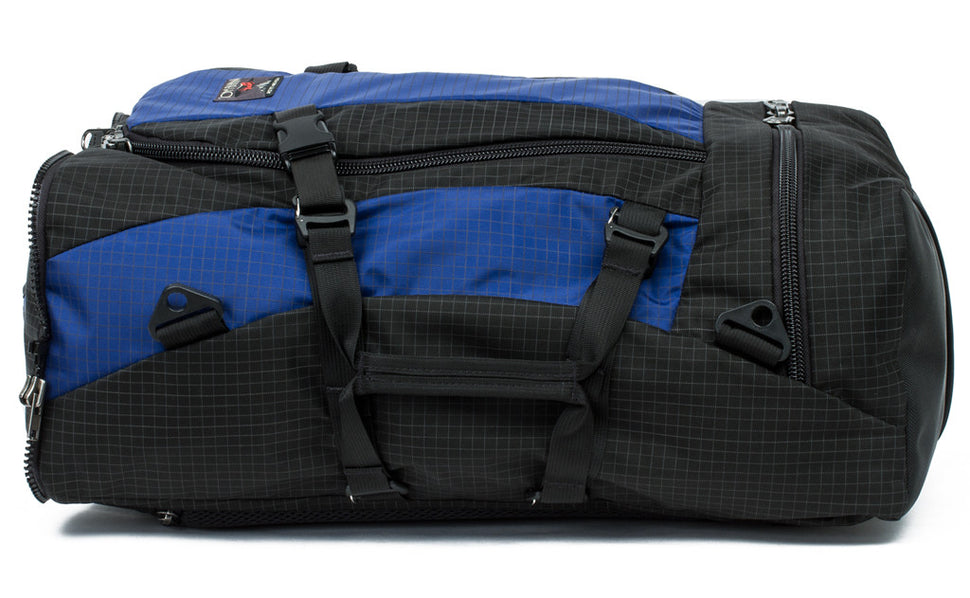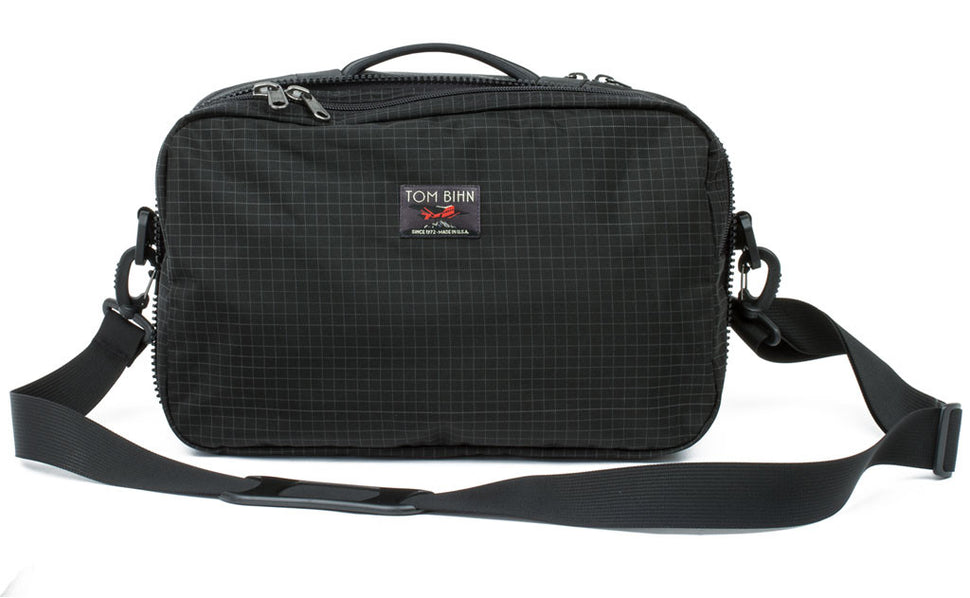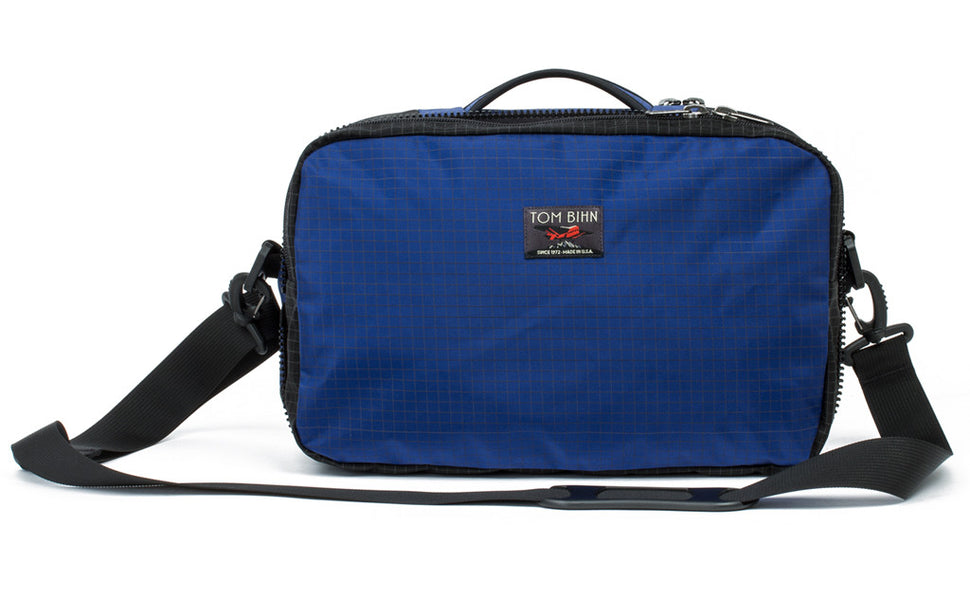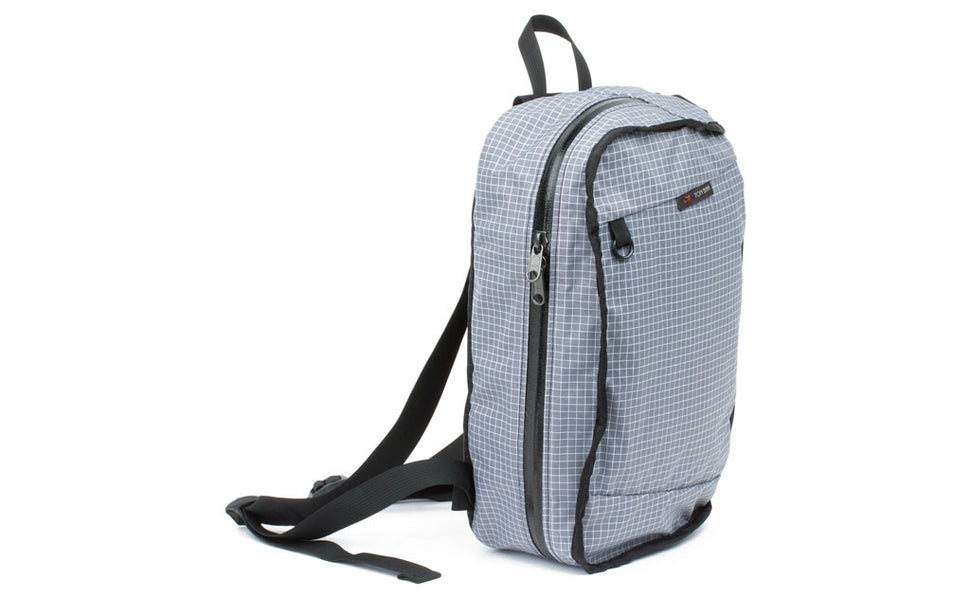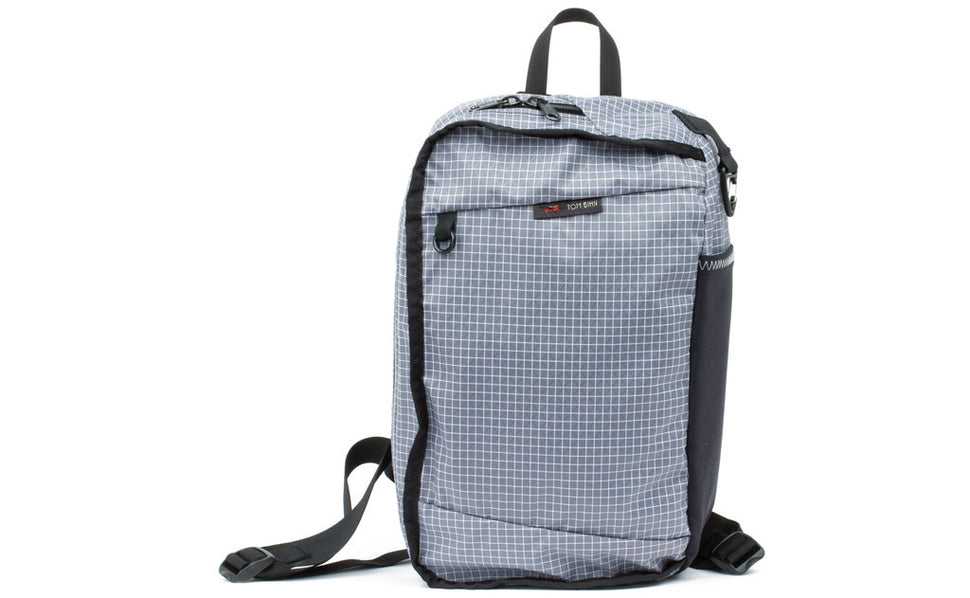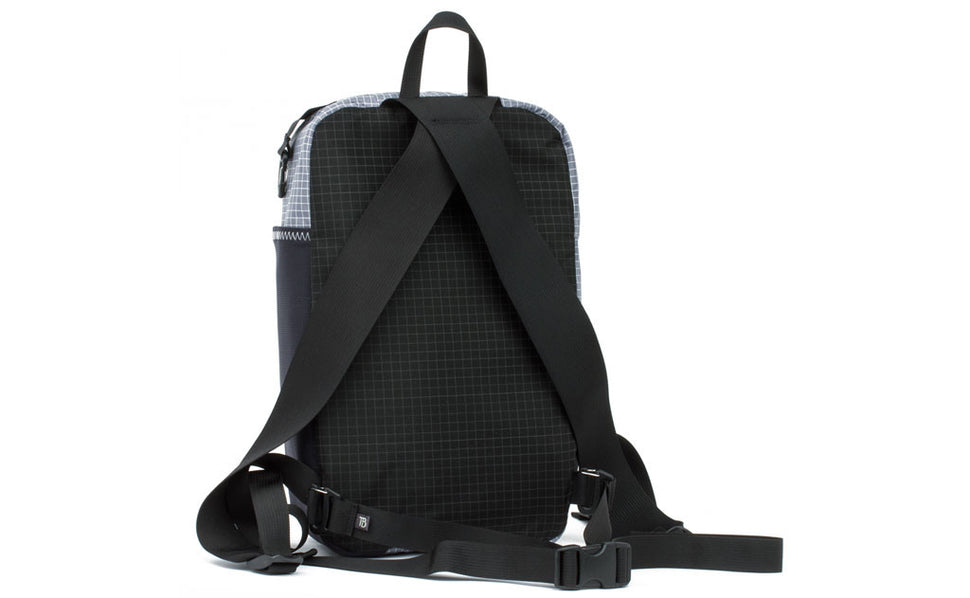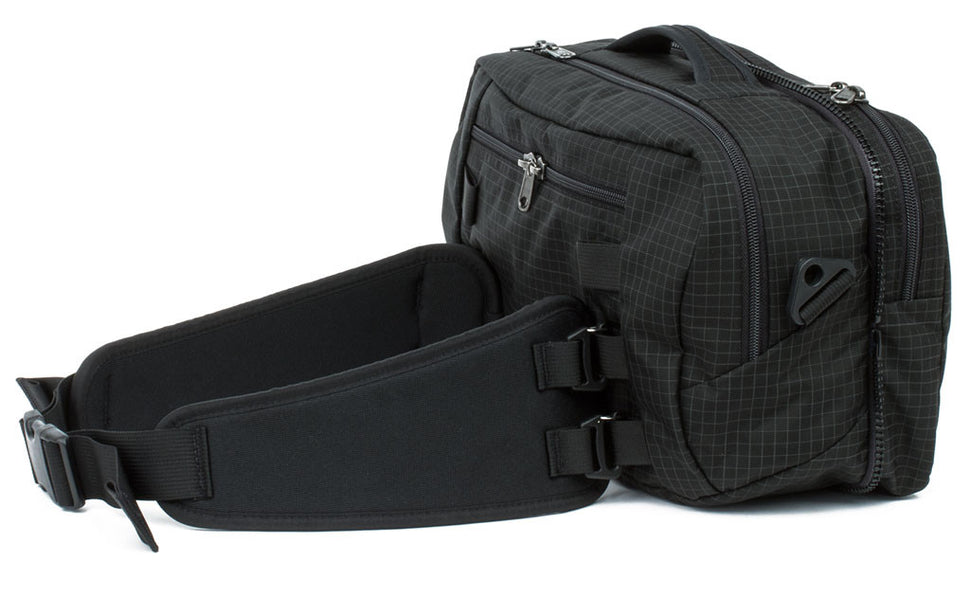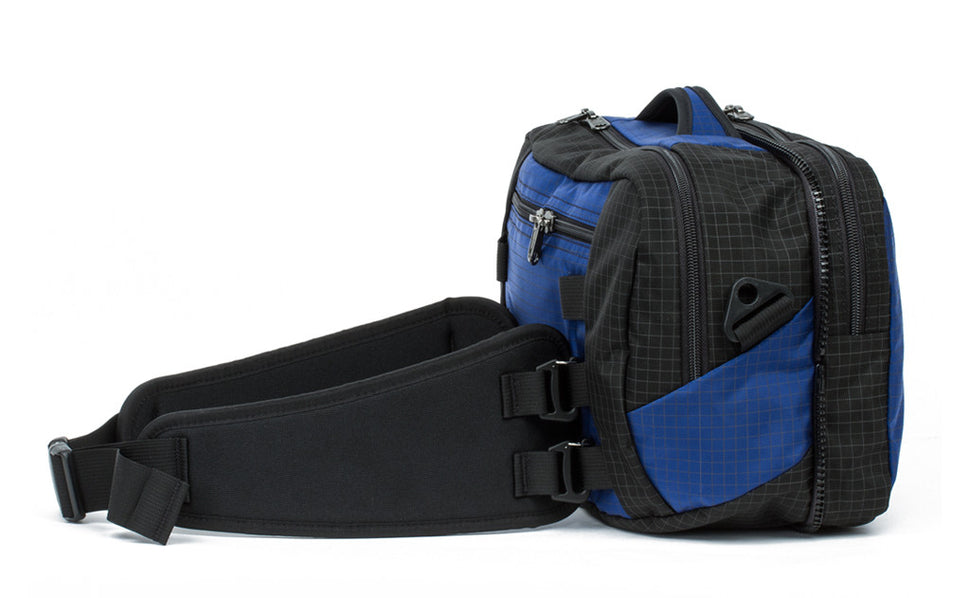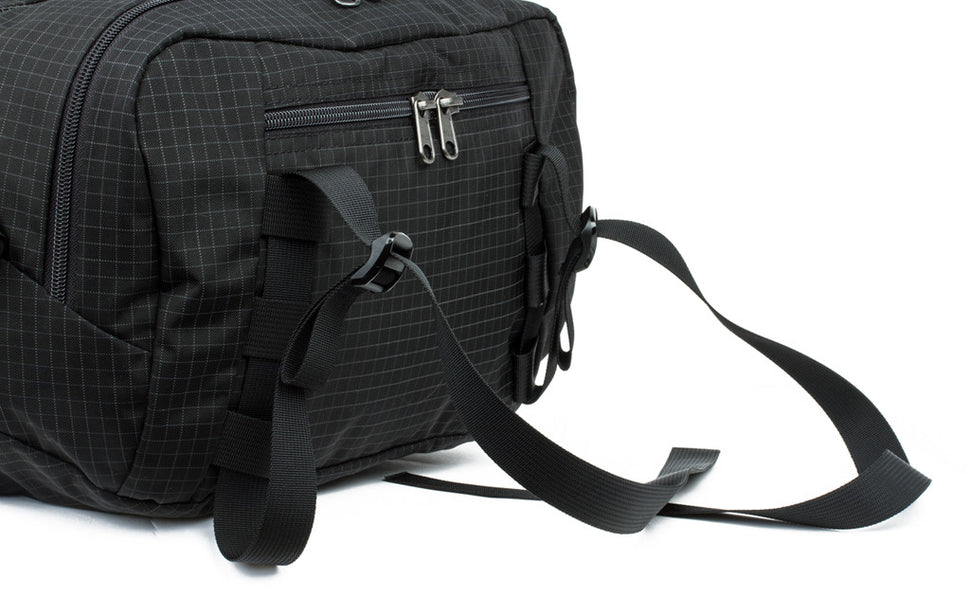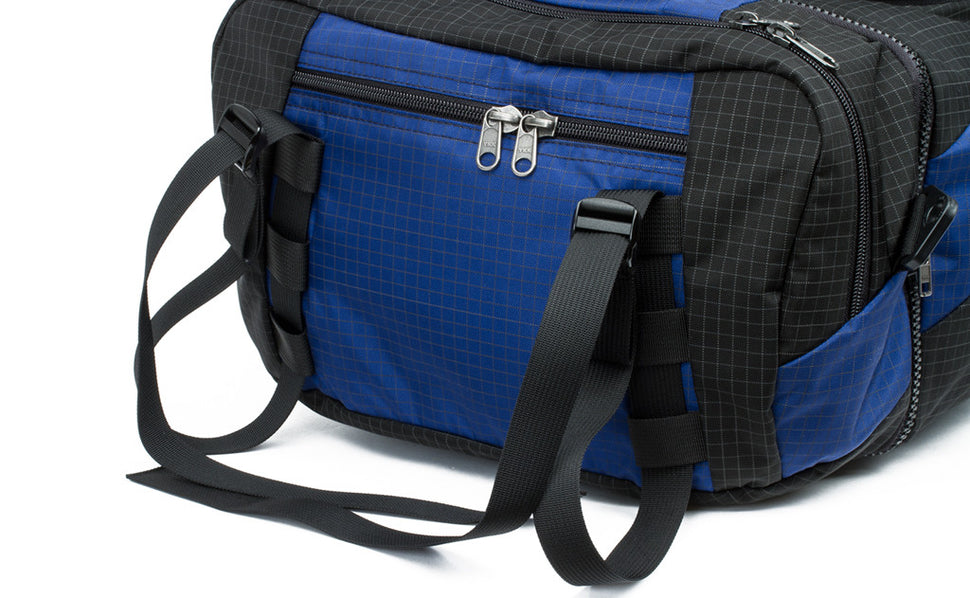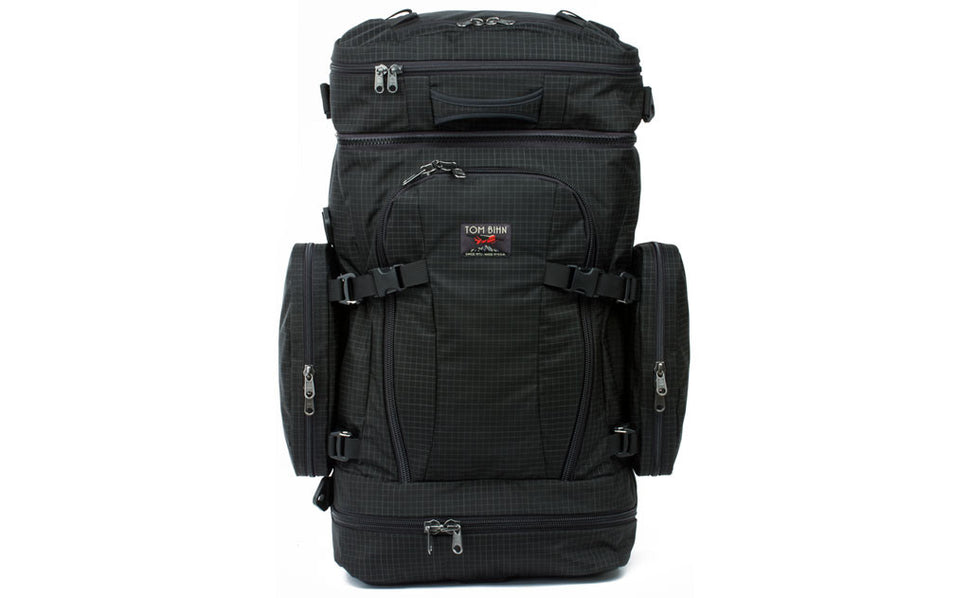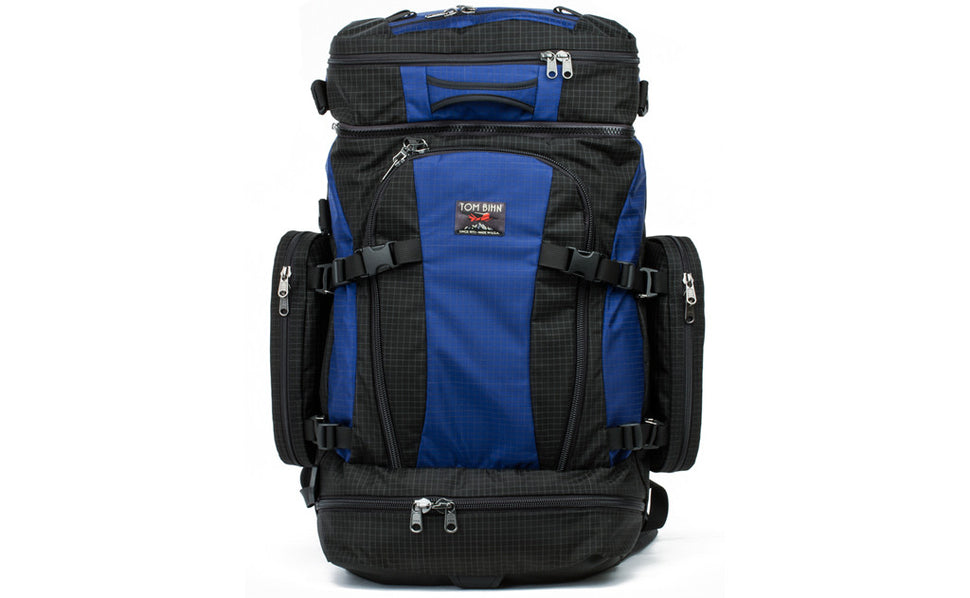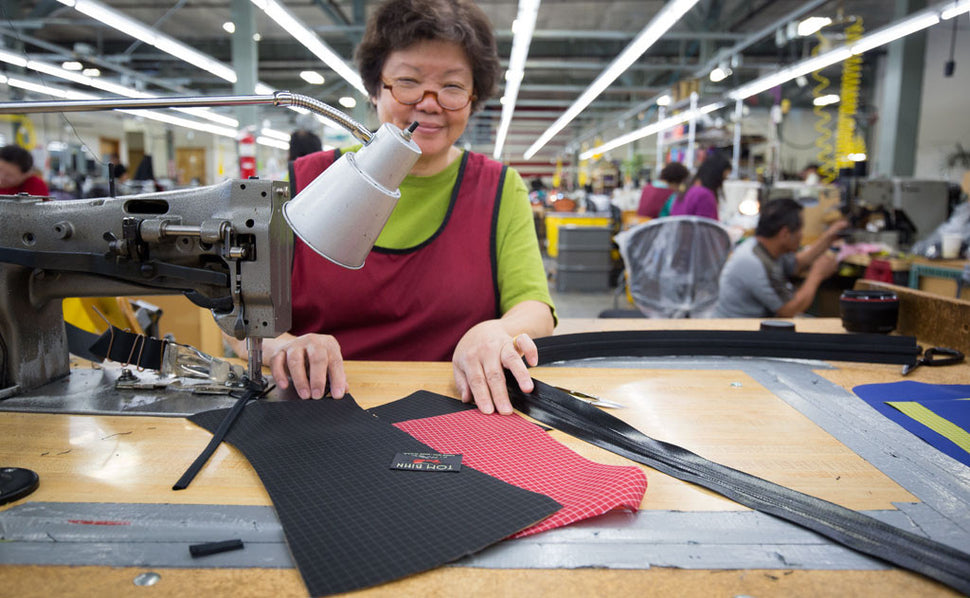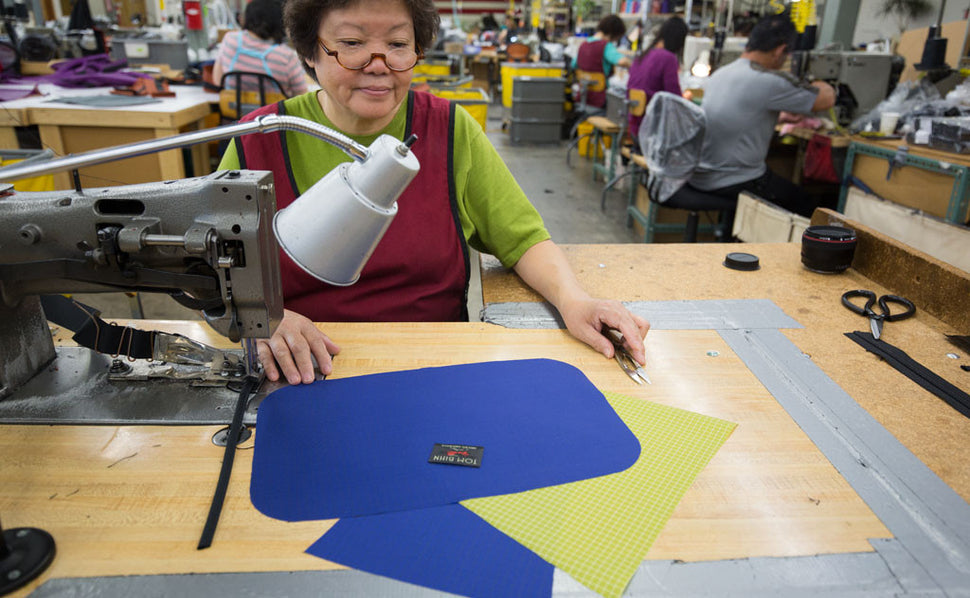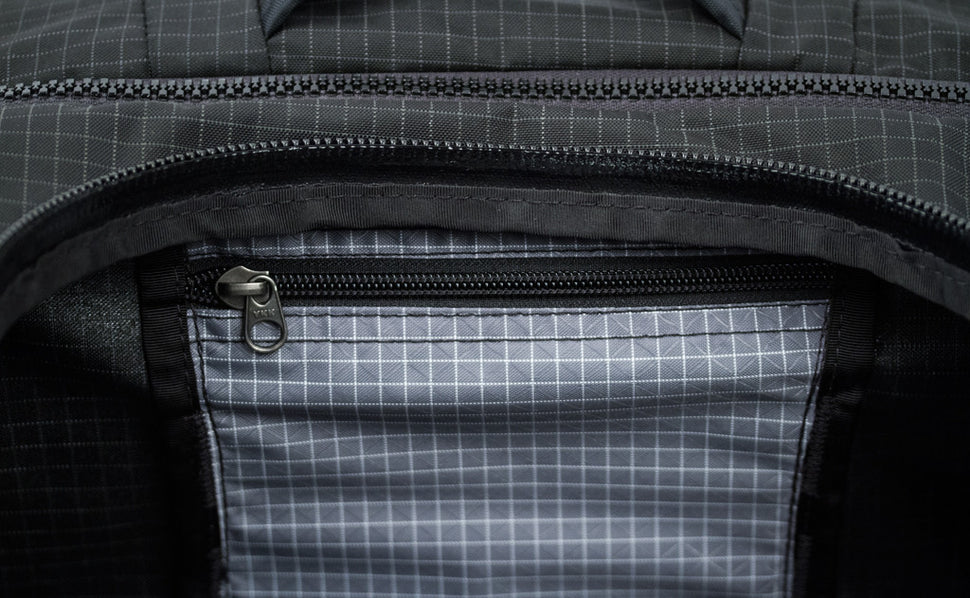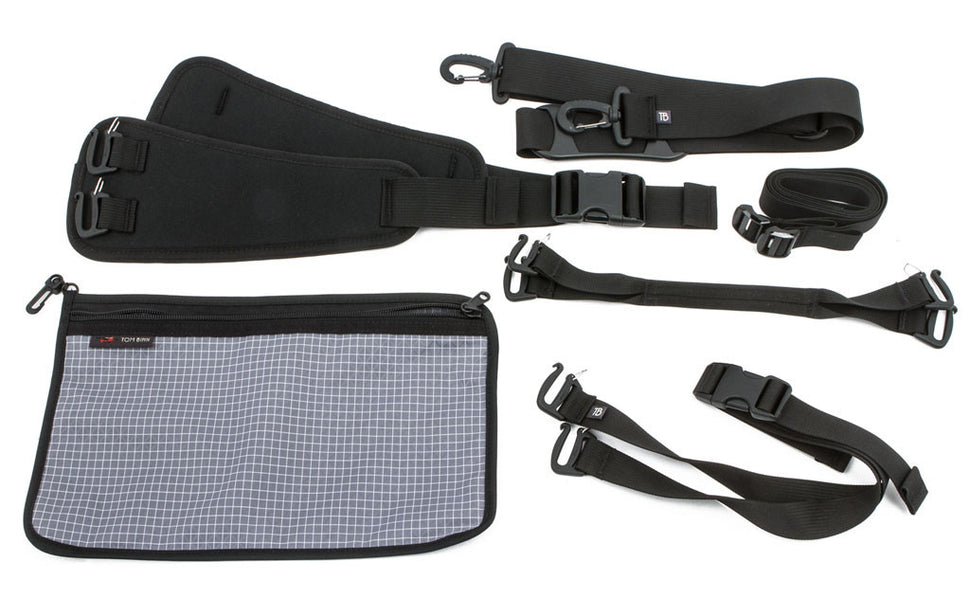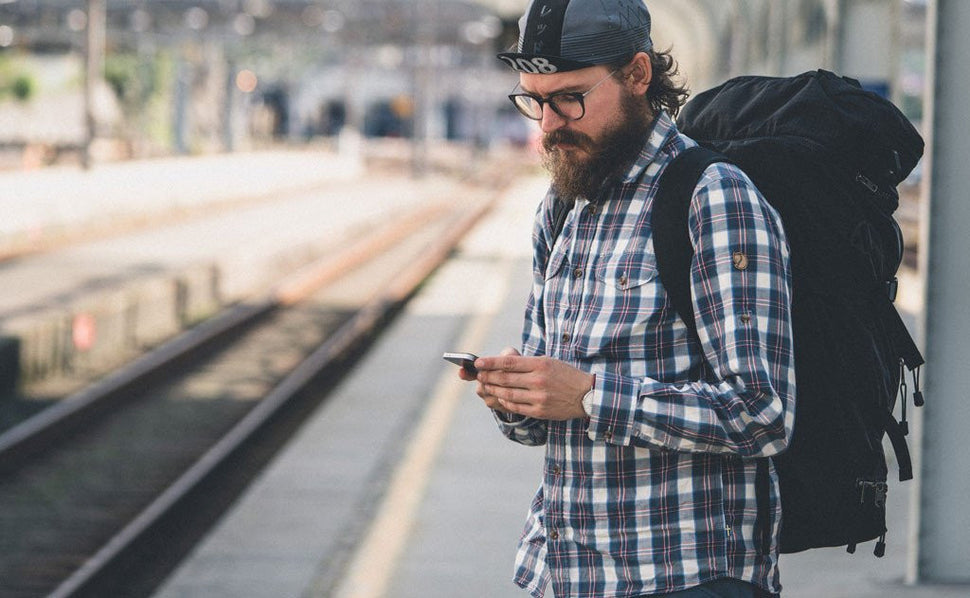 Description
The Hero's Journey is convertible travel luggage that allows you to fly to your destination, and then backpack or hut hop, all without checking baggage. If you are familiar with our Aeronaut 30 and 45 travel bags, you're already aware of the advantages of a carry-on bag that can be worn as a backpack: unlike wheeled bags, a backpack frees you from the smooth sidewalk and the paved path, allowing you move adroitly over any surface your feet can handle. The Hero's Journey takes this mobility even further, encouraging you to realize the dream of a fast and light escape to wide exotic mountain vistas and windswept highlands.
The Hero's Journey is actually two bags that work both together and alone: when properly configured and reasonably packed, the main bag meets the maximum FAA recommended dimensions for carry-on luggage, and the smaller Top Pack easily qualifies as a "personal carry-on item." Upon reaching your destination airport or the beginning of your hike, zip the two components together, attach the hip belt (and optional Side Pockets if desired), and you've got a 55 liter internal frame pack, suitable for short-to-medium range backpacking trips or hut hopping.
On its own, the Hero's Journey Top Pack compartment will function as your in-flight personal carry-on item, as well as a day bag when you've left the main pack behind at the hut, hostel or campsite. It can be carried as a shoulder bag using the included shoulder strap; you can also attach the main bag's hip belt to wear the Top Pack as a waist pack. Turn the Top Pack inside-out to transform it into a 10 liter daypack with 2" / 50mm webbing shoulder straps, plus loops to attach the included 1" / 25mm waist belt. The side of the daypack features a stretch mesh pocket for a small water bottle (up to about 3" / 75mm in diameter) or umbrella; above the mesh pocket, you'll find a 1" / 25mm triangle snap hook to attach your water bottle lid, umbrella strap, or what-have-you. The Top Pack has a 1.75" / 45mm-wide front compartment that gives you 5 additional liters of room when used as a shoulder bag or waist pack; this compartment ends up on the inside of the Top Pack when it's in daypack mode, and also gets squeezed down to almost nothing when the Top Pack is zipped onto the main bag (you've been forewarned). The 1" / 25mm webbing loops on the "top" of the Top Pack are handy if you're going to strap a sleeping pad or tent on to the top of the pack when you're on your way; they are also where you'd attach the main pack's hip belt if you want to use the Top Pack as a waist pack.
The main bag of the Hero's Journey is the same size and shape as the Aeronaut 45. It is divided up somewhat differently than the Aeronaut, however: rather than two end compartments, it has one large compartment at the "bottom" of the pack suitable for a light-to-medium down sleeping bag or a lightweight synthetic sleeping bag (in its stuff sack). Of course you can use this compartment for clothing or whatever you like if your travels don't require a sleeping bag. The main compartment of the Hero's Journey is a bit bigger than the center compartment of the Aeronaut 45: in here goes your extra clothing, cook kit and food; a Packing Cube sized to fit is available as well. Collapsed tent poles up to about 20" / 50cm long can be accommodated inside the upper compartment (they can slip down below the corners of the divider on either side of your sleeping bag). If for some reason you need just one big compartment, the internal divider unsnaps and folds out of the way.
Two compression straps on each side of the main bag allow you to tighten things up and control the load; you can tuck a thin sleeping pad, rain coat or sweater under these straps as well. 1" / 25mm side release buckles work with the upper compression straps to relieve any strain on the main compartment zipper: loosen the compression straps before unzipping the main compartment. Optional side pockets attach over the compression straps. Stow them inside the main pack until you're ready to hike, as they make the Hero's Journey too big for carry-on flight. (The compression straps function less than optimally when you use the side pockets—you'll need to slide your hand under the pockets to tighten or loosen them. Just saying.)
The Hero's Journey features a comfortable padded back panel, covered with Aero-Spacer Mesh, and a light, removable, internal frame sheet with a single aluminum stay (like our Guide's Pack). The aluminum stay comes pre-bent in a generic spinal curve -- bend it to more accurately and comfortably fit your back as needed. The Hero's Journey is designed to comfortably carry loads up to about 30 pounds / 15 kilos; it is sized to fit folks roughly 5'8" to 6'2" / 173 - 188cm.
Changing the Hero's Journey from Travel Mode to Hike Mode will take a little bit of time: though you can zip out the shoulder straps and get the main pack onto your back in under a minute, to get yourself completely trail-ready might take half an hour or more. You'll want to get out the padded hip belt and attach it to the main bag, as well as attach the optional side pockets if you've got 'em (both pockets and belt attach using Gatekeepers). Your personal carry-on item (aka Top Pack) now zips to the top of the main bag, giving you about 20% more capacity than the main bag alone. This is the time for some repacking as well: you may want to remove your sleeping pad or tent from the main bag and strap it to the top using the included lash straps; if you have the side pockets, you can pack them with quick-access clothing, water bottle or emergency items, thereby creating more interior space for whatever food/fuel you'll purchase locally. (We assume you'll be acquiring most or all of your food locally before reaching your jumping off point; remember that you can't fly with stove fuel, so make plans to acquire that locally as well.)
On the trail, you'll find the Hero's Journey to be somewhat similar to other internal frame backpacking packs, though perhaps not as lavishly padded. Whether you're a seasoned hiker or not, we recommend fully loading your Hero's Journey and hiking some test miles before your Big Adventure: best not to have any surprises about fit/comfort/utility when you're so far from home.
When you're done hiking and ready to fly again, simply reverse the above steps to return the Hero's Journey to Flight Mode.
Worth noting: The Hero's Journey is a unique design intended for a particular use and it certainly isn't for everyone. It is intended for adventure travelers seeking a hybrid bag — a compromise between a soft carry-on bag like our Aeronaut and a sophisticated internal frame backpacking/mountaineering pack. If you are hoping to use it extensively for backpacking, you might well find that it falls short of expectations for comfort: while the padded straps, back panel, and hip belt are of excellent quality, they are by design less lavish than one might find on packs that are intended exclusively for outdoor use. Key to appreciating The Hero's Journey is recognizing the flexibility that it offers: being able to fly/train/bus to a trailhead (or other jumping-off point), all without checking your bags, is pretty sweet. Carrying one bag that can be as at home and look as good in an urban area or a nice hotel as it does on the trail is also pretty sweet. But being both carry-on luggage and internal frame backpack certainly involves compromises, and you will find that while the Hero's Journey does both jobs fairly well, it likely won't perform to the same extent as purpose-built bags will in either application. Take these grains of salt into account when deciding if this bag is for you: if it's for you, our guess is you'll love it.
Happy Trails, Padawan.
Sewn in Seattle
Our bags are designed and sewn right here in Seattle, Washington, U.S.A.
That allows us to be control freaks in the best way possible; we have direct control and oversight of the quality of our materials, our products, and the jobs and working environment that we help create. It also offers us a unique spontaneity: when we have an idea for a new product or accessory, we can design it, figure out how to build it, add it to our website and be ready to ship it out our front door all within just a few weeks. How cool is that?

Intrigued? You can find out more about the unusual way we do business on our Company Philosophy page.
THE BIHN Guarantee
Everything you buy from us here at TOM BIHN is satisfaction guaranteed. We've been in business since 1972 and we stand behind what we make.
If something goes wrong and it's our fault, we'll fix it for free. Repairs due to normal wear and tear or due to other things that are not our fault will be performed, when possible, at a reasonable charge right here in our Seattle factory where your bag was made. Defects in materials or workmanship are uncommon and almost always evident while the product is still new. Keep in mind that bags and packs are often subject to extreme wear in everyday use: do not expect them to last forever. Only true love lasts forever! You can expect a TOM BIHN product to give years and years of hard service.