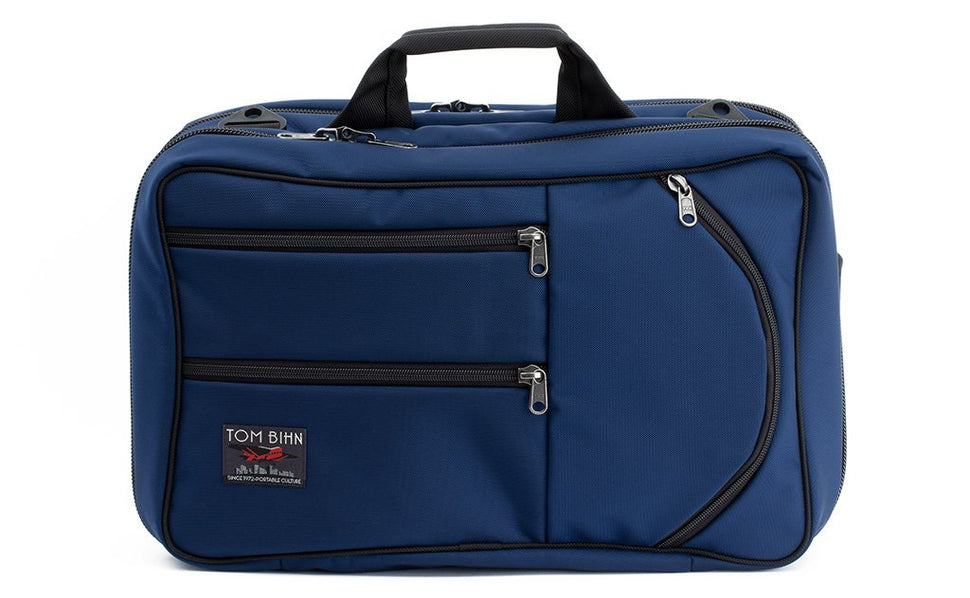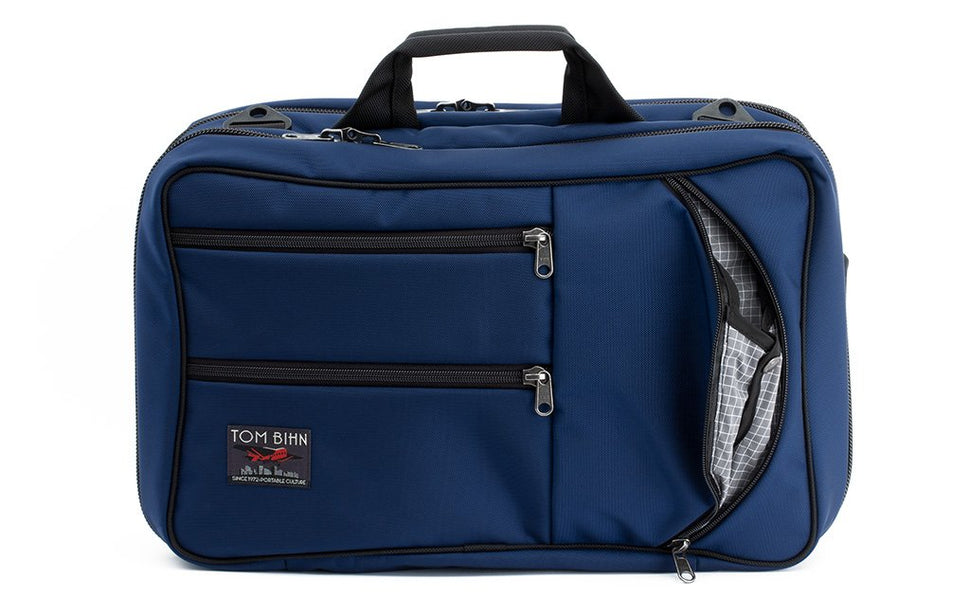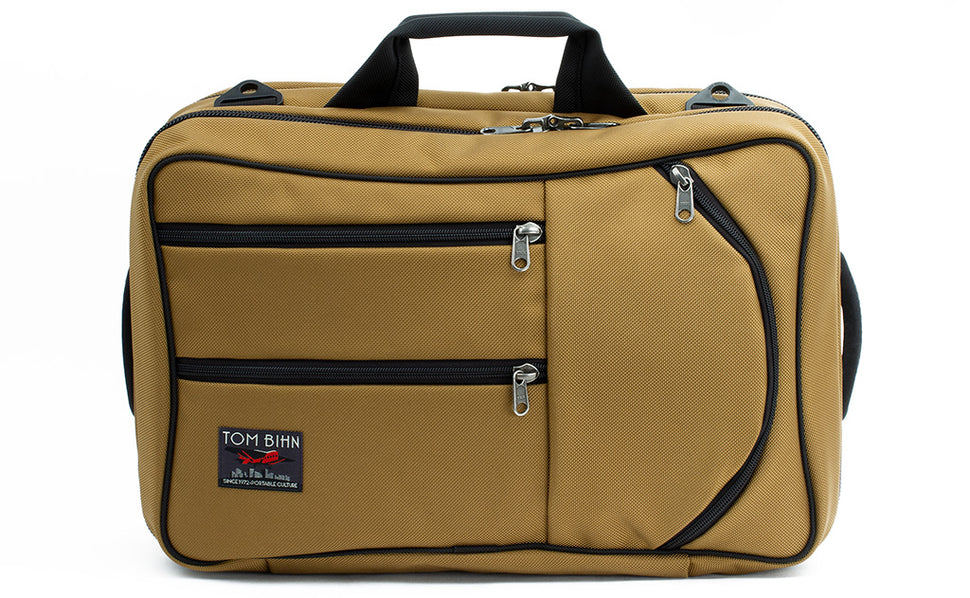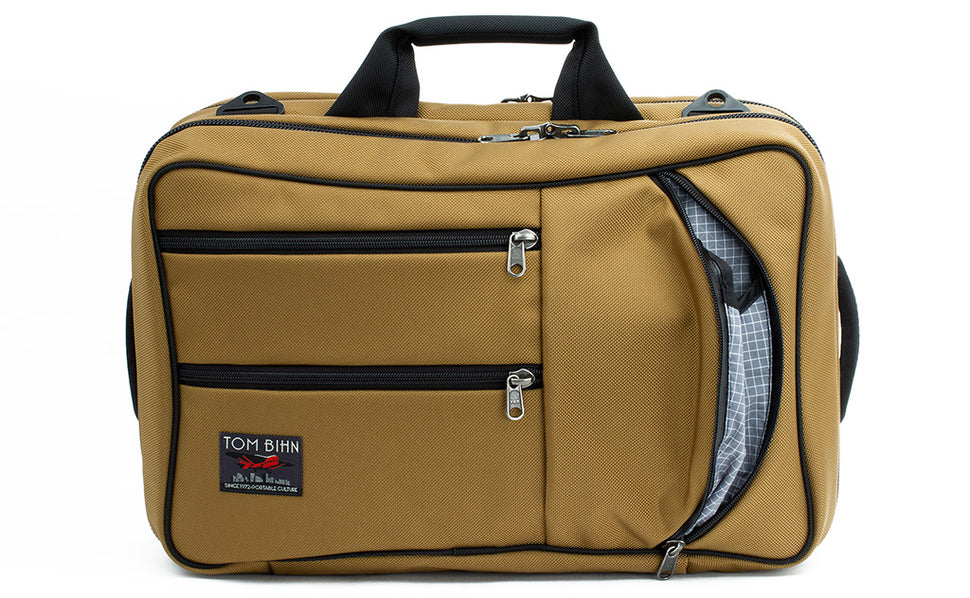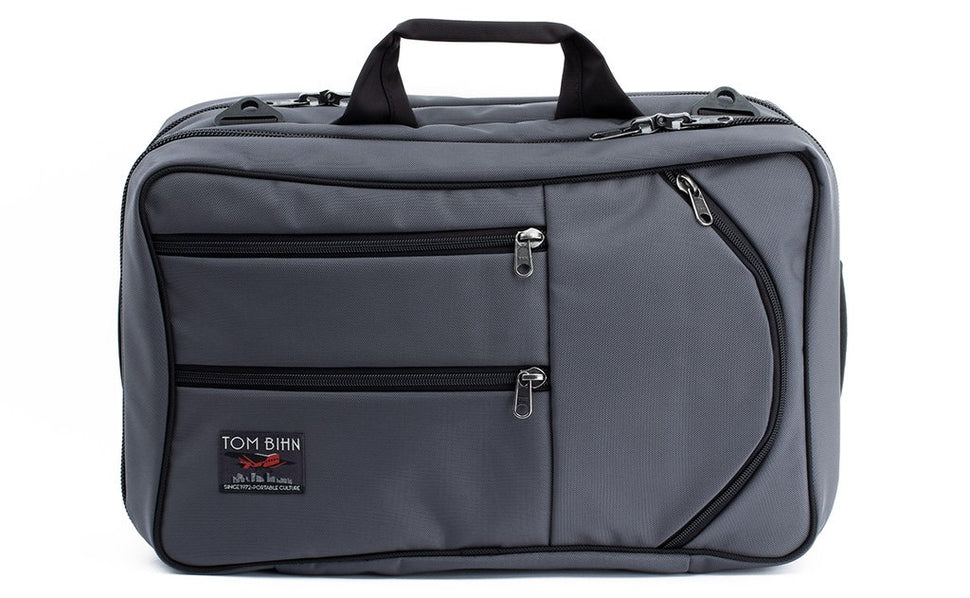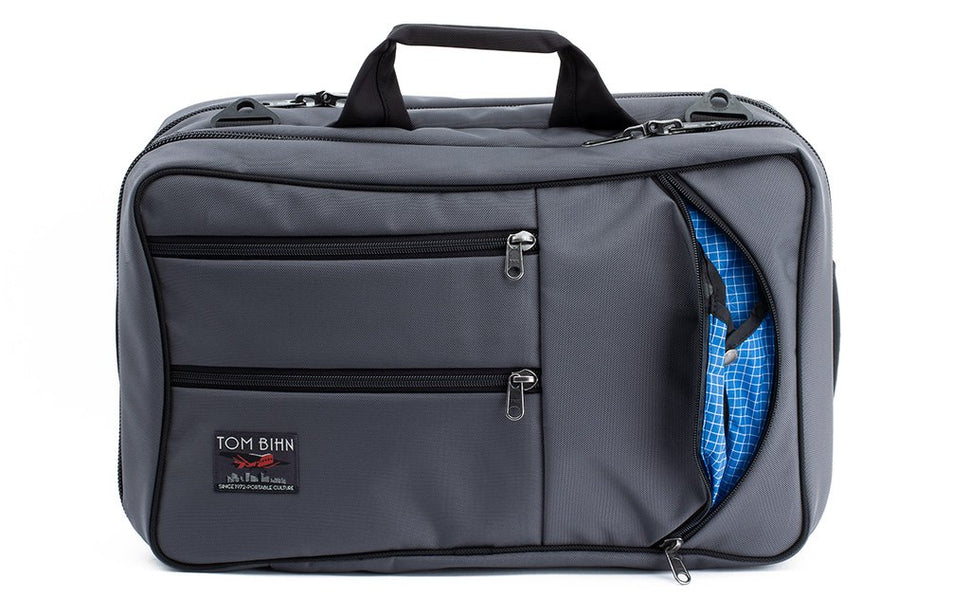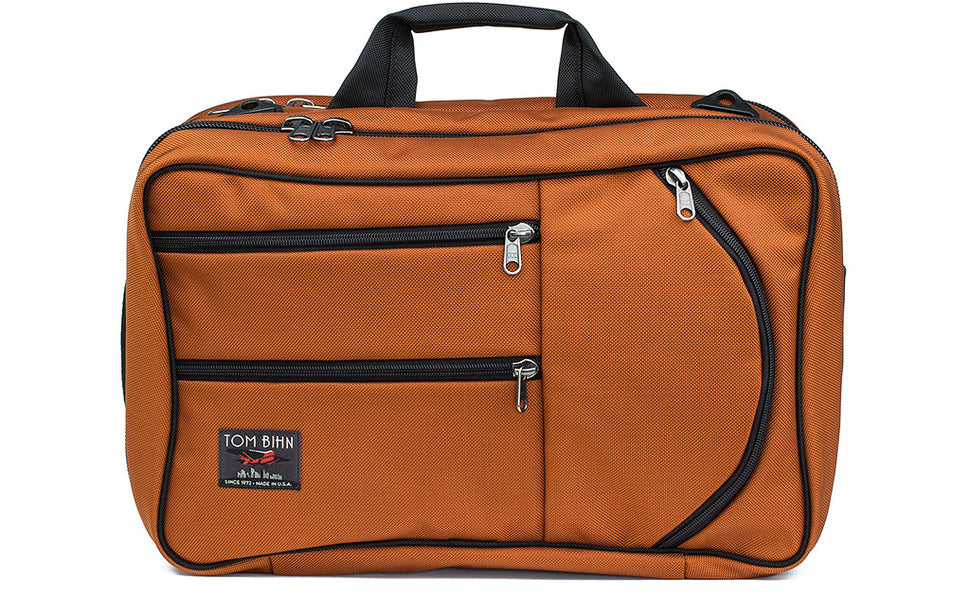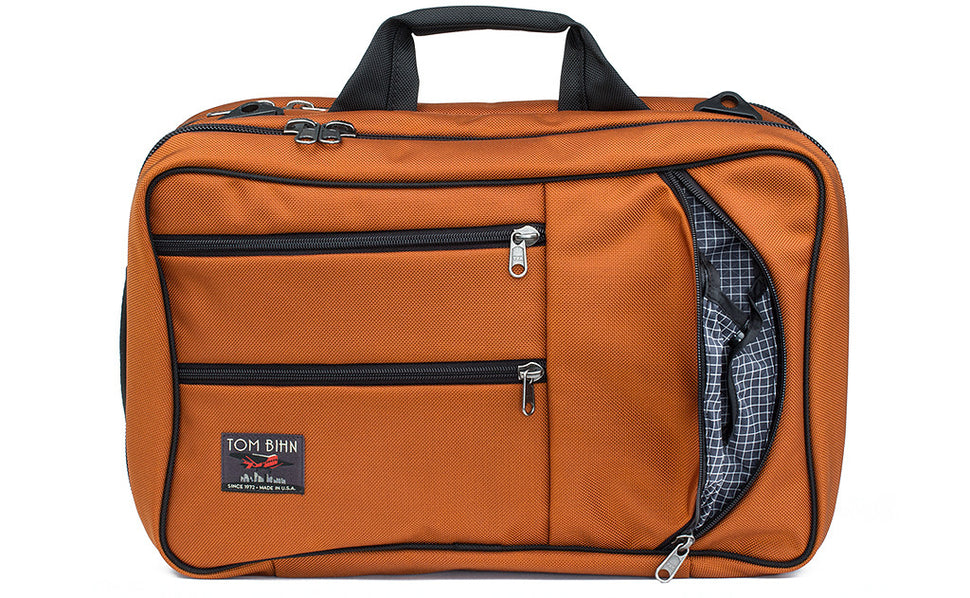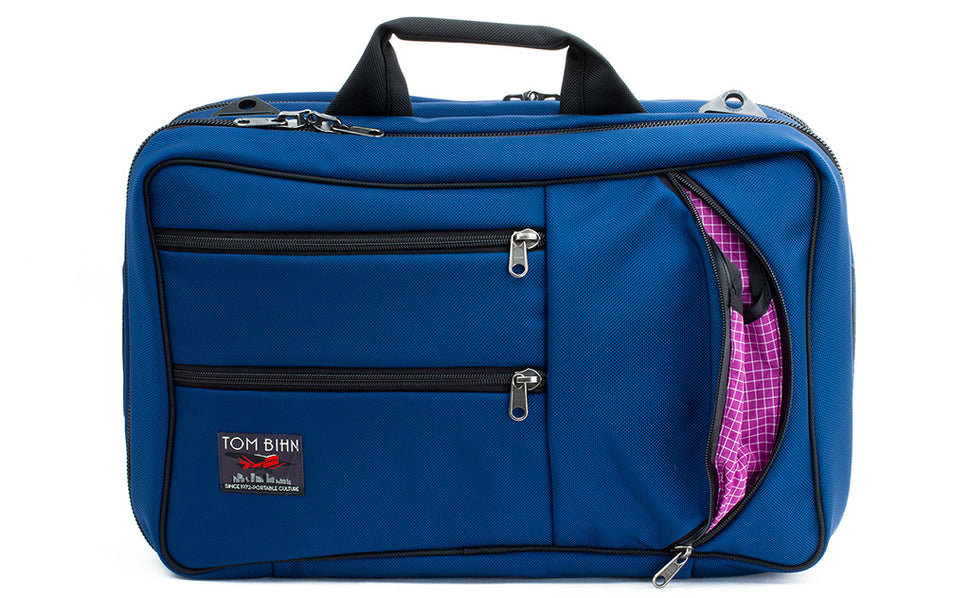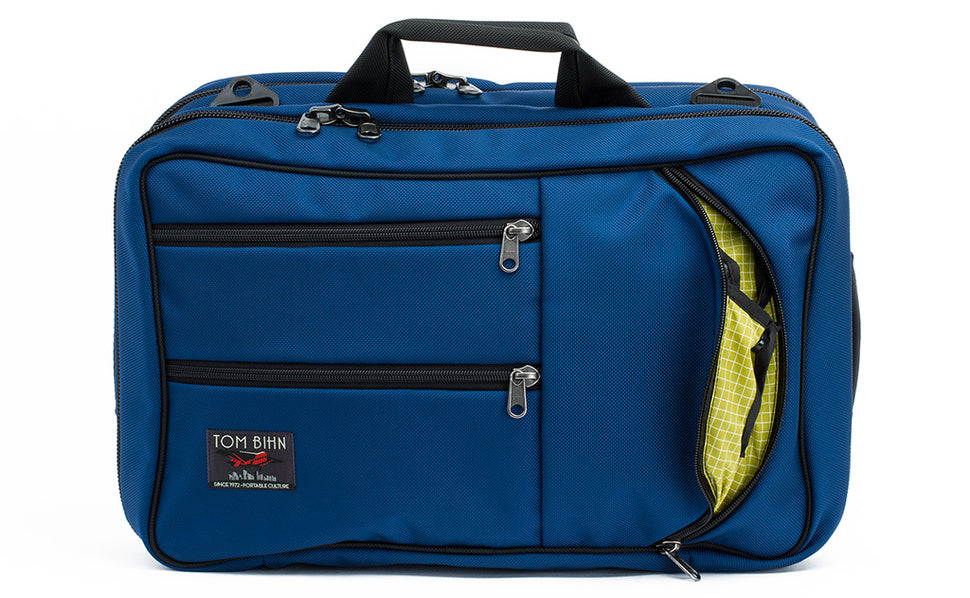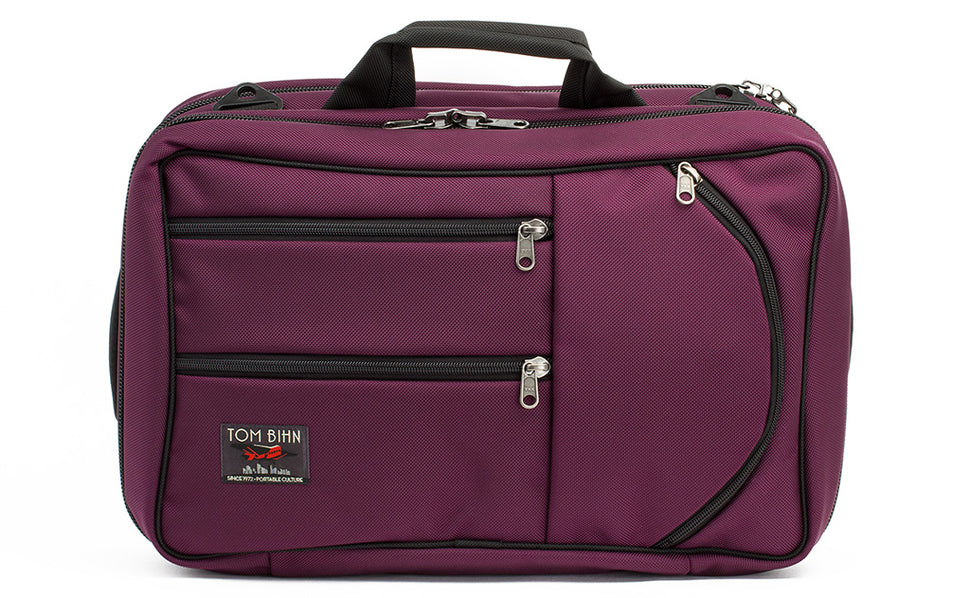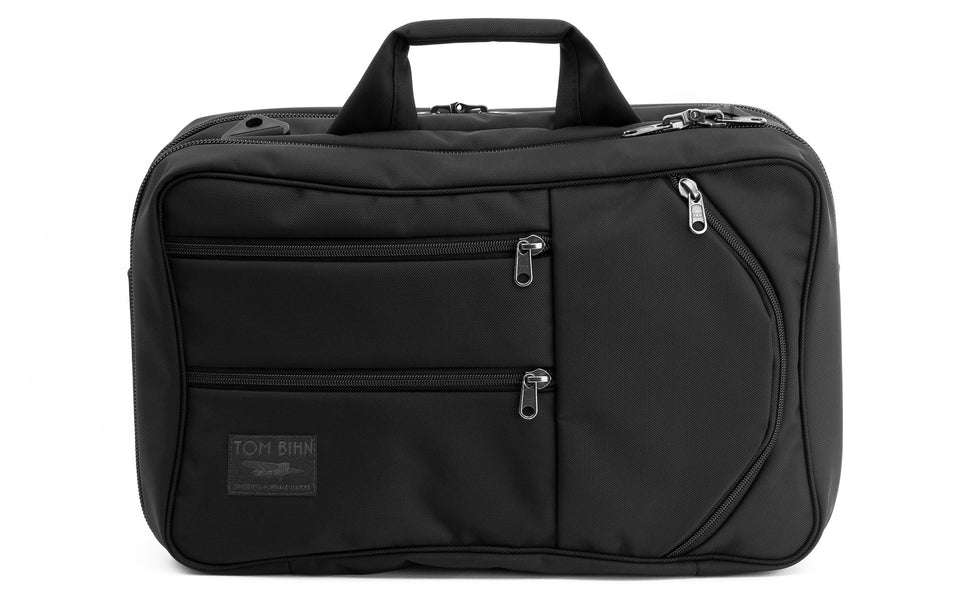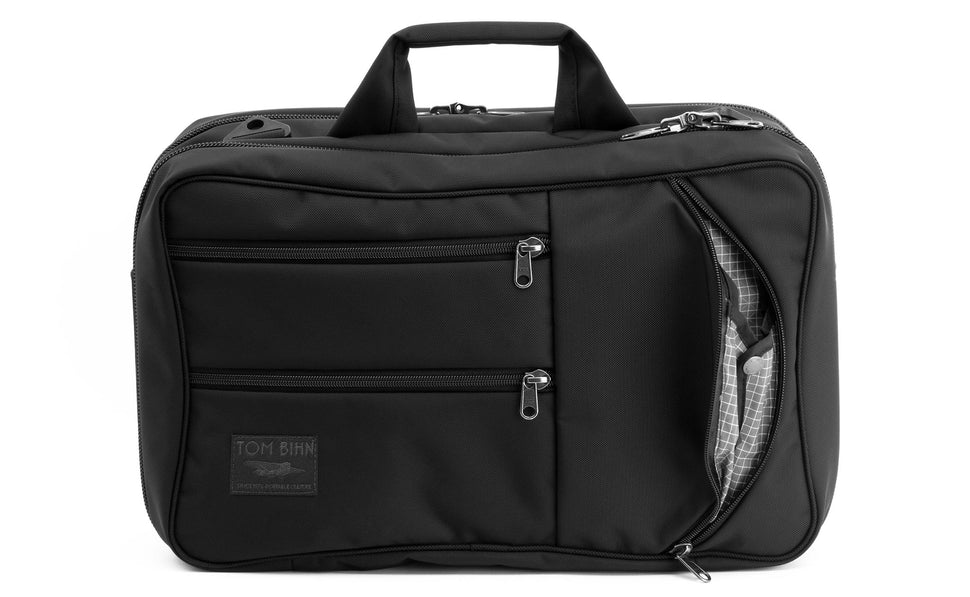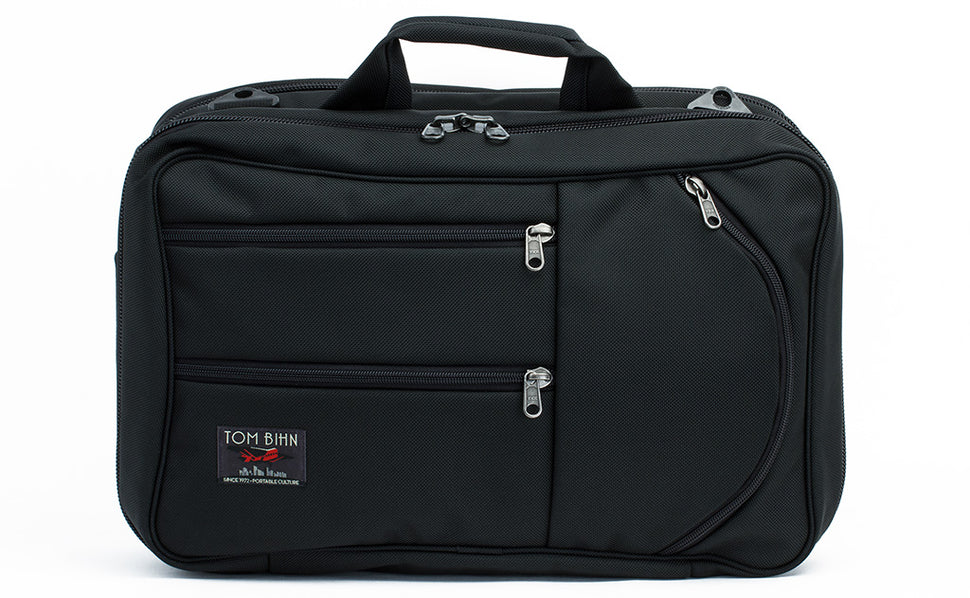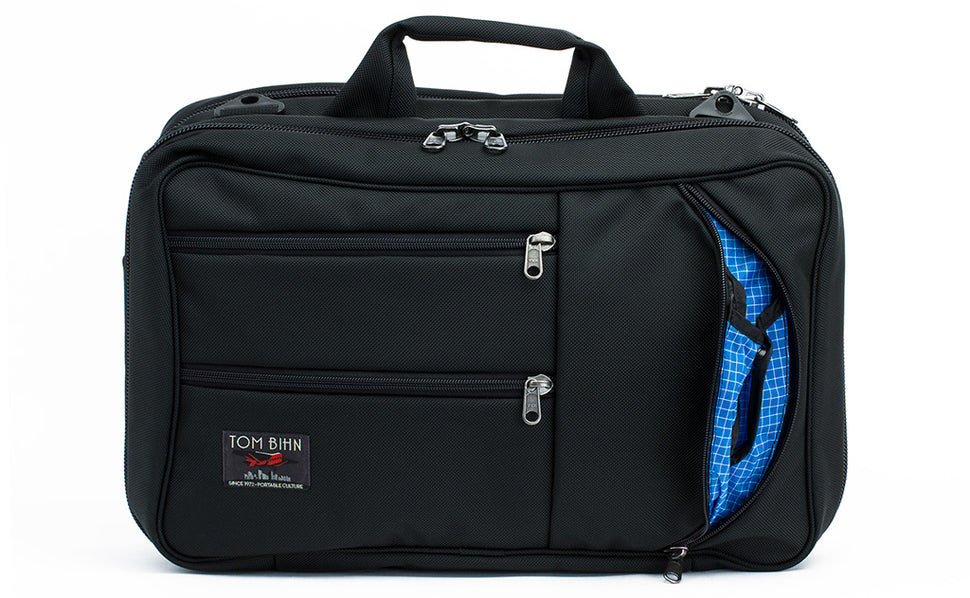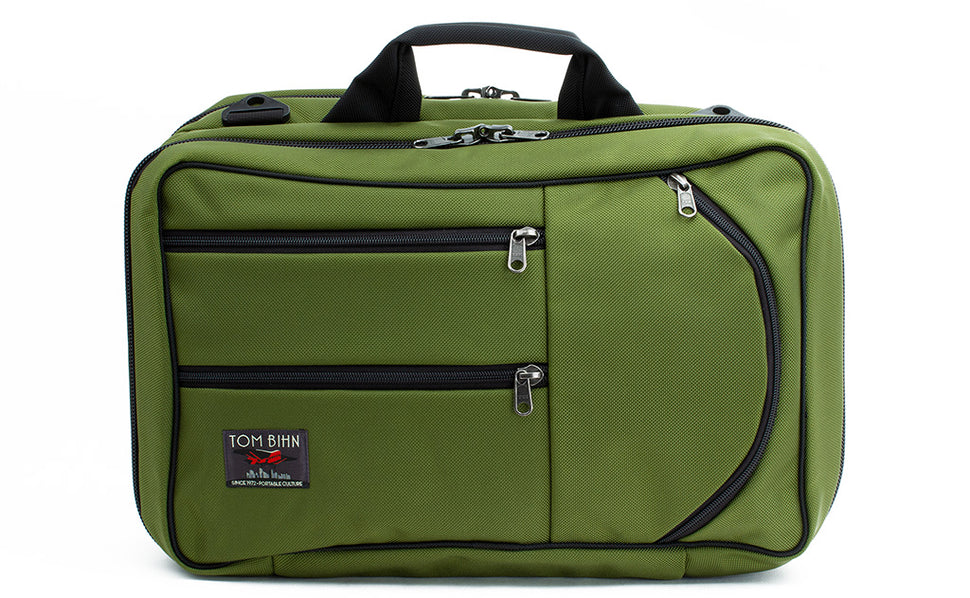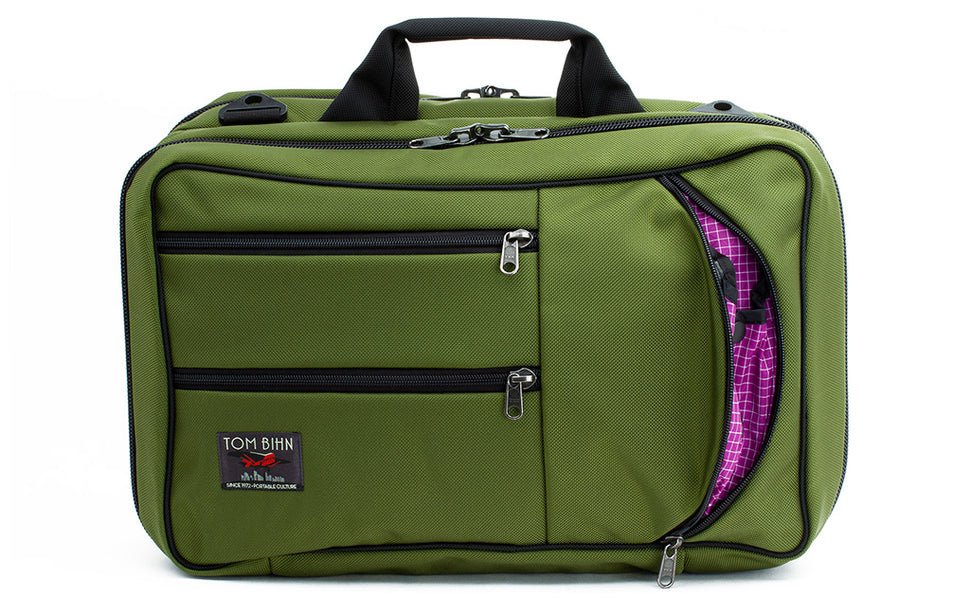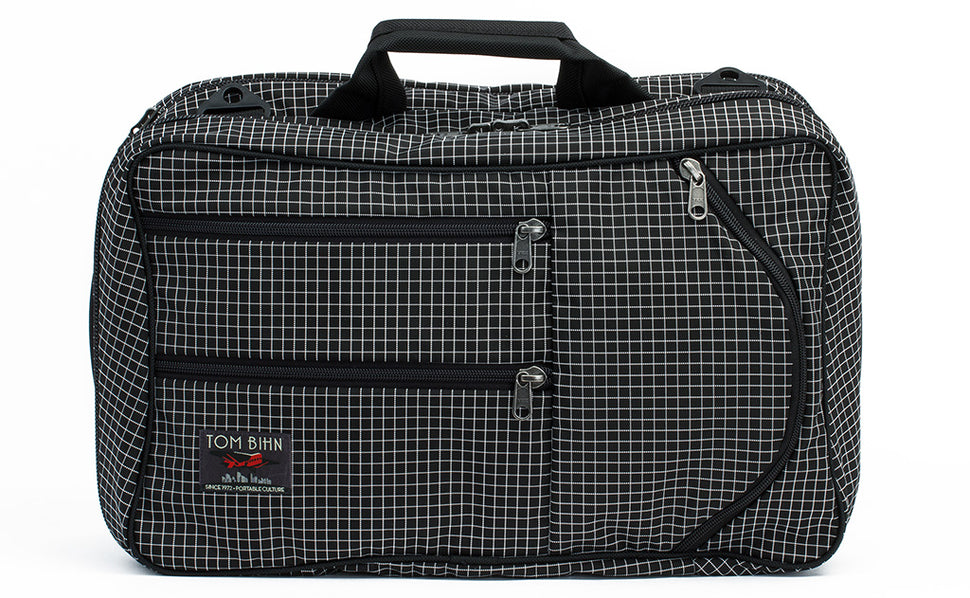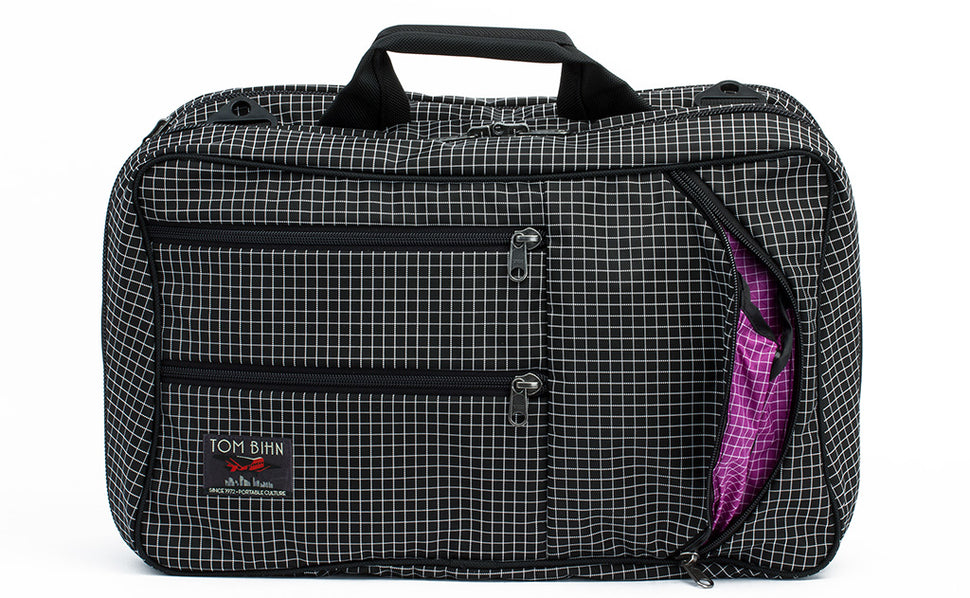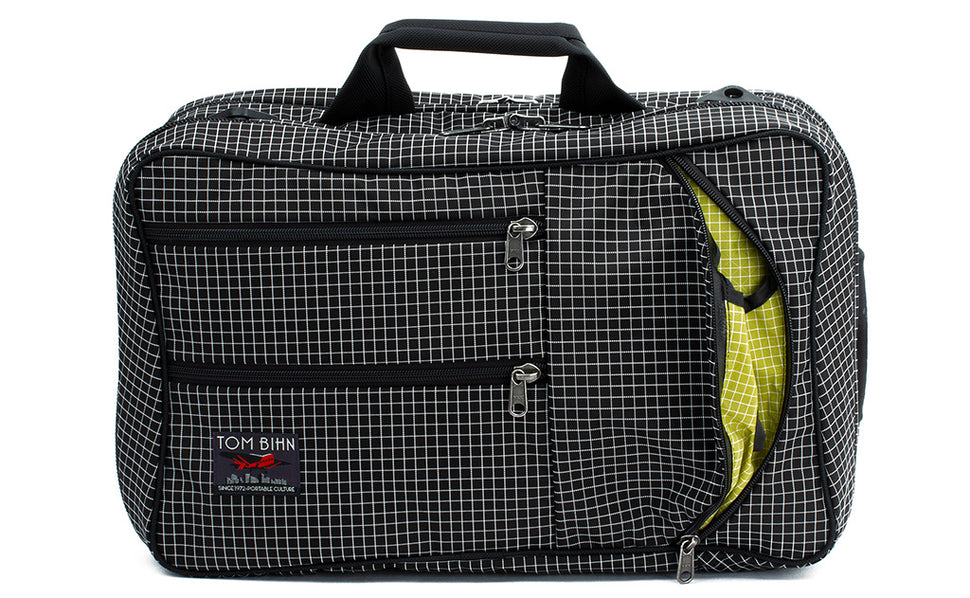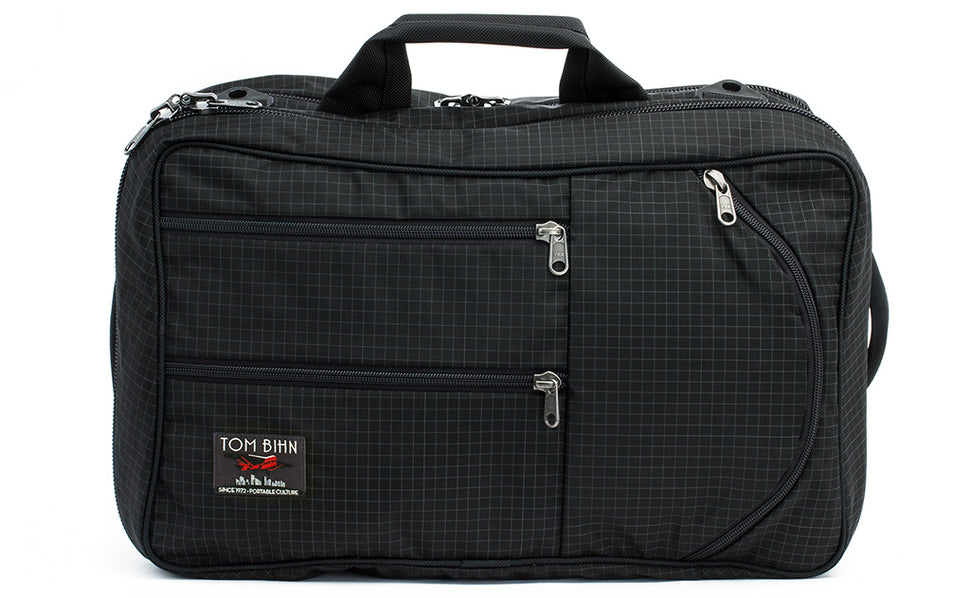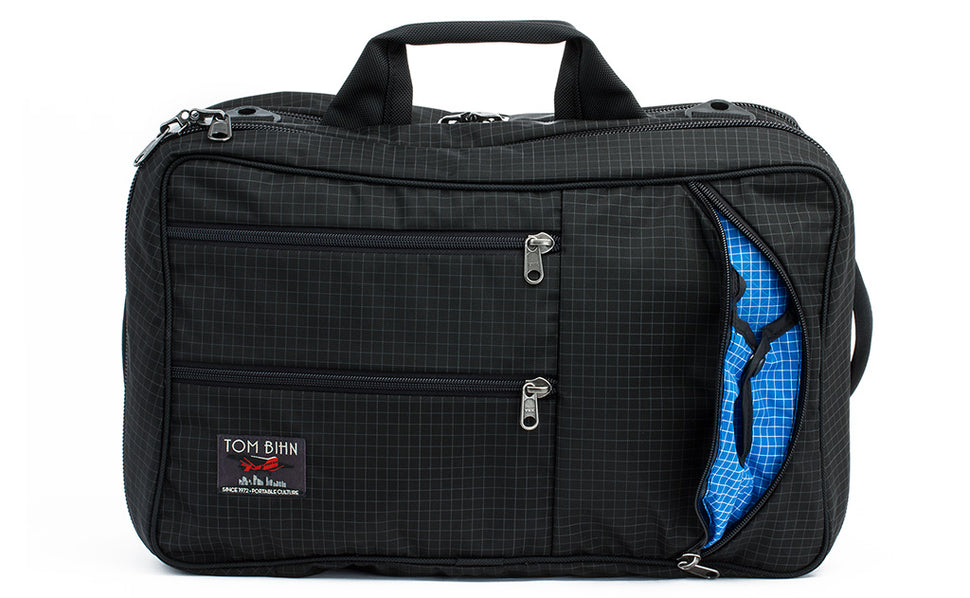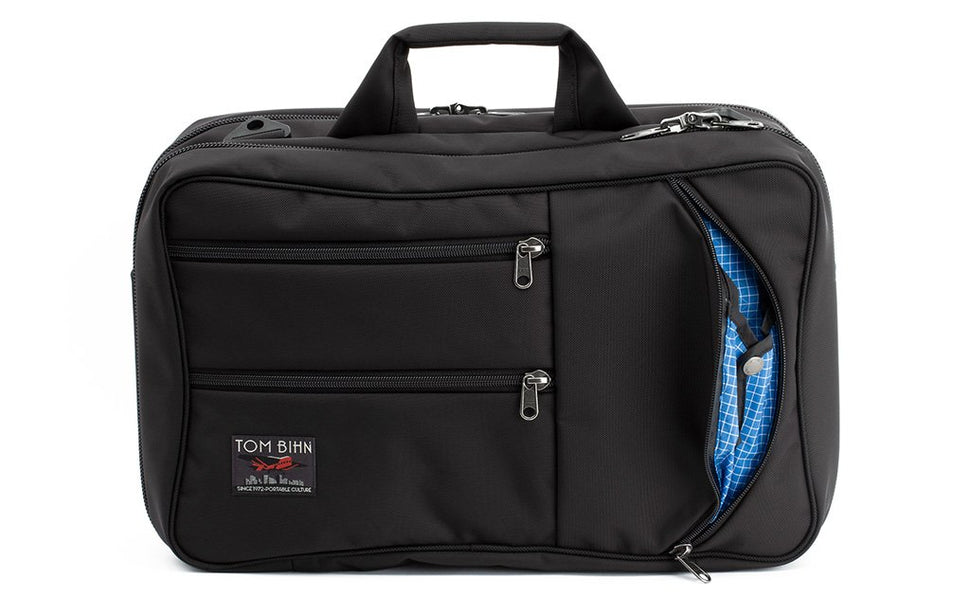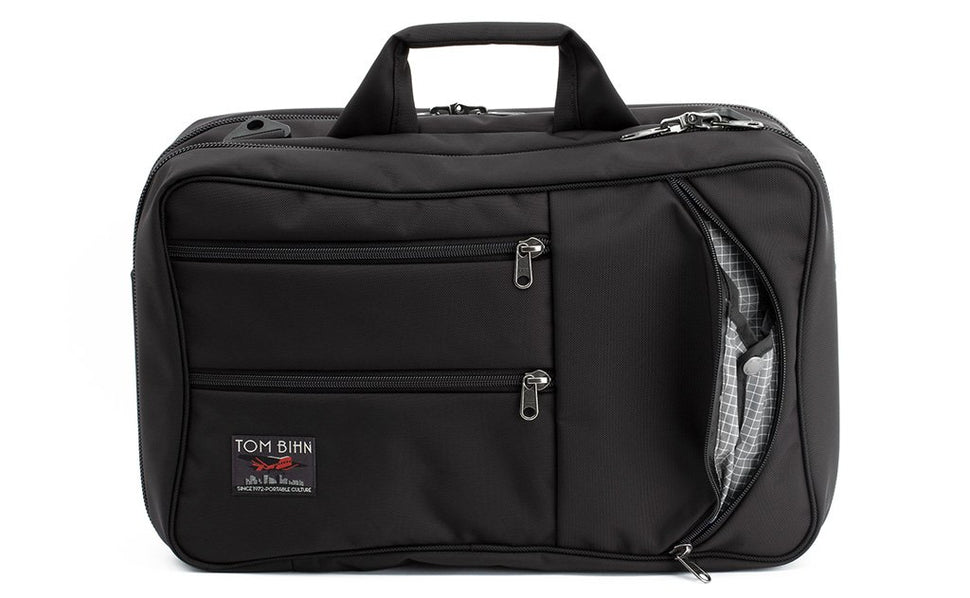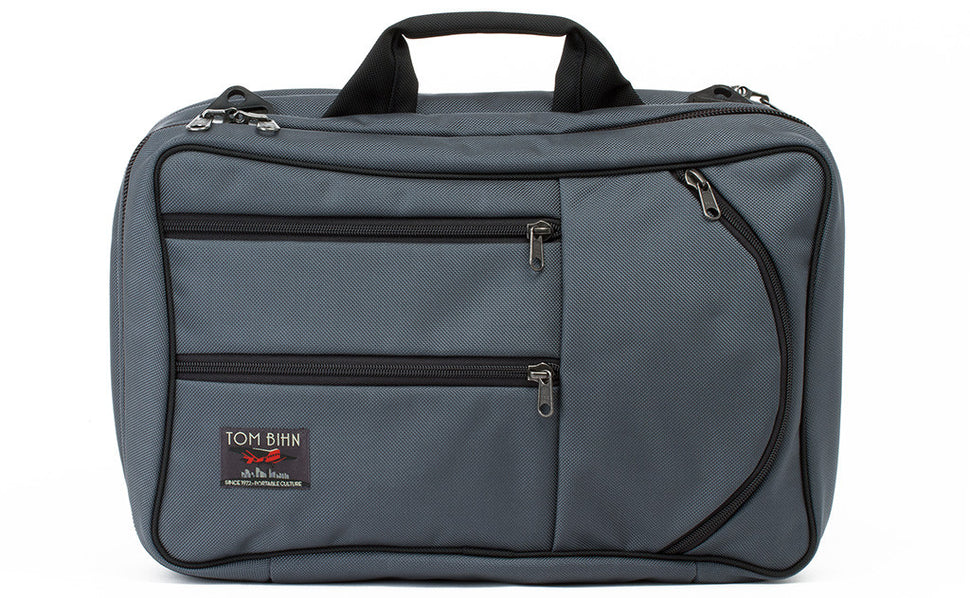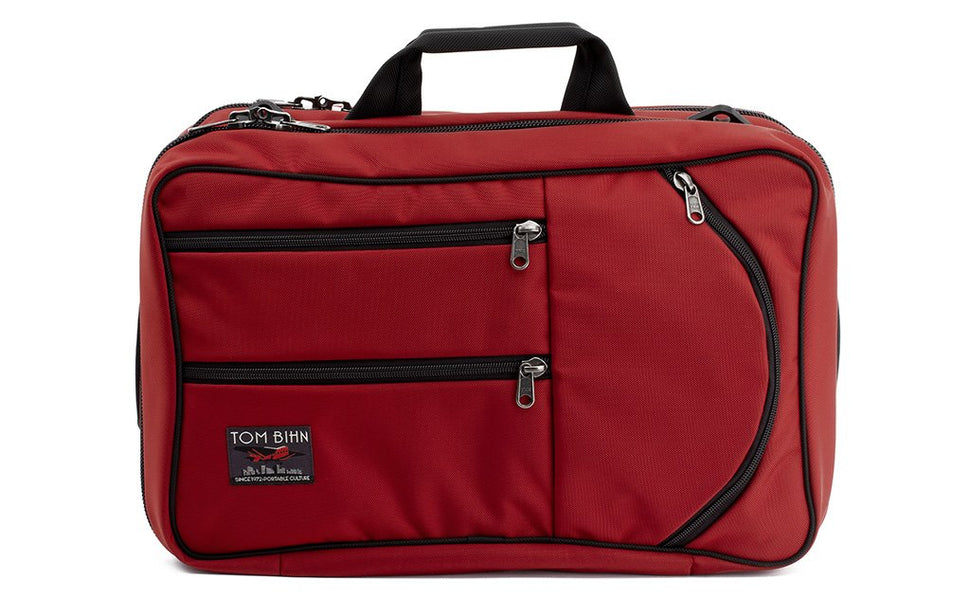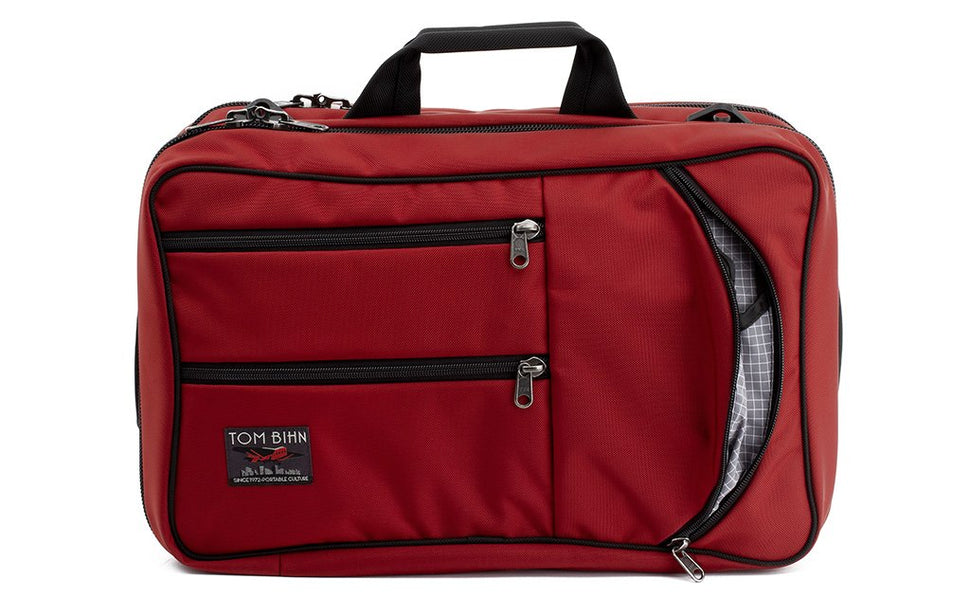 TLDR
The Western Flyer is a 26L, 2-compartment, 3-way carry travel bag designed with the super organized, minimalist business traveler in mind. It is the smallest of our main carry-on travel bag options behind the Tri-Star, Aeronaut, and Techonaut.
2 main compartments of equal size (front one has a vertical divider)
Exterior front panel has 3 quick-access pockets: 1 curved right zippered pocket and 2 overlapping horizontal zippered pockets
3 ways to carry: briefcase, backpack, or shoulder bag (add Absolute Shoulder Strap)
6 O-rings for extra organizing pouches, if needed
Carry-on friendly on most airlines (including ones with restrictive requirements)
Full Description
The Western Flyer is the ultimate overnight bag: classic lines, well-thought-out features, three comfortable carrying methods to choose among, and zip-away backpack straps. You might also check out our personal carry-on size bags — Co-Pilot and Pilot — as they pair well with the Western Flyer. (Or, if you're a truly minimalist traveler, you could even use the Co-Pilot or Pilot as your one travel bag; all three meet U.S. and international carry-on sizing requirements and fit in the overhead compartment of CRJ commuter planes. But we digress..)
Two Main Compartments
The Western Flyer has two main compartments of equal size. The front compartment has 2 O-rings and a vertical divider that zips out of the way if it's not wanted. Available for purchase are two sizes of Packing Cubes designed to fit the main compartments of the Western Flyer; also available is the Packing Cube Shoulder Bag. Either half of the divided front compartment can fit a pair of shoes (you may want to first put your shoes in a Packing Cube, which should fit up to size 12 men's shoes). The back compartment also has 2 O-rings and is large and undivided — it's an ideal place to secure our Cache laptop sleeve (click here for our laptop fit guide).
Curved Right Zippered Pocket
When you unzip the curved right zippered pocket partially, it's a useful pocket for a boarding pass. Unzip it entirely, it's an expandable water bottle pocket. The bellows that make the pocket expandable can be snapped up so your water bottle doesn't fall out, or unsnapped to allow greater access to the pocket.
Two Horizontal Zippered Pockets
On the left are two horizontal zippered pockets with an O-ring in each. One of the O-rings includes an 8" Key Strap, which is useful for tethering and keeping track of your keys, Swiss Army knife, or your AirPods. On the other O-ring, you can attach organizational pouches like the Clear Organizer Pouch, Double Organizer Pouch, or Ghost Whale Organizer Pouch. The top zippered pocket spans the full height of the bag and the bottom pocket goes about halfway.
Carry As A Backpack
Want to carry the Western Flyer like a backpack? Untuck the hideaway backpack straps (same as those on our Aeronaut and Tri-Star) from the back compartment and snap on the bottom of the straps. They're our Edgeless Shoulder Straps and feature a 3/4" removable sternum strap and an optional (not included with this bag) 1" removable gatekeeper waist strap. Both the sternum and waist straps are simple webbing straps designed to help distribute weight and stabilize the bag to your body.
Carry As A Shoulder Bag
The attachment points for an optional shoulder strap are offset on the Western Flyer to provide the best balance and comfort, should you carry the bag with a shoulder strap. We recommend using the Absolute Shoulder Strap with the Western Flyer if comfort is your primary concern. You also have the option of using any shoulder strap you already have that attaches to D-rings.
Carry as a Briefcase
A single comfortable, padded handle made from PORON® foam sits directly above the center of gravity for maximum comfort, stability, and balance.
Durable Materials + Expert Construction
No bag lasts forever, but choosing the best and most durable materials and taking care not to abuse it (no washing machine or dryer!) can help a quality bag serve most people well (with maybe a repair or two) for up to 10-20 years.
This bag requires significant skill to sew and construct; it's not just any sewing factory who can pull this off and do it well, it's ours, and it's because of the talent of our crew. They're the reason why our designs can be made in an ongoing practical fashion.
100%
would recommend this product
Verified Buyer

Product Standouts

Thoughtful Design,

High Quality Craftsmanship,

Compact,

Versatile,

Made in USA

1 year ago

Product Standouts

Thoughtful Design,

High Quality Craftsmanship,

Compact,

Versatile,

Made in USA

This Bag Rules the Skies, Rails, & Roads

The Western Flyer has become my favorite go-to bag for one bag travel. Mine is Ballistic Nebulous Gray/Halcyon Island. So far, it has handled 5-day, 7-day, and 9-day trips, on planes, trains, and automobiles. No kidding. The most recent was a combo trip on which I flew from California to Chicago [on a pizza mission], stayed for a few days there, and then took the California Zephyr back home. Even in a full sleeper compartment, the train is not flush with storage space, but the WF plus TB-fitted packing cubes was perfect. Here's what went into the WF on this past trip, with room to spare:

1. Western Flyer packing cube containing all shirts, underwear & socks, and one pair pants [all Merino wool]

2. TriStar small packing cube containing Montbell rain shell and Patagonia NanoLoft jacket

Earthrunner Elemental Sandals [in disposable shower caps for dirt isolation][

3. Pack Towl [original]

4. Laundry Bag [which I never seem to use]

5. Eagle Creek Spectre dop kit [includes several non-toiletries, like clothesline, laundry detergent, corkscrew, no-knife Leatherman]

6. Tom Bihn Clear Organizer as my 311 [though TSA pre-check generally avoids need]

7. Tom Bihn Packing Cube Shoulder Bag holding snacks, teabags, collapsible water bottle, Merino Buff, playing cards, Ghost Whale Organizer for charger & cables, small playing cards, lens shade for iPhone, Bose QC noise canceling ear buds [for non-AirPod systems]

8. iPad Air + Magic Keyboard [a bit of a luxury, because of all the time on…

Verified Reviewer

Product Standouts

Comfortable,

Compact,

Versatile,

High Quality Craftsmanship,

Durable

10 months ago

Product Standouts

Comfortable,

Compact,

Versatile,

High Quality Craftsmanship,

Durable

Love it.

I have owned my Black Halcyon Western Flyer since the fall of 2019. It is a well made, functional, and versatile piece of luggage. It can serve as a main travel bag, a personal item to accompany another bag if not overstuffed, or even a briefcase, albeit a large one.

My typical use for the bag is as a main bag for trips lasting up to a week. For the sake of reference I am a 5'8" man and my wardrobe doesn't vary too much during the course of a trip. I try to travel with a single pair of shoes (Size 11) if possible. Bringing multiple shoes with the packing list described below usually means another larger travel bag or a car trip where the shoes can just hang out in the car and not in the luggage. I usually bring along a TB Daylight Briefcase for tech stuff, etc. so I don't need any room in the Western Flyer for that.

In the large main compartment I put 2-3 pairs of jeans/pants/shorts plus 4-6 lightweight (e.g. broadcloth) button front shirts. The shirts are bundle wrapped and all is placed inside a Halcyon TB Daylight Backpack which does double duty as a packing cube while in transit and day pack when out and about sightseeing, etc. during the trip.

In one side of the split main compartment, I put socks, underwear, t shirts, etc. Inside a Halcyon TB Shoulder Bag Packing Cube. I have never used this as a shoulder bag, but I could see it providing some additional organization for the Daylight Backpack.

I also have some REI expandable packing cubes approximately the same…

My favorite travel bag!

I love the Western Flyer! This is my absolute favorite bag for business or short trip travel. It's compact, fits plenty for me for a 3-4 day business trip (including shoes, a computer, and a hair dryer!), and fits under the seat in front of you on an airplane. Fits on the overhead compartment of even small regional flights also. I also find it very comfortable to carry, I always use the backpack mode. I use a packing envelope from eagle creek in the back compartment, and that works perfectly for all my business clothes, plus the 15in laptop I can usually add a curling iron, comb, and sonicare toothbrush there too (long skinny things, basically). The front compartment is used for shoes, hair dryer, toiletries, etc. I often add my kindle in the large front pocket. Husband also loves to borrow this bag for short trips. I also own an aeronaut45, but use it mostly for longer trips with the family, and use that to pack my stuff plus my toddler's.

Perfect Travel Companion

The Western Flyer is a fantastic travel bag, and I've thoroughly enjoyed using it on my travels.

If you tend to pack your clothes flat and don't need to carry too much stuff that's weirdly shaped and bulky, this bag will work for you. The main compartments are a little deeper than the compartments on the Tri-Star, and that really helps with packing bulky clothing like jeans and sweatshirts. The zippered divider in thee front compartment is really great for separating clothes from other things like electronics and toiletries.

The grab handle and backpack straps are pretty comfortable, though I haven't used either extensively. If you plan to carry the Western Flyer on your shoulder, I would highly recommend upgrading to the Absolute Strap. It makes carrying this bag through an airport way nicer!

The two flat pockets on the front of the bag can be a bit tricky to utilize, but they're great for storing a small toiletries bag, passport, boarding pass, etc.

The water bottle pocket if where I usually dump the contents of my pockets into before going through security. It'll work well for a small water bottle, but I usually have the bag packed too full to be able to squeeze a water bottle into this pocket.

All in all, I think the Western Flyer is fantastic, and will continue to serve as my perfect one-bag travel setup for years to come. Well done, Tom Bihn crew!

Verified Buyer

Product Standouts

Thoughtful Design,

High Quality Finishings,

Sewn in USA,

High Quality Craftsmanship,

Versatile

7 months ago

Product Standouts

Thoughtful Design,

High Quality Finishings,

Sewn in USA,

High Quality Craftsmanship,

Versatile

Almost Perfect

The build quality on this bag is simply amazing (like all Tom Bihn products) and will be a trusty companion for years to come. The zippered front compartment is extremely useful to separate my items, and like how perfectly the small Western Flyer packing cubes fit on each side of the zippered sections. This will be perfect for me if I am taking a 1 to 2 day business trip, or if I need a little extra room and need an extra bag. The only reason I didn't give the bag 5 stars is the lack of a dedicated laptop compartment. Having to use the cache to hold my laptop isn't ideal. These days most people travel with laptops even when going on vacation and not having a dedicated spot is a really big miss in my opinion. The biggest selling point for me was the size and being able to easily fit it under an airplane seat, along with the versatility to carry it as a backpack or over the shoulder. Overall I am very impressed with the Western Flyer and will be using it for years to come.
Reviews Loaded
Reviews Added
Sewn in Seattle
Our bags are designed and sewn right here in Seattle, Washington, U.S.A.
That allows us to be control freaks in the best way possible; we have direct control and oversight of the quality of our materials, our products, and the jobs and working environment that we help create. It also offers us a unique spontaneity: when we have an idea for a new product or accessory, we can design it, figure out how to build it, add it to our website and be ready to ship it out our front door all within just a few weeks. How cool is that?

Intrigued? You can find out more about the unusual way we do business on our Company Philosophy page.
THE BIHN Guarantee
Everything you buy from us here at TOM BIHN is satisfaction guaranteed. We've been in business since 1972 and we stand behind what we make.
If something goes wrong and it's our fault, we'll fix it for free. Repairs due to normal wear and tear or due to other things that are not our fault will be performed, when possible, at a reasonable charge right here in our Seattle factory where your bag was made. Defects in materials or workmanship are uncommon and almost always evident while the product is still new. Keep in mind that bags and packs are often subject to extreme wear in everyday use: do not expect them to last forever. Only true love lasts forever! You can expect a TOM BIHN product to give years and years of hard service.