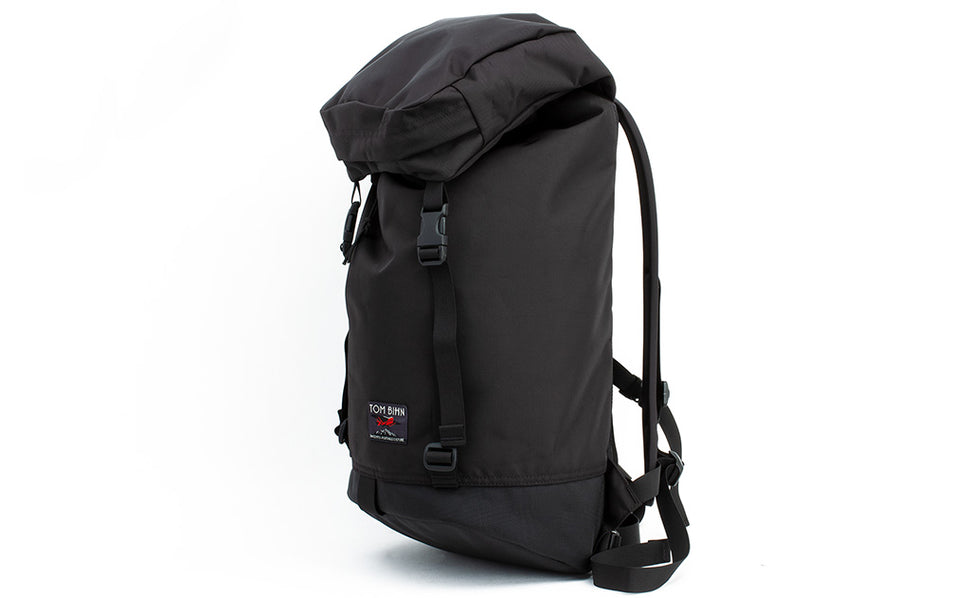 Description
If the original Guide's Pack is a fully realized sketch, the limited edition Shadow Guide V1 is the version of the sketch with several brush strokes removed — what the sketch conveys remains clear, but with an end experience of true simplicity.
The core architecture of the Shadow Guide is essentially that of the original Guide's Pack, but we've removed the accessory strap holders from the top, bottom, front and sides, along with the ice axe loop, giving the exterior of the Shadow a straight-forward appearance. Along with the accessory strap holders, we've given the boot to all the other coyote brown trim, like straps, drawcord and mesh back: it's all beautiful black now.
Two minor additions of webbing serve to add major functionality: first, interior loops to which you can secure the optional Cache laptop sleeve. (Note: all existing sizes of our Cache sleeve fit in the Shadow Guide -- even the Cache 17B for the Razer Blade Pro.) And second, an unobtrusive webbing loop on the bottom to which one can affix a Guardian Light if biking or walking. Both are designed to add additional functionality to the bag in urban situations — specifically, commuting to and from work, volunteering, or a night out at a friend's or the local pub.
And included with the Shadow Guide are black zipper cords so you can add them to any or all of the pack's three zipper sliders. Here's a video that demonstrates how to add the zipper cord to the Shadow Guide Zippers and here's another video that features other techniques for adding cord to metal zippers (or even replacing the metal zippers entirely.) And for even more on the pros and cons of various types of zippers and pulls, see our Cord Zipper Pulls page.
It's a top-loading backpack that closes with a drawstring and top flap pocket. The top flap pocket fastens down with two 1" side-release buckles and nylon webbing straps; it's actually three pockets in one: the main pocket has two stealthy mesh pockets on its underside.
The main compartment closes with a drawstring and cord lock. Inside the main compartment, you'll see the backbone of the Shadow Guide: its included, removable, adjustable internal frame, made of .055" high density polyethylene (HDPE) and a single stay of 1" / 25 mm wide 6061 aluminum, held in place by six lobes (or fins) that are engineered to relieve the torsional stresses of the pack flexing as you walk; they also facilitate the design that allows the internal frame to be easily removed from the pack.
Carries comfortably on our Edgeless EV50 1/2" shoulder straps. Dri-Lex® Aero-Spacer® mesh, padded with .25" / 6 mm closed-cell foam; the foam extends around into the ballistic bottom of the bag. The back panel of the pack features a mesh back won't abrade your wool or silk clothing and reduces the heat against your back when hiking on hot days.
Included is an adjustable sternum strap that allows you to adjust the placement and angle where the shoulder straps contact your shoulders. Also included is a simple 1" wide webbing waist belt to help stabilize the load of the pack. Both are removable, and you have the option of upgrading the latter to the optional Shadow Guide Padded Hip Belt.
Exterior of our tough, durable, yet lightweight 525d ballistic nylon; for even greater durability, the bottom of the pack is 1050d ballistic nylon and is lined with 210d ballistic.
There's less to think about here and that holds space for experience. If you want all the features, this isn't the bag for you: see the original Guide's Pack. If you want a pack design that's a modern take on the classic, can make its way from work to the trail, and does what it needs to do and nothing more, this might be the bag for you.
Sewn in Seattle
Our bags are designed and sewn right here in Seattle, Washington, U.S.A.
That allows us to be control freaks in the best way possible; we have direct control and oversight of the quality of our materials, our products, and the jobs and working environment that we help create. It also offers us a unique spontaneity: when we have an idea for a new product or accessory, we can design it, figure out how to build it, add it to our website and be ready to ship it out our front door all within just a few weeks. How cool is that?

Intrigued? You can find out more about the unusual way we do business on our Company Philosophy page.
THE BIHN Guarantee
Everything you buy from us here at TOM BIHN is satisfaction guaranteed. We've been in business since 1972 and we stand behind what we make.
If something goes wrong and it's our fault, we'll fix it for free. Repairs due to normal wear and tear or due to other things that are not our fault will be performed, when possible, at a reasonable charge right here in our Seattle factory where your bag was made. Defects in materials or workmanship are uncommon and almost always evident while the product is still new. Keep in mind that bags and packs are often subject to extreme wear in everyday use: do not expect them to last forever. Only true love lasts forever! You can expect a TOM BIHN product to give years and years of hard service.