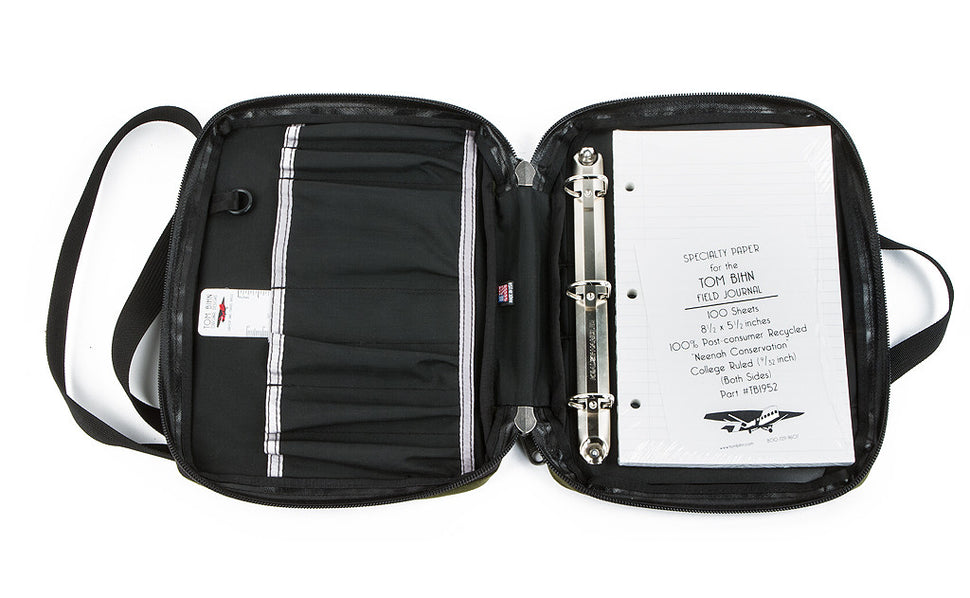 Description
The Field Journal Notebook is a modern accessory for using a very old technology — pen and paper. Designed originally for biologists and geologists working in the wilderness, the Field Journal Notebook is a useful tool for artists, writers, and anyone who, for reasons aesthetic or practical, wants an alternative to electronic devices. Essentially, the Field Journal Notebook is a compact, portable, weatherproof, zippered notebook for note-taking, journaling, or sketching.
One pack of paper (your choice!) is included when you purchase the Field Journal Notebook. You can order additional or refill packs of paper here.
Crane's Crest 24# 100% Cotton Paper
Made from recovered cotton that comes from textile industry waste by-products, this exquisite 100% cotton paper works beautifully with most fountain pens and is suitable for letter writing, sketching, and even watercolor. We have it micro-perforated 3/4" from the left edge so you can remove the left margin with the punched holes and send the letter or frame the sketch. 100 shrink-wrapped sheets.
Neenah Conservation Paper in Grid
A 100% recycled, smooth, vellum paper that we offer in light grey Grid, printed on both sides. It's compatible with many fountain pens. 100 shrink-wrapped sheets.
Neenah Conservation Paper in Ruled
The same 100% recycled, smooth, vellum paper as described above, but in a light grey College Ruled. 100 shrink-wrapped sheets.
Sewn in Seattle
Our bags are designed and sewn right here in Seattle, Washington, U.S.A.
That allows us to be control freaks in the best way possible; we have direct control and oversight of the quality of our materials, our products, and the jobs and working environment that we help create. It also offers us a unique spontaneity: when we have an idea for a new product or accessory, we can design it, figure out how to build it, add it to our website and be ready to ship it out our front door all within just a few weeks. How cool is that?

Intrigued? You can find out more about the unusual way we do business on our Company Philosophy page.
THE BIHN Guarantee
Everything you buy from us here at TOM BIHN is satisfaction guaranteed. We've been in business since 1972 and we stand behind what we make.
If something goes wrong and it's our fault, we'll fix it for free. Repairs due to normal wear and tear or due to other things that are not our fault will be performed, when possible, at a reasonable charge right here in our Seattle factory where your bag was made. Defects in materials or workmanship are uncommon and almost always evident while the product is still new. Keep in mind that bags and packs are often subject to extreme wear in everyday use: do not expect them to last forever. Only true love lasts forever! You can expect a TOM BIHN product to give years and years of hard service.