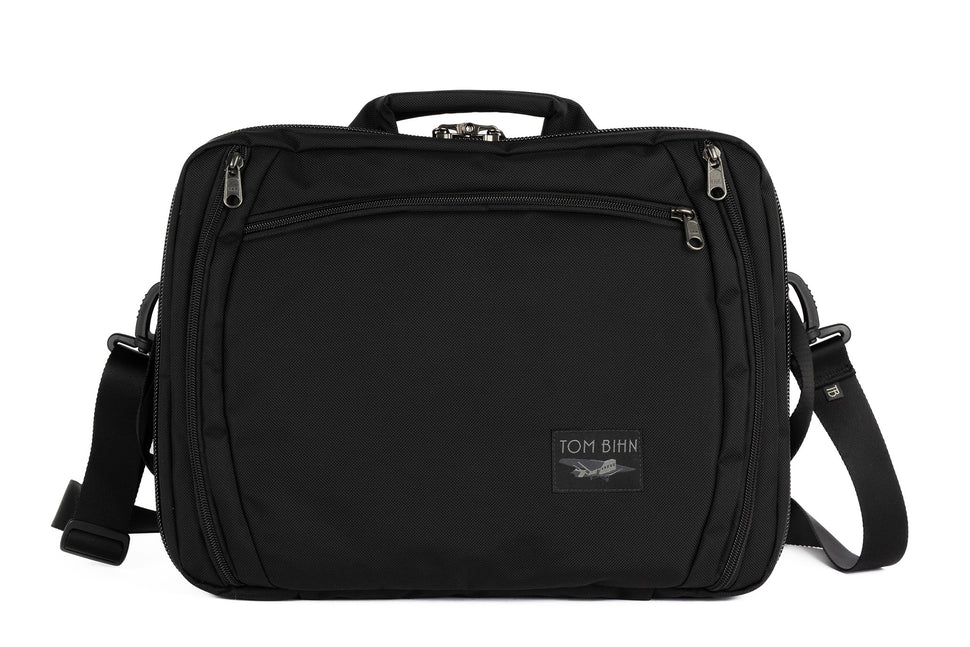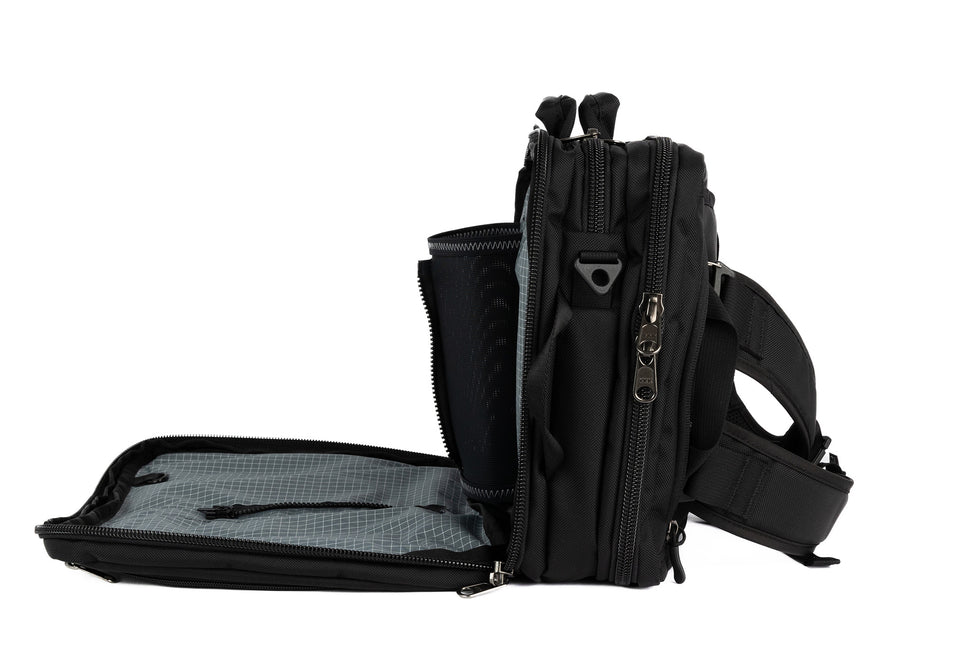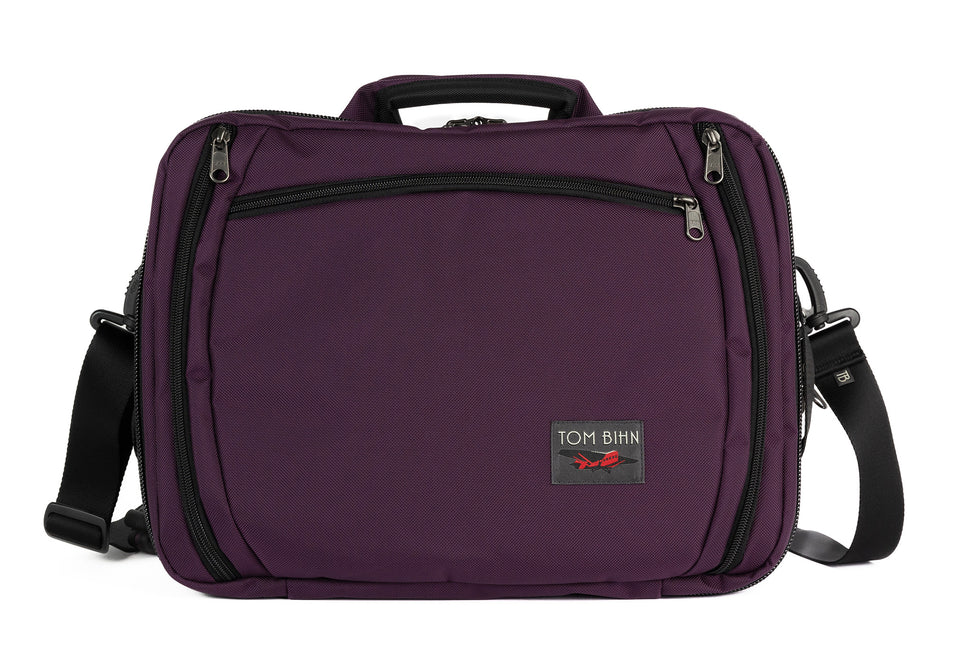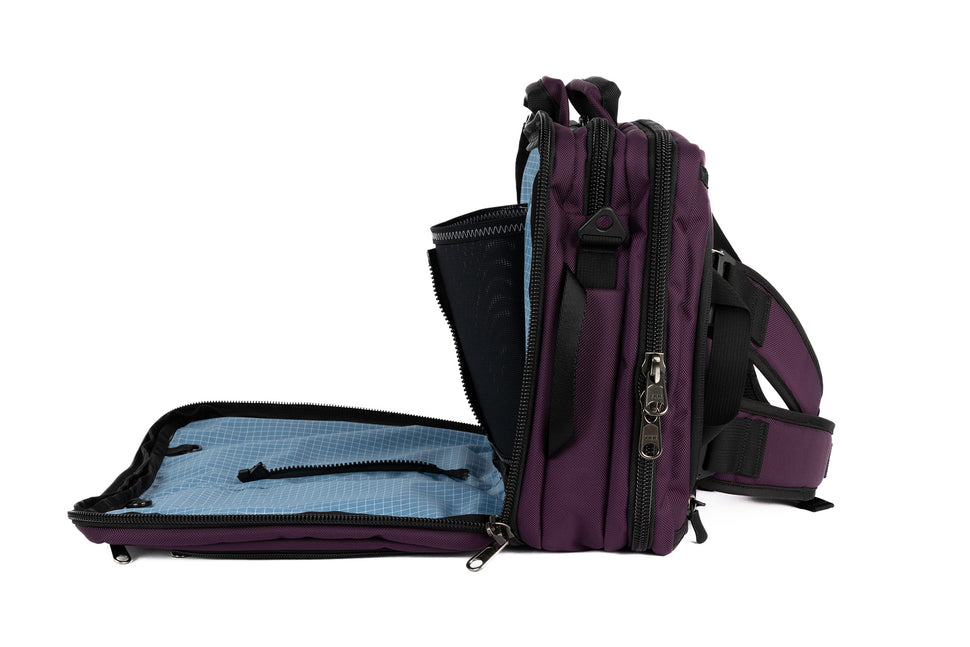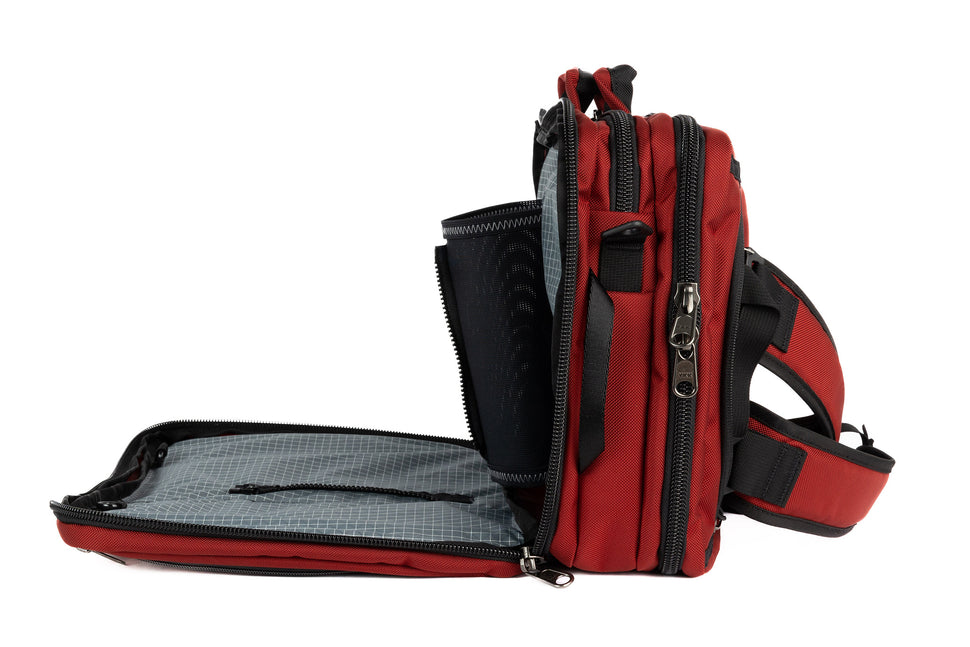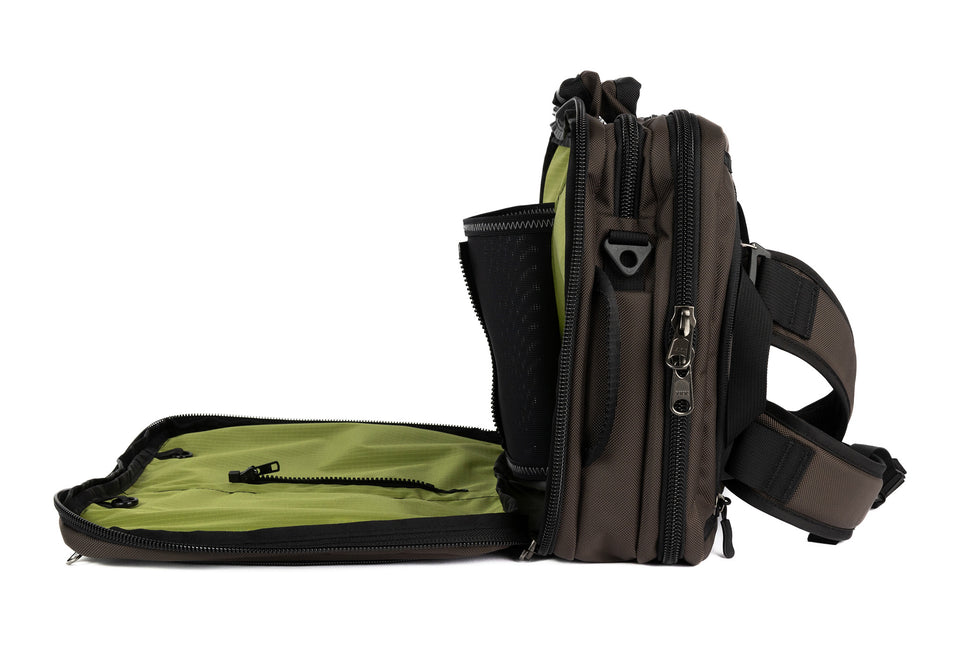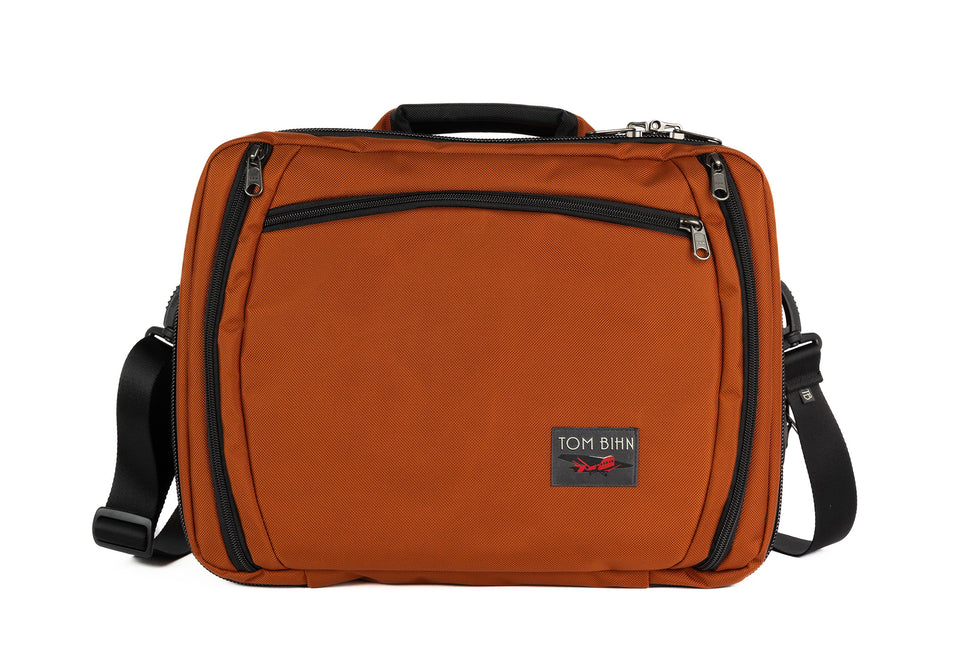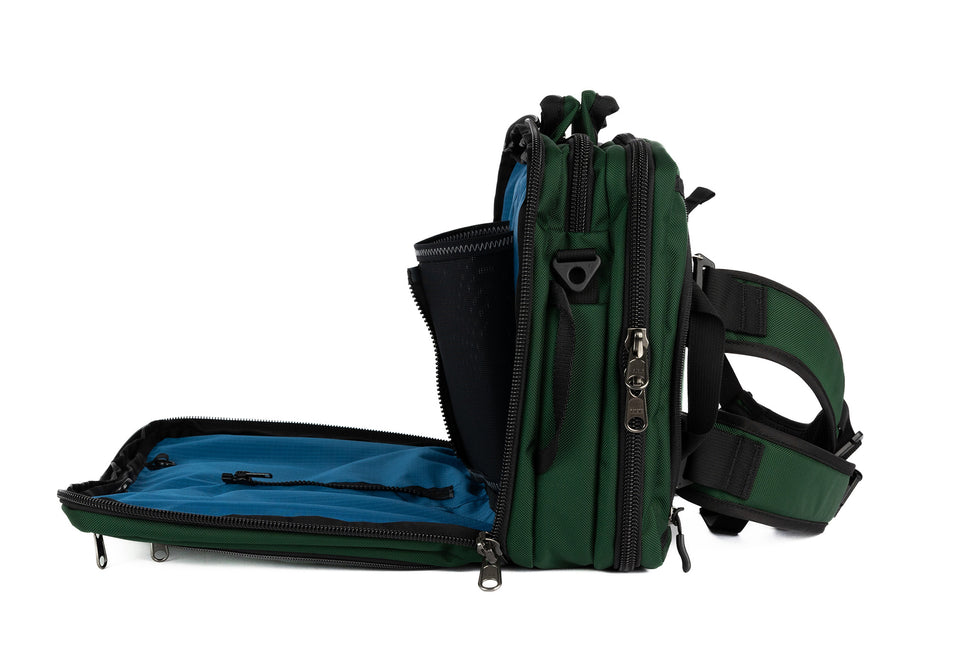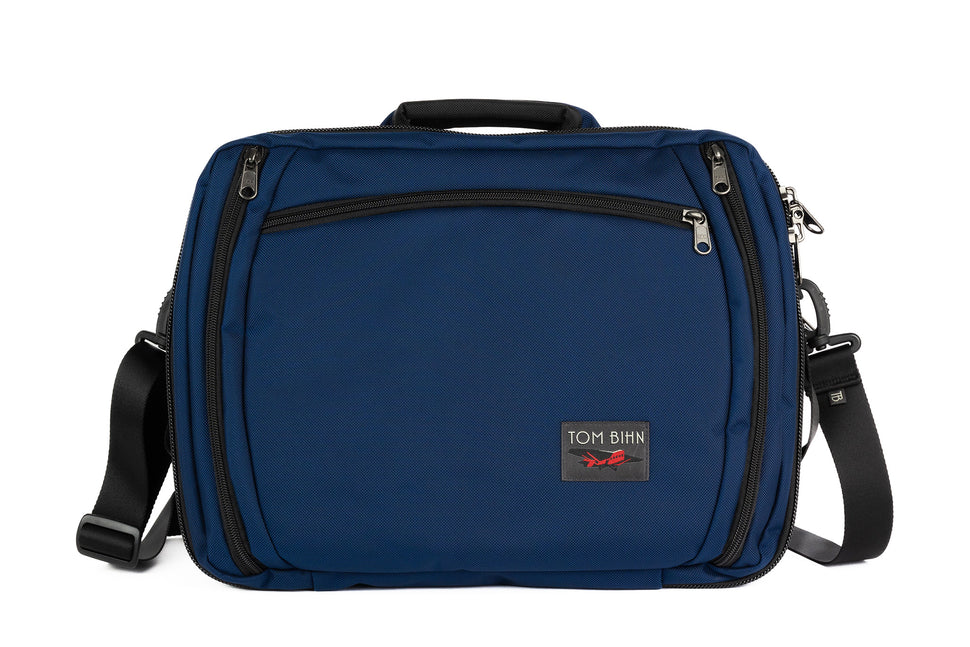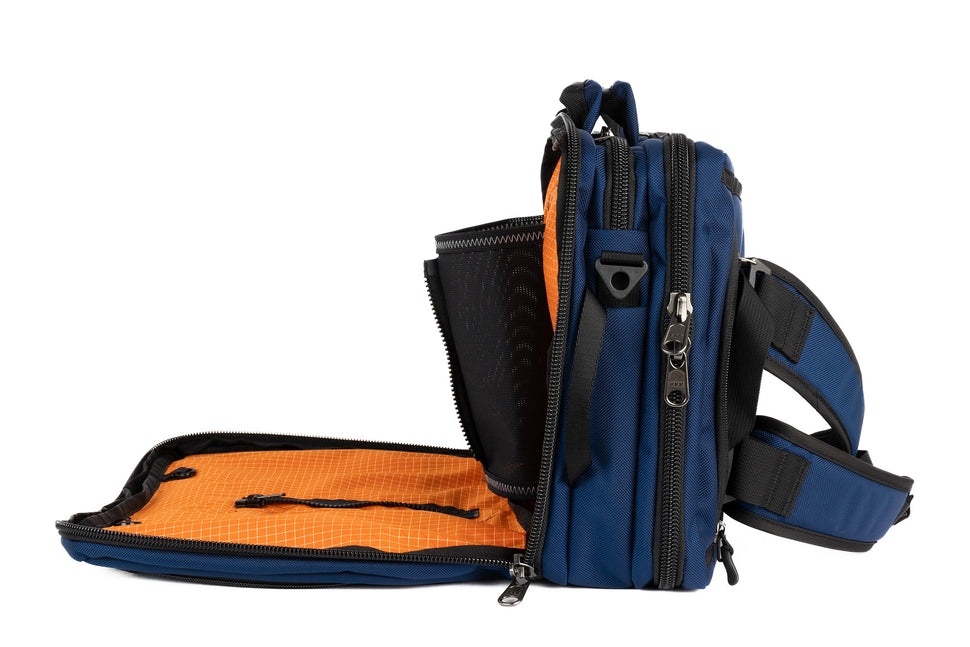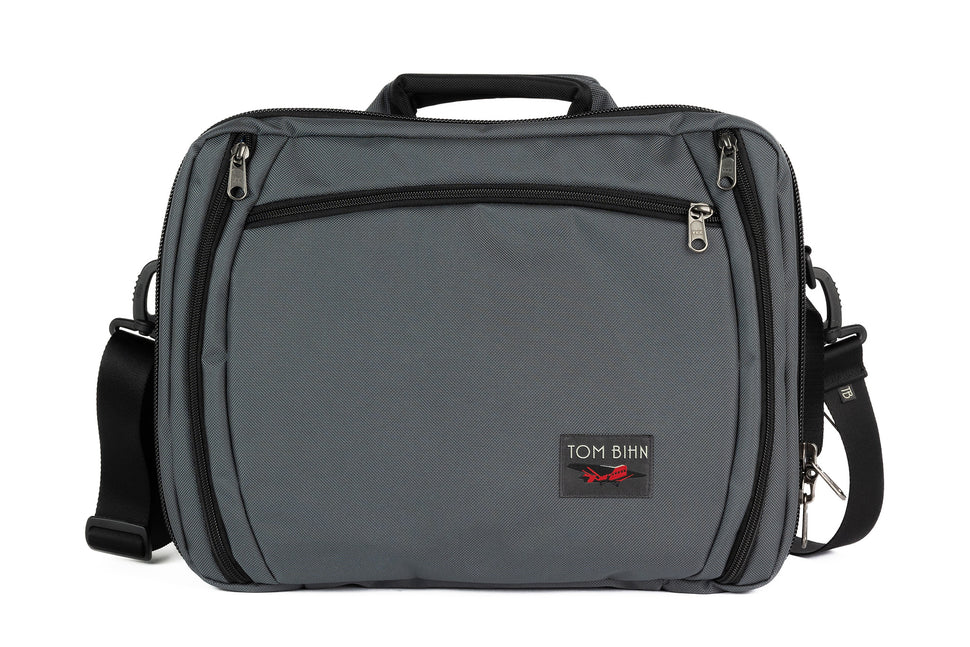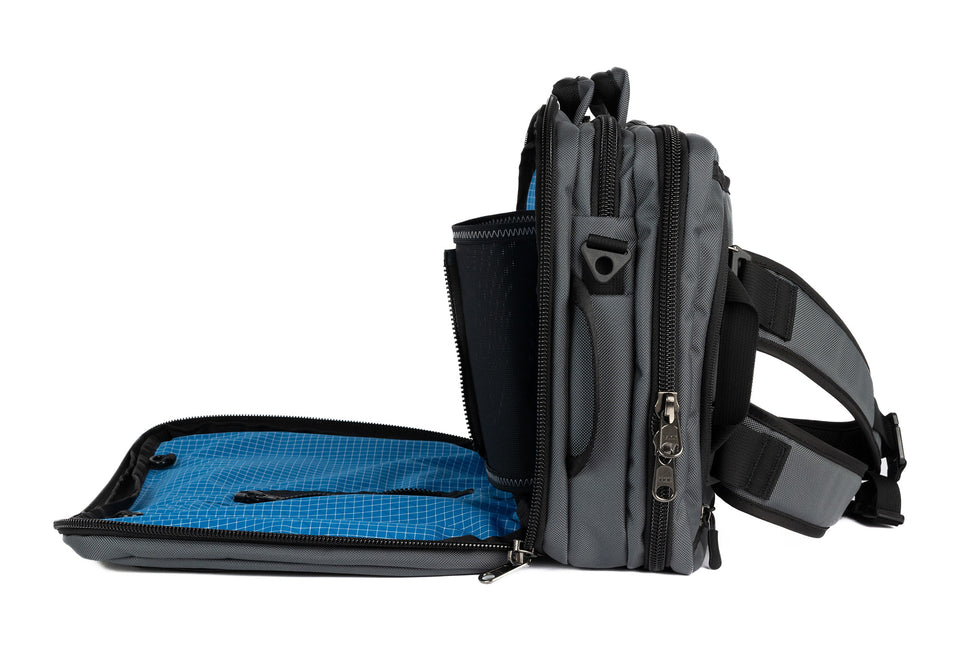 TLDR
The Trinity is a three-way carry everyday travel bag: briefcase, shoulder bag, and backpack all-in-one, designed with the savvy business traveler in mind.
Plenty of built-in organization: 2 clamshell compartments, 1 dedicated center laptop compartment, 3 large exterior pockets, and additional interior organization
10 O-rings to attach optional organizational bags and accessories
Easy-access handles and pockets for pulling items out in-flight
Multiple carry modes, including our all new fully removable, padded backpack straps for maximum versatility
Built-in luggage handle pass through slot to accompany your rolling suitcases
Meets the personal item carry-on size requirements on most flights
Full Description
Three Main Compartments
The Trinity has two main compartments of equal size and a slimmer middle compartment. The outer compartments can both open fully clamshell if you're planning on packing for travel, or you can just unzip halfway if you're using the Trinity for everyday carry – the zippers have enough resilience so you don't have to worry about the clamshell compartments unzipping fully every time.
The front main compartment (when facing the TOM BIHN logo) has a stretch mesh inner vertical divider, which you can choose to leave zipped or unzipped. When zipped up, the divider splits the compartment into two equal sections, each with an O-ring over it. The two equal sections are large enough to pack any of our organizational bags. The divider also doubles up as a water bottle holder (remember the Luminary?). Situated in the center of the compartment, it is large enough for most 24oz and some 32oz water bottles. If you don't plan on carrying a water bottle or want to keep the divider unzipped, note that the water bottle holder also packs flat, staying out of the way if you need it to.
The center main compartment is designed to store up to 16" laptops and is purposefully compact to prevent your device from shifting back and forth when you're carrying the Trinity in any mode. It has two elasticized dividers running the width of the pocket, situated on each wall of the compartment – great for carrying files or separating out your devices into sections. The bottom dome has sewn-in foam to create a soft padding for your devices. The Trinity is designed in a way that allows the center compartment to compress when the front and main compartments are packed, thus creating more protection for devices.
The back main compartment opens fully clamshell and boasts two O-rings and a set of removable compression straps (similar to the ones included in the Western Flyer, Tri-Star, and Synik). Designed to pack like luggage, the compression straps will keep your clothes neat, flat, and compact.
Three Front Exterior Organizational Pockets
The front of the Trinity is designed with three large organizational pockets for your quick-access items. In briefcase or shoulder bag mode, the center front pocket is expansive, horizontally-oriented, and spans the height of the bag. It opens with a curved zipper, creating a wide opening for your quick access items, from a sweater to travel documents. Inside, there are two open-top pockets big enough to fit any phone or a Vertical Packing Cubelet, and two smaller pockets sized to fit pens or a stylus. At the top of the pocket are two O-rings for you to attach any optional pouches.
On each side of the center front pocket are two symmetrical pockets that open with vertically-oriented curved zippers. Two O-rings sit inside each of these pockets. While the pockets look equal in size from the outside, we purposefully designed them to be different. The left pocket is slightly larger and big enough to fit a large tablet, while the right pocket is just the right size for a 3D Organizer Cube or Side Effect.
Three Ways to Carry the Trinity
Backpack
Housed inside the back exterior pocket is a pair of fully removable backpack straps as well as a small loop made out of nylon webbing to hang the Trinity up backpack-style. The backpack straps are padded at the top to create a comfortable carry while unpadded at the bottom to make them easy to fold and stow. The unpadded ends of the backpack straps are attached to the bag with side-release clips, which are tucked into their own pockets behind the back panel, allowing them to be cleverly hidden if you don't want to use the Trinity as a backpack. A pair of sewn-on strap keepers is included with the backpack straps, so you don't have to worry about dangling ends.
Shoulder Bag
The attachment points for the shoulder strap are located outside the center main compartment to provide the best balance and comfort. A Standard Shoulder Strap is included with the Trinity. If you anticipate carrying a very heavy load or if maximum comfort in shoulder bag mode is your priority, we recommend upgrading to the Absolute Shoulder Strap.
Briefcase
Two comfortable, padded grab handles made from PORON® foam sit directly above the center of gravity for maximum comfort, stability, and balance. The handles "kiss" at the top, allowing them to be easily held in one hand whether you're on the go at the airport or just commuting day-to-day.

Rolling Luggage Handle Pass-Through
For minimalist travel, we think the Trinity can easily be sufficient for up to a 3-day trip as a standalone travel bag. But if you prefer using a rolling suitcase as well, then the Trinity is well-suited to be a personal item carry-on to pair with your luggage. The built-in pass-through slot fits over the handles of most standard rolling luggage (up to 8" or 20cm wide). Glide it over the handles and have easy access to all your main compartment zippers from the top of the briefcase.
Additional Grab Handles
In addition to the two PORON® grab handles, a grab handle made out of silky webbing sits on either exterior side of the center main compartment to help facilitate grabbing your bag from under the seat or the overhead bin no matter which orientation you put it in.
What's Included
One Standard Shoulder Strap
1.5" / 38 mm nylon webbing strap, includes .25" / 6mm texturized rubber pad and heavy-duty plastic snaphooks.
One 8" Snaphook/Snaphook Key Strap
As with most of our bags, we've included a key strap. 8" long from tip-to-tip, a snaphook on either end. Good for attaching your keys to.
One set of Cord Zipper Pulls
A set of pulls to extend, quiet, or replace your metal pulls.
One pair of Tie-Down Straps
Our included tie-down straps are an alternative to packing cubes: use them to compress and secure clothing in place to help keep it wrinkle-free. They're removable so if you don't want or need to use them, you can leave them behind.
What's Optional
Absolute Shoulder Strap
Upgrade from the included Standard strap to an Absolute Shoulder Strap if you anticipate carrying a heavy load.
Packing Cube Shoulder Bag
We recommend storing your clothes or shoes in a Packing Cube Shoulder Bag and use the included tie-down straps to compress your load.
Cache
The Trinity can accommodate a wide range of laptops and tablets. While the bag has sufficient padding, we recommend using a Cache for extra protection.
Organizer Cubes
3D Clear Organizer Cubes, 3D All Fabric Organizer Cubes, and Vertical Packing Cubelet: perfectly sized for rounding up cables and doodads and storing in the front organizing pockets.
Sewn in Seattle
Our bags are designed and sewn right here in Seattle, Washington, U.S.A.
That allows us to be control freaks in the best way possible; we have direct control and oversight of the quality of our materials, our products, and the jobs and working environment that we help create. It also offers us a unique spontaneity: when we have an idea for a new product or accessory, we can design it, figure out how to build it, add it to our website and be ready to ship it out our front door all within just a few weeks. How cool is that?

Intrigued? You can find out more about the unusual way we do business on our Company Philosophy page.
THE BIHN Guarantee
Everything you buy from us here at TOM BIHN is satisfaction guaranteed. We've been in business since 1972 and we stand behind what we make.
If something goes wrong and it's our fault, we'll fix it for free. Repairs due to normal wear and tear or due to other things that are not our fault will be performed, when possible, at a reasonable charge right here in our Seattle factory where your bag was made. Defects in materials or workmanship are uncommon and almost always evident while the product is still new. Keep in mind that bags and packs are often subject to extreme wear in everyday use: do not expect them to last forever. Only true love lasts forever! You can expect a TOM BIHN product to give years and years of hard service.