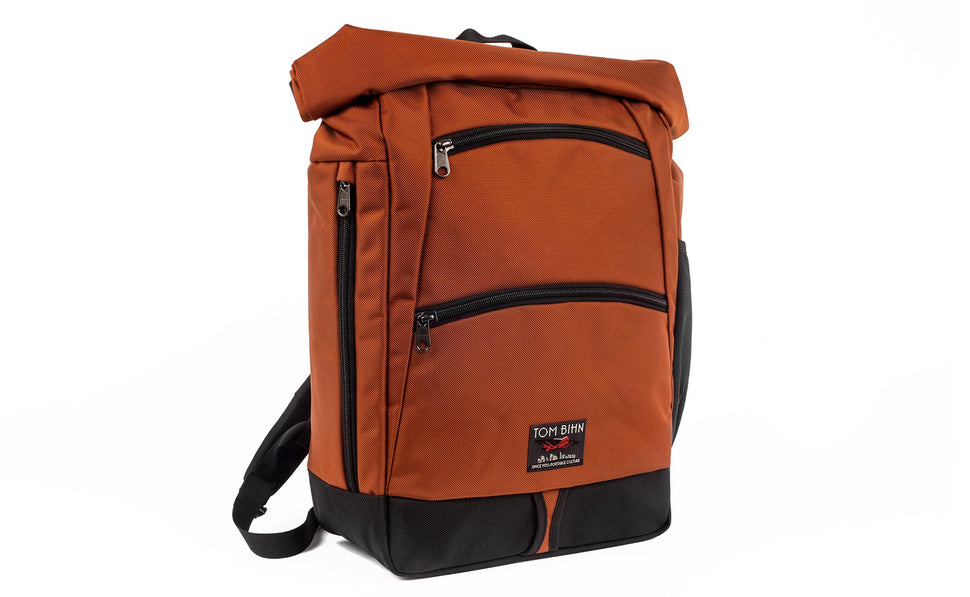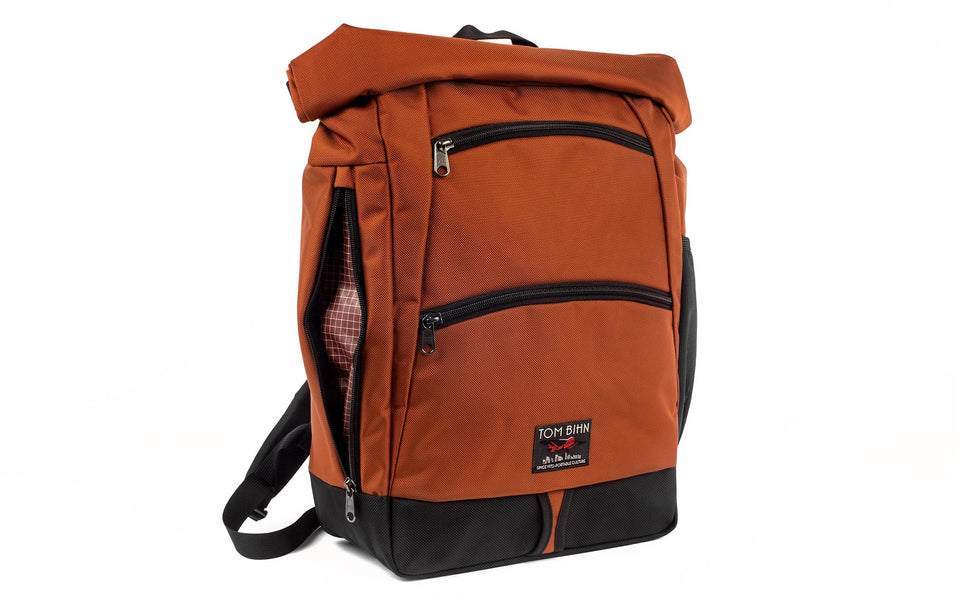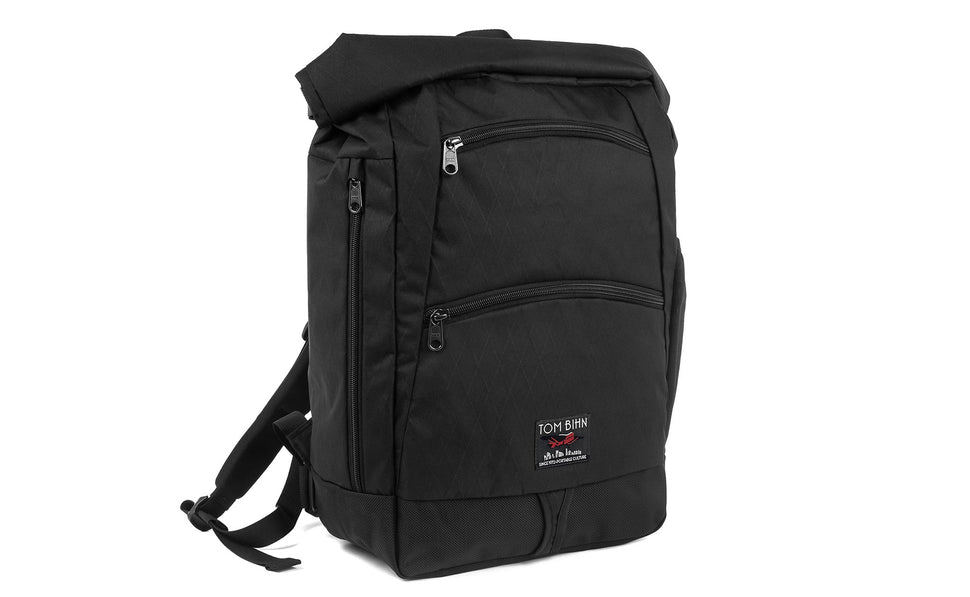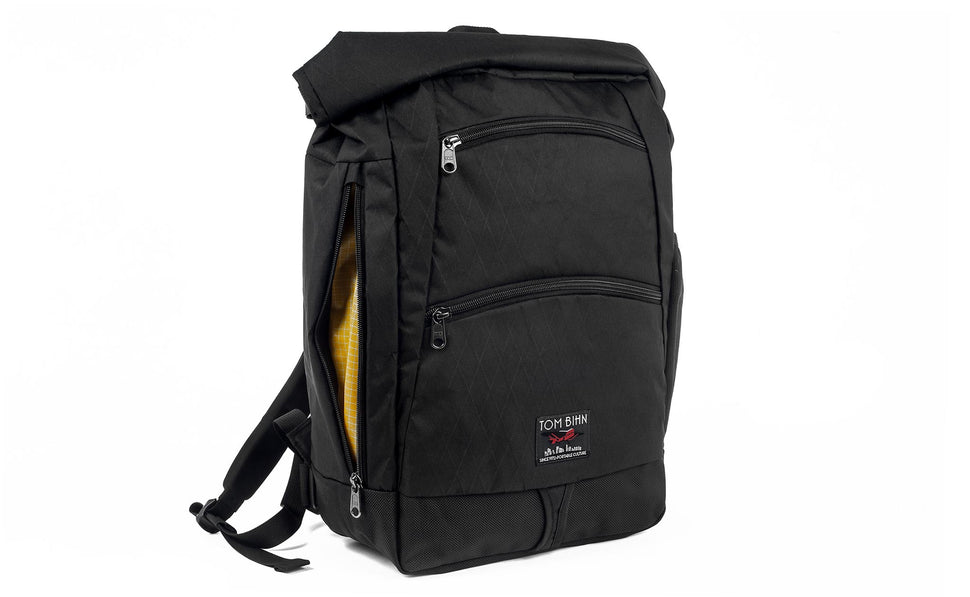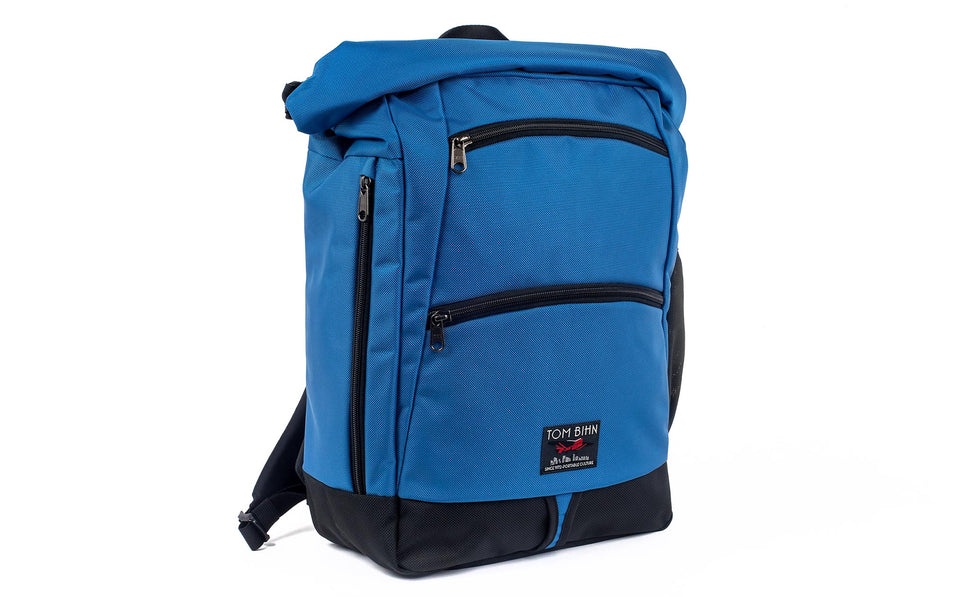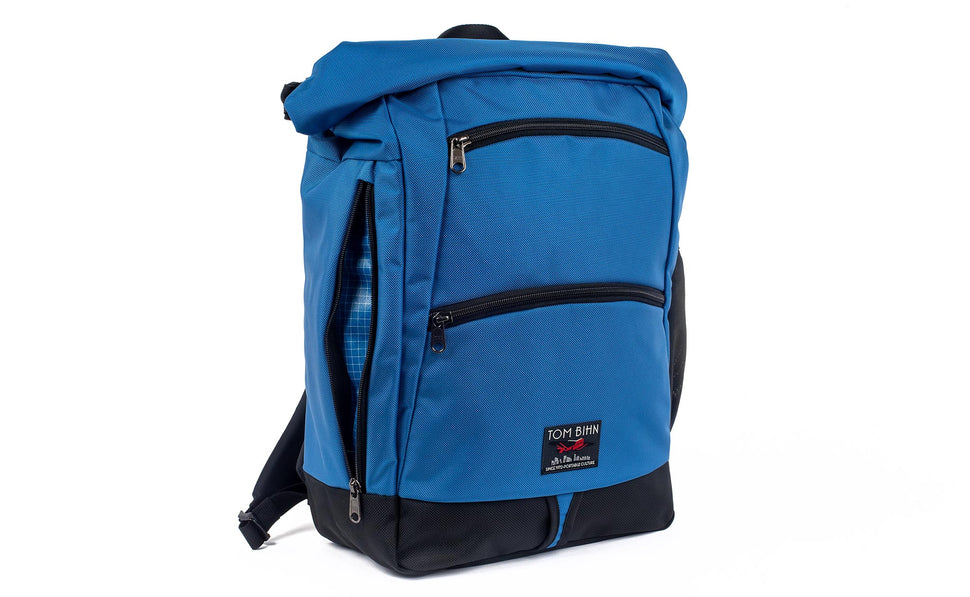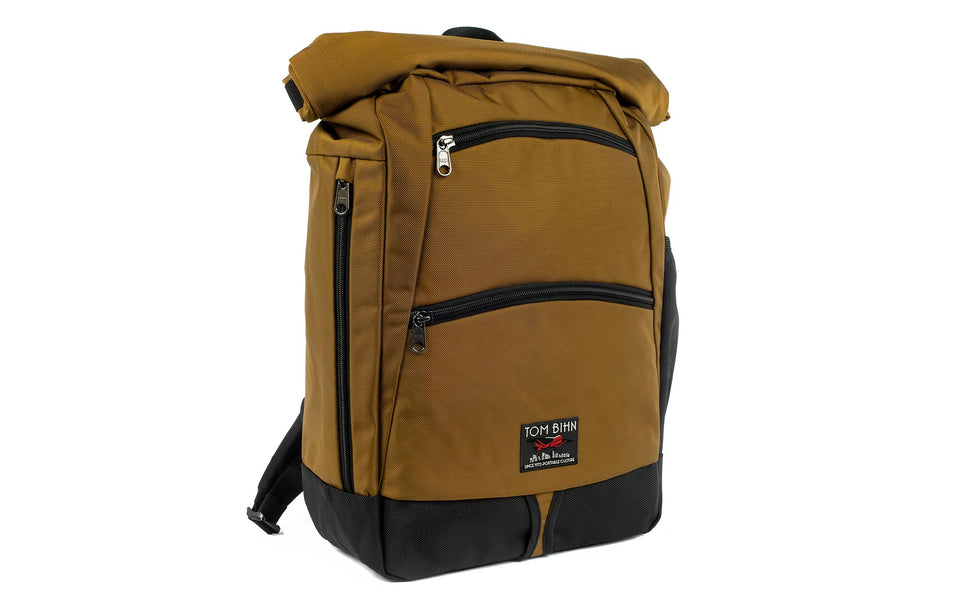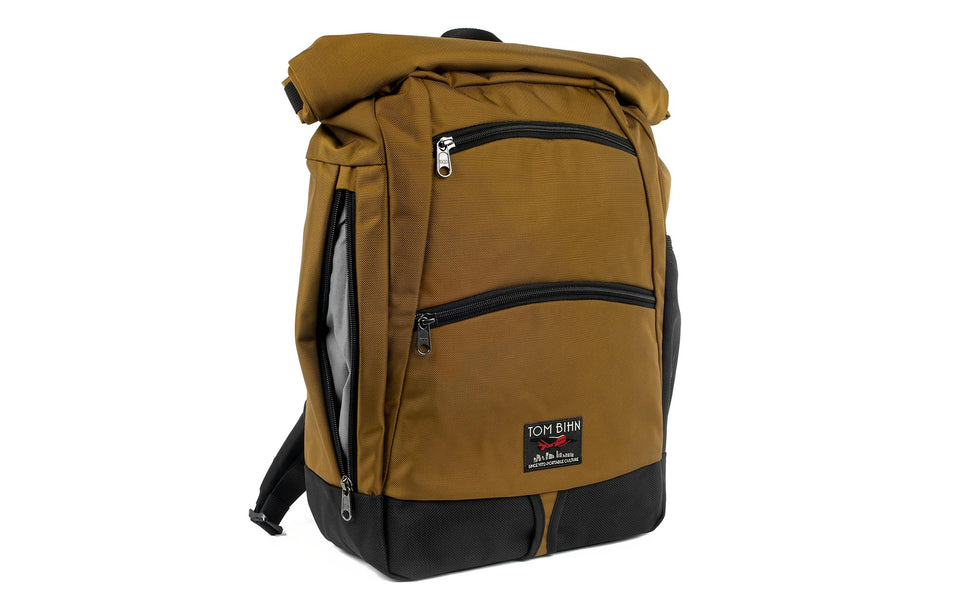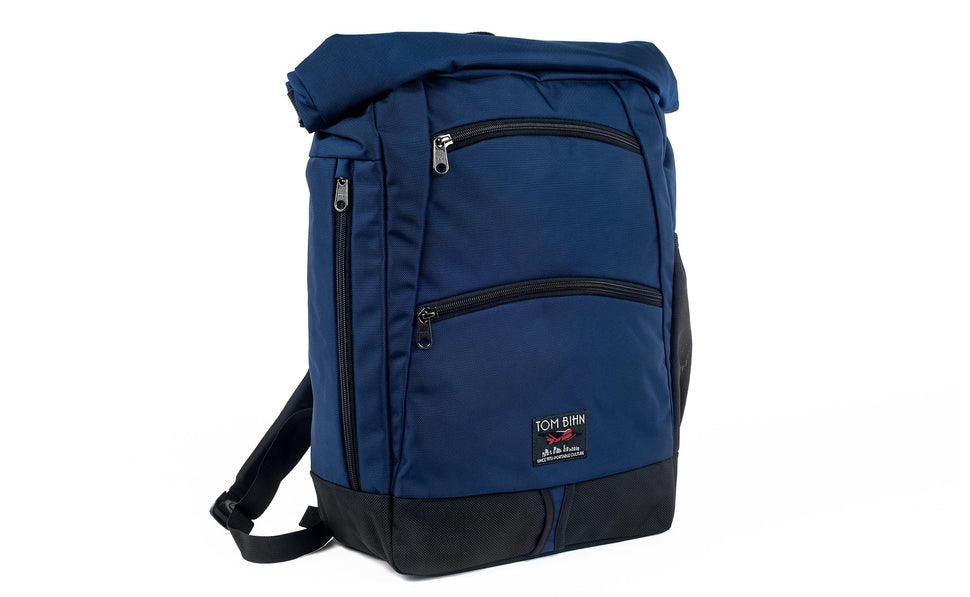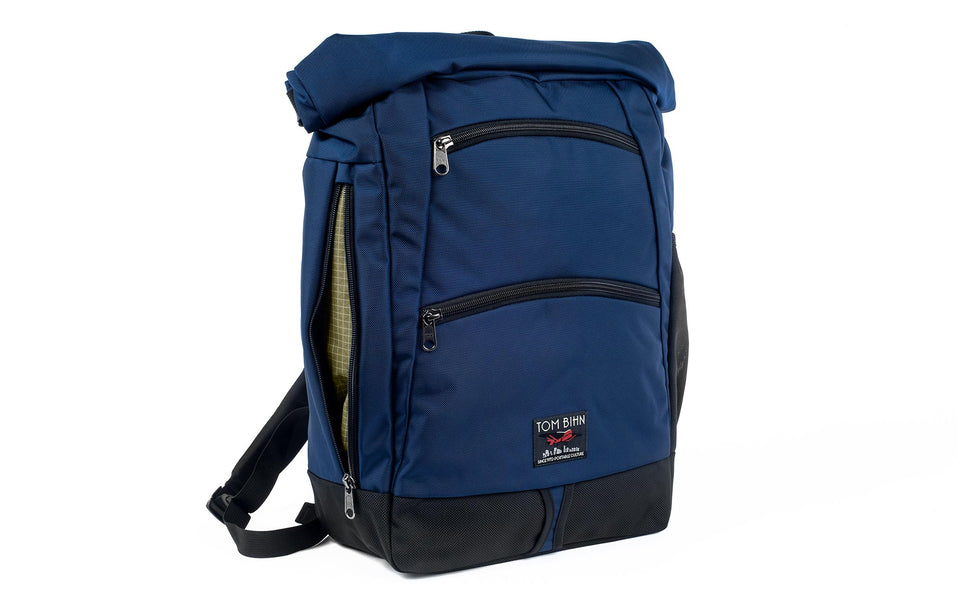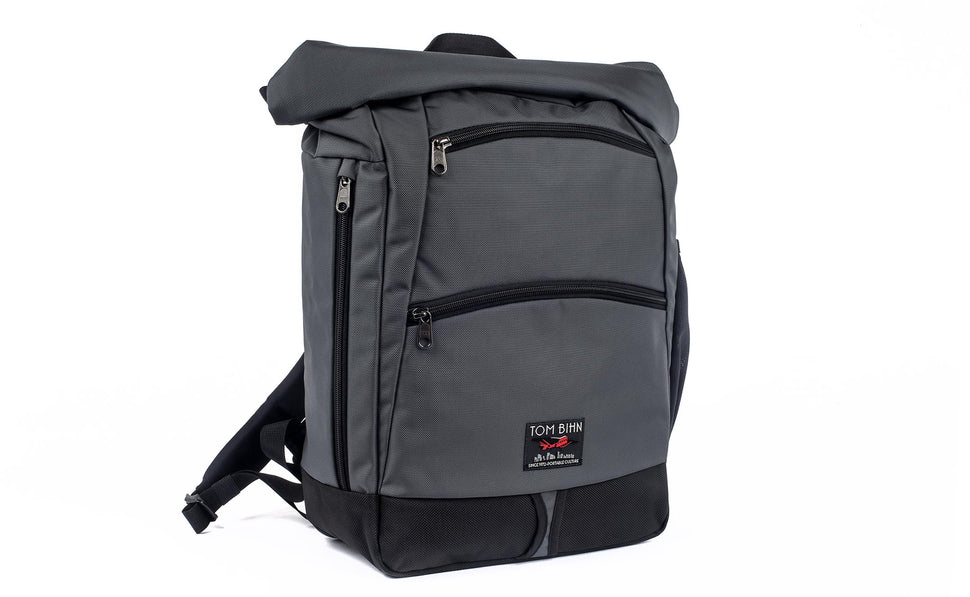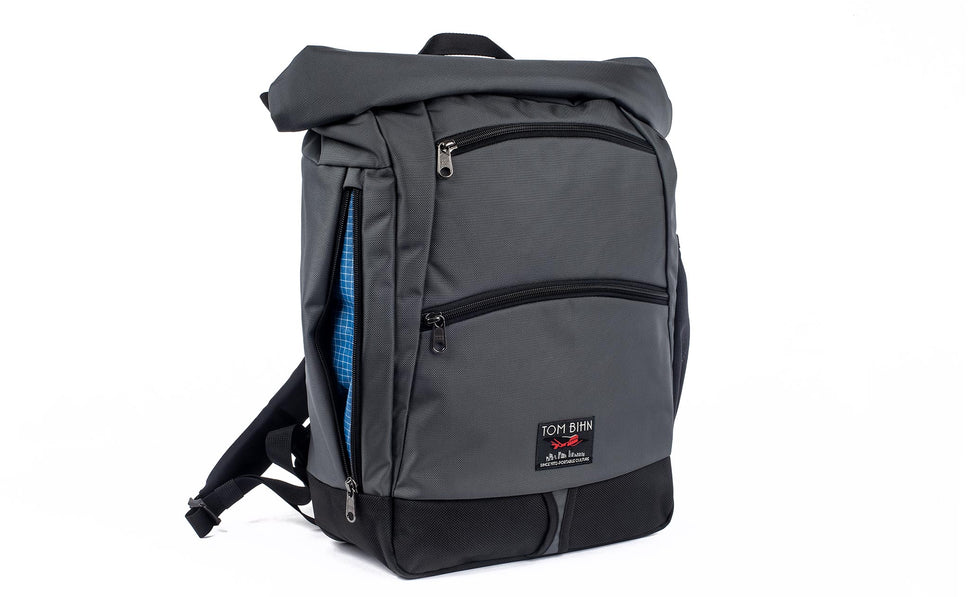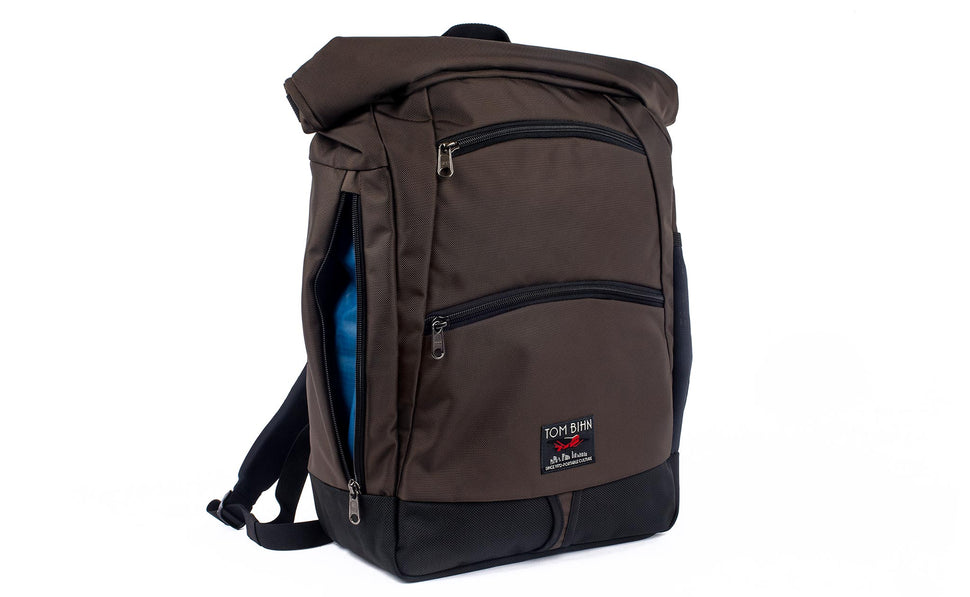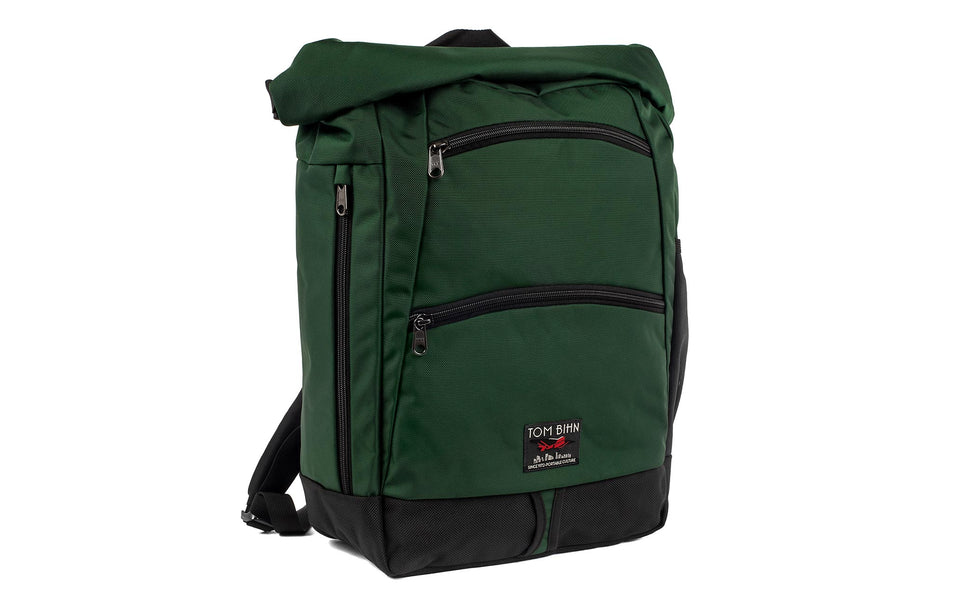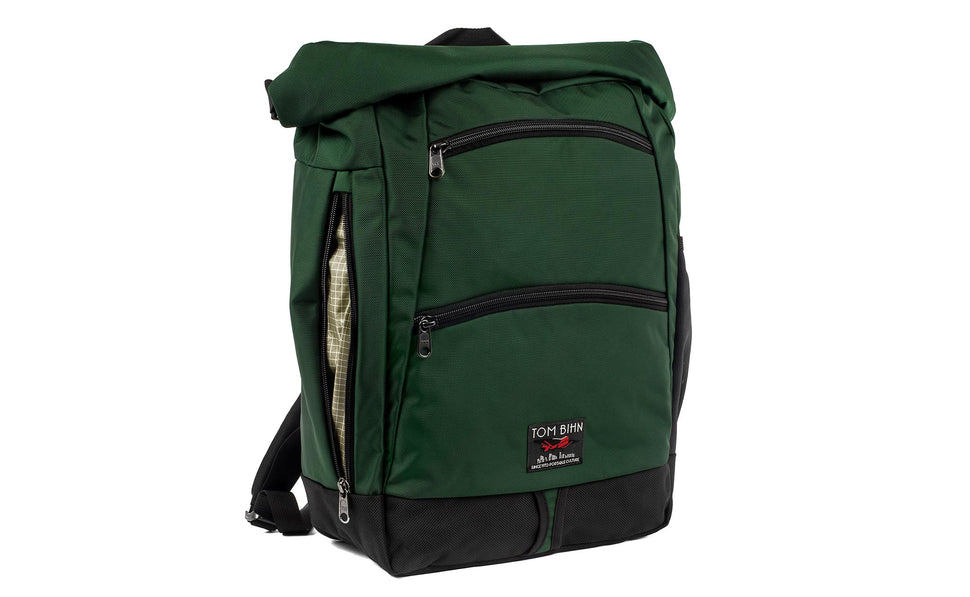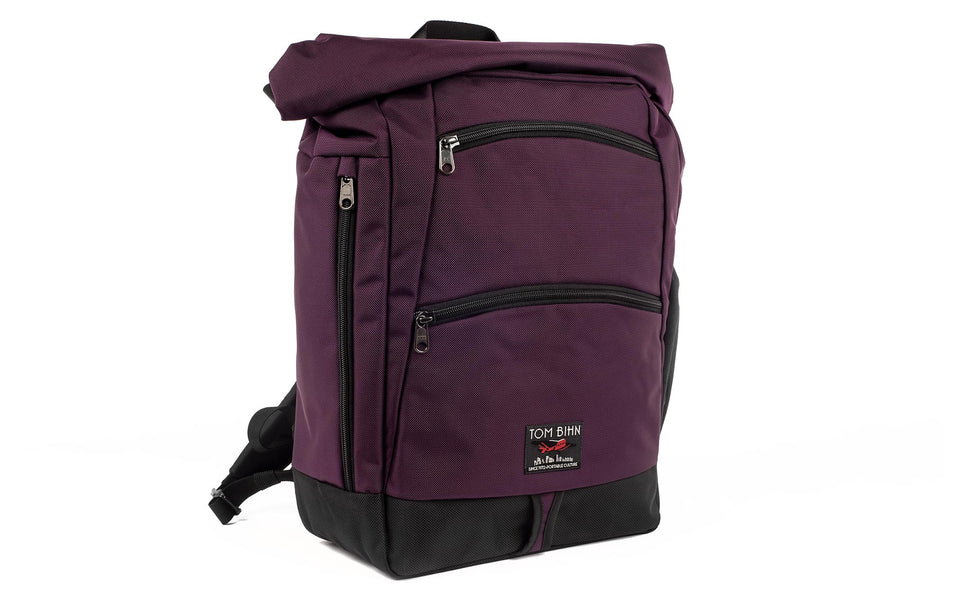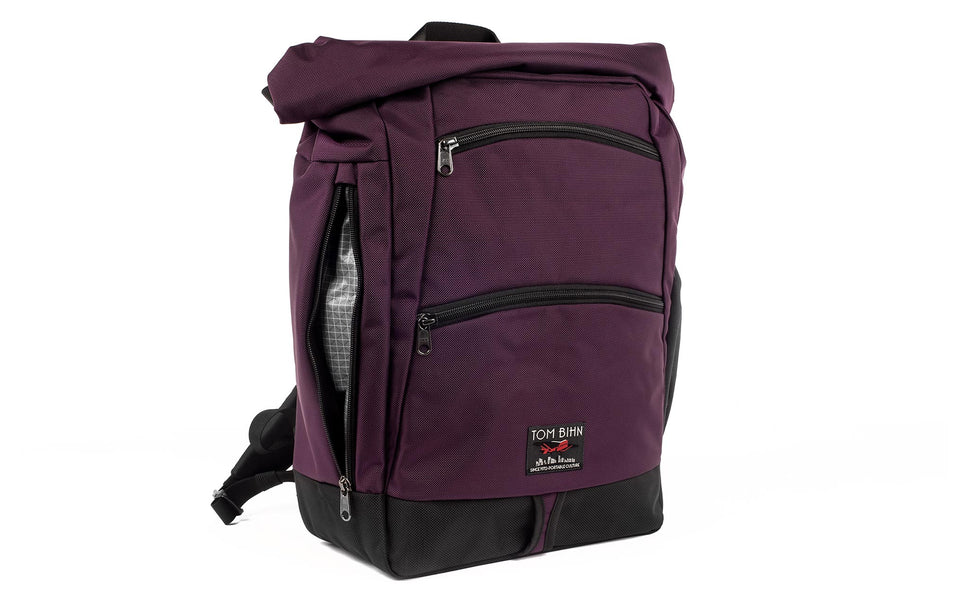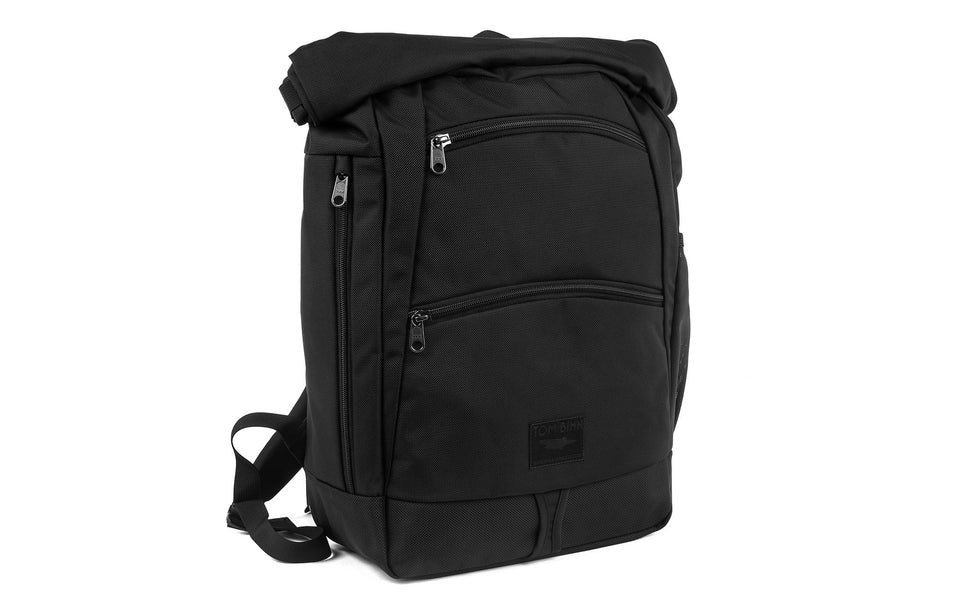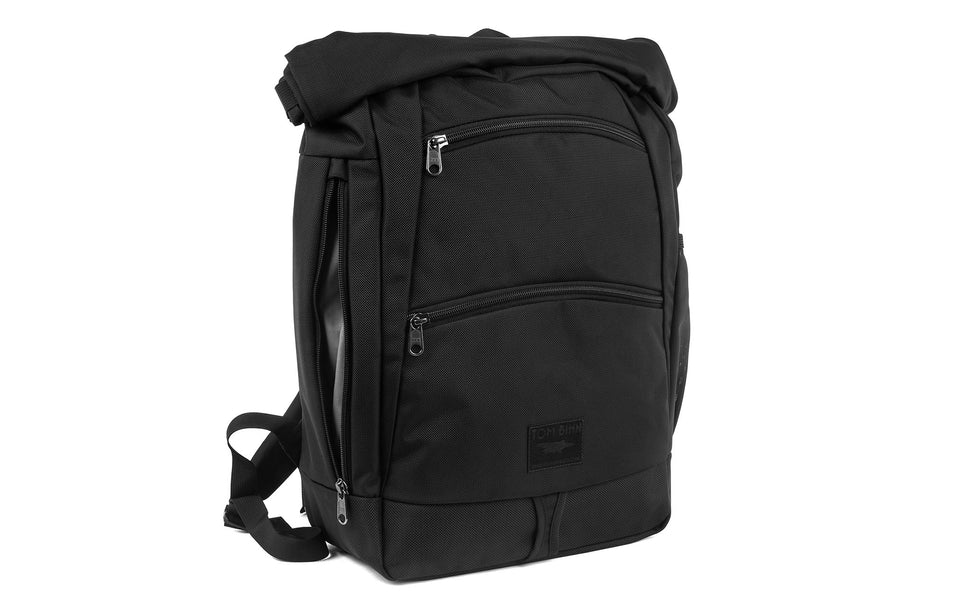 TLDR
Everything you need is a roll (or 3) away.
A few highlights of its features:
Carries a nominal capacity of 26 liters with 3 rolls and a maximum capacity of 38 liters when fully unrolled.
Two options for water-bottle carry, two options for device carry, and a cavernous main compartment
5 exterior pockets, 5 interior organizational pockets, and a total of 9 o-rings throughout
Plenty of quality-of-life features: luggage pass-through, substantial suspended laptop pocket with zippered quick-access, exterior water bottle pocket, integrated strap keepers
Fully lined so you can easily see the bottom
If big isn't big enough and you need something a little bigger in the same style, check out the Addax 31!
Full Description
The Addax 26 is more than just your classic roll-top pack. It has the thoughtful design that you'd expect from us, so let's dig in and get into the nitty-gritty!
Roll-Top
It's what makes the bag what it is. The roll-top is secured in place by two 1" side-release buckles, a male on one side and female on the other. The idea behind this is that you can either clip them to the clips above the shoulder straps or to each other if you want easier access but a less secure attachment versus a more secure attachment but more complex access (after all, who doesn't want secure attachment?)
At 3 rolls we've measured the bag out at 26 liters -- we call it the Addax 26 because this is going to be the way most folks carry the pack day-to-day. One roll to secure the load is measured at 33 liters; no rolls right up to the stitch we measured at 38 liters.
The Front
The front pockets are a generous size to help you keep the things you need access to quickly close-at-hand. The top has two equally-sized pockets to keep the smaller bits corralled and the bottom is a nice-sized open space perfect for your headphones.
Both have two o-rings in for your organizational needs.
Right at the bottom of the front is an attachment point perfect for things like a back light for safely riding at night (the roll-top is a style beloved by bicyclists in particular, after all!) A little cheeky swatch of color lines the back of the grab point, a secret splash of color for you.
The Sides
On one side there is a gasp exterior water bottle pocket. We know that we've, to put it gently, steered-away from exterior water bottle pockets in the past but, well, folks keep asking for them! It's OK to stand on principle sometimes but easy access to water is something I think we can all agree with.
The other side is good-sized pocket for keeping items that are a bit larger or longer but still need to be handy.
The Bottom
The bottom of this pack is made with 1050d Black Ballistic to make sure the highest wear-point of the bag is well afforded against abrasion.
The Back
Poring over the back panel of the Addax reveals a luggage passthrough for those times when your ungulate must fly. Hidden in this pocket is a seat for the optional frame sheet, little sewn corners to hold it in place should you choose to use it. The back panel has closed-cell foam under spacer mesh to keep your back cool. The bottom has some black pack-cloth to add a little extra strength at a rub-point.
The shoulder straps are our wonderful 1/2" EVAZOTE® EV50 Edgeless shoulder straps, cushy as always, with built-in strap keepers to help keep the danglies at bay. Finally, a fully-removable sternum strap and gate-keeper waist strap appoint this pack in the usual TOM BIHN style.
Device Pockets
A rather large laptop pocket (14.5" x 10") made from our spacer mesh with an exterior zip as well as interior access, much like the one in our Synik 22 but a bit larger! Inside the main pocket, sewn to the laptop pocket, there is a tablet pocket that is almost as big (11" x 9.5") for even your bigger tablets.
The Inside
So now to the inside of the pack. It's cavernous. A quick-tip for packing in and packing out is to flip the roll top over at the bottom seam for easier access to the goods inside when doing your pack and unpack. Along with the tablet pocket mentioned in the Device Pockets section, there are two webbing pockets sized the same as the pockets you'll find in the top-front zip pocket, for the little items you want packed away a little tighter.
As with all our bags, we just threw o-rings at it and saw what stuck. 4 o-rings are positioned along the front-side of the main pocket to help you pull out what you want quickly without needing to dig through your bag in its entirety.
What's Included
We include the following accessories to give you a good amount of options for your new bag right out of the gate.
One 8-inch Black Webbing Snaphook/Snaphook Key Strap
A Key Strap is a strip of webbing with plastic snaphooks on the end. The 8" Key Strap in Black that's included in most of our larger bags is, for many, the gateway to a world of organization via Key Straps and Organizer Pouches. All the members of the Key Strap family are intended to make locating things in your bag easier and more instinctive. Pulling out a small item or pouch tethered to a strap is easier than rooting around aimlessly in the depths of your pack; you can also rest assured that anything hooked to a strap is much less likely to fall out or otherwise be left behind. You can find more Key Strap colors and varieties on the Key Strap page.
One Cord Zipper Pulls w/ Plastic Ends (8-Pack)
Some folks prefer metal zipper pulls. Others prefer cord pulls. So, what to do about that? We think the best solution (in most cases) is to offer metal pulls and include a starter pack of Cord Pulls with most bags. The most popular solution is to weave the Cord Pulls through the metal pulls, effectively silencing them without having to remove them. A video demonstrating various Cord Pull options and more colors/varieties of Cord Pulls can be found on the Cord Zipper Pulls page.
An adjustable and removable sternum strap with leave-no-trace hardware: if you don't like or don't use your sternum strap, remove it and leave (almost) nothing behind.
A simple webbing waist strap that can offer extra stability when running to catch a bus, plane, or train. It can also add a small measure of support for a heavy load (for a truly supportive hip belt experience, please see the optional 1.5" Padded Hip Belt.) Also features leave-no-trace hardware.
What's Optional
The Addax can hold a lot! Although the padded back panel provides a lot of built-in support and if you're schlepping around a laptop that's also going to be plenty rigid, if you want something to add some stiffness to the back panel or if you want to use the Padded Hip Belt to take some of the weight off your shoulders, the Internal Frame is a good idea.
The 1.5" Padded Hip Belt allows you to carry some of the weight of a loaded pack on your hips rather than just your shoulders.
100%
would recommend this product
Verified Buyer

Product Standouts

Good Storage Size,

Versatile,

Easily Adjustable

5 months ago

Product Standouts

Good Storage Size,

Versatile,

Easily Adjustable

I dig it.

This is my first bag from Tom Bihn and I've been pretty happy with it. I decided on this bag for mainly for its simple yet versatile design and its plain looks. I mostly use the bag for commuting to an office by train, but I've also taken it as my sole bag on weekend trips.

To me, the bag is basically a large, unobstructed, compartment that's adjusted using the rolltop. Aside from the pockets visible from the outside, there isn't much internal organization. Along with the laptop compartment and the external water bottle holder, that was a selling point for me. I like being able to carry a lot of stuff when needed and I personally don't want a lot of organizational features. I was also drawn to the X-Pac fabric available for this bag given its lighter weight. Aesthetically, the bag has a more understated and clean look, which I don't typically associate with Tom Bihn bags. I dig it.

To give an idea of what I usually put in it: a 16" MacBook Pro, a 40oz water bottle, a small thermos, and some notepads. Everything fits into the bag nicely (however, the laptop cannot be removed using the side zip because its too wide). It carries well and it's comfortable on my back. The bag does look a bit deflated when even less things are in there, given that the sides flatten out, but that's pretty minor.

Verified Buyer

Product Standouts

High Quality Craftsmanship,

Comfortable

4 months ago

Product Standouts

High Quality Craftsmanship,

Comfortable

Good bag but too small

I was looking for a short weekend bag. Ideally I think I wanted a 31-33L bag. I got the smaller addax thinking I could unroll it to fill it when needed, but you really need 3 rolls for your gear to be secure. The packing cubes made the bag bulge and seem overstuffed.

The para pack was awesome, but the interior lining needed to be a brighter color.

I returned this bag and will consider the larger size when the para pack has a more visible interior color.

The right side would unroll.

The clip design needs improvement so that a one roll, two roll, or three roll would secure the bag contents equally as well.

Straps seemed excellent, material seemed great,

Love the innovation,, but I will see is the 33 shadow guide works better for my needs.

Verified Buyer

Product Standouts

Sewn in USA,

High Quality Craftsmanship,

Durable,

Good Storage Size,

Versatile

3 months ago

Product Standouts

Sewn in USA,

High Quality Craftsmanship,

Durable,

Good Storage Size,

Versatile

Great Overall

I really like a lot of features of this bag. The roll top is perfect for accessing a lot of stuff all at once and having the capability to add more than I could with a zipper top. The side pocket is super convenient and the attachment points for accessories are all over. However, I wish there were some internal zipper pockets and I find that the bag has a tendency to fall over if I just set it down. I might try the frame to see if it helps but I feel like I shouldn't have to pay for something that should have been tested. The number one thing I would change though is the carry handle. It is slim and feels weak. The weight distribution when using it is also off and it feels very awkward to carry the bag by it.

Verified Buyer

Product Standouts

Thoughtful Design,

Comfortable,

High Quality Craftsmanship,

Good Storage Size

3 months ago

Product Standouts

Thoughtful Design,

Comfortable,

High Quality Craftsmanship,

Good Storage Size

Love it!

I bought this to replace an old threadbare knapsack

My main use is urban and utilitarian: grocery shopping and toting things around town.

The rolltop allows me to fit bulky items, like, say, when I need to buy paper products.

One thing that I would have liked is some way to secure the opening when the bag is fully opened — perhaps a drawstring. But that omission is minor.

Also, I have no idea what those little eyelets are for that are about halfway up inside the bag.

But my summary is still that I love it!

TB

TOM BIHN

3 months ago

Thanks for the review, Peter! Those little eyelets are what we call o-rings. You can hook on optional accessories like our key straps, Ghost Whale Organizer Pouches, etc into them if that suits your packing style.

Excellent organization and storage, slightly annoying closure design

The size and organization of this bag work great as an under-seat option for traveling with a laptop, camera, lenses, and various accessories. It's big but not too big and a beautiful color. I love roll-top bags in general but the closure design of this bag is my one complaint, as there is stiff fabric that must be squished between the rolled top and the clips on either side. I wish there were a quick and easy way to close the bag one-handed without the full rolling and squishing routine, like a latch in the middle. Or, the clip locations could be adjustable for a looser or tighter squeeze.
Reviews Loaded
Reviews Added
Sewn in Seattle
Our bags are designed and sewn right here in Seattle, Washington, U.S.A.
That allows us to be control freaks in the best way possible; we have direct control and oversight of the quality of our materials, our products, and the jobs and working environment that we help create. It also offers us a unique spontaneity: when we have an idea for a new product or accessory, we can design it, figure out how to build it, add it to our website and be ready to ship it out our front door all within just a few weeks. How cool is that?

Intrigued? You can find out more about the unusual way we do business on our Company Philosophy page.
THE BIHN Guarantee
Everything you buy from us here at TOM BIHN is satisfaction guaranteed. We've been in business since 1972 and we stand behind what we make.
If something goes wrong and it's our fault, we'll fix it for free. Repairs due to normal wear and tear or due to other things that are not our fault will be performed, when possible, at a reasonable charge right here in our Seattle factory where your bag was made. Defects in materials or workmanship are uncommon and almost always evident while the product is still new. Keep in mind that bags and packs are often subject to extreme wear in everyday use: do not expect them to last forever. Only true love lasts forever! You can expect a TOM BIHN product to give years and years of hard service.