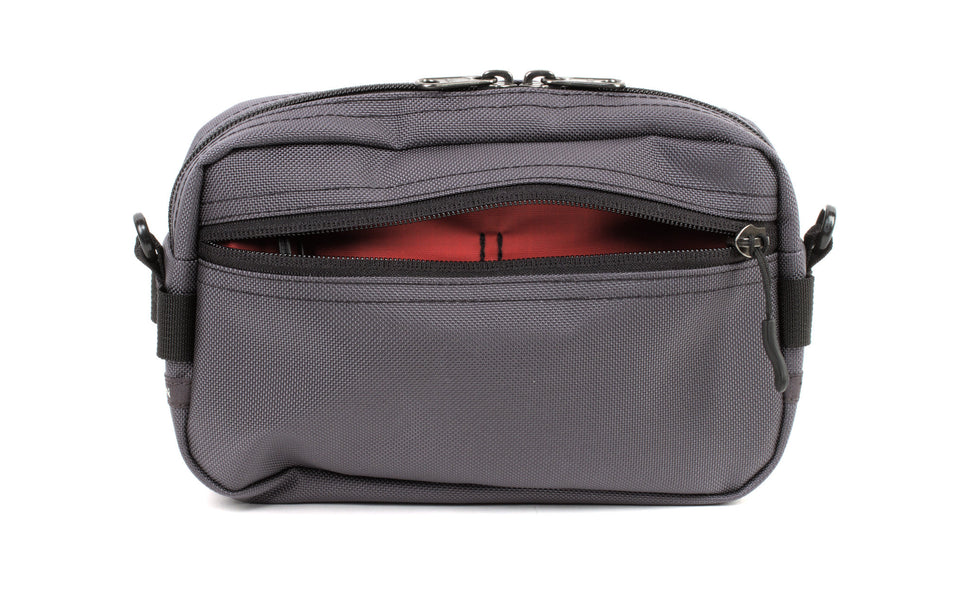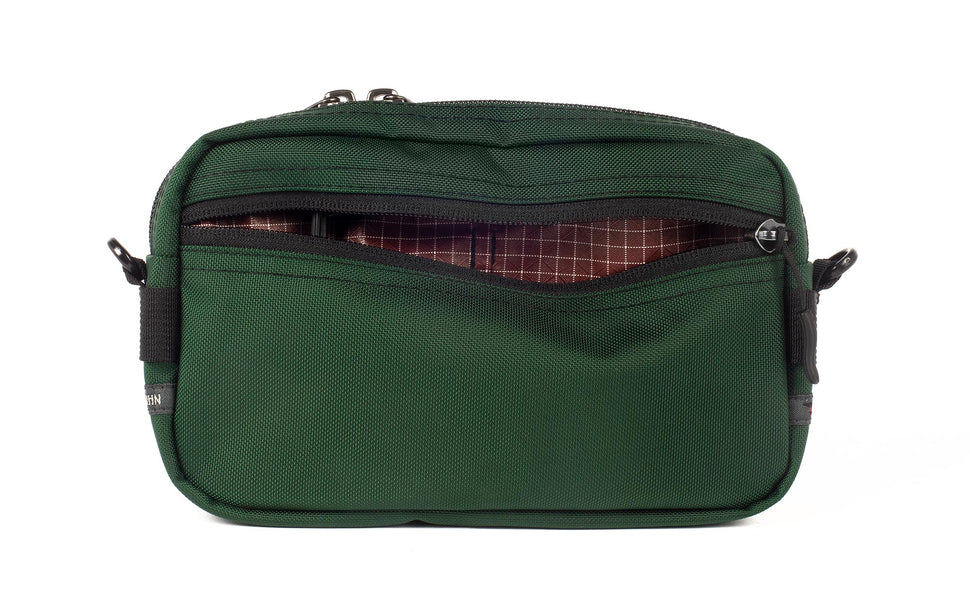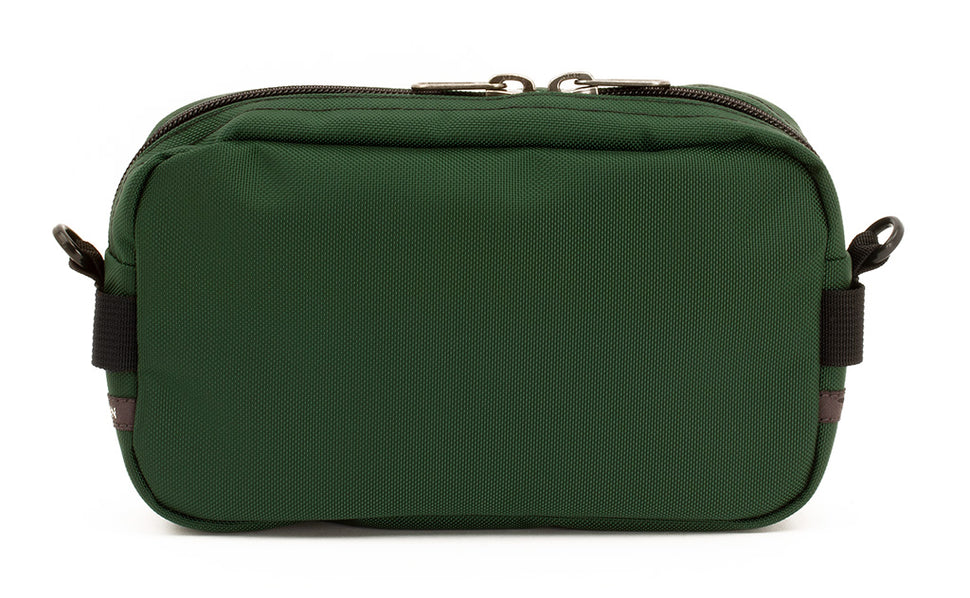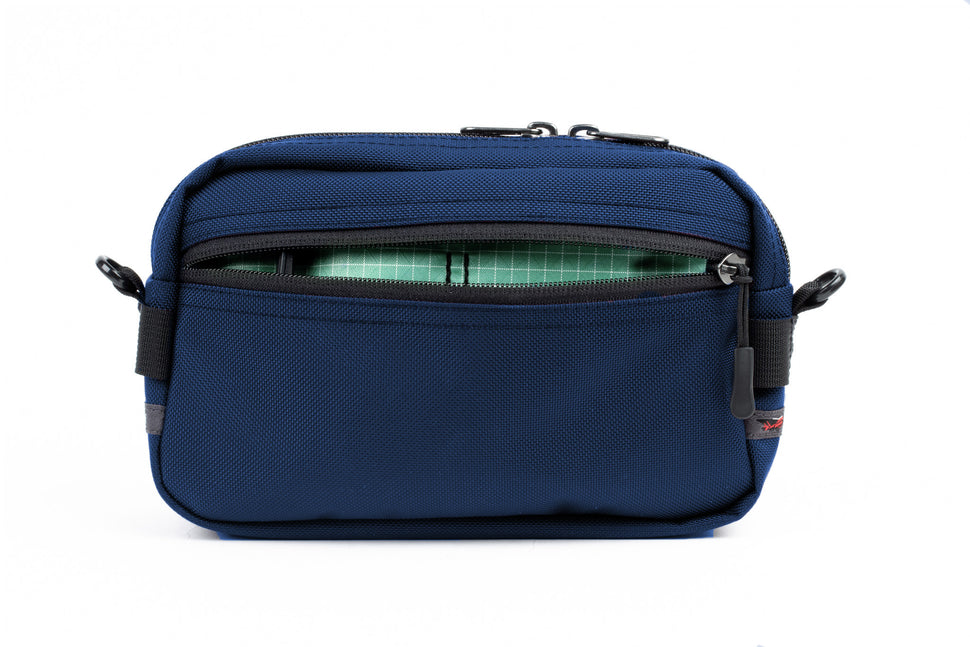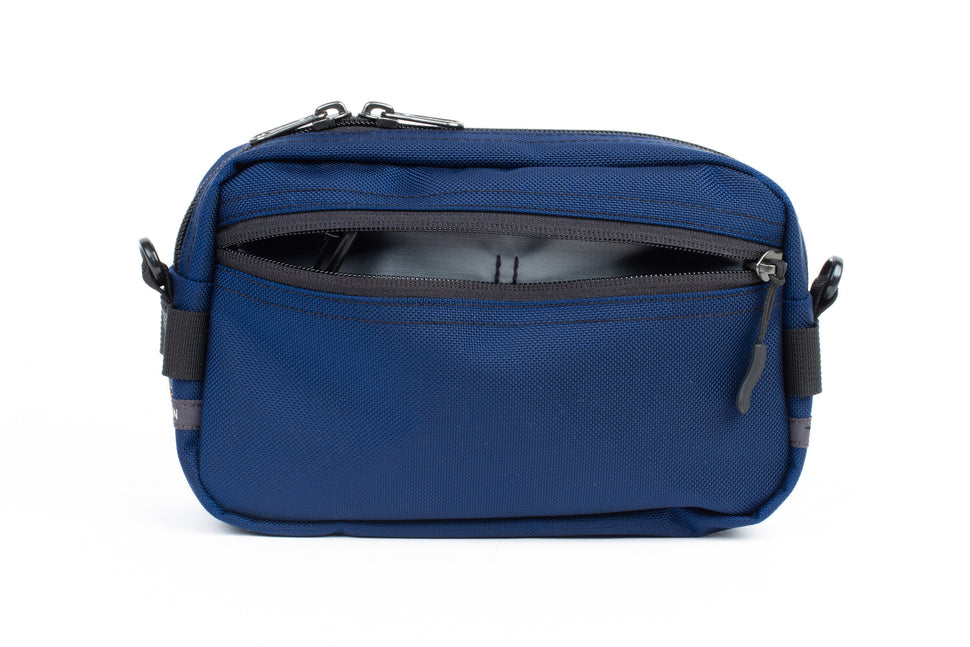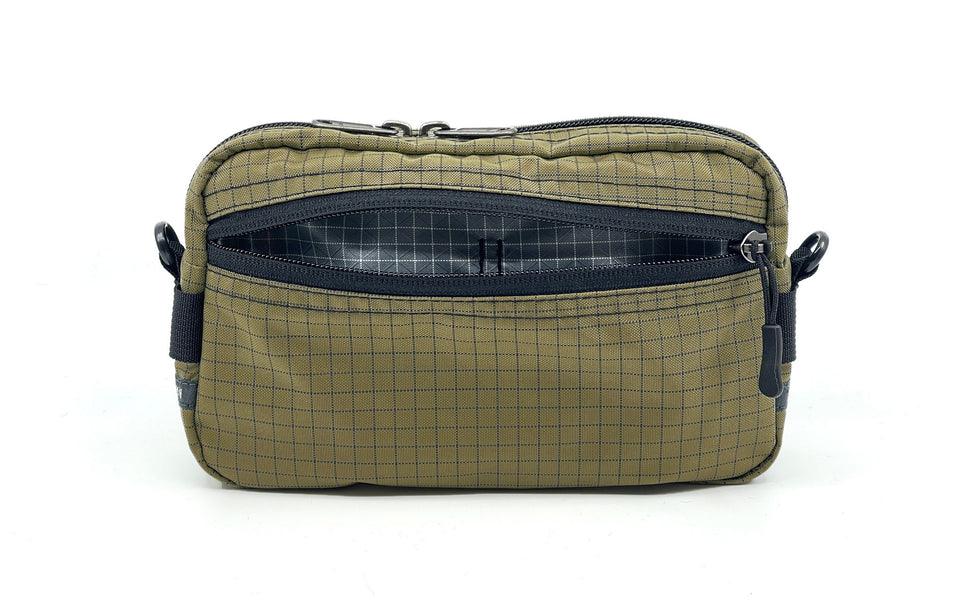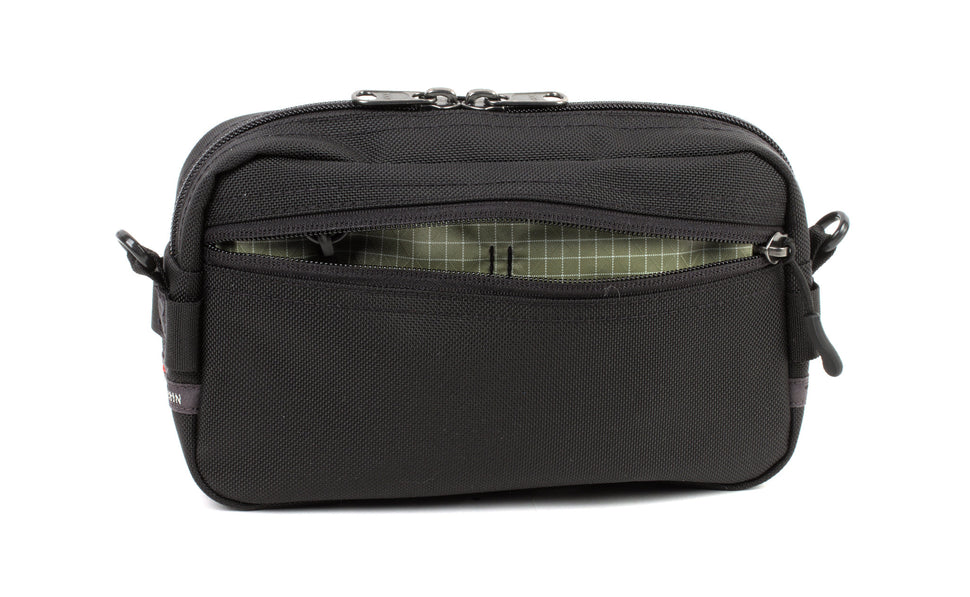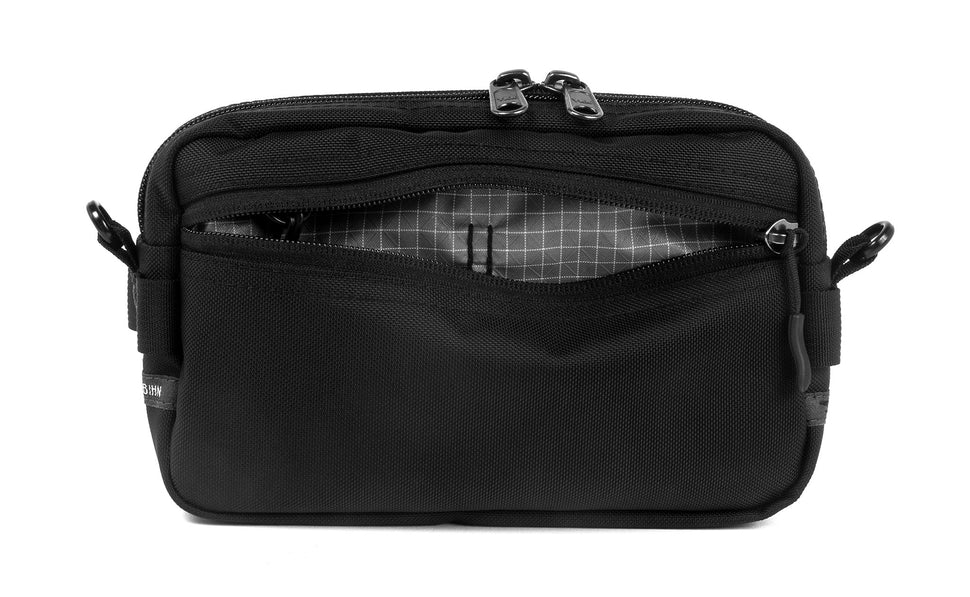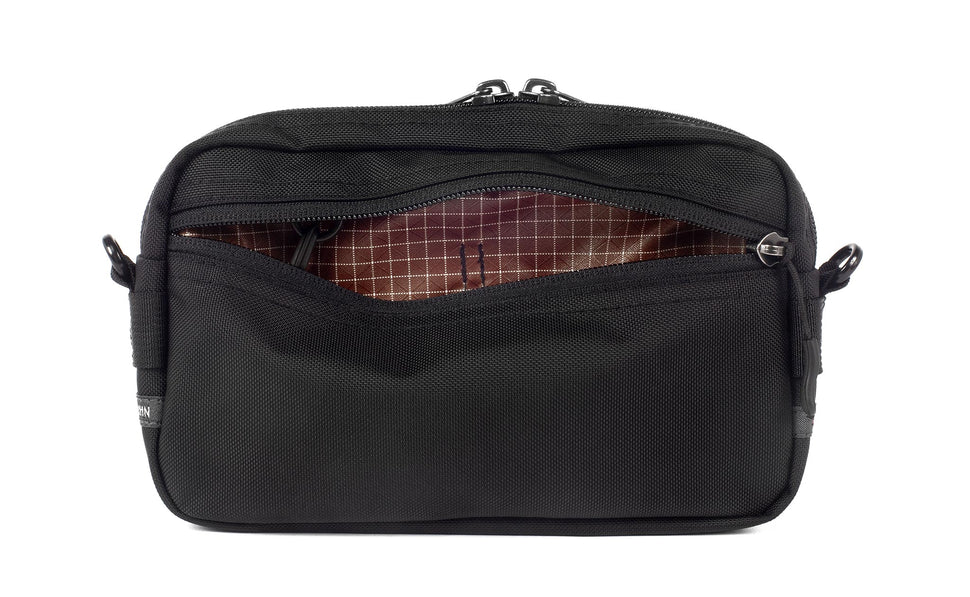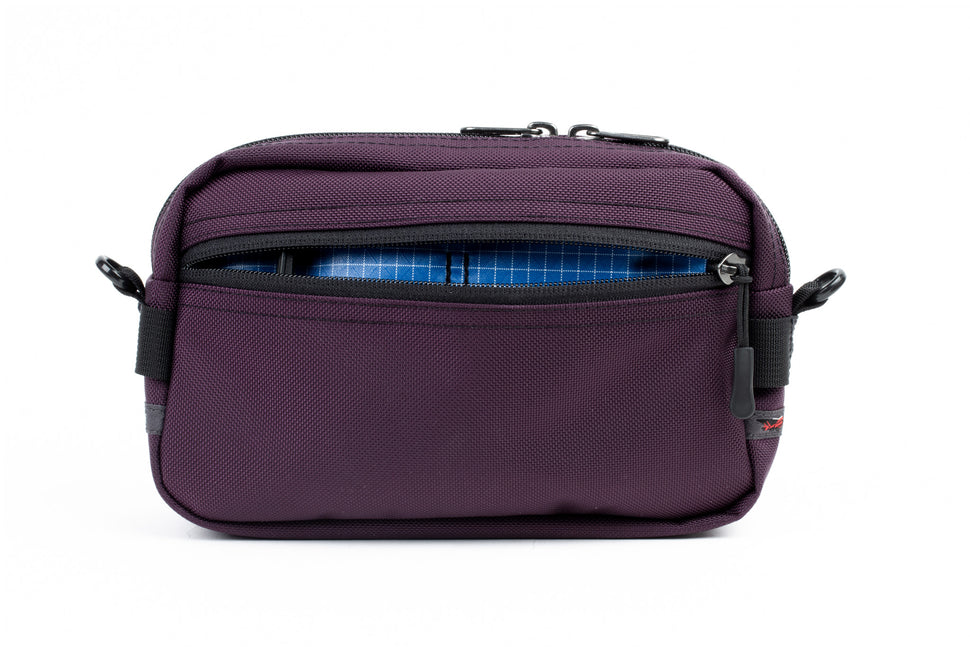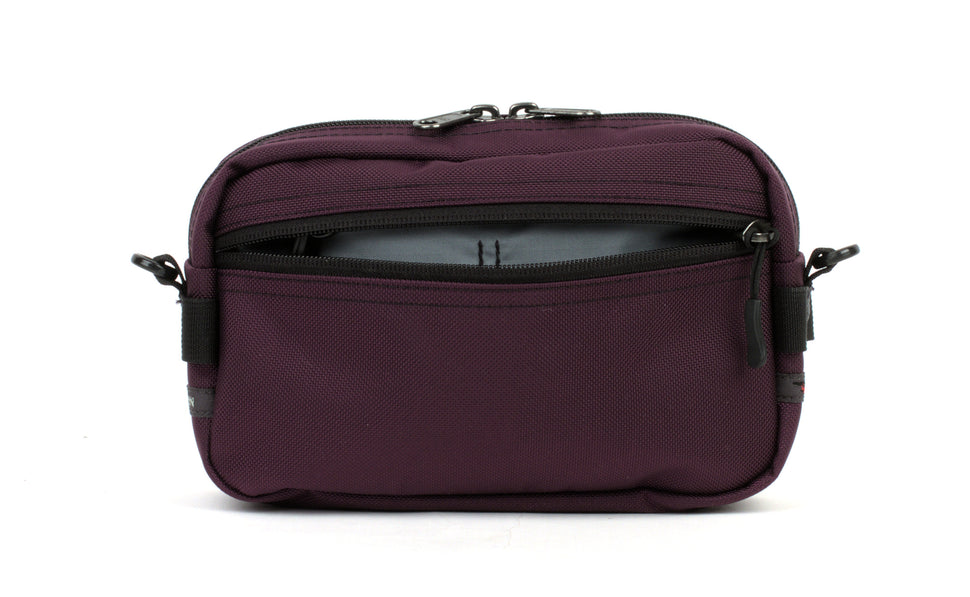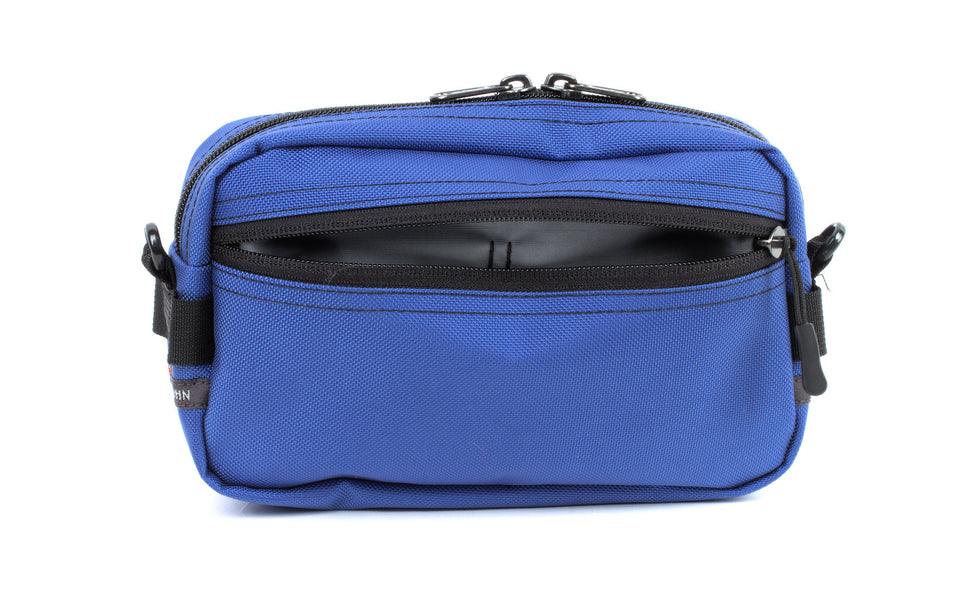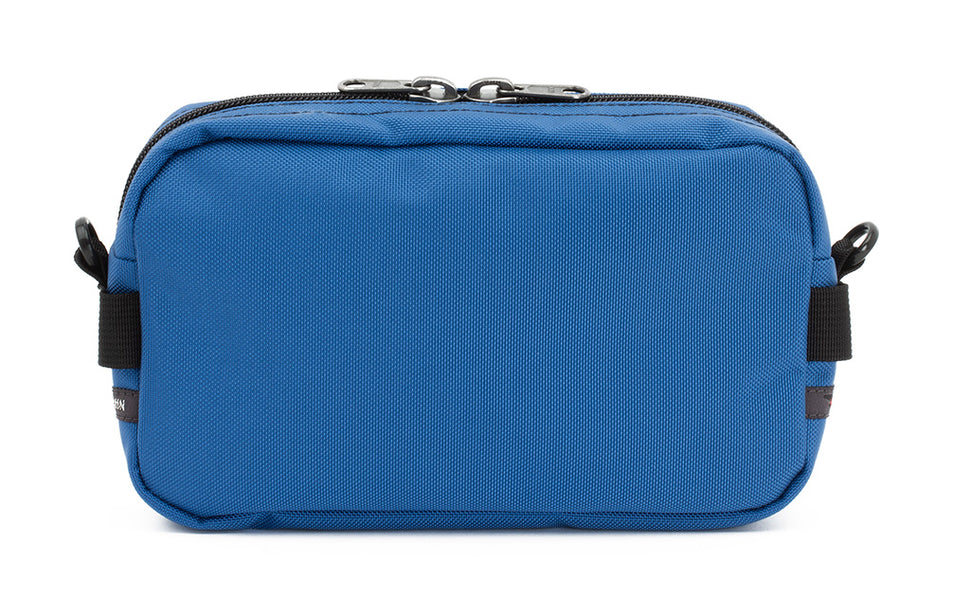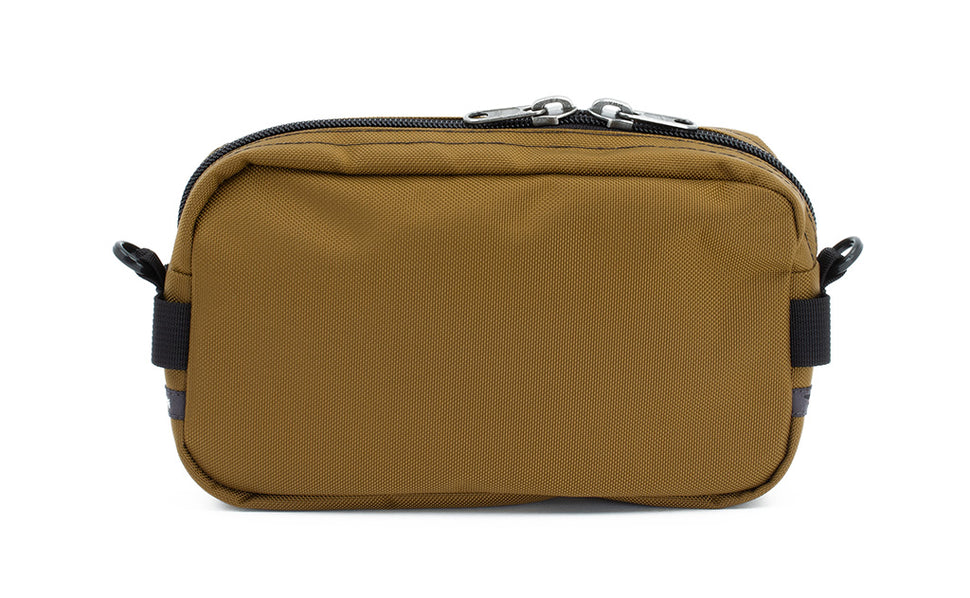 TLDR
A small, yet versatile everyday crossbody shoulder bag that can also be used as a sling bag, waist pack, or organizer pouch.
Main compartment with 2 open-top organizer pockets and 4 O-rings
Zippered pocket on the exterior with an O-ring and a clipped 8" Key Strap
Wear it as a crossbody bag with our 5/8" Shoulder Strap (included) or as a sling bag / waistpack with a 1" Waist Strap (optional)
Want a bigger version of the Side Effect? Check out the Side Kick. Want an even bigger version? Check out the Side Hustle.
Full Description
Main Compartment
The main compartment opens with two zipper sliders, making it convenient for left or right-handed folks. It also allows you to choose where the sliders end up when the bag is closed. This compartment can fit essential items like your phone, sunglasses, wallet, snacks, or sunblock.
On one interior side of the main compartment are two open-top organizer pockets. These are designed to organize your smaller items, like earbuds, chapsticks, or chargers.
Inside the main compartment are four O-rings. Two are set in the middle towards the top of the bag and the other two are midway inside the bag along the side panels. You can use these O-rings to attach any of our Ghost Whale Organizer Pouches or Mystery Organizer Pouches.
Zippered Exterior Pocket
On the outside of the bag is a straight zippered pocket that is sized specifically for a passport. This pocket spans the full width of the Side Effect. There is also one O-ring with an included 8" Key Strap attached. You can choose to wear this as the front side of the bag or backside, depending on your preference.
Ways to Carry the Side Effect
Shoulder/Crossbody Bag
On either side of the Effect are o-rings to which you can attach the adjustable 5/8" Shoulder Strap (included), made from nylon webbing and with the same plastic clips as our Key Straps. When you're not wearing the Side Kick, you can use the 5/8" Shoulder Strap to hang it on a coat hook or from a doorknob.
Waist Pack or Sling Bag
Also on the sides of the bag are unobtrusive webbing loops to which you can attach an optional 1" Gatekeeper Waist Strap, using our ubiquitous Gatekeeper clips. Wear the Side Effect around your waist or hips, and you've got a sweet waist pack. Wear it crossbody with the bag on your back, and you've got a mini sling bag. Either way, it's great for cycling, hiking, or any situation where you need your hands completely free.
Wrist Bag
Clip the Handle Loop to one of the O-rings on either side of the Side Effect and carry the whole affair in hand.
Organizer Pouch
Clip one side of any of our Key Strap variants to the Side Effect and then clip the other side to an O-ring inside one of our larger bags. That way, the Side Effect stays tethered to your bag.
What's Included
5/8" Shoulder Strap
A simple and light-duty shoulder strap made of 5/8" nylon webbing. It is adjustable and has plastic snaphooks at each end. It does not have extra padding.
8" Snaphook/Snaphook Key Strap
As with most of our bags, we've included a key strap. 8" long from tip-to-tip, a snaphook on either end. Good for attaching your keys to.
Cord Zipper Pulls
A set of pulls to extend, quiet, or replace your metal pulls.
What's Optional
Gatekeeper Hip Belt
Attach this to the unobtrusive webbing loops on the sides of the Side Effect if you want to wear this as a sling bag or waist pack.
99%
would recommend this product
Verified Buyer

Product Standouts

Thoughtful Design,

Compact,

Versatile,

Easily Adjustable,

Comfortable

6 months ago

Product Standouts

Thoughtful Design,

Compact,

Versatile,

Easily Adjustable,

Comfortable

Perfect everyday bag!

Great size for a small purse or everyday bag. Well thought-out organizational pockets. Light weight with a comfortable strap that's easily adjustable and doesn't tangle or slip. It's also a perfect in-flight bag to hang from the airplane seatback (demonstrated in the first photo below, using TB swivel carabiners). A really versatile bag that holds more than it appears. One of my most-used and favorite TB bags!

Shown below:

-How it would hang from an airplane seatback

-Interior pockets

-Next 3 photos: inside a TB Daylight Briefcase, Co-Pilot (exterior pocket), and Truck (exterior pocket)

The perfect hand bag

I bought my first Side Effect in my very first TB order about 8 years ago. It has been my hand bag ever since. It holds key, wallet, phone, driving licence, tissues, lipstick, small change, sanitizer, and it's not even full. When black halcyon came out i bought another one, as i found halcyon can fit even more, and it's also lighter, and i prefer the look. I love also that the side effect fits in the bottom pocket of the Synapse 25 or in a side pocket of my aeronaut 30 when i'm flying with one-bag policy only. In black halcyon it fits with every outfit i wear. I also bought later on a side kick to see if it would be a better hand bag - but far too big for me :) if you are a minimalist lady like me (at least when it comes to hand bag content) you will love it! I recommend 100%

Verified Buyer

Product Standouts

Comfortable,

High Quality Craftsmanship,

Versatile

1 year ago

Product Standouts

Comfortable,

High Quality Craftsmanship,

Versatile

Almost Perfect

The size of this bag is perfect for daily carry for an average day. The materials are quality and the organizational pockets on the interior are clutch. I do wish however that there were pockets inside of the front zip compartment. I like being able to add in some easy access items to the front of bags but like to keep them stored separately so I can differentiate things like keys and medicine easily. Also would love it if there were a pen/pencil pocket in the main compartment. I love that it can be worn multiple ways as well! But I do find the waist strap is too short to wear my bag across the chest which is disappointing but typical as I have a larger bust (~48 inches) but it fits perfectly as a waist bag and crossbody purse.

Verified Buyer

Product Standouts

Thoughtful Design,

Sewn in USA,

Great Gift,

High Quality Finishings,

High Quality Craftsmanship

1 year ago

Product Standouts

Thoughtful Design,

Sewn in USA,

Great Gift,

High Quality Finishings,

High Quality Craftsmanship

Awesome "kit" bag

I bought this to store a portable heating pad and accompanying accessories and it happens to be the perfect size for everything. I'm a huge sucker for the O -rings inside, and as with any bag I've had from these guys, the storage compartments just make sense. Far too often those small compartments just get in the way but with these bags you truly are getting the most legit bag experience possible. Treat yo self. And hey Tom and Friends! I really dig the saturated colors like alphaviolet and Viridian and would love to see more of that in the future. I also really love the Moab Halcyon, its under represented in the organizer bag category!

All in all, my favorite thing about the bag is knowing that the people who made it get breaks and seem to be treated pretty damn well. I'm definitely not made of money but bags are something you want to buy nice, not twice. And while these are at the higher end of whats in my range, they seem to be worth every penny and the company from what I can tell has a business model that others should learn a lesson from.

-guy who sewed a bunch of band patches on a vest and fancies himself to know a thing or two about good stitching.

*If anyone happens to be wondering, it is slightly too small for a Nintendo Switch!

Verified Buyer

Product Standouts

Thoughtful Design,

Compact,

Versatile,

Comfortable,

Sewn in USA

1 year ago

Product Standouts

Thoughtful Design,

Compact,

Versatile,

Comfortable,

Sewn in USA

Perfect- inside other bags, or as it's own thing!

I currently use a cubelet + super mini ghost whale + Nik's wallet inside a side effect as an every day purse like object carried cross body. I can carry my Pixel 6 phone, kindle paperwhite, headphones, sanitizer, extra K-95 mask, and keys. When I went to a recent work conference, it was easy to slip off the straps, and stash my side effect inside an icon. I could also take out the cubelet and carry it with a wrist strap. I am excited to use the side effect during the school year inside a teacher bag/backpack in this fashion, so that I can just take it out and put the strap on for the weekend/after school.
Reviews Loaded
Reviews Added
Sewn in Seattle
Our bags are designed and sewn right here in Seattle, Washington, U.S.A.
That allows us to be control freaks in the best way possible; we have direct control and oversight of the quality of our materials, our products, and the jobs and working environment that we help create. It also offers us a unique spontaneity: when we have an idea for a new product or accessory, we can design it, figure out how to build it, add it to our website and be ready to ship it out our front door all within just a few weeks. How cool is that?

Intrigued? You can find out more about the unusual way we do business on our Company Philosophy page.
THE BIHN Guarantee
Everything you buy from us here at TOM BIHN is satisfaction guaranteed. We've been in business since 1972 and we stand behind what we make.
If something goes wrong and it's our fault, we'll fix it for free. Repairs due to normal wear and tear or due to other things that are not our fault will be performed, when possible, at a reasonable charge right here in our Seattle factory where your bag was made. Defects in materials or workmanship are uncommon and almost always evident while the product is still new. Keep in mind that bags and packs are often subject to extreme wear in everyday use: do not expect them to last forever. Only true love lasts forever! You can expect a TOM BIHN product to give years and years of hard service.